Easy pan seared scallops served with a bit of pesto for a quick, delicious entree. Excellent served with a Chablis! Disclosure: the wines discussed here were provided as complimentary samples.
Scallops with pesto is an easy, flavorful meal. And it gets even better when paired with Chablis, a classic white wine from France. Today we are joining with our French Winophiles friends to take a deep dive into Chablis. We'll get more into the wine in a moment, but first will talk about our dish.
When I posted a photo of the scallops on Twitter, someone asked if the pesto overwhelmed the shellfish.
I suppose if your goal is to lean into the flavor of the scallops, you might want to skip the pesto. But I'm not a seafood purist, I do like the flavor of a sauce to complete the dish. As regular readers know, I love pesto! The fairly mild flavors of the scallops provide a nice platform for the zesty sauce in my book.
The pesto recipe here makes enough for a side dish of pasta as well as topping the scallops. So on our plate, we had scallops with a modest dollop of pesto, along with some orzo. Yum! And of course, it gets better with good wine.
Jump to:
Recipe tips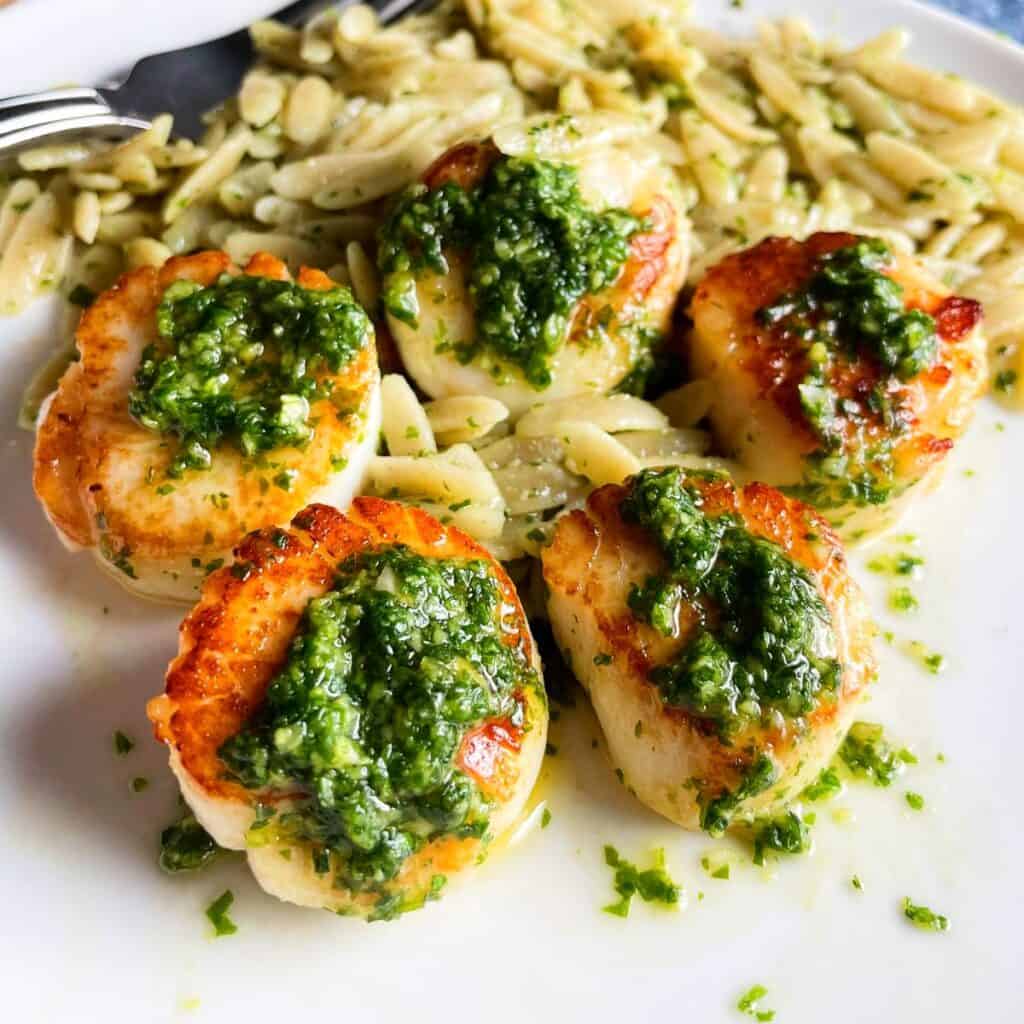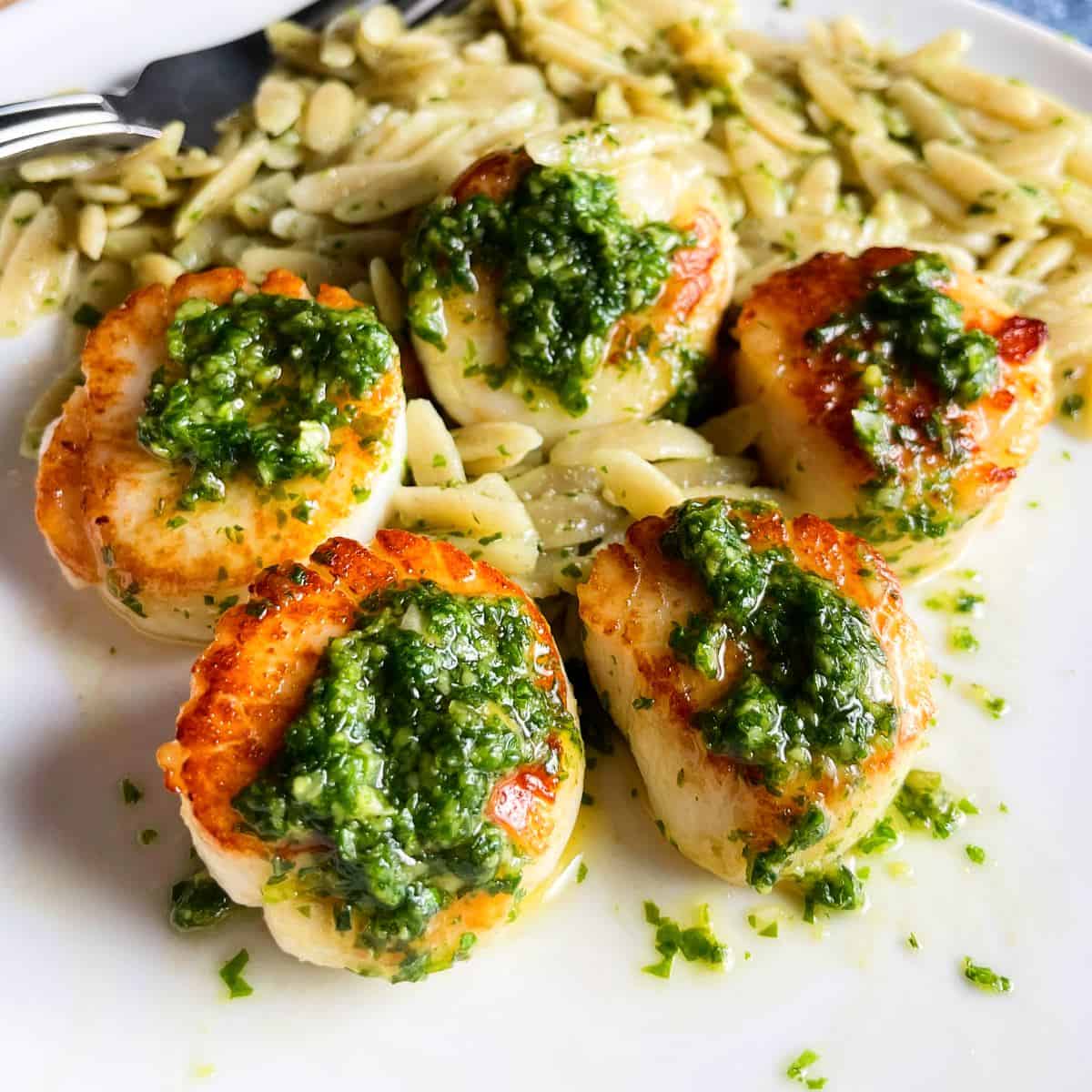 Below are a few tips for making some delicious scallops with pesto; click here for the full recipe details.
Fresh scallops are of course key to the recipe. Here in New England, I like to buy fresh local scallops and use them the day I buy them.
I haven't used frozen scallops, but generally speaking, frozen seafood isn't a bad option as the fish gets frozen shortly after being caught, keeping it fresh.
The size of the scallops will impact cooking time. For today's recipe, we had small scallops about the width of a quarter, and they definitely don't need more than 2 minutes per side. If you get the larger type of scallops, you will want to add a minute or two total cooking time for it to cook through.
You don't want to overcook the scallops! They get rubbery and unpleasant when overcooked.
Make the pesto before you start cooking the scallops. We made traditional basil pesto for today's recipe, but you could definitely try it with kale pesto.
We don't use nuts here because of a food allergy. So we make our pesto with toasted pumpkin seeds instead of the traditional pine nuts. It's a great substitute!
Related recipes
If you like this recipe, here are some more you might want to try! All of these could potentially work paired with a Chablis, too.
Wine pairing
I somewhat randomly picked two of the three bottles of Chablis to open the night I made the scallops with pesto.
The 2019 Domaine Bernard Defaix Petit Chablis definitely made me think of the sea! Seashells on the nose, with a hint of lemon. On the palate, lemon fruit with a hint of salinity. Made with a light touch — I would describe the wine as delicate and nuanced.
The 2019 Domaine de la Cornasse Chablis has a little floral note on the nose. Lemon curd on the palate, with a rounder mouthfeel compared to the Petit Chablis.
I liked both wines, but I decided to lean into the Petit Chablis for the scallops and pesto pairing. As my notes indicate, this wine had elements that conjured up the ocean, so pairing with scallops seemed to make sense. It was also a bit lighter with more acidity, which worked nicely with the pesto!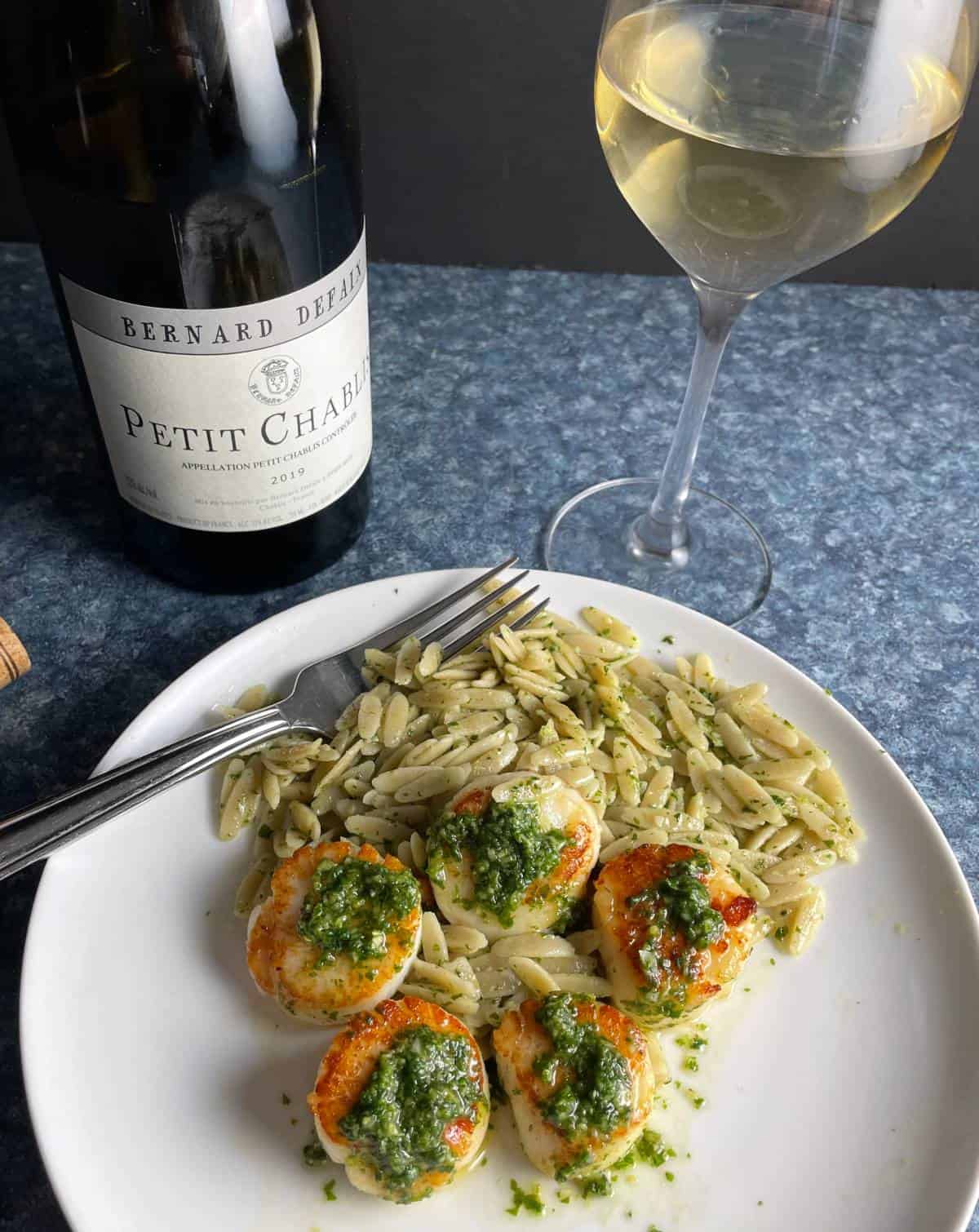 My instincts proved correct, and the Petit Chablis is an excellent wine pairing for scallops and pesto. Notes of seashells in the wine was perfect with the shellfish, and the lemon fruit complemented the pesto nicely.
To round out our Pure Chablis experience, we opened the 2019 Jean-Marc Brocard Chablis, which also has the term "Vieilles Vignes de Sainte Claire" on the label.
I got honeysuckle and toasted almond on the nose of the Brocard Chablis. On the palate, pear and kiwi fruit, with some stone. This one also has some notable acidity — overall, there was more acidity in these Chablis than I recall from past tastings.
I served the Brocard Chablis with our Simple Pan Seared Salmon and some fettuccine primavera. The Chablis definitely paired better with the salmon – it was a good match for the seafood. While I often enjoy a good California Chardonnay with our fettuccine, the Chablis was a bit light in weight and overall style for the creamy pasta.
For more pairing fun with French white wines, take a look at our Food Pairings for Pouilly Fuissé and Pouilly Fume.
About Chablis
I've always been a fan of the clean, pure flavor profile of Chablis. But somehow I haven't had it much lately until this event, so I was happy to join my fellow winophiles for a deep dive into Chablis wines. Let's cover some basic for those that might not be too familiar with Chablis.
What is Chablis?
Chablis is a classic white wine produce in the Chablis appellation (AOC) of France.
Where is the Chablis AOC?
Chablis is in the northern part of the Bourgogne region, between Paris and Beaune. It is fairly close to Champagne.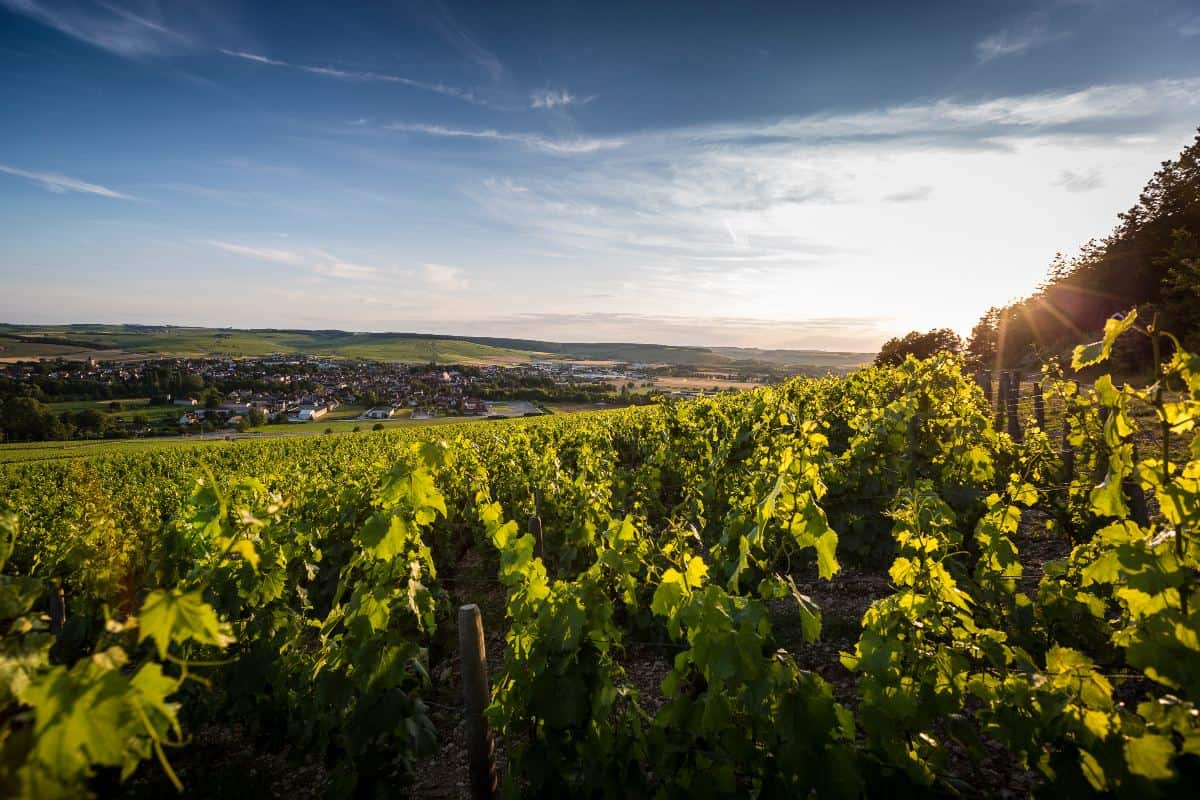 What grapes are used to make Chablis?
Chablis is always made with Chardonnay grapes. If you are more familiar with new world Chardonnay from places like California, you will likely note Chablis is a very different style wine. I've always been a fan of its clean, elegant expression of the Chardonnay grape.
What makes Chablis special?
Well, this one is of course rather subjective. Some might point to the centuries of winemaking traditions; others the terroir — that is, the combination of climate, soil and other factors that make the place unique. I would definitely say the Kimmeridgean soil is a big factor. It is comprised of limestone, clay and fossilized oyster shells. Those shells definitely come through when tasting many Chablis wines!
So we have covered some basics about Chablis. Be sure to check out my colleagues' articles (links below recipe) for more in depth information!
Print
Recipe card
Scallops with Pesto
Easy pan seared scallops served with a bit of pesto for a quick, delicious entree. Recipe makes enough pesto to use for a side dish of pasta.
Author: Cooking Chat
Prep Time:

15 mins

Cook Time:

5 mins

Total Time:

20 mins

Yield:

3

servings

1

x
Category:

Main

Method:

stove top

Cuisine:

Italian
For the pesto
3

garlic cloves

2 cups

rinsed basil leaves

¾ cup

extra virgin olive oil

¾ cup

Pecorino or Parmesan cheese

2 tbsp

pine nuts or toasted pumpkin seeds
For the scallops
½

lb sea scallops, rinsed and patted dry

2 tbsp

olive oil
pinch of salt
Instructions
Make the pesto: place the garlic cloves in a food processor or blender. Pulse to chop the garlic. Add the basil, olive oil, cheese and pine nuts. Puree until the pesto is a smooth consistency. Open the lid, stir in any bits that may be stuck to the side, and briefly puree again until everything is incorporated into the sauce. Set aside.
Sear the scallops: Heat a nonstick skillet on medium high. When hot, add the scallops. Cook undisturbed for 2 minutes. Then turn the scallops over, and cook for another 2 to 3 minutes, until the flesh is just cooked through.
Plate the dish: Place several scallops on a plate, top with a bit of pesto, and serve with a side of pasta with pesto, if you like. Enjoy with a good glass of Chablis for best results!
Notes
Rinse the basil in a colander. Gently squeeze excess liquid before using.
We use pumpkin seeds as a nut free alternative to pine nuts, which are traditionally used in pesto.
Keywords: scallops with pesto, pan seared scallops, shellfish, pairings with Chablis
Recipe Card powered by
More articles about Chablis
Be sure to visit all these French Winophiles articles for more info about Chablis!