In Episode 4, we dig into our second CSA pickup of the season with Amy Katz from Veggies Save the Day. Amy shares ideas for sugar snap peas and rainbow chard recipes. We also had a chance to chat about ways to use fennel and how Amy bases much of her cooking on a vegan Mediterranean diet.
In this show we cover:
What is rainbow chard?
Enjoying vegetables raw or cooked.
Sugar snap peas – ways to enjoy them.
How to prepare fennel.
Growing your own vegetables at home.
You can listen to the podcast right here!
You can also listen on:
Apple podcasts | Spotify | Amazon Music
Today's Guest – Amy Katz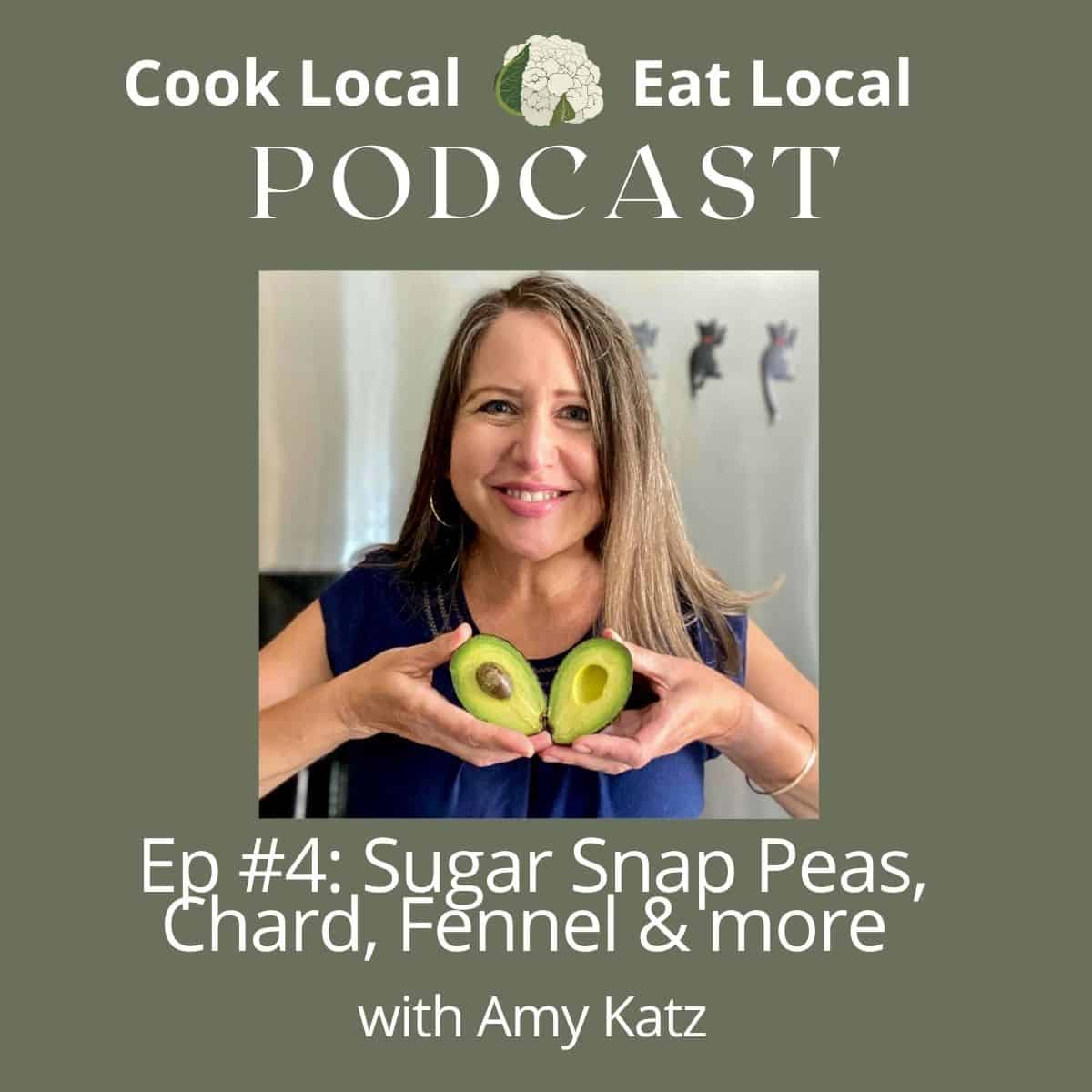 In Episode 4, we brainstorm about ideas for our second CSA pickup of the season with Amy Katz. She is the creator of Veggies Save The Day where she shares easy vegan recipes based on a healthy Mediterranean diet. Her goal is to inspire all types of eaters to eat more veggies.
Our podcast interview with Amy focused on three items picked from our CSA share pickup: sugar snap peas, rainbow chard and fennel.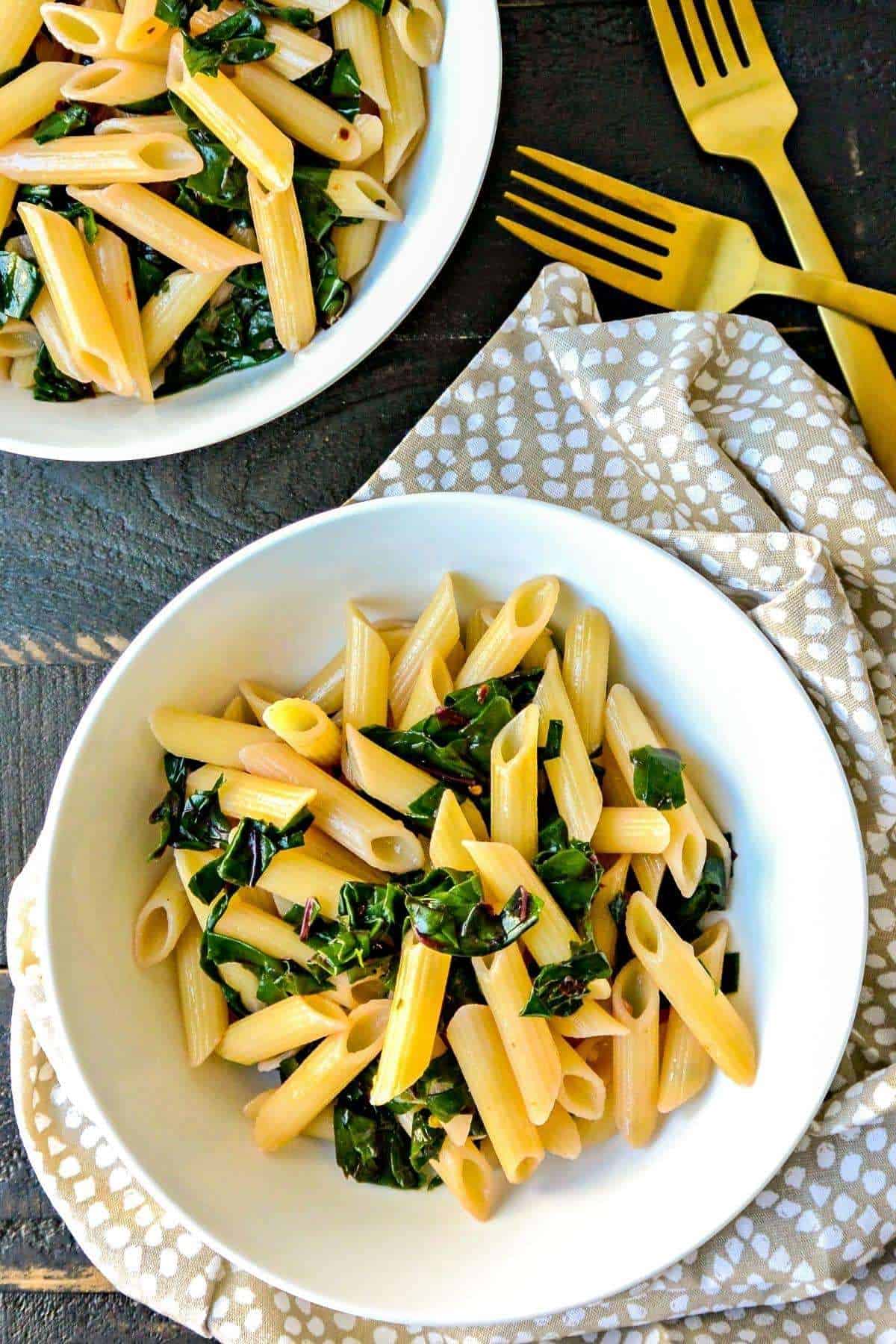 Here are some of Amy's recipes mentioned on the show:
Before we got into the conversation about what to make with our CSA share veggies, Amy shared about her background cooking and shopping with her mother led to her passion for cooking and eating healthy.
Ideas for eating more veggies
Amy had a great suggest for people who want to expand the range of vegetables they eat. Simply make a goal of picking out one new vegetable per week, and find a recipe to make with it. We have lots of veggie recipes here on Cooking Chat, of course, and Veggies Save the Day is a good resource for you. And don't forget to subscribe to the Cook Local Eat Local podcast!
A great, bite sized way to see what you like!
Can you eat chard raw?
Yes, you can eat Swiss chard raw! That was a big revelation to me during my conversation with Amy, as I always have cooked chard — see for instance our Sautéed Swiss Chard with Garlic.
Amy talked about how great chard can be raw, in a salad and other raw preparations. She noted that chard is a dark green leafy vegetable that is more mild than kale, meaning you don't need to massage the greens for a salad.
I leaned into this tip from Amy! As you'll see in my CSA week recap below, it was all raw rainbow chard for me this time.
What we made – CSA pickup #2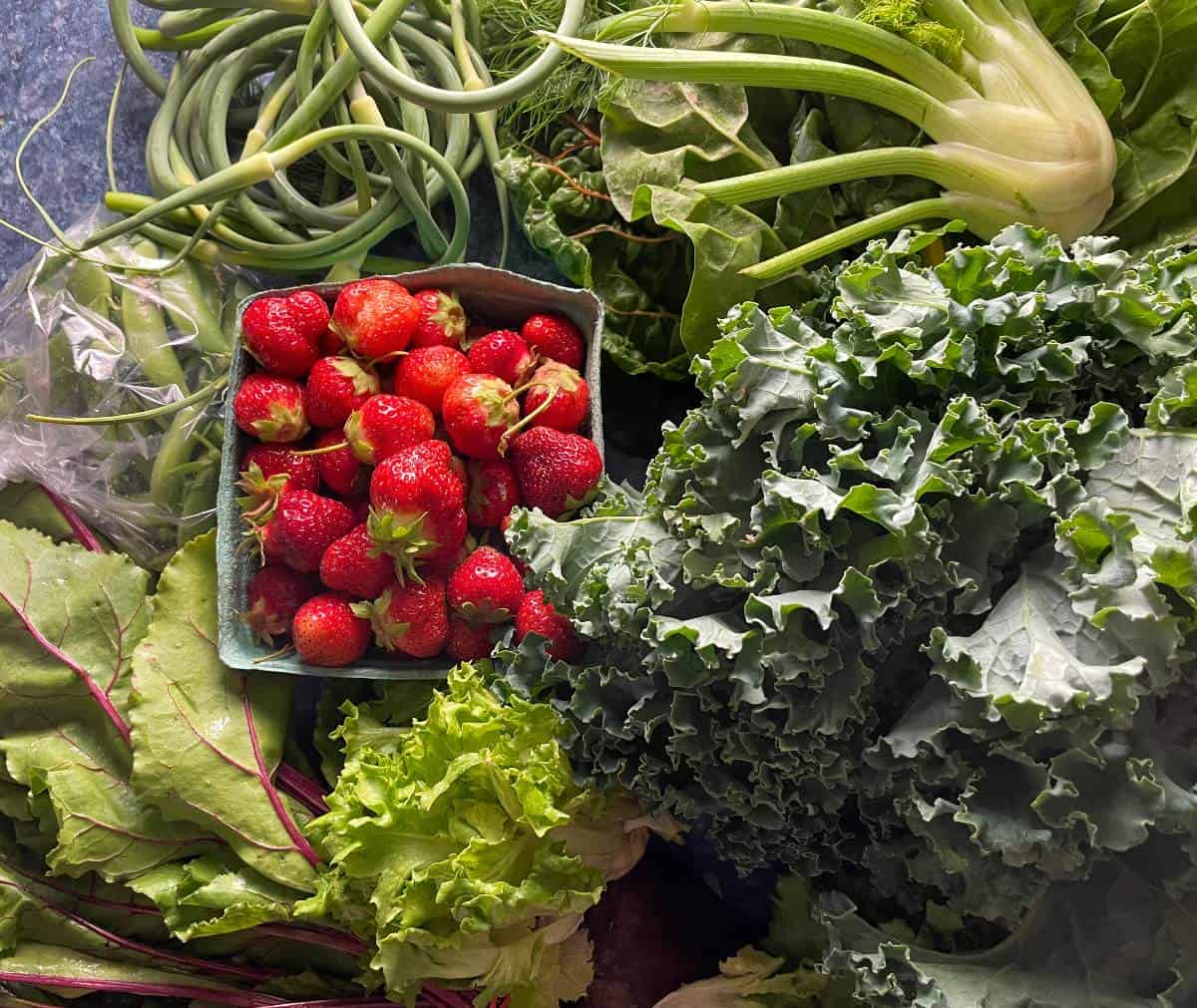 OK, after chatting with Amy, here's what we made with our second CSA share pickup of the season!
Rainbow chard
We jumped on Amy's idea to serve raw rainbow chard in a simple salad with croutons and vegan caesar dressing – I've been using this Gotham Greens Vegan Caeser. Delicious!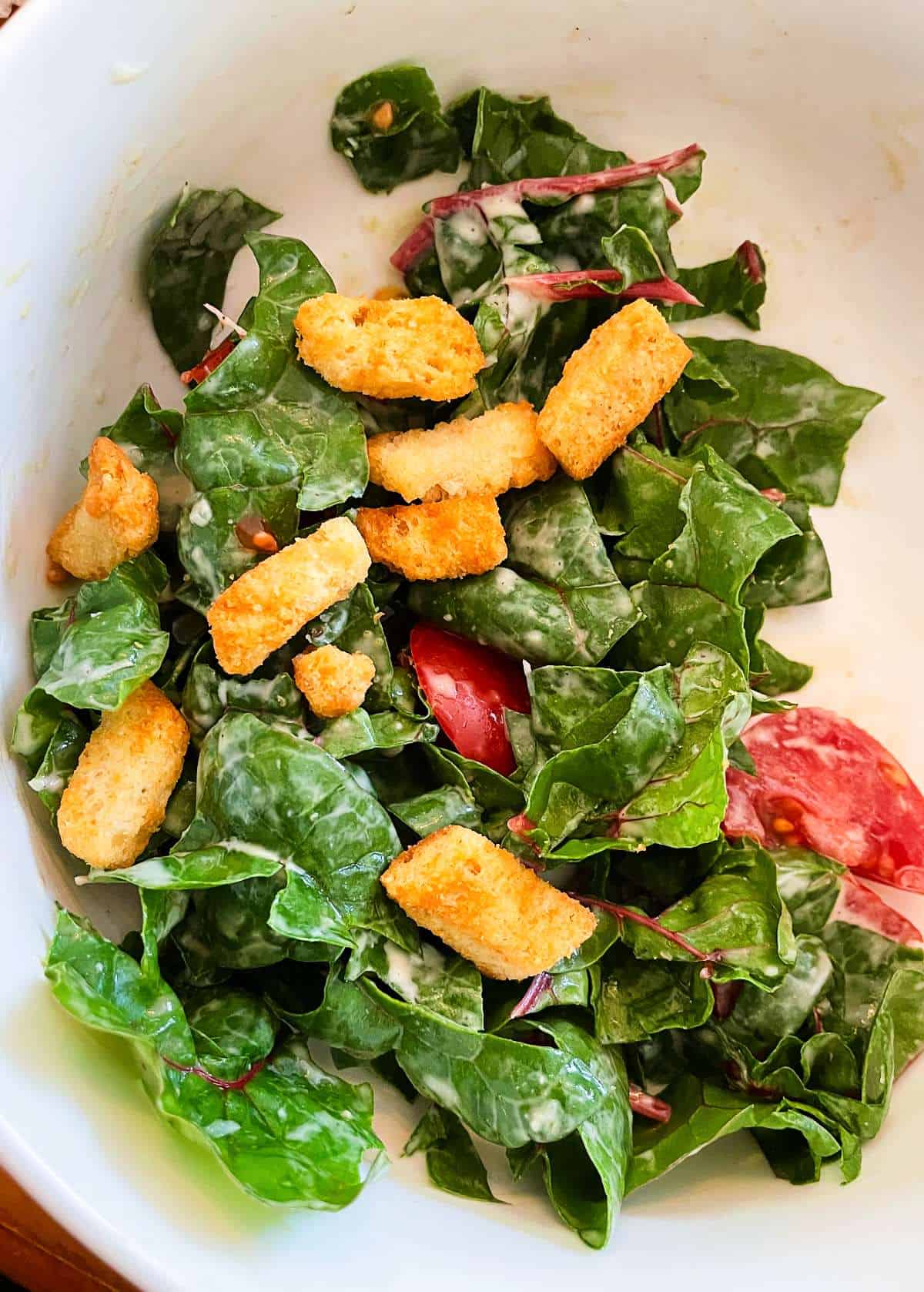 I also featured some raw chard as the green in one of my go-to lunches, a healthy chicken wrap.
Another idea for chard that Amy mentioned is to chop it finely and add to rice or quinoa for some extra nutrition, letting the warm grains wilt the chard.
Amy noted that she finds rainbow chard tastes pretty much the same as the all green Swiss chard. So you could also feature it in this recipe for Lidia's Swiss Chard Potatoes, or perhaps this Sautéed Swiss Chard with Garlic.
She also suggested adding chard to soups. I typically add a bit of spinach to this Spicy Lentil Soup; I might have to try chard next time!
Beets and fennel
As I mentioned in the show with Amy, beets and fennel coming in the same CSA share meant that I was definitely going to make a batch of our Roasted Beet Dip with Fennel and Garlic! This is a great recipe to try even if you are not a huge fan of beets. Gotta love the colors here!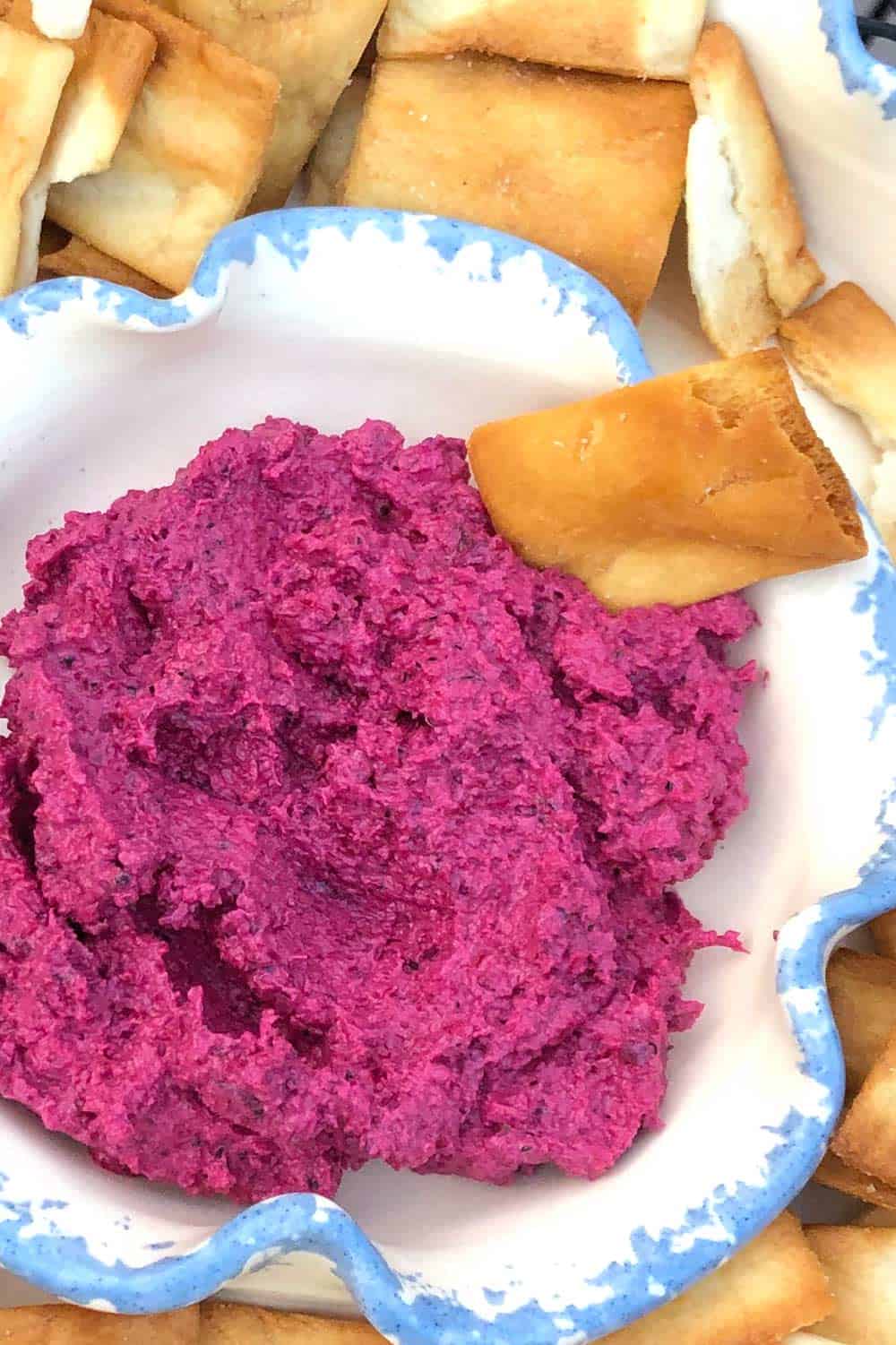 Amy mentioned on the podcast that she likes to use the fennel fronds (the frilly part at the top) in a salad. I will have to try that! We use some of the fennel fronds in the beet dip, as well as the roasted fennel bulb.
Amy Katz suggested using a mandoline to finely slice fennel to add it to a salad.
Sugar snap peas
I followed Amy's recipe for Sugar Snap Peas Stir Fry. It's an easy recipe for cooking up a delicious side dish. I served the snap peas along with the chard salad I mentioned earlier, and just a bit of steak along with the mostly veggie filled plate.
Another idea Amy shared for sugar snap peas is to chop the pea pods up into smaller pieces and add to a salad. Will have to try that!
Kale
We had a big bunch of what I call "regular" kale; on Episode 1, Liz told me this type is called "curly kale". The weather was cool enough to use the kale for a batch of our Portuguese Kale Soup.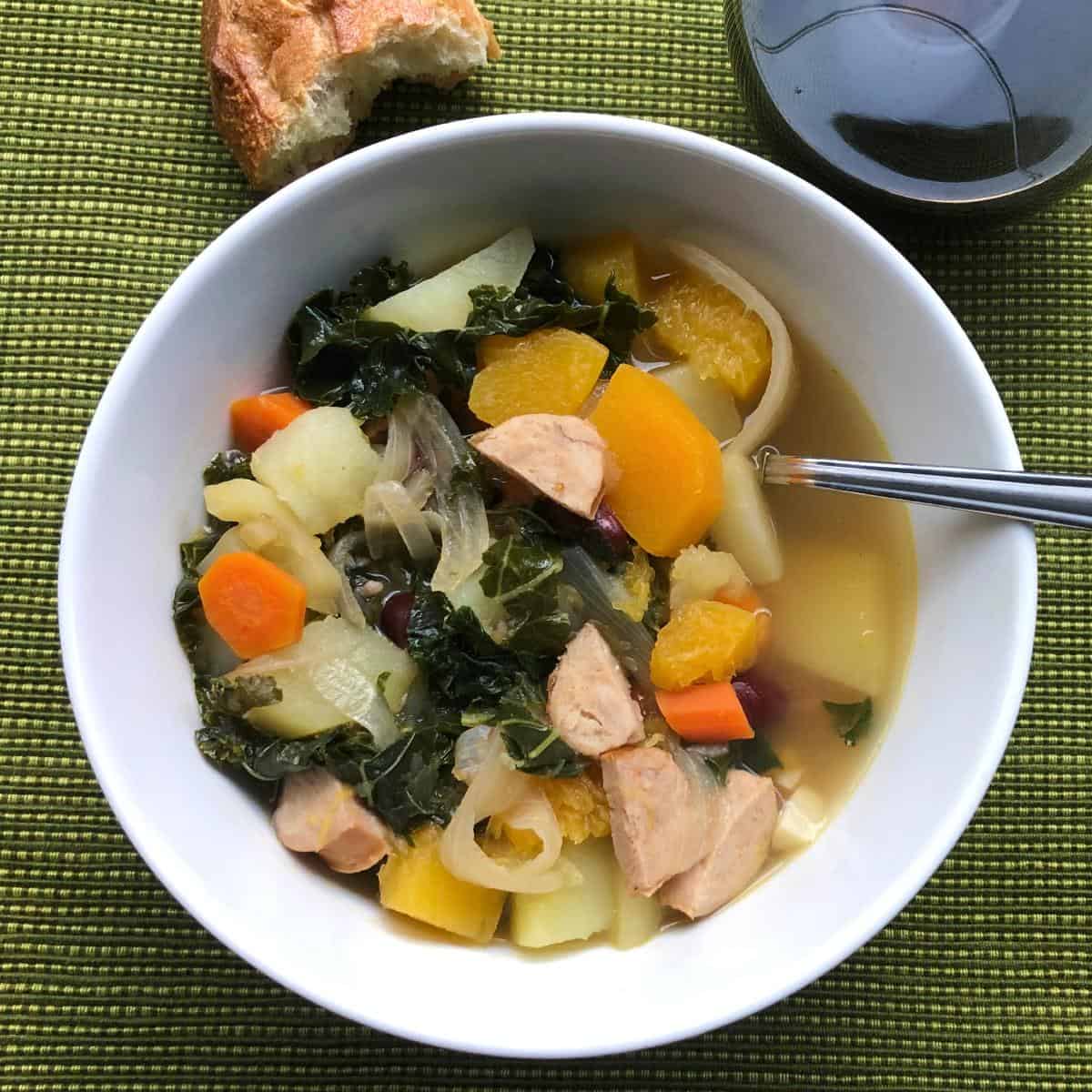 We take a lot of liberties with the classic version of the recipe, and it is one of the most popular on Cooking Chat.
Typically we make the kale soup with Andouille sausage, pork or chicken. But this time we made it with hot Italian vegetarian sausage from Beyond, and it came out great! We also were able to use some local carrots and potatoes we had on hand for the soup.
Garlic scapes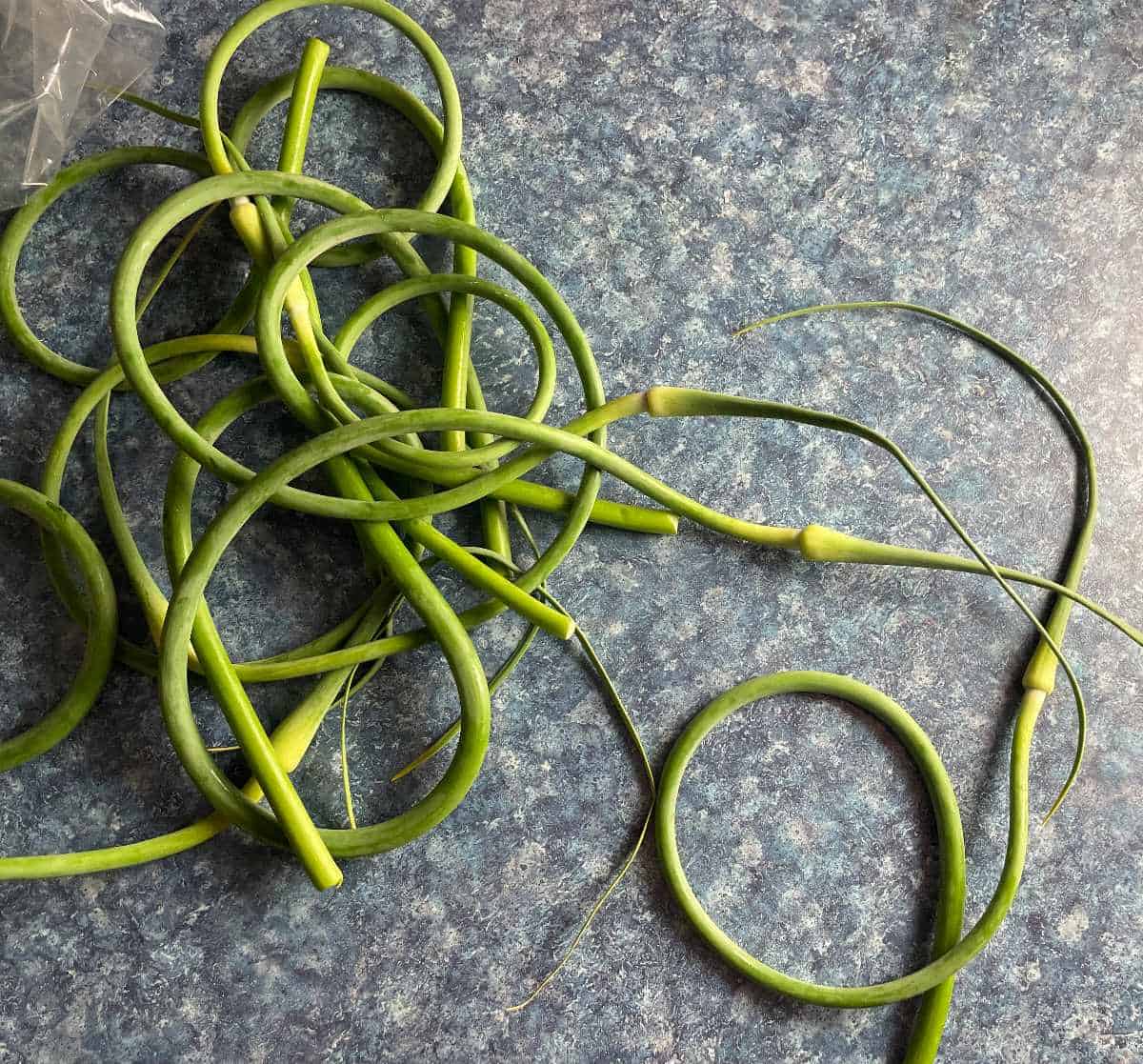 Garlic scapes can be used similar to regular garlic. They a fresh and vibrant flavor.
Being the pesto lover that I am, garlic scape pesto was my first instinct when I saw the scapes in the share. File this one under trust your instincts, it came out great! Here's my recipe for Garlic Scape Pesto.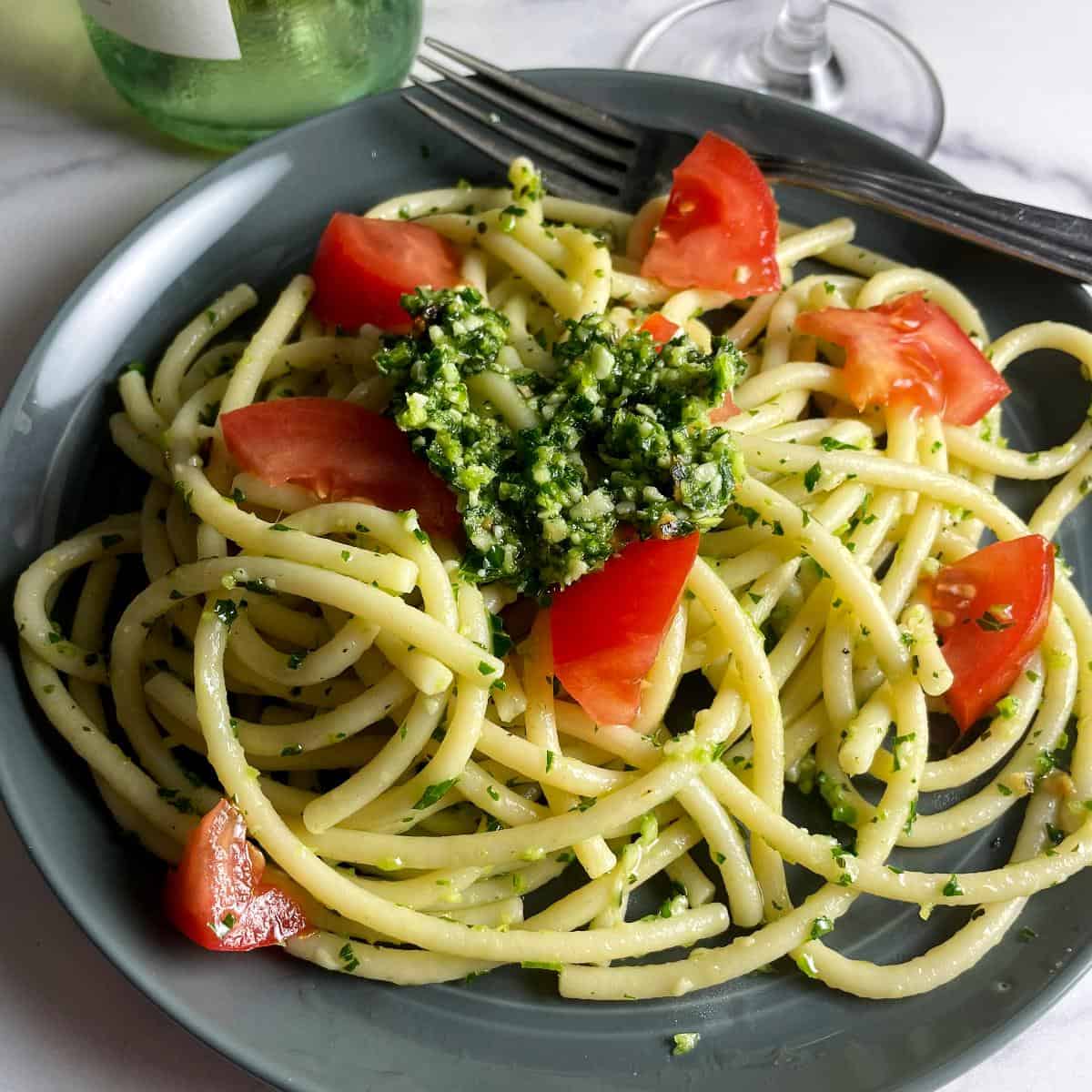 In addition, here's a good video from Love Your Land on how to prepare garlic scapes.