In Episode 5, we chat about our third CSA pickup of the season with Ashley Elizabeth from Sweetpea Lifestyle. Ashley shares her recipe ideas for broccoli and kale, and how cooking with local food comes naturally to her based on her upbringing in Asheville, North Carolina. We also made sure to get some great hosting tips from her!
You can listen to the podcast on:
Apple podcasts | Spotify | Amazon Music
In this episode we cover:
How to make broccoli steaks
Cooking kale as you would collard greens
Asheville as a great city for farm to table cooking
Ways to make hosting a gathering less stressful
Ashley's tips for cooking collards
Enjoying gem lettuce this time of year
Learning that kale is a very common crop in the Appalachian region
Today's guest – Ashley Elizabeth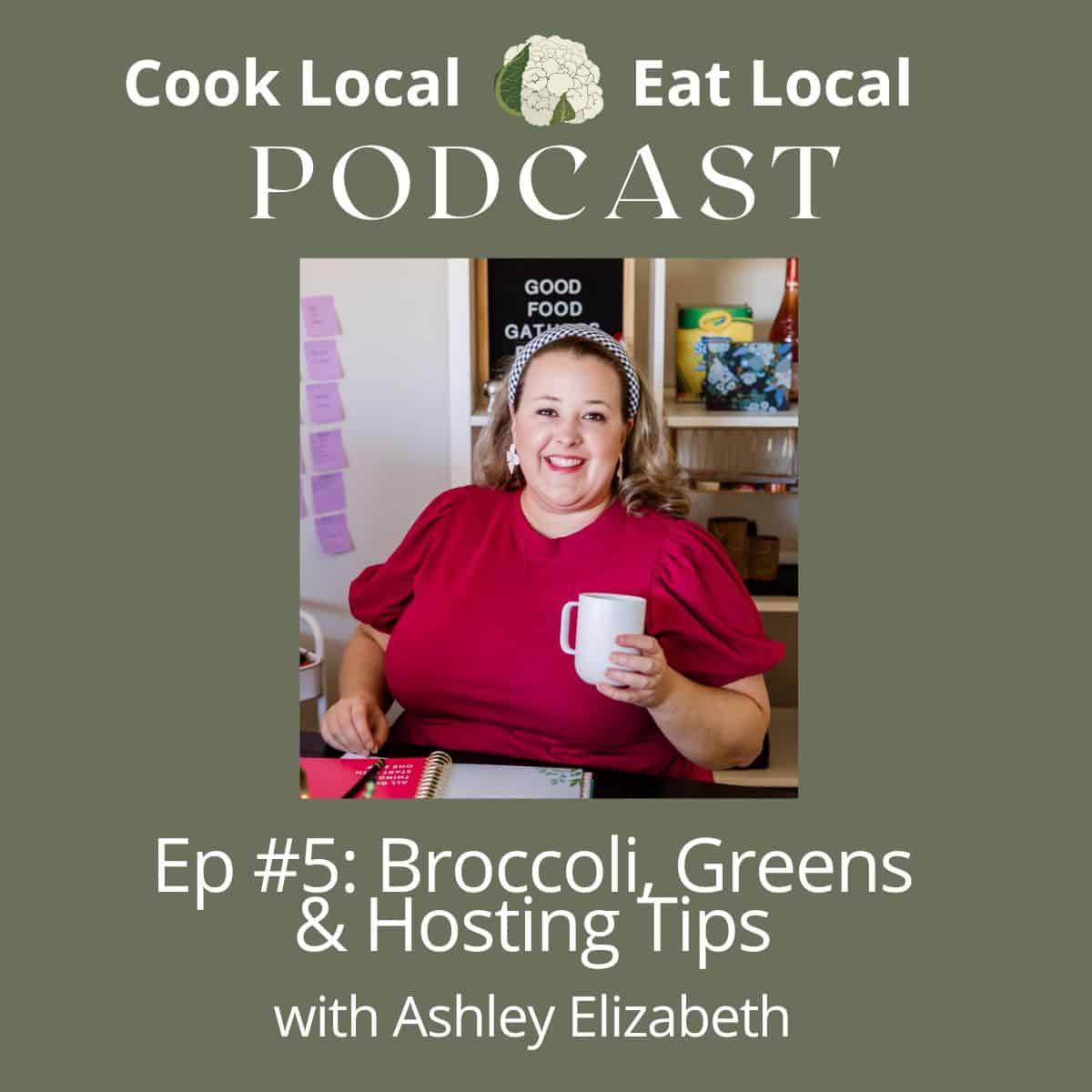 Ashley is the Hostess with the Mostest, ringing in the new Southern Belle in Asheville, NC. She creates recipes that you gather around the table easily at Sweetpea Lifestyle. When she's not hosting or creating content you can find her relaxing with a glass of champagne and re-watching Friends for the 100th time.
Our podcast interview covered three items from our latest CSA farm share: broccoli, kale and collard greens.
Here are a couple of the recipes Ashley mentioned on the show:
She also talked us through the way she prepares collard greens. With her Southern roots, cooking greens comes pretty naturally to her. In fact, she hadn't posted a recipe for collards on Sweetpea Lifestyle. But after our conversation, she said she might share one! Stay tuned…
Tips for hosting a gathering
A big focus of Sweetpea Lifestyle is providing tips for making hosting a gathering easy and low stress, whether it is a simple gathering of friends or entertaining a crowd for a holiday. She has some great ideas for getting conversations started by using interesting serving ware — a family heirloom or perhaps something from a local artisan.
Ashley has great tips for getting the guests contributing to the meal. We also chatted about an idea for hosting a farmer's market themed potluck, a great option for fans of Cook Local!
For a regular stream of tips from Ashley, be sure to check out the Hey, Ashley! Membership Collective.
What we made – CSA pickup #3
After our conversation with Ashley, here's what we made with the veggies from our CSA pickup.
Kale and broccoli
I mentioned to Ashley that I had recently made a delicious dish where kale simmered slowly with tomatoes, onions and a bit of local ground beef. Tossed with pasta, this was a delicious use of the kale!
With the kale in CSA share pickup #3, I went back to making my tried and true kale pesto. My sister and brother in-law were hosting a big outdoor summer party, so I made a big batch veggie pasta salad with the kale pesto. I steamed the broccoli with the sugar snap peas, and added them to the kale pesto pasta salad. A good way to pack a lot of veggies into one dish!
Collard greens
I am definitely going to have to try Ashley's tip that involves finishing the collard greens with some brown sugar – and of course there is bacon involved!
But for this batch of greens, I made our Ground Pork Stir-Fry with Collard Greens. This was a great way to use some local ground pork we had in the freezer as well as the collard greens from this week's CSA share. A delicious recipe!
Rainbow chard
As I talked about following the previous episode with Amy Katz, I've been all about the raw chard in salads lately! That trend continued this week. If you're eager to cook some chard, try Lidia's Swiss Chard Potatoes.
Red cabbage
Ok, technically this one is still on the meal plan list for tonight…when I get the CSA share, I consider which vegetables will keep longer and can wait to be cooked. Cabbage is a good one for putting toward the end of the meal plan lineup as it keeps a good 7 to 10 days in the refrigerator.
I'm going to be making red cabbage linguine pasta for dinner. The recipe is a lot like this one, minus the leftover turkey for a vegetarian pasta dish.
Beets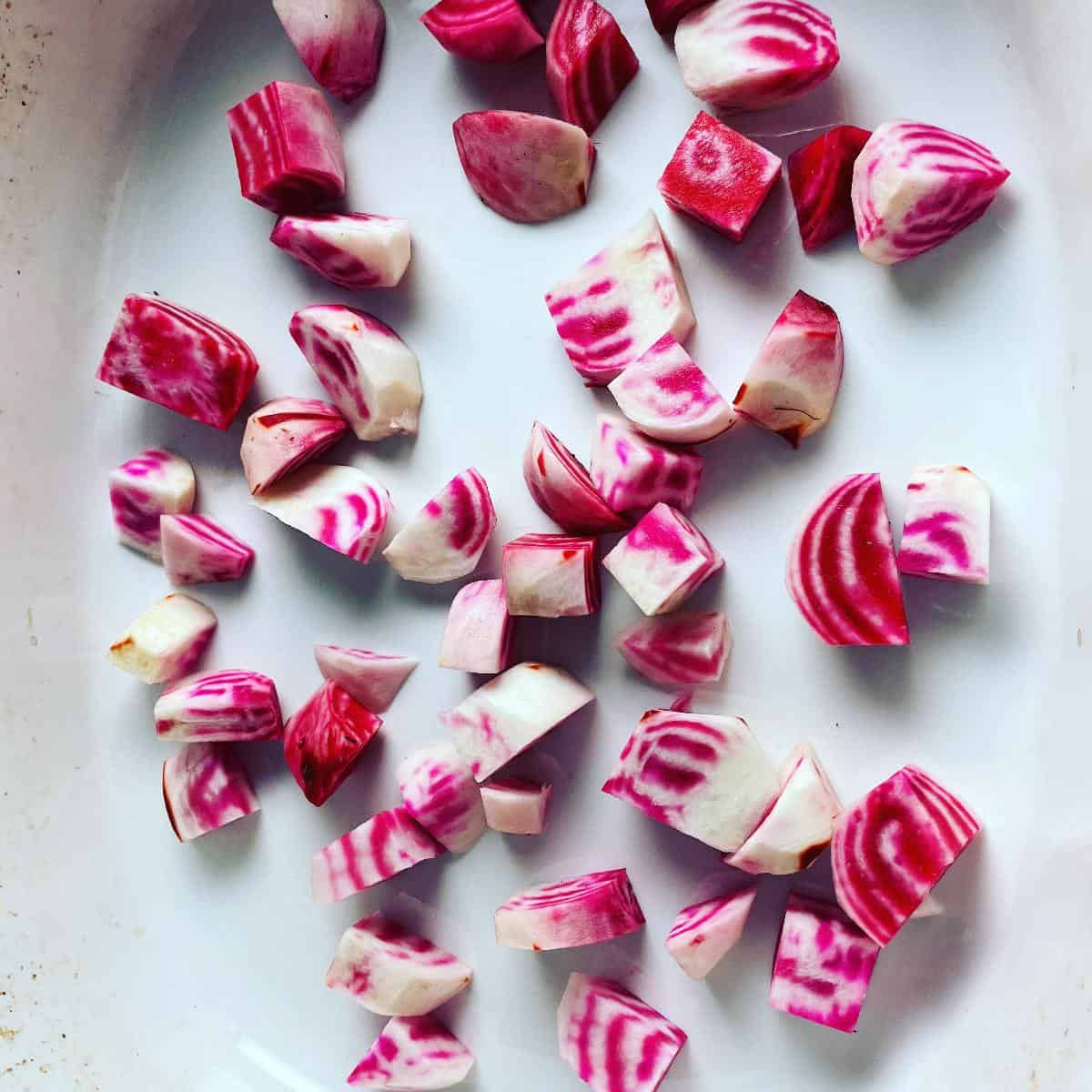 We also had some chioggia beets, also known as "candy cane" beets. This was one of the last vegetables from CSA share 3 that we had to use. That was by design, as beets can last a couple of weeks in the produce drawer so I tend to turn to them later in the process of working through the CSA pickup.
When I have beets available, I regularly make this NY Times Cooking recipe for roasted beets with Indian spices and yogurt. Another fun recipe is this one for roasted beet pesto!