One of our projects this summer has been to develop new healthy snacks and lunches that will provide our fast growing 10 year old boy with the nutrition he needs. In addition to the typical challenge of a kids palate, he has multiple food allergies that limit the choices. We have a bacon & bean spread that shows promise but still needs a few tweaks, and have gotten a big thumbs up for this Dairy-Free Banana Strawberry Smoothie.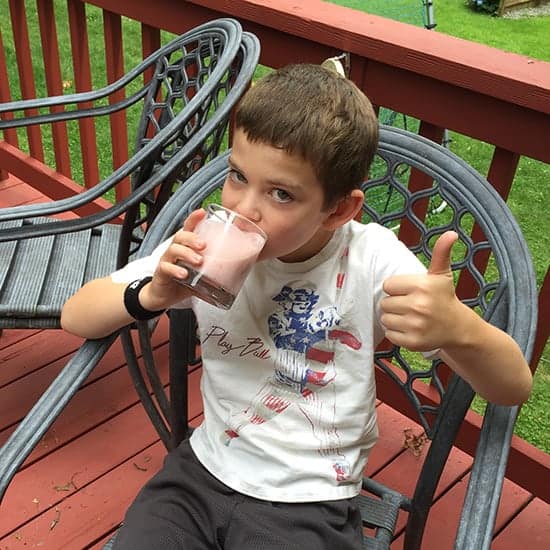 The smoothie is a nice after school snack option, especially in the warmer weather. But we also wanted to expand B's lunch options. We don't feel comfortable having him get the school lunches given the allergy concerns, so most days he has been taking soynut butter sandwiches. We were looking for variety as well as something that would pack more protein and other nutrients. Enter the Grilled Chicken Sandwich.
As a teen, I often packed chicken sandwiches when there were leftovers available. So I thought we'd see if he'd go for something similar. I figure getting flavorful chicken would be a good starting point. After some experimenting this summer, I came up with this Juicy Grilled Chicken Breast recipe that we all enjoy having in the regular dinner rotation. This chicken marinades for about an hour with soy sauce, lemonade, honey, and rice wine vinegar, and then is grilled for about 10 minutes for a nice tender and juicy chicken. I typically make 3 chicken breast fillets when grilling this, which is plenty for a supper for our family of three followed by enough leftover for a couple days of grilled chicken sandwiches.
As you might imagine, making the grilled chicken sandwich is quite easy once you have some grilled chicken on hand. I slice up the chicken one-half inch thick for the sandwich. I use a bit of the dairy free butter spread as an alternative to mustard or mayo…mayo being an allergy no-no because of the eggs, and B hasn't acquired a taste for mustard.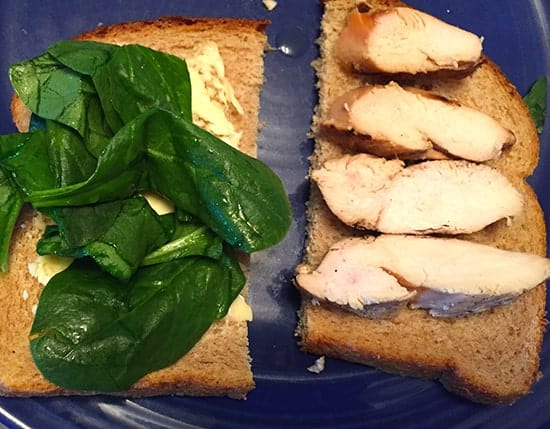 We were particularly interested in getting more protein into B's lunch. Perhaps in so doing he might not be looking for a snack every half hour upon getting home from school. But I thought I'd try to work in some healthy greens into the equation too. I'd by lying if I told you B loves the addition of baby spinach. But as long as I don't try to make it look like a salad between two pieces of bread, he still likes the sandwich overall and manages to eat the modest handful of spinach without complaint. Sounds like a winner to me!
So we've got a healthy, substantial new sandwich to send when school is back in session come September. Now, just need to find a good option for keeping it fresh now that his lunch has chicken instead of soynut butter. If you've got something you'd recommend for packing lunches with perishable items, please let me know in the comments!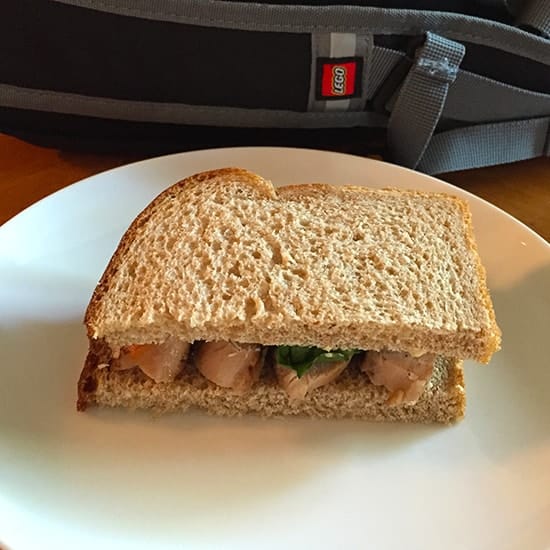 Print
Recipe card
Grilled Chicken Sandwich for Back to School #SundaySupper
A grilled chicken sandwich provides kids with plenty of protein as part of a healthy school lunch.
Author: Cooking Chat
Prep Time:

5 mins

Total Time:

5 mins

Yield:

1

serving

1

x
Category:

Sandwich

Cuisine:

American
½

of a grilled chicken breast, cut into

½

inch thick slices

2

slices whole wheat bread
handful of baby spinach

1 tsp

dairy free butter spread
Instructions
Use knife to spread the butter over one piece of the bread.
Place the chicken slices in a single layer on the bread.
Top the chicken with the baby spinach.
Cover the sandwich with the other piece of bread, and cut in half to make it easier to eat.
Recipe Card powered by