Grilled Halibut with Parsley Pesto is a simple and healthy meal to make on the grill. We paired it with a rosato (rosé) wine as part of the Italian Food, Wine and Travel group virtual visit to Lombardia. A tasty food and wine pairing for grilling season!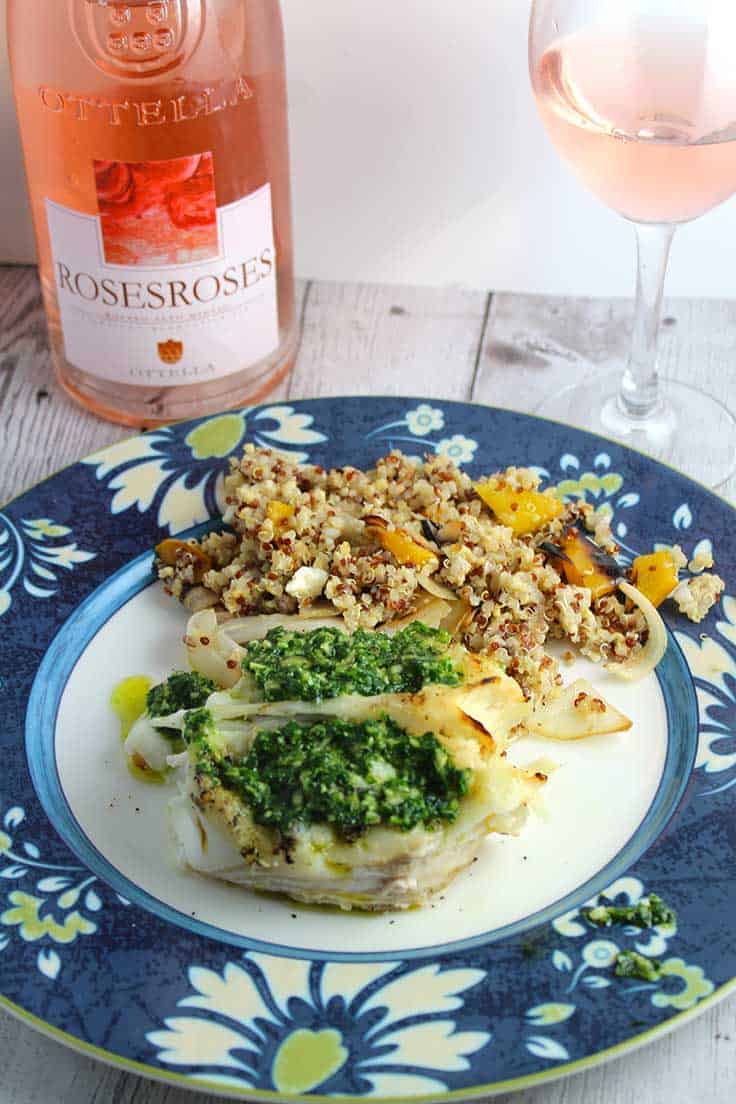 This first time I grilled halibut, and served it with mango salsa, I really enjoyed the way it came out. I saw halibut on sale recently, and decided to make it again. This time we served the grilled halibut with parsley pesto.
Fish can be a good palette to upon which to try different types of pesto. Lately I've been all about kale pesto, and of course always like a good basil pesto. But I had extra parsley on hand, and thought I would turn that into pesto for the halibut. Parsley pesto has a nice fresh and lively taste to it, and is a nice change of pace from other types of pesto.
We certainly associate pesto with Italian food. Though pesto will typically be made with basil in Italy, my sense is Italians will sometimes use other fresh herbs to make a pesto.
A quick glance around the web about food from Lombardia makes it clear I can't claim my grilled halibut with parsley pesto is a regional dish. As one of the few landlocked regions of Italy, Lombardia doesn't feature as much seafood as some areas. Risottos abound in this rice growing region, as do dishes that use the cheeses and meats found in the area. Oh well, we can loosely call our halibut with pesto an Italian inspired dish. And we enjoyed it with a wine picked for the #ItalianFWT visit to Lombardia!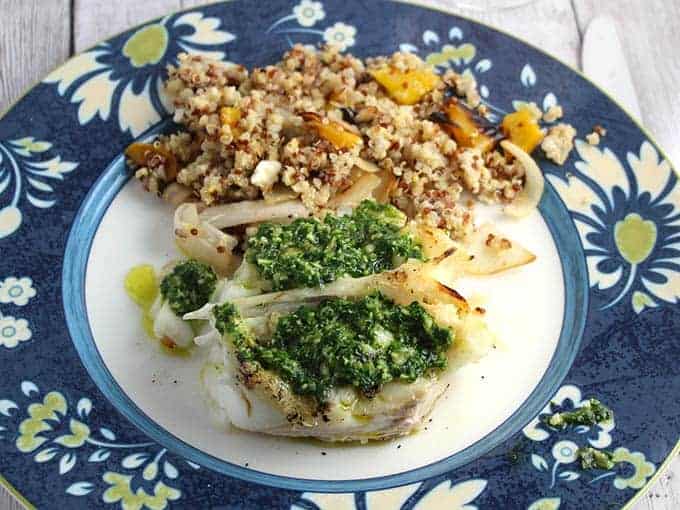 Nope, that is not a risotto you see along with the halibut. That is Quinoa with Grilled Peppers and Onions, which isn't Italian but worth trying next time you are grilling!
Wine Pairing for Grilled Halibut with Parsley Pesto
We food and wine bloggers sometimes like to talk about whether our pairing started with the food or the wine. A made this halibut recipe a few weeks ago, so I don't recall exactly how things evolved. I believe I first planned to make the grilled halibut with parsley pesto, then when I saw there were whites and rosés available at Pairings from Lombardia, I figured one of those bottles would pair well with our grilled halibut.
I wound up pairing our halibut with the 2015 Ottella Rosesroses ($14, 12% ABV). This rosato, as I suppose I should be calling a rosé from Italy, is made from a blend of Corvina, Rondinella, and Molinara. I don't know a lot about these grape varietals, but I do seem to hear them blended together in Northern Italy.
I got watermelon on the nose of this wine, fast forwarding me to summer. Taste of strawberry and rose petals, this is a flavorful and pleasant wine to drink. I was pleased with the way it paired with our grilled halibut and parsley pesto, and suspect it would be a good pairing for many grilled fish and chicken dishes. And I could see sipping this by a pool on a warm day without a food pairing, too!
Our local wine shop and a number of wine sites associate the Ottella winery with Lombardia. Ottella is located in Peschiera del Garda, which I gather seems to be on the border between Veneto and Lombardia, where Lake Garda ends and the Mincio river begins. Some references indicate the address of the winery is in Veneto. Even if that is so, I'm glad that the Italian Food, Wine and Travel group's visit to Lombardia gave me a chance to sample this refreshing rosato!
Print
Recipe card
Grilled Halibut with Parsley Pesto
Grilled halibut topped with an easy, flavorful parsley pesto for a healthy main course.
Author: Cooking Chat
Prep Time:

10 mins

Cook Time:

12 mins

Total Time:

22 mins

Yield:

3

servings

1

x
Category:

Main

Cuisine:

American
2

cloves garlic

1 cup

parsley

1 tbsp

pumpkin seeds, toasted

½ cup

extra virgin olive oil

2

halibut steaks, about

1

inch thick and 12 to 16 ozs total
cooking oil spray
Instructions
Make the parsley pesto: add the garlic to a food processor, and whir the garlic to mince.
Add the parsley, pumpkin seed, olive oil, salt and pepper to the food processor. Puree to combine all the ingredients into a consistent pesto sauce. Set aside while you grill the fish.
Coat the halibut with olive oil or canola spray. Place on the grill, and grill covered for 5 minutes.
Flip the fish to grill covered for another 5 minutes.
Check the fish after 10 minutes of total grilling time. It should be white throughout and flake apart. Finish with another couple minutes of grilling if needed. The halibut takes 10 to 12 minutes to grill, depending on your grill heat and thickness of the fish.
Remove the halibut from the grill to a platter. Let the halibut rest for a couple minutes, then serve the halibut topped with the parsley pesto.
Recipe Card powered by
Italian Food Wine & Travel Lombardia Reports
Join our Twitter chat Saturday May 7th at 11 am EDT @ #ItalianFWT to chat about Lombardia. Plus, don't miss next month as we feature our last region of Italy, Liguria. This will complete our first full tour of Italy. See you June 4th!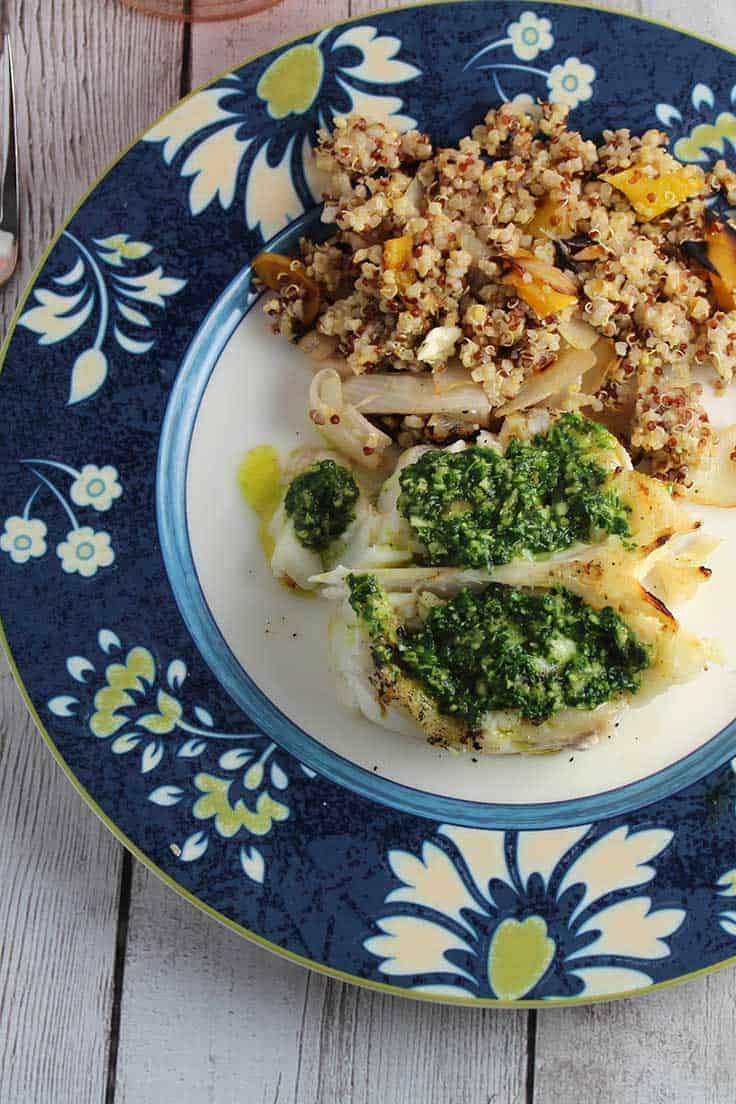 Vino Travels – Chiavennasca of Lombardia vs. Nebbiolo of Piedmont
The Wining Hour – Vines and Views of Valtellina Valley
Culinary Adventures of Camilla – Sbrisolana and Cantina Casteggio Barbera
Girl's Gotta Drink – Visit Franciacorta Wine Region: Italian Sparkling Wine For the Win!
Enofylz Wine Blog– Franciacorta: The World Class Italian Sparkling Wine of Lombardy #ItalianFWT
Food Wine Click – Valtellina: Another Expression of Nebbiolo
Orna O'Reilly – Sirmione: Pearl of Lake Garda
The Palladian Traveler – Spritz Campari: Milan's Passionate Red Cocktail
Cooking Chat – Grilled Halibut with Parsley Pesto and Wine from Lombardia
L'Occasion – 36 Hours in Lombardy
Vigneto Communications – Lombardia: A Wealth of Wine