Quick, do you know the difference between Pouilly-Fuissé and Pouilly-Fumé wines? At a basic level, I knew that Pouilly-Fuissé is an appellation for white wine in the Mâconnais subregion of Burgundy, where the white wine is made from Chardonnay grapes. I've had Pouilly-Fuissé more often than Pouilly-Fumé, a Loire Valley white wine made from Sauvignon Blanc. The similarity of names make it easy for the casual wine fan to get them confused.
In 2014, I was tasting some Pouilly-Fuissé and Pouilly-Fumé side by side at Pairings Wine & Food, and brought home both bottles. I initially wrote this article describing the food pairings for Pouilly-Fuissé and Pouilly-Fumé that I came up with with for those bottles. I have come back to update the post with pairings that have worked well for both types of wine. I'm going to lead off with those food pairings for Pouilly-Fuissé and Pouilly-Fumé that I recommend based on my successful pairings and ideas from fellow bloggers. After covering those best pairings, I will follow with more details on the initial tasting that led me to write this post.
Best Food Pairings for Pouilly-Fuissé
When I first wrote this post, I paired a bottle of Pouilly-Fuissé with our Fettuccine Primavera. More tasting notes follow below, but I'll simply say that worked very well as a food pairing for Pouilly-Fuissé. Based on that success, I stuck with the pasta theme with subsequent bottles of Pouilly-Fuissé. We enjoyed some Pouilly-Fuissé with Goat Cheese Pasta and Chicken. A slightly different preparation, Mediterranean Chicken Pasta with Spinach, also worked well with a bottle of Pouilly-Fuissé.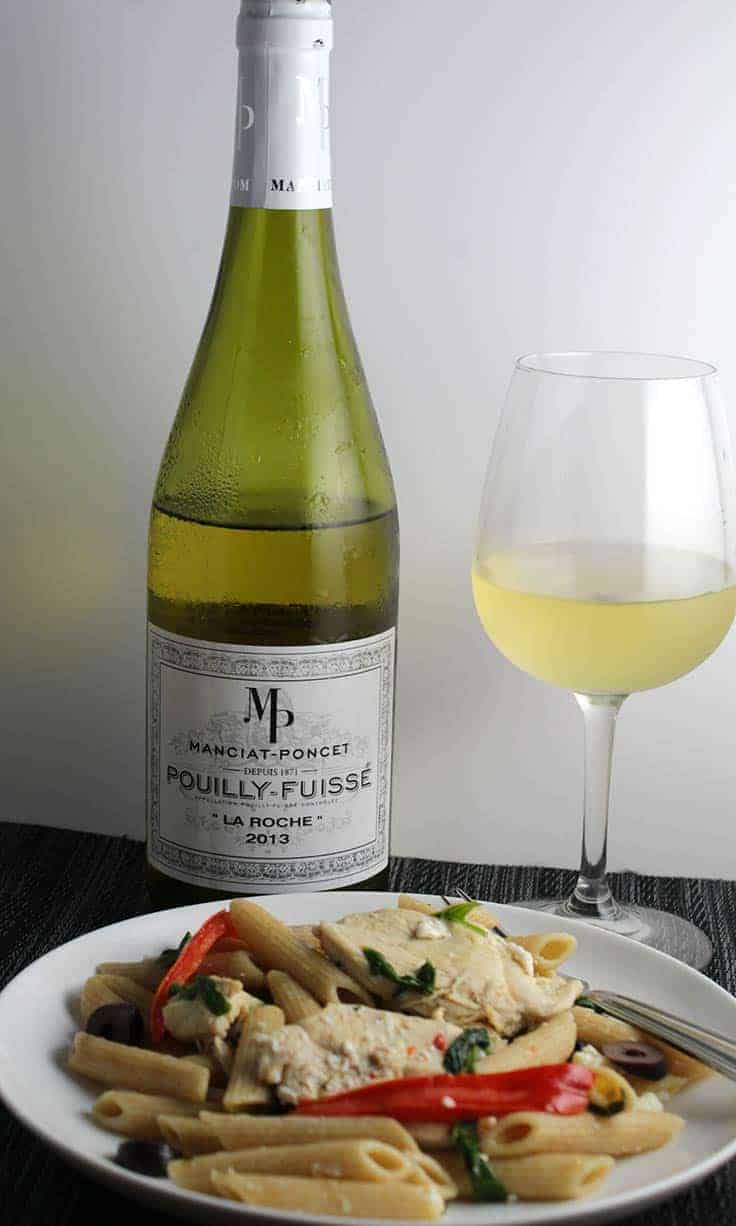 The Manciat – Ponce is definitely one of my go to producers for Pouilly-Fuissé. I'm updating this post today because I picked up a bottle of the 2015 vintage to go with our supper last night. I made some kale pesto, tossed it with some ziti and added a bit of baked cod to the dish. Worked very nicely with the 2015 Monciat- Poncet Pouilly-Fuissé ($25, 13% ABV). This wine has a subtle creaminess and notes of lemon peel that worked well with the kale pesto pasta.
One night when I was making pasta to pair with Pouilly-Fuissé, I also prepared some Simple Sautéed Shrimp. The minerality in the wine helped make it an excellent pairing for the shellfish; I liked that combination even better than the pairing with the pasta dish.
In our Wine Pairing Weekend group, Lee suggested chilled king crab bites with a bit lemon and butter to dip, as a great food pairing for Pouilly-Fuissé. Jeff from foodwineclick suggests the Mustard Chicken with Cornichon Cream Sauce that he has paired with other white Burgundies would go well with Pouilly-Fuissé.
Recently I ordered a bottle of 2014 Chateau Vitallis Poully-Fuissé at a restaurant (Pate's in Chatham, MA), for a very reasonable price of $38. It was tasty with clam chowder, and paired nicely with the chicken stuffed with spinach and cheese I ordered. Someone at the table commented that they liked this wine because "it doesn't taste like Chardonnay". Of course, I informed them Pouilly-Fuissé is made from Chardonnay grapes, but is very different in style than California Chardonnay. Here's a recipe for stuffed chicken from Moore or Less Cooking if you'd like to try the pairing.
Best Food Pairings for Pouilly-Fumé
I was disappointed with my original food pairing experiment with Pouilly-Fumé, described further below. But the results were much better when I paired a 2013 Jonathan Didier Pouilly Fumé with our Simple Grilled Shrimp. This wine tastes of mango, honey and hazelnut, which paired very nicely with the smoky sweetness of the shrimp. The underlying minerality also makes it a great seafood partner.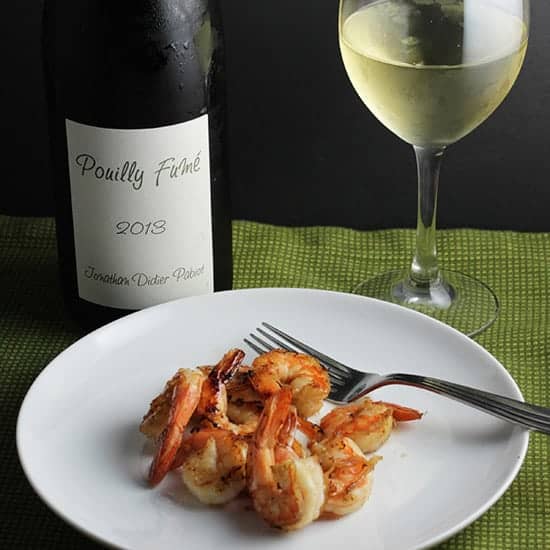 Seafood dishes like the shrimp shown above are natural partners for Pouilly-Fumé. I recently found a new Pouilly-Fumé pairing that we really liked. I opened the 2015 Vincent Vatan Pouilly-Fumé ($24, 13% ABV) to go with our Pasta with Red Lentils and Ginger recipe, and was pleased with the result.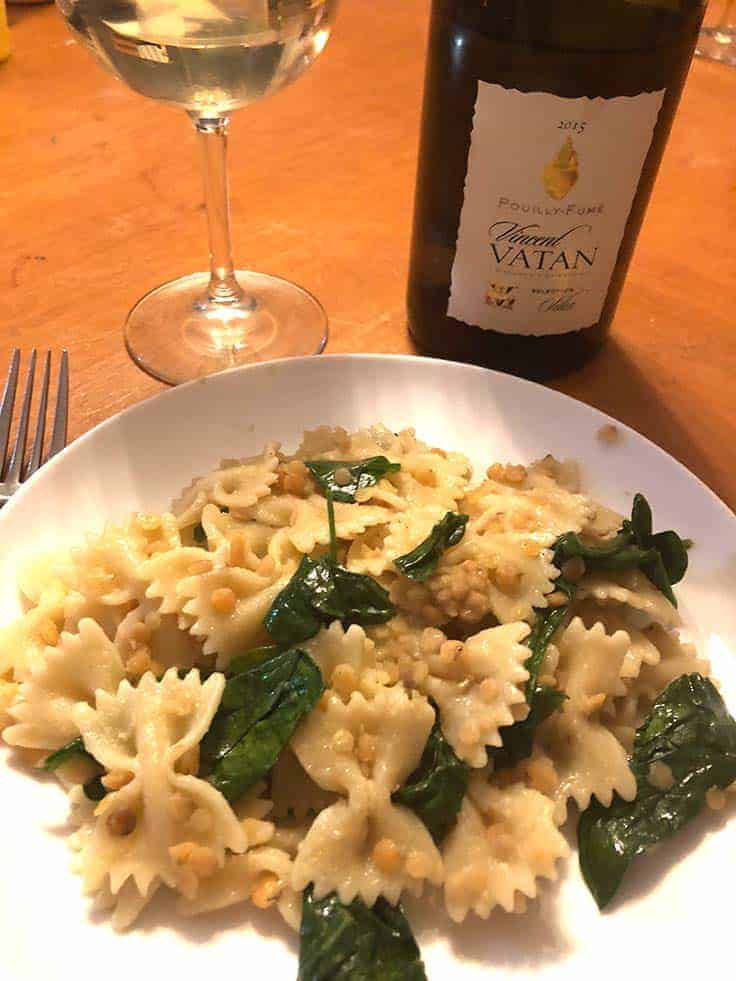 In addition to the ingredients in the title, the Pasta with Red Lentils and Ginger has a lot of garlic, sautéed in olive oil and butter along with the ginger. That garlicky ginger flavor profile matched up very nicely with the subtle taste of the Pouilly-Fumé, which had lemon on the nose, moderate grapefruit taste with stone undercurrents. I definitely recommend this pasta pairing with Pouilly-Fumé, and you might try similar pasta dishes based on garlic and olive oil with Pouilly-Fumé.
In this post, Jeff from foodwineclick dives deep into the soils that produce Pouilly-Fumé and other crisp white wines from the Loire Valley. He said the wines he sampled went great with a pulled pork sandwich and cole slaw, crediting the the vinegar based BBQ sauce and vinegar based cole slaw dressing with the paring success.
In preparation for the 2018 holidays, we joined with the French Winophiles group to sample some special wines for a "French-Style" holiday. One of the bottles was the 2017 Chateau de Tracy Pouilly-Fumé, providing a chance to do more research for this article.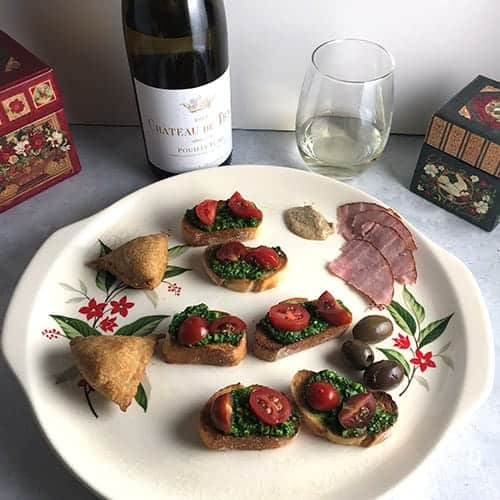 I noted that we hadn't tested Pouilly-Fumé with pesto, which is a natural pairing given that Sauvignon Blanc is a the classic pairing for pesto. So I put together a festive platter featuring Kale Pesto Crostini along with a few other items to nibble on. The Pouilly-Fumé was very good with the crostini, as suspected.
The surprise hit during our holiday 2018 pairing was how well the Pouilly-Fumé paired with the ham and mustard. I would definitely say consider opening a Pouilly-Fumé next time you are having baked ham, or even a ham sandwich, if you are topping it with mustard.
In our Wine Pairing Weekend Facebook group, Lee suggested an herbed goat cheese tart as a good pairing with Pouilly-Fumé. Sounds good to me! Michelle from Rockin' Red Blog has a post where she sampled some Pouilly-Fumé along with other Loire wine, and she enjoyed it along with some Grilled Chicken Tandoori– linking you to my version of that dish.
Does Pouilly-Fumé go with turkey?
I noticed at least one person found their way to this article by Googling "Does Pouilly-Fumé go with turkey?". I haven't tested the pairing, but it doesn't strike me as a pairing that would work especially well. For a white wine with turkey, I like Chenin Blanc or Pinot Gris. And a Riesling would also work. More on wine pairings for turkey here.
Original Tasting and Pairings for Pouilly-Fuissé and Pouilly-Fumé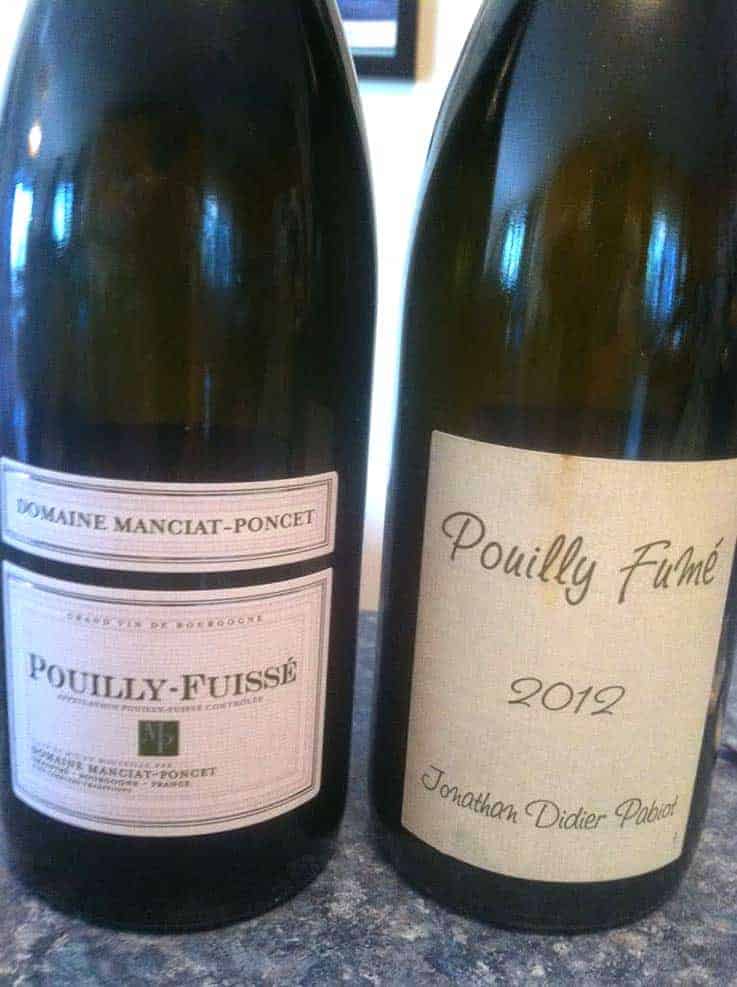 Back in May 2014, I had a chance to start getting a better handle on the distinction between Pouilly-Fuissé and Pouilly-Fumé, and thought I'd share my findings here on Cooking Chat. At the 2014 spring Grand Pairing event at Pairings Wine and Food, one of the four tasting tables had a bottle of Pouilly-Fumé followed by a Pouilly-Fuissé in their tasting lineup. I thought they were both great, especially for the price of around $20 that day. So I grabbed a bottle of both, and decided to do my own side by side tasting at home. I served them on back to back nights, to see how they compared with each other and how they would work paired with the foods we were serving.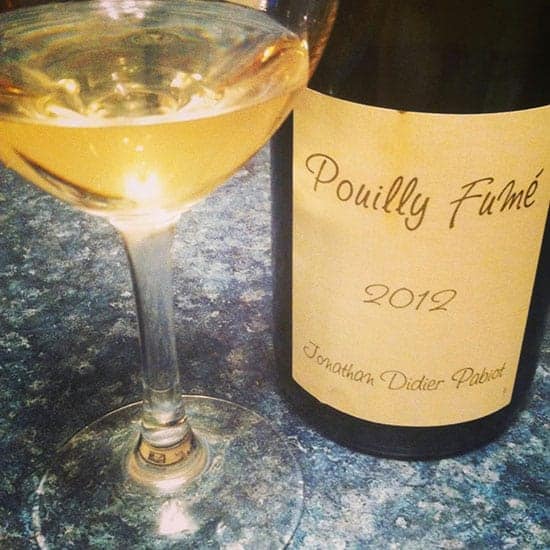 On the first night of this pairing experiment, we were having pasta with andouille turkey sausage and collard greens,
similar to this recipe.
I thought the "smokiness" of the Fumé might match the similar characteristic in the sausage, so I paired our pasta dish with the
2012 Jonathan Didier Pabiot Pouilly Fumé.
I got lemon zest on the nose and some grapefruit as my initial taste. I definitely got some distinct smokiness on the back end of the taste. However, that smokiness in the wine didn't quite work with the sausage the way I'd hoped. There was a good bit of heat in the sausage, and the Fumé is a very dry wine. Next time I serve the dish or something similar I'll opt for something that has a touch of sweetness to offset the heat, maybe a Riesling or Gewurztraminer.
Since originally posting this article, I have found Zinfandel worked nicely as a pairing with the Rigatoni with Chicken Sausage and Greens dish.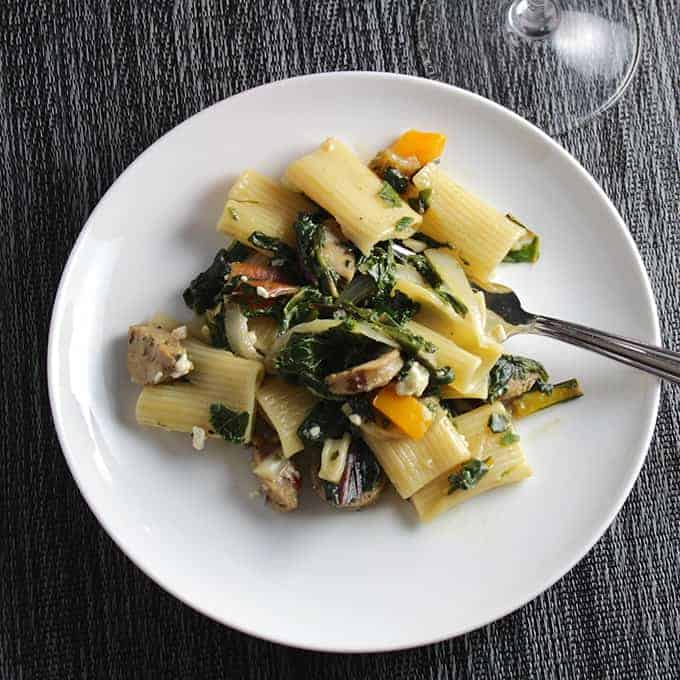 Don't get me wrong, the Jonathan Didier Pabiot Pouilly Fumé is a great wine and a very good expression of Pouilly-Fumé. It just pairs much better with foods like shrimp as mentioned earlier in this post.
The second night of this pairing process, night I was making fettuccine with a creamy alfredo sauce. I often serve this pasta dish with a Chardonnay, so it set us up nicely to follow the Pouilly-Fumé evening with some Pouilly-Fuissé, the 2011 Domaine Manciat-Poncet Pouilly-Fuissé. I got flint on my first taste, followed by some nice melon fruit. I also picked up just a hint of lemon. Nice round mouthfeel. That substantial mouthfeel gives the wine weight to stand up to the creamy sauce, and the melon and flint marry nicely with the flavors of the dish. I'd be hard pressed to pick which of the two wines is of better quality on their own, but the Pouilly-Fuissé with fettuccine was definitely the winning wine pairing of the weekend!
So how about you? Do you like Pouilly-Fuissé or Pouilly-Fumé? Have any pairings to suggest with either of them? Do tell!