Today we serve up our Turkey and Cabbage Skillet recipe, cooked with a vibrant miso soy stir-fry sauce. This delicious, healthy meal is a great way to use cabbage and ground turkey!
Origin of this recipe
Many of the recipes I feature on Cooking Chat start with a wine I want to serve. This one started with cabbage, then we work our way around to the wine pairing.
In 2020, I got back into doing a farm share (CSA), and have been loving it! In fact, in 2022 I started the Cook Local Eat Local podcast to focus on what we can cook with local, seasonal ingredients, following what I make through the CSA.
One week the farm share included an interesting variety of cabbage, a caraflex cabbage, along with some suggestions of making stir-fry. Thinking the cabbage along with some turkey we had in the freezer might be a good combination, I was on my way to cooking up this ground turkey and cabbage stir-fry recipe.
Caraflex cabbage has an interesting shape and delicate flavor. Definitely worth trying! We used it the first time we cooked this recipe, but for our second time making this turkey stir-fry making we used basic green cabbage, and that definitely works.
I should also note I got some ideas for the sauce used here from this Veggie Miso Tofu Stir-Fry recipe from Connoiseurus Veg. Speaking of the sauce, we have used a similar preparation in this delicious Ground Pork Stir Fry with Collard Greens.
Want another tasty and health skillet meal? Try our Skillet Chicken with Baby Kale! And there's also this Ground Turkey Pasta Sauce with Mushrooms that you might like.
Tips for making this recipe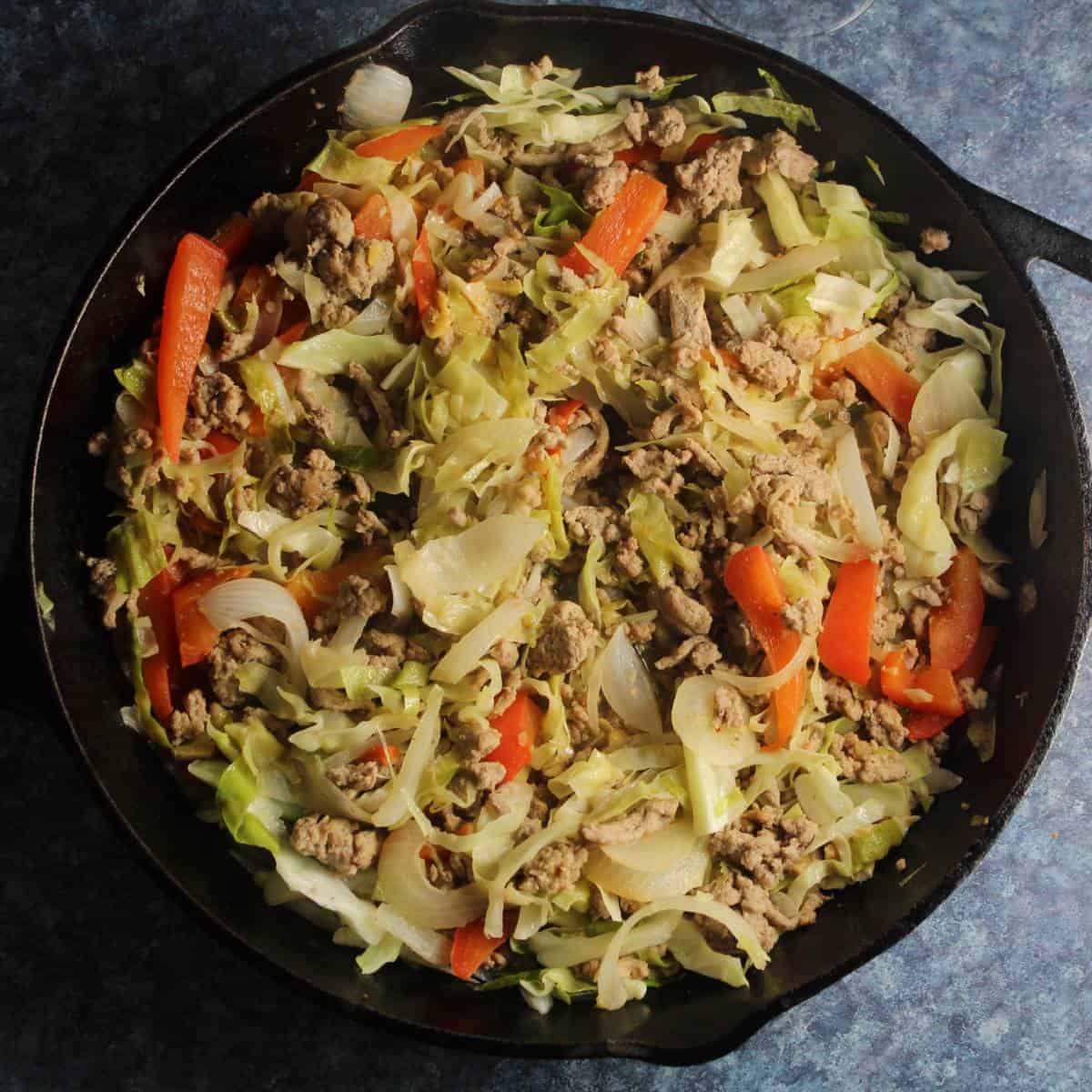 The full detailed steps can be found in the recipe card below, but here are a few quick tips:
Get the veggies chopped before you start cooking. Things move fast once you get it started!
I make this recipe in a cast iron skillet (I originaly called this turkey and cabbage skillet), but you could use a wok if you prefer.
You can add additional greens if you have them on hand. The last time I made the recipe, I added some chopped Brussels sprout leaves, and that added nice additional color to the dish.
You can adjust the stir-fry sauce ingredients based on your preferences and what you have on hand. I have made it without the jalapeños, and bumped up the sriracha a bit, and that worked. I was going to try adding cilantro, but they were out when I went shopping for the ingredients.
Adding the cabbage
If you are using a skillet like I do, you need to add the cabbage in a couple of batches so that it all fits. Before adding the cabbage, you cook the onions to soften a bit, then add the ground turkey.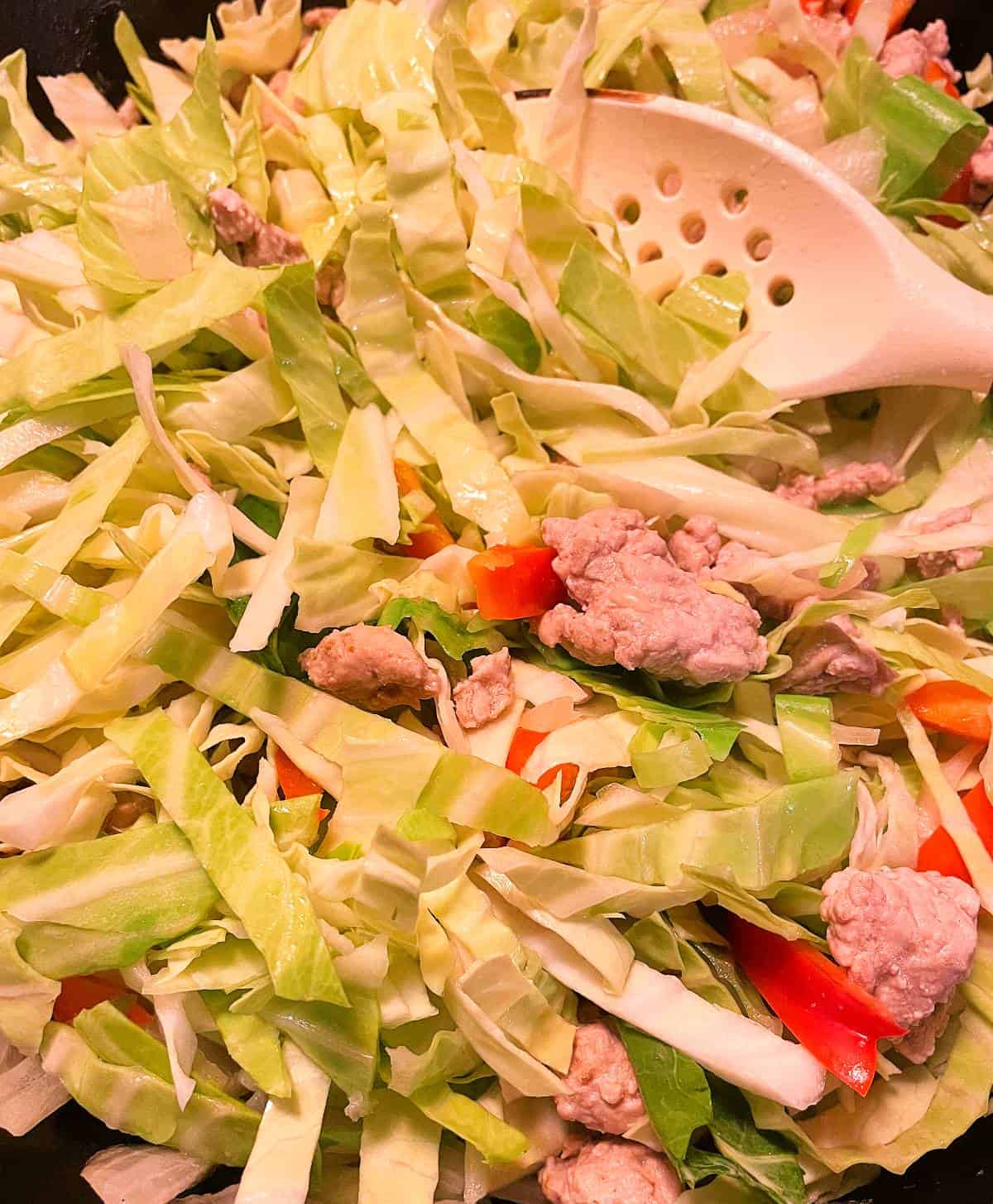 Add about half of the cabbage, and stir it in with the turkey. Let it cook for a minute or two so it starts cooking down. Then add the second batch of cabbage, followed by greens if you are using them.
What to serve with this recipe
We serve this turkey cabbage skillet over brown rice.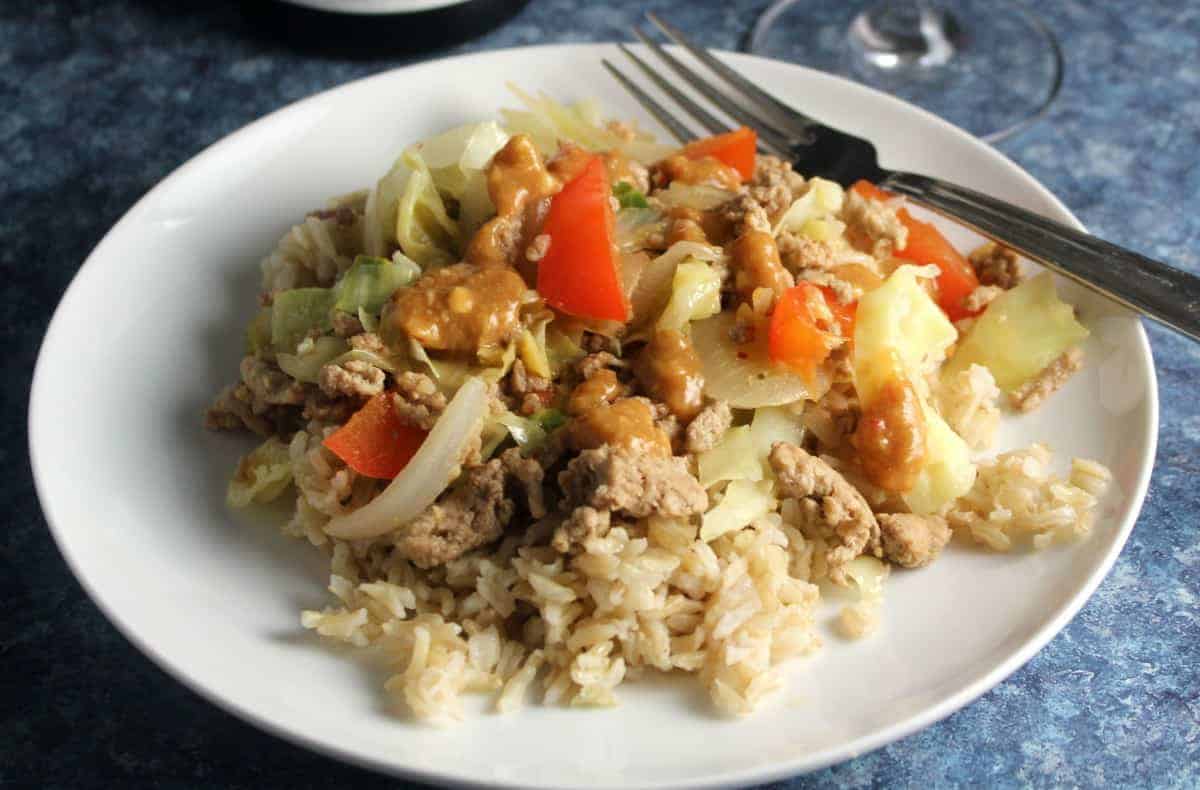 We had corn on the cob alongside this stir-fry recently, and that was a nice complement to the flavors of the turkey and cabbage dish.
Wine pairing details
We originally posted this recipe along with a French Winophiles event focused on the Loire Valley. So we share the information from that original pairing along with the latest pairing we've enjoyed with the recipe.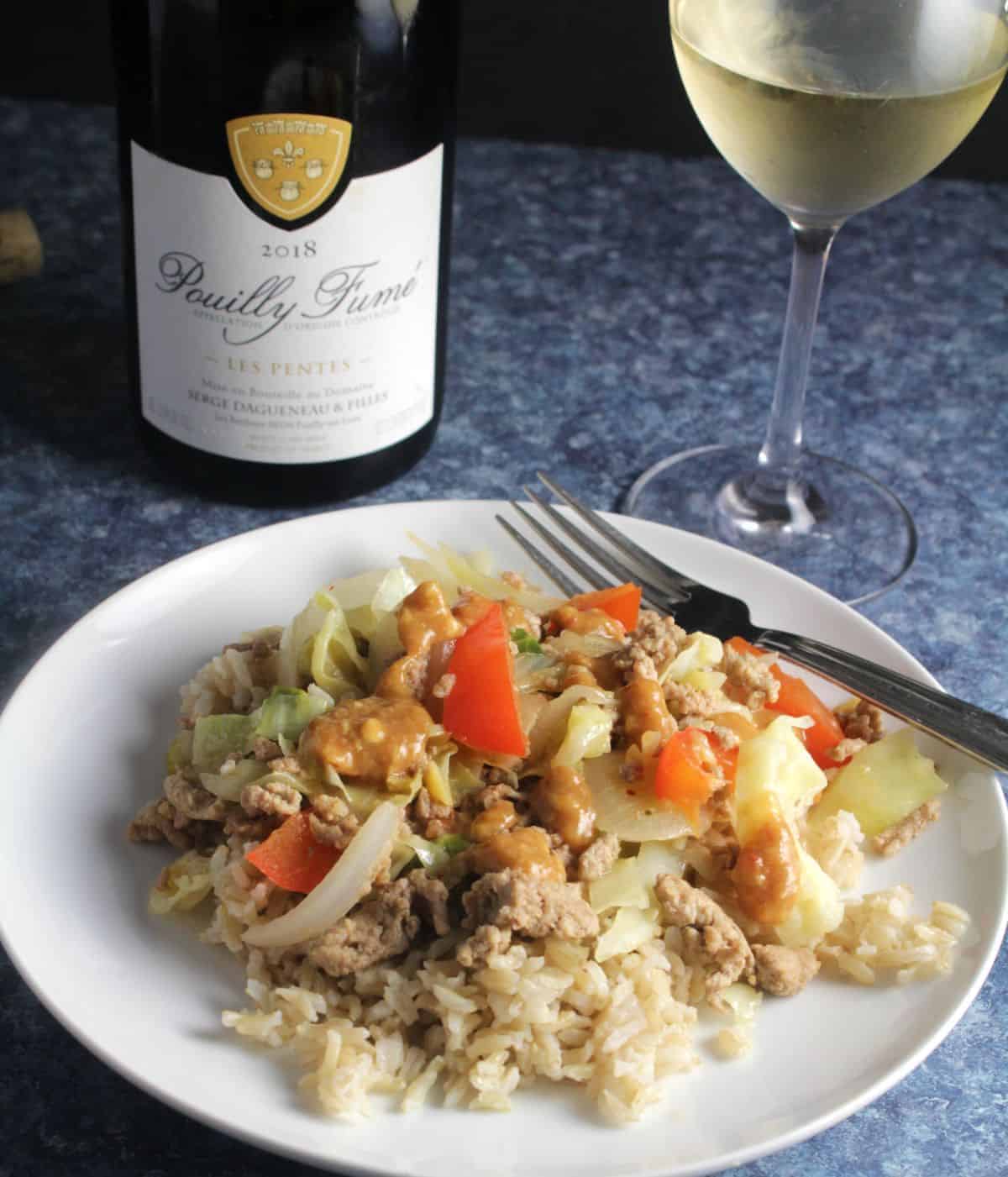 Loire Valley Wines
The Loire Valley wine region might not be quite as famous as say, Burgundy or Bordeaux, but it is certainly another very special part of France to know. It's on my short list of wine regions to visit when travel becomes a thing again!
The Loire Valley is in the heart of France, stretching from the Atlantic, where you find Muscadet, to the more inland appellations including Sancerre and Pouilly-Fumé.
In addition to whites wines made from Sauvignon Blanc, such as we share about today, I love the Chenin Blancs such as Vouvray. In a show of its pairing versatility, I have enjoyed Vouvray with everything from Thanksgiving turkey to corned beef for St. Patrick's Day.
I also could have easily focused on the Loire Valley reds for today's event. The cool climate of the Loire Valley produces some light, food friendly red wines made from grapes such as Gamay, Cabernet Franc and Pinot Noir.
Pouilly-Fumé
The Pouilly vineyards are on the right bank of the Loire, toward the eastern end of the region, about 2 ½ hour drive south of Paris. The winemaking history in the region goes back to the 5th century, and it received AOC status in 1937.
Pouilly-Fumé wines are made from Sauvignon Blanc grapes, and exhibit a crisp, dry white wine style. They can be a more moderately priced Loire Sauvignon Blanc compared to the pricier neighboring AOC, Sancerre.
Awhile back I noticed I would get regular traffic to Cooking Chat from people trying to sort out the difference between Pouilly-Fumé and Pouilly-Fuissé, and what foods to serve with them. So know I'm always looking to add more options to my popular Food Pairings for Pouilly-Fuissé and Pouilly-Fumé article. (the basic difference — unlike the Sauv Blanc based Pouilly-Fumé, Pouilly-Fuissé is made from Chardonnay grapes in the Mâconnais region of Burgundy).
Pouilly-Fumé with Turkey Cabbage Stir-Fry
My favorite pairings for Pouilly-Fumé have involved shrimp, such as our Simple Grilled Shrimp. While shellfish is a natural partner for Pouilly-Fumé, I've also had some success matching it with lighter pasta dishes such as this Pasta with Red Lentils and Ginger recipe.
Today I was ready to branch our further with my Pouilly-Fumé pairing. I checked out the Sauvignon Blanc section of The Wine Lover's Cookbook (Amazon affiliate link provided) to see if my pairing idea for this Turkey and Cabbage Skillet seemed to be on track.
The book notes Sauv Blanc is good with assertive flavors, and listed a few key ingredients in this dish– turkey, fresh ginger — as good partners. I was ready to give the pairing a try!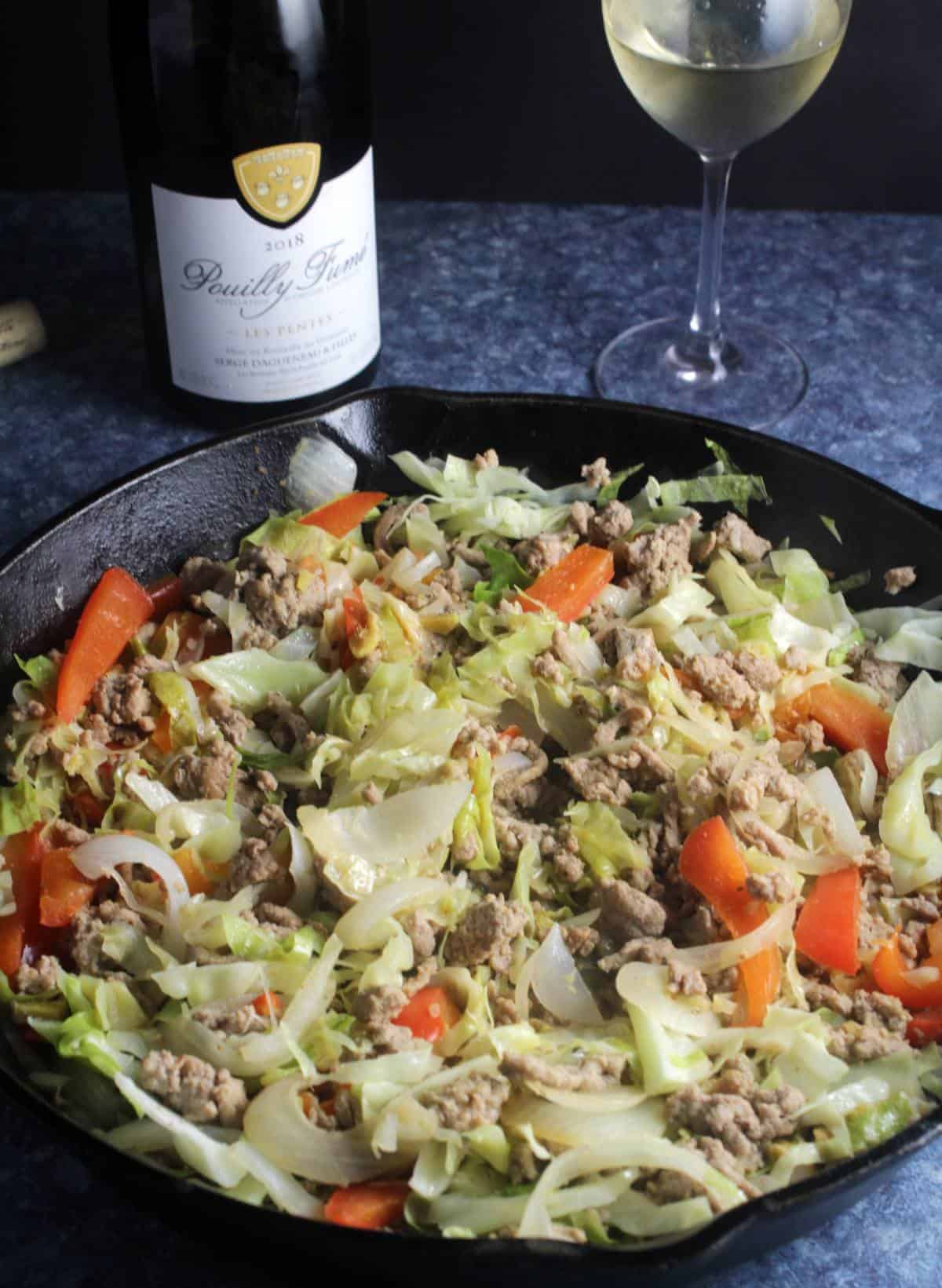 I opened the 2018 Pouilly-Fumé Les Pentes from Serge Dagueneau & Filles ($32, 12.5% ABV). On the nose, green apple and petrol. Fresh grapefruit on the palate, with bracing acidity — definitely a pucker factor. Underlying notes of minerality, suggestive of seashells.
The pairing was OK, I'd give it a "B"–not quite ready to add it to my list of recommended Pouilly-Fumé pairings. The grapefruit notes were really assertive, making it a bit challenging to enjoy with the food. There was also something on the finish of the wine — burnt almonds perhaps — that lingered.
One of the more recent articles here mentioning Pouilly-Fumé goes back to a December 2018 Winophiles event where I sampled one from Chateau de Tracy. I have some similar terms in my tasting notes — petrol on the nose, grapefruit on the palate — but I recall that grapefruit element being more subtle.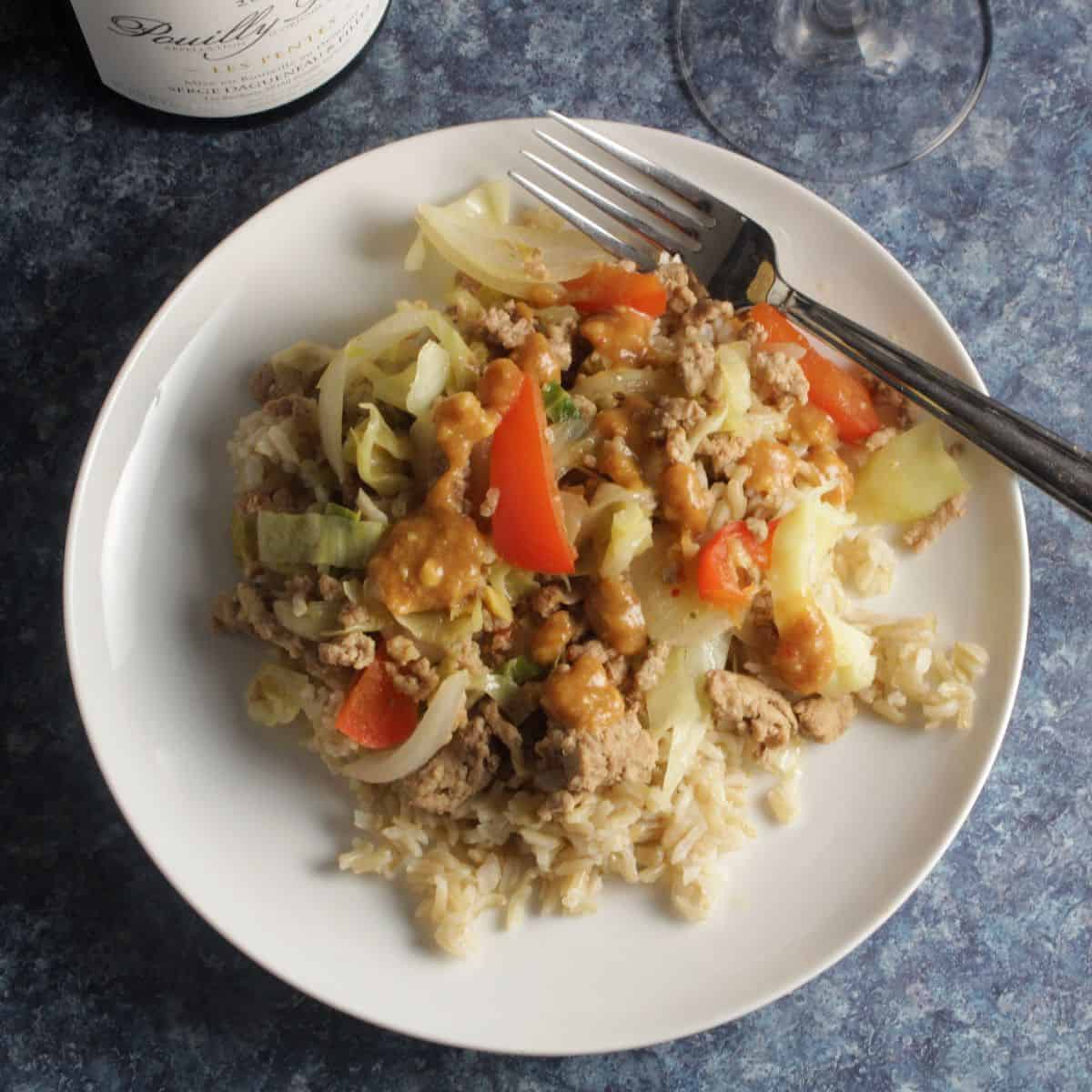 I'm not sure if it has something to do with the 2018 vintage or the producer, but Les Pentes brought to mind the Sauv Blanc style I associate with New Zealand, which is not necessarily my favorite.
After trying the turkey and cabbage skillet recipe with the Pouilly-Fumé, I knew I'd have to come back and try more pairings. I noted Riesling as a wine pairing to try, but wound up going in a slightly different direction.
A winning Washington white blend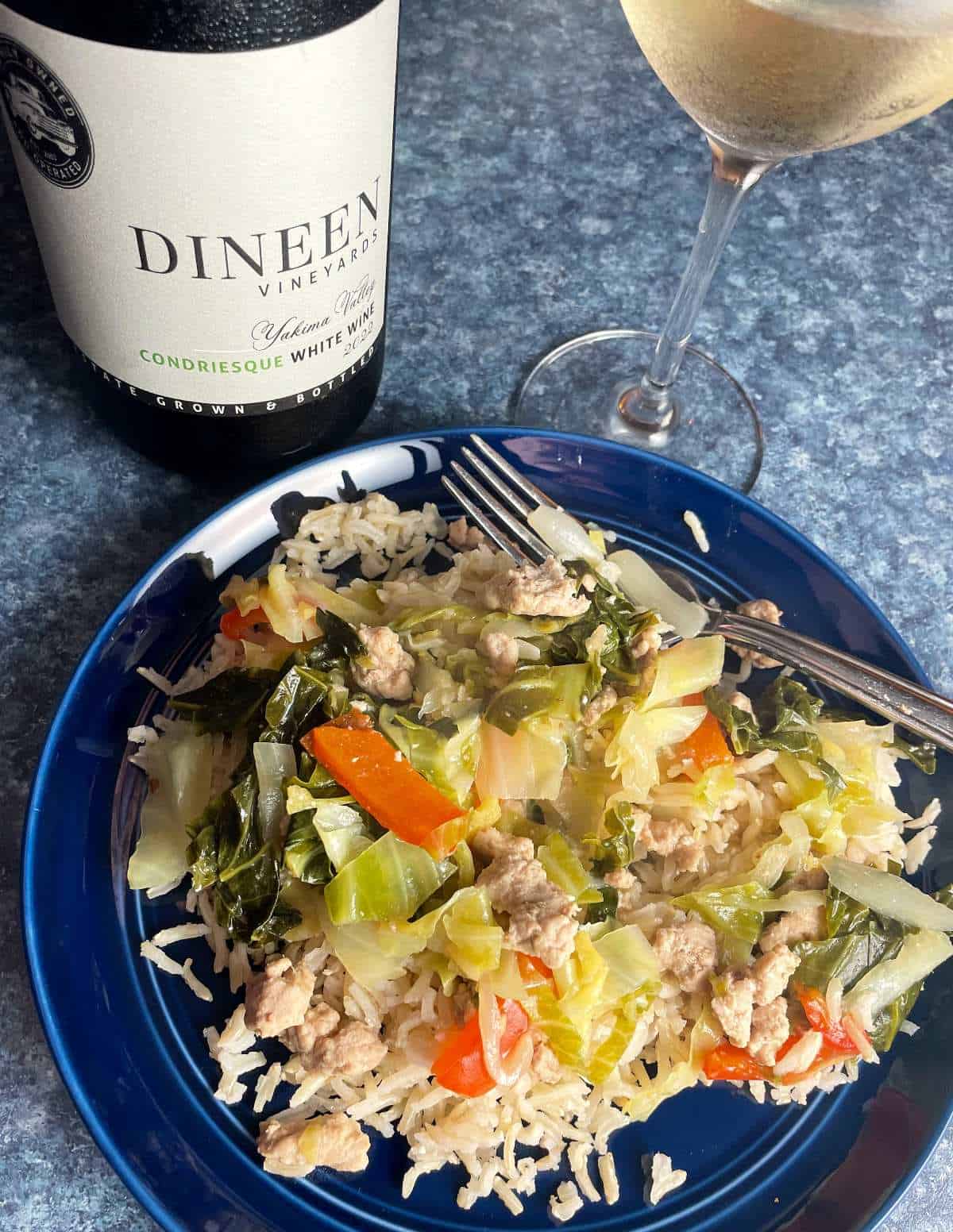 For my recent remaking of this turkey cabbage stir-fry recipe, I was also serving it along with some fresh local corn on the cob – probably the last of the season here in early October.
With the corn being served along with the stir-fry, I was looking for a white wine that could work with the Asian accented stir-fry flavors, while having enough body to go with the corn.
I had just gotten my fall wine club shipment from Dineen Family Vineyards. This included the 2022 Condriesque ($27, 13.1% ABV) which is a white Rhone style blend of 48% Viogner and 52% Roussanne. I've enjoyed previous vintages of this wine, and figured it had good potential as a pairing for the stir-fry.
I get light touch of petrol and minerality on the nose of the Condriesque. On the palate, lemon peel and notes of slate. The wine had the nuanced flavors that made it a good companion to this light stir-fry dish, and enough body to go with our corn. I would call this pairing a winner!
Recipe details (recipe card)
Print
Recipe card
Ground Turkey Cabbage Stir-fry
Ground Turkey Cabbage Stir-Fry recipe, cooked with a vibrant miso soy stir-fry sauce, is a delicious, healthy meal. Great way to use cabbage!
Author: Cooking Chat
Prep Time:

10 mins

Cook Time:

15 mins

Total Time:

25 mins

Yield:

6

servings

1

x
Category:

Main

Method:

stir-fry

Cuisine:

Asian

Diet:

Low Fat
For the stir-fry sauce
2 ½ tbsp

miso paste

1 tbsp

low-sodium soy sauce

2 tbsp

water

1 tbsp

maple syrup

1 tbsp

light vinegar such as rice or champagne

1 tbsp

minced ginger
juice from

¼

of a lime
dash of sriracha sauce (optional)

½ tsp

or more to taste minced jalapeño pepper
Other ingredients
2 tbsp

canola oil, divided

1

onion, chopped

1

lb ground turkey

1 tbsp

white cooking wine

1

red bell pepper, chopped

4 cups

cabbage, chopped into thin shreds
optional: add some extra greens such as spinach or Brussels sprout leaves if you like
cooked rice, for serving
Instructions
Make the sauce: Whisk together the miso paste, water and soy sauce. Add the remaining sauce ingredients — syrup, vinegar, ginger, jalapeño, lime juice, and optional sriracha– and whisk to combine. Set sauce aside as you cook the turkey and cabbage.
Start the stir-fry: Heat 1 tablespoon of the oil in a large skillet or wok on medium high heat. Add the onion, stir to combine with the oil. Cook about 3 minutes until it begins to soften.
Add the turkey: Stir in the ground turkey, breaking up with a heavy spoon and combining with the onion. Add the remaining tablespoon oil along with the cooking wine. Cook the turkey, stirring occasionally, for about 3 minutes. It should be starting to turn white on the outside.
Stir in the veggies: Add the bell pepper to the skillet, stirring to combine. Cook for about one minute, then add the cabbage in two batches — add about half the cabbage, stirring to combine with the other ingredients. Then repeat, stirring in the remaining cabbage. Stir-fry the cabbage for about two minutes. If you are adding additional greens, add them at this stage.
Add the sauce: Stir in most of the stir-fry sauce, leaving about a tablespoon in the bowl to use as a topping. Stir to combine well, then reduce heat to medium low, and cover the skillet. Cook for 5 minutes, until the cabbage has softened and the turkey has cooked through.
Serve and enjoy! Plate a bit of rice, and serve the turkey cabbage stir-fry over the rice. Drizzle a bit of extra sauce for additional flavor (skip this step for those who like more mild flavors).
Notes
We make this dish in our big cast iron skillet, but you could certainly use a wok. You do need a cover for the final step; although if you are using a pan without a cover you could probably do the final step with aluminum foil covering the pan.
Get the veggies all chopped for the dish before you start cooking!
I have been loving the Wildbrine Kimchi Sriracha, and that is what I used in this recipe. Including my Amazon affiliate link to a pack of 8 bottles of it, if you want to go all in on this recommendation!
When cooking turkey and other poultry, I switch to a clean spoon once the turkey is cooked through or getting close to that stage. Just to avoid any chance for some bacteria from the raw turkey to be hanging around when finishing and serving the dish.
You can add additional greens on hand if you like. We added chopped Brussels sprout leaves during a recent remake of the recipe.
Keywords: turkey and cabbage, cabbage stir-fry, turkey stir-fry
Recipe Card powered by
More about Loire Valley Wines
This article was originally published as part of an event exploring Loire wines. Enjoy a full tour of the Loire Valley by reading all these articles from the French Winophiles!