Today we serve up an easy recipe for Grilled Sirloin Steak as we explore Côtes du Rhône wines and some other pairings to go with them. Disclosure: the wines discussed were provided as complimentary samples by Côtes du Rhône for a French Winophiles wine blogging event.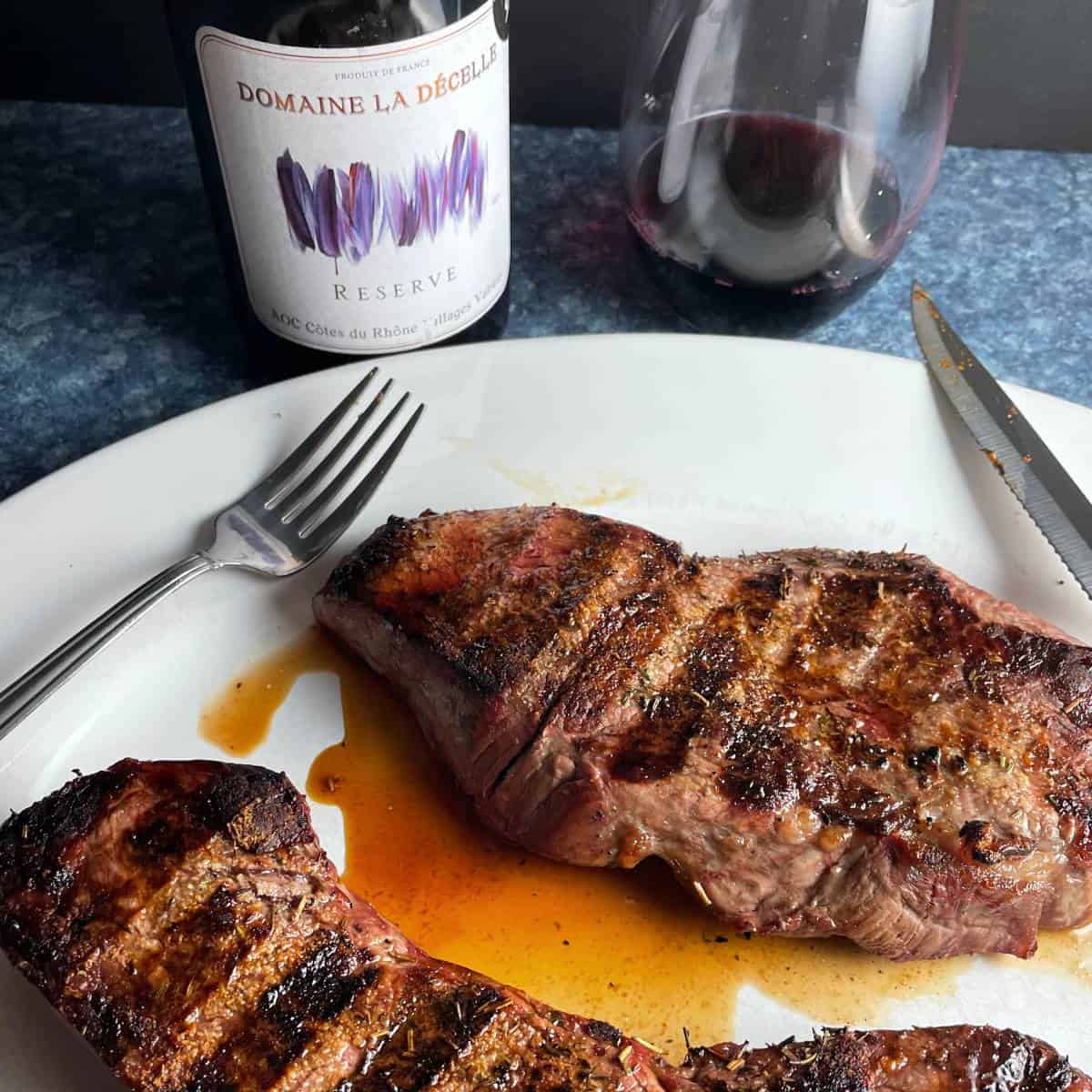 Today we are serving up a delicious, easy grilled sirloin steak recipe as we explore Côtes du Rhône and Côtes du Rhône Villages wines with the French Winophiles.
Our grilled sirloin recipe features a simple rub with dried thyme and rosemary, herbs common in French cooking. I figured this would enhahnce the pairing with a Côtes du Rhône red wine.
We begin with some tips & FAQs for the recipe, followed by information on our pairing and background on the Côtes du Rhône AOC. And be sure took check out our other Rhône pairings and articles from my fellow Winophiles. These sections follow the recipe card.
If you have a sirloin steak but it's not grilling weather, be sure to check out our Oven Roasted Sirloin Steak recipe!
Jump to:
Recipe tips and steps
Below are some key tips and summary of the steps for making grilled sirloin. Head on down to the recipe card for all the details!
Take the steak out of the refrigerator a good 15 to 20 minutes before you start making the rub. This enables the steak to come closer to room temperature before you start grilling it.
Make the spice rub. Combine the dried thyme and rosemary in a bowl with garlic powder and salt.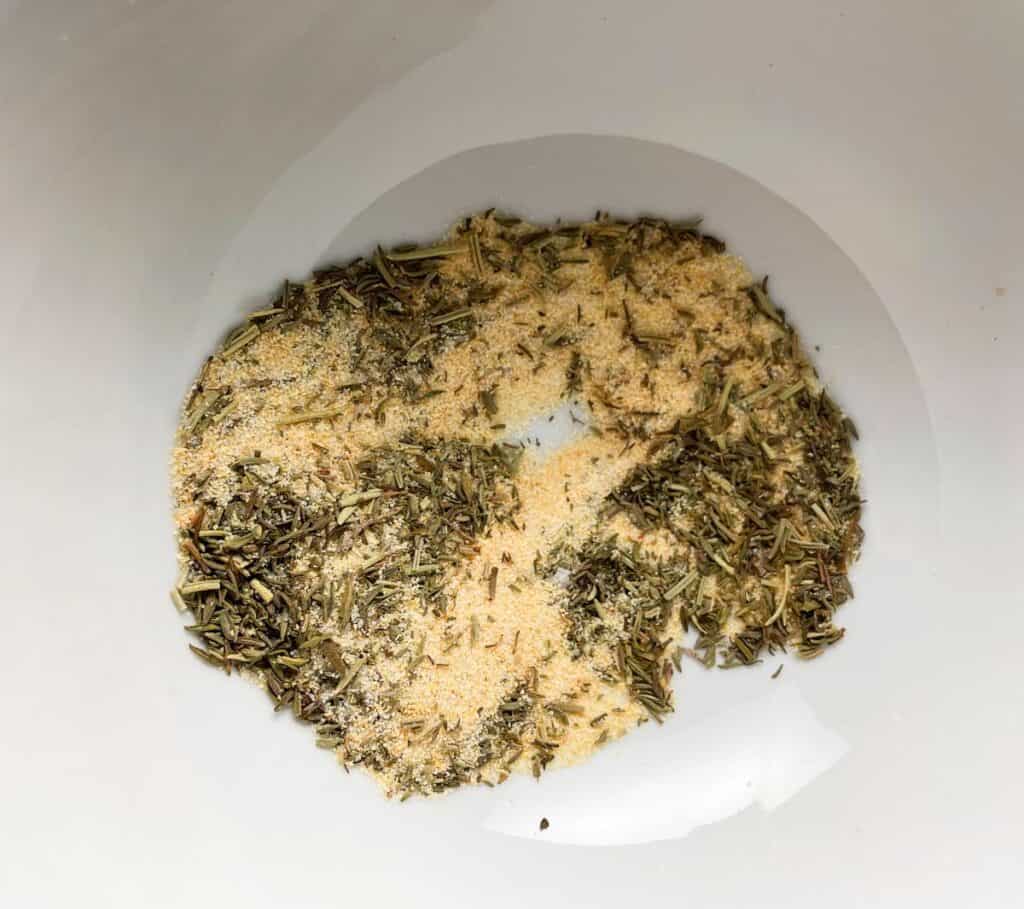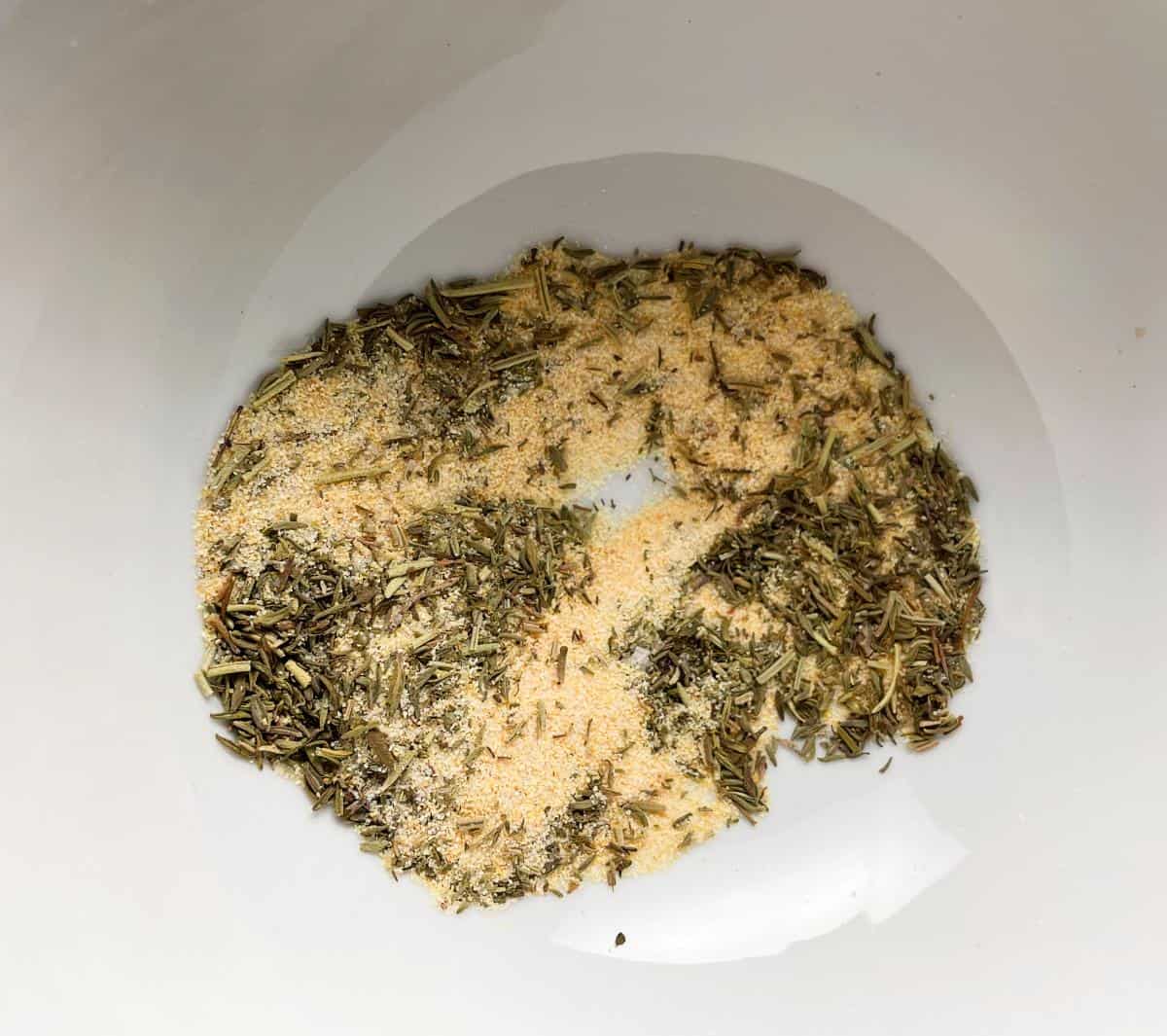 Apply the rub Work the dried spices into the sirloin steak with your fingers. Let the steaks sit with the rub to absorb the flavors for about 20 minutes as the grill preheats.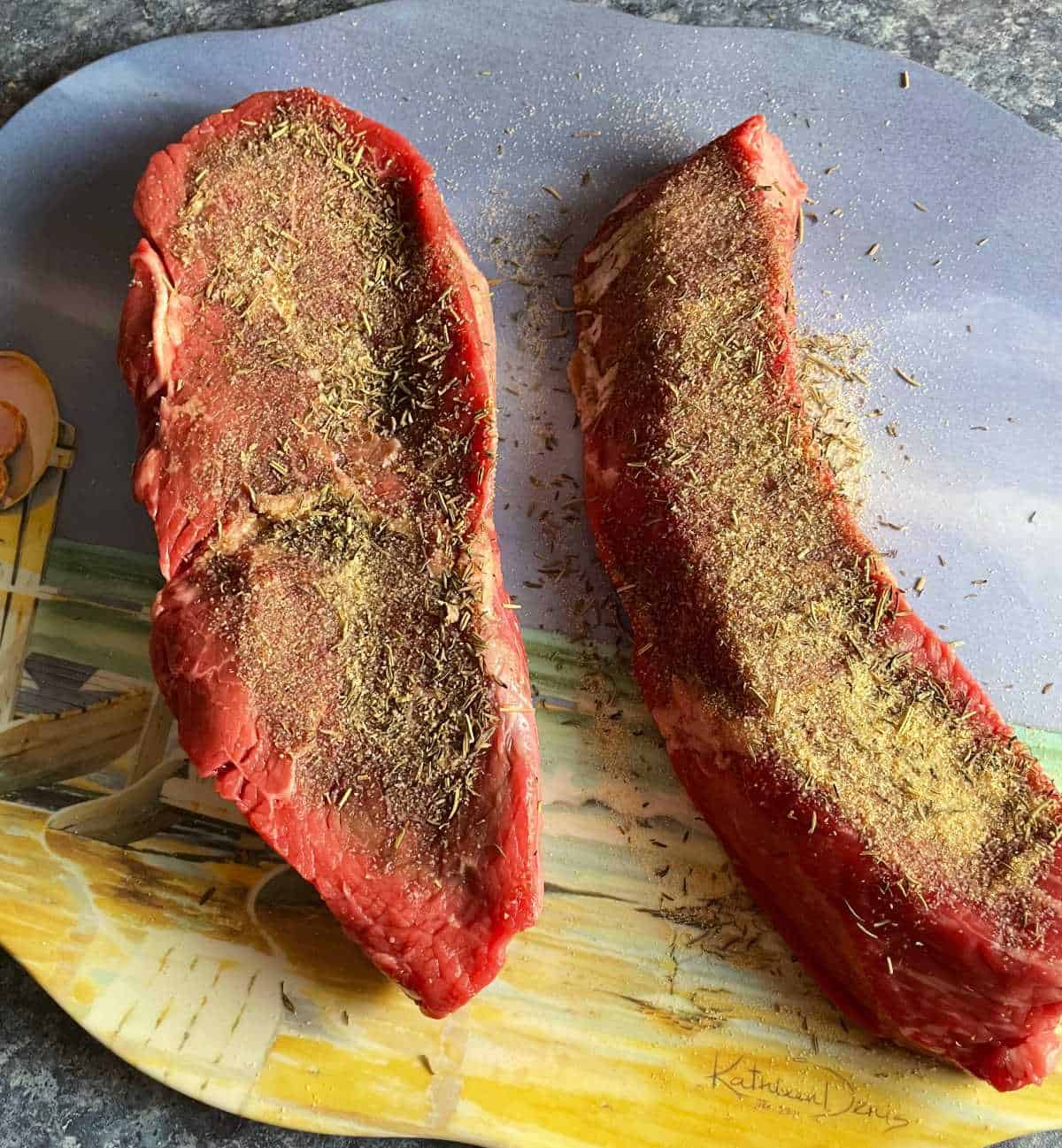 Heat a grill to 400 degrees. When the grill and steaks are ready, grill the steaks for 6 minutes on direct heat, and about 7 minutes on indirect heat. Check for doneness — we recommend medium rare for top sirloin steak, which is 135 degrees.
Let the steaks rest for a few minutes before serving. Enjoy!
Frequently asked questions (FAQ)
Is sirloin steak good for grilling?
Yes, sirloin steak is an excellent steak for grilling! That said, we have also roasted sirloin in the oven with good results when it wasn't grilling weather.
Is top sirloin the same as sirloin steak?
The steak I used for this recipe is actually labelled as "top sirloin". From my reading, it would appear that "sirloin" is a more general term, and top sirloin is the idea cut for a simple grilled steak like this. This article on the Omaha Steaks site breaks down some more details.
How long does it take to grill a 1 inch sirloin steak?
We grilled our steak 6 minutes on direct heat plus 7 minutes indirect heat. So a total of 13 minutes, for medium rare. Your results may vary based on the heat of your grill and the size of your steak. Ours was probably a bit thicker than one inch.
How do you make sirloin steak tender?
The top sirloin cut doesn't need much to make it tender. It is a lean cut, so the key is not to overcook it, as than it can get a bit tough. A simple rub and cooking it to medium rare is our key for a tender sirloin steak.
What can I do with leftover sirloin steak?
There are a lot of ways to use leftover sirloin steak. It can be sliced for sandwiches or tacos. We also like to make leftover steak pasta. Check out our collection of leftover steak recipes for more ideas.
Pairing for grilled sirloin
We opened the 2018 Lavau La Décelle ($14, 13.5% ABV), a Côtes du Rhône-Villages Valréas AOC red wine, to with our grilled sirloin steak.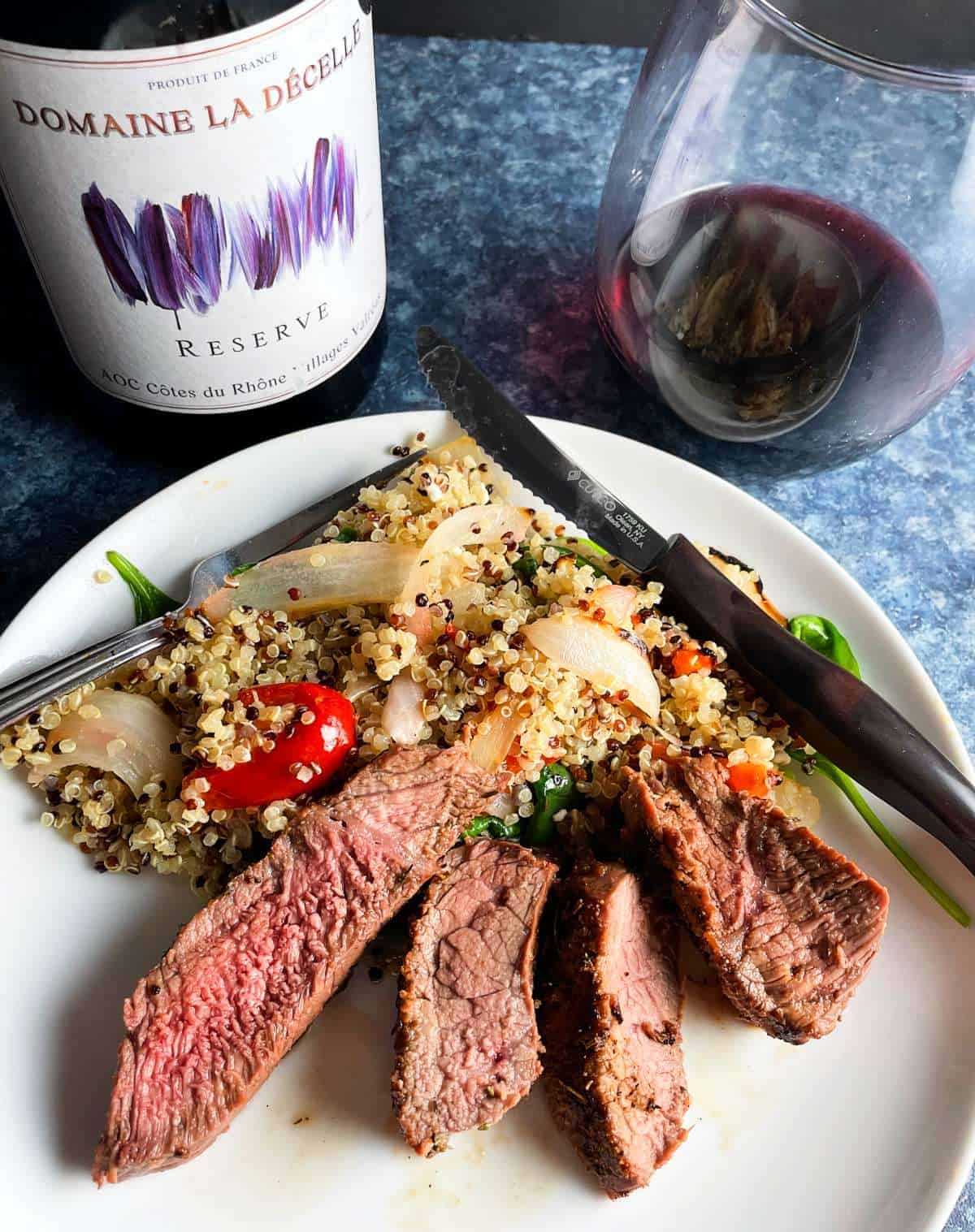 This wine is a blend of 50% Grenache and 50% Syrah. The grapes are grown at about 1,000 feet above sea level, and undergo a 30 day fermentation and maceration period before being aged for 6 months in French oak.
I get lead pencil and forest floor notes on the nose of La Décelle. Black cherry and raspberry fruit on the palate, along with some black pepper. Firm tannins.
This red blend is a good match for grilled sirloin steak, and the pairing was enhanced by the thyme and rosemary in the steak rub. The winemaker also recommends pairing the wine with roast duck, grilled pork loin and pot roast.
We served our sirloin steak with a side of quinoa with grilled onions and peppers. For other ideas, check out our collection of best sides for ribs. Many of those recipes would go nicely with this grilled sirloin steak.
Côtes du Rhône Wines
The Côtes du Rhône AOC is one of the largest and oldest in France. The region was originally planted with wine grapes over 2,000 years ago by the Greeks and the Romans.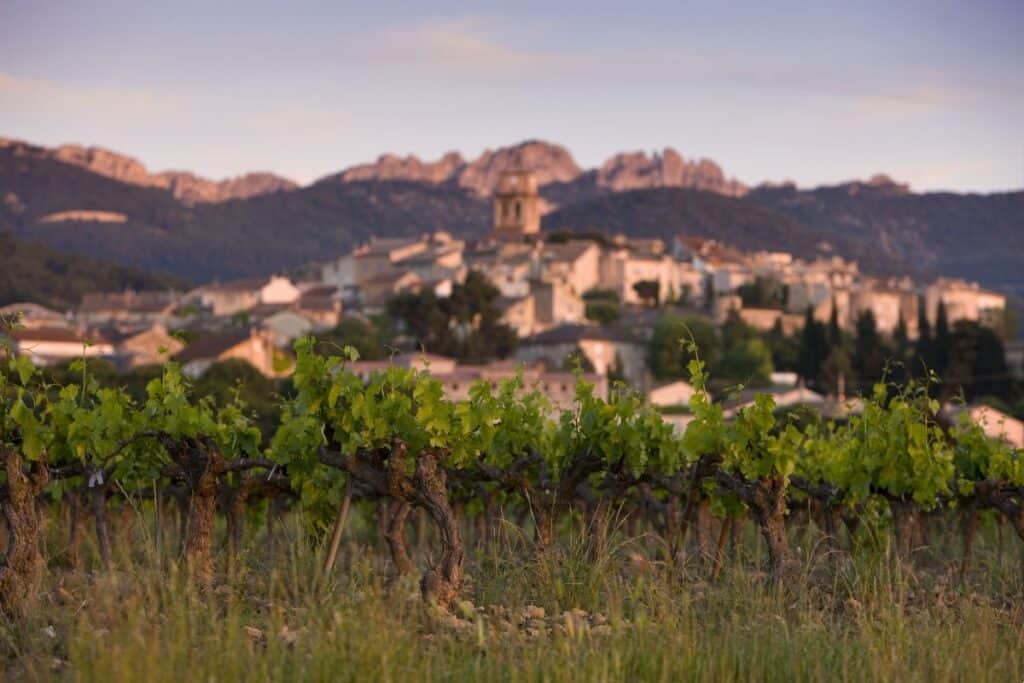 Côtes du Rhône wine categories are often described as a pyramid, with the Côtes du Rhône AOC being the largest in terms of area planted and volume, making it the foundation of the pyramid.
One level up in the pyramid we have the Côtes du Rhône Villages AOC, which come from villages with unique soil and climate conditions that qualify their wines receiving this AOC designation.
For today's Winophiles event, we are focusing on the Côtes du Rhône AOC and Côtes du Rhône Villages AOC.
Although these AOCs produce significant quantities of wine, our experience with the tasting we have demonstrates the Côtes du Rhône AOC desgnations indicate a high level of quality. Most of the wines we tasted are around $15 per bottle, and are thus excellent wine values.
I was surprised to learn that 21 grape varieties are authorized throughout the Côtes du Rhône AOC. I first think of Grenache, Syrah and Mourvedre, which are the most common in the AOC's red wines. But then you also have white Grenache, Marsanne, Roussanne, Viognier in the white wines, along with some common varieties.
Print
Recipe card
Easy Grilled Sirloin Steak
An easy recipe for grilled sirloin steak, with a simple rub featuring thyme and rosemary. These herbs, common in French cooking, enhance the pairing with a good Côtes du Rhône wine.
Author: Cooking Chat
Prep Time:

20 mins

Cook Time:

13 mins

Total Time:

33 mins

Yield:

5

servings

1

x
Category:

Main

Method:

grilling

Cuisine:

American
For the rub
2 teaspoons

garlic powder

1 teaspoon

salt

1 ½ teaspoons

dried thyme

½ teaspoon

dried rosemary
For the steak
2

sirloin steaks, about 1 pound each (they might be a bit over

1

lb)
Instructions
Make the rub

: combine the salt, thyme, rosemary and garlic powder in a bowl.

Prepare the sirloin steaks: 

Sprinkle a heaping teaspoon of the rub over one side of the sirloin. With your fingers, rub the spice blend into the meat. Turn the steak over, and sprinkle another heaping teaspoon of the spices over the steak, and rub it in. Repeat the rub process for the 2nd steak. 
Preheat a grill to 400 degrees. While the grill or oven preheats, let the sirloin steak rest at room temperature for about 20 minutes to allow the flavors to absorb into the sirloin steak.
Grill the sirloin: Coat the grill lightly with oil spray. Place the steaks on direct heat on the grill, and cover. Grill for 6 minutes on direct, then turn the sirloin steaks over to grill on indirect heat for 7 minutes. Check for doneness– medium rare is 135 degrees.
Rest and serve: let the grilled sirloin steaks rest on a platter for 5 minutes. Slice thinly to serve and enjoy!
Notes
To set up an indirect heat area on a gas grill, leave one of the burners off. Place the steaks over that turned off burner for the indirect heating portion of time. 
Sirloin steak cooks fast — between the 13 minutes total cooking time and a resting time that went a bit past 5 minutes as I prepped some other things, the steak was more like medium by the time we served it, as you can see in the photos.
Keywords: grilled sirloin, grilled sirloin steak, wine pairing for steak, Cotes du Rhone wines
Recipe Card powered by
More Rhône pairings
Bellissime Rosé with braised chicken
With leeks and and a big bunch of thyme on hand from our local CSA farmshare, it seemed like a great time to cook up another dish for one of our Rhóne wines! So we braised some chicken thighs with those ingredients along with some carrots and mushrooms. This dish was delicious!
We opened the 2020 Alain Jaume Bellissime Rosé ($15, 13.5% ABV) which has the Côtes du Rhône AOC designation. It's a blend of 50% Grenache, 30% Cinsault, and 20% Syrah.
I was excited to try this rosé, as I haven't had many Rhone rosés. I got bubble gum on the nose. Melon and kiwi fruit on the palate, with floral notes. Fairly light body, but definitely enough substance to match the earthy braised chicken thighs. An excellent wine and very good pairing!
We did try one of the red Rhones with the chicken thighs, too. It was OK, but a bit heavy for the dish. I had better luck with a Pinot when serving up leftover the next night.
Viogner with Ground Pork Stir-Fry
We tweaked the vegetables in our Ground Pork Stir-Fry recipe to use some local summer squash, to serve along with the one white Côtes du Rhône AOC wine we had for sampling.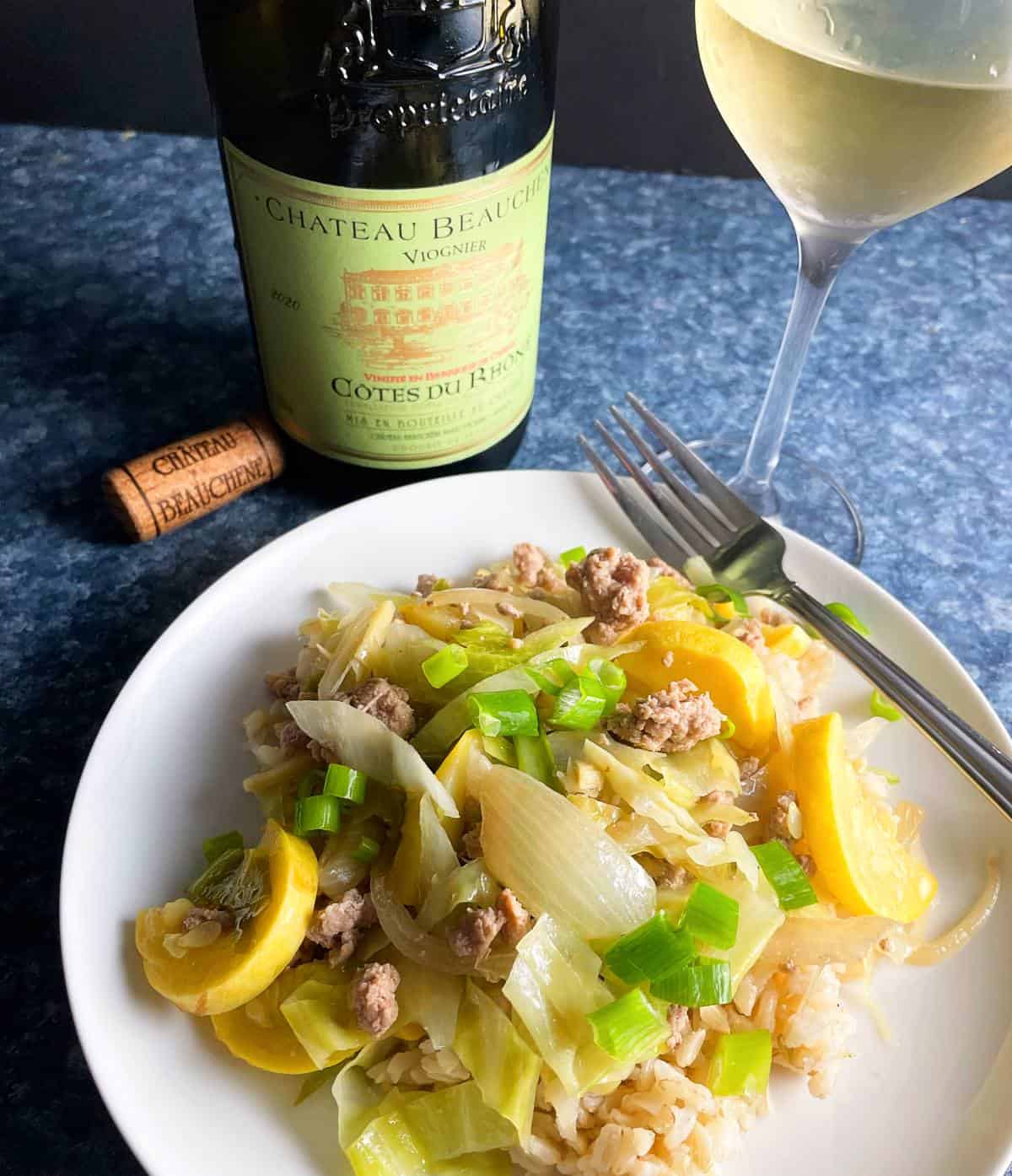 The 2020 Chateau Beauchene Viognier ($18, 13.5% ABV) has lemon peel notes on the nose. On the palate — Meyer Lemon, honey and peach fruit. Also a bit of caramel, perhaps from the 6 months of oak aging it sees. There is also some underlying minerality.
We were very pleased with how the Viogner pairs with the pork stir fry!
Paul Autard Côtes du Rhône with Steak Tips
While I do tend to the of Rhone wines with rustic dishes like this chicken and lentil stew, we got this set of Côtes du Rhône wines while it is still grilling season. So we had a chance to sample the wines with some simple recipes for grilled steak, including the grilled sirloin recipe we are featuring today.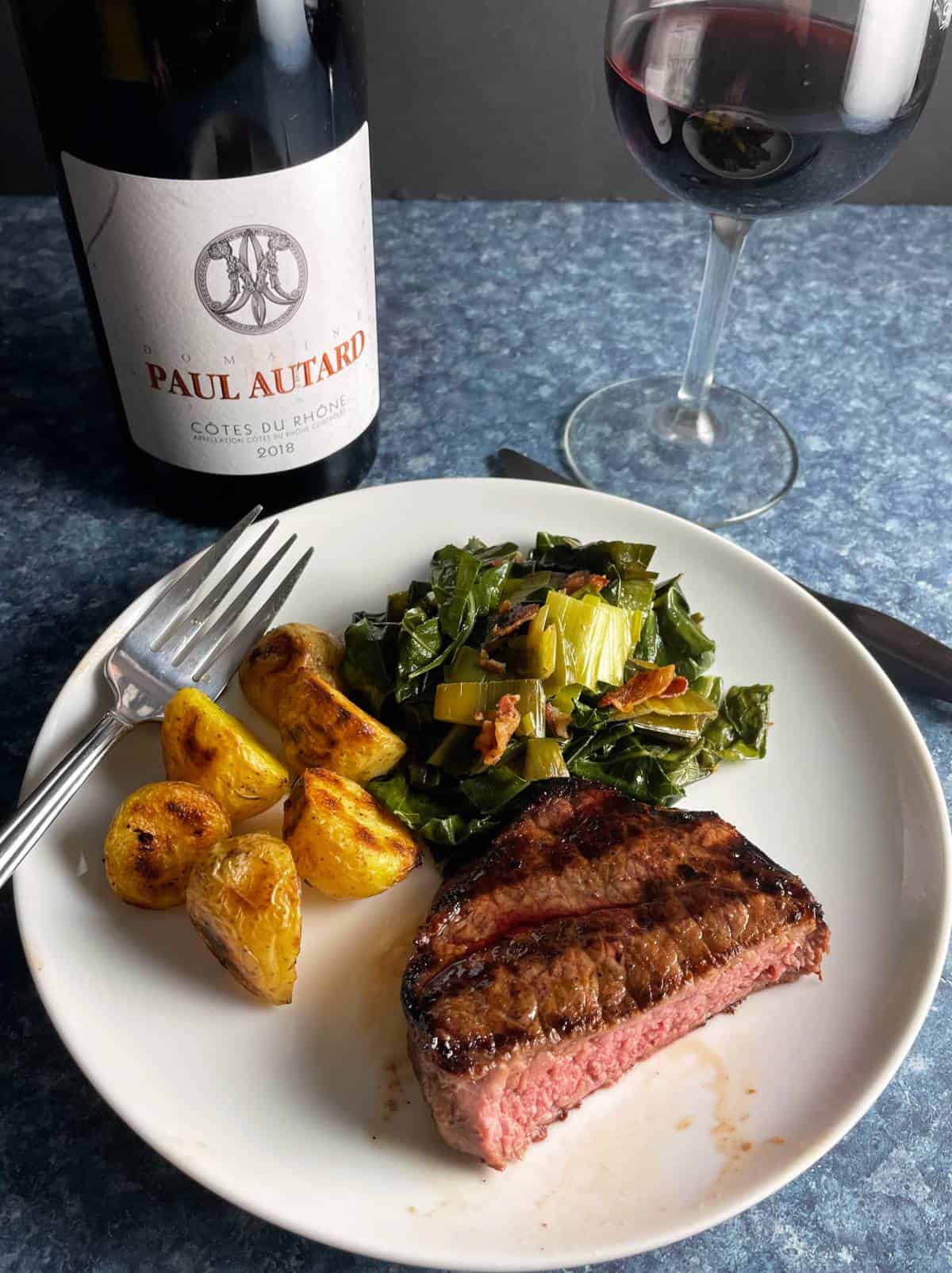 We also made our Easy Grilled Steak Tips for our Rhône pairings. We served the steak tips with the 2018 Domaine Paul Autard Rouge ($15 , 14.5% ABV), a Côtes du Rhône AOC wine made from the classic blend of Grenache, Syrah and Mourvedre. Jean-Paul Autard follows the tradition of his father, who founded the winery in the 1970s in the village of Courthézon.
Notes of a forest on a warm summer day on the bouquet of the Autard Rouge. Cherry fruit, along with boysenberry, licorice and a touch of charcoal on the palate.
There's a savory complexity to this red wine, and it is certainly a good partner for grilled steak!
Inopia Rouge with Chili Mac & Cheese
We stumbled onto the idea of featuring leftover chili in a mac and cheese dish awhile back, and figured it was worth another try. And seeing as Grenache can work with chili, it seemed like a good time to open another one of our Côtes du Rhône reds.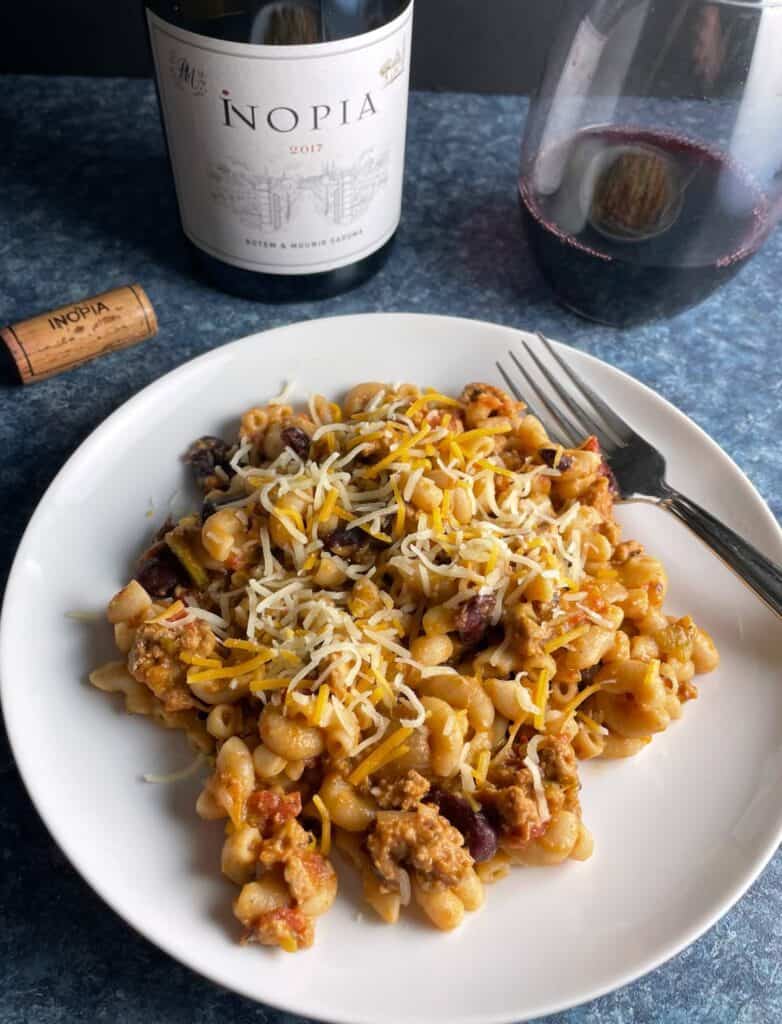 We grabbed the 2017 Rotem and Mounir Saouma Inopia Rouge ($31, 14% ABV) to go with our chili mac & cheese. This Côtes du Rhône AOC wine is mostly Grenache, along with small amounts of Mourvèdre, Counoise, Syrah and Cinsault. After fermentation, the wine is split among a combination of French oak foudres, cement eggs, and 500 liter barrels to age 18 months
I get cedar chest and black pepper on the nose of the Inopia. On the palate, black cherry and a touch of vanilla. Well-balanced, structured tannins.
We really enjoyed the Inopia, and were pleased with how it paired with the chili mac & cheese. This time, we made it with leftover Hatch Chili with Turkey. I think I preferred the version we made before with our ground beef chili. We are going to have to work on this some more before posting our recipe.
Winophiles explore Côtes du Rhône
Be sure to check out all of these articles to learn more about Côtes du Rhône and Côtes du Rhône Villages wines!