We round up over 40 tasty healthy recipes to help you enjoy healthy eating in 2021. This update to an earlier article adds healthy favorites from 2020, with a focus on ingredients fairly easy to come by and store as we stay home more. Includes vegetarian entrees, salads, soups and stews, seafood recipes, lean meat dishes, chicken and turkey. Something for everyone!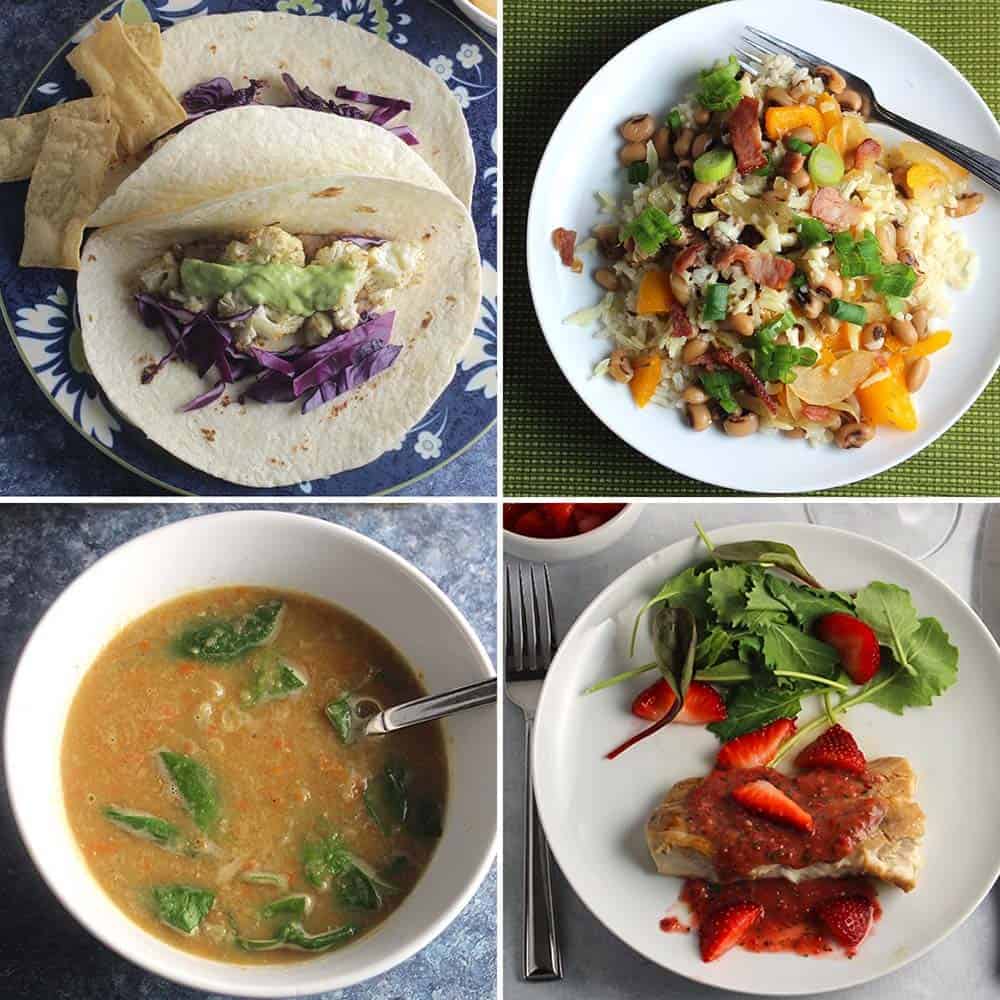 I'm sure we all have healthy eating on our minds as a new year rolls in. Depending on what you read, somewhere between 80 to 92% of New Year's resolutions fail. I'd say a big problem with those that deal with healthy eating is that people are trying to eat healthy foods that taste like a punishment. To address this, a few years ago I published the Healthiest Tasty Recipes for 2017 to show that eating healthy can taste great too! Today I have come back to update the article with some new healthy and tasty recipes for 2021, along with the great recipes we pulled together for the earlier article.
I asked a group of talented bloggers to share their healthiest tasty recipe from 2016, and picked their best submissions to give you a variety of delicious options. We've added some of our favorites from the past year to expand your options! Scroll through them all, or navigate by category: Vegetarian Entrees| Seafood | Veggie Sides and Salads | Chicken and Turkey | Meat | Soups, Stews, and Chili | Other

Vegetarian Entrees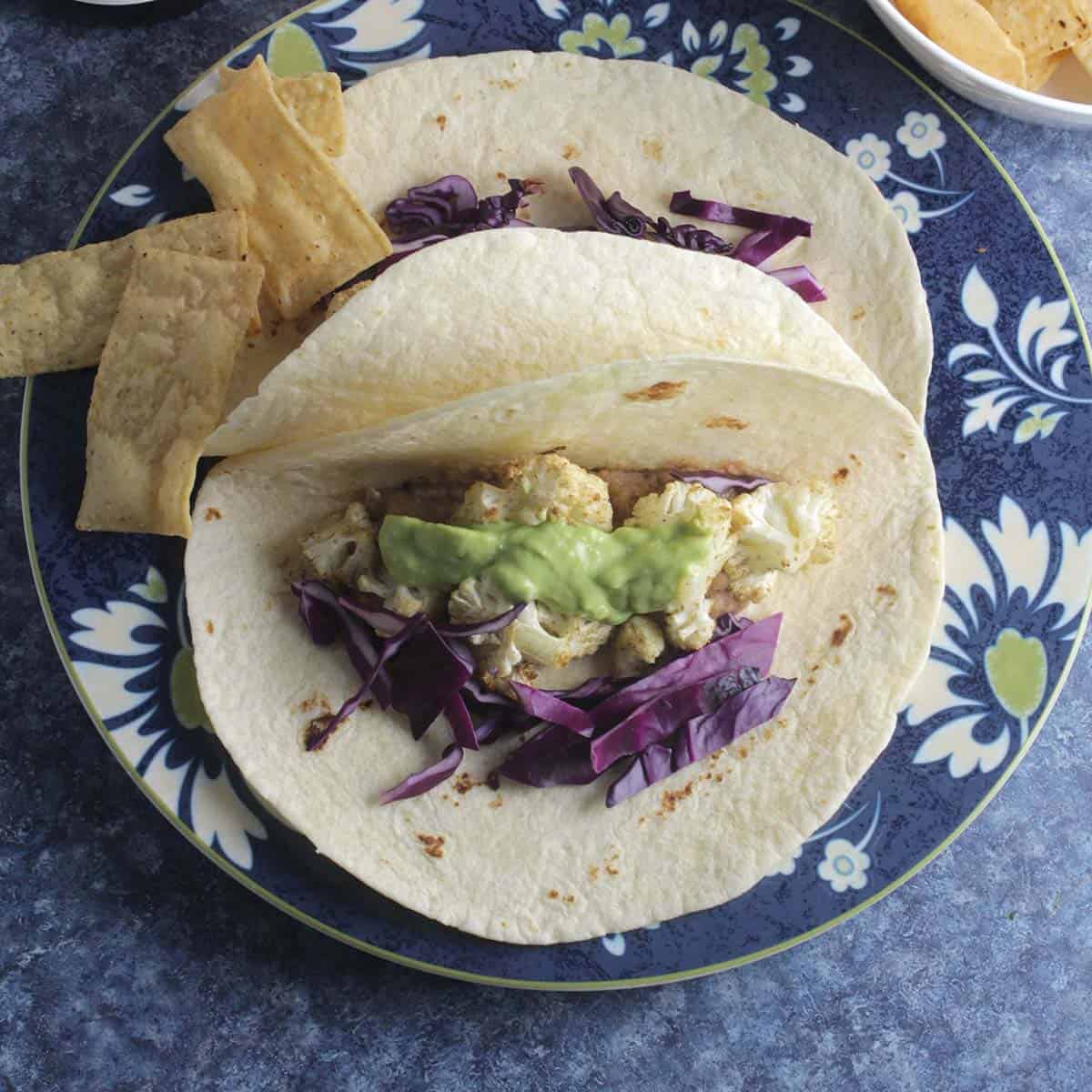 Delicious Roasted Cauliflower Tacos recipe with a flavorful spice blend, crunchy cabbage and flavorful avocado cream. This recipe is vegan as given.
Butternut Squash Quinoa Casserole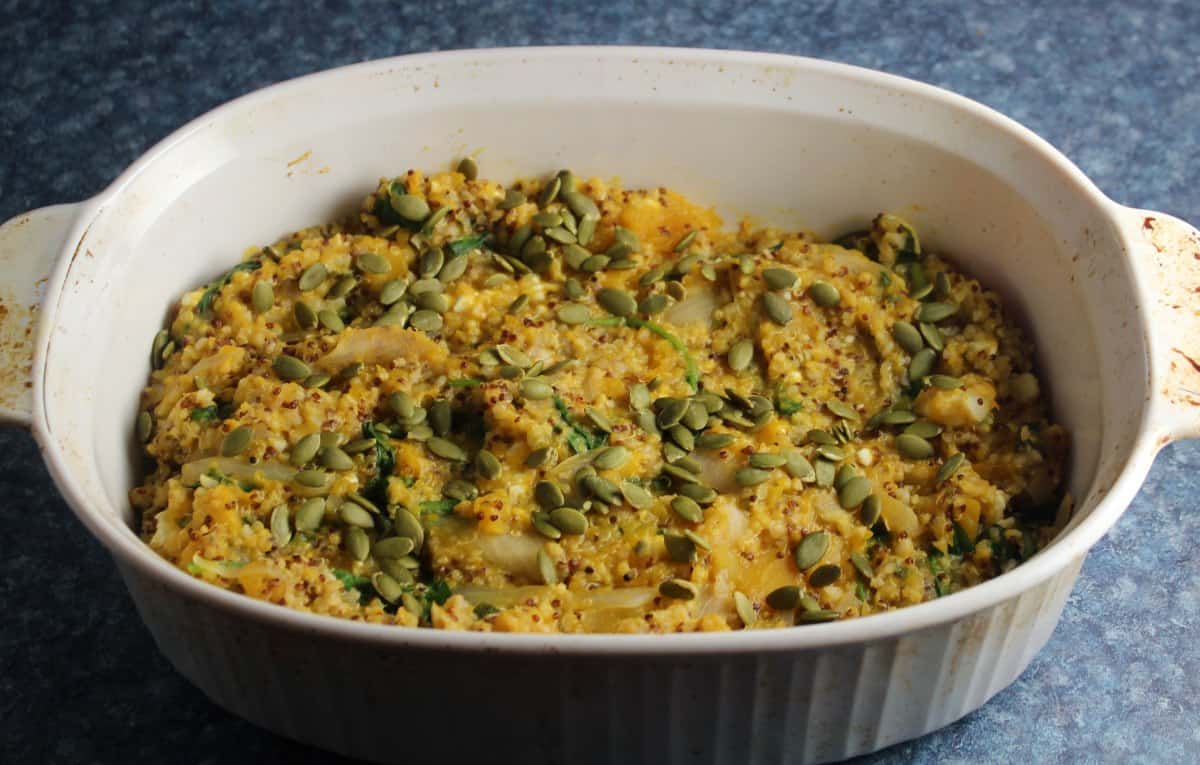 Butternut Squash and Quinoa Casserole with feta cheese and pumpkins seeds is a savory recipe perfect as a side dish or a vegetarian main course.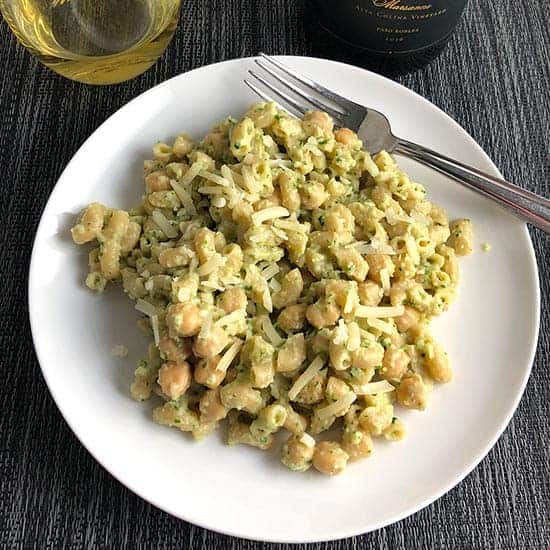 You've got to try this Creamy Cauliflower Pasta with Kale and Chickpeas recipe! What's not to love about a creamy yet light pasta dish that is packed with nutrition? We paired it with an excellent white wine from Paso Robles.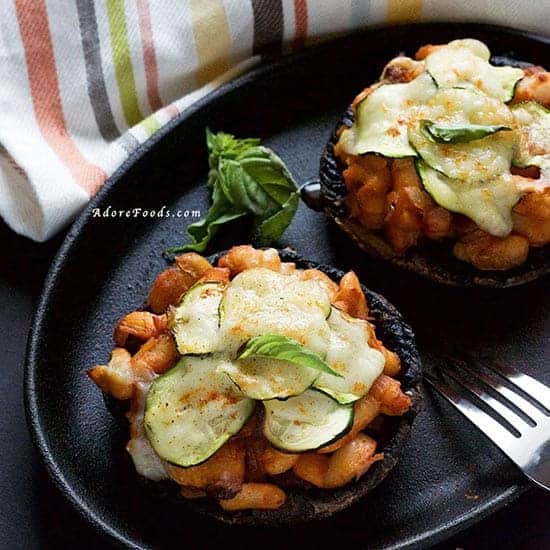 Tuscan White Bean Stuffed Portobello Mushrooms from Adore Foods looks like a scrumptious way to combine white beans and savory mushrooms!
Spicy Avocado Cauliflower Toasts from Toaster Oven Love sound like a great way to spice up your lunch routine!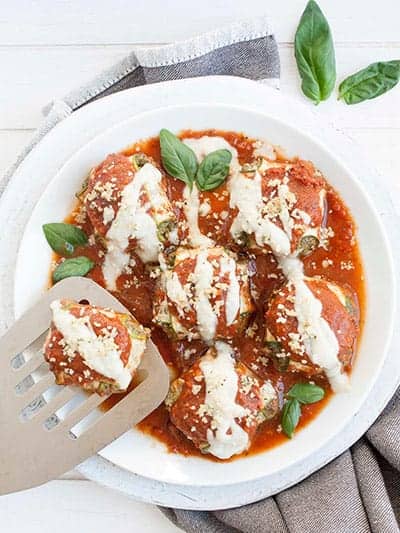 Zucchini Ravioli There are a lot of zoodle recipes around these days, but this vegan recipe from Veggies Don't Bite looks like some serious healthy comfort food!
Mediterranean Stuffed Peppers are packed with quinoa and veggies for a substantial vegetarian meal. This contribution to our Tastiest Healthy Meals comes from Veggie Inspired.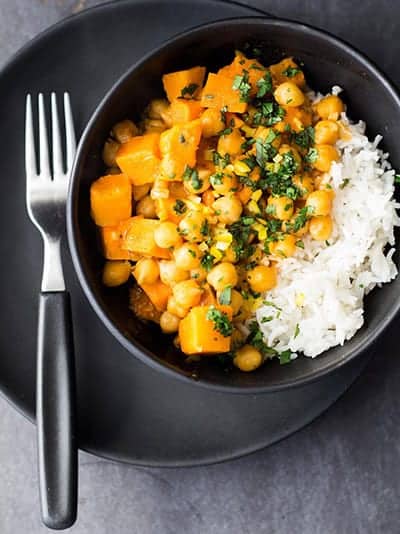 Vegan Sweet Potato and Chickpea Curry This Thai flavored curry from Green Healthy Cooking is packed with healthy flavor!

Seafood
Mahi Mahi with Strawberry Sauce Mahi Mahi topped with a delicious strawberry sauce was a Cooking Chat healthy favorite for the year.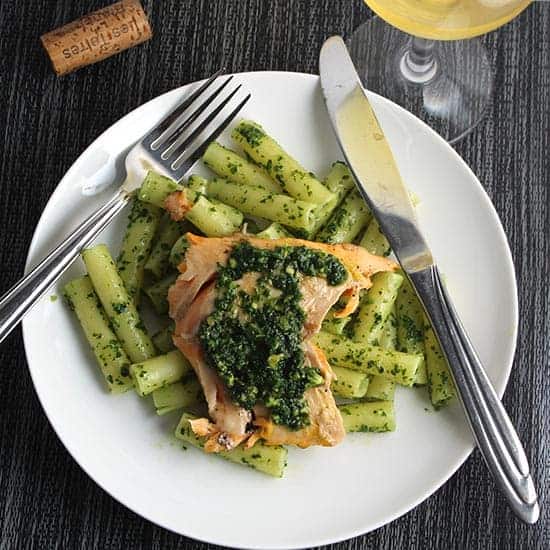 Arctic Char with Kale Pesto I love the combo of pesto and seafood, and it is even healthier when it's kale pesto on the fish. Arctic char tastes a bit like a combo of salmon and trout, this Cooking Chat recipe is one to try if you haven't had it yet!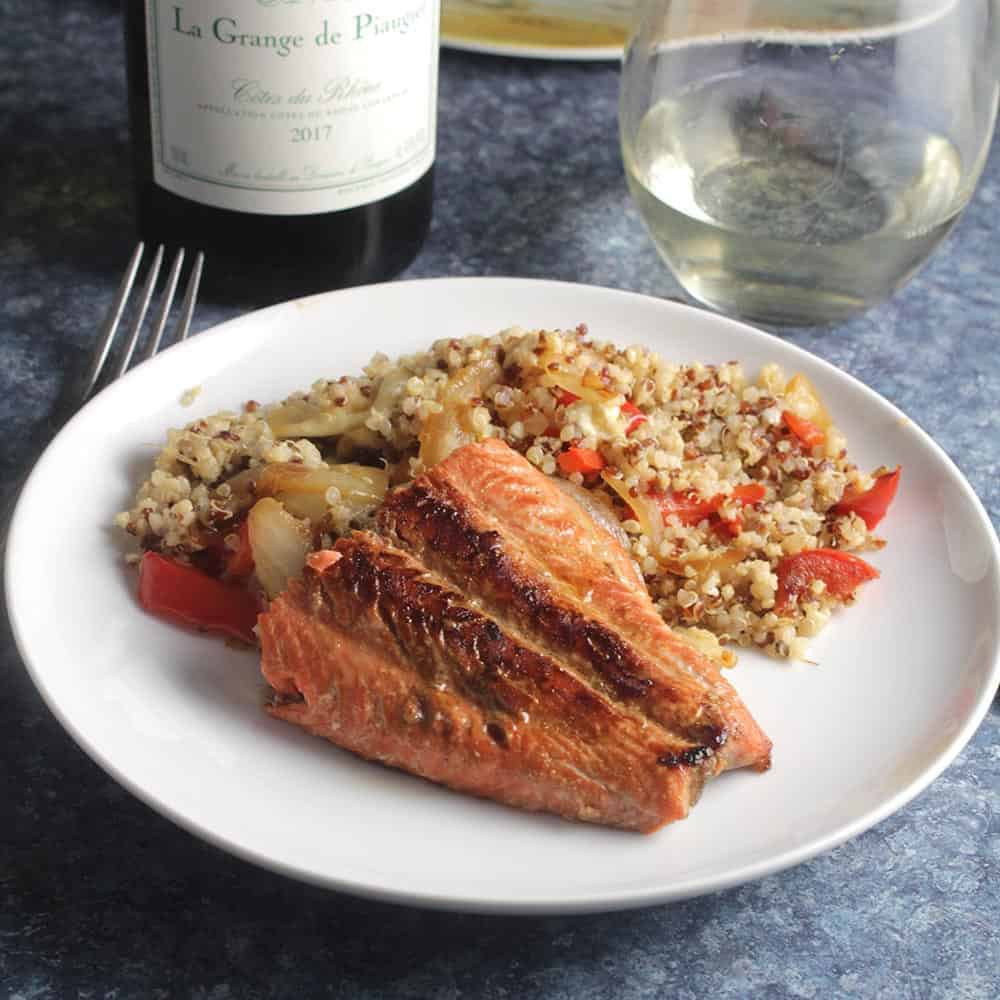 Simple Pan Seared Salmon is our go-to way to cook salmon when we are not in grilling mode. A quick soy sauced marinade provides plenty of flavor, especially when following this recipe to ensure moist, tasty salmon.
Simple Fish Sliders with Roasted Garlic Sauce I'm always keen to find new fish recipes! Topping fish sliders with roasted garlic sauce sounds great to me. Recipe from Use Your Noodles.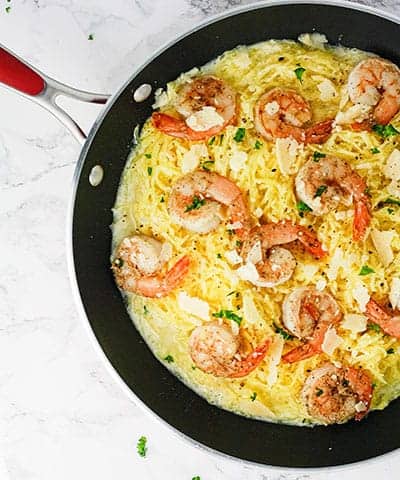 Garlic Shrimp Spaghetti Squash What a delicious combo of flavors from It's Cheat Day Every Day!

Veggie Sides and Salads
Kale and Apple Salad with Cranberries
Kale and Apple Salad with Cranberries features thinly sliced kale soaking up a tasty dressing, tossed with crisp apples for a delicious, healthy salad.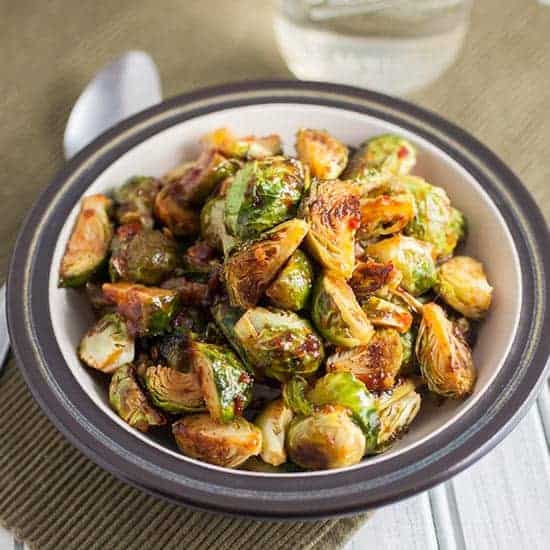 Sweet and Spicy Roasted Brussels Sprouts I can taste the flavors of this dish from The Rustic Foodie popping out of the photo!
Roasted Broccoli Salad with Garlic Lots to love about roasted broccoli and garlic! Definitely had to include this one from Savory Tooth in our Tastiest Healthy Recipes roundup.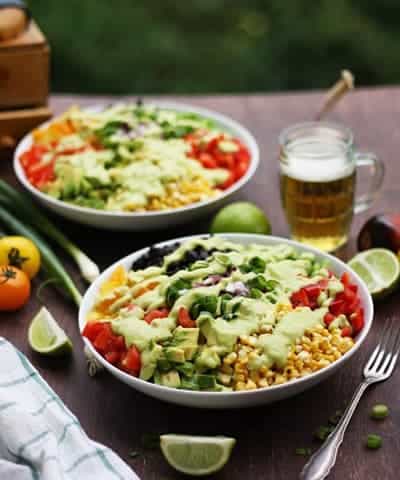 Vegan Mexican Chopped Salad with Avocado Dressing Can't go wrong with lots of healthy veggies topped with an avocado dressing! Recipe from Happy Kitchen. Rocks.

Chicken and Turkey
Braised Moroccan Chicken Thighs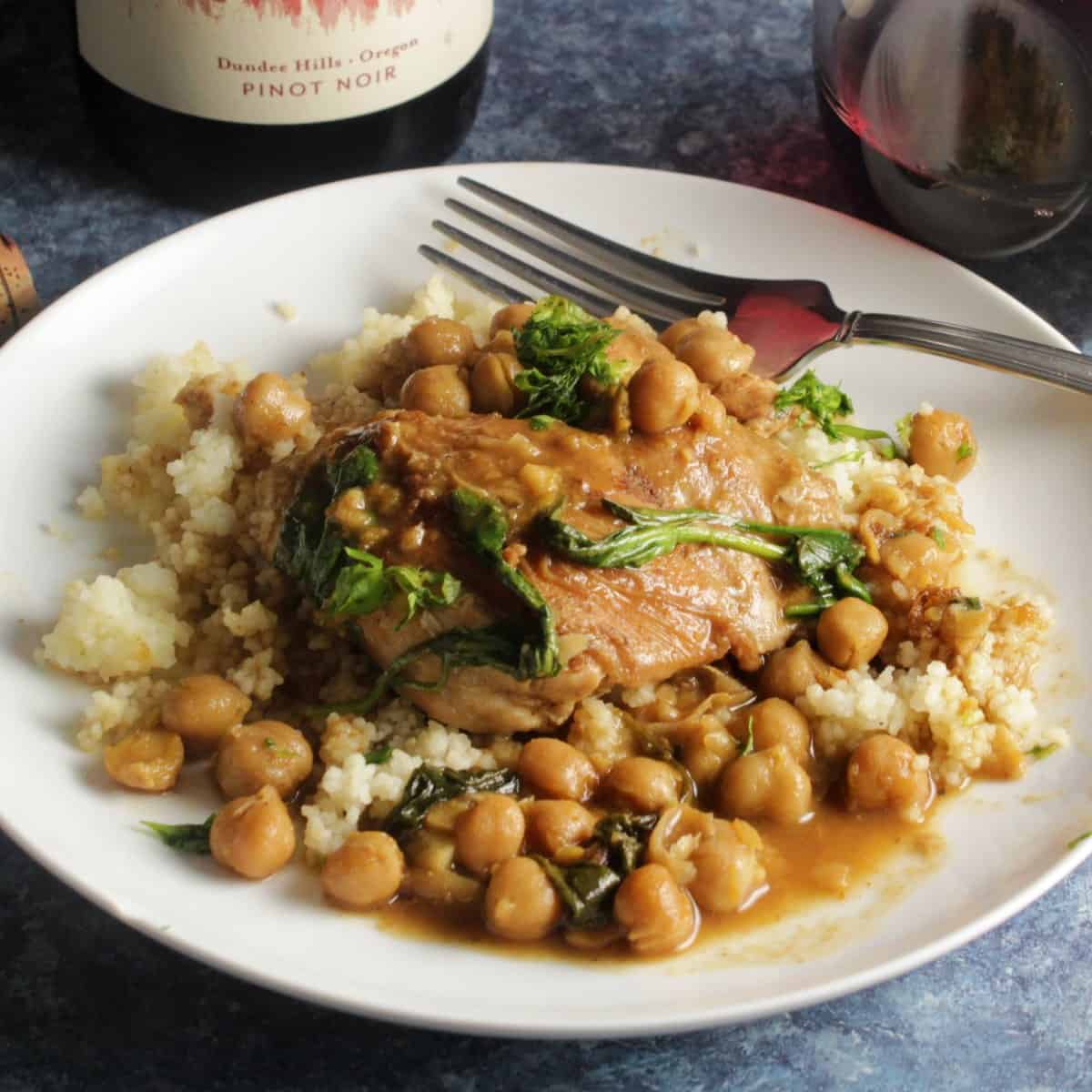 Braised Moroccan Chicken Thighs features slowly cooked chicken with chickpeas and a flavorful spice blend. Easy enough recipe for a weekday, but enough sophistication for the weekend…and a good bottle of wine!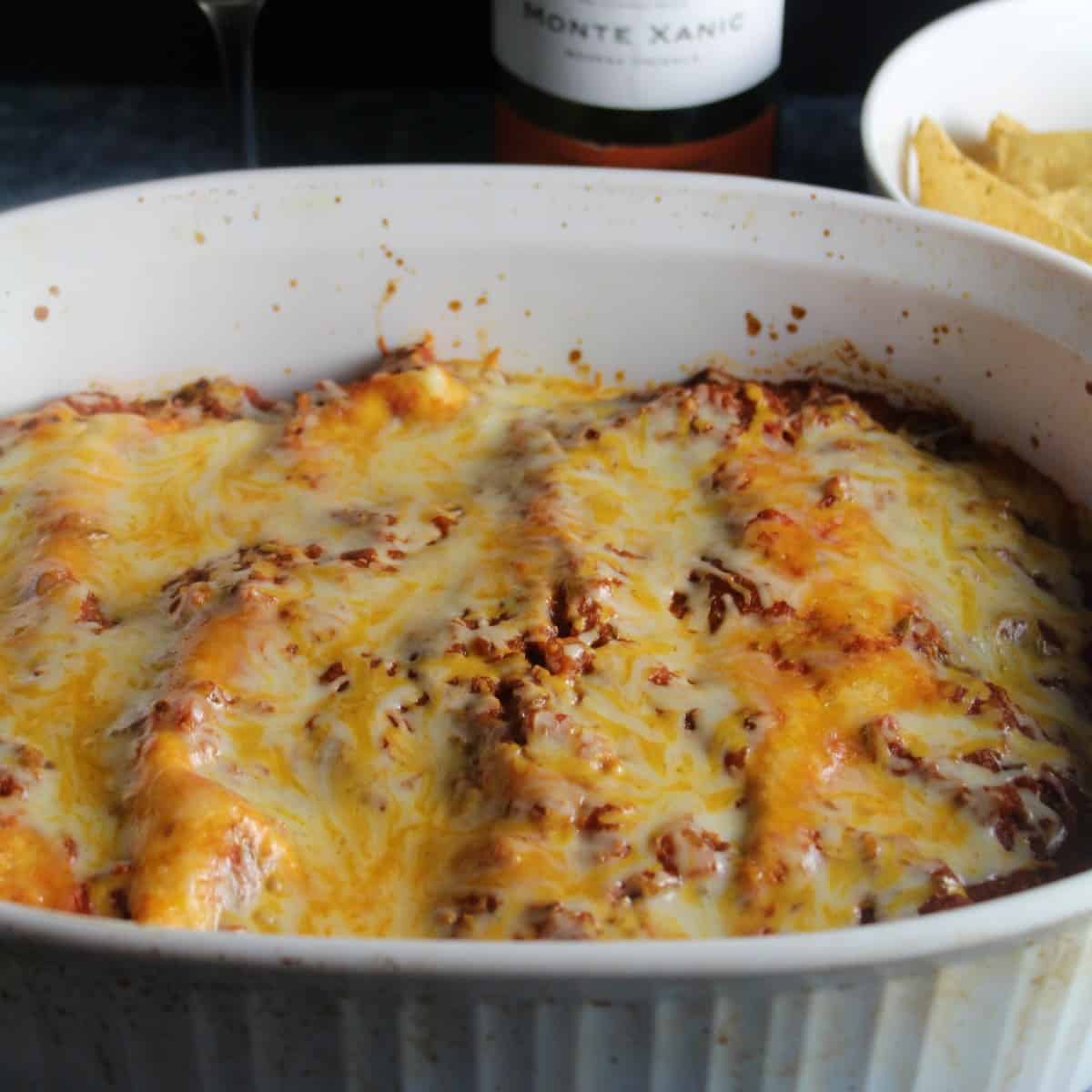 Ground Turkey Enchiladas feature a healthy turkey and black bean enchilada filling gets topped with a zesty chipotle sauce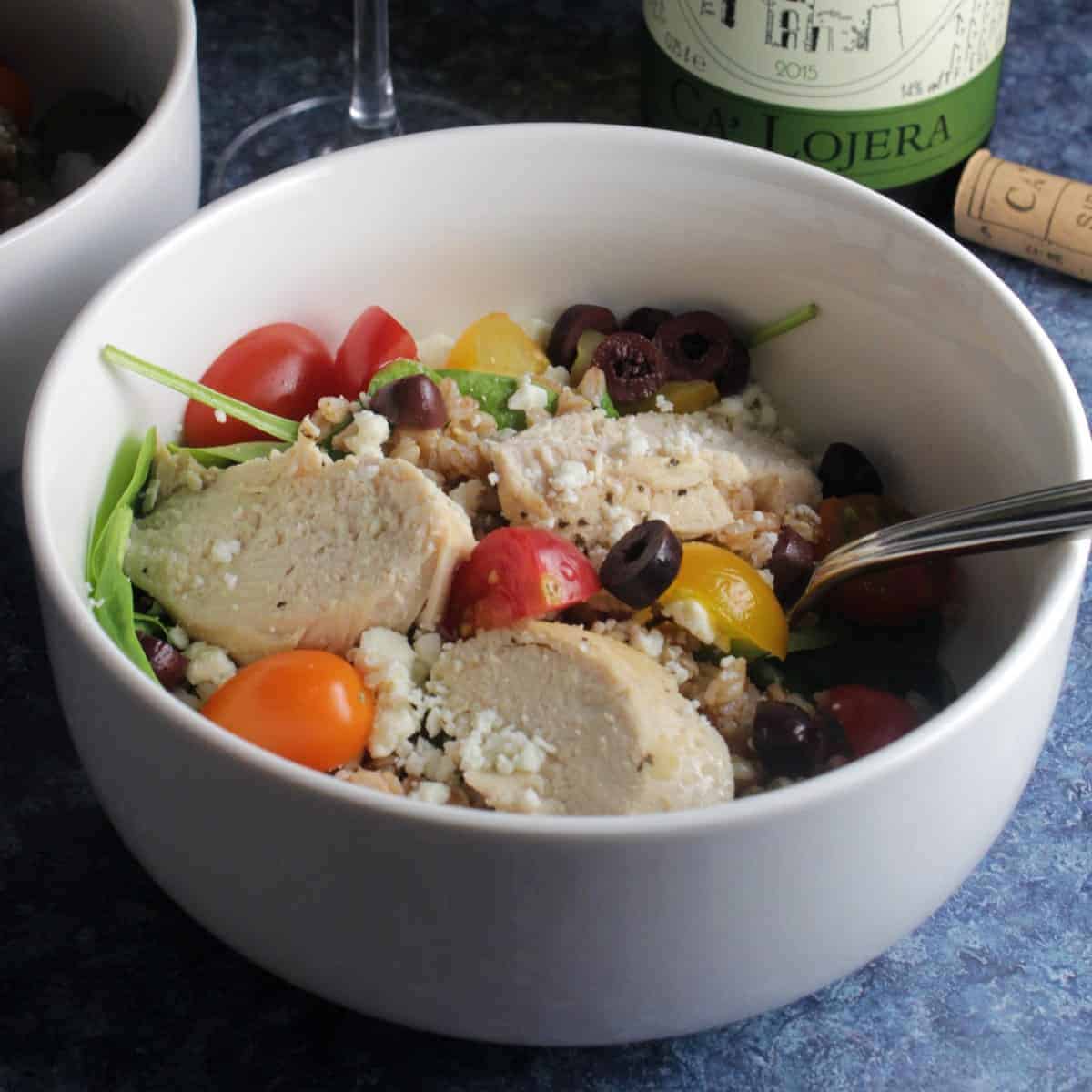 A hearty main dish chicken salad recipe with Mediterranean flavors, including olives, tomatoes and feta cheese.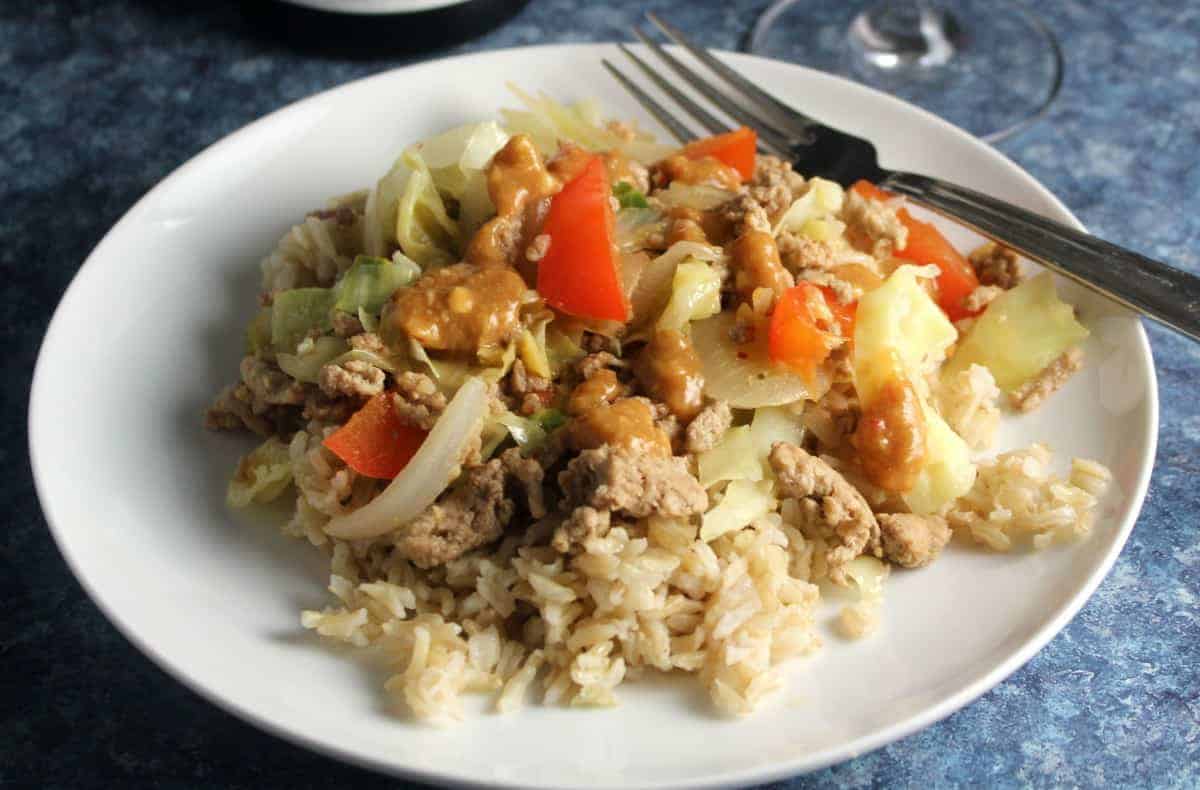 Turkey Cabbage Skillet cooked with a vibrant miso soy stir-fry sauce. This delicious, healthy meal is a great way to use cabbage and ground turkey!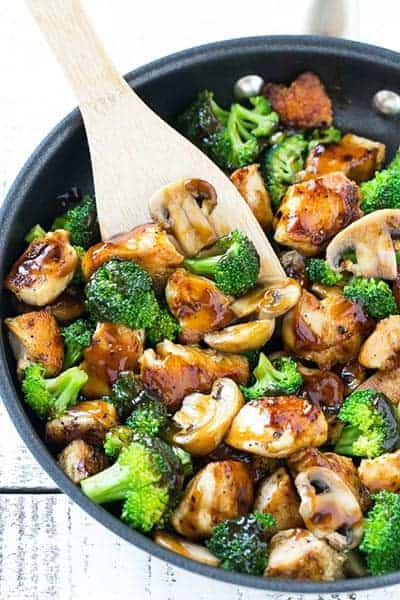 Chicken and Broccoli Stir Fry A classic combo, and the version from Dinner at the Zoo looks delicious!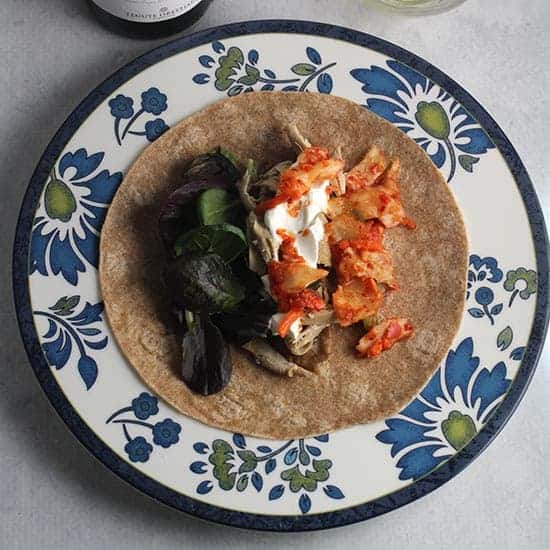 Kimchi Chicken Burritos have a flavorful spicy crunch. The fermented Korean cabbage kimchi provides a creative change of pace to your burrito routine! Easy to put together and a good way to use leftover chicken.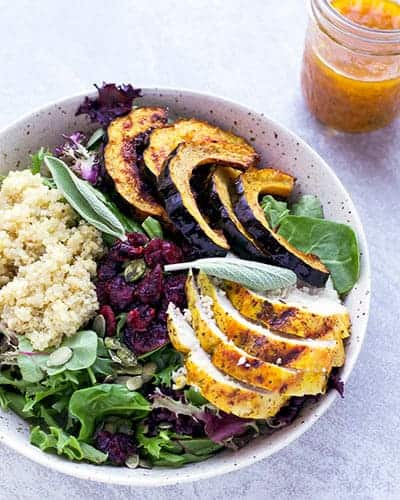 Grilled Turmeric Chicken Salad What a delicious and health combination of chicken and vegetables in this salad from Cooking LSL.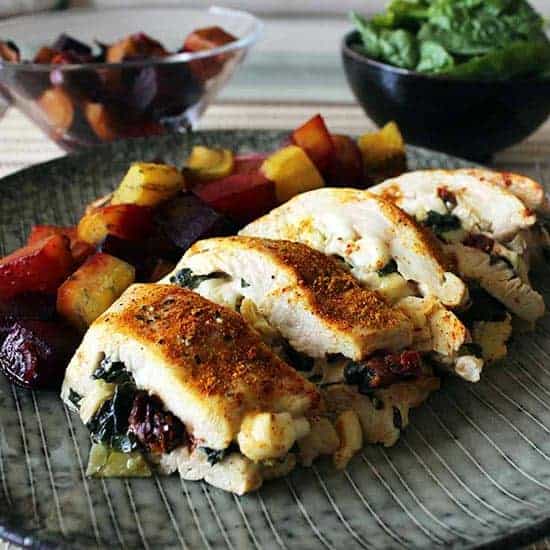 Healthy Stuffed Chicken Breast Low fat mozzarella along with flavorful healthy ingredients like avocado is the key to this healthy option from The Fit Blog.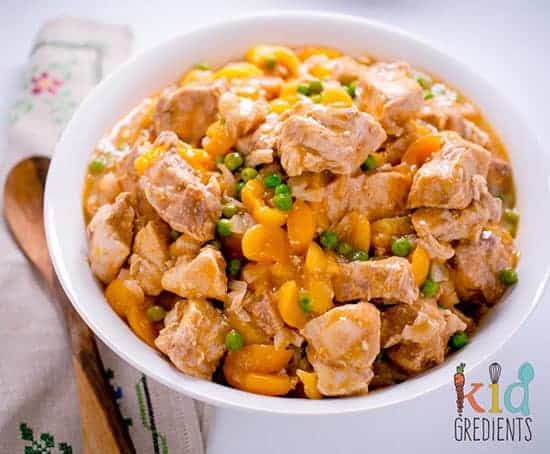 Not Your Mum's Slow Cooker Apricot Chicken I'm definitely going to be trying this tasty one from Kidgredients! We are big apricot fans and love things we can get going in the slow cooker.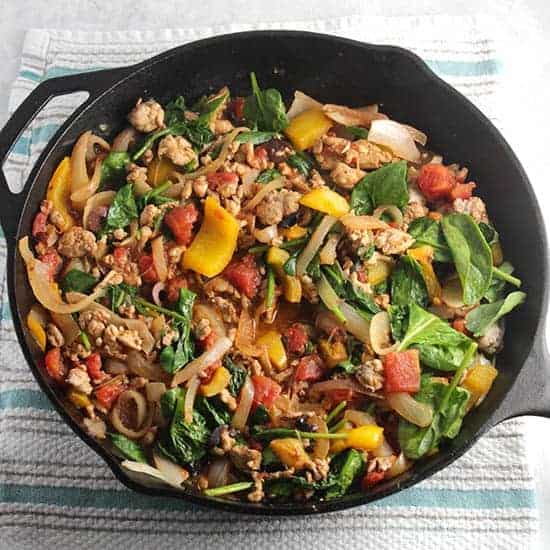 Greek Turkey Spinach Skillet Love the way the Greek flavors of feta and olives flavored this Cooking Chat dish.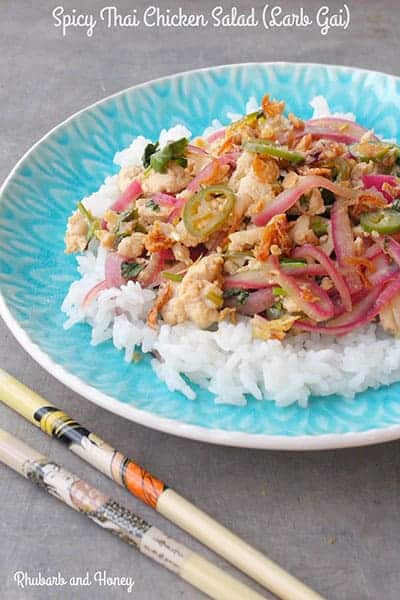 Spicy Thai Chicken Salad This one from Rhubarb and Honey sure has a lot of flavor! Definitely warrants a place on our Tastiest Healthy Meals list.

Meat
Mushroom Farro with Ground Beef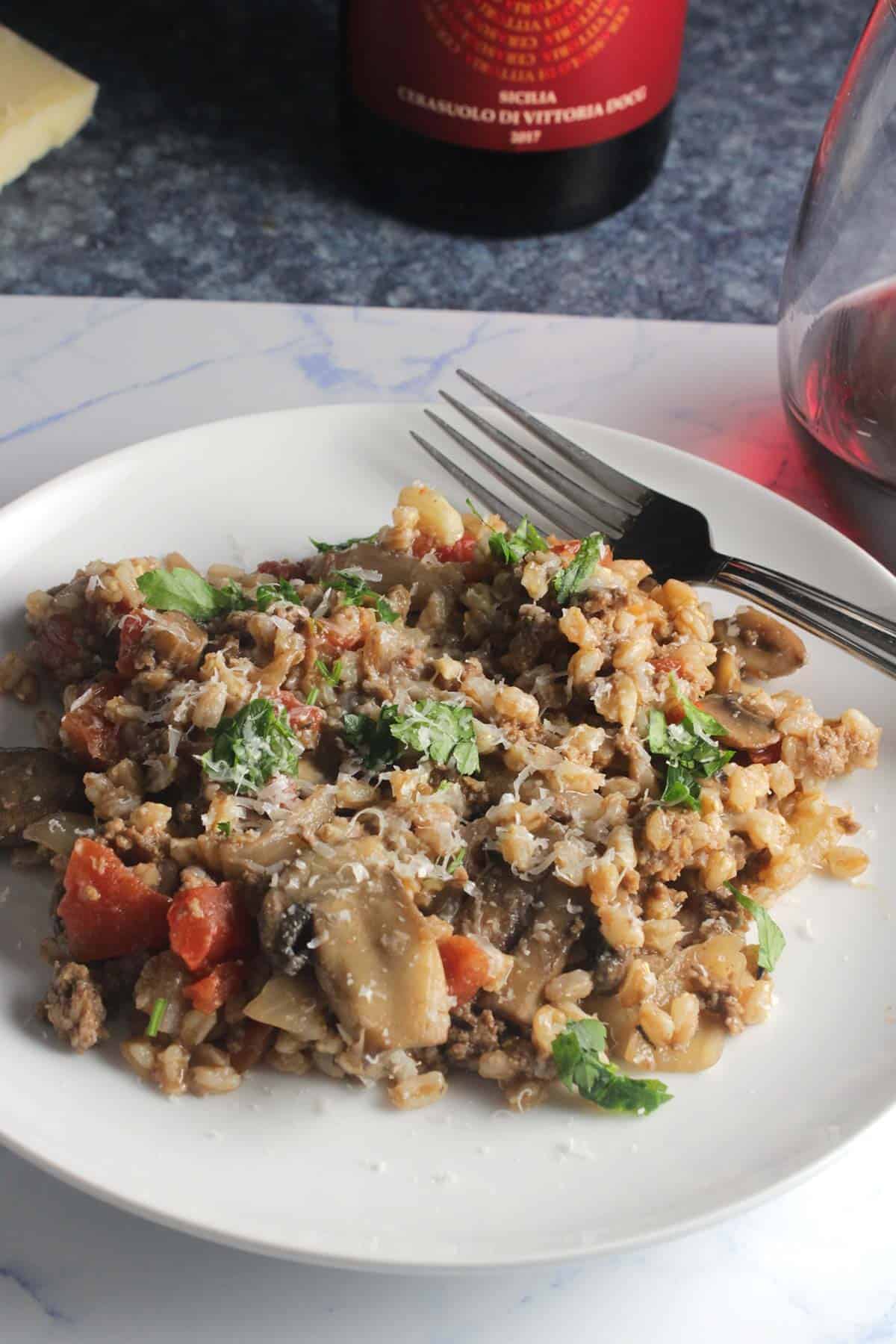 Mushroom Farro with Ground Beef is a hearty, richly flavored main dish. Farro grain is a great ingredient to stock up on; if you have done so this dish can be easily made with ingredients on hand.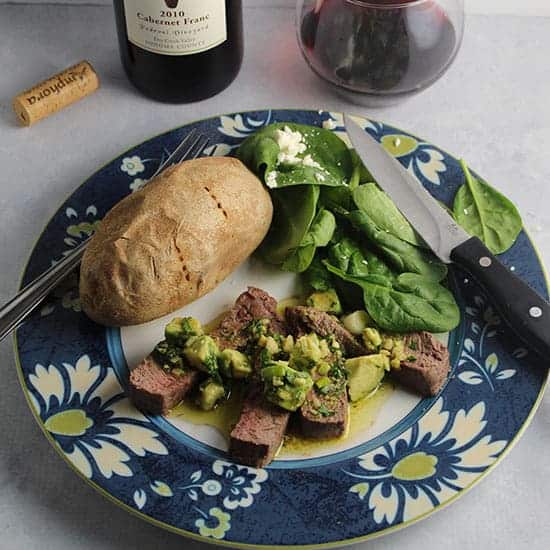 Roasted Sirloin Steak with Avocado Sauce Sirloin is a lean cut of beef, so topped with a delicious and healthy avocado sauce we thought it warrants a place on our Healthiest tasty recipe list.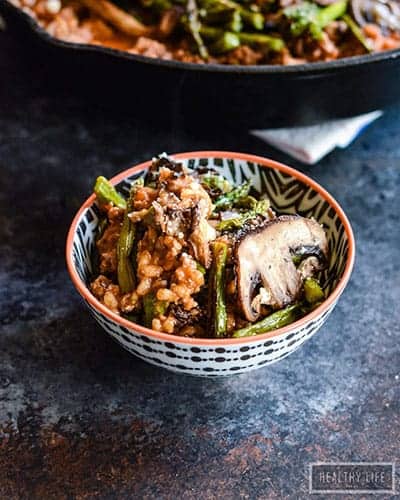 Farro Beef Mushroom Asparagus Marinara You get some good veggies and whole grains along with grass fed ground beef in this health recipe from A Healthy Life for Me.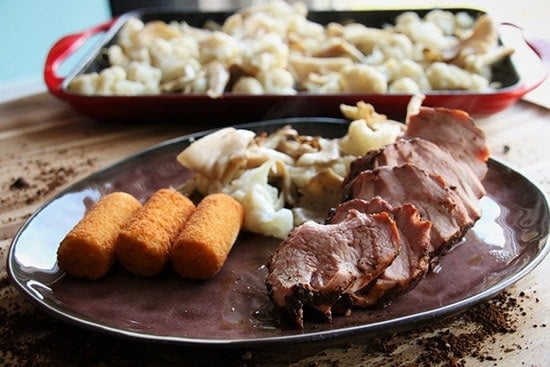 Irish Coffee Pork Tenderloin This one from BBQ Bastard sounds just delicious–I like pork tenderloin about any way I've made it, the Irish coffee rub sounds like a must try. Pork tenderloin is a leaner pork option, so we will include it on our Tastiest Healthy Recipes list.

Soups, Stews and Chili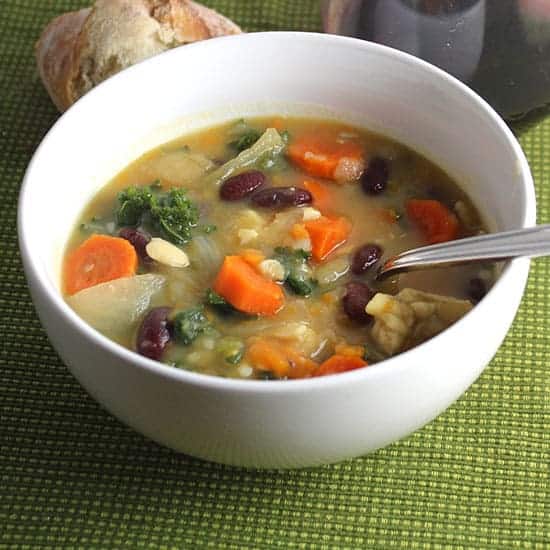 Kale simmers with onion and garlic for a flavorful, healthy Vegetarian Kale Soup recipe. Beans and tempeh provide substance and protein.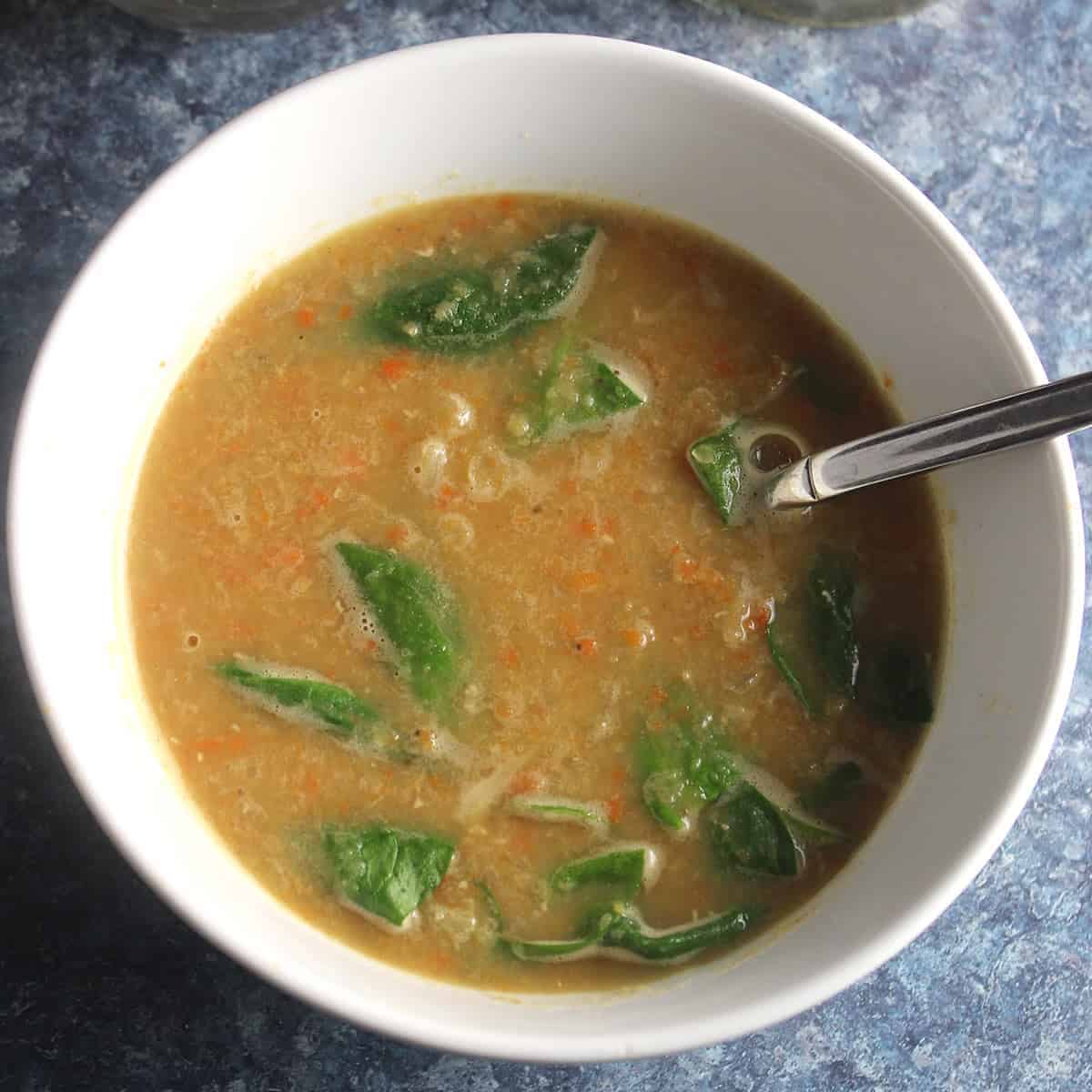 Spicy Lentil Soup with Spinach is a flavorful vegan soup recipe, packed with nutrition. Easy to put together with ingredients on hand, and the spices provide warmth to provide comfort on a chilly evening. Try it with a Vouvray from the Loire region of France!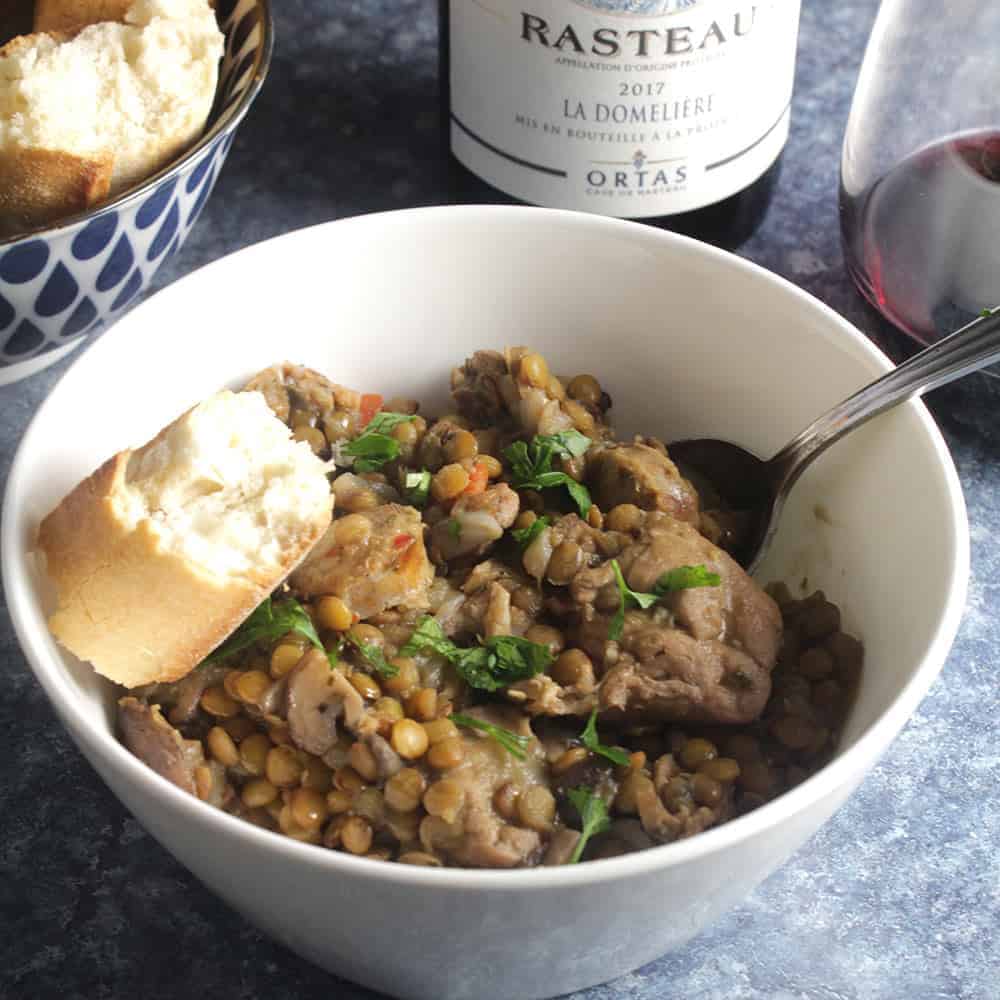 Chicken Lentil Stew is a hearty recipe featuring braised chicken thighs, mushrooms and chicken sausage. Delicious with a red wine blend from the Rhone Valley- we had it with one from Rasteau.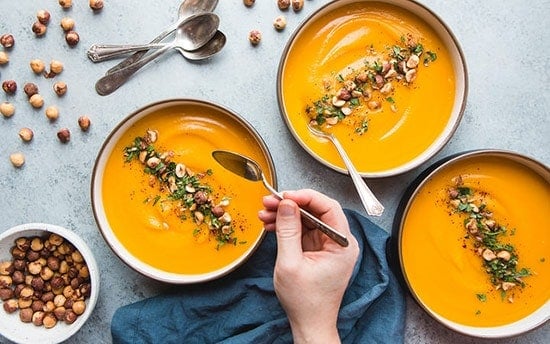 Roasted Garlic and Hazelnut Soup Lots of flavors I love in this tasty soup recipe from Will Cook for Friends!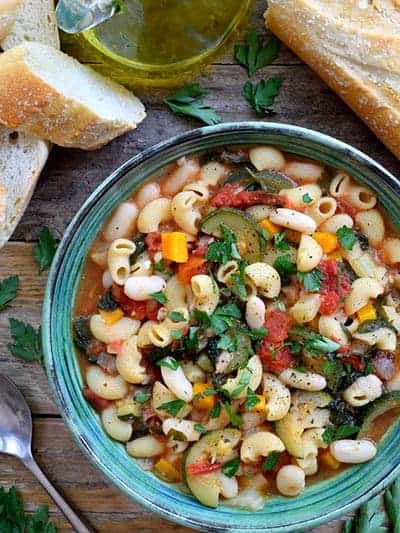 Vegetarian Pasta Fagioli As Mel from Cilantro and Cintronella says, there are so many version of pasta fagioli. I'm a sucker for all of them, but her version looks especially tasty and healthy!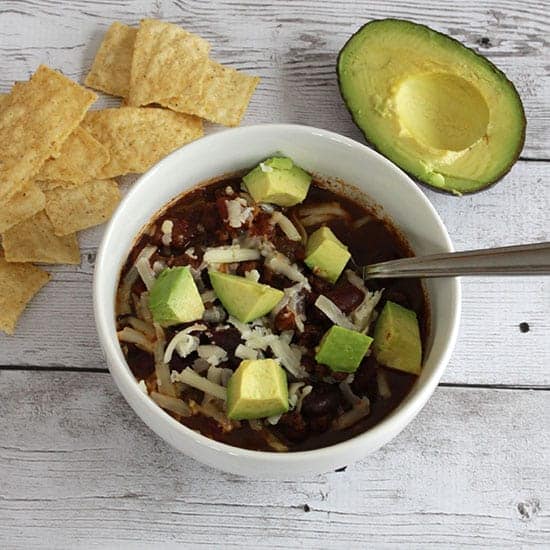 Slow Cooker Turkey Chili with Avocado This one from here on Cooking Chat is a go to recipe in our house!
Singapore Hot Pot This dish from What a Girl Eats reminds me of my eating adventures in Singapore some years ago. Each person can choose which healthy raw ingredient they add to their personalized hot pot dish.
Roasted Cauliflower Kale Soup Here's one of my favorite soups from the year, featuring kale and cauliflower for lots of flavor and nutrition. Definitely an easy pick for the Tastiest Healthy Recipes.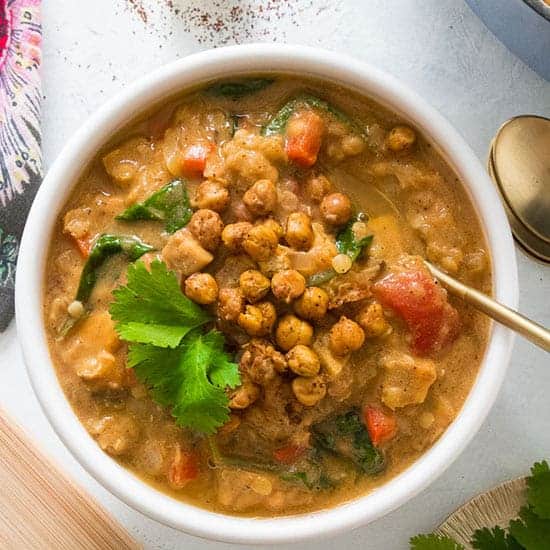 Spicy Red Lentil Stew with Crispy Chickpea Croutons The chickpea topping is a creative way to get some extra plant based protein. Plus they sound tasty! Recipe from Eating by Elaine.

Other

Morning Glory Muffins These muffins rely on fruit and veggies for most of their flavor, with just a bit of agave sweetener, earning it a spot on our Tastiest Healthy Recipes list. Recipe from Garden in the Kitchen.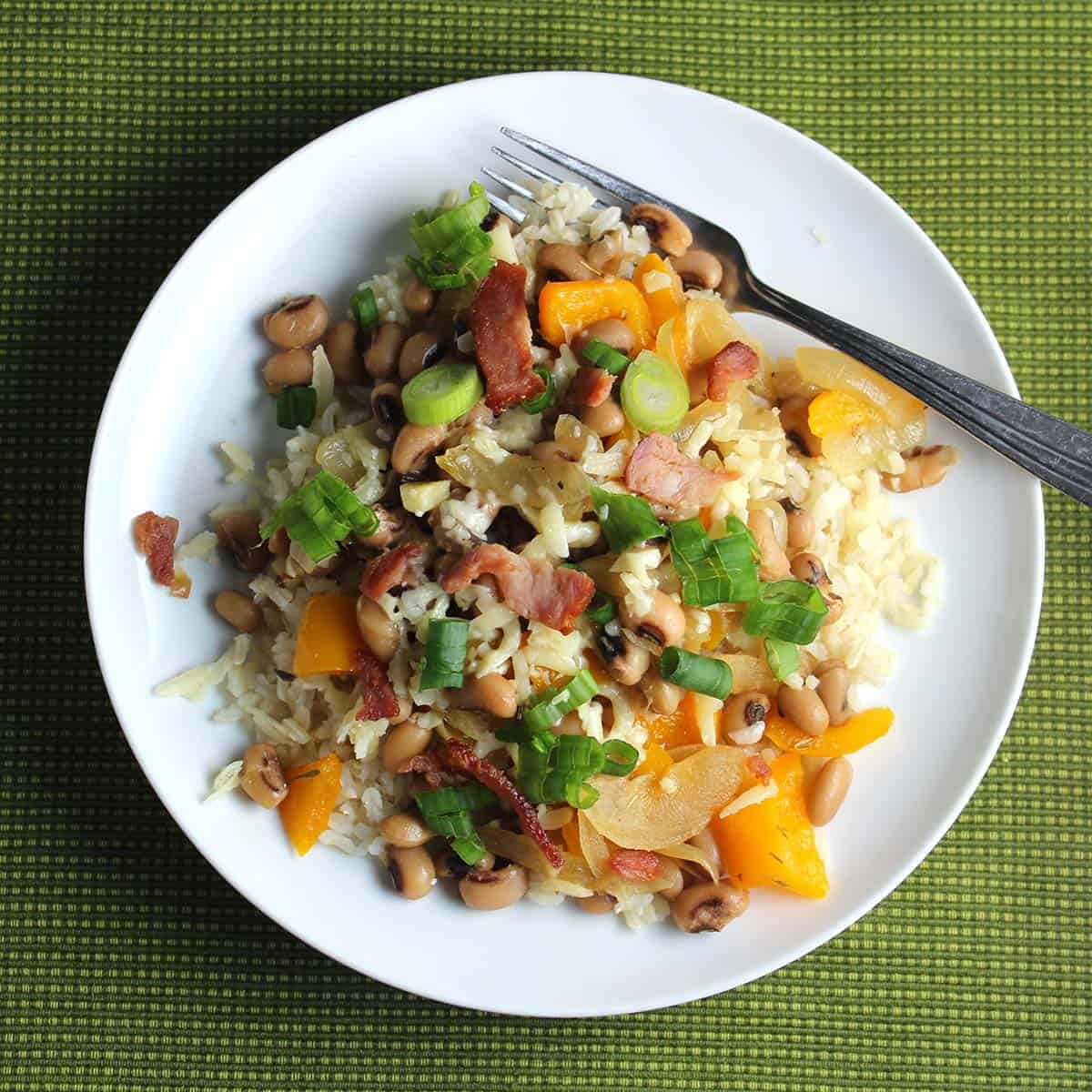 Healthier Hoppin' John is based on a Southern classic said to bring good luck when eaten on New Year's Day. Our version will bring you as much luck as the traditional, but the use of turkey bacon instead of pork will get you off to a healthier start.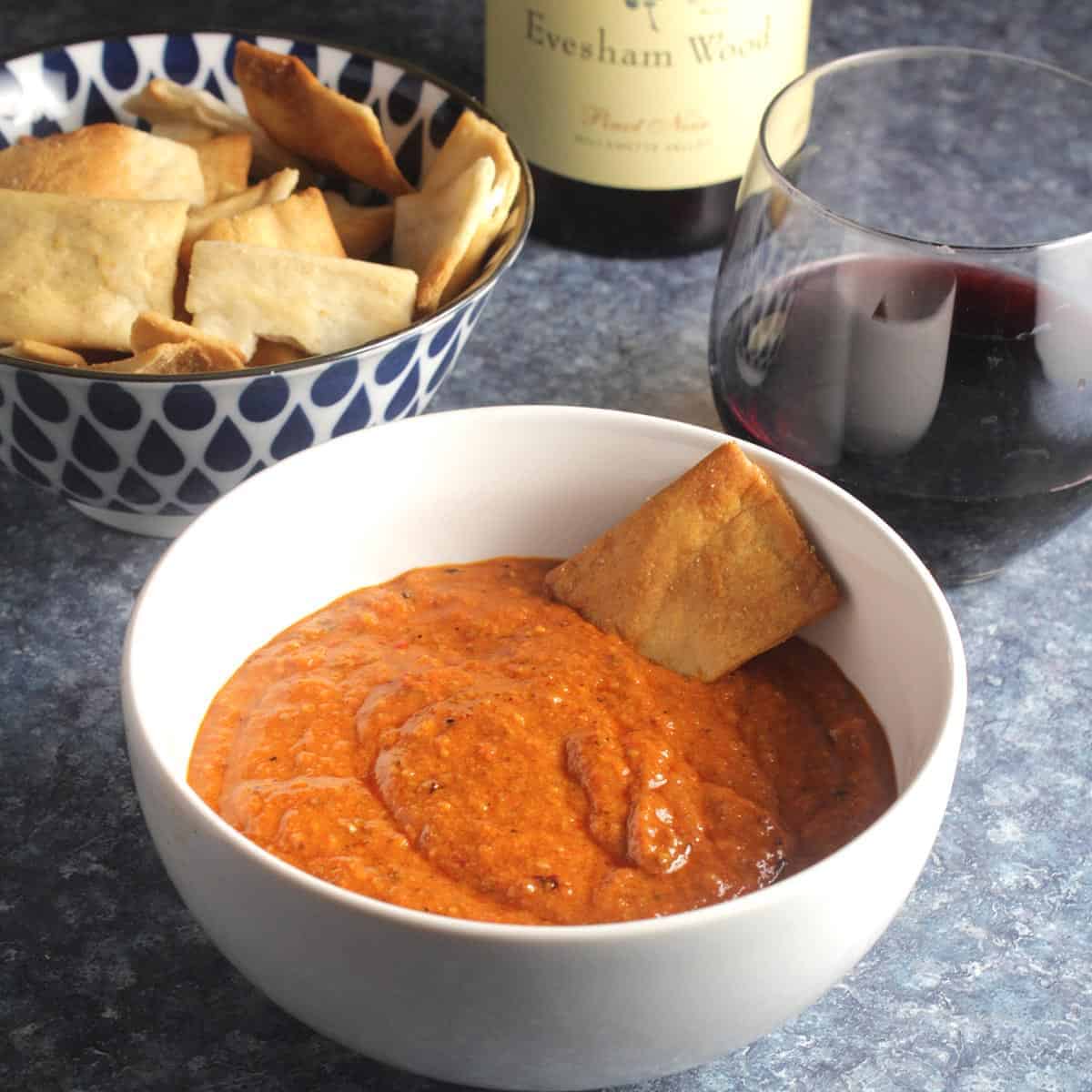 Muhammara Spicy Red Pepper Dip is a delicious vegan appetizer recipe packed with flavor. As we get into the season when there are a lot of big games on to watch, we figured this healthy dip would be a good addition to the list.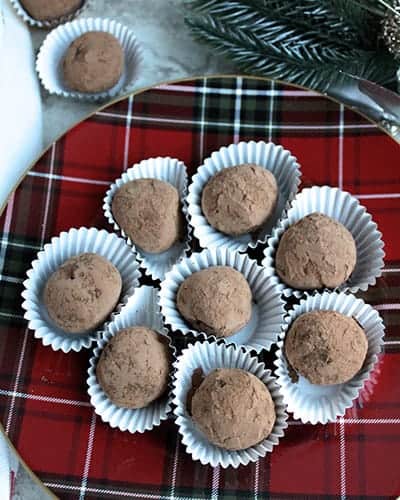 Healthy Chocolate Truffles from The Clean Eating Couple gets you chocolate and sweet tastiness using healthy ingredients like avocado. Yum!