This easy Ham and Cheese Pasta Bake recipe is a great way to use leftover ham! Just a few ingredients is all you need for this savory leftover ham pasta bake. This easy recipe can be on the table in 30 minutes! We enjoyed this dish with a good Chardonnay.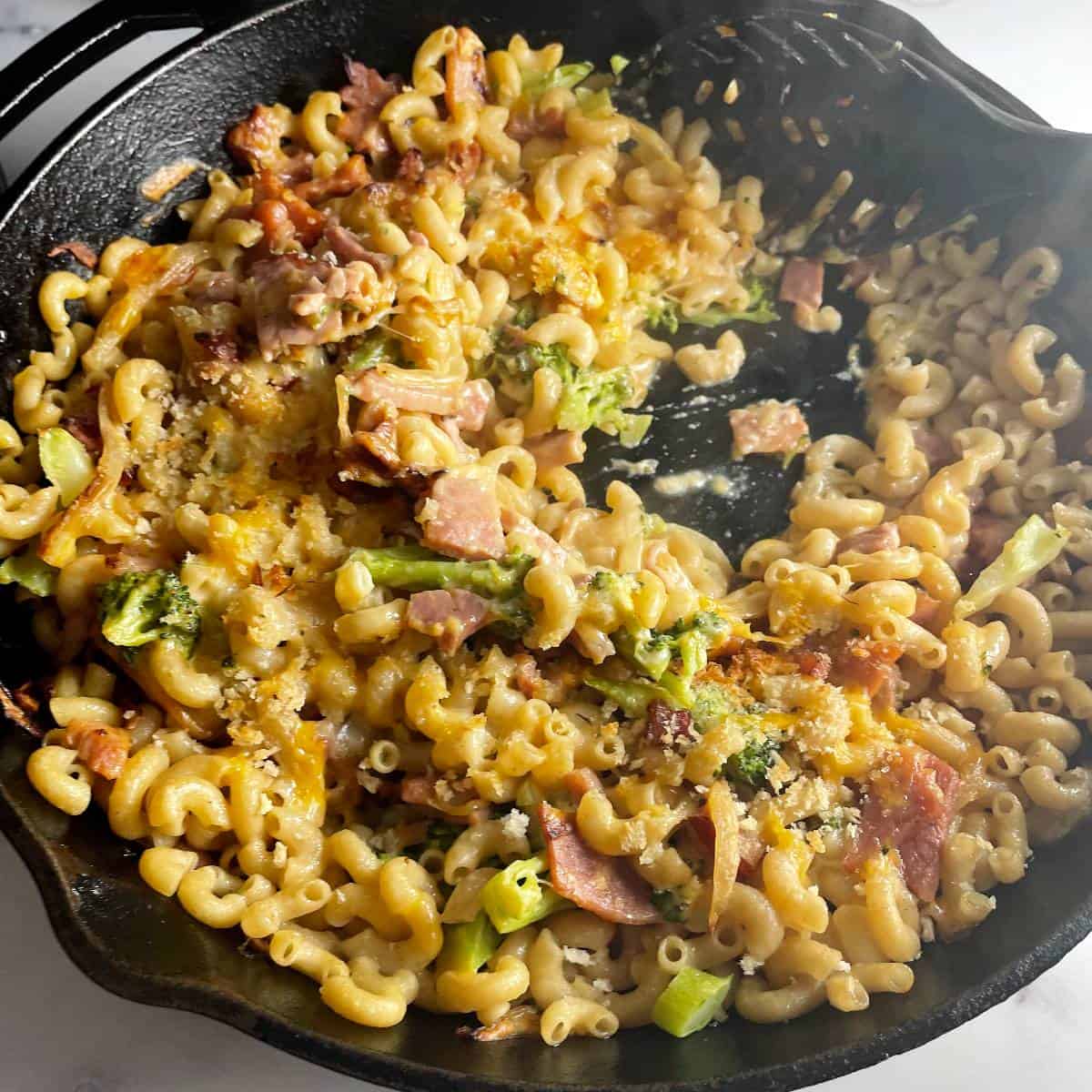 A big baked ham makes a great centerpiece for a holiday meal or other family dinner. You want to make sure there is enough for everyone, and that invariably means there will be some leftover ham.
So what to do with that leftover ham? This Easy Ham and Cheese Pasta Bake is a great choice! You can have this savory, cheesy ham casserole dish on the table in 30 minutes.
This recipe is also flexible. You can add in extra vegetables that you might have on hand, and use the amount of ham you have available. In the recipe card, we note a variety of optional ingredients and potential swaps.
Jump to:
Ingredients
The essential ingredients ingredients for this ham and cheese pasta bake are: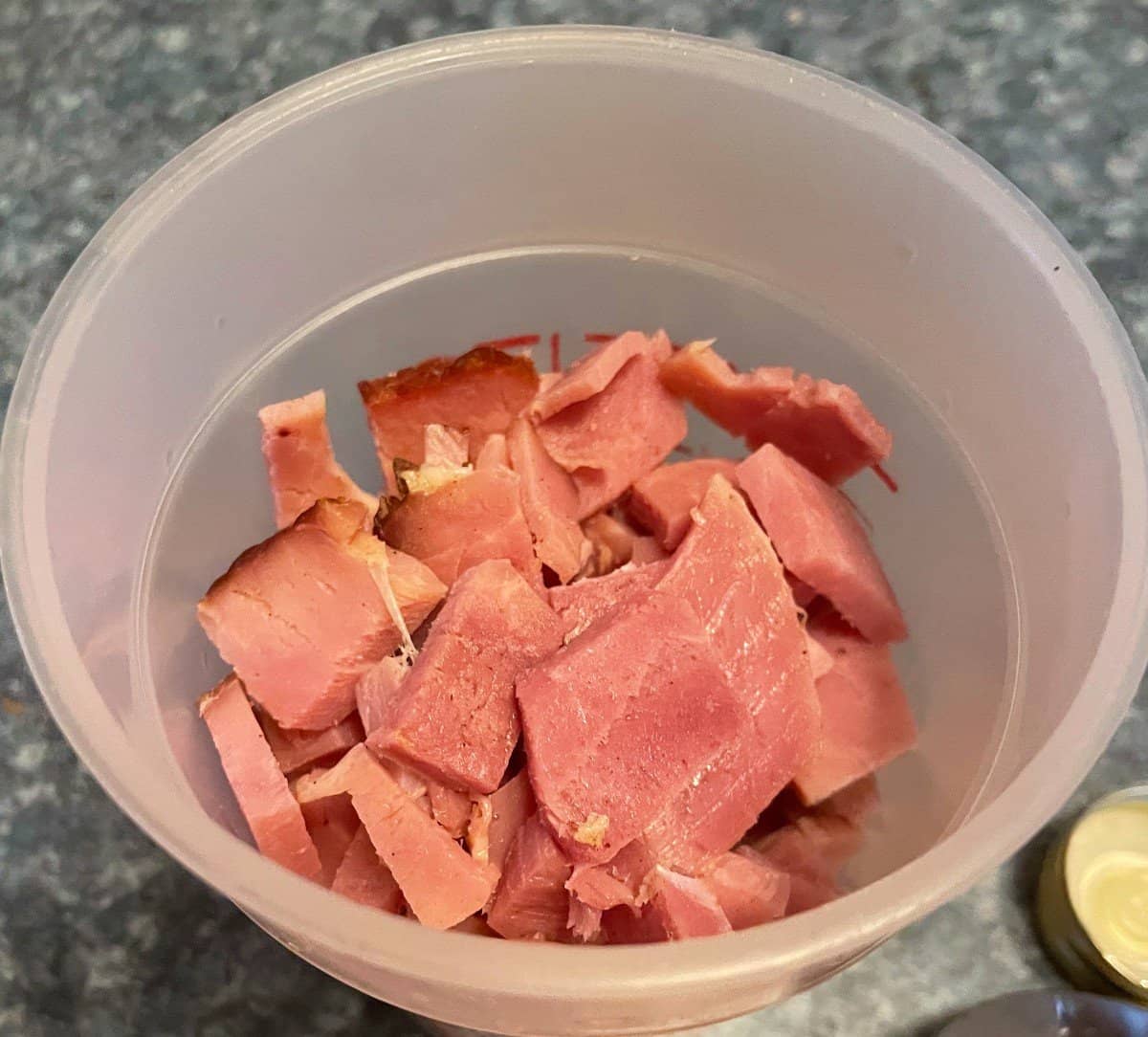 Ham: Some ham that has already been cooked, likely leftover from another meal, is the starting point for this ham pasta bake recipe. We had about 2 cups of ham available; you could use more or less based on what you have available. Ideally you will have at least 1 ½ cups of ham. The ham we used was prepared with a brown sugar glaze, bringing a lot of flavor to the table. This recipe looks like a pretty good approximation of the ham we used.
Cheese: Ham and cheese certainly go together nicely! We used a shredded cheddar cheese and Monterey Jack blend. You could mix it up based on your preferences. All cheddar could certainly work; Colby cheese is also another good choice for melting. I sometimes like to add a bit of Parmesan cheese to a casserole, too.
Pasta: I like to use a short pasta shape for casseroles. We went with whole wheat elbows; farfalle or ziti could also work here.
Onion: We caramelize an onion to start off the dish. This brings extra flavor, which helps create a tasty dish with a moderate amount of cheese, compared to other ham and cheese pasta recipes.
Now, let's touch upon of few of the other ingredients, along with some notes about possible substitutions.
Broccoli or other vegetables: We added a bit of steamed broccoli we had on hand to the ham and cheese pasta bake. That worked nicely, but you could add other veggies that you have handy. Peas or green beans are two options that come to mind.
Cream: You could use basic heavy cream in this dish, but we used So Delicious coconut creamer. We had that on hand to make a non-dairy version of our Fettuccine Primavera, and it worked in this pasta bake, too.
Cooking wine: we heated the ham with the onions along with a ¼ cup of dry white wine. You could swap in chicken broth if you prefer.
Recipe overview
Here's a visual overview with some tips for making our easy ham and cheese pasta bake. Head on down to the recipe card for all the details!
Cut the leftover ham into bite sized pieces.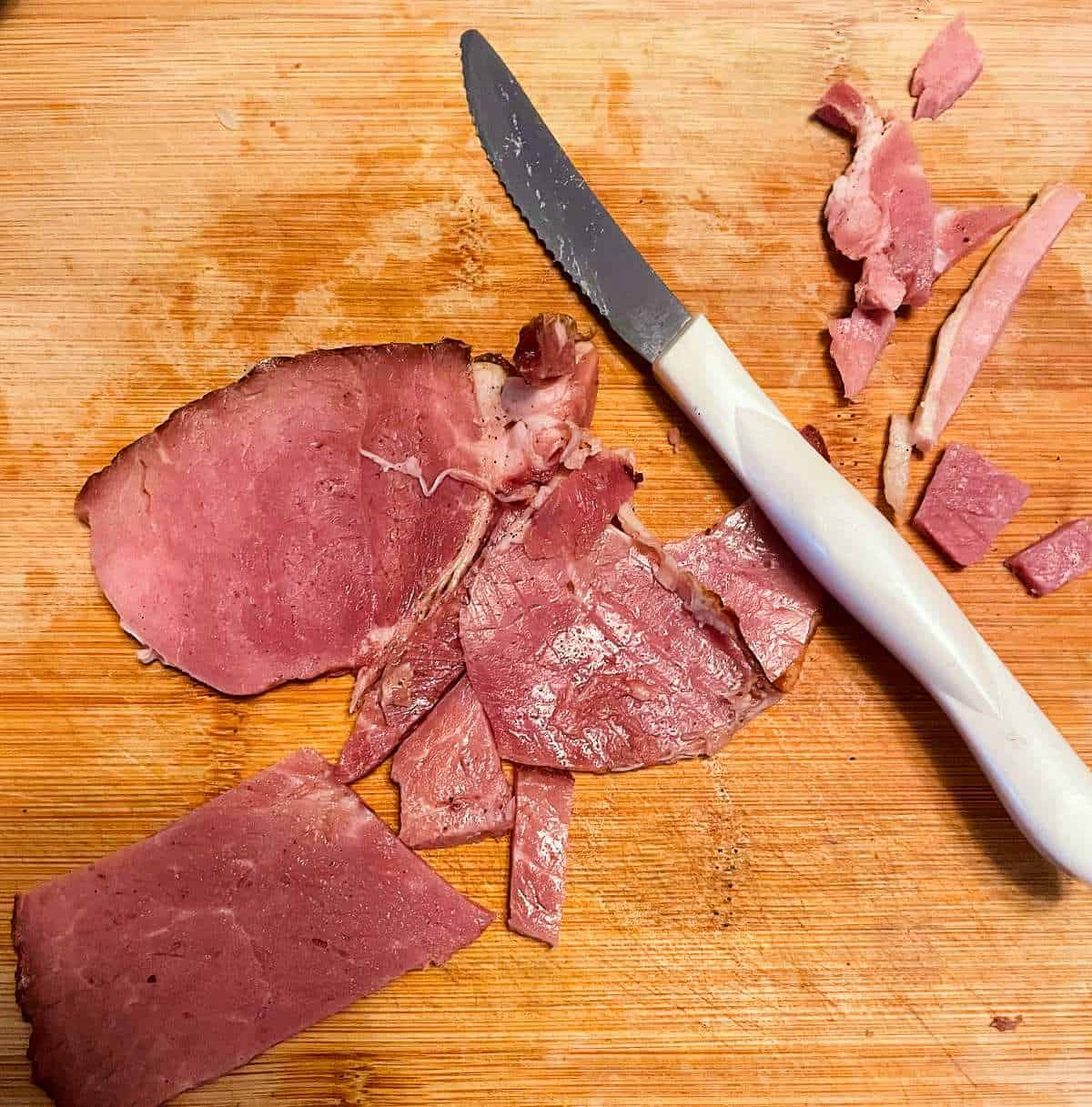 Trim away any large pieces of fat from the edges — see bonus tip below on how to use that extra fat!
Add the sliced onions to a large skillet with a tablespoon of olive oil. Cook for about 10 minutes, until the onions begin to caramelize.
Cook the pasta al dente (still a bit of firmness) while the onion cooks. Drain and toss with a tablespoon of olive oil when cooked.
Add the leftover ham pieces to the skillet along with the cooking wine, and stir to combine with the caramelized onion.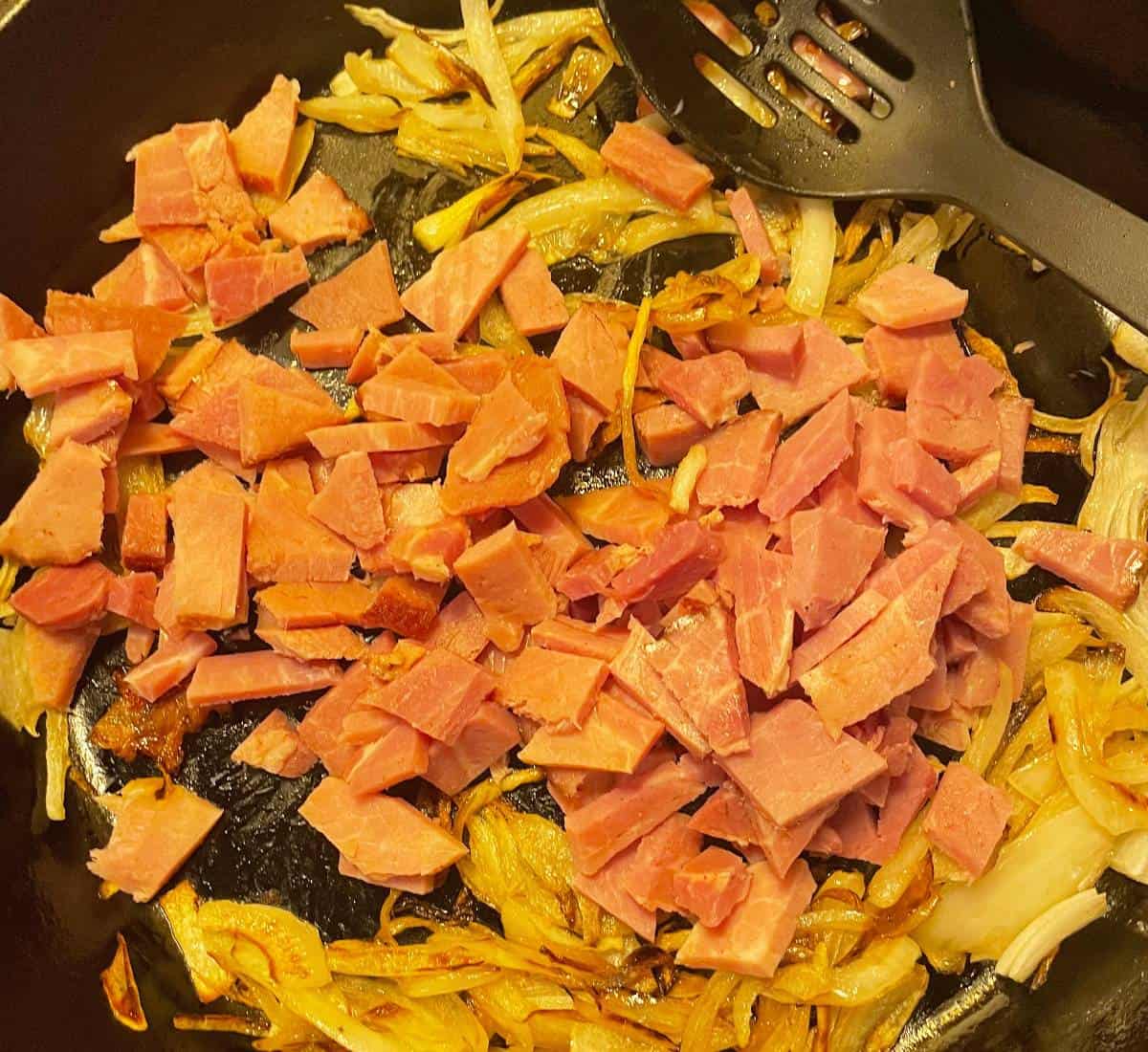 Let the ham heat for a few minutes with the onions to let the flavors meld.
Stir the cooked pasta into the skillet along with a cup of the shredded cheese, plus the cream and broccoli, if using.
Top the ham and pasta mixture with the remaining cheese and breadcrumbs.
As you can see in the photo above, our large skillet was definitely quite full after stirring in the pasta. You could definitely combing the ham mixture, pasta and cheese in a casserole dish if that works better for your equipment. That would also be a good option if you want to make a bit more pasta.
Once you have the ham and pasta combined with the cheese, cover the skillet or casserole dish and move to the oven. Bake for 10 minutes covered, then another 5 minutes uncovered.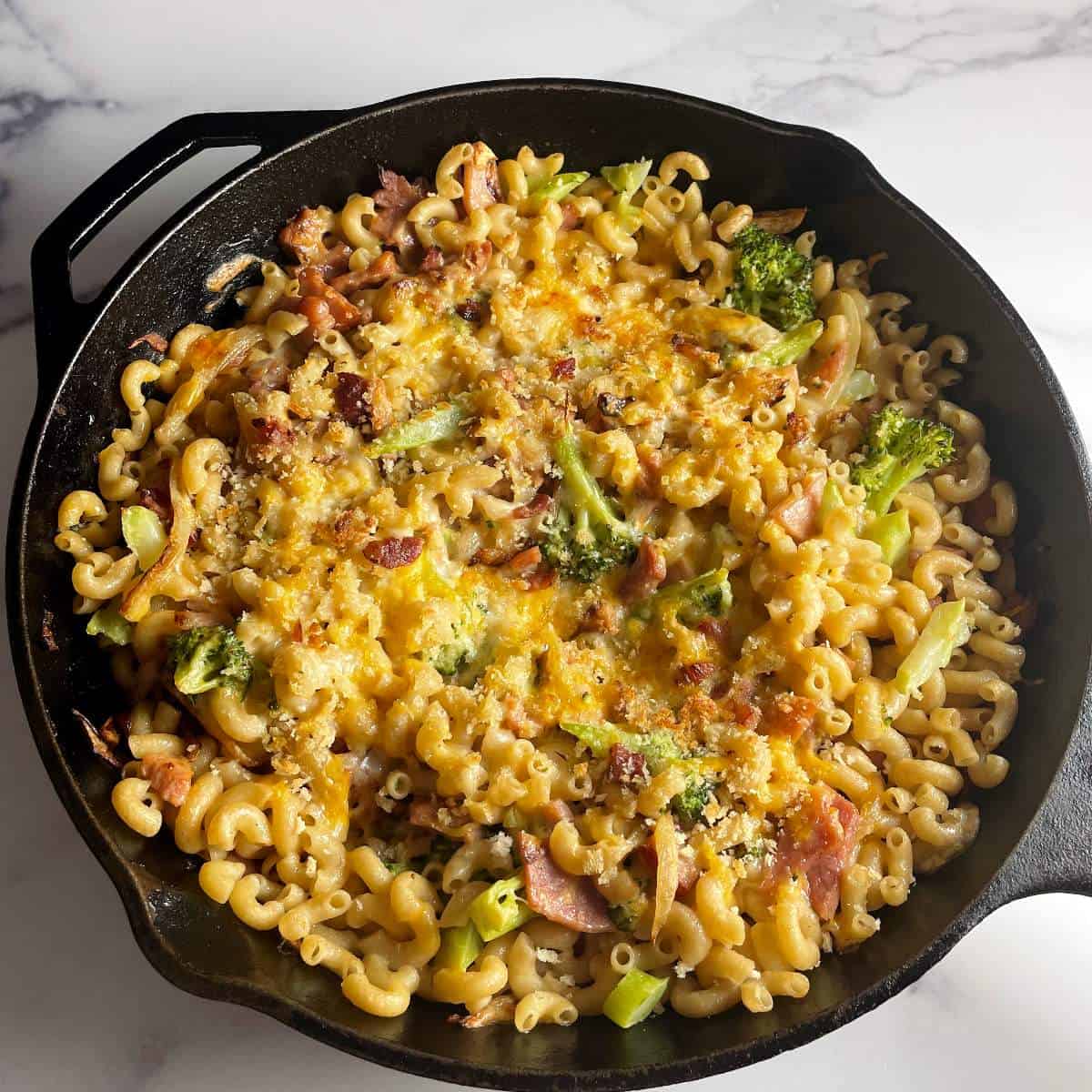 You can finish it with a couple minutes of browning on the broil setting if you like.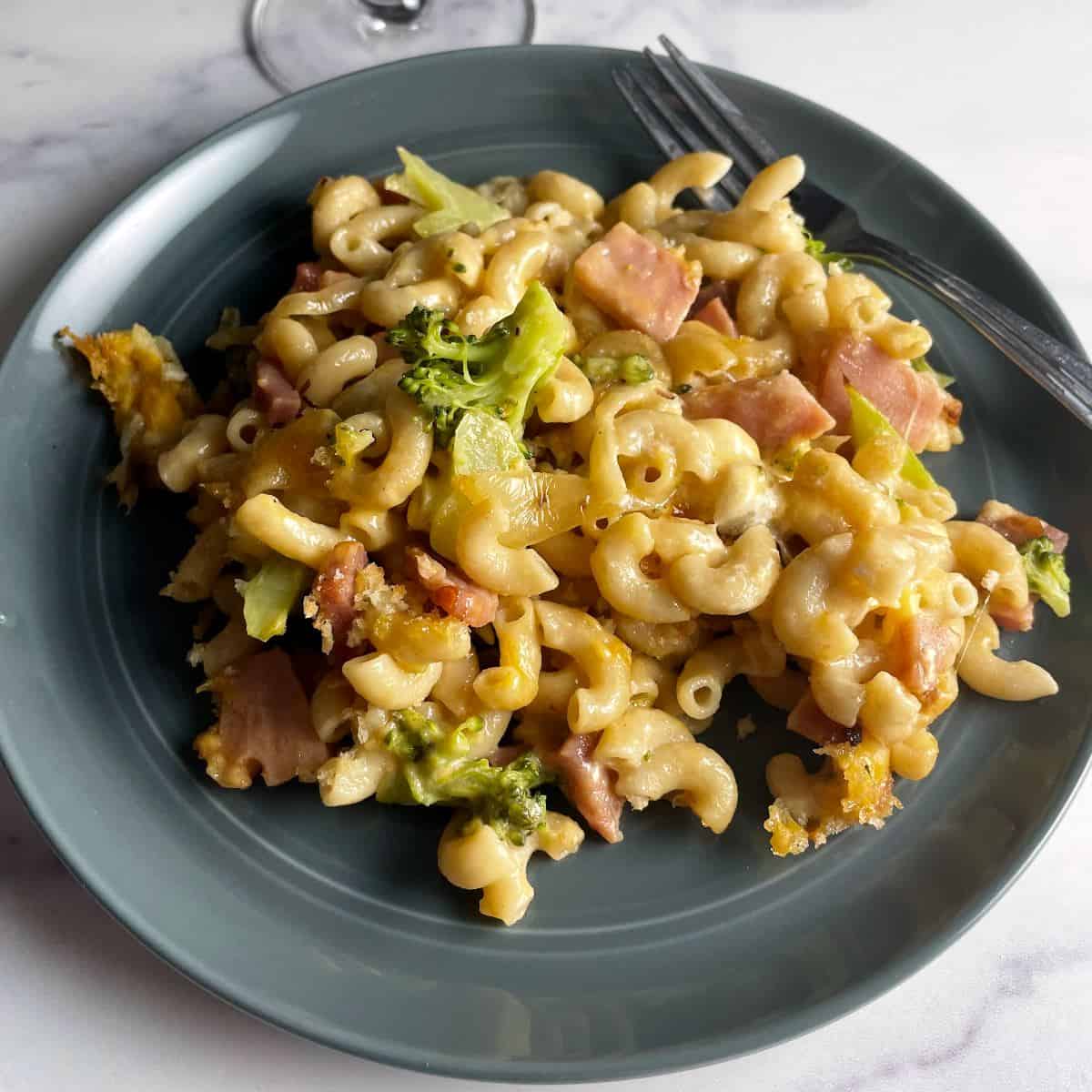 Scoop out a serving onto your plate, and enjoy!
Bonus tip
Here's an extra step you can take to add some additional flavor to this ham pasta bake, while using up more of the leftover ham.
After the onions have caramelized, push the onions to the edge of the skillet. Take some of the ham fat from the edges of the ham, and place in the center of the skillet.
Cook the ham fat until it begins to brown, about 5 minutes. You will notice it will start to look and smell like bacon!
Remove the browned ham fat from the skillet with a slotted spoon. This will leave behind some good flavor from the ham fat. If you like, you can cut some of the brown fat into small bits, and add it back in along with the pasta.
More recipes using leftovers
We love making good use of leftovers! Here are a few more of our favorite ways to re-purpose one night's meal for another tasty dinner.
Wine pairing
Chardonnay immediately jumped to mind to match the ham and cheese pasta bake. I trusted my instincts, and opened a bottle of the 2020 House of Brown California Chardonnay ($20, 13%).
I get baking spices on the nose of this Chardonnay. Meyer lemon and stone fruit — peach I'd say — on the palate. A flavorful and well-balanced wine. Definitely worked nicely with the leftover ham pasta bake.
A rosé could also work with this dish — we tested that with some of the leftovers. We have also enjoyed it with a Malvasia (Italian white wine) on a recent remake. Perhaps a Pinot Noir if you are in the mood for a red wine.
Brown Estate
I first heard of House of Brown when I hosted a Wine Pairing Weekend BIPOC wineries event earlier this year. House of Brown is the second label of Brown Estate, Napa Valley's first Black-owned estate winery.
Bassett and Marcela Brown bought an abandoned ranch in eastern Napa Valley. They initially planted grapes for other wineries; then their children began producing estate wines. They are particularly known for Zinfandel. As a Zin fan, I definitely need to be on the lookout for a chance to try theirs!
I got the House of Brown from The Urban Grape, a Black owned wine shop in Boston that features a BIPOC producers collection. Wines can be ordered and shipped from them throughout the US, as of this writing.
Print
Recipe card
Easy Ham and Cheese Pasta Bake
This Easy Ham and Cheese Pasta Bake recipe is a great way to use leftover ham! Just a few ingredients is all you need for the savory leftover ham pasta bake.
Author: Cooking Chat
Prep Time:

5 mins

Cook Time:

25 mins

Total Time:

30 mins

Yield:

5

servings

1

x
Category:

main

Method:

stove top + baking

Cuisine:

American
1

onion, thinly sliced

2 tablespoons

olive oil, divided

2 cups

leftover ham, cut into bit sized pieces* (see notes)

¼ cup

dry white wine (or you could use chicken broth)

1 ½ cups

shredded cheese – we used a blend of cheddar and Monterey Jack

½ cup

cream — heavy cream or coconut creamer works

1 ½ cups

steamed broccoli, optional (or other cooked vegetable on hand)

10

ozs pasta — short shape such as elbows
Instructions
Preheat oven to 400 degrees.
Heat 1 tablespoon olive oil in a large skillet (oven proof unless you are going to transfer to a casserole dish for baking). Add the onion, and cook on medium heat for at least 10 minutes, stirring occasionally. You want the onion to start turning brown (caramelizing).
Start cooking the pasta according to package instructions as the onion cooks. Cook the pasta al dente — so that it is just tend — as it will continue to cook in the oven. Drain the pasta when done and toss with the remaining tablespoon of olive oil. Set aside.
Stir the leftover ham along with ¼ cup of cooking wine into the skillet with the onions. Heat on medium low, stirring occasionally, for about 5 minutes.
Add the pasta to skillet (see notes) stirring to combine the pasta with the ham and onions. Stir in 1 cup of the shredded cheese, along with the cream and broccoli, if using. Sprinkle the remaining ½ cup of cheese over the top of the pasta and ham, along with the breadcrumbs.
Bake the pasta. Cover the skillet or casserole dish, and place in the oven. Bake covered for 10 minutes, then remove the cover and bake for another 5 minutes. You can switch to broil for another minute or two at the end to brown the cheese more if you like. Remove carefully from oven, and serve hot. Enjoy!
Notes
Baking pasta in a skillet or casserole dish: If you have a large, oven proof skillet with a cover, using the same skillet to cook the onion and to bake pasta is convenient. However, you can also transfer the ham and pasta combination to a casserole dish for baking if that works better for what you have available.
Amount of ham: we list 2 cups of ham, based on what we used. But you can vary it based on what is available, but ideally will have at least 1 ½ cups.
Adding vegetables brings color and nutrition to the dish. It's also a good way to use veggies that might be leftover from your ham dinner. We enjoyed the ham pasta bake with broccoli. Peas or green beans could also work well.
You could skip the cream if you want.
Keywords: leftover ham recipes, ham and cheese pasta, easy ham and cheese pasta bake
Recipe Card powered by