Don't toss out those leek tops! This Sautéed Leek Greens with Bacon recipe shows you a delicious way to enjoy this too often discarded part of a leek plant.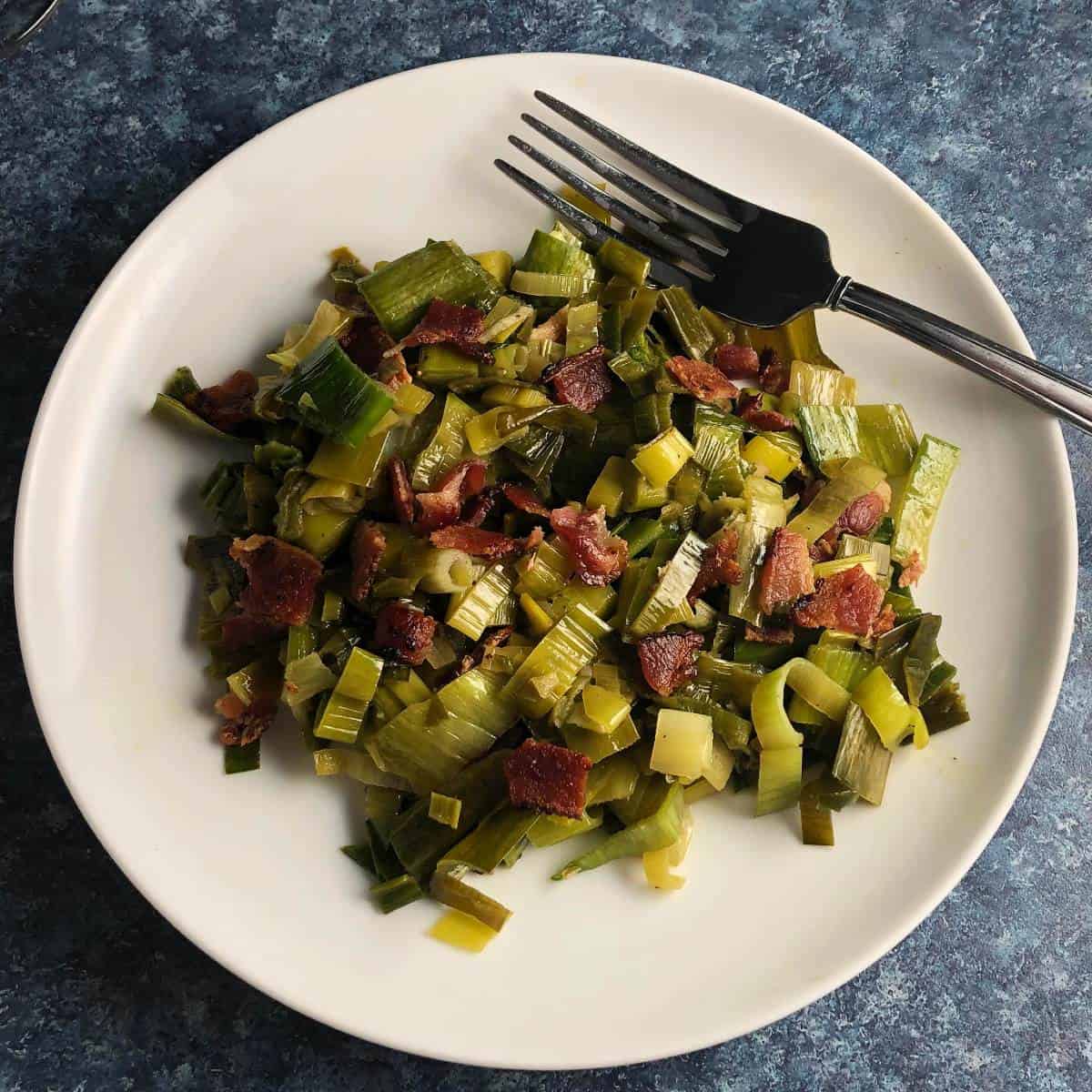 You can actually feel virtuous eating the bacon in this dish. We waste roughly 40% of our food in the United States. I'm sure the dark green tops of a leek plant contribute a relatively small amount toward that total waste figure, but it's an easy place we can make a stand against waste in our own kitchen.
For another recipe that uses something that might get wasted, try our Carrot Top Chimichurri!
Parts of the leek plant
When a recipe calls for leeks, you are typically using the white and light green portion of the leek plant closer to its roots.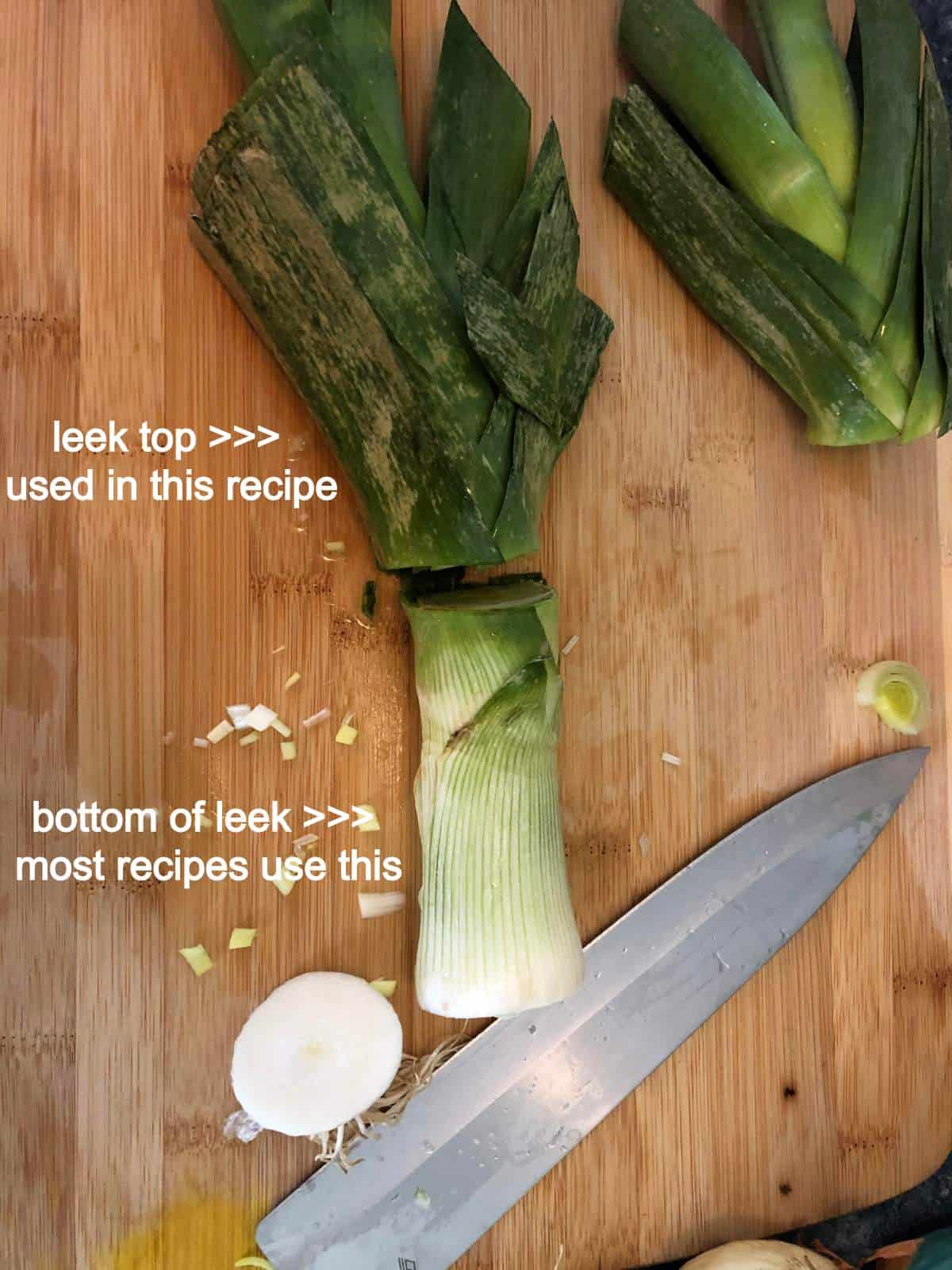 The darker green top of of the leek is typically cut off in prepping the leeks, and is often discarded.
With today's recipe, we show that you don't have to throw away those leek tops any more!
What to do with leek greens?
If you have gotten the leeks to use in a recipe such as the vichyssoise we made recently, store those leek green tops in a plastic bag or reusable container in the refrigerator until you are ready to make this recipe.
Leek greens taste best with the are sautéed. Today, the leek tops are cooked along with bacon.
If you'd like to try leek greens in a vegetarian recipe, try our Veggie Mac and Cheese Casserole.
We originally served the sautéed leek greens as part of a "pork three ways" meal, something our son requested.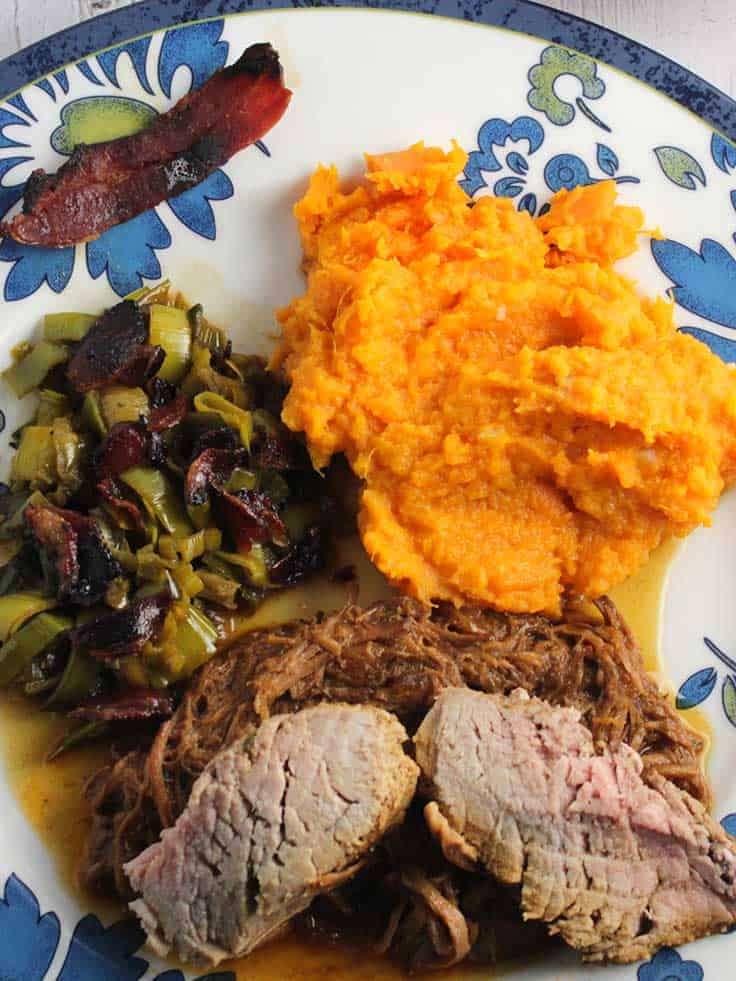 For our most recent re-make of the recipe, we stuck with the pork theme!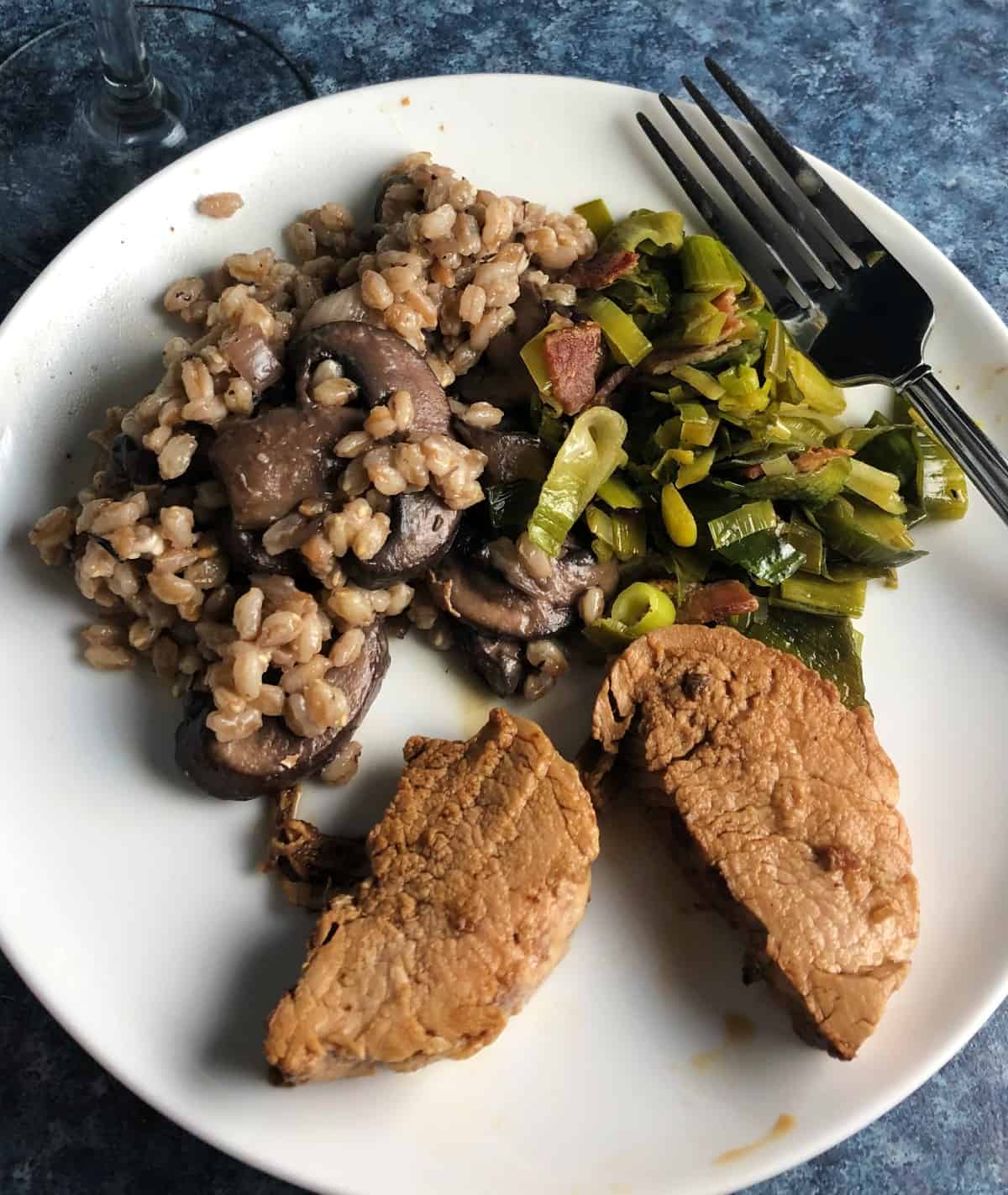 We plated the sautéed leek greens with Asian Grilled Pork Tenderloin along with some farro with mushrooms.
Making this recipe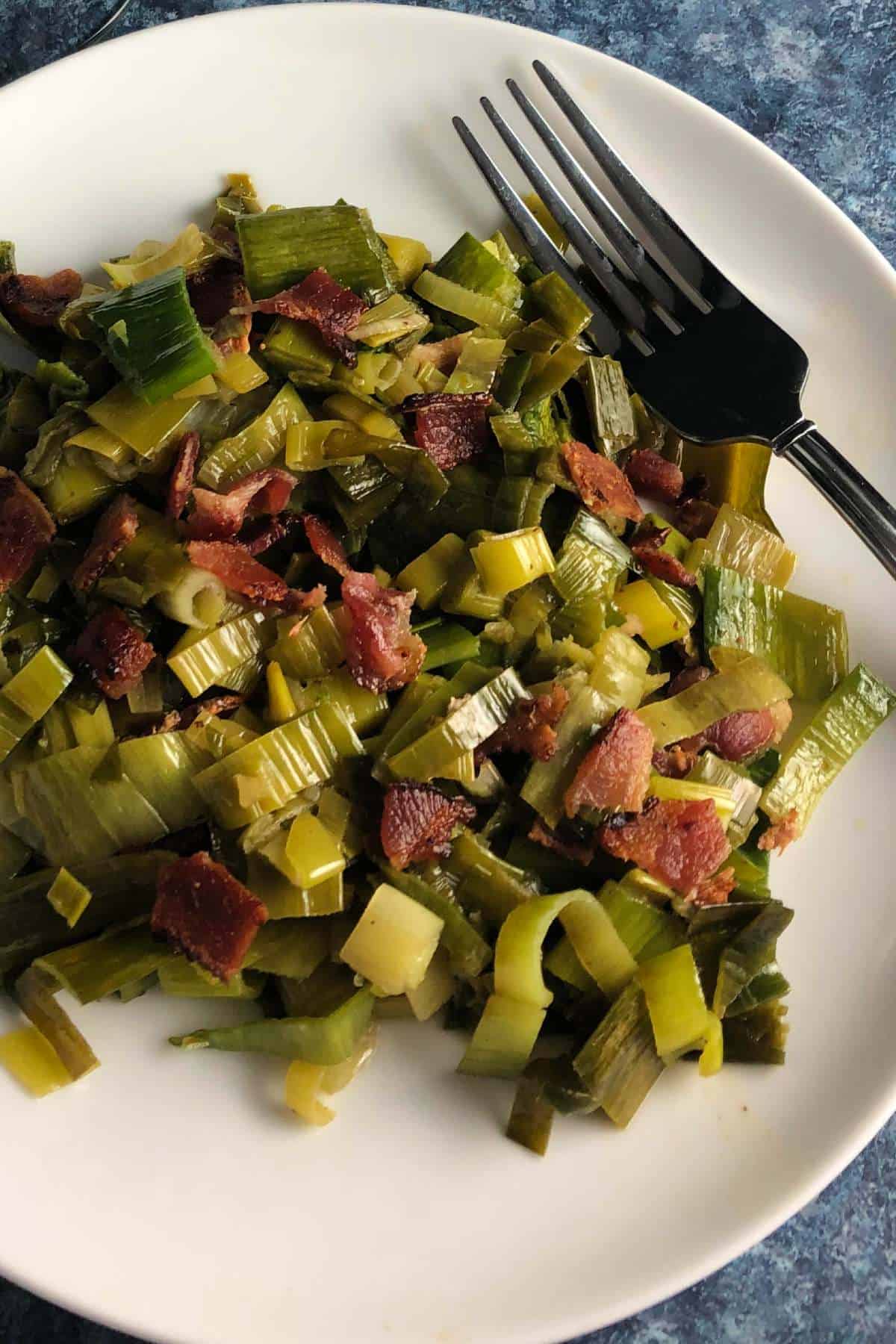 Recipes don't get much simpler then this Sautéed Leek Greens with Bacon.
Simply crisp up some bacon in a skillet, and set the bacon aside to cool. Get your thinly sliced leek greens sizzling in that same skillet, then add chicken broth.
Let the leek tops simmer for a good 20 minutes with the chicken broth, then reincorporate a portion of the bacon, leaving some to sprinkle on top.
This recipe has gotten great reviews, and we've already made it numerous times since first creating it. I hope you get a chance to enjoy it soon. Waste not!

What are you making with the bottom part of the leeks that most people use? How about our Potato Leek Soup with Roasted Broccoli!
Wine Pairing
Serving the leek greens with another pork dish, the Asian style pork tenderloin, had me thinking a Riesling would be the pairing to pick.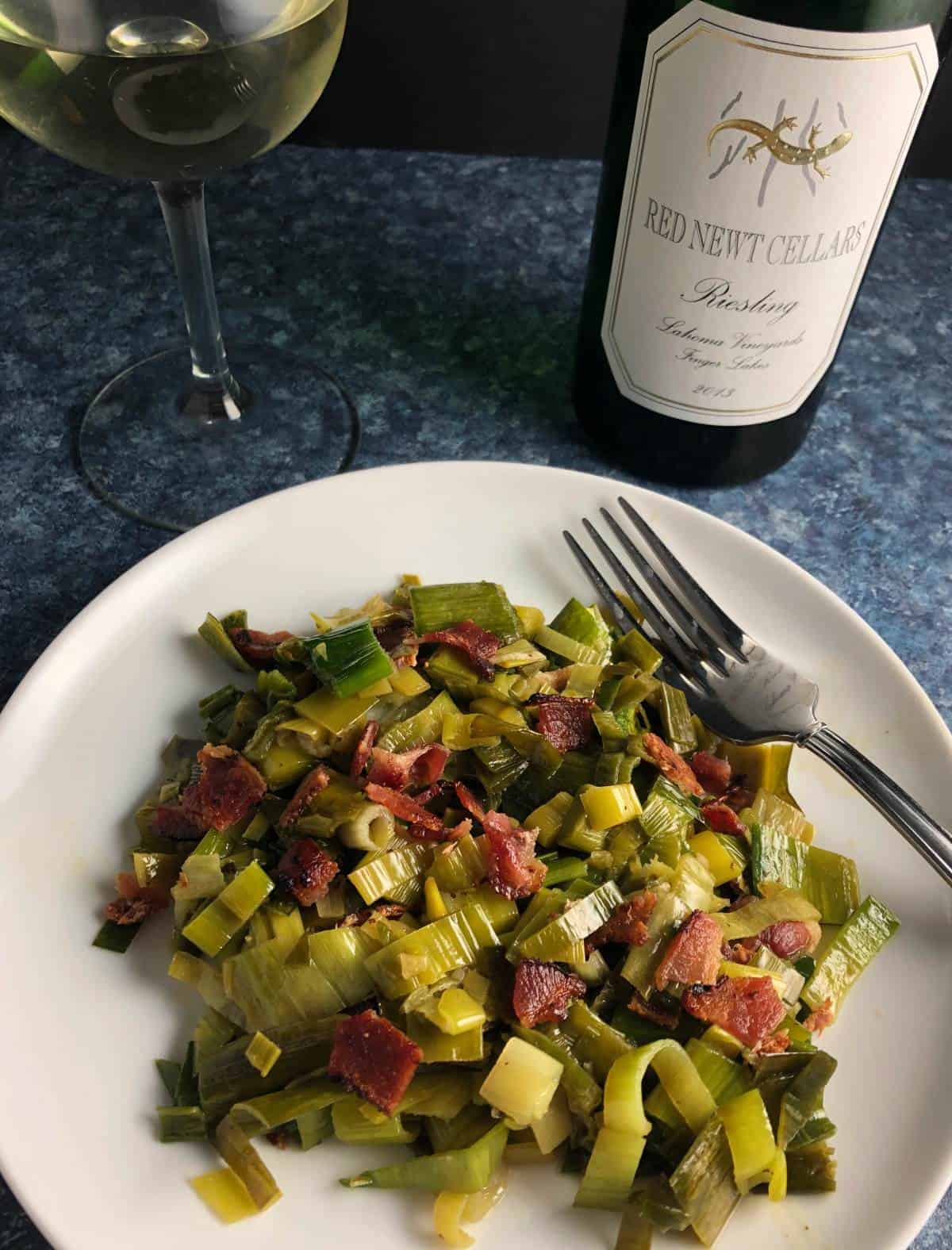 I opened the 2013 Lahoma Vineyards Riesling from Red Newt Cellars (8.9% ABV, 3.9% RS) for the wine pairing. Although labelled as being fairly far along the "sweet" continuum, this well-balanced wine is very food friendly!
This Riesling definitely worked well with the leek tops as well as the pork tenderloin.
We had this wine as our exploration of Finger Lakes wine.
Print
Recipe card
Sautéed Leek Greens with Bacon
Don't throw away those leek tops! Leek greens sautéed with bacon make a delicious side dish that will keep you from throwing away those leek tops again.
Author: Cooking Chat
Prep Time:

10 mins

Cook Time:

30 mins

Total Time:

40 mins

Yield:

4

servings

1

x
Category:

Side Dish

Method:

stove top

Cuisine:

American
2 tbsp

olive oil

3

slices bacon

3

leek greens (the top dark green part) sliced thin, cross-wise

⅓ cup

low sodium chicken broth
Instructions
Crisp the bacon: Heat 1 tablespoon olive oil in a skillet on medium heat. Add bacon, cook for about 5 minutes, then flip to cook until both sides are browned, about 10 minutes total cooking time.
Let the bacon cool: Remove the bacon from the pan, and set aside to cool on a paper towel. Break the bacon into bite sized bits when it has cooled, and divide the bacon bits into 2 equal portions.
Begin cooking leek greens: Pour excess bacon grease out of the skillet, but leave a bit! Heat the other tablespoon of olive oil in the skillet on medium high, then add the sliced leek greens. Stir to combine the leek greens with the oil.
Simmer with broth: When the leek greens begin to sizzle a bit, stir in the chicken broth. Bring the liquid to a boil, then reduce heat to simmer. Simmer covered on medium low for at least 20 minutes.
Add bacon back to skillet: After the simmering time, remove the cover, stir in half of the bacon bits in with the leek greens. Reserve a bit of the bacon to sprinkle on top when serving.
Finish cooking: Cook the leek greens with the bacon bits uncovered for a few minutes to let the flavors meld and have more liquid absorbed.
Serve: Use a slotted spoon to serve the leek greens with bacon. Pass the reserved bacon so each person can add a bit more on top of the dish, and enjoy with the rest of your meal!
Notes
This recipe uses the dark green leek tops that are often discarded after prepping leeks for other recipes.
Leaving a bit of bacon grease in the pan for sautéing the leeks helps add additional flavor.
Keywords: leek greens, bacon, greens and bacon, ways to use leek tops
Recipe Card powered by