Today we share Festive Pairings for Pouilly-Fumé and Other Special French Wine as part of the December French Winophiles "French-Style Season" event. Disclosure: wines provided as complimentary samples by Vignobles and Signatures Club.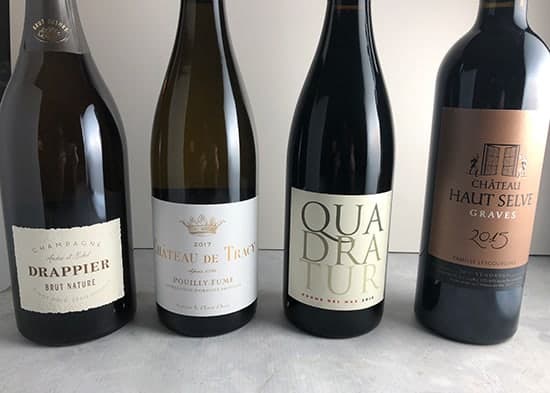 When Lynn asked the French Winophiles group which bloggers would like to sample some special French wine for the December event, I quickly raised my hand. I must confess that I didn't read the the finer points of our theme until I was already a couple of bottles into our samples!
As Lynn describes in her invite post, the idea is to celebrate a "French-style season". Well, if French style means enjoying good food and wine pairings in the company of family and friends, we did alright. Be sure to check out the links to my fellow Winophiles' posts, as I suspect you will get some more on point interpretations of the theme.
When I realized time and my sample supply was running a bit short, I decided to focus on festive pairings for Pouilly-Fumé as the highlight of my article today. But I will tell you what we paired with the other bottles after covering the Pouilly-Fumé pairings.
Festive Pairings for Pouilly-Fumé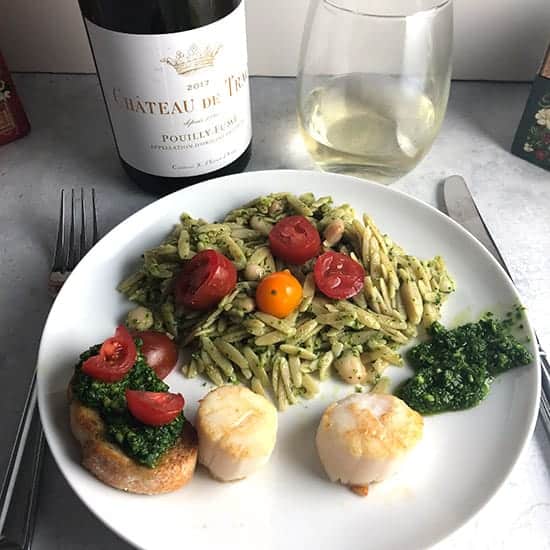 As our December Winophiles Saturday quickly approached, I decided that the 2017 Chateau de Tracy Pouilly-Fumé would provide a good opportunity to get in the holiday spirit.
Pouilly-Fumé is a French white wine made from Sauvignon Blanc grapes in a designated area of the Loire region. Because it sounds similar to Pouilly-Fuissé, people can get a bit confused about these two wines. I've got a popular post breaking down both wines along with a bunch of food pairing suggestions for each. The quick explainer if you don't have a chance to click through–Pouilly-Fuissé is an appellation in Burgundy, where the white wine is made from Chardonnay grapes.
Although I suggest several good food pairings for Pouilly-Fumé in that earlier post, I hadn't covered any pesto pairings there, even though pesto and Sauvignon Blanc is a classic pairing. So I decided to build our Pouilly-Fumé pairing evening around a batch of kale pesto.
Kale pesto is a great option for pesto lovers in the colder weather, when it's hard to get a good quantity of fresh basil. Not to mention you pack in some more nutrition!
I started by making a batch of kale pesto crostini. Once you have the kale pesto made, it's so easy to make these. Just toast thin slices of baguette with a bit of oil spray (see, a baguette, French style!) and then top with a smear of the pesto. This Kale Pesto Crostini post has the pesto recipe along with more details on the process.
The kale pesto crostini get topped with some pieces of tomato, making for a nice Christmas green and red effect.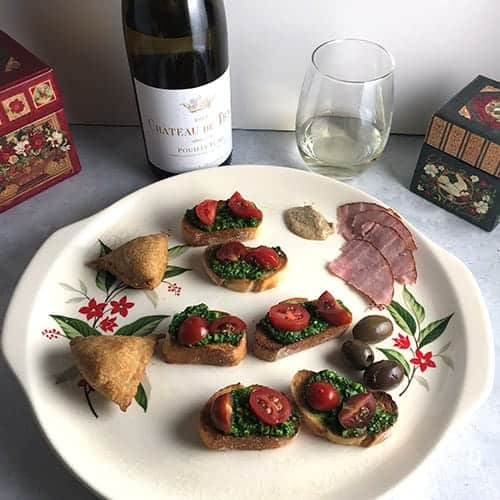 I rounded out the festive holiday platter with a few olives and slices of leftover ham with some good quality mustard. When I was doing that other post with pairings for Pouilly-Fumé, someone had mentioned Tandoori Chicken as a pairing. That got the idea of Indian food on my mind, so I also baked some vegetable samosas to add to the pairing options.
The Chateau de Tracy Pouilly-Fumé has petrol on the nose. Grapefruit and slate on the palate, with a bit of kiwi on the long finish.
As expected, the Pouilly-Fumé was very good paired with the kale pesto crostini. The surprise hit of the pairing was how good the Pouilly-Fumé was with the leftover ham and mustard. The crisp white wine cleansed the palate nicely after the salty ham and strong mustard flavors.
The Pouilly-Fumé was also pretty good paired with the vegetable samosas. Will have to keep that in mind for future Indian meals–particularly ones that are lower on the spice scale.
Don't scroll onto the next wine yet! We still have a couple more pairings for Pouilly-Fumé resulting from our sampling (shown at the top of this section). After the platter of appetizers, I cooked up some Simple Pan Seared Scallops, which I served along with some orzo tossed with kale pesto and white beans.
Shellfish is a natural pairing for Pouilly-Fumé, given the minerality of the wine. So it's no surprise that the scallops and Pouilly-Fumé worked well together. And once again, the wine matched the pesto, this time tossed with pasta.
Champagne to Toast a Milestone Birthday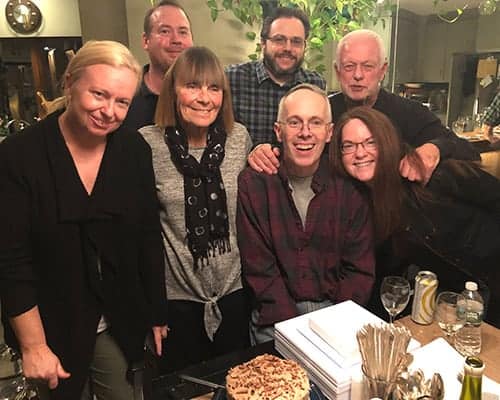 My wife knows me well enough to figure I might like some input into how I might like to observe a big milestone birthday. As you might suspect, that led to a gathering focusing on some great food and wine pairings, with people that would appreciate them. Or that share enough DNA to go along with my obsessions!
I'm not sure how birthdays are celebrated French style, but I'm guessing there may be Champagne involved? Well, that's the way I rolled into a new decade!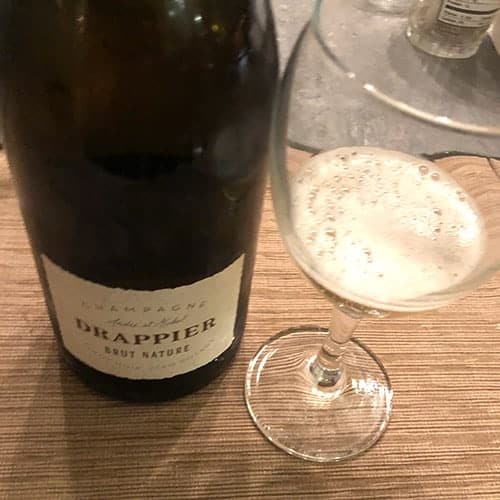 The Drappier Brut Nature Champagne was the first bottle we opened that night, and it was in our glass for the birthday toast.
The Champagne is quite dry, as you might suspect with the zero dosage on the label. This elegant Champagne is delicious on its own, and was wonderful paired with some sushi that my brother had brought for the occasion. It was well received by the discerning oenophiles that had gathered for the evening!
This Drappier Champagne is made from 100% Pinot Noir. In most parts of Champagne, Pinot Noir is typically blended with Chardonnay and perhaps Pinot Meunier. But in the up and coming Cotes de Bar, 100% Pinot Noir is fairly common.
Quadratur for the Holidays — Or a Taco Fiesta!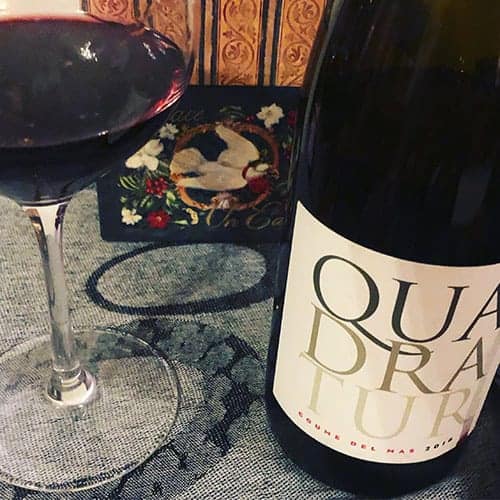 The final bottle we opened was definitely one of my favorites. Tuesday of this week rolled around, and the 2016 Coume Cel Mas Quadratur Collioure Rouge was still waiting to be opened. When I saw that the first grape in the red bled is Grenache, I figured why not open it for our #TacoTuesday?
This fall we have been in a pretty steady pattern of having tacos on Tuesday. It's an easy midweek meal that the grownups and our 13 year old all enjoy. Our tacos are often vegetarian, with beans as the protein and some avocado in the picture.
Sometimes I add a bit of chicken or fish to my tacos. But to go with Quadratur red wine, I thought steak tacos would be the thing. So I made a version of our Awesome Avocado Steak Tacos. With a special bottle of French wine to go with the tacos, we were quickly heading toward a little midweek fiesta!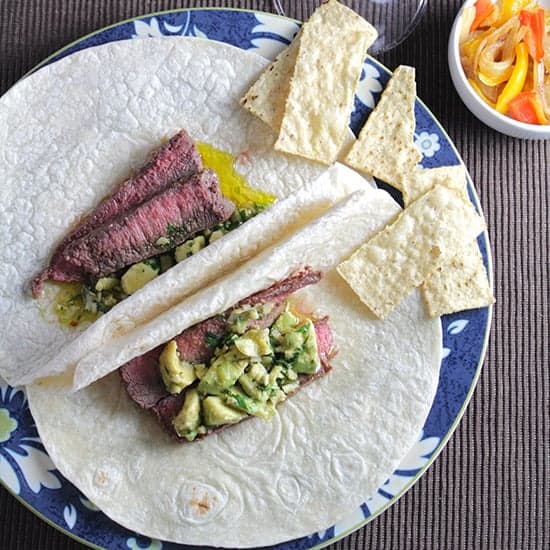 I got brambles on nose of the Quadratur. On the palate, plum fruit, licorice and black pepper. The wine is well-balanced with firm tannins. I thought it could benefit from a bit of decanting, and it really opened up nicely. A great pairing for the steak tacos– keep this bottle in mind for your next fiesta!
Coume Del Mas vineyards are located on steep slopes around Banyuls sur Mer. I am more familiar with the well-known vinegar that comes from Banyuls, but after tasting the Quadratur I will increasingly be on the lookout for the red wines from this area of Southern France near the border with Spain. Collioure is the AOC in the region for dry wines, designated in 1971 for red wine and 2002 for white.
I mentioned the Quadratur blend lists Grenache first-that comes in at 50%. It is also comprised of 30% Mourvedre and 20% Carignan.
Getting into French-Style Season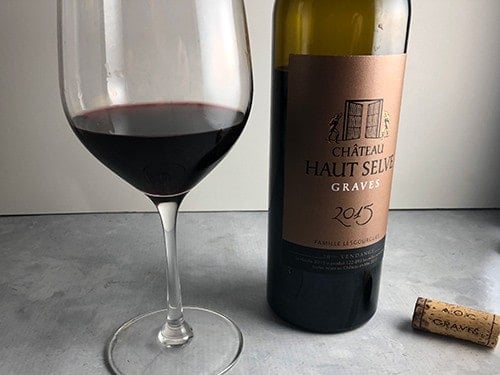 I'd say letting a few simple ingredients shine qualifies as French-style, non? Our set of samples from Vignobles and Signatures Club arrived a couple weeks ahead of Thanksgiving, so we were just starting to think about the holiday season.
But knowing we would have a lot happening in the weeks leading up to today's Winophiles event, I figured we shouldn't wait too long before starting to sample the wines.
So we started getting into the French-style sampling by opening the 2015 Chateau Haut Selve Graves to go with a simple roasted NY Strip Steak. With this good cut of beef, a simple rub of garlic powder, thyme and salt was all that was needed to make a flavorful entree.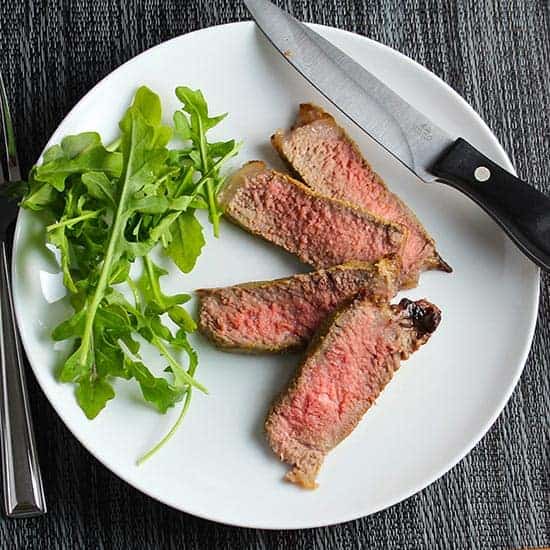 On the nose of this Graves red wine I got aromatic scent of eucalyptus. Cherry fruit on the palate and plenty of oak. I sampled a bit before putting the steak in the oven. The tannins softened a bit as the steak cooked, and the wines was excellent with the dish.
French-Style Season with French Winophiles
We had fun with our loose interpretation of the French-style season theme! Always up for a chance to test new pairings for Pouilly-Fumé and other French wine. Be sure to check out all the #winophiles posts for creative and traditional observances of the French-style season.