A collection of pesto recipes without nuts along with tips on how to make nut-free pesto sauce. Include classic basil pesto and pesto made from other herbs and greens. Perfect for someone with nut allergies or simply a way to save a little money by not buying pine nuts for pesto.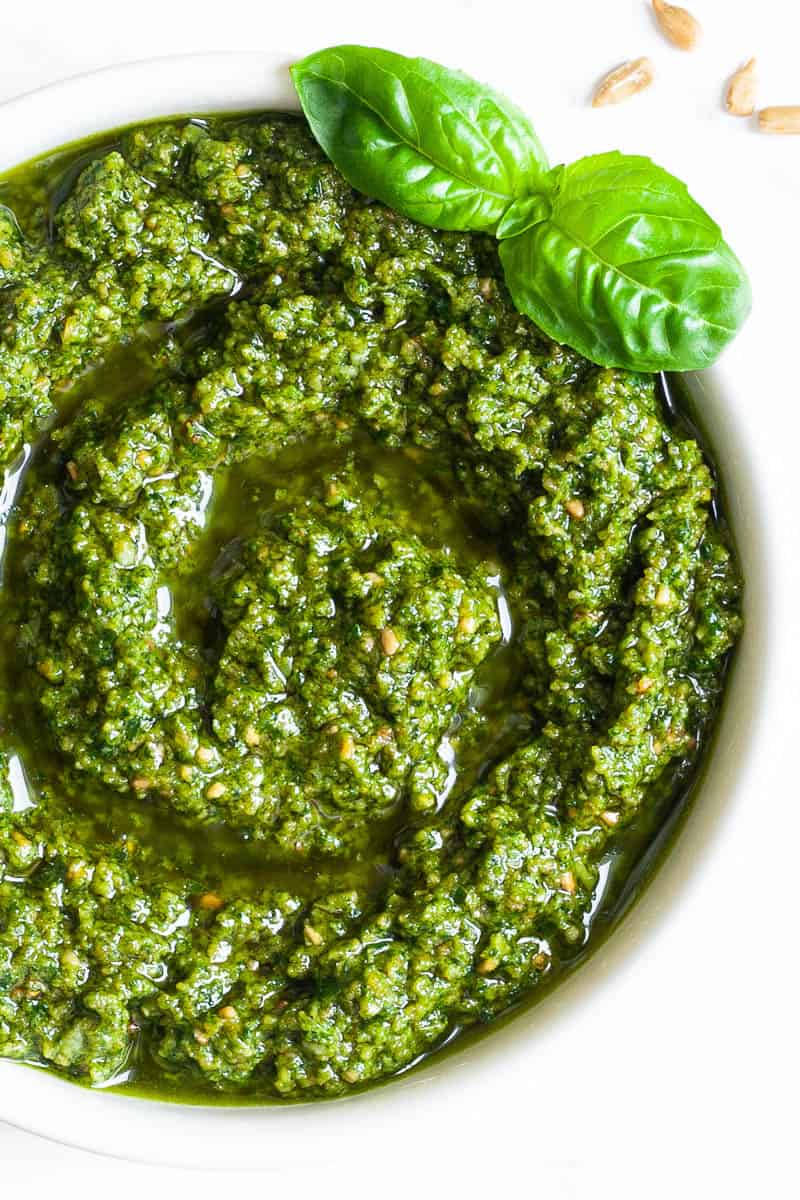 I love pesto sauce! From classic basil pesto to the kale pesto I make regularly, I love the zesty flavor pesto brings to pasta, fish, chicken and more.
But when are son was diagnosed with a nut allergy, I needed to figure out a way to make pesto without pine nuts. For me, the primary way I make nut-free pesto is using toasted pumpkin seeds in place of the nuts. But as you will see in the article, there are a variety of pesto recipes without nuts from which you can choose.
For this article, we pulled together some of our favorite nut-free pesto recipes and tapped our fellow food bloggers to provide you with some more ideas.
Jump to:
Frequently Asked Questions (FAQ)
Other tips
If you are contending with a serious nut allergy, you will want to take care about the kinds of seeds you use to avoid cross contamination. Gerbs is a company that sells seeds made in a nut free facility. Here's an Amazon link for the Gerbs pumpkin seeds that we use.
You might find you miss the pine nuts less if you try a pesto other than classic basil pesto. I actually make kale pesto more than basil pesto, in part because I can reliably get good kale throughout the year, whereas basil is more seasonal.
Basil pesto without nuts
The classic pesto sauce features fresh basil, extra virgin olive oil, garlic, cheese and pine nuts. Below we share some ideas for making classic basil pesto without pine nuts!
Other kinds of pesto
When looking for pesto recipes without nuts, it is definitely a good idea to branch out beyond basil pesto. Check out these recipes for nut-free alternatives to the typical basil pesto!
Recipes using nut-free pesto
Once you have that nut-free pesto made, there is a lot you can do with it! Of course, simply tossing pesto with pasta is great, but check out the collection before for some more ideas.
Wine pairing
What kind of wine to serve with pesto? It will depend in part on what you are serving with the pesto. But if you are focused mostly on the sauce, when simply tossing it with pasta for instance, a crisp white wine is the way to go. Sauvignon Blanc is a classic wine pairing for pesto, but we also like pesto with other white wines like Picpoul, Vouvray and a number of Italian white wines.
If you are using pesto in a savory preparation, such as the kale pesto lasagna mentioned earlier, then a red wine can work nicely, too.