André Hueston Mack is a highly regarded sommelier and owner of Maison Noir Wines. He has also created a design company and has recently launched several food and wine businesses and Brooklyn. We had a chance to interview André for our recent Wine Pairing Weekend article, and today are bringing you more from that conversation.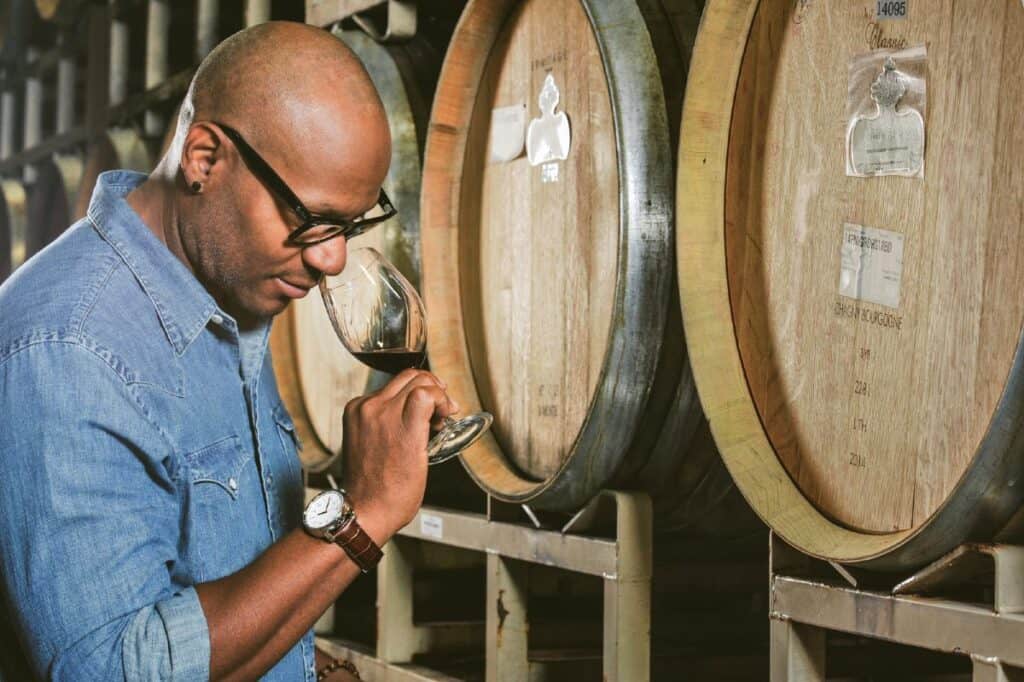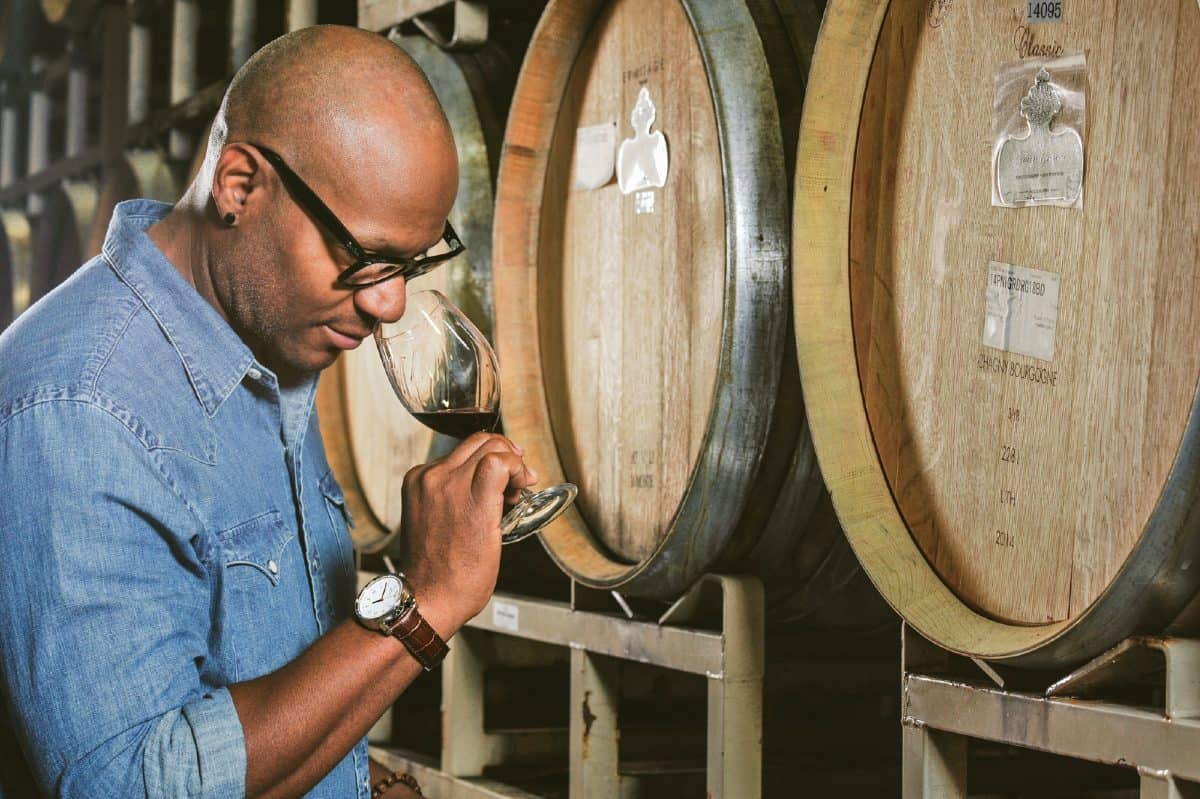 When researching for a Black owned winery to focus on for our February Wine Pairing Weekend event, Maison Noir Wines quickly caught my eye. A winery owned by a sommelier seemed like a perfect fit based on my focus on wine pairing! And a bonus feature is that Maison Noir is located in Oregon's Willamette Valley one of my favorite wine regions.
As I started to learn more about Maison Noir owner André Hueston Mack, I realized he is not just any sommelier! He was a sommelier at the prestigious French Laundry in Napa before becoming the head sommelier at Per Se. During that time, we was awarded the Best Young Sommelier.
I had a chance to talk to André in preparation for my #winePW weekend article on Black-Eyed Peas with Collard Greens and Maison Noir OPP.
There was too much great info from my interview with André to squeeze it in along with the recipe post, so I'm coming back to you today with more information on André's story and Maison Noir Wines.
Jump to:
Inspiration
Yes, André did start his path toward a career in wine from watching Frasier reruns!
When an acquisition provided an opportunity for a six month severance package from his finance job with Citibank, André took it as a chance to figure out what he wanted to do long term. He thought that the Crane brothers on Frasier made wine look fun, in their own pretentious way. Take a listen to how that set André on his journey in wine.
A top sommelier
We didn't focus a lot on his early career as a sommelier, but clearly André quickly developed a passion and talent for wine! At age 30, he won the title Best Young Sommelier, awarded by the prestigious Chaine des Rotisseurs.
Soon thereafter, André became a sommelier at The French Laundry in Napa, then worked with Chef Thomas Keller to create the wine program at Per Se as its beverage director.
André appreciates how Chef Thomas Keller hired people like him that might be considered "outsiders" in the wine business. During our conversation, André talked about how he brought this approach to building his own team.
You can catch our full interview on YouTube, or continue reading for some of the highlights of the conversation.
Maison Noir Wines
In 2007, André set off on his own to create Maison Noir Wines, in the Willamette Valley. He seeks to make wines that are of very high quality, but also fun and accessible.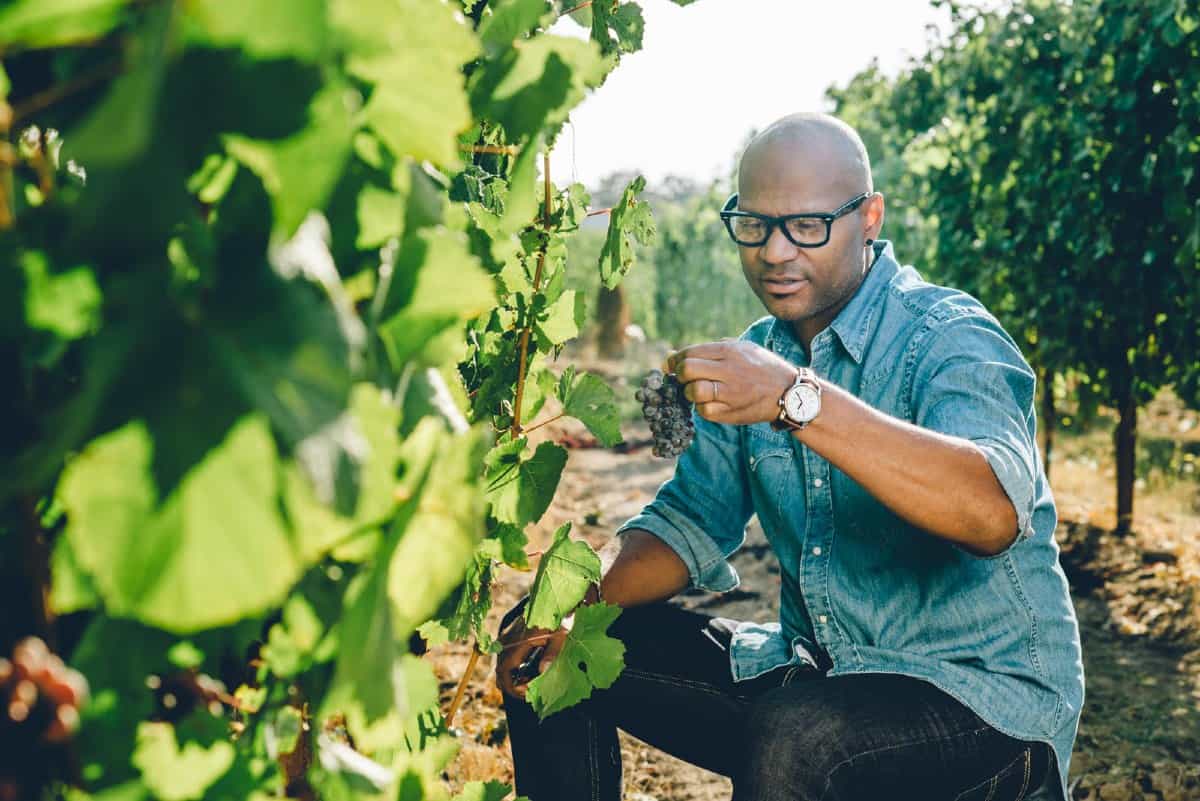 You can get a sense of the playful spirit behind Maison Noir Wines by looking at the wine names and labels. For instance, I tried "OPP" (Other People's Pinot), Bottom's Up and Oregogne Chardonnay.
Let's hear André talk about the philosophy underlying his wine brand.
Willamette Valley Pinot Noir can get pretty pricy. André is eager to make wine accessible, something that can be afforded by those who make the wine and serve it at restaurants. I'd say it definitely delivers! A good quality Willamette Pinot priced in the mid $20s is a good find.
You can find Maison Noir in restaurants and shops around the country as well as over 20 countries around the world. They can also be ordered directly from the Maison Noir website for shipping.
Oregogne Chardonnay
The Oregogne Chardonnay was my favorite of the three Maison Noir wines I sampled. So I asked André to provide more info on this one.
He explained that they first planted the Wente Chardonnay clone, which thrives in California. But it did not take off in Oregon's cooler climate, creating "flabby" wine when it produced anything at all.
Then, influenced by the French winemakers that began to flock to Oregon, Maison Noir started planting Dijon clone Chardonnay vines. These vines are the basis for white Burgundy, and were much more suitable to Oregon's climate. As a result, Maison Noir and other Willamette wineries are now producing some excellent Chardonnay.
The Oregogne name and label is a nod to the Burgundian roots of this Chardonnay. André talks about this wine in our next video clip
Pairings with Maison Noir Wines
OK, so we mentioned we tried three Maison Noir wines. So you probably want to know what we paired with them, right? Here you go!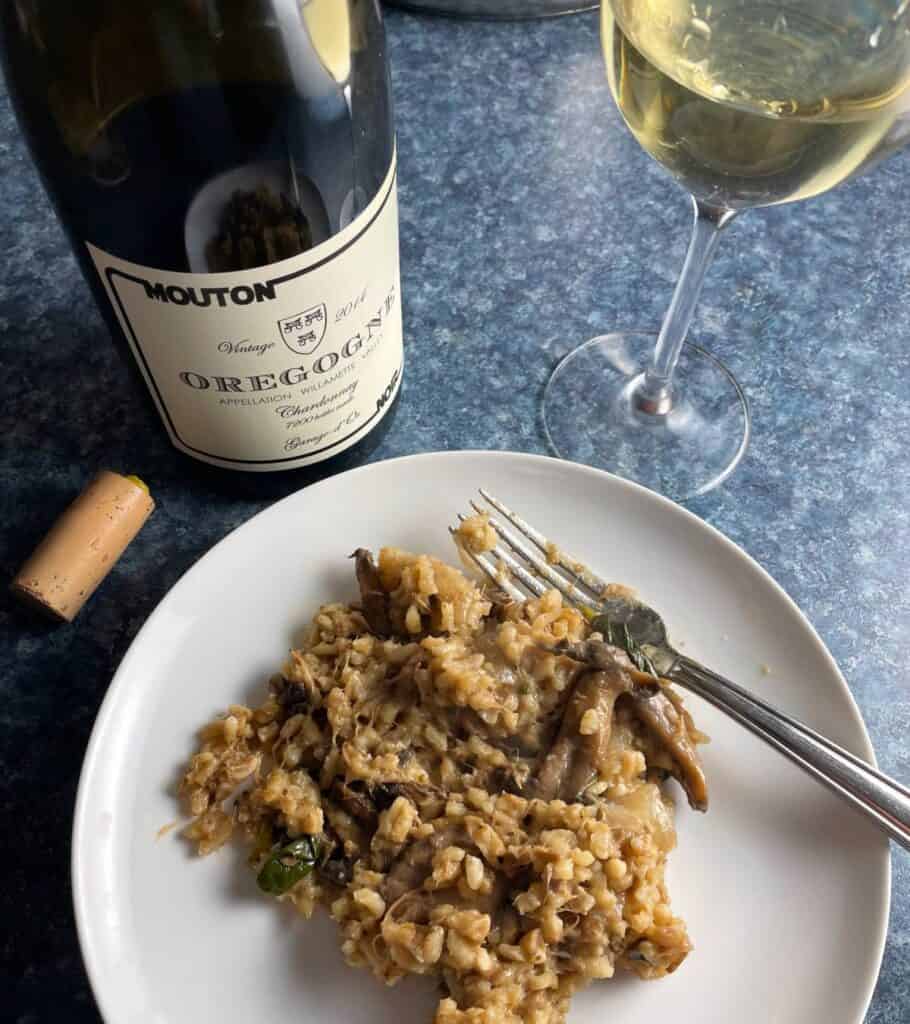 Although I typically go for a red wine with our Pulled Pork Risotto, I thought a full-bodied Chardonnay could also work. The Oregogne Chardonnay has a nuanced flavor profile that nicely complimented the complex flavors in the pulled pork risotto.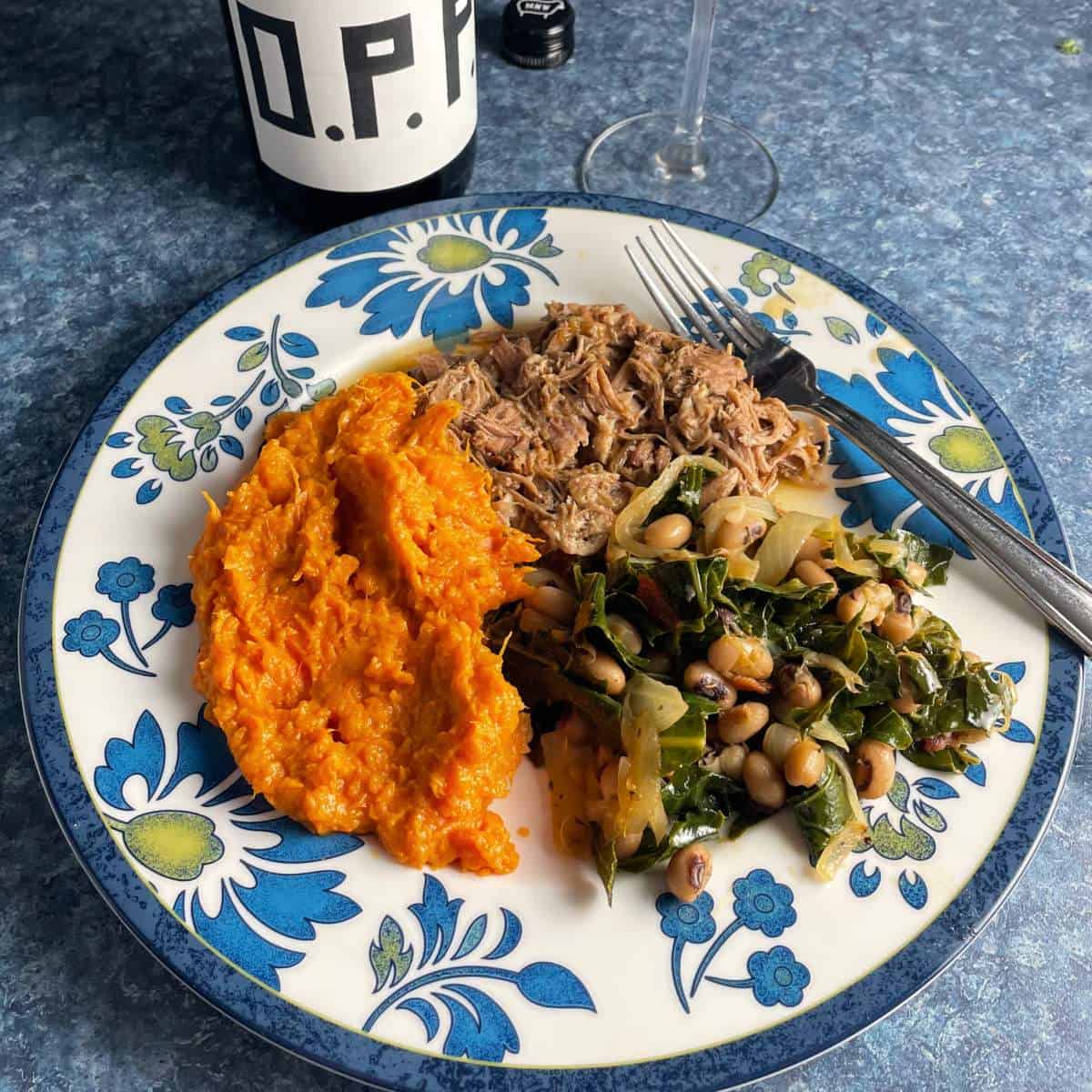 As I mentioned, our #winePW article featured our new recipe for black-eyed peas with collard greens. We plated this dish with some pulled pork and a side of our mashed sweet potatoes with cumin sage butter.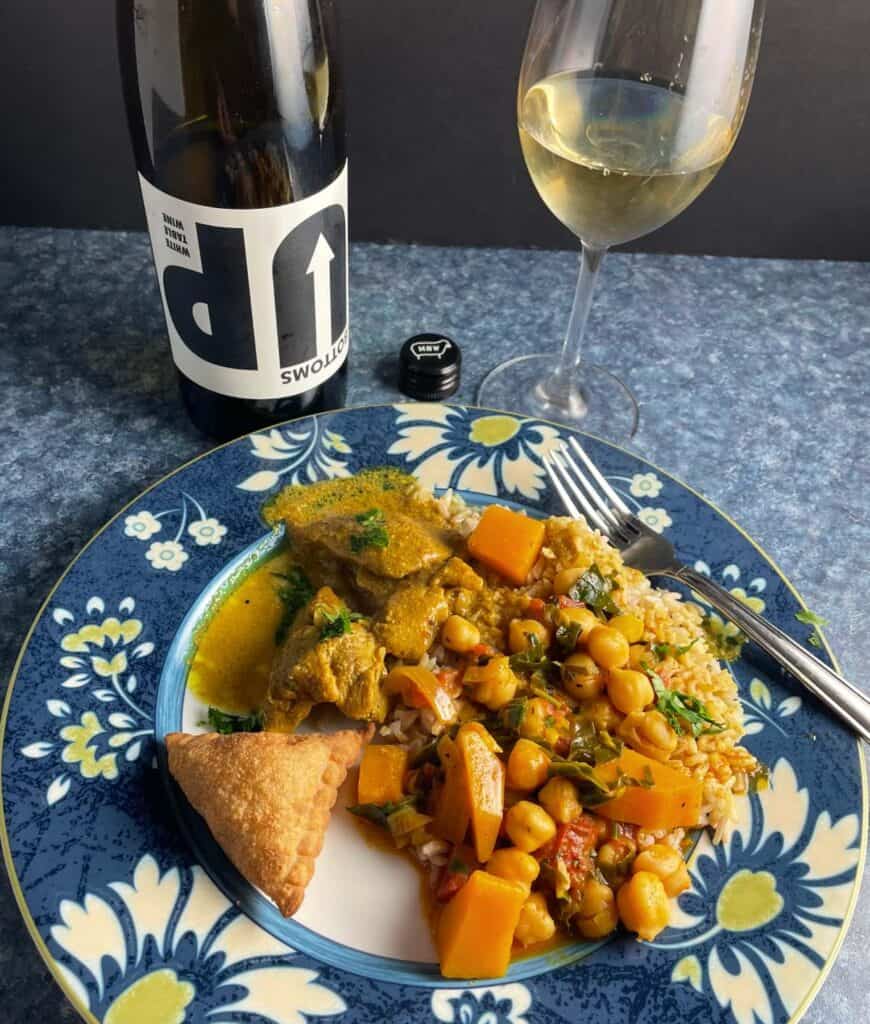 We love our Indian food here! And I'm always on the lookout for a good pairing option. So when we recently cooked up a batch of our Indian butter chicken, along with some curried squash and chickpeas, we opened the Bottoms Up Riesling blend from Maison Noir. Worked very well together!
& Sons Ham Bar
André didn't stop at starting his own winery. Clearly, his creative, entrepreneurial streak runs deep.
In 2020, André launched & Sons Ham Bar, a project he long dreamed about. Inspired by jamón shops in Spain, this new Brooklyn foodie destination features American hams and other cured meats along with an all American wine list, from of the best vintages over the decades.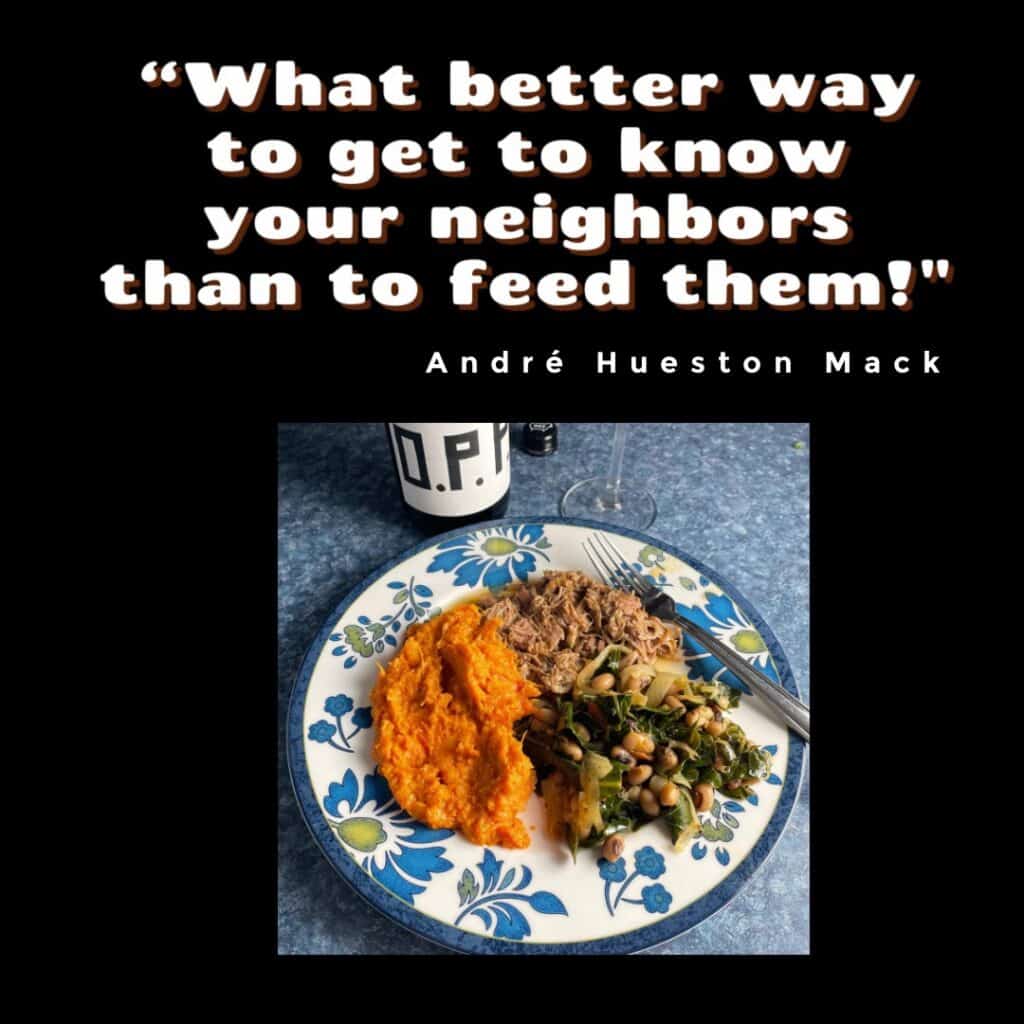 During this time when travel has come to a halt, it has probably been good for André to have several projects going in his family's Brooklyn neighborhood. In addition to the ham bar, he has opened a wine shop, a provisions store, and there is a bakery on the way.
I definitely plan a foodie road trip to Brooklyn when travel become a thing again!
André on his approach to bias
In talking about issues of racism and bias he has run into in the wine business, André emphasizes he focuses on his choice of how to respond. He spoke about the topic in this New York Times article on Blacks in the wine profession, as well as in our interview.
Sure, he feels anger, but keeps pursuing his goals. "I have to laugh, otherwise I'll cry."
He notes that much of the problem in the wine business comes down to issues of representation. "They're not used to seeing people who look like me," in wine shops, or back when he was a sommelier at prestigious restaurants.
Ultimately, "I'm an artist who wants to be judged off the merits of my own work," André concludes.