This Mushroom Fricassee recipe features a variety of mushrooms simmering a garlic mushroom sauce, with seitan added for protein. This vegetarian recipe pairs well with a bold red wine from Priorat.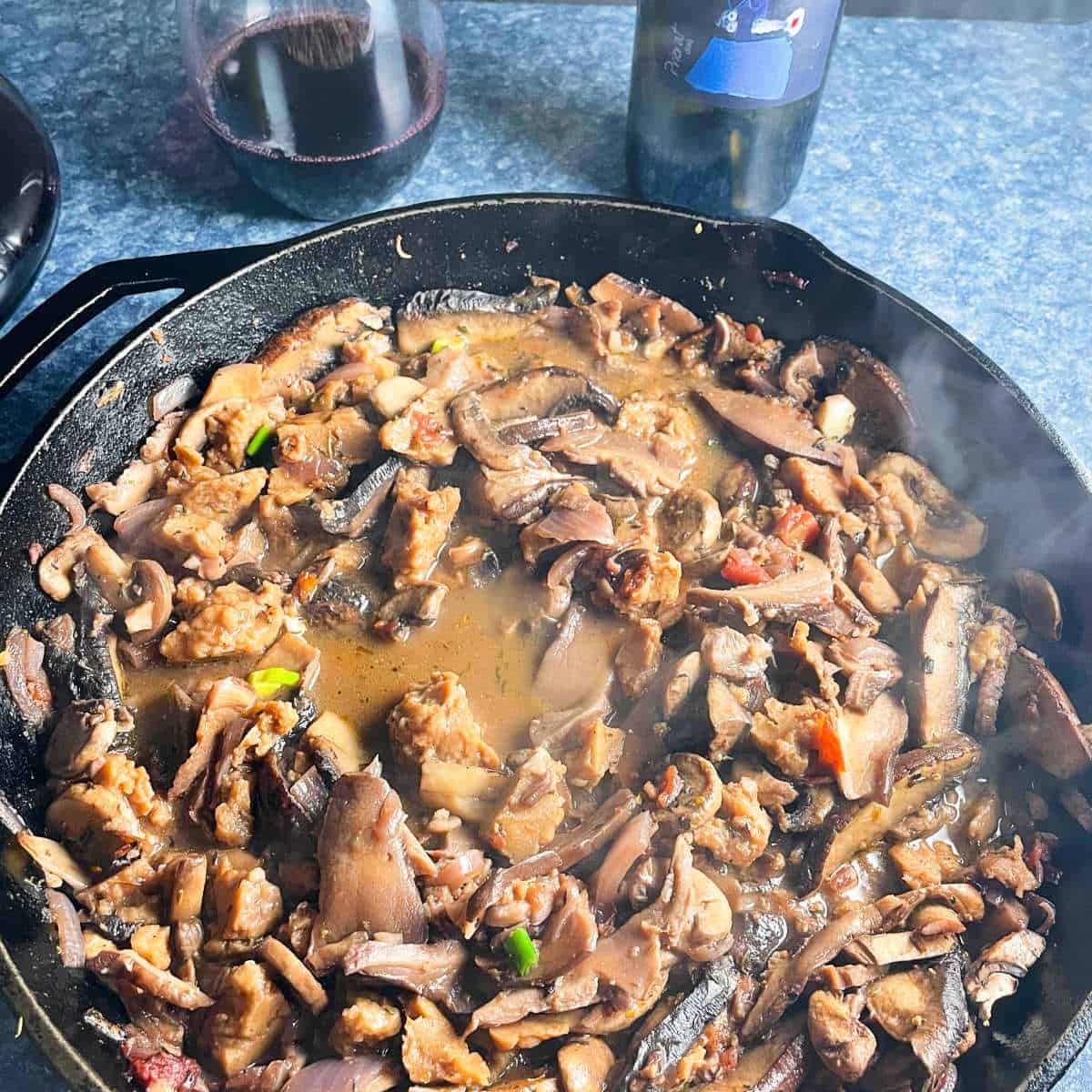 Today we continue our tour around the wine regions of Spain with a visit to Catalonia, in the northeast corner of Spain. Our host for this event, Susannah from Avvinare, has an introductory post chockfull of good information about the region's history, principal wine regions and more. I encourage you to visit her article and my colleague's for deeper history and context. I'm going to focus on how I came up with today's recipe for mushroom fricassee and the Priorat red wine we paired with it.
Jump to:
Recipe inspiration
Catalonia has a rich history and distinctive traditions that led it become designated an autonomous community within Spain. I'm going to set my government degree aside and skip the political aspects of this status, and jump to the food.
Food of Catalonia
The distinctive culture of Catalonia warrants its own cookbook. So I picked up a copy of The Catalan Kitchen to serve as our culinary guide to the region.
Perusing this cookbook, I learned that much of the beloved food in the region is enjoyed in pica pica style – people pick from an array of small bite sized portion of food. I can imagine in some other time enjoying pica pica somewhere in Barcelona with some good wine and some boisterous companions.
The Catalan Kitchen has an array of pica pica to start the book. That was interesting, but making 7 or 8 little dishes for the two grownups here didn't seem like the way to go.
But the seed of an idea was planted, and we did order takeout this week from a great local Spanish restaurant around the corner from us. We let the folks at Pinxto Pincho do the work that enabled us to enjoy a pica pica style meal.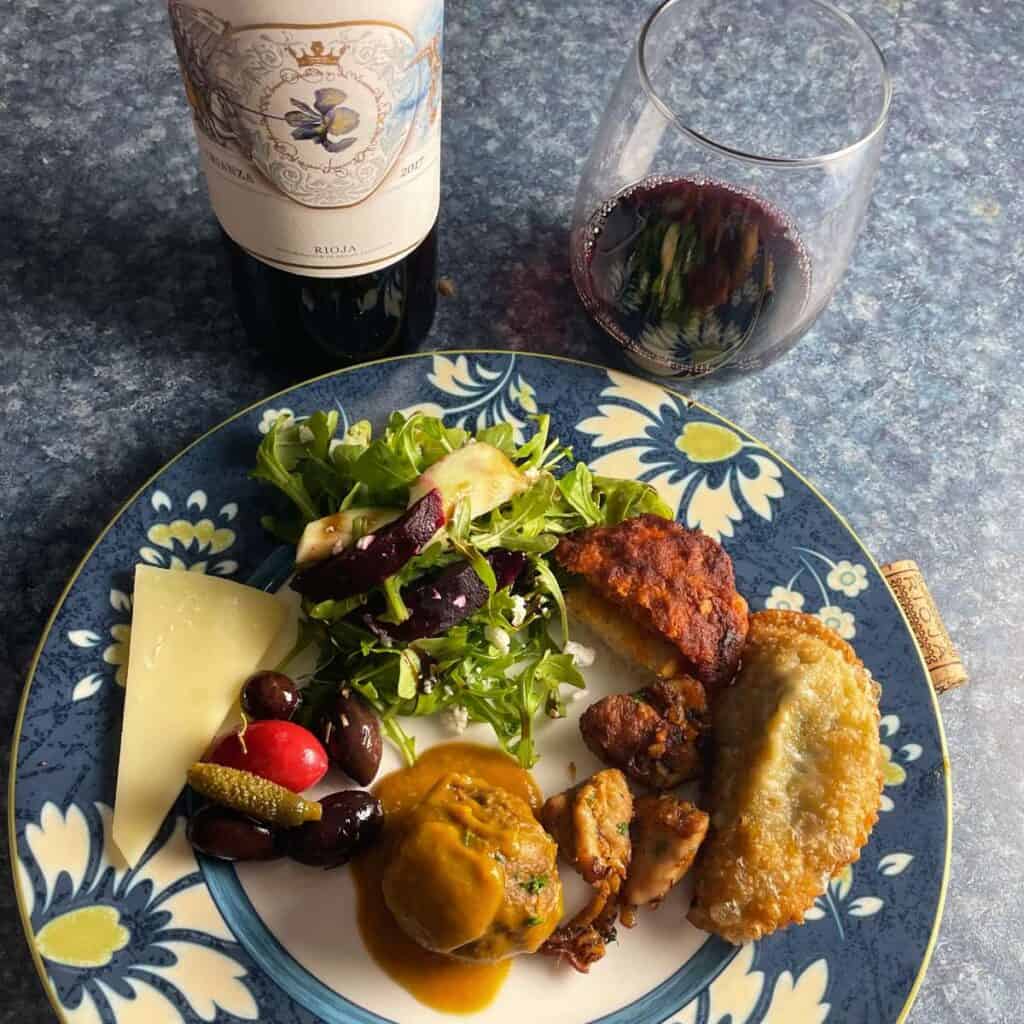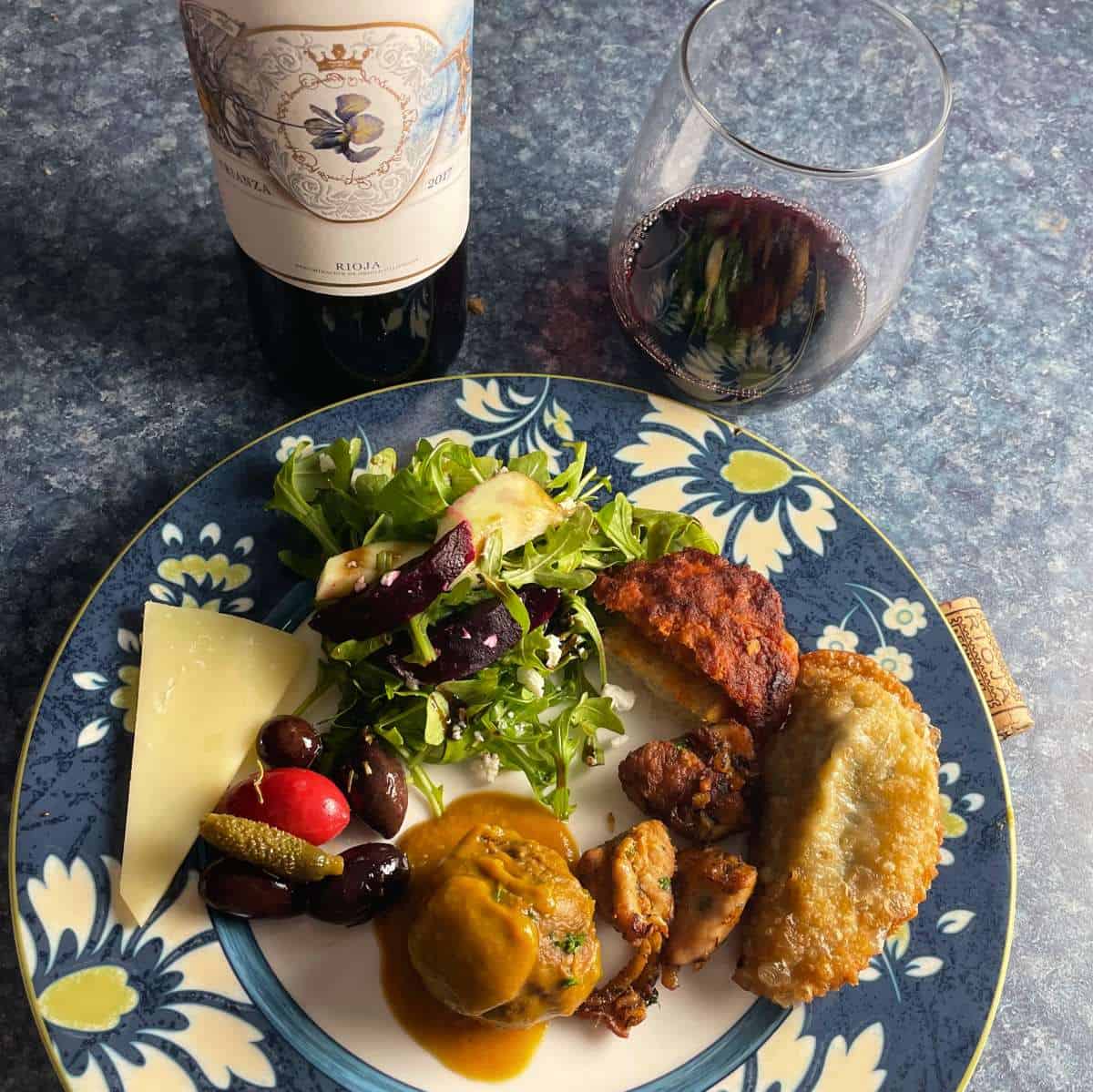 The empanadas, lamb albondigas (meatballs), and a simple offering of manchego cheese and marinated olives were highlights of the spread. Although inspired by my reading for today, this meal doesn't qualify for today's event. In fact, we enjoyed it with a Rioja Crianza, from the wine region we covered for last month's event.
Not your typical fricassee
Much of the Catalan cooking features seasonal produce, and there are also a lot of offerings from the nearby Mediterranean Sea. Thumbing through the recipes in The Catalan Kitchen, many were ruled out for our family because it either entailed items that were on our allergy concern list (eggs and/or nuts) or came from the sea. Two out of the three of us here eat seafood; the song may say "two out three ain't bad" but for our Catalan meal night I was aiming to serve all three of us.
A recipe for beef fricassee (fricandó de verdella) caught my eye. As the author explains, Catalans are more likely to prepare a fricassee of beef or veal, rather than the typical chicken in the classic French dish. And once you are cooking with beef, the white sauce associated with the classic dish goes out the window.
So last Saturday I set out to make beef fricassee, following the cookbook recipe fairly close to how it was presented. The recipe called for skirt steak or flank steak, and I went for the skirt option.
Simmering the beef along with mushrooms led to a very flavorful dish. However, I found the skirt steak cooked as suggested came out rather tough. Rather than present the recipe with steak as presented, I decided to try a different option. We had more luck with a Spanish wine / beef pairing when we made our Steak Picado recipe in March.
A vegetarian fricassee
The highlight of the first attempt at my Catalan offering for today was the mushrooms cooking with red wine and garlic. So I decided to lean into that flavor, and come up with a vegetarian mushroom fricassee recipe. Mission accomplished! Note you can skip the optional cheese and make this a vegan recipe.
The beef fricassee recipe started by briefly searing the steak, then setting it aside. For the vegetarian version, we started by searing portobello mushrooms slices in similar fashion.
Our recipe calls for dried mushrooms (porcini or shiitake) and button mushrooms along with the portobello. The liquid from reconstituting the mushrooms gets used in the cooking process — for this reason I prefer dried porcini mushrooms, as they give you a richer liquid.
Now, we could have left it at mushrooms and garlic as the principal ingredients and delivered plenty of flavor. But I also added some seitan, a wheat based protein source that has a meaty texture.
The combination of mushrooms and seitan definitely created a substantial vegetarian dish with potential to stand up to a big red wine, which is what we had waiting in the wings! And as you might have gathered from what I chose to present today, the mushroom fricassee definitely was our winner in the taste department, without event getting into nutritional considerations.
Ingredient notes & other recipe tips
Head down to the recipe card for the full instructions; but here are a few quick tips for making this mushroom fricassee come out great!
Porcini is our first choice: We give an option of dried porcini mushrooms or shiitake in the recipe card. Both worked in our testing, but we definitely prefer the richer liquid produced by the porcini.
Vary the mushrooms In addition to the dried mushrooms, we used portobello and basic button mushrooms. Feel free to substitute other wild mushrooms based on your tastes and what is available.
Try some fresh herbs We notice mushroom fricassee with fresh herbs is a popular theme on the web. We just used dried herbs, but definitely will try this again with some parsley or maybe tarragon.
Make vegan mushroom fricassee by skipping the cheese. We didn't use too much cheese anyway, so this is an easy option to make the recipe vegan.
Cooking wine Sure, you could use a Priorat red wine for cooking if you want, but I prefer to save that for drinking! I keep moderately priced leftover wine on hand for cooking, and that does the trick.
What to serve with this recipe?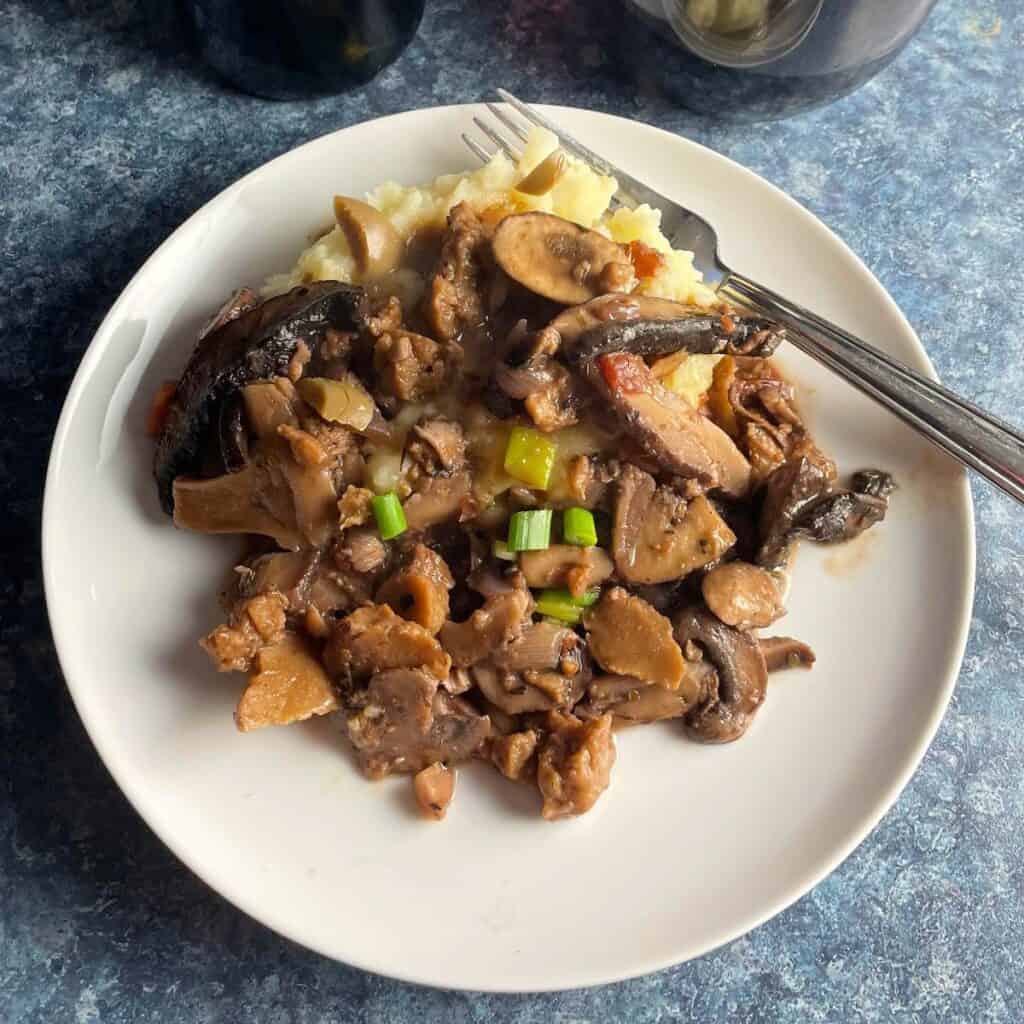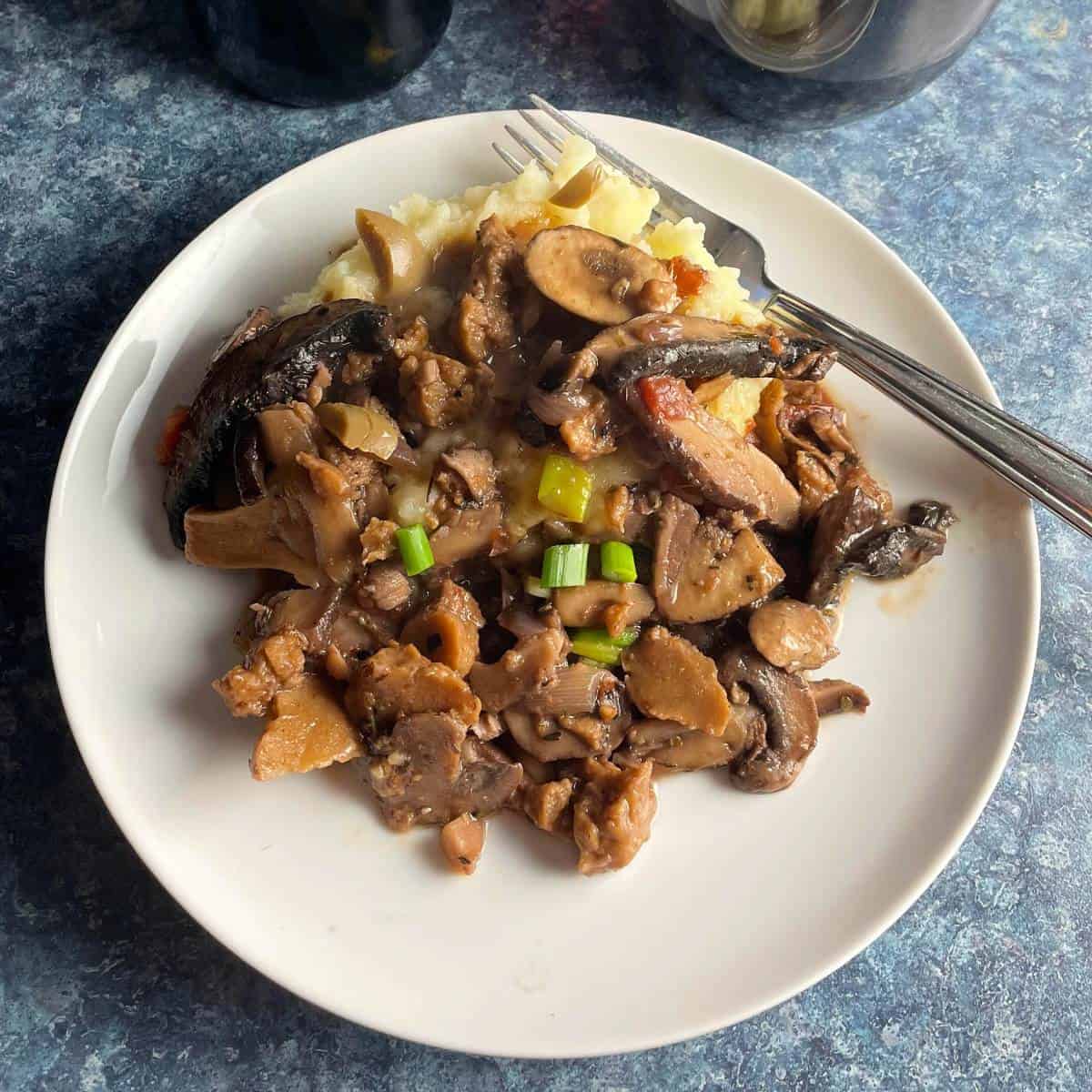 We enjoyed our mushroom fricassee served over mashed potatoes, and that was certainly delicious.
But if you want to stick with the Spanish theme, serving alongside patatas bravas is a natural choice. Recipes you could try for that are available from Culinary Adventures with Camilla and via Gwendolyn at Wine Predator.
Our Spanish Roasted Potatoes recipe is one more idea for serving.
A green salad or sautéed spinach with garlic rounds out this meal nicely.
Wine Pairing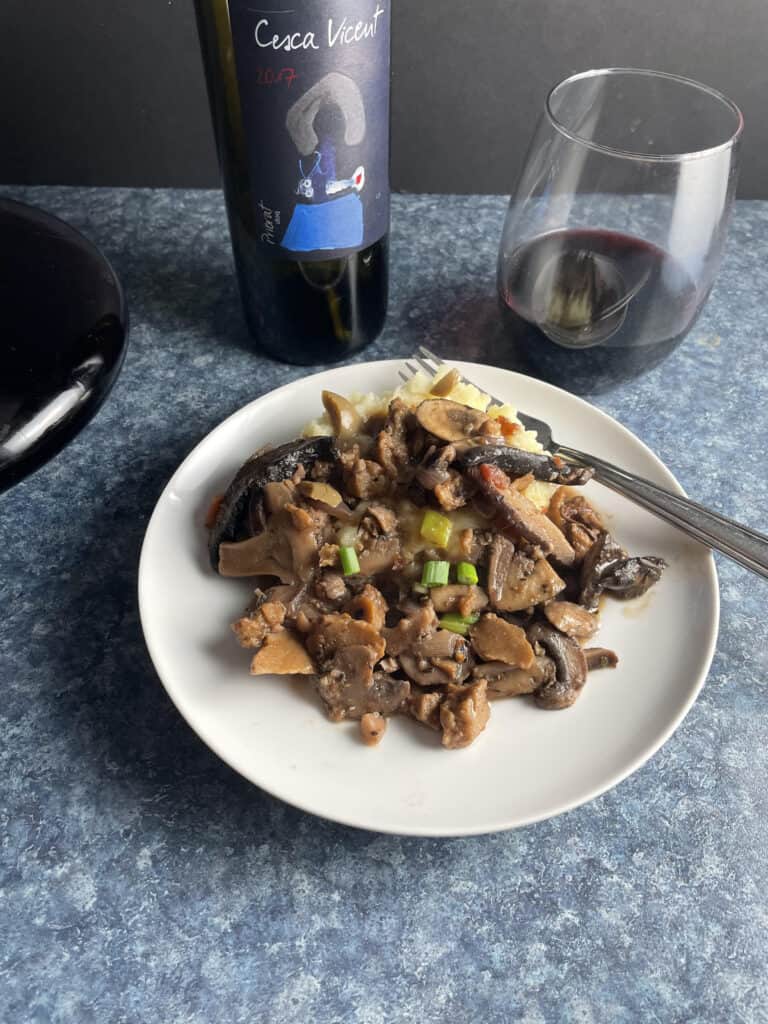 There are ten DO or DOP regions to choose from in Catalonia, but I quickly gravitated toward the Priorat DOP.
Priorat is a small, mountainous wine region known for producing intense red wines. The wines are typically based on Garnacha and Cariñena, with some international grapes also in the mix. The climate is hot and dry, with a long growing season. That definitely was reflected in our wine pairing for the mushroom fricassee!
We opened the 2017 Cesca Vicent Priorat ($25 , 16% ABV) to go with our mushroom fricassee. We did get to try this wine twice, as we first had it along with the beef version of the dish.
On the nose of the dark ruby red Priorat, I get beach plums, blackberries and number 2 pencil. On the palate, black cherry fruit, notes of violet and oak. Firm tannins, dense mouthfeel.
The Cesca Vicent Priorat definitely seemed like one that would benefit from decanting. After about 45 minutes in the decanter, it became more approachable. This Priorat was a pleasing pairing for the fricassee. There aren't too many vegetarian dishes I would serve with this wine, but this recipe is one that can stand up to it!
I was a bit daunted by the 16% ABV figure on the label, clearly a product of those hot, dry growing conditions. The wine is a reminder that while alcohol content is one factor in choosing a wine for a pairing, a well-made wine with high alcohol can still be enjoyable and a good match for the right dishes.
I did try another Priorat getting ready for this event. It has lower alcohol, and more notable acidity. When I needed another bottle for the remake of our recipe, I quickly went back to the Cesca Vincent.
The Priorat we tasted is made from a blend of 51% Garnacha, 20% Merlot, 11% Carignan, 11% Cabernet Sauvignon and 7% Syrah. The wine is certified organic.
Print
Recipe card
Mushroom Fricassee Recipe
A variety of mushrooms simmer in a rich red wine sauce with garlic. Seitan adds protein and additional substance. Skip the cheese to make this a vegan recipe. Serve with mashed potatoes or patatas bravas. 
Author: Cooking Chat
Prep Time:

30 mins

Cook Time:

30 mins

Total Time:

60 mins

Yield:

6

servings

1

x
Category:

Main

Method:

stove top

Cuisine:

Spanish

Diet:

Vegetarian
1 oz

dried porcini mushrooms or dried shiitake

2 cups

water
Cooking oil spray

2

portobello mushroom caps
salt and pepper to taste 

2 tbsp

extra virgin olive oil

½ cup

fire roasted tomatoes (see notes)

1 cup

dry red wine

4

cloves garlic, minced

1 tsp

dried thyme

1 tsp

oregano

8

ozs button mushrooms, sliced

1 tsp

miso paste (optional)

8

ozs seitan, sliced / chopped

⅓ cup

bread crumbs

2

scallions, chopped and divided

¼ cup

Manchego cheese (optional) broken or cut into small pieces

½ tsp

paprika 
Instructions
Rehydrate mushrooms: Reconstitute the dried porcini mushrooms 30 minutes prior to starting to cook the rest of the dish. Heat the water in a pan. When it starts to boil, remove from stove and pour over the dried porcini in a bowl that can withstand the hot water. Let the porcini soak in the water for at least 30 minutes.

Drain & rinse mushrooms: 

Place a sieve over a bowl and line it with a wet paper towel. Pour the mushrooms into the sieve. Reserve the porcini soaking water. Rinse the mushrooms, then coarsely chop and set aside.
Sear portobello mushrooms: Heat a large skillet on medium high, coat with the oil spray. Add about half of the portobello mushrooms slices, season with salt to taste and some generous grinds of fresh black pepper. Sear for about 1 minute, then turn the slices over to sear for another minute. Remove to a plate to cool, then repeat process with remaining mushrooms. Set the seared portobello mushrooms aside to add back in later.
Add the 2 tablespoon olive oil into the same skillet used to sear the portobello. Heat on medium, and add the onions. Cook for about 5 minutes until the onions start to soften.
Add the wine and tomatoes to the skillet. Simmer for 5 minutes, reducing the liquid a bit. Then add the garlic.
Stir in button mushrooms and the porcini. Add the thyme and oregano.
Add the seitan and portobello mushrooms along with the reserved mushroom liquid. Continue simmering and stir occasionally. Add the breadcrumbs after a few minutes of simmering.
Finish the dish and serve. After the mushrooms and seitan have simmered together for at least 10 minutes, stir in the paprika, half of the chopped scallions and the Manchego cheese. If using the cheese, give it a couple of minutes. Serve the fricasee along with potatoes, and sprinkle some additional scallion pieces on top for garnish. Enjoy!
Notes
I recommend using the porcini mushrooms if you can find them, it creates a richer cooking liquid. But dried shiitakes are a suitable substitute.
You could try adding fresh herbs such as parsley or tarragon at the end of cooking. 
We used canned fire roasted tomatoes. Substitute an equal amount of fresh tomatoes if you have on hand and don't want to open a can of tomatoes to use just a portion.
Keywords: fricassee, mushroom fricassee, Catalan food, hearty vegetarian recipes
Recipe Card powered by
More Recipes Like This
Whether you stopped by looking for Spanish recipes, a love for mushrooms or hearty vegetarian meals, here are some more Cooking Chat recipes you might like:
Spanish
Hearty Vegetarian
Recipes featuring mushrooms
Check out our collection of Healthy Vegetarian Recipes for more ideas.
World Wine Travel Catalonia articles