Salmon with Pesto and Orzo recipe for a delicious seafood pasta meal. Originally published in 2015, we recently made this recipe again, paired with a crisp white wine from Campania, which we share for today's Italian Food, Wine and Travel visit to the region.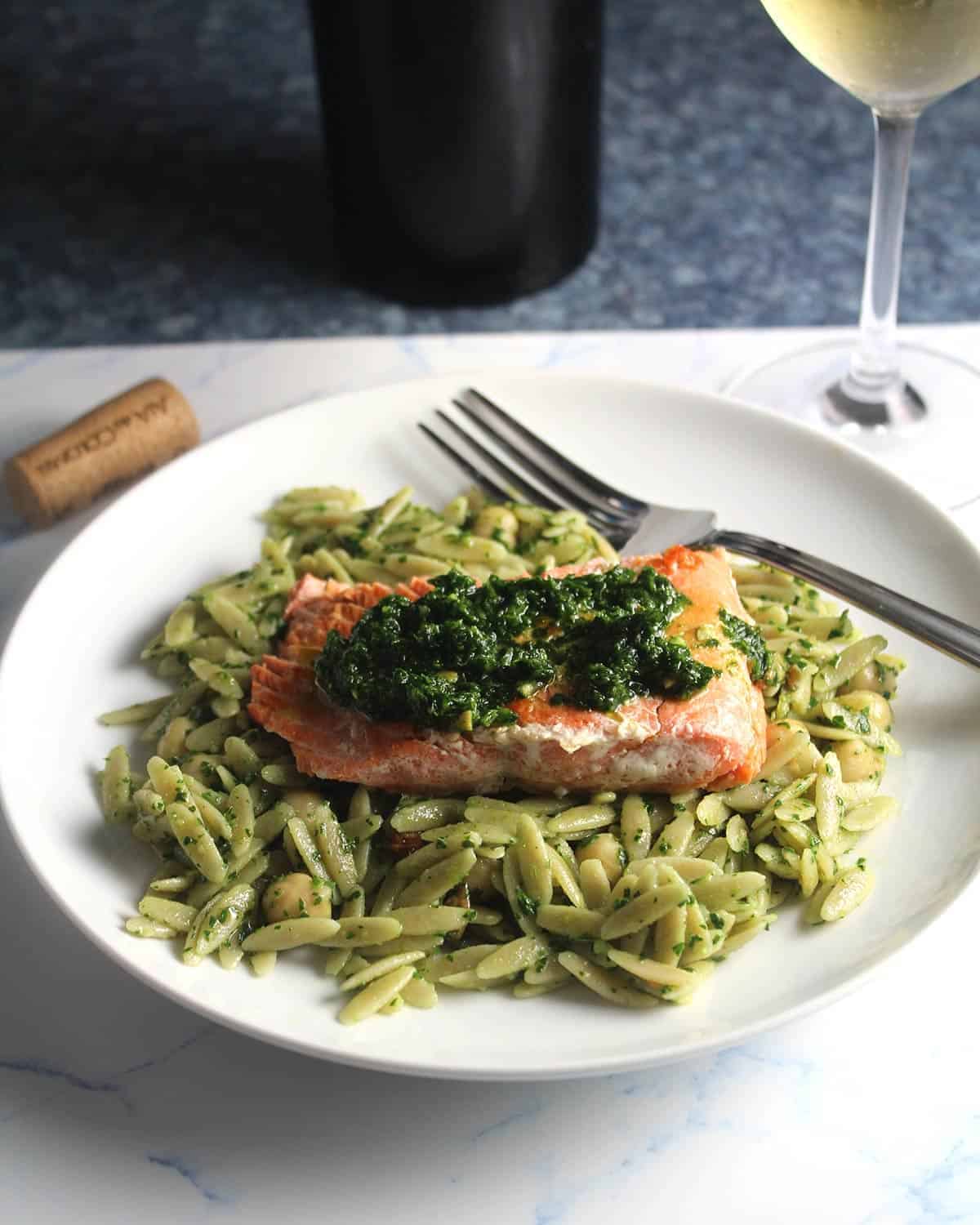 Serving salmon with pesto and some kind of pasta happens a lot here! The zesty pesto brings great flavor to the fish. For more salmon serving ideas, check out our What to Serve with Salmon collection.
Jodi is not a fish fan. But she is happy to just have the pasta with pesto and a salad as I enjoy the fish along with our teenage son. Adding chickpeas or other beans to the pesto orzo dish further makes it pretty substantial even before adding the salmon.
This recipe is very popular on Pinterest. If you've come here just for the dish, click here to jump right to the info you need to make the recipe. Read on for more about the wine pairing and the Campania region.
A Visit to Campania
Our honeymoon started in Campania many years ago, so I have a long acquaintance with this southern Italian region. We landed in the bustling city of Naples, enjoying a pizza margherita for dinner before heading south to Sorrento the next morning.
We enjoyed relaxing in our Sorrento room with a view of Vesuvius across the Bay of Naples. Then we took our lives into our hands and boarded a bus that hurtled around hairpin turns on the Amalfi Coast. At times it seemed certain that we would topple down the cliff and wind up in the sea below.
Somehow, we made it to the quaint coastal town, Positano. The climb down to the little beach from the bus stop was steep, but I welcomed being back on my feet!
Tasting wines of Sannio
I recall the food while staying in Sorrento was good. I had yet to start getting interested in wine, but we were both pleased with the moderate prices of the highly drinkable wines.
Fast forward a couple of decades later. We were invited to a Wines of Sannio lunch in Boston, which sounded like a great way to combine my keen interest in wine with some good memories from our trip to Italy.
The Sannio DOC region is more inland than where we visited, located in a hilly region north of Naples. The wine I paired with our salmon pesto and orzo recipe happens to come from Sannio, so another good reason to share a bit about what I learned at the event.
We were packed tightly in a private room at Mama Maria, a traditional Italian restaurant in Boston's North End. Our tasting leader started out by observing, "It's going to take a little bit of teamwork to taste through 17 wines during our lunch."
Falanghina and Aglianico dominated the lineup we tasted at the event, along with a bit of Barbera and some interesting native grapes. I associate Barbera with the Piedmont, but the tasting leader noted it grows well in the clay soils of Sannio.
The wines were coming so fast at the luncheon it was hard to keep up with notes or tweets.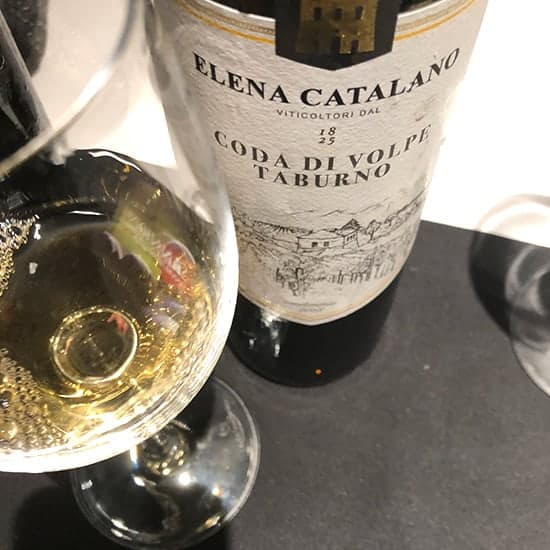 But I did take some bottle shots to remember a couple of the less common Sannio wines we had. This included a Coda di Volpe, a white wine grape with a long history. We also had a red wine made from Piedirosso grapes.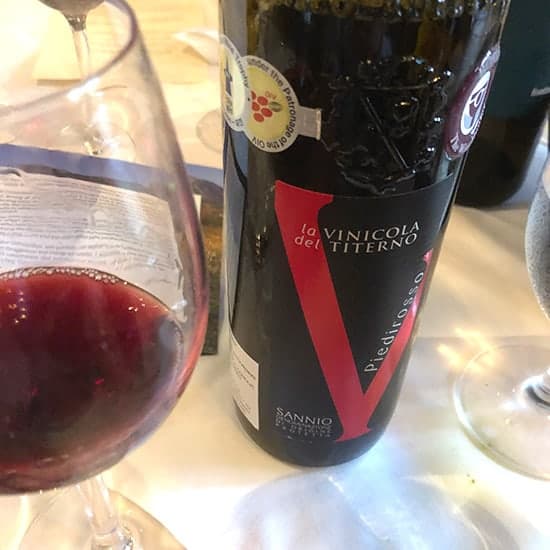 And yes, we did enjoy some Falanghina with pesto at the event, a precursor to today's pairing!
Wine Pairing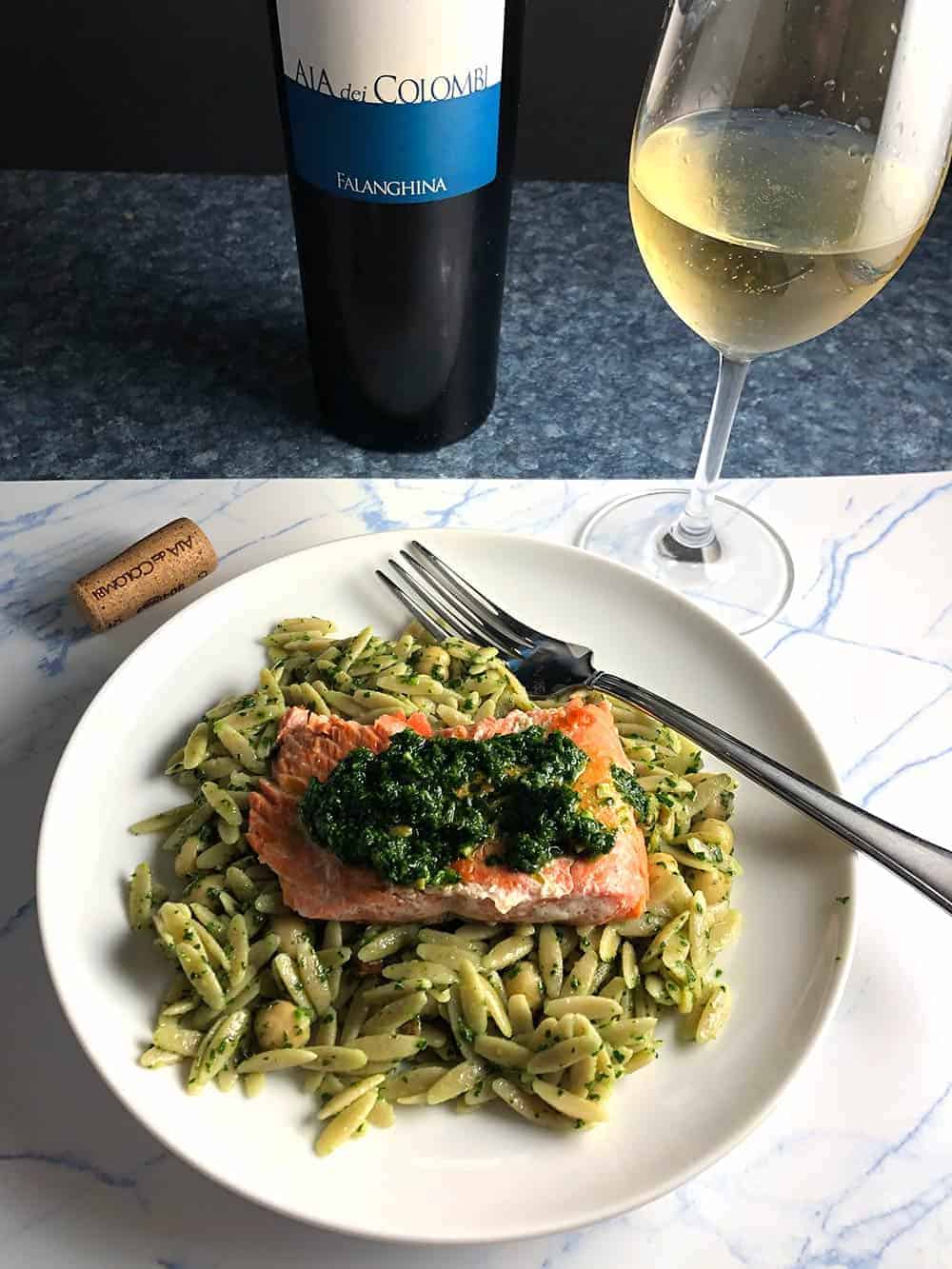 I had a bottle of 2018 Aia dei Colombi Falanghina ($13, 14% ABV) from the Sannio DOC. Seeing the Italian FWT group was going to be focusing on Campania in May, I thought it would be the perfect time to open the Falanghina and remake this salmon with pesto recipe.
The Falanghina is a light straw color in the glass. Seashells on the nose with a hint of lemon.
On the palate, citrus, lemon zest and some granite notes. Zippy acidity. Definitely a good pairing for pesto, this medium bodied wine also has enough substance to pair with the salmon. A good pairing!
Original pairing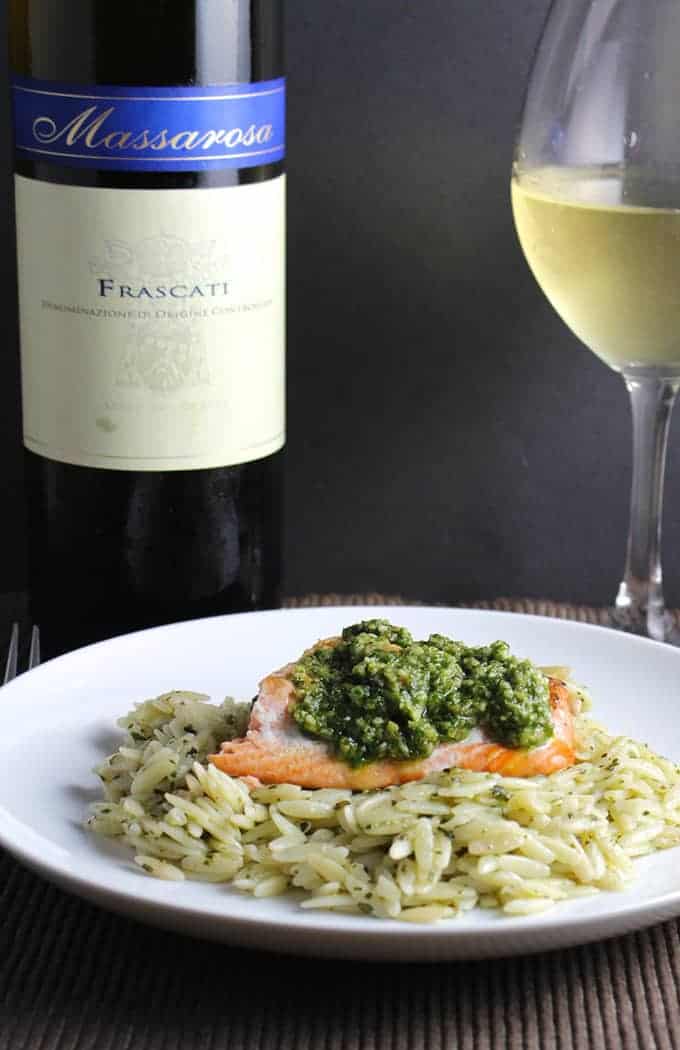 We had the 2012 Massarosa Frascati (13% alcohol, $13) when we originally made our Orzo, Salmon and Pesto recipe back in 2015. This white wine is from Lazio, the wine region near Rome.
The Frascati has a lot of freshness on the nose–I get peach blossoms. Taste of ripe melon fruit. This is a light bodied wine, and keeps the food in the forefront. This Frascati goes well with the pesto, refreshing the palate and letting the tasty sauce shine.
Frascati is a white wine, made from at least 50% Malvasia grapes. Trebbiano made up the balance of the Massarosa Frascati we had.
Making this recipe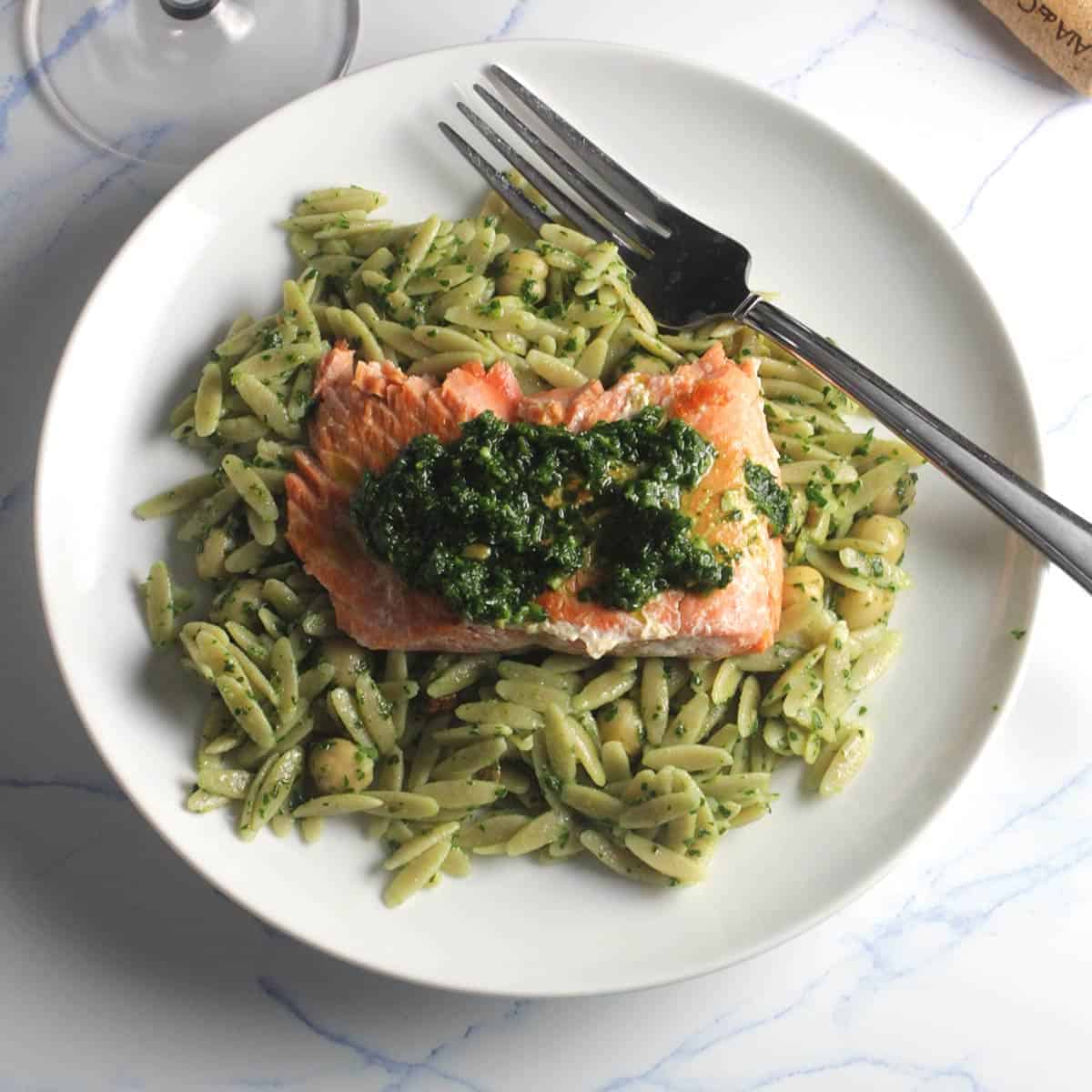 I like to grill salmon quite a bit in the warm weather, and so am always looking for different ways to serve it. Pesto is definitely a good option to top the salmon, and also adds a nice flavor to the orzo. A winning combination!
We've got several different recipe options for you, followed by the detailed step-by step instructions.
Recipe options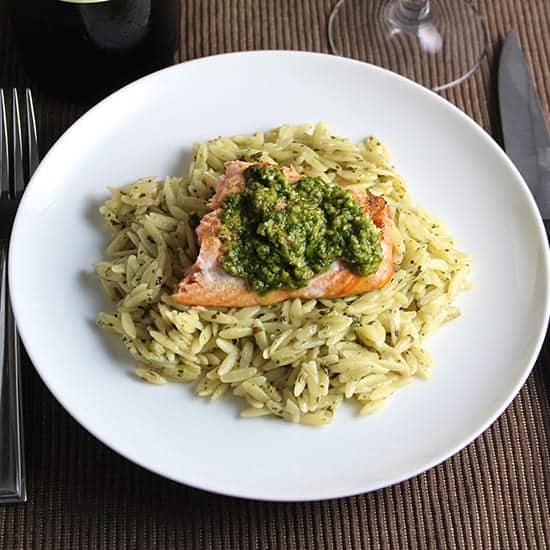 Kale pesto: The original recipe was made with a classic basil pesto, and that's what I have in the recipe card. The salmon is also great topped with kale pesto. Outside of summer, good kale can be easier to find than basil, and that is especially true now.
For another great seafood and pesto recipe checkout our Pan Seared Scallops with Pesto.
Nut-free: The recipe card lists pine nuts, a common pesto ingredient. But we have switched to nut-free pesto in our house due to an allergy. I've found that adding toasted pumpkin seeds is a great substitute for pine nuts in pesto. For more nut-free ideas, check out our Pesto Recipes Without Nuts collection.
Adding beans: Adding white beans or chickpeas makes the orzo with pesto more substantial, which is especially good if you have someone skipping the fish in your home. Plus, don't know about you, but I certainly stashed enough beans to last us a long time here!
Grilling or stove top: We first made this recipe in mid-summer, so the recipe card has instructions for grilling. But pan searing is a great option, too, which is how we made this salmon recipe most recently.
To make the salmon on the stove top instead of the grill, prep the salmon as in step 4 below. Then heat a tablespoon of canola oil in a nonstick skillet on medium high.
Place the salmon skin side down, and cook for 4 minutes. Turn the salmon over with a spatula, and cook for another 2 minutes skin side up. Turn the salmon back to skin side down, and check to see if it is cooked through. Remove the salmon if done, or cook for a few more minutes if needed.
Then it is time to plate the salmon with orzo and pesto…and a good Italian white wine, of course!
Print
Recipe card
Salmon with Pesto and Orzo
Salmon gets served with orzo and pesto for a healthy and tasty meal. Salmon can be prepared on a grill or on the stove top.
Author: Cooking Chat
Prep Time:

15 mins

Cook Time:

15 mins

Total Time:

30 mins

Yield:

4

servings

1

x
Category:

Main

Method:

grilling or stove top

Cuisine:

Italian
For the pesto and orzo
2 cups

fresh basil leaves, rinsed and tightly packed

4

cloves garlic

¾ cup

extra virgin olive oil

¾ cup

Pecorino or Parmesan cheese

2 tbsp

pine nuts or toasted pumpkin seeds, to make the dish nut free

12

ozs orzo

1

14.5 oz can chickpeas or white beans, drained and rinsed, optional
For the salmon
12

ozs wild salmon fillet, rinsed and patted dry

1

  tablespoon extra virgin olive oil
 dash of salt
Instructions
Start the pesto: Have a food processor at the ready. Put the basil into the food processor, and give it a quick whir to begin chopping the basil and make room for the other ingredients. Add the garlic, and hit that food processor button again to get the cloves chopped up with the basil.
Finish the pesto: Add the remaining ingredients, and then puree to get everything well combined. Open the food processor, scrape the sides to get bits of garlic and basil that haven't been incorporated, then give the processor a final whir.
Cook the orzo according to package instructions after finishing the pesto. When the orzo is done, toss with a few tablespoons of the pesto so that the orzo is lightly coated.
Prep the salmon: Preheat a grill on medium high (or use the pan seared method described in the notes below). As the orzo cooks, rinse and pat dry the salmon fillet, then spread 1 tablespoon olive oil over the flesh side and sprinkle a bit of salt to taste.
Start grilling the salmon: Place the salmon on the grill, skin side down. Grill covered for about 4 minutes, then gently turn the salmon to the flesh side. If the skin sticks to the grill, no big deal, just place the fish on a clean portion of the grill.
Finish the salmon: Grill covered for another 3 to 4 minutes. It may be cooked at this point–cut a bit in the middle of the fillet to check. You still want a bit of the dark orange color for nice, moist salmon. If you want to cook a bit more, turn over one more time and cook for a couple more minutes. Remove the salmon to a platter when cooked to your liking.
Serve the dish: Plate a serving of the orzo, then place a portion of the salmon on top of the orzo. Spread a dollop of pesto on top of the salmon, and repeat for the other portions. Pass extra pesto for people to add more at the table, and enjoy with an Italian wine such as a Frascati.
Notes
Nut free: Toasted pumpkin seeds can be substituted for the pine nuts for a nut free recipe.
Kale Pesto: You could also use kale pesto for this recipe. Here's a link to our recipe: https://cookingchatfood.com/kale-pesto/.
Pan Seared Salmon: To make the salmon on the stove top instead of the grill, prep the salmon as in step 4. Then heat a tablespoon of canola oil in a nonstick skillet on medium high. Place the salmon skin side down, and cook for 4 minutes. Turn the salmon over with a spatula, and cook for another 2 minutes skin side up. Turn the salmon back to skin side down, and check to see if it is cooked through. Remove the salmon if done, or cook for a few more minutes if needed. Serve as described in step 7.
Keywords: orzo, salmon, pesto, salmon with pesto, salmon and pasta
Recipe Card powered by
Italian FWT articles about Campania
Curious about Campania? Take a look below, there is sure to be something to pique your interest. Want to learn more? Join our chat on Twitter! Just look for #ItalianFWT between 11 am – noon EDT on Saturday May 2.