Take a basic potato soup and the bright, briny flavor of pickles, and you have a delicious Polish Dill Pickle Soup recipe! I was skeptical when I first heard of the soup, but was quickly swayed upon trying it. If you like pickles, you definitely need to give it a try!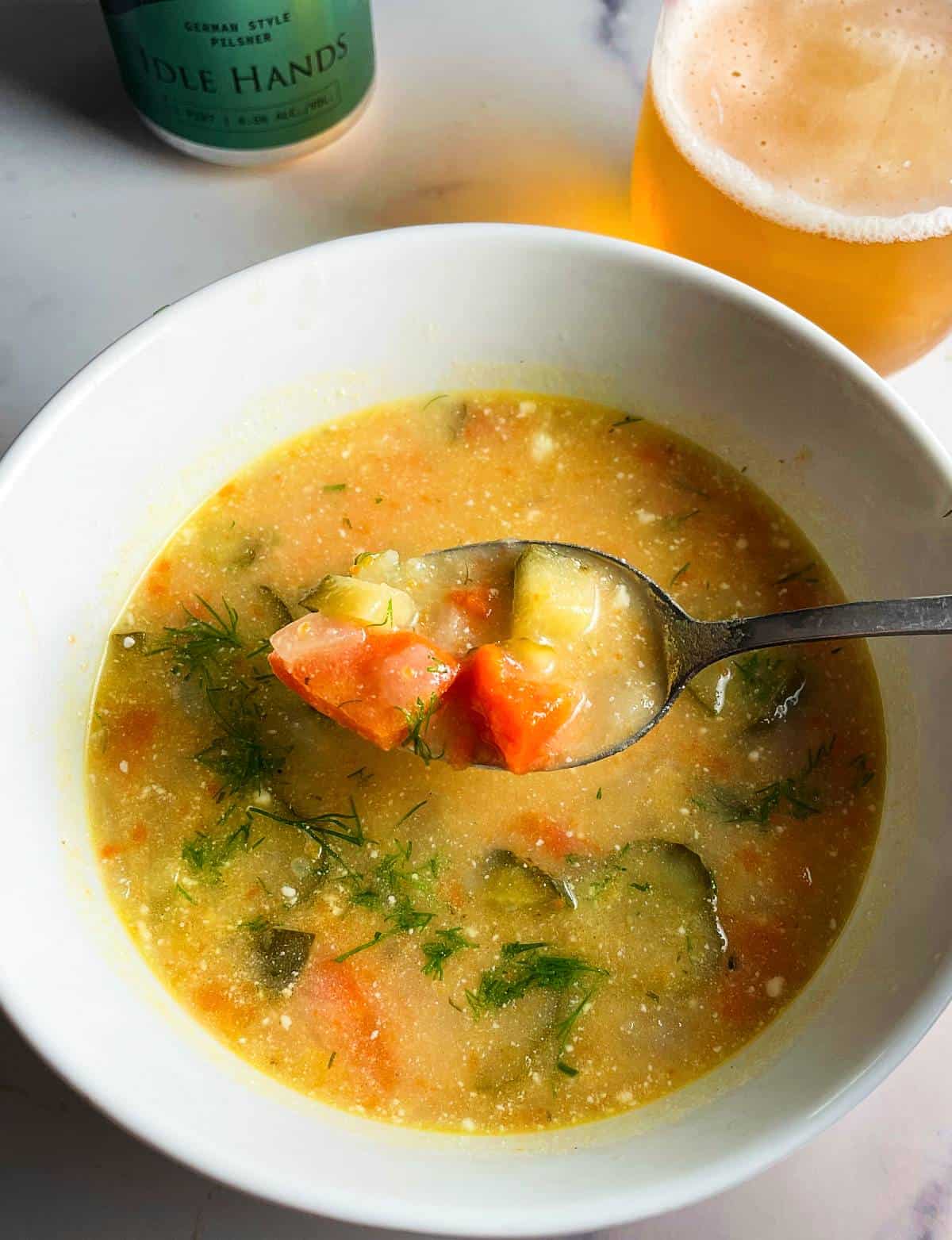 I was first introduced to Polish Dill Pickle Soup when it was featured on the menu of a beer pairing dinner organized by Idle Hands, one of my favorite local craft beer breweries.
I have to say I was a bit skeptical about the concept. While I am a dill pickle fan, I think of them as an addition to sandwiches and burgers. Dill pickle soup?
Turns out, I actually really liked the taste of the Polish pickle soup the first time I tried it. The tangy flavors of the soup pleased my taste buds, and the beer pairing enhanced the enjoyment.
So I dediced to set out to duplicate the dill pickle soup recipe here on Cooking Chat. The pickle soup was pretty tasty the first time I made it, but needed a few tweaks. Nailed it on batch two! That is the recipe we share with you here today. First, let's get some quick background covered.
What is Polish dill pickle soup?
Although the idea of Polish dill pickle soup was novel to me when I first came across it recently. But I've come to learn that dill pickle soup is traditional in Polish cuisine. The soup is known as "zupa ogórkowa" in Polish.
The soup is typically made with kosher dill pickles, potatoes, carrots, onions, and often includes a variety of other vegetables. We'll cover our ingredient suggestions next.
Ingredients
Here's an overview of the major ingredients for Polish pickle soup:
Pickles are of course an important ingredient in pickle soup! You want to get a jar of whole kosher dill pickles.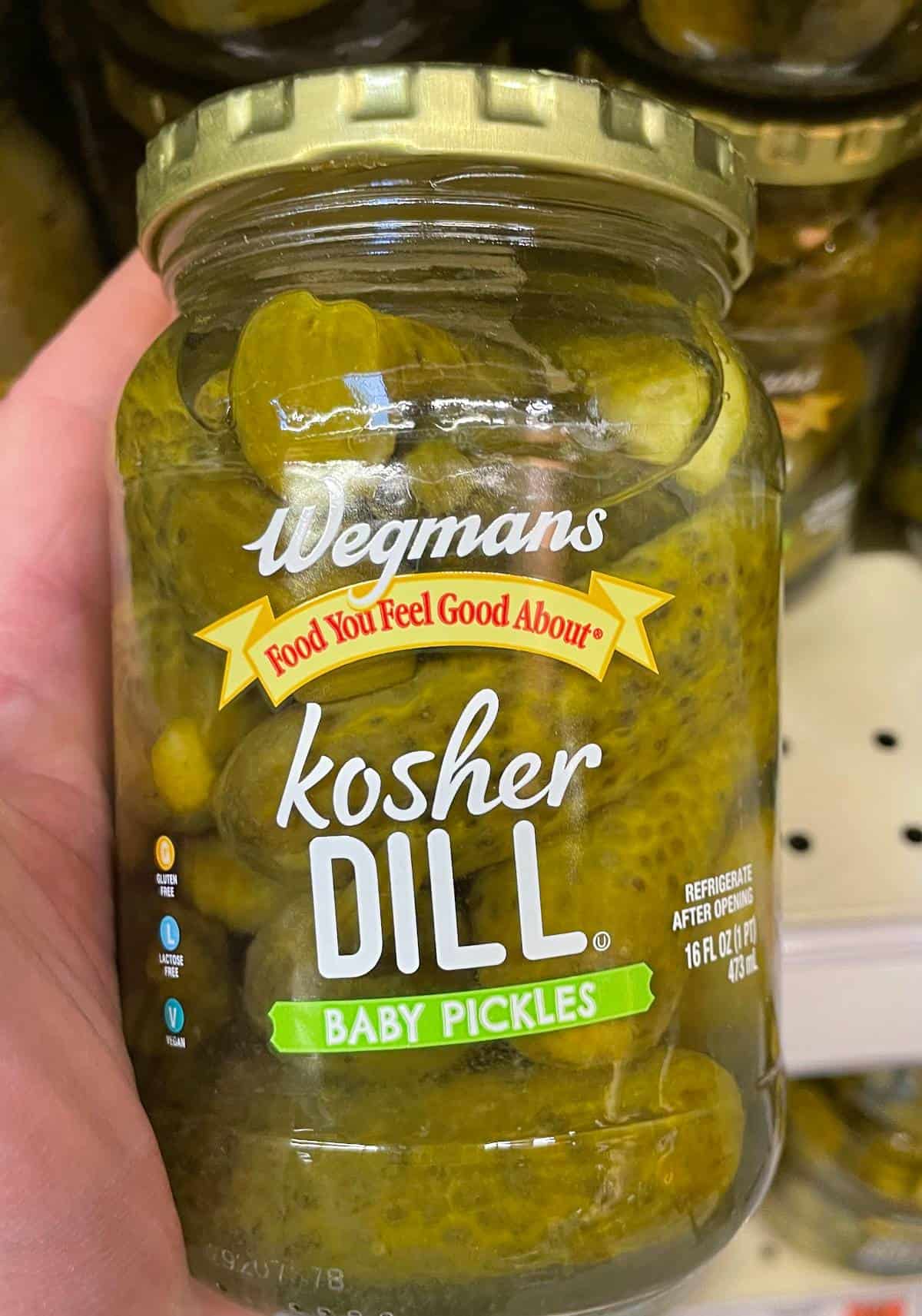 One article I referenced for this suggested the Whole Foods organic brand, which generally lines up with what I buy. But after testing, I'd say a more basic store brand is better for flavor. We used Wegman's dill pickles; you could also try something like Vlasic.
Pickle brine, is another ingredient that is a big part of the pickle soup flavor. This is the liquid in the jar of pickles – i.e. dill pickle juice. For the full pickle taste, you will want 1 ¼ cups of the pickle brine. Depending on the size of the jar, you may need to use some liquid from a 2nd jar of pickles. We experimented with just 1 cup of pickle brine and found the extra ¼ brought the "essence of pickles" aspect of the soup we like.
Tip: have two jars of pickles available to make sure you have enough pickle brine. The second jar doesn't have to be whole dill pickles, they could be slices. You would only need to dip into the second jar for the liquid.
Carrots and potatoes are the basic veggies that go into Polish dill pickle soup. You want to cut them into a fairly small dice.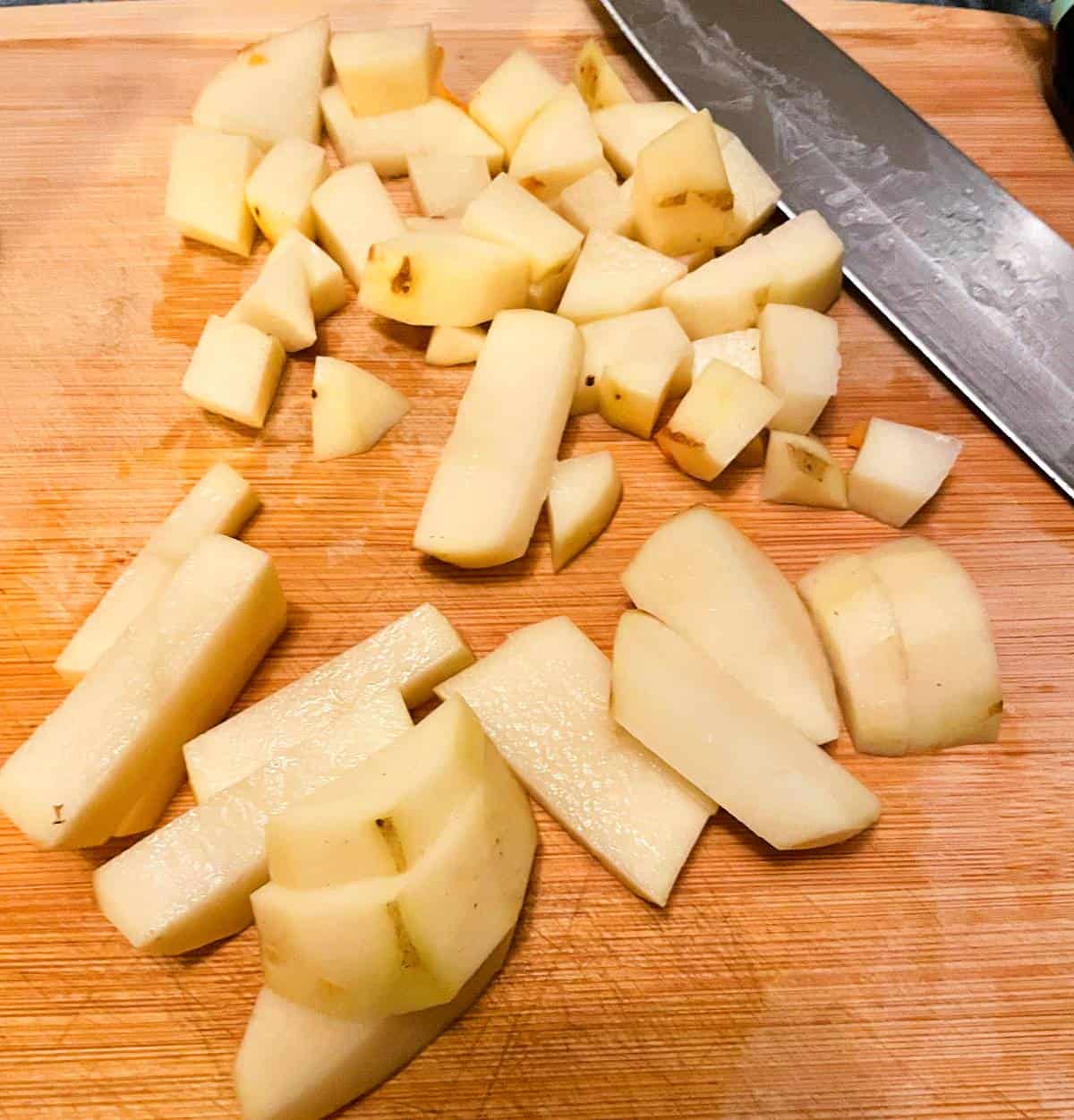 For instance, about ½ inch cubes work well for the potatoes. This helps them cook quickly and some break up a bit, adding to the creaminess of the soup.
Low sodium chicken broth is the liquid I used for the soup. You could try vegetable stock if you like; I haven't test the soup with it yet.
Fresh dill adds extra freshness and vibrancy to the soup. I don't recommend substituting dried dill.
Sour cream gets added at the end to thicken the soup a bit and add some creaminess. Some recipes call for whisking the sour cream with flour first; I didn't find that step to be necessary. You could try using heavy cream instead of sour cream if you like.
Beer pairing
As I noted, an Idle Hands beer pairing dinner is what led to to cooking up this Polish dill pcikle soup recipe. I recalled their pairing was very good, so I decided to repeat it.
The Idle Hands Gretel that we enjoyed with the dill pickle soup is a German style pilsner. The brewery indicates notes of "cracker, grass and spice". I recall the cracker and spice elements. More on the beer can be found on the Idle Hands website.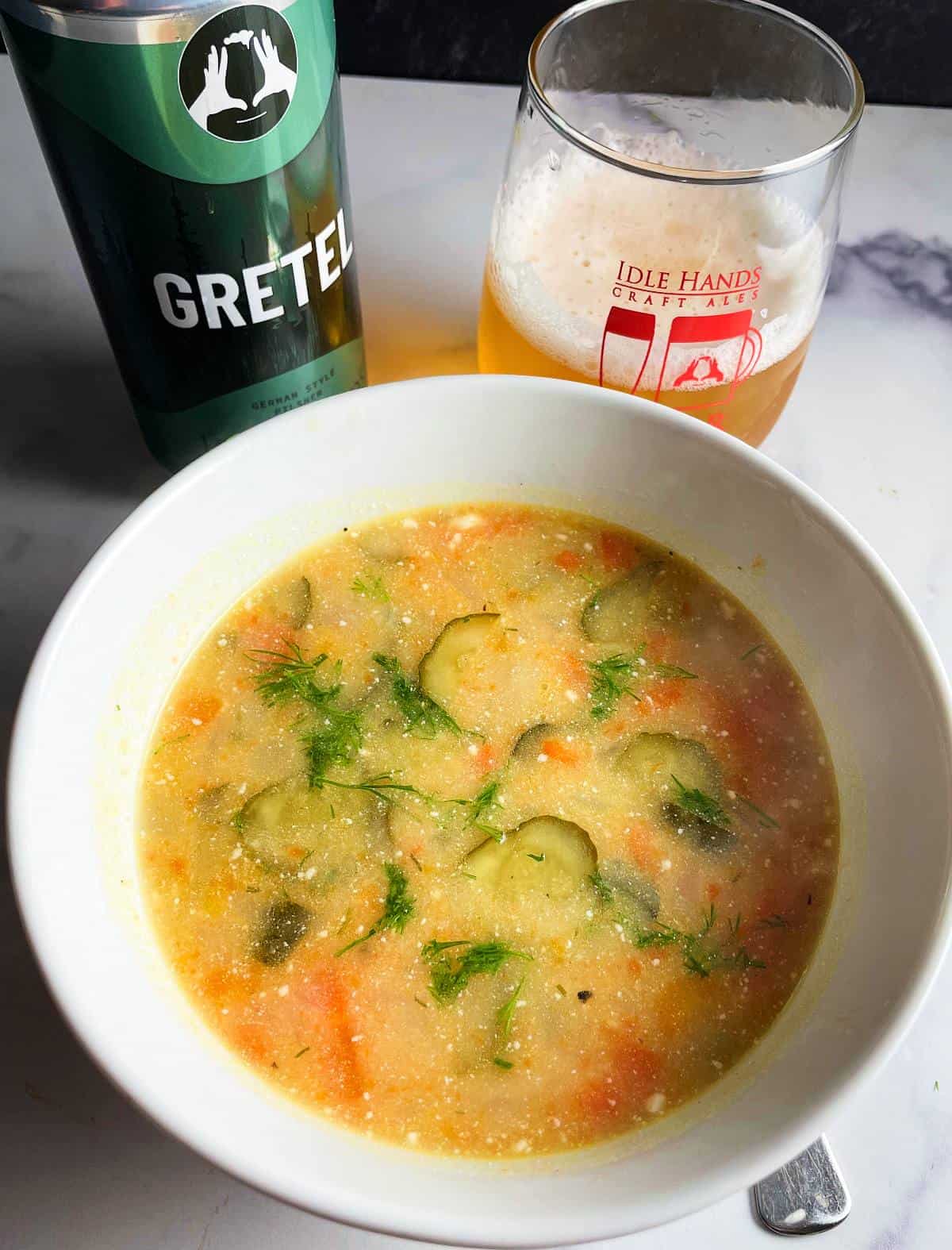 I typically gravitate more toward IPAs, but would say that the Idle Hands Gretel is a good choice. The lighter style plays along nice with the lively flavors of the pickle soup.
Idle Hands is a craft beer brewery located in Malden, Massachusetts. If you are local, I'd encourage you to pay a visit and try some of their beers! Idle Hands is also available on tap and for takeout purchase at Common Craft in Burlingon, MA. You can also find it at other stores in the Boston area, including Wegmans.
If you can't get your hands on the Idle Hands Gretel, I would suggest trying a similar German style pilsner.
Wine pairing
While our quest to make a delicious Polish dill pickle soup started with a beer pairing dinner, I couldn't resist testing out a couple of wine pairings.
Chardonnay works with some soups as the full-bodies white can match a thick soup. For instance, we like Chard with our Irish Vegetable Soup.
But but the oak and butter flavor profile of Chardonnay doesn't mesh well with the briny flavors of pickle soup.
On the other hand, the 2020 Maison Noir Bottoms Up ($25, 13% ABV) Riesling based white wine blend was a winner with the soup! The wine has floral notes that work well with the dill flavor, and the acidity matches the brininess of the soup.
You can order Maison Noir wines from their website. You could also try other Rieslings or perhaps a Gewürztraminer with the soup.
Print
Recipe card
Polish Dill Pickle Soup Recipe
Pickle lovers, this is the soup for you! Polish Dill Pickle Soup brings the briny flavors of pickles to a simple potato soup. A tasty change of pace.
Author: Cooking Chat
Prep Time:

10 mins

Cook Time:

40 mins

Total Time:

50 mins

Yield:

5

servings

1

x
Category:

Soup

Method:

stove top

Cuisine:

Polish

Diet:

Vegetarian
2 tablespoons

butter

1

onion, chopped

3

carrots, chopped (about

1 ½ cups

)

2

medium potatoes, small dice (about

3 cups

)

4 cups

low sodium chicken broth

½ teaspoon

garlic powder

½

tespoon soy sauce (low sodium)

1 cup

dill pickles, chopped in a small dice (plus additional chopped pickles for garnish)

1 ¼ cups

pickle brine or "juice" (the liquid from a jar of pickles)

½ cup

sour cream

1 tsp

fresh dill, chopped, plus additional for garnish
generous grinds of black pepper
Instructions
Sauté the onions: Melt the butter in a large pan on medium heat. Add the onions, sauté for about 5 minutes, stirring occasionally.
Add carrots & potatoes: Add the carrots to the soup pot, cook for a few minutes. Stir in the potatoes.
Simmer with broth: Add the broth to the pan, stir to combine with the vegetables. Raise the heat so that the liquid begins to boil, then reduce heat to simmer on medium low. Simmer for about 20 minutes so that the vegetables soften.
Add the pickles: Stir in the diced pickles and pickle juice. Simmer for another 10 minutes so that the flavors combine.
Finish the soup After the pickles have simmer for about 10 minutes, stir in the sour cream and the fresh dill to finish the soup. Serve the soup in bowls, finished with a few bits of chopped dill and diced pickle on the top. Enjoy!
Notes
We recommend a "basic" jar of dill pickles from the store. We used the Wegman's store brand; something like Vlasic would work too. The organic Whole Foods brand we used on our first test batch didn't taste as good.
Keywords: Polish Dill Pickle Soup, pickle soup recipe, classic Polish cuisine, vegetarian soup recipes, recipes using dill pickles
Recipe Card powered by