Savory beef brisket is delicious with a red wine from the Rhône. We went with one from Gigondas, but any Southern Rhône red should be a great pairing for this brisket. Our recipe instructions are for a small, 2 lb beef brisket.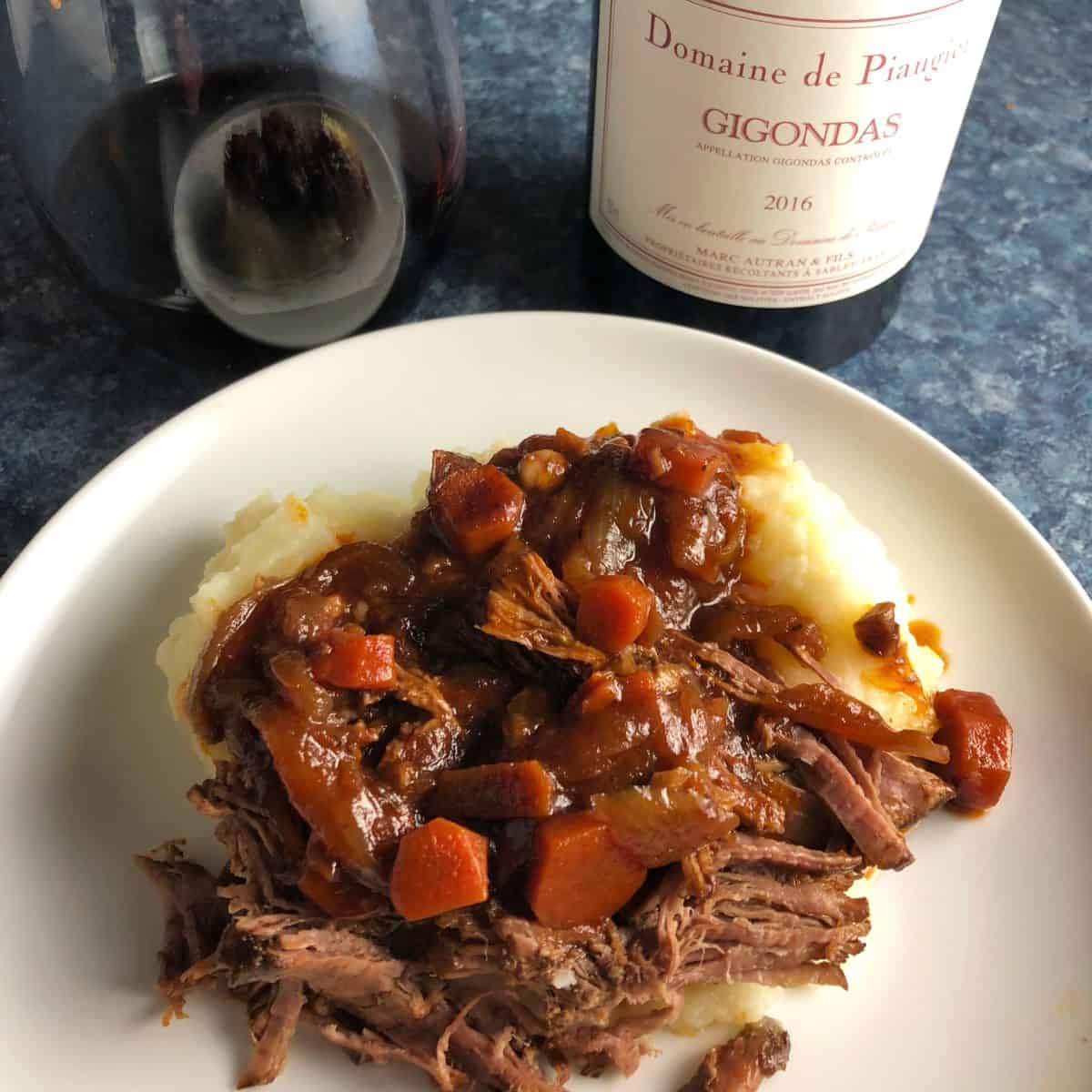 Somehow I hadn't gotten around to making beef brisket before. Then all of a sudden I had two small briskets in the freezer from Walden Local, the meat share program we joined earlier this year.
It was time to figure things out.
Of course, along with finding a recipe, I started thinking about what wine pairs with brisket.
My college class foodies group on Facebook has been very active this year. Low and behold, one of the recipes shared in response to my query came from the founder of CellarTracker. Not surprisingly, his family brisket recipe came with extensive suggestions about wine pairings!
Looking for another great beef recipe from the oven? Be sure to check out our classic Spoon Roast recipe, which we serve with horseradish cream.
What wine goes with brisket?
Eric's suggestions for wine pairing with brisket started with Southern Rhône varietals. He mentioned some favorite Châteauneuf-du-Papes he likes with brisket, and also noted nearby villages can be great options for this meal at a lower cost.
I recalled the French Winophiles had today's scheduled visit to the Rhône planned. I figured I would head to the wine shop and grab a bottle or two from the region to test with the brisket, and join today's event.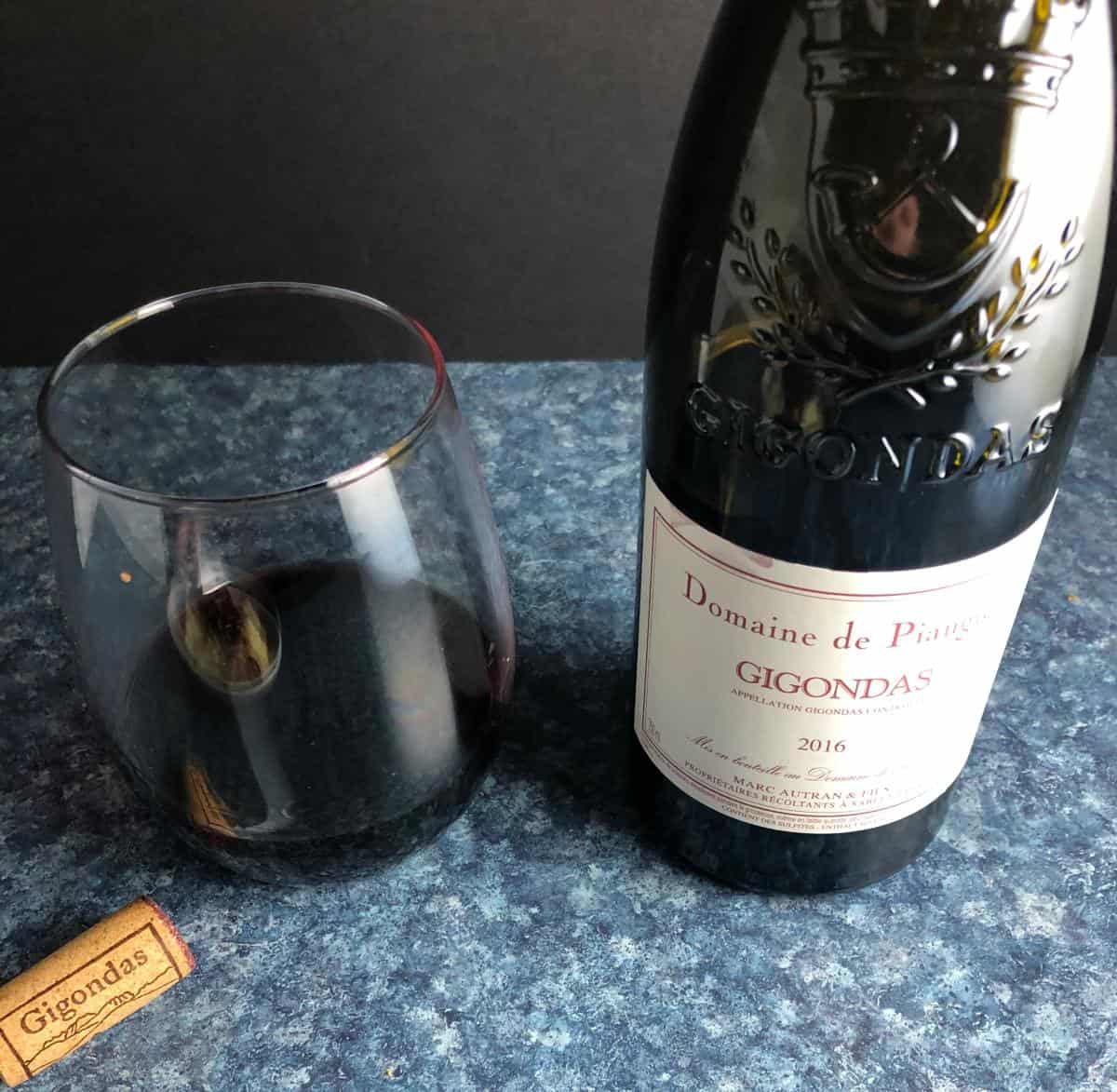 I picked out a Domaine de Piaugier Gigondas along with a Côtes du Rhône AOC wine. The initial plan was to open the Gigondas the night I cooked the brisket, then the entry level CDR with some leftovers the next night.
Alas, while the brisket recipe will benefit from some tweaking based on more experience with it, the first attempt was delicious! And our 15 y.o. son definitely agreed, and thus there wasn't a night two to test it with the other Côtes du Rhône.
I will talk more about the pairing and recipe details in a bit, but the quick story is that the Gigondas was a great pairing, and supports notion that the Grenache, Syrah, Mouvedre (GSM) blend typical of the Côtes du Rhône is a good option for brisket.
My friend Eric, who clearly has more brisket experience than me, suggests Spanish or Italian reds with good acidity as alternative pairings for brisket. Stay away from big Aussie Shiraz or California Cabs for this dish, he suggests.
A Sangiovese or Barbera come to mind for a Italian wine to serve with brisket. Picking up on the Barbera idea, Culinary Adventures with Camilla had success paired her brisket recipe with a blend of Syrah, Barbera and Petite Verdot from Israel.
Key Ingredients For Our Brisket Pairing
For starters, for wine pairing purposes it is important to note that the version of brisket I made is a savory braise, with a flavor profile and approach similar to that of a New England pot roast.
Key ingredients driving the flavor are the onions, garlic, carrots and the sauce, which has more ketchup than you might expect! Oh yes, and wine is used in the braise. But I couldn't give up a big portion of a Rhône wine; I opted for an inexpensive Portuguese red for my cooking wine.
The savory ingredients set up a Rhône wine pairing nicely! And you want some acidity in the wine pairing, due in part to the ketchup.
If you were making more of a Texas style beef brisket, with a spice rub that includes chili powder, you are probably going to want to go in a different direction with your wine pairing. I would be inclined to go for more of a Syrah based red wine–perhaps from the Northern Rhône. Or maybe a Zinfandel.
Cooking a Small Beef Brisket
Another key factor in making this recipe is that our brisket was much smaller than most of the cuts I saw in recipes I reviewed.
We were cooking a 2 lb brisket, whereas most of the recipes I saw were talking about a four to six pound brisket. So I needed to figure out the cooking time.
I saw some suggestions to cook the brisket for about one hour per pound. But I figured I needed more than two hours for this cut, especially with the friend who shared his family recipe warning about the grave dangers of undercooking brisket (danger to the palate, not health!).
I wound up starting by braising the 2 lb brisket for 3 hours at 325 degrees.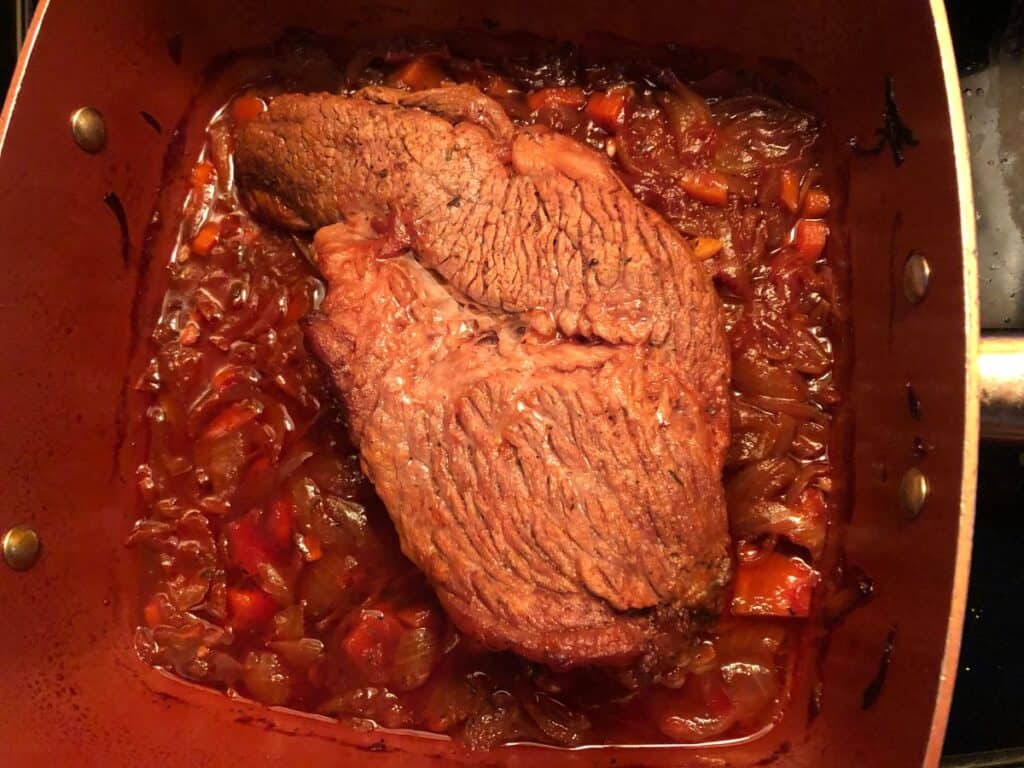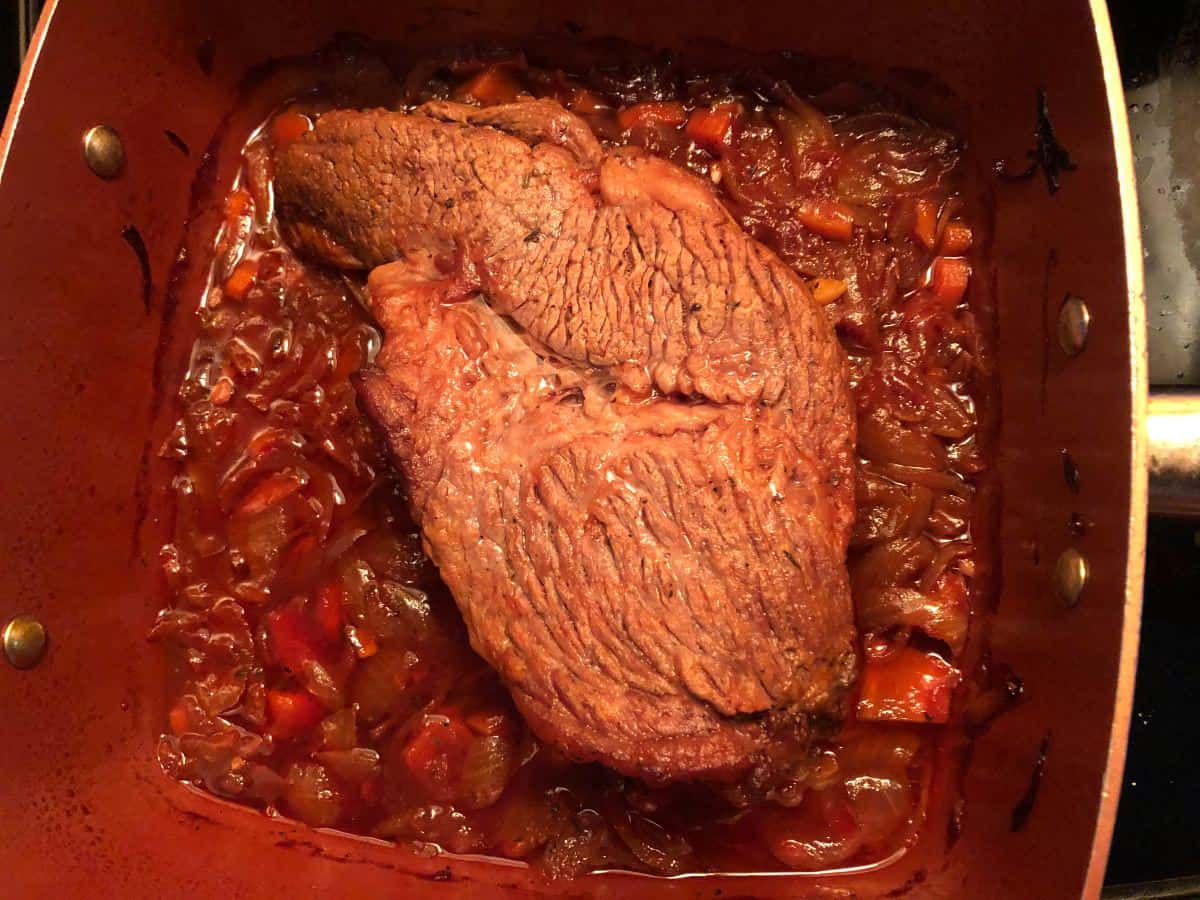 A tip I came across suggested sticking a fork into the brisket, and when it is done it should come out easily. Our brisket didn't quite pass that test at 3 hours, so I put it in for another 20 minutes.
I will try the timing again with another 2 lb brisket. I can report it was delicious after our 3 hours 20 minutes of cooking time! It did not slice nicely though, it had gotten so soft. So I am thinking 3 hours or just a bit over might be perfect for the 2 pound brisket.
More About Our Rhône Wine Pairing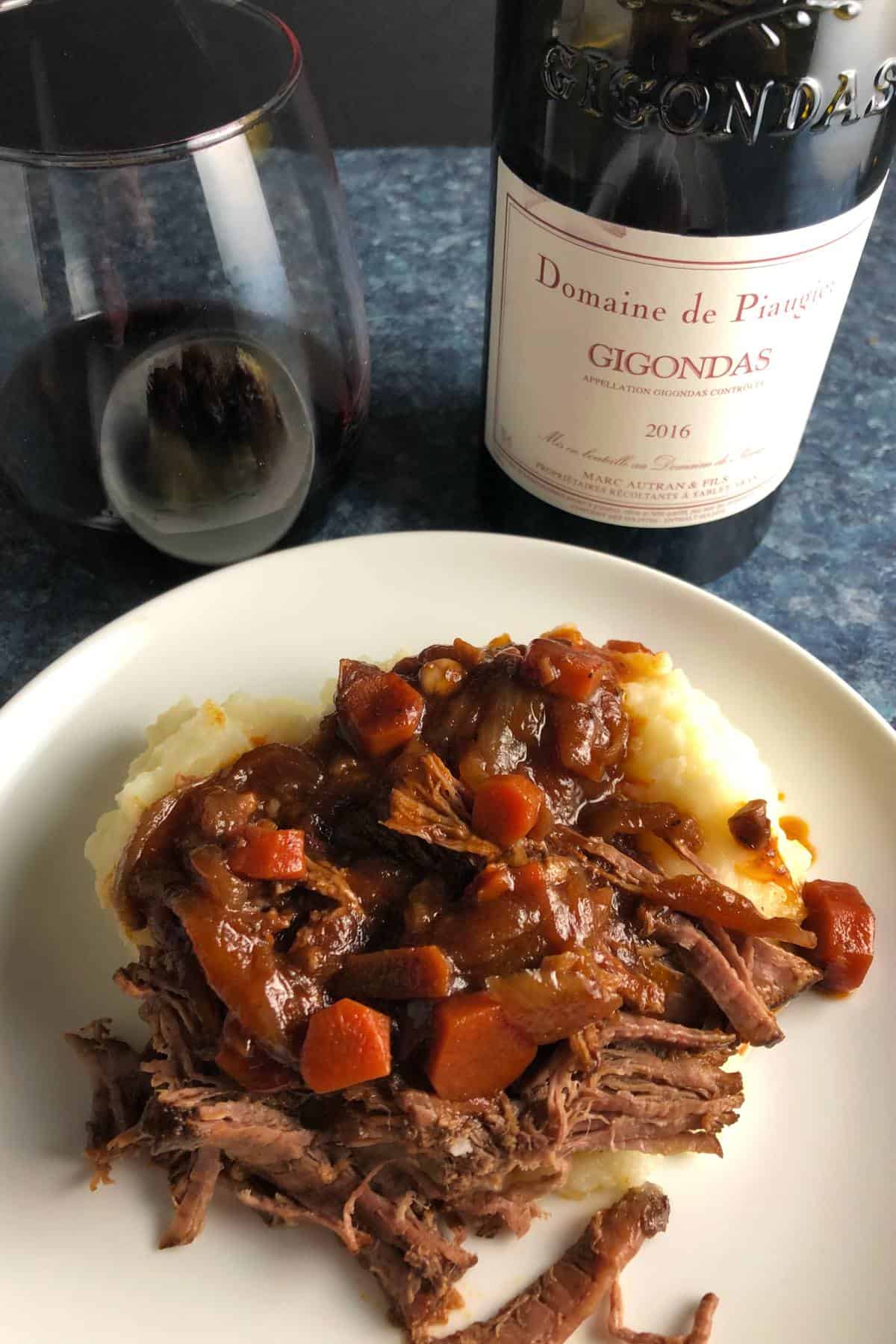 So as I mentioned, I picked out the 2016 Domaine de Piaugier Gigondas (appx. $35, 14.5% ABV), a blend of old vine Grenache (65%), Syrah (15%) and Mourvedre (20%).
Tasting Notes: This Gigondas is deep inky purple in the glass.
I got a big burst of violets on the nose. On the palate, blackberry fruit with light chocolate notes. Notable acidity and hints of slate.
The wine was still a bit tight upon first pouring, it opened nicely in the glass. Definitely seems like to could benefit from a few years of aging, as suggested by the label notes.
Pairing Assessment: This Gigondas is a great wine pairing for a savory beef brisket! The weight of the wine is just right for the beef dish. The fruit notes matched the sauce nicely, and the wine had the acidity needed for the sauce.
About Gigondas: Gigondas is a Southern Rhône AOC village located about 10 miles southwest of Châteauneuf-du-Pape. Thus, it can be a good option for quality wines with a similar style to its more well-known neighbor, for a relatively modest price.
Domaine de Piaugier: Coming into this event, I was more familiar with Piaugier's white Rhône blend, which I grab regularly.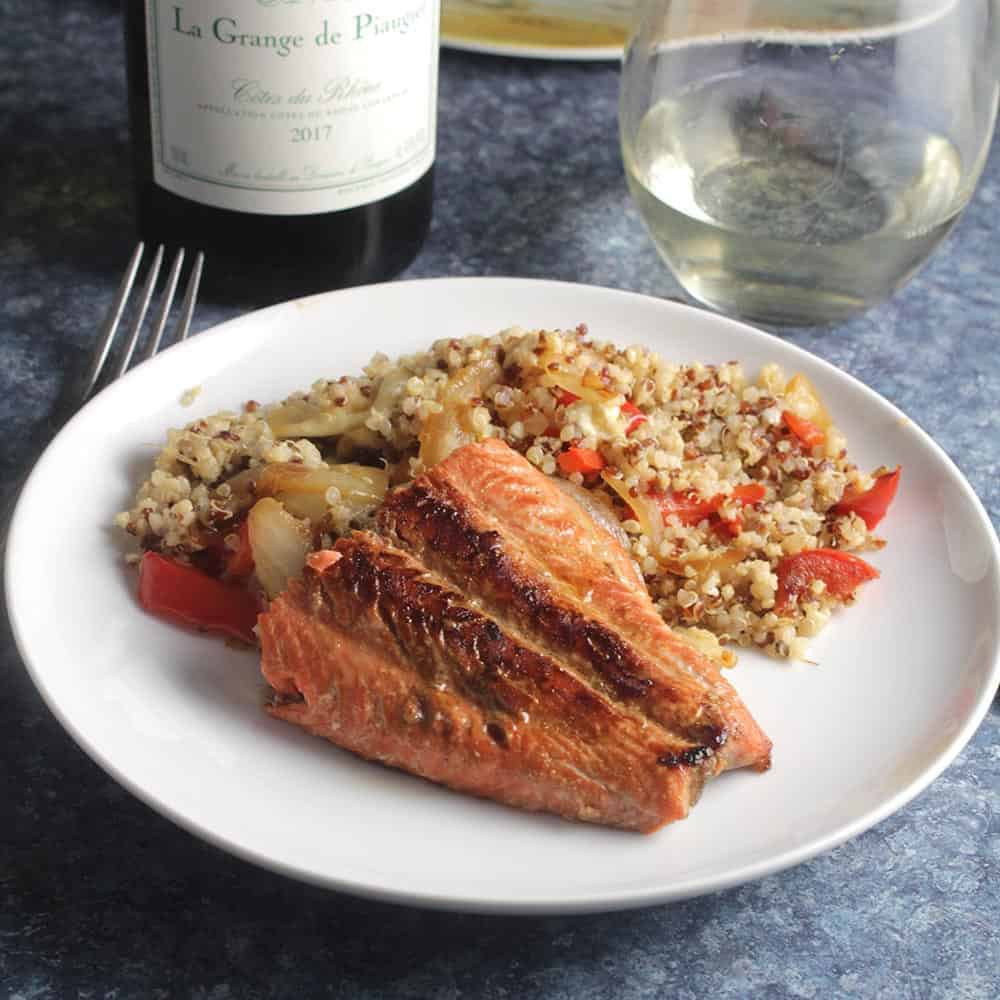 Most recently, I paired it with our Pan Seared Salmon recipe, with good results.
Today's event prompted me to learn a bit more about Domaine de Piaugier, and I found this helpful article from Charles Neal Selections.
Jean-Marc Autran, who comes from a long line of wine growers, produced the first Domaine de Piaugier wine in 1985. Over time, they have grown to produce from 3.5 hectares of Gigondas, 12.5 hectares of Sablet (I've enjoyed their Sablet red several times), and 14 hectares of Côtes du Rhône.
All of the Domaine de Piaugier grapes are hand harvested. Their vines are generally 25 to 50 years old, at their peak potential. They have a number small plots with a variety of soil types. Their wines are made from the whole clusters.
More Pairings With Rhône Red Wines
Red wines from the Southern Rhône are very food friendly! Here are some more of our favorite Rhône pairings.
Print
Small Oven Braised Brisket
A delicious, savory beef brisket recipe. Instructions for slowly braising a small, 2 lb beef brisket in the oven. We took a friend's family brisket recipe and one from Celebrate! by Sheila Lukins, shared by another friend, as starting points for this recipe.
Author: Cooking Chat
Prep Time:

10 mins

Cook Time:

3 hrs 20 mins

Total Time:

3 hrs 30 mins

Yield:

5

servings

1

x
Category:

main

Method:

braising

Cuisine:

American
For the sauce:
1 ½ cups

red wine – a Cotes du Rhone would be great, but other dry red wines will do.

1 cup

ketchup

1 cup

beef broth

1 tsp

soy sauce

1 tsp

sugar

1 tsp

dried thyme

1 tsp

paprika
Other brisket ingredients
2 tbsp

olive oil, divided

2

lb beef brisket

2

large onions, thinly sliced

4

carrots, chopped

5

cloves garlic, minced
salt and ground pepper to taste
Instructions
Preheat oven to 325 degrees.
Make the sauce: Whisk together the sauce ingredients–wine, ketchup, broth, soy sauce, sugar, thyme and paprika–in a small bowl. Set aside.
Brown the meat: Heat 1 tablespoon of olive oil on medium high in a Dutch oven or oven proof copper pan. Add the brisket, salt and pepper to taste, and brown on one side for about 5 minutes. When browned, turn the brisket over to brown the other side. After browning both sides, remove the brisket from the pan, and set aside on a platter.
Cook the veggies: Add the other tablespoon olive oil to the pan or Dutch oven on medium high. Stir in the onions, stirring occasionally. Cook until they start to turn brown and caramelize, which takes about 10 minutes. Stir in the garlic and carrots, and cook for another 5 minutes.
Start braising: Add the beef brisket back to the pan, placing it fat side up on top of the onions and carrots. Pour the sauce over the brisket. The liquid should cover between ½ to ⅔ of the meat. Cover the pan, and move to the oven. Braise for a total of at least 3 hours.
Turn the brisket: After two hours of braising, remove the brisket from the oven to check the liquid levels and turn the brisket over. If the liquid level has dipped below ½ of the meat, add a bit of stock or wine to bring it back to that level. Put the brisket back in the oven, and braise for another hour, for a total of 3 hours braising time.
Finish the brisket: After 3 hours of braising time, check the brisket by inserting a large fork into the meat. You should be able to pull it out easily. At this 3 hour point, it may well be ready to serve, or you might choose to return it to the oven for another 15 to 20 minutes of braising.
Finish sauce and serve: When the brisket is done braising, remove it to a platter. There will be a nice sauce remaining in the pan. Simmer the sauce on medium low heat, while the brisket rests for about 10 minutes. Slice the brisket, and serve topped with some sauce. We served it with mashed potatoes and the red Gigondas wine. Cheers!
Notes
These instructions are designed for a small brisket of approximately 2 lbs. If you have a larger brisket of 4 pounds or more, an hour of braising time per pound is one rule of thumb. But you may want to consult recipes for larger briskets for more timing details.
As noted, you can use a Dutch oven for this recipe. But for this and similar braising recipes, we have been going with our Copper Chef Pan.
Keywords: small beef brisket in oven, brisket recipes, oven braised brisket
Recipe Card powered by
Winophiles Explore the Rhône
Be sure to visit these great articles about Rhône wines from my fellow Winophiles bloggers!