This weekend we have had a chance to sample some very good Provence rosé wine, along with a variety of food pairings. If you like rosé, grab any of these bottles to enjoy this summer, or any time throughout the year. Disclosure:  The wines described in this article were provided as complimentary samples by the winery. As always, the opinions are entirely my own.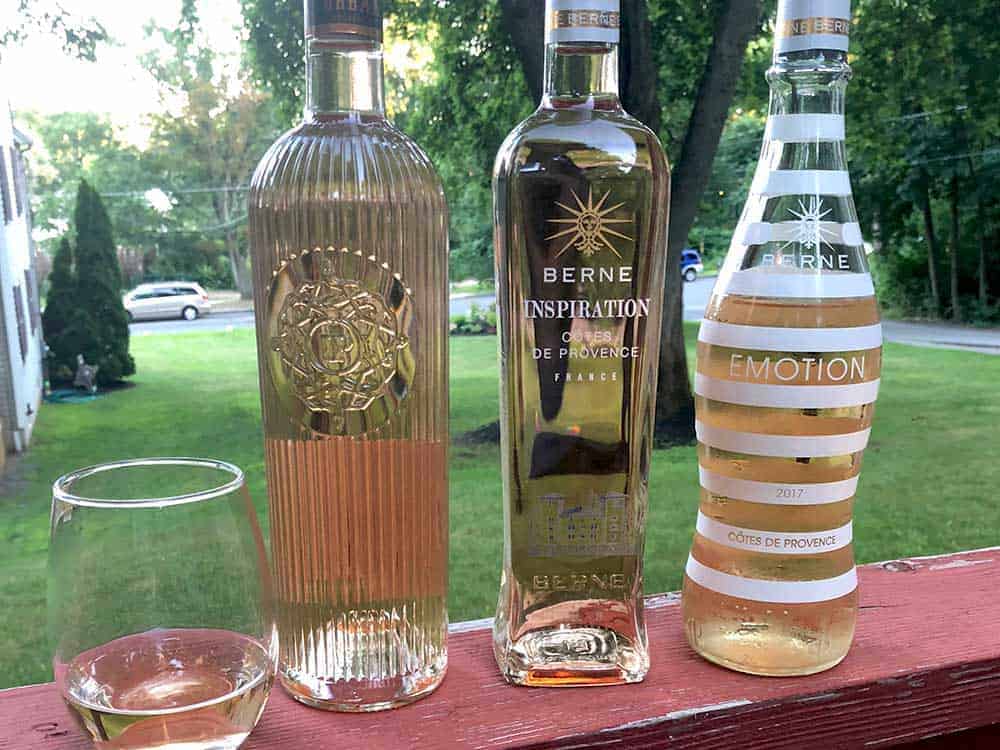 I enjoy rosés from many different wine regions, but Provence rosé is the classic pink wine to me.
With its light and refreshing qualities, Provence rosé is perfect for summertime sipping. By the poolside, on the porch, or with a light summer meal, Provence Rosé is a great choice for the season.
However, the subtle light yet flavorful taste profiles of a typical Provence Rosé make it great year round for an aperitif or as a pairing for many meals.
So when I had a chance to sample three rosés from Provence as part of the July French Winophiles group, hosted by Lauren at The Swirling Dervish, I was all in! But we ran into a little problem…the first shipment of wine for the event was damaged.
The second batch of wines didn't arrive until Friday afternoon, and we were due to publish our Winophiles post on Saturday. Fear not! As the title says, it's always a good time to sip Provence Rosé, so we opened the Emotion Rosé Friday evening after getting back from long, hot afternoon at the baseball field. Saturday evening we tried the other two rosés the Winophiles group is tasting this month, and we are ready to share our tasting notes.
Château de Berne Emotion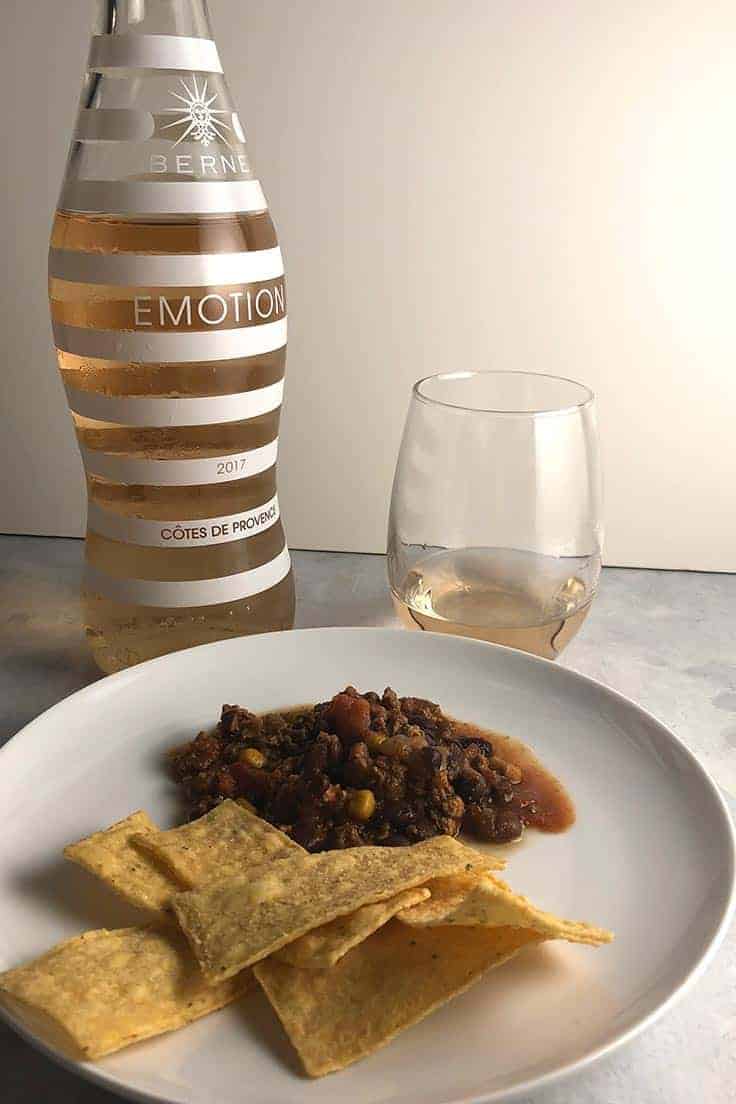 The 2017 Château de Berne Emotion Rosé ($16, 12.5% ABV) is very light pink in the glass, as is the case for all three Provence rosés we sampled. The Emotion has a delicate floral nose. I tasted honey and cantaloupe fruit. That bit of sweetness made me think the Emotion might pair well with some spicy food.
Well, it just so happened I had a bit of leftover Black Bean Turkey Chili on hand. I heated up the chili and served with some chips, and turned out to be a great match with the Emotion. Fellow Winophile Martin Redmond from ENOFYLZ had previously turned me onto the idea of rosé as chili pairing in his post on wine pairings for chili. Glad I kept that in mind!
The Château de Berne Emotion is comprised of 50% Grenache Noir, 25% Cinsault and 25% Syrah. After harvest, the grapes go through a 2 to 3 hour cold soak maceration, producing the light pink color that we associated with rosés from Provence.
The Emotion is one of two rosés we tried from Château de Berne, which is a leading producer of high quality Provençal rosé. Located in Lorgues, 25 miles from the Mediterranean, Château de Berne dates back to the 12th century. Château de Berne is now a five star Relais & Châteaux property, making it quite the special wine tourism destination. I think I need to add a visit to my bucket list! Note: Seeing as I haven't been to Provence yet, the photo of Château de Berne and the lavender field further below were provided by our partner for the post,Teuwen Communications.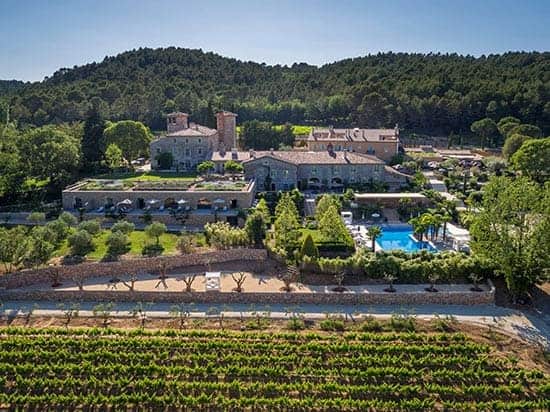 Château de Berne Inspiration
We opened the 2017 Château de Berne Inspiration last night along with the Urban Provence. The Inspiration tastes of melon and pomegranate. I liked the round mouthfeel and good structure of this rosé, which made it a good partner with the foods we paired.
The Inspiration was very good with the Prairie Breeze cheddar we nibbled on before dinner, and it paired well with the Easy Sautéed Shrimp I cooked for supper.
The Château de Berne Inspiration is made from 70% Grenache Noir, 20% Cinsault and 10% Syrah. The grapes are sourced from the property and trusted local farmers with whom the winery has longstanding relationships. The cold soak maceration process is similar to the Emotion, and is followed by fermentation in stainless steel tanks for 2 to 3 weeks prior to bottling.
2017 Urban Provence
The 2017 Urban Provence Rosé ($23, 12.5% ABV)  has more acidity than the two rosés from Château de Berne. I noted the plum fruit on the palate, and the winery description of wild strawberry, raspberry and white paper jive with our tasting.
The acidity I noted made the Urban Provence go best with the olives on our little appetizer plate, and it also paired pretty well with some Serrano ham. The winery tasting notes suggest grilled shrimp as a pairing, so it wasn't a surprise that the Urban Provence went pretty well with our shrimp. It was also a good partner for the ziti with kale pesto on our plate.
The Urban Provence is made from 45% Grenache Noir, 35% Cinsault, 15% Syrah and 5% Rolle (what they call Vermentino in Provence). The Urban Provence uses the same cold soak maceration process as the wines from Château de Berne.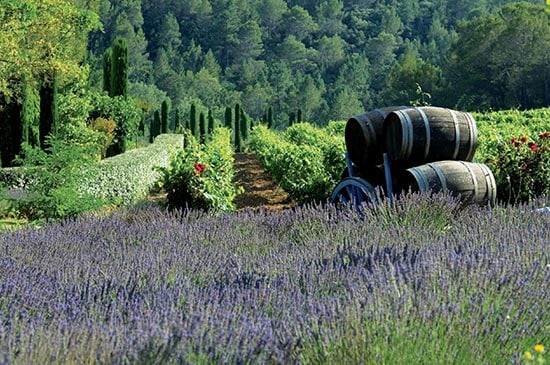 Urban Provence is made by Ultimate Province, which has a history of innovation as a Provence rosé producer. Ultimate Province is located near the village of La Garde-Freinet, 30 minutes from Saint Tropez. The estate focuses exclusively on the production of the Urban Provence. I haven't come across too many wineries that focus on just one wine! Ultimate Province has an amphitheater on the property, making it a great spot to enjoy some great Provence rosé along with live music.
More Provence Rosé Articles from the Winophiles
Learn more about Provence Rosé from my fellow French Winophiles!