Slow Cooker Honey Mustard Chicken Thighs is a delicious, easy make ahead meal. We've made it several times, giving us a chance to test out wine pairings to share with you along with the recipe. You might also like to try our Slow Cooker BBQ Chicken Thighs recipe.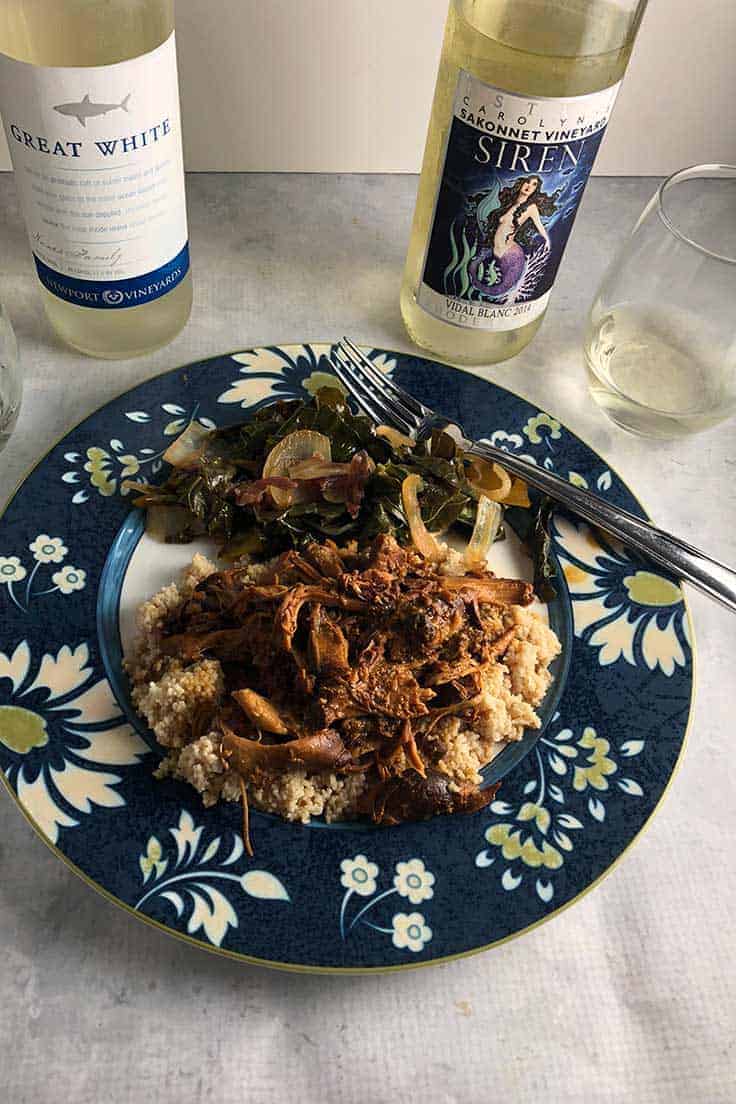 Today's Wine Pairing Weekend theme, hosted by Wendy at A Day on the Life on the Farm, is American wines from lesser known regions. New England is certainly not known for its wine, so I thought I would choose something close to home.
Knowing that white wine is easier to produce in the cool climate of New England, I thought today would be a good time to share our Slow Cooker Honey Mustard Chicken Thighs recipe that we have had waiting in the queue for awhile. If you landed here just to grab this tasty recipe, click here to jump ahead and get to the info and recipe for our honey mustard chicken thighs. If you want to here about my quest to find local wines to pair with the recipe, read on.
Finding Under the Radar American Wine
I love trying a wide variety of wine, and discovering great wines from lesser known wine regions. Ironically, I have found it is much easier to find wine from under the radar wine regions from outside the U.S. than it is to find American wines from beyond California and the Pacific Northwest.
At our local wine shop, I can pick up great wines from places like the Canary Islands, France's Savoie region, interesting but lesser known parts of Italy, Croatia, and the list goes on. I can even get a good wine from Georgia, but that would be the country, not the state.
But when asking about wines from some of the nearby Rhode Island wineries I have visited, the only option was one dessert wine from Sakonnet Vineyards.
In addition to the limited availability of local wine, I have also found it hard to find wines from up and coming American regions I'd like to sample, such as Texas and Virginia.
So I needed to do some searching for wines to open for today's Wine Pairing Weekend event. I eventually came up with two white wines from New England.
Wine Pairings for Honey Mustard Chicken Thighs
The first wine I found was the Newport Vineyards Great White ($15, 11.5% ABV). The Great White has notes of the sea's salinity on the nose. On the palate, honey and lemon fruit. Quite a bit of residual sugar, making skeptical about it as a good pairing for our honey mustard chicken thighs. I haven't been able to track down what grape varietals are in this non-vintage blend.
Newport Vineyards is located just outside Newport, Rhode Island, a beautiful coastal town. No surprise the Great White wine would have notes of the sea! While the Great White was sweet for my taste to drink by itself, it pair well with spicy foods.
Next I tracked down a wine from Sakonnet Vineyard, a Rhode Island winery that I have visited a few years back. I tend to think of Sakonnet as one of the better New England wine producers, so I wanted to include one of their bottles in this tasting.
The nose of the 2014 Sakonnet Siren Vidal Blanc had me thinking it was going to be quite a bit drier than the Great White, but it also turned out to be fairly sweet, with a brown sugar and lemon flavor profile.
The Honey Mustard Chicken Thighs has some sweetness in the dish from the honey, so I found both Rhode Island wines had too much sugar on the palate to make them a good pairing for the dish.
Fear not, I do have a wine pairing for honey mustard chicken thighs that I can wholeheartedly recommend! The 2016 Château Peybonhomme-Les-Tours ($20, 13.5% ABV), a blend of 50% Sauvignon Blanc, 50% Semillon, pairs very well with this chicken dish. This white wine is from the Blaye Côtes de Bordeaux AOC, which we sampled as part of the French Winophiles exploration of the Côtes de Bordeaux region. Disclosure: The Château Peybonhomme-Les-Tours blend was provided as a complimentary sample.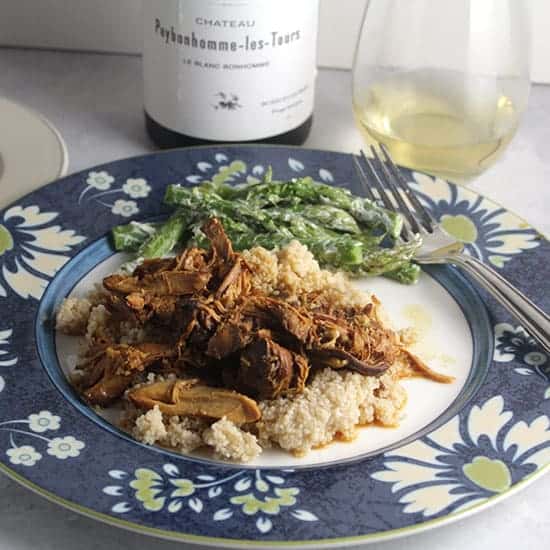 I got lemon on the nose of the white Côtes de Bordeaux, and a bright hibiscus floral taste with citrus fruit. Good minerality and refreshing acidity in this medium bodied white wine. I'd say the subtlety of this wine compared to the bottles from Rhode Island, along with the acidity, makes it a better choice for the honey mustard chicken thighs.
OK, I know today's #winePW theme is under the radar American wine regions. But the Chateau Peybonhomme does have some under the radar qualities. First, it is a white from Bordeaux, a region known primarily for its famous reds. The Sauv Blanc / Semillon blend is a good reminder there are some great white wines to be had from Bordeaux, too!
In addition, the Côtes de Bordeaux is not quite as well known as it should be given the quality of its food friendly wines, so the region fits today's under the radar theme too. Get more details on the region in my post about it, which contains links to some great articles on the area from my fellow bloggers.
Print
Recipe card
Slow Cooker Honey Mustard Chicken Thighs with Wine Pairings #winePW
Chicken thighs combined with a few simple ingredients for an easy make-ahead meal in the slow cooker. Plenty of flavor and kid-friendly!
Author: Cooking Chat
Prep Time:

10 mins

Cook Time:

8 hours 15 mins

Total Time:

8 hours 25 mins

Yield:

7

servings

1

x
Category:

main

Method:

slow cooker

Cuisine:

American
2

lbs boneless skinless chicken thighs

4

cloves minced garlic

½ cup

honey

⅓ cup

mustard

8

ozs low sodium chicken broth

½ tsp

low sodium soy sauce
salt to taste
cooked rice or couscous for serving
Instructions
Rinse and pat dry the chicken thighs. Place the chicken in the slow cooker, and and sprinkle with a bit of salt.
Combine the remaining ingredients–garlic, honey, mustard, broth and sauce–in a small bowl. Pour the mixture over the chicken.
Cover the slow cooker, and cook on low for 8 hours.
At the end of the 8 hour cooking time, use a slotted spoon to scoop out the chicken and place on a platter. Let the chicken cool for a few minutes.
After the chicken has cooled enough to work with, use two forks to shred the chicken. Return the shredded chicken to the slow cooker, and stir to combine with the sauce.
Let the shredded chicken rest in the sauce, with the slow cooker on the warm setting, for about 10 minutes prior to serving. This helps the flavors meld together.
Plate a serving of rice or couscous. Using a slotted spoon, scoop a serving of chicken over the rice, and then top with a bit of the remaining sauce. Repeat for the additional servings. enjoy with a good glass of wine!
Notes
Our 12 y.o. isn't a big mustard fan so I used more honey than mustard. You could use a 1 to 1 ratio of honey to mustard if you like. I have also done just ¼ cup mustard but that is a bit sweeter than I like.
Keywords: honey mustard chicken thighs, slow cooker chicken recipes, easy chicken recipes
Recipe Card powered by
Under the Radar American Wine Articles from #winePW
Be sure to check out all of the interesting articles about Under the Radar American Wines from the Wine Pairing Weekend bloggers!
Be sure to check out all the great Wine Pairing Weekend Articles about Under the Radar American Wine Regions! And join us for a live Twitter chat on the topic, using hashtag #winePW, at 11 a.m. ET and 8 am PT on Saturday, July 14, 2018. You can view past and upcoming Wine Pairing Weekend events here.