This Ziti with Salmon and Kale Pesto recipe combines zesty kale pesto with healthy salmon for a flavorful pasta dish. We paired it with Napa Chardonnay from Clos Pegase. Full disclosure: the wine was sent to me as a complimentary sample.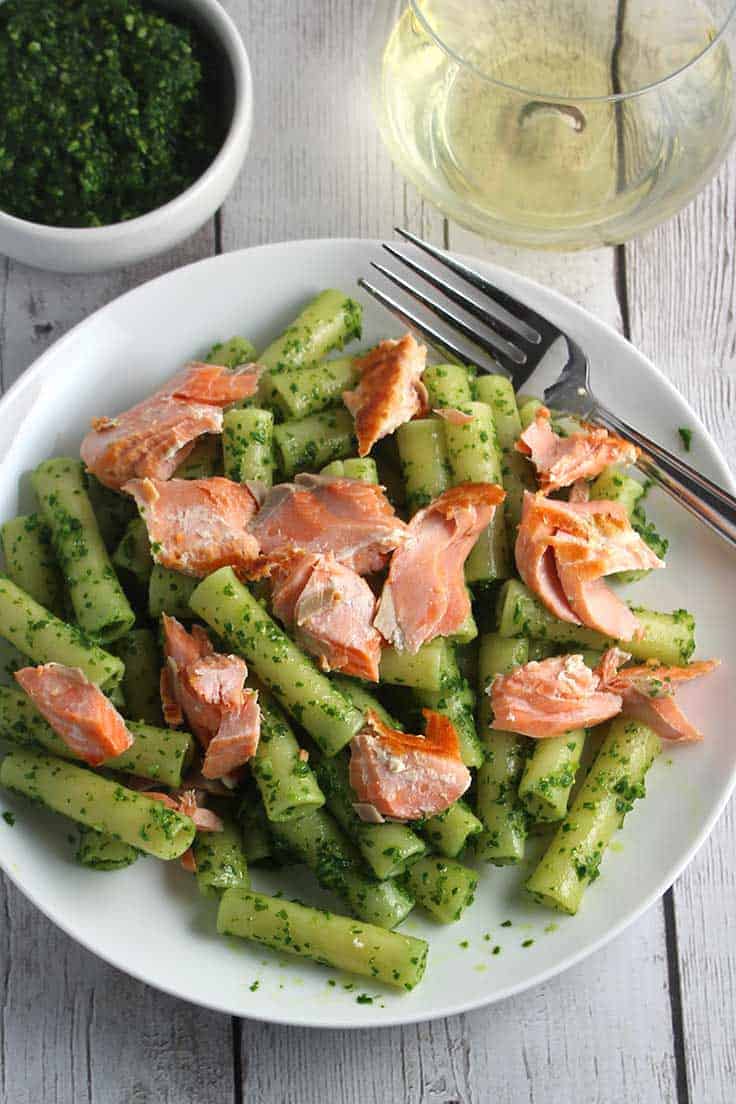 This Ziti with Salmon and Kale Pesto is definitely a go-to recipe for me.
I love pesto with seafood, and salmon is one of my favorite fishes. Jodi, on the other hand, isn't much of a fish fan, so she is able to enjoy the ziti with kale pesto minus the salmon when I make this. B likes salmon but he passes on the pesto. So basically there is something for everyone when I make Ziti with Salmon and Kale Pesto, even if I'm the only one that actually enjoys it as presented here!
In addition to being very tasty, Ziti with Salmon and Kale Pesto packs a lot of nutrition between the protein rich salmon and the vitamins and minerals from the kale. I like traditional basil pesto too, but given the nutritional benefits of kale and its year-round availability, I make kale pesto more often.
I often make a double batch of kale pesto to have extra for quick meals during the week. Check out this post for more ways to use kale pesto.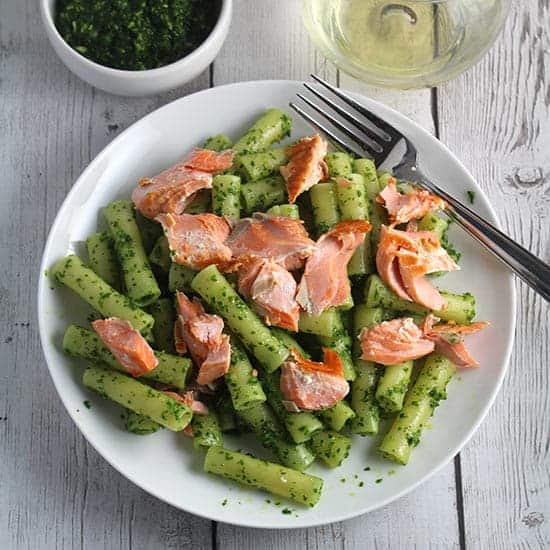 Making Ziti with Salmon and Kale Pesto
Making the batch of kale pesto is the first step here. The recipe is pretty straightforward, combining all the kale pesto ingredients in a food processor. I use pumpkin seeds due to a nut allergy in our house, and find they work well as a substitute. You could definitely use pine nuts or walnuts in place of the pumpkin seeds if you prefer.
Start the water boing for pasta as you make the kale pesto. The salmon cooks very quickly so wait to start the fish until the pasta is done and tossed with some of the kale pesto.
The salmon gets pan seared for 4 to 5 minutes on the skin side, 2 more minutes on the other side. It may be done at this point or need a couple more minutes on the skin side. You don't want to overcook that salmon!
For more tips on the pesto, check out our kale pesto recipe post!
Wine Pairing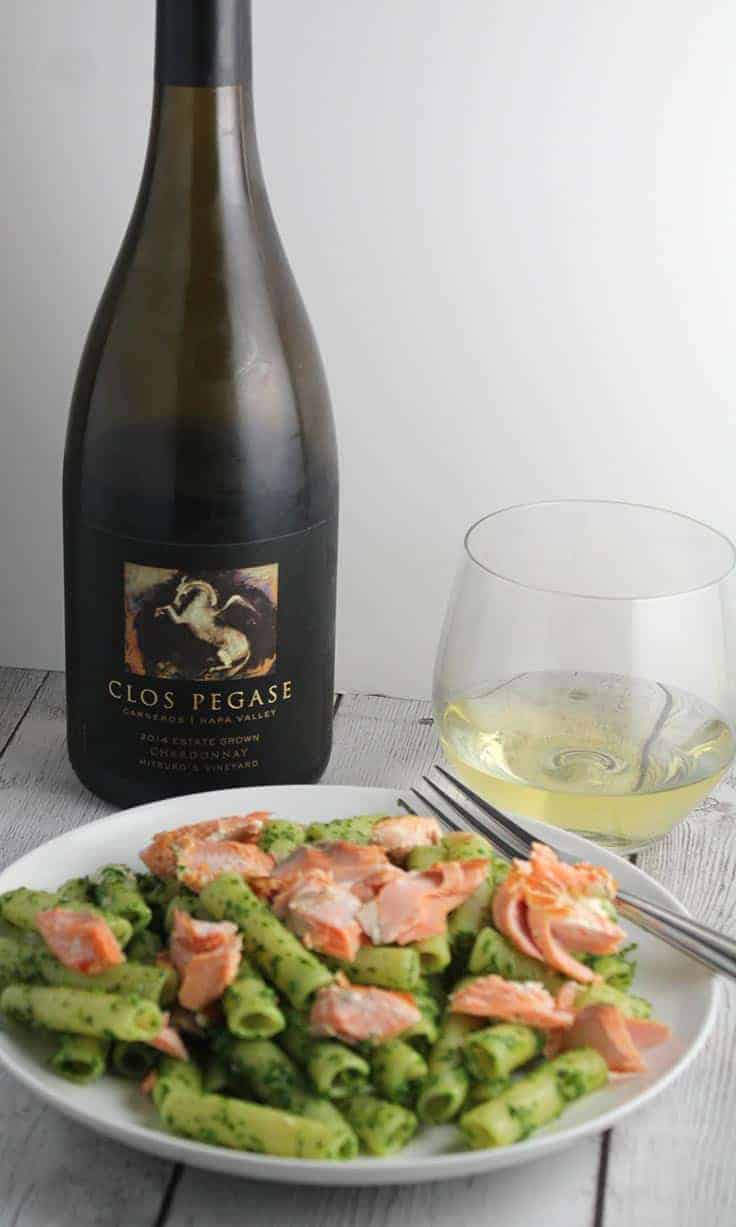 I often pair salmon with Pinot Noir, but when salmon is combined with kale pesto, I am more inclined to pair the fish with a white. A fairly full bodied white works best with salmon, so I thought our ziti with salmon recipe would be a good night to try the 2014 Clos Pegase Mitsuko's Vineyard Chardonnay ($30, 14.1%) that I received as a complimentary sample.
I noted a pleasant, light herbal quality to the nose of the Clos Pegase Chard. Light butterscotch and lemon taste, matched up nicely with the salmon and kale pesto. A very good Chardonnay, and it works well as a pairing for the Ziti with Salmon and Kale Pesto.
Mistsuko's Vineyard is located in the cooler part of the Napa Carneros region, which may be why this wine is more subtle and refined than many California Chardonnays. This helps make it a good partner for food as well as good on its own. For more information on this Clos Pegase Chardonnay, visit the winery website.
I make this ziti with salmon and kale pesto recipe quite a bit, so have a chance to try out different wine combinations. Recently I served the recipe with the 2016 Ottella Lugana ($17 , 12.5% ABV), a crisp white wine from Veneto, Italy made from Turbiana, a clone of Trebbiano. This wine definitely picks up the garlicky pesto flavors well, though it is a bit light for the salmon.
Print
Recipe card
Ziti with Salmon and Kale Pesto
Pan seared salmon served with ziti and kale pesto for a tasty and healthy pasta meal.
Author: Cooking Chat
Prep Time:

15 mins

Cook Time:

20 mins

Total Time:

35 mins

Yield:

3

servings

1

x
Category:

Main

Method:

stove top

Cuisine:

Italian
10

ozs ziti

12

ozs wild salmon fillet

2 tbsp

extra virgin olive oil

½ tsp

fresh rosemary, minced

1 tbsp

fresh lemon juice

2 tsp

champagne vinegar (other light vinegar is OK)
pinch of salt

1 tbsp

canola oil
FOR THE KALE PESTO

4 cups

tightly packed kale leaves, stems removed

3

garlic cloves

2 tbsp

pumpkin seeds, lightly toasted (pine nuts or walnuts would work, too)
generous pinch red pepper flakes
salt and pepper to taste

½ cup

grated parmesan cheese

⅔ cup

extra virgin olive oil
Instructions
Add the kale and garlic to a food processor, coarsely chopping to create enough room for the other ingredients.
Add the pumpkin seeds, red pepper flakes, salt and pepper, cheese, and olive oil, and puree until it comes to a nice smooth consistency. Set the pesto aside.
Put water on to boil as you make kale pesto. Cook the ziti according to package directions, and toss with about 3 tablespoons of the kale pesto. Cover and keep warm on the stove while you cook the salmon.
As the pasta cooks, coming the olive oil, rosemary, lemon juice and champagne vinegar in a large bowl.
When the pasta is almost done, rinse the salmon and pat dry. Place the salmon briefly in the marinade flesh side down, then turn it over to marinade for a few minutes skin side down.
Start cooking the salmon right after tossing the ziti with the kale pesto. Heat the canola oil on medium high in a nonstick skillet. When the pan is hot, add the salmon skin side down. Cook for 4 to 5 minutes without moving the salmon. After this initial cooking time, carefully turn the salmon over with a spatula.
Sear the salmon for 2 more minutes, flesh side down. Turn the salmon back over to the skin side. Depending on the salmon thickness and how you like it, the salmon may be ready now or need 2 more minutes cooking skin side down.
When the salmon is done, remove it to a platter. Break the salmon into serving portions.
Plate a serving of the pasta, topped with a portion of serving. Pass additional kale pesto at the table, and enjoy!
Keywords: salmon with pesto, kale pesto and fish
Recipe Card powered by