Today I am sharing about My Go-To Wine for Curry as part of today's Wine Pairing Weekend exploration of "Old Standby Wines". Read along to see what we paired with our Curried Chicken Thighs recipe, and hear about some other wines we open regularly.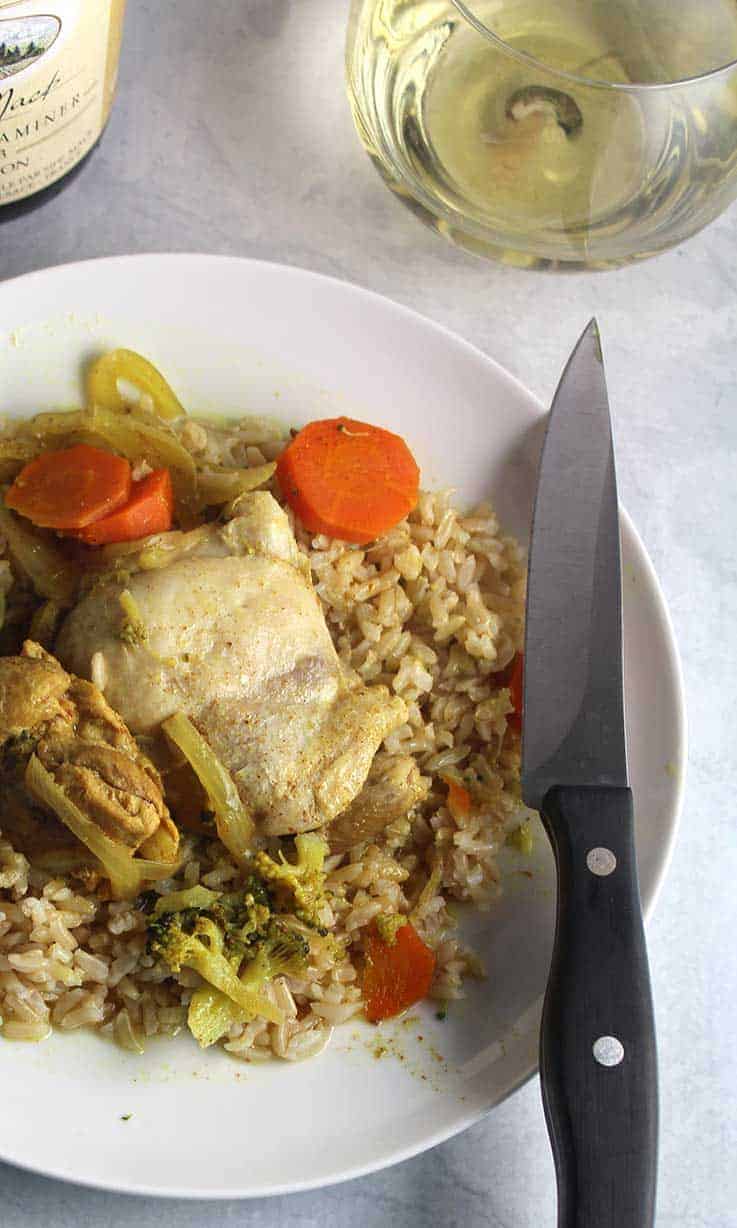 I'm a big fan of Indian food, and if you've visited Cooking Chat before you probably know I like to pair wine with just about every food we enjoy. So over the years I've done a good amount of experimenting with wine for curry, and have found that there is a lot of interest in finding wine for Indian food.  I have landed on a go-to wine for curry, but before sharing about that let me mention a few other go-to wines.
Old Standby Wines for Wine Pairing Weekend
The #winePW group often shares wine picks that are off the beaten path. I'm thinking of a recent #winePW event when we were chatting about wines from Morocco, Turkey and the Canary Islands, for instance. We are a group that is interested in trying different wine and food pairings and sharing about the experience.
As much as the #winePW group likes to experiment, I'm sure we have wines we gravitate toward on a regular basis. Perhaps wines that we might not think to blog about. Today, Wendy at A Day in the Life on the Farm  had the great idea of share our "old standby" wines.
Before talking about my go-to wine for curry, let me mention a few other of my standby wines. One standby here is definitely Saint-Peyre Picpoul-De-Pinet, a crisp white wine from the Languedoc region of France. Picpoul is a white wine grape varietal that tastes something like a restrained Sauvignon Blanc (i.e. not too much grapefruit). This particular Picpoul goes for about $10, and is excellent paired with pesto dishes, shrimp and chicken.
Another go-to wine here is the Bouchard Aine & Fils Pinot Noir. This French Pinot also is about $10. Decent Pinot for $10 is a very rare find, but this one qualifies and thus we have it pretty regularly.
Wine for Curry
Unlike some other great cuisines, Indian food did not evolve in a food culture that focuses on the combination of food and wine pairings. I have taken that as an opportunity to experiment with different pairings. Through that experimentation, I have found Riesling to be a pretty reliable choice for the spice that comes with Indian curry. I've also had some good luck pairing Italian wine with Indian Curry, finding that some food friendly Italian white wines have the versatility to work with Indian food.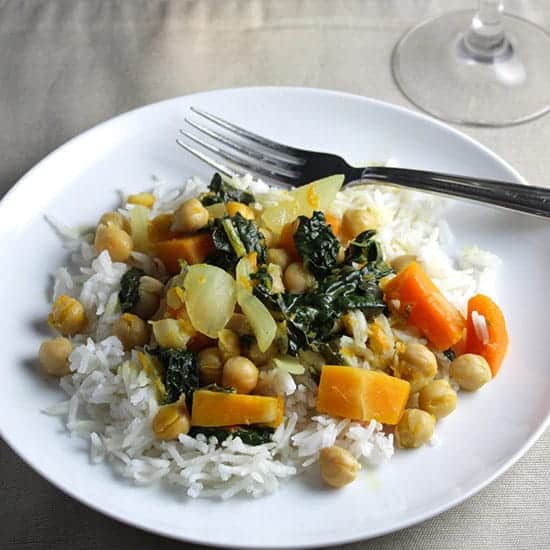 I also have been intrigued with the idea of finding a good red wine pairing for Indian food. I've had moderate success with a Carmenere, and found an Italian red wine that worked well with moderately spiced Indian food. I can't report that I have a go-to red wine for Indian food yet, that is a work in progress!
My Go-To Wine for Curry
Ok, enough buildup. It's time to open the envelope and tell you about my go-to wine for curry! It is the Sipp Mack Gewürztraminer ($20, 13.5% ABV) from Alsace. We opened the 2013 vintage of the Sipp Mack to go with our Curried Chicken Thighs recently.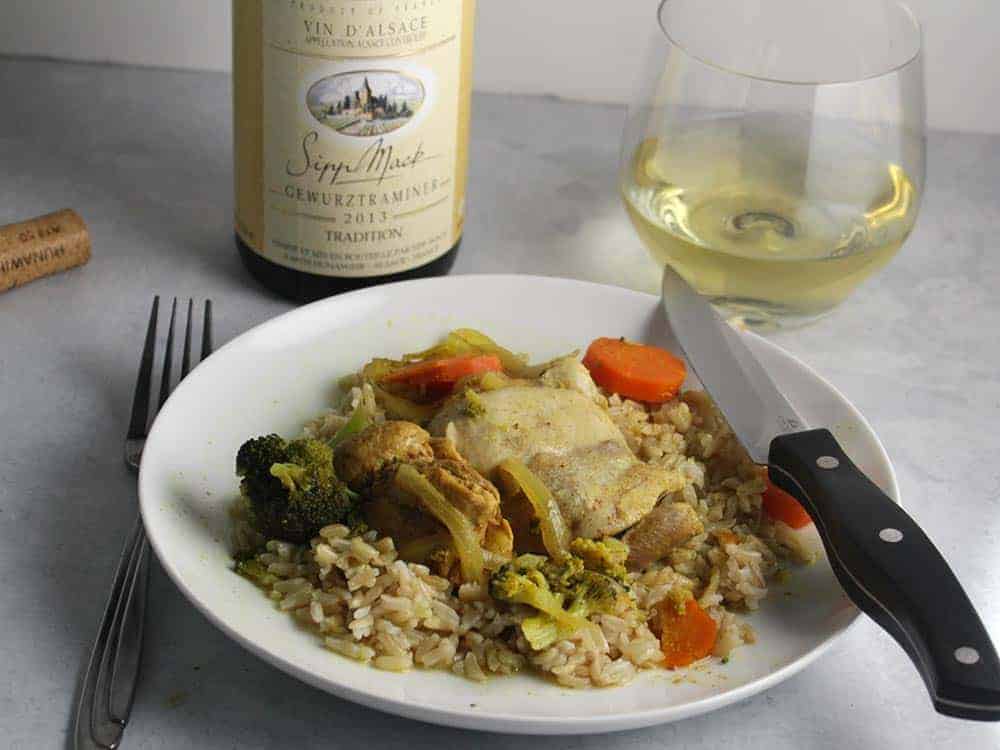 The Sipp Mack Gewürz has a floral nose, with taste of honey, pear, and some cinnamon spice. The wine also has a touch of minerality, always good for food pairings. The sweet honey aspect of the wine makes it a refreshing contrast for spicy curry dishes, plus the spice notes make it play nicely with the complex flavor of Indian food.
My favorite local Indian restaurant, Zaika Bistro, didn't have a liquor license when they first opened, so I could bring in the Sipp Mack Gewürz to go with their tasty curries. Then one evening I went into Zaika with a chilled bottle of the Sipp Mack ready to go, only to find they are now offering. Alas, I had to save the Sipp Mack for some homemade curry and order a glass of the Riesling from the menu.
Curried Chicken Thighs Recipe
Given how much I like Indian food, I'm pleased to report that our 11 year old is now warming up to curry! When we first began taking B out for Indian, he would have some of the bread, a bit of samosa, and a lot of mango juice. But he's been gradually getting a taste for chicken curry; in fact the last time we went he polished off nearly an entire order of chicken curry along with plenty of bread and rice.
Given B's interest in curry, we've made a project of experimenting with curry recipes. It gives him a chance to have some input into how much spice we use. We have found this Curried Chicken Thighs recipe from Food Network to be a good starting point for our experimentation. To moderate the heat for our 11 year old's palate, we dropped the cayenne out of our version and reduced the quantity of curry powder. The result in our recipe is definitely a mild chicken curry; in fact we plan to increase the spice quantity next time.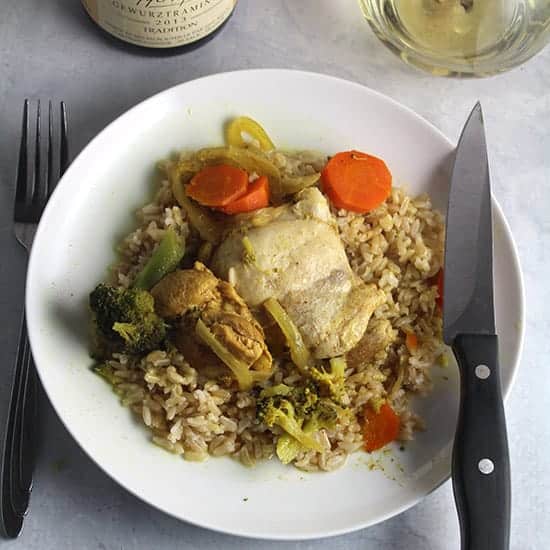 Given that this version of the curried chicken thighs is mild, you don't necessarily need the honey taste of the Gewürz as an offset. But the Sipp Mack still goes along fine with this recipe, I'd simply say this bottle shines more as a pairing when matched up with something spicier. I really liked how this Sipp Mack Gewürz pairs with our Chipotle Chicken and Black Beans, for instance.
Given that this version of curried chicken is mild, you can also pair it with a lighter red. We have enjoyed this dish paired with Pinot and a Portuguese red blend, for instance.
Print
Recipe card
Curried Chicken Thighs
Chicken thighs simmer with curry and vegetables for a mild flavored Indian recipe.
Prep Time:

10 mins

Cook Time:

30 mins

Total Time:

40 mins

Yield:

6

servings

1

x
Category:

Main

Cuisine:

Indian
2 tbsp

canola oil, divided

9

chicken thighs
salt and pepper to taste

1

large onion, chopped

3

to

4

teaspoon curry powder

1 ½ tsp

cinnamon

1 tsp

cumin

½ tsp

turmeric

½ tsp

garam masala

2

carrots, peeled and chopped

1

broccoli floret, chopped (about

1 cup

)

2 cups

low sodium chicken broth

¼ cup

heavy cream (optional)
Instructions
Heat 1 tablespoon of the oil in a large skillet on medium heat. Add the chicken, brown on one side, about 5 minutes, then turn to brown on the other side, about 3 to 4 more minutes. Remove the chicken to a platter and set aside.
Add the other tablespoon of oil to the skillet, followed by the onion. Cook the onion on medium heat until it begins to soften, stirring occasionally. Takes about 5 minutes.
Add the spices to the onion — curry, cinnamon, cumin, turmeric and garam masala. Stir to combine, and cook for a couple minutes until the fragrance from the spice is released.
Stir in the carrots, followed by the chicken stock. Add the chicken back into the pan, along with the broccoli.
Stir to combine all the ingredients and bring to a simmer. Cover and simmer 15 minutes until the chicken is cooked through. Stir in the optional cream if using. The curried chicken thighs are ready to serve.
Plate a serving of basmati rice, then scoop a serving of the chicken curry to serve over the rice. Enjoy!
Recipe Card powered by
Old Standby Wines from Wine Pairing Weekend
Join the conversation about old standby wines by participating in our live Twitter Chat on Saturday, April 8. Simply tune into the #winePW hashtag on Twitter at 11 a.m. ET / 8 a.m. PT on 3/11 and join the conversation. Please also make plans to join us for the May Wine Pairing Weekend event, when Gwendolyn at Art Predator will be hosting on the topic of "Wine Pairings for Brunch"on May 13. You can get a list of all the past and upcoming #winePW events by visiting the Wine Pairing Weekend page.