We love to feature salmon regularly for dinner in our home. Salmon is a lean protein, loaded with healthy fat and other beneficial nutrients. To help you put salmon on your table regularly, we have assembled a collection of the Best Healthy Salmon Recipes. This includes some of our favorites from Cooking Chat along with ideas from fellow bloggers. Scroll through to get some ideas, or jump ahead to the section of interest: Salmon Recipes from the Stovetop | Easy Baked Salmon Recipes | Grilled Salmon Recipes
Healthy Salmon Recipes from the Stovetop
I find that pan searing salmon on the stovetop is probably the easiest way to prepare healthy salmon recipes. Cooked on fairly high heat on a nonstick pan, pan seared salmon takes about five to seven minutes to cook. You get a bit of caramelization on the outside of the fish, and the salmon flavor is sealed in nicely. Check out our collection of healthy salmon recipes from the stovetop for recipe ideas.
Asian Greens with Pan Seared Salmon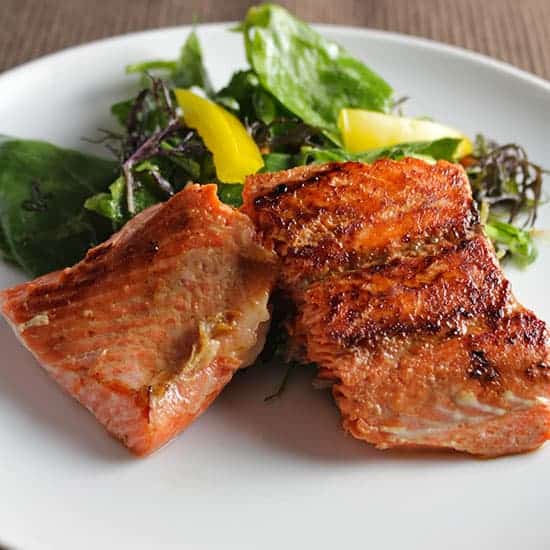 Our simple Pan Seared Salmon gets served with Asian greens for a super quick and healthy salmon recipe.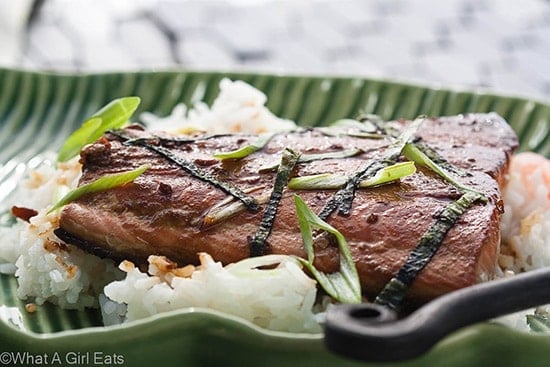 Five ingredients and on the table in 15 minutes? Surely that's enough to quality this Mirin-Glazed Salmon from What a Girl Eats for a spot in our Best Healthy Salmon Recipes list!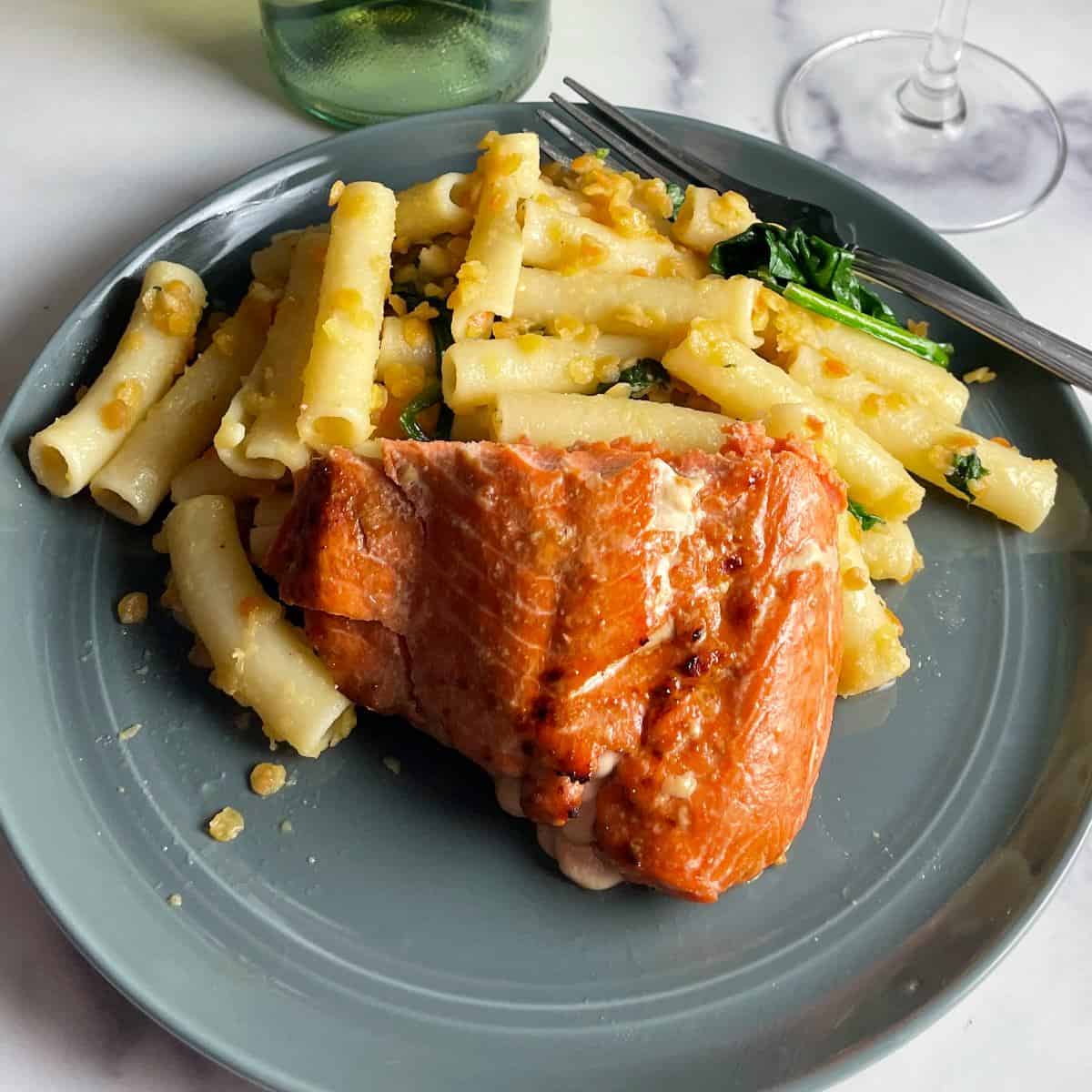 We got an air fryer toward the end of 2022, and have quickly been putting it to good use! This Easy Air Fryer Salmon gets a quick marinade in a honey soy blend for delicious flavor.
Quinoa with Salmon and Strawberries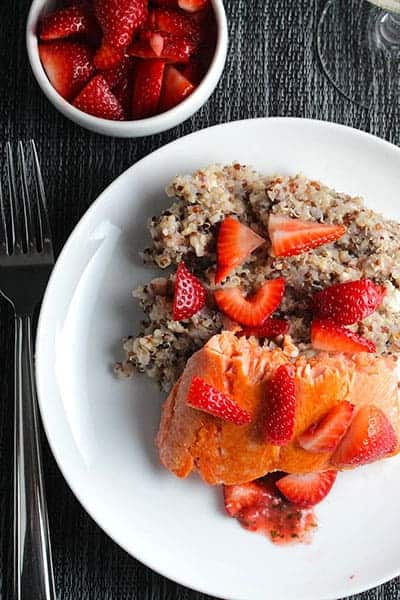 Here's one of our favorite healthy salmon recipes. Pan seared salmon topped with vitamin C rich strawberries, served over quinoa. Can't get too much healthier
Blackened Salmon Salad with Huckleberry Vinaigrette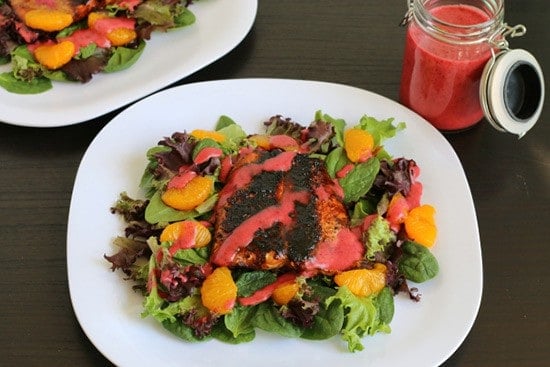 This Blackened Salmon Salad with Huckleberry Vinaigrette from My Gluten-Free Kitchen is a nice, light salmon dish. And it's gluten-free, helpful for those with that concern.
Asian Pan Fried Salmon Cakes with Ginger Lime Sauce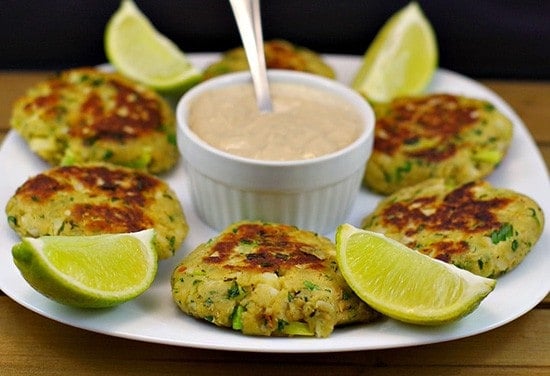 This recipe for Pan Fried Salmon Patties from Food Meanderings uses canned salmon, which would be a convenient way to get more salmon into your diet. The dish also comes with a wine pairing suggestion– try it with a Vinho Verde, says Terri.
Salmon with Mushrooms
is such a good combo I've got two versions of it in this roundup! The other is in the grilling section. Salmon topped with mushrooms is especially good served with a Pinot Noir.
Easy Baked Salmon Recipes
Baking salmon is an easy method for preparing the healthy fish. Follow the timing given in these recipes, put your salmon in the oven along with the fixings called for, and you will have a healthy meal ready in fifteen to twenty minutes.
Mediterranean Salmon Foil Packets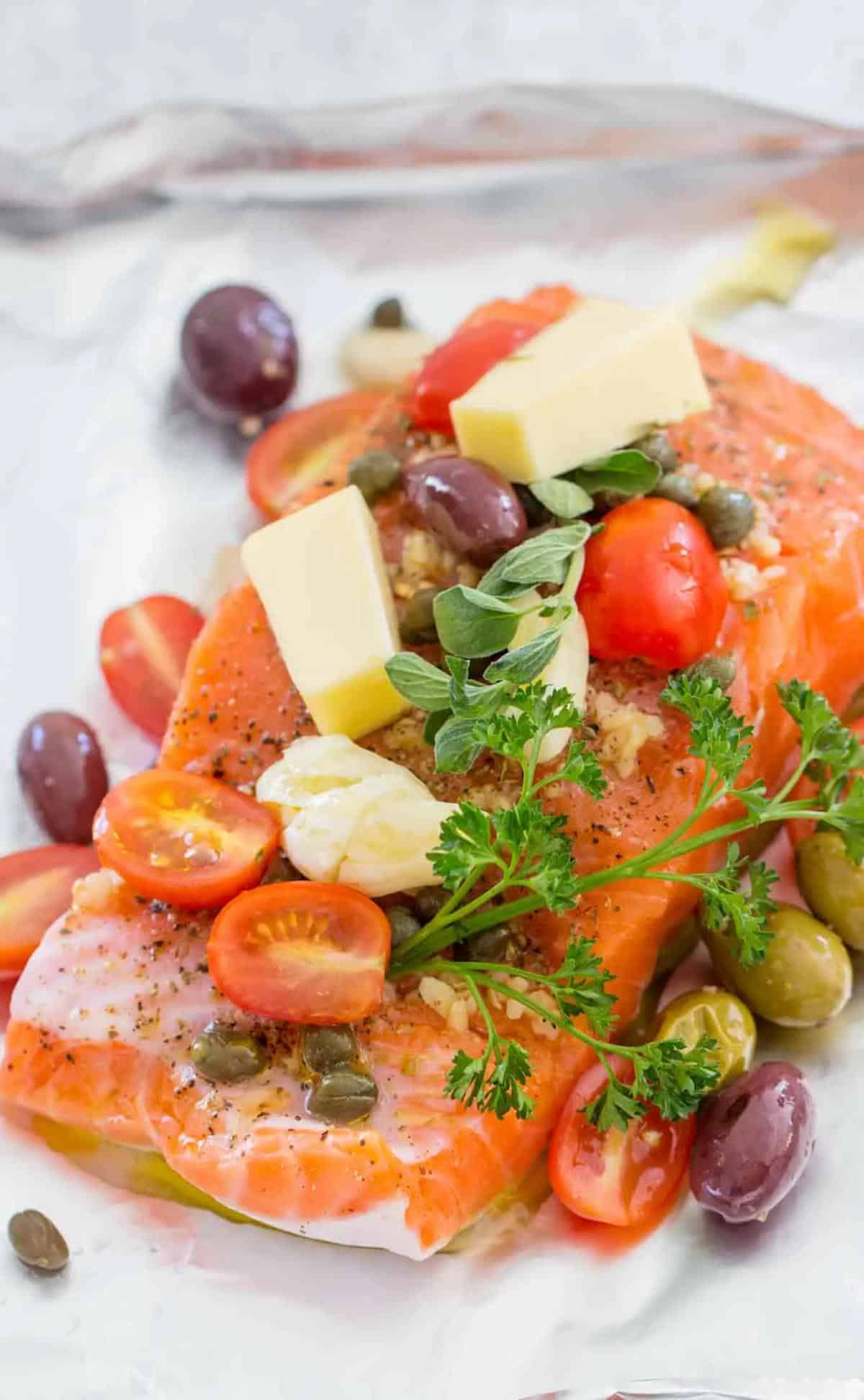 From Sweet & Savory Meals, we have Mediterranean Salmon Foil Packets with capers, olives, oregano, garlic, and tomatoes are incredibly flavorful, flaky and tender, ready in just 20 minutes.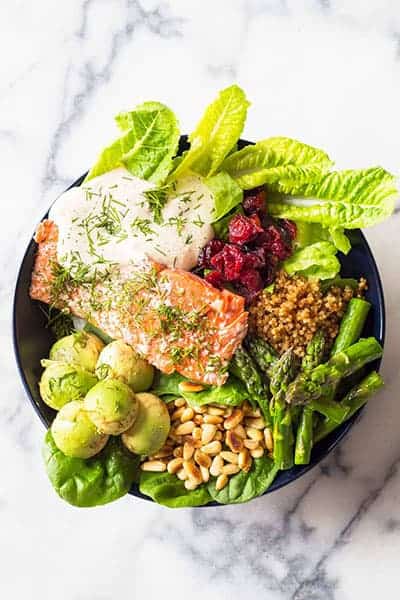 Easy instructions from Green Healthy Cooking for baking sockeye salmon and combining it with greens for a healthy Sockeye Salmon Salad.
Sweet and Spicy Salmon Tacos with Apple Almond Slaw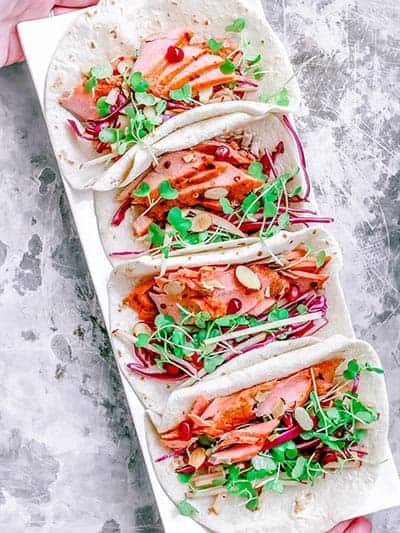 The Sweet and Spicy Salmon Tacos from Killing Thyme come with a tasty apple almond slaw. A salmon recipe inspired by BBQ!
Roasted Salmon with Greens Mustard Sauce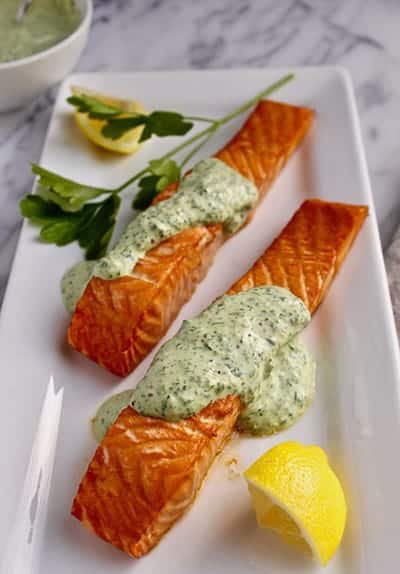 Kelly from The Hungry Bluebird tells us how this Roasted Salmon recipe turned her into a salmon fan. The marinade is key to reducing the fishy flavor, Kelly tells us.
Sheet Pan Maple Dijon Salmon With Brussels Sprouts and Sweet Potatoes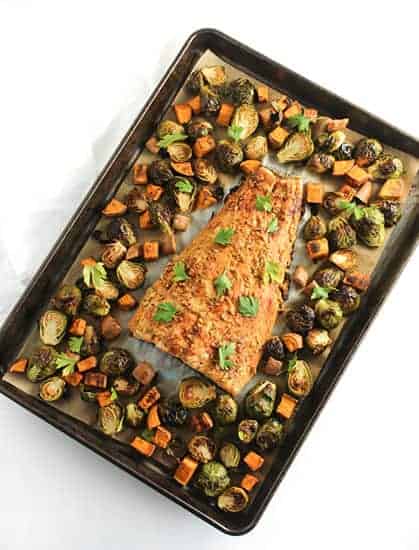 This Sheet Pan Maple Dijon Salmon recipe from Lively Table adds two more nutrient rich foods alongside the salmon– sweet potatoes and Brussels sprouts. I definitely need to try it!
Sriracha Honey Salmon Vegetable Packets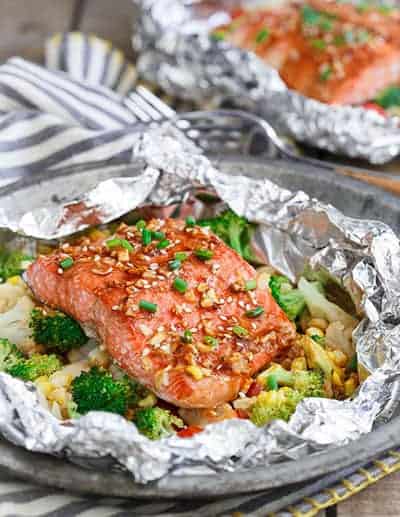 This Sriracha Honey Salmon from Running To The Kitchen comes with veggies…along with Gina's story of a trip to Alaska to learn more about wild salmon and the fishing industry there.
Grilled Salmon Recipes
We are in a cold stretch where double digit temps are considered "warm". Yesterday's blast of snow makes grilling seem far away, but when that snow does melt, I will be grilling our salmon! Here are some great healthy grilled salmon recipes for you to think about as we await the spring.
Grilled Salmon with Cauliflower Rice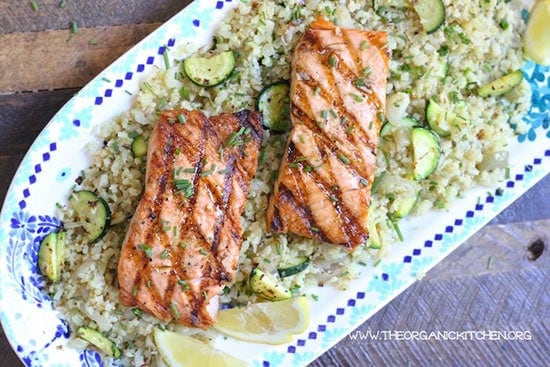 Grilled Salmon with Cauliflower Rice from The Organic Kitchen sure looks good! Stop by the article for tips on how to get those grill marks, too.
Grilled Lemony Garlic Butter Salmon in Foil Packets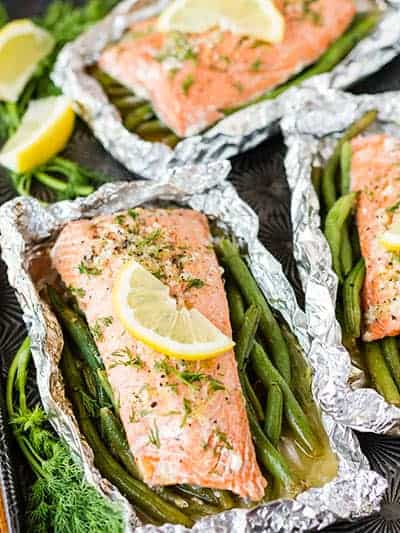 This recipe from Unsophisticook gives you a good method for grilling salmon in foil packets along with some lemony garlic butter and green beans.
Grilled Salmon with Portobello Mushrooms
I love the combination of salmon and mushrooms, so had to include one of my recipes that put those together for you. I picked the Grilled Salmon with Portobello Mushrooms, as this doesn't use any cream or butter for the mushrooms as some other versions do. Oh yes, Pinot Noir is perfect with salmon and mushrooms, too.
Minty Citrus Gremolata with Grilled Salmon
Lots of flavors in this tasty Minty Citrus Gremolata with Grilled Salmon recipe from Beyond Mere Sustenance.