Today we share our delicious Brazilian Beans, Greens and Bacon skillet recipe, which we made to prepare with a Brazilian sparkling rosé wine from Salton Winery. The recipe is loosely based on the Brazilian dish Feijão Tropeiro. Disclosure: The sparkling rosé was provided as a complimentary sample by Wines of Brasil.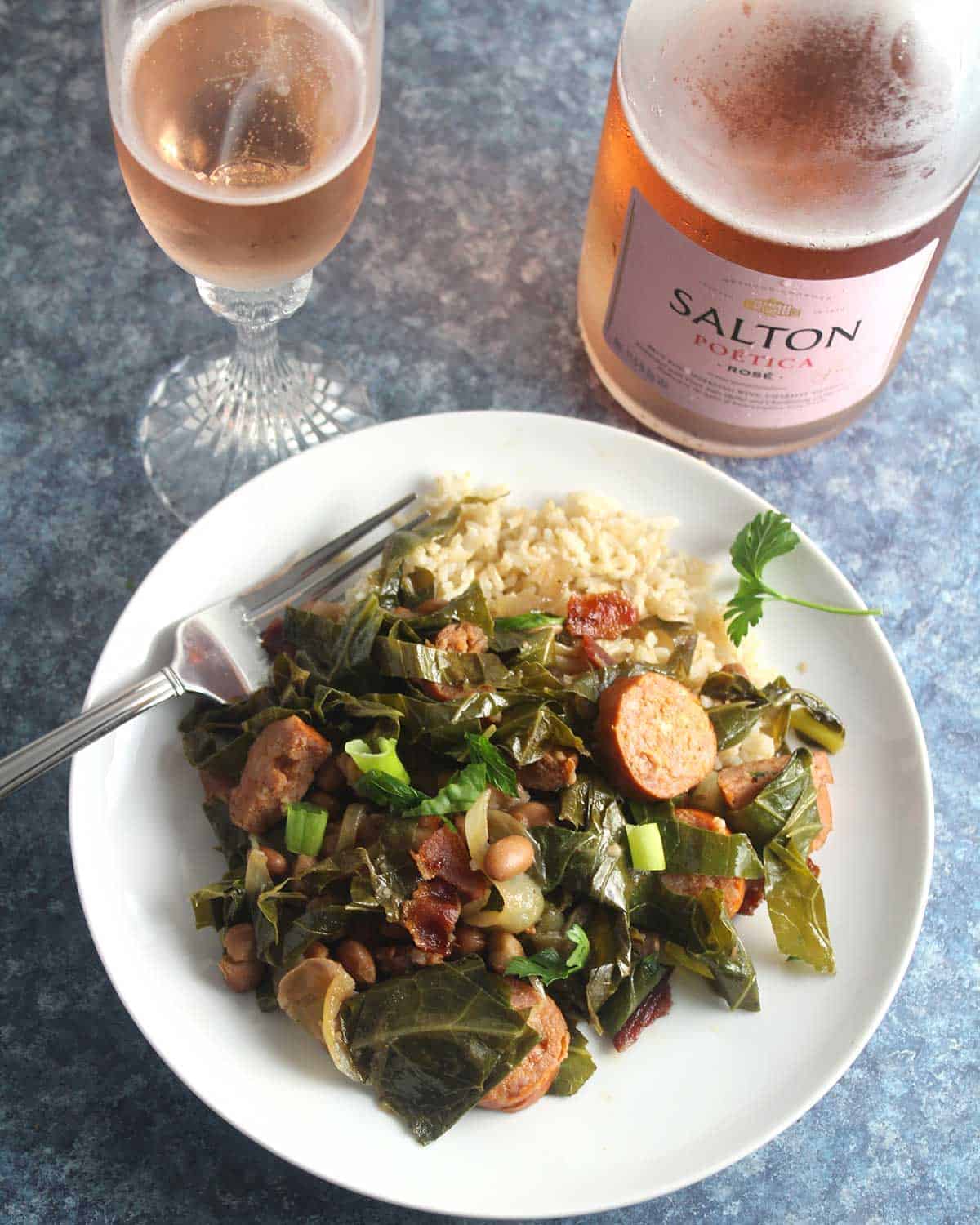 I love trying wines from new regions, so I was definitely looking forward to this month's Wine Pairing Weekend event featuring wines of Brazil. Thanks to Susannah from Avvinaire for arranging the wine samples and hosting the event!
There was a bit of mystery involved in today's #winePW event, as the wine arrived the day before I planned to shop for ingredients to make a meal to pair with the Brazilian wine. I'd long been meaning to make feijoada, a traditional Brazilian stew with pork and black beans.
But when I opened the wine shipment and found a bottle of sparkling rosé, I began looking at Brazilian that might go well with bubbly. I came across a recipe for the Feijão Tropeiro from Olivia's Cuisine, which featured bacon as a prominent ingredient. Bacon and bubbly can work nicely in my experience, so I decided to work from that recipe.
Feijão Tropeiro translates to Cattleman's Beans, as the ingredients traveled well on the long trek's to move cattle and commodities. Olivia's article provides more detail on the history of the traditional Brazilian recipe
Cooking Chat Brazilian Beans, Greens and Bacon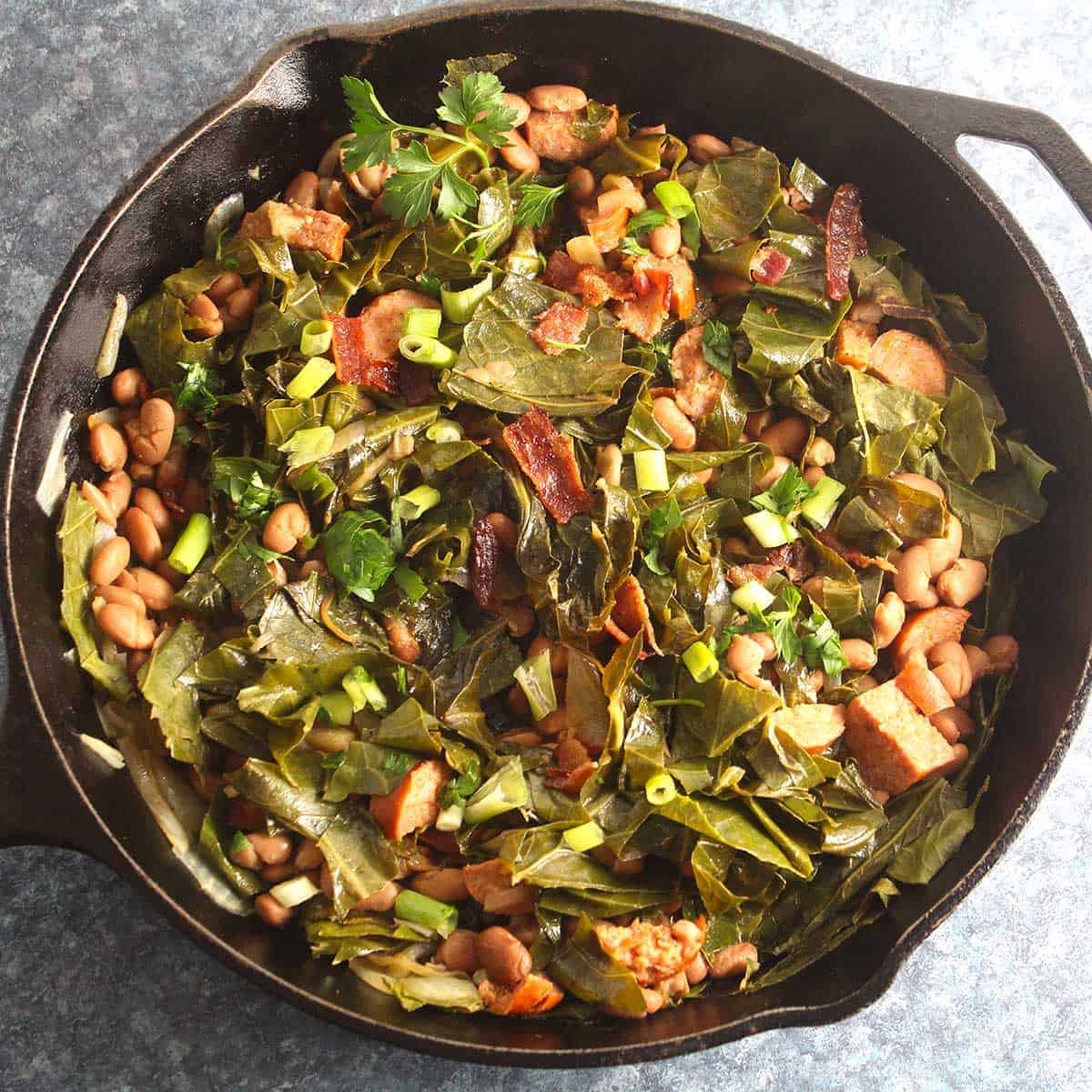 Sometimes when cooking a new type of dish, it takes a couple of times for it to really come out well. This wasn't one of those times.
Jodi and I eagerly dug into this flavor Brazilian beans dish. Savory bacon and flavorful, spicy chorizo sausage flavored the hearty beans. And all that flavor certainly made it easy to eat our veggies! Collard greens, in this case.
Trying this new recipe along with Brazilian wine made it even better, as you might suspect. We will get to the wine soon, but first, a little more about the dish.
While this is my first time trying a Brazilian recipe, I'm no stranger to cooking greens with bacon and sausage. Although typically it is one or the other! My popular Portuguese Kale Soup recipe is a good example of greens cooked with sausage. Using bacon and sausage in this Brazilian beans recipe certainly doubles down on the flavor.
The Olivia's Cuisine recipe I referenced called for Calabresa sausage, which is common in Brazil, as is linguiça. Some other Brazilian recipes I referenced noted that Mexican chorizo might be easier to find in the US and is a suitable substitute. So I went with the chorizo, but you could definitely try this recipe with one of the Brazilian options if you find it. But the North Country Mexican chorizo does have great flavor — I've included my Amazon affiliate link in case you want to order some for this recipe.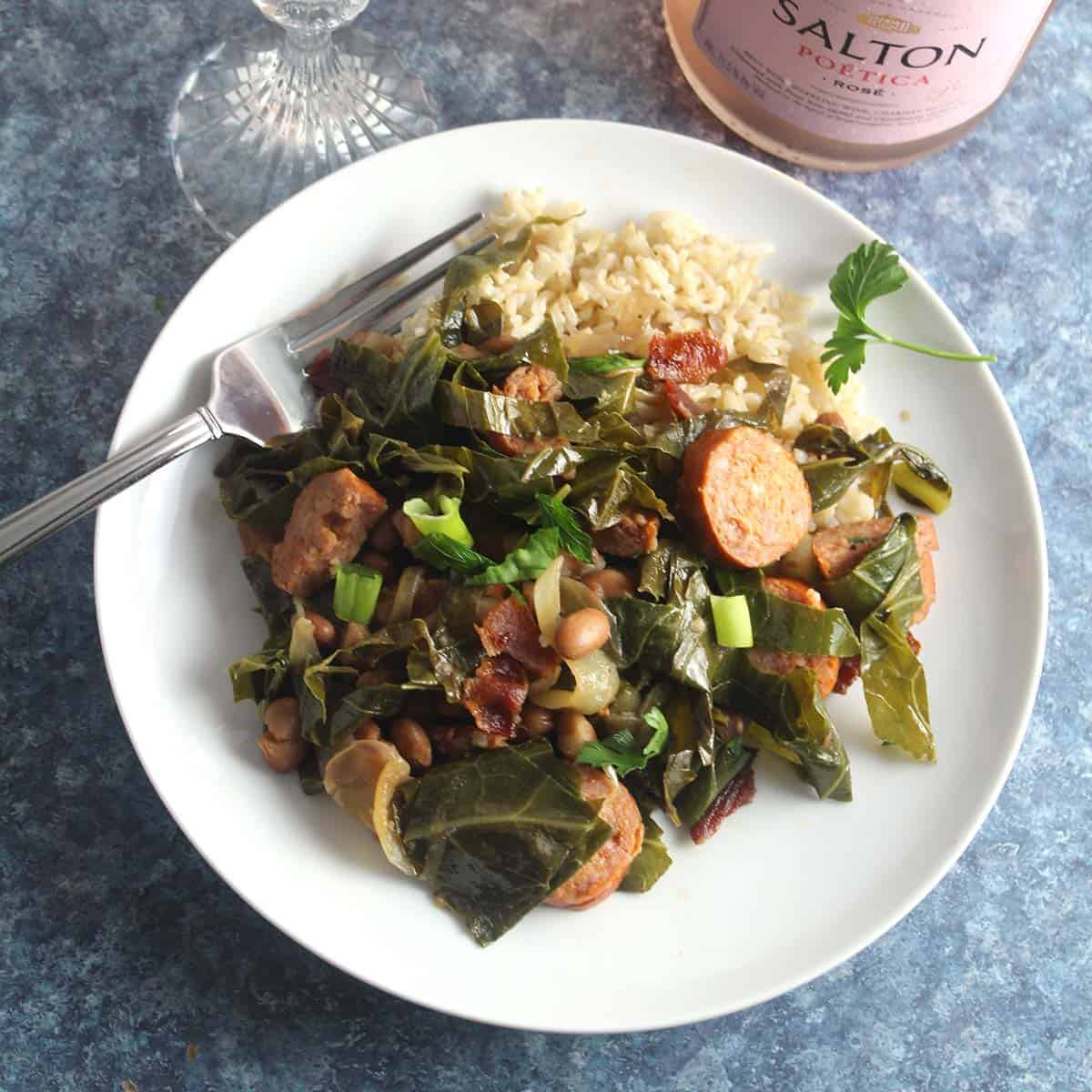 I often use chicken sausage these days for nutrition reasons, but we went all in on the pork for this recipe today!
Black beans seem to be most commonly used in Brazilian recipe. But Olivia's recipe called for pinto beans, and that's what I used. I'd say they are milder than black beans, and thus better absorb the rich flavors of the bacon and sausage.
Olivia's recipe also calls for manioc flour, common in Brazilian cooking, to thicken the dish and add texture. When I saw the Whole Foods price of cassava flour, which is basically the same as manioc as best I can tell, I thought I'd try to pick up some manioc flour at the Brazilian market in town. They didn't have any, but our recipe had plenty of flavor and substance without it.
Brazilian Wine
I have to confess that I spent more time researching Brazilian food for this even than I did the wine!
Susannah presents 10 facts about Brazilian wine that are a good starting point for learning about the region. From her article, I learned that Brazil has a long history of winemaking stretching back to its early colonial period. Today it is the fifth or sixth largest wine producer in the Southern Hemisphere, depending on which list you reference.
The #winePW group teamed up with Wines of Brasil for this event. I gather the US spelling "Brazil" is an Anglicized spelling, which I use in the article other than referencing the trade organization.
About Salton Winery
Our Brazilian wine sample came from Salton Winery, the oldest in Brazil. Salton Winery was founded back in 1910 by Antonio Domenico Salton supported by his seven sons. The winery is located in the Serra Gaucha region, which is the largest of the country's six main wine regions. According to this article on Wine Travel Stories, roughly 70% of their grapes come from local growers with 30% coming from Salton vineyards. Today the winery is run by the 4th generation of the Salton family in the business.
Wine Pairing for Brazilian Beans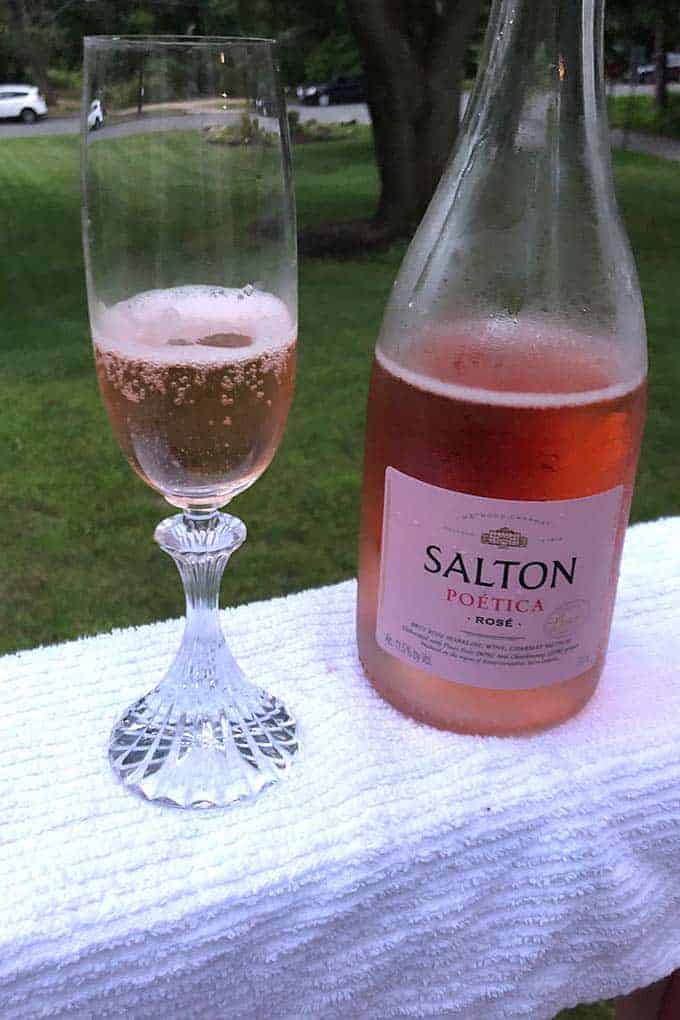 OK, it is time to talk about our Brazilian wine pairing for this recipe! We had a bottle of Salton Poética Rosé ($8, 11.5% ABV) provided for this event. This is a dry sparkling rosé, made from 80% Pinot Noir and 20% Chardonnay in the Charmat (tank) method.
Eye: Light salmon pink in the glass with lively bubbles.
Nose: Light floral notes on the nose.
Body: Light body, medium finish. Fairly well balanced.
Palate: Dry. Strawberry fruit, moderate acidity.
Pairing: Our Brazilian beans dish really packs a lot of flavor. I thought the bacon / bubbly combination might carry the pairing. It worked OK, but the food did overpower the wine a bit.
Overall, I would say that the Salton Poética Rosé is a pleasant wine to drink and the price is certainly reasonable. It is probably better to sip as an aperitif or with light appetizers rather than pairing it with a hearty meal like our Brazilian beans.
Alternative Pairings for Brazilian Beans
Fortunately, we had plenty of leftovers of our tasty Brazilian beans! That gave us a chance to test some other pairings (but alas, only one bottle of Brazilian wine!). We were doing a Snooth tasting with Murrieta's Well this week.
I thought we'd try a bottle of white and a red with the Brazilian Beans, in the interest of wine pairing science. We started with the 2018 Dry Orange Muscat ($38, 14.6% ABV), a very interesting dry version of this grape often featured in sweet wines. The "orange" in the name refers to the Orange Muscat grape, not the winemaking style sometimes called "orange wine". Lemon fruit, stone and honey on the palate, with decent acidity that helps make it a food friendly wine.
Then we went to The Spur 2017 ($35, 14.5% ABV), a delicious Cabernet Sauvignon based blend. The nose is like walking through a pine forest. Licorice and black cherry on the palate, layers of flavor and round mouthfeel.
Both the red and white from Murrieta's Well worked quite well as pairings for the beans. I think they key is that both wines were bold and flavorful, which enabled them to better match the flavors of the dish. This is a good illustration that choosing between red or white is often not the most important aspect of wine pairing. A big flavored dish needs a bolder wine that has the heft to to stand up to the dish, or else the food can overwhelm the wine.
Print
Recipe card
Brazilian Beans, Greens and Bacon
Brazilian style beans and greens recipe gets tons of flavor from the bacon and chorizo sausage. Loosely based on the Feijão Tropeiro from Olivia's Cuisine.
Author: Cooking Chat
Prep Time:

10 mins

Cook Time:

40 mins

Total Time:

50 mins

Yield:

6

servings

1

x
Category:

main

Method:

stove top

Cuisine:

Brazilian
2

strips of bacon

2

chorizo sausages (or other flavorful sausage of your choice)

1 tbsp

olive oil

1

onion, chopped

2

cloves of garlic, minced

1

bunch of collard greens (about

6 cups

) – stems removed, coarsely chopped leaves

¼ cup

chicken broth

½ tsp

allspice

1

15 oz can of pinto beans, rinsed and drained
tbsp of fresh parsley, chopped

1

or

2

scallions, chopped
cooked rice, for serving
Instructions
Cook the bacon: Coat a large skillet with oil spray on medium heat. Add the bacon, cook for about 10 minutes until nicely browned, turning occasionally. Remove the bacon to a plate with a paper towel on top to absorb the grease. Drain the excess grease from the skillet into a glass or hard plastic container, then return it to the stove. When the bacon cools, break it up into bacon bits to finish the dish.
Brown the sausage: bring the skillet back to medium heat, and brown the sausage for about 5 minutes, turning occasionally so it is browned all over. Note: we used precooked sausages, if your sausages are raw they will need to cook through and that will take about 10 minutes. Set the browned sausage aside alongside the bacon.
Sauté the onions: In the same skillet used for the bacon and sausage, heat a tablespoon olive oil on medium low. Add the onions, cook for 5 minutes until the soften. Add the garlic and cook for another minute.
Cook the greens: Gradually add the collard greens to the skillet. Stir to combine with the onions. Add the chicken broth, allspice and a pinch of salt. Stir to combine, then cover to cook on medium low for 15 minutes.
Add sausage and beans: When the sausage has cooled, cut it into thin circular slices. After the greens have cooked for 15 minutes, stir the beans and sausage into the skillet. Cover, and cook for another 5 minutes to heat the beans and let the flavors meld together. Stir in the parsley and scallions at the end of the 5 minutes.
Serve and enjoy! After the beans have cooked for 5 minutes, the dish is ready to go. Scoop a little bit of rice onto your plate, the place a generous scoop of the Brazilian beans and greens onto your plate. Top the dish with a sprinkling of bacon bits, and enjoy! Pour a glass of Brazilian wine to complete the meal.
Notes
If you are using sausages that are raw, they will need to cook longer (at least 5 more minutes) to cook through. We used sausages that come precooked.
If the skillet seems like it is getting to dry after adding the sausage and beans, add a bit more chicken broth.
Leftovers make for a good meal the next day. Mix any extra bacon into the pot, and store in the refrigerator.
Nutrition info doesn't include the rice.
Keywords: Brazilian bean recipes, Brazilian food and wine, bean and greens
Recipe Card powered by
More Brazilian Wine Pairings from #winePW
Camilla of Culinary Adventures with Camilla shares "A Brazilian Sparkler +Frango à Passarinho and Pao de Queijo"
Linda of My Full Wine Glass will be posting "Head to Southern Brazil for High-Quality Wine"
Cindy of Grape Experiences writes "Wine and Dine Brazilian Style with Alma Brut White Sparkling Wine from Salton Winery and Fried Calamari"
Gwen at Wine Predator shares "A Poet Pairs Poetica Sparkling Rosé from Brazil"
David of Cooking Chat will be pairing "Brazilian Beans, Greens and Bacon with Sparkling Wine" (you are here)
Pinny of Chinese Food and Wine Pairing will be serving "Miolo Alisios Pinot Grigio/Riesling and Raw Ahi Tuna 3 Ways"
Wendy of A Day in the Life on the Farm will be adding "Enjoying Indian Summer with Alma Sparkling Brut from Brazil"
Cynthia and Pierre of Traveling Wine Profs will be sharing "Friends, Seafood, Bubbly and Chardonnay:Our Brazilian Wine Pairing Dinner"
Debbie of The Hudson Valley Wine Goddess writes "Celebrating Garden Harvest with Brazilian Wine"
Sarah of The Curious Cuisiniere showcases "Pastel de Queijo and Brazilian Sparkling Wine Pairing"
Jill of L'Occasion posts "Bubbles from Brazil: a Treat for Wine Lovers"
Jennifer of Vino Travels muses about "Brazilian Sparkling Wines with Salton Brut"
Liz of What's in the Bottle? joins with "Discover Brazilian Bubbles"
while here at Avvinare , I'll post about "Miolo Merlot Paired with Brazilian Skirt Steak with Golden Garlic Butter."