This Turkey Sausage and Shrimp Jambalaya post is sponsored by McCormick in conjunction with a social media campaign through Sunday Supper LLC. All opinions are those of the individual bloggers. Read on for the tasty details and learn how you can bring a New Orleans style Mardi Gras meal to your home!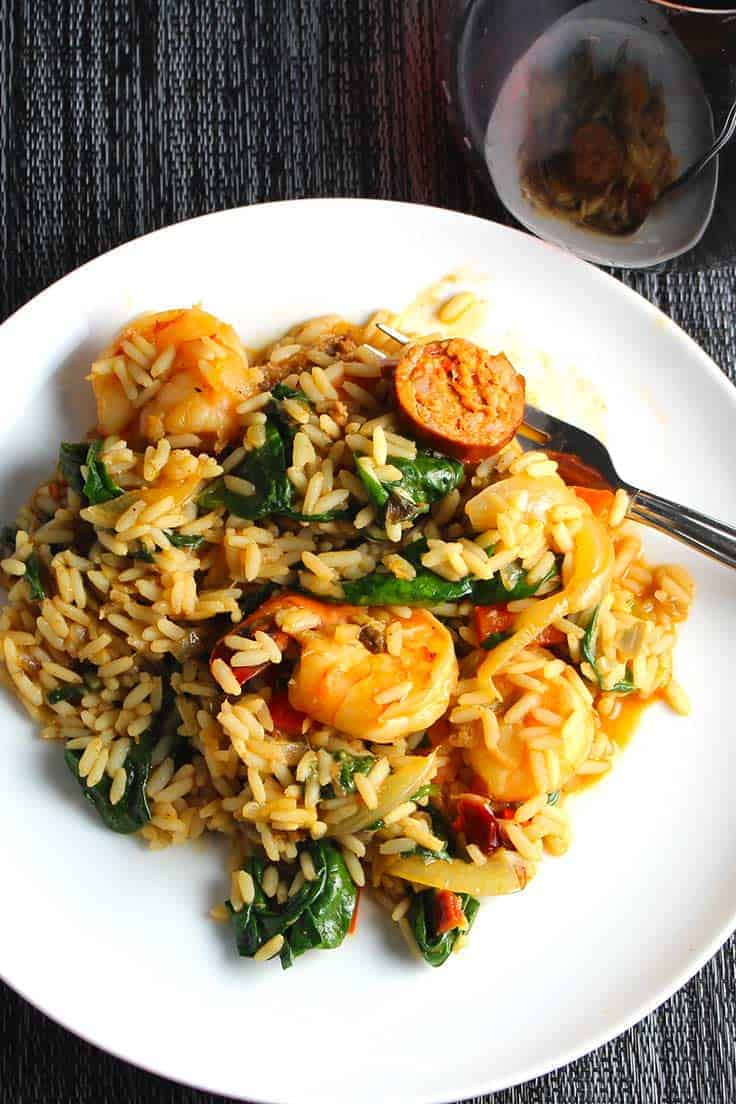 Do you celebrate Mardi Gras? I don't live in New Orleans, where Mardi Gras is a major holiday, celebrated during the two weeks leading up to Fat Tuesday (February 9, the day before Lent begins). However, I am up for participating in a festive occasion where food plays a big role!
Today a group of us Sunday Supper bloggers have teamed up with Zatarain's to bring you an assortment of delicious and creative jambalaya recipes. I cooked up Turkey Sausage and Shrimp Jambalaya for the occasion.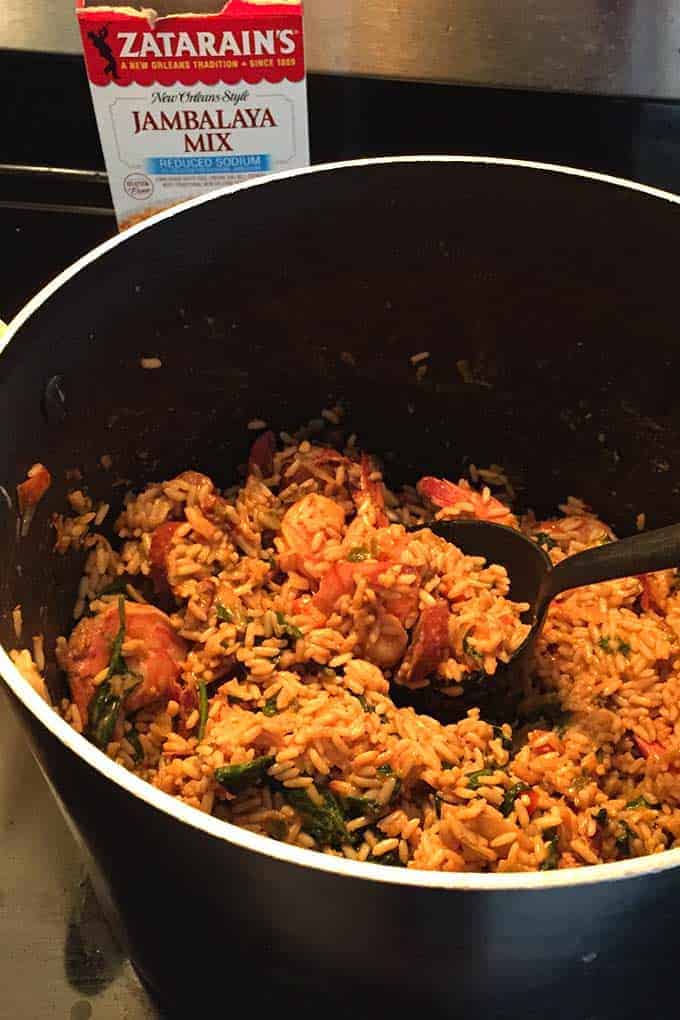 Jambalaya is a full meal, typically cooked up in one large pot, with rice, vegetables and a variety of meats and/or seafood. And don't forget about the Creole spices!
"Since Mardi Gras day is historically food focused, it's easy to envision early parade-goers filling up on bowls of steamy jambalaya prior to engaging in the day's festivities," said Jill Pratt, general manager of Zatarain's. "Jambalaya is a really versatile dish and can be personalized based on your favorite add-ins."
You can go a lot of different ways with the add-ins, as you can see from the rest of the Sunday Supper lineup. Shrimp and sausage seemed like tasty proteins to add-in.
I first browned some Andouille turkey sausage (feel free to use any flavorful sausage of your choice) in the jambalaya pot, then sautéed some onions and red bell pepper in the pot. Next, it was time to pour in the Zatarain's New Orleans Style Reduced Sodium Jambalaya Mix with some water. This rice and seasonings mix has great Creole flavor, making it easy to bring the Mardi Gras flavors to your kitchen.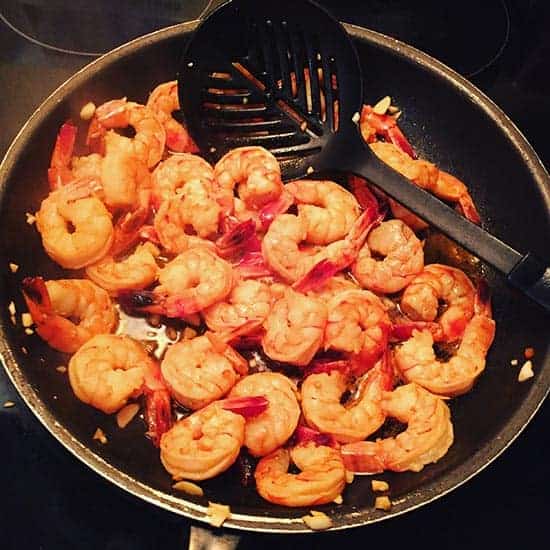 As the jambalaya mix simmered, I quickly pan-seared some shrimp in a garlicky marinade for our Turkey Sausage and Shrimp Jambalaya. The shrimp get added into the jambalaya pot along with the sausage. I also added a couple handfuls of spinach to add some additional color and nutrition.
The smells were great in the house as the jambalaya cooked. Our Boston kitchen was transported to New Orleans at Mardi Gras time for the night! I loved digging into the big flavors of this Turkey Sausage and Shrimp Jambalaya recipe. Garlicky shrimp, spicy sausage and perfectly seasoned jambalaya mix creates a little parade of flavors in your mouth! And best of all, it's so easy to repeat in your kitchen by grabbing your own box of Zatarain's Jambalaya Mix.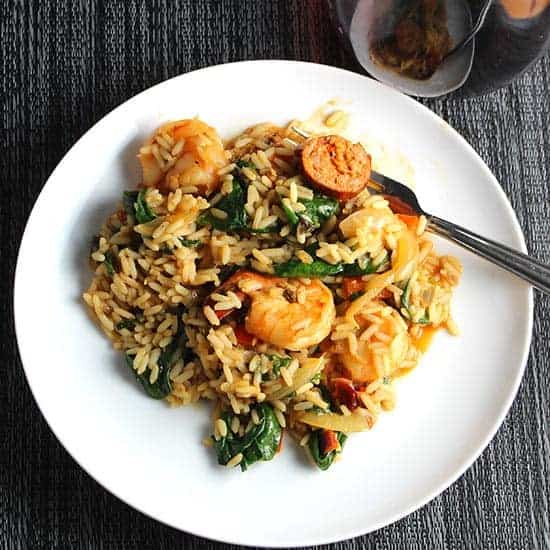 If you like this recipe using turkey sausage, you must also like our Turkey Sausage with Kale and Quinoa! And if you have extra shrimp to cook, try our Easy Sautéed Shrimp!
Print
Recipe card
Turkey Sausage and Shrimp Jambalaya
Flavorful turkey sausage and sautéed shrimp combine with Zatarain's Jambalaya Mix for an easy and delicious meal that will transport you to New Orleans!
Author: Cooking Chat
Prep Time:

10 mins

Cook Time:

40 mins

Total Time:

50 mins

Yield:

8

servings

1

x
Category:

Main

Method:

stove top

Cuisine:

Cajun
8

ozs precooked andouille turkey sausage (

3

small/medium sausages)

2 tbsp

olive oil, divided

1

onion, chopped

½

red bell pepper, chopped

2

8 oz boxes Zatarain's Reduced Sodium Jambalaya Mix

4 ½ cups

water

3 cups

spinach

1

lb uncooked shrimp, peeled and deveined

4

cloves garlic, minced

3 tbsp

soy sauce sauce

3 tbsp

orange juice

1 tsp

sugar

1

slice of cooked bacon, broken into bits (optional)
Instructions
Spray a large pot with cooking oil, and heat to medium high. Add the sausages, and cook about 8 minutes until they begin to brown, turning occasionally.
Remove the browned sausages from the heat and set aside to cool. Slice the sausages when cooled, and have ready to add to the jambalaya later.
Add the tablespoon olive oil to the pot used for the sausage, heat to medium high. Add the onions, and sauté for 5 minutes until they begin to soften. Add the bell pepper and cook for a few more minutes.
Add the water to the pot with the onions and pepper, and stir in the jambalaya mix. Bring to a boil, then reduce heat to simmer covered for approximately 25 minutes total.
As the jambalaya mix simmers, get ready to cook the shrimp. Combine the soy sauce, orange juice, minced garlic and sugar in a large bowl. Add the shrimp, and gently stir the shrimp so they get coated with the marinade. Set aside to marinate for about 5 minutes.
Heat the remaining tablespoon olive oil in a large skillet on medium high. Add the shrimp, and cook for about 3 minutes per side, stirring frequently. They are done when the tails turn red and the flesh has just turned white throughout. Remove from heat.
After the jambalaya rice mix has simmered for about 20 minutes, stir in the sausages, shrimp, spinach and optional bacon. If the water looks mostly absorbed, add up to ½ cup more so all the ingredients can simmer together for 5 to 10 minutes more to finish the dish.
The jambalaya is ready when the rice is tender and the water mostly absorbed. Plate the turkey sausage and shrimp jambalaya and enjoy!
Keywords: jambalaya with turkey sausage, turkey sausage and shrimp
Recipe Card powered by

This year Zatarain's has been in business for 125 years! We encourage you to check out the Zatarain's website for more information on the company: http://www.mccormick.com/Zatarains. And visit them on social media:
Facebook: https://www.facebook.com/Zatarains/
Twitter: http://www.twitter.com/zatarains
Instagram: https://www.instagram.com/zatarains/
Pinterest: https://www.pinterest.com/Zatarains/
Speaking of Pinterest, be sure to check out the special Sunday Supper Pinterest Board featuring great jambalaya recipes!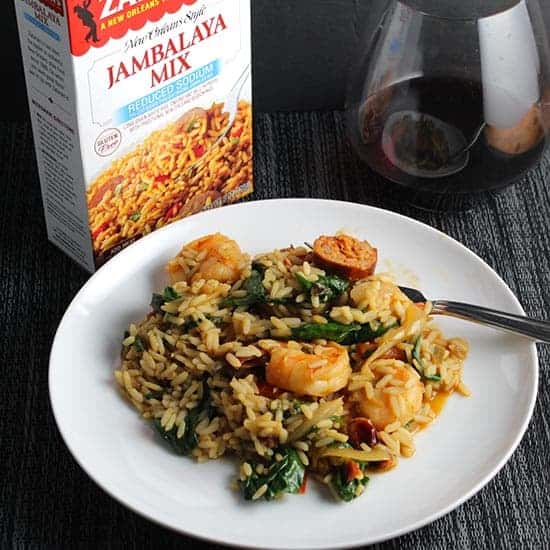 Be sure to check out all the tasty recipe from the Sunday Supper crew!
Appetizers and Soup
Main Courses
Plus Versatile Jambalaya Recipes plus Seafood Jambalaya Frittata from Sunday Supper Movement
Have you signed the #SundaySupper pledge to eat together as a family? Do it right here!