Our ultimate guide to Real Irish Food for St. Patrick's Day is here to get you ready for a delicious celebration of Irish culture. With the help of a great group of talented bloggers, this collection of traditional Irish recipes and creative variations will give you lots of great ideas for the holiday. Scroll through for all of our ideas, or jump ahead to the section of interest: Stew and Soups | Potato Dishes | Irish Main Courses | Fish | Irish Breakfast | Irish Bread | Beer, Whiskey and Other Irish Drinks | Desserts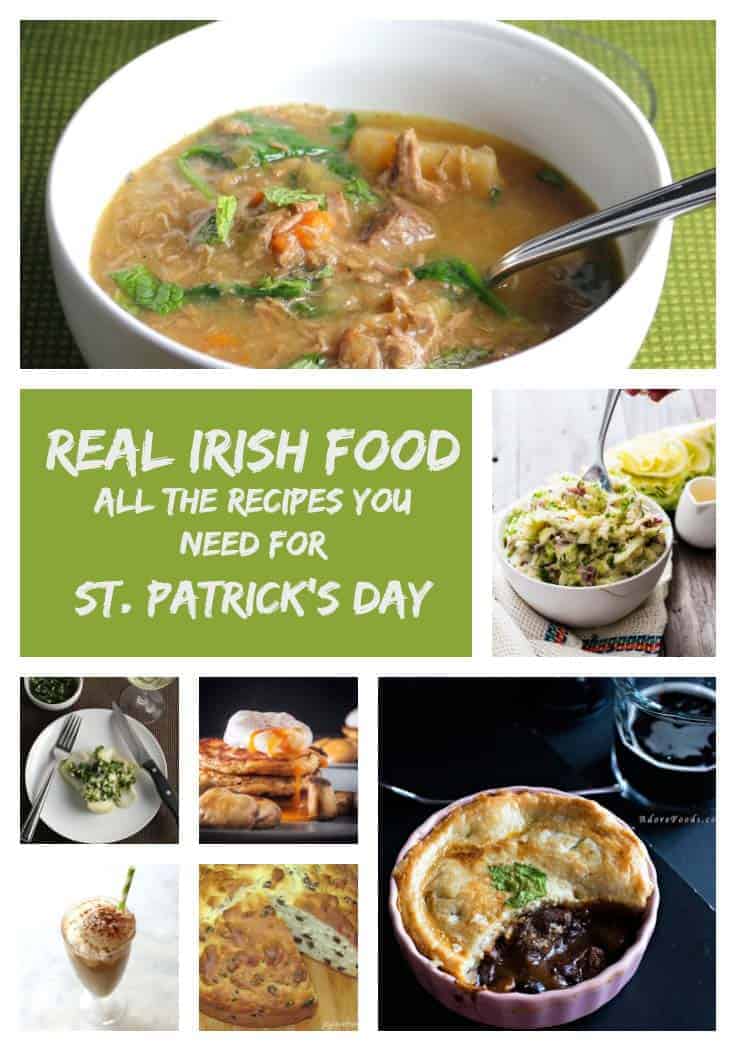 Authentic Irish Food
I have just enough Italian blood in me to perhaps explain the fondness for Italian food and wine you will note perusing Cooking Chat. But most of my ancestors came to the US from Ireland, so I like to feature Irish food here on the blog, too.
What better time to talk about real Irish food than in the lead-up to St. Patrick's Day?
Irish cooking gets a bit of a bad rap at times. I've come across enough overcooked vegetables and bland meat to know where that comes from. But as I noted last time I was in Ireland over 10 years ago, Irish food has really been showcasing what can be done with all the fresh ingredients available.
A country with so much lush green farmland and gorgeous coastline certainly has a lot of good culinary material at its disposable. Those of us who champion Irish food and culture need to highlight the delicious and wholesome foods that can be made with Irish ingredients. So our goal with this post is to provide you with a guide to real Irish food for St. Patrick's Day, or any day you want to enjoy some good Irish food and drink.

Irish Stew and Soups
If you've experienced Irish weather, you probably have some idea of why there are so many great Irish stew recipes! I can recall going for a stroll near the place we rented on the Dingle Peninsula on a drizzly summer afternoon, then tucking into a hearty Irish stew along with a pint of Guinness at a local pub. Ahh, 'tis the thing to do a rainy day! Ok, time to share some Irish stew and soup recipes.
I'm going to kickoff the Irish stew and soup recipe roundup with my Slow Cooker Irish Lamb Stew recipe. The slow cooking method leads to some delicious, fall-apart meat, with plenty of savory potatoes and carrots. Perfect with a pint!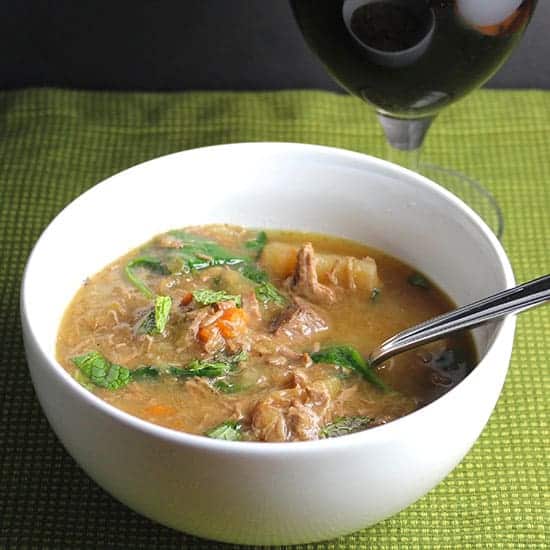 For a new addition to this roundup, try our Irish Vegetable Soup! Potatoes, carrots and other ingredients you might already have on hand combine in this flavorful vegetarian soup recipe.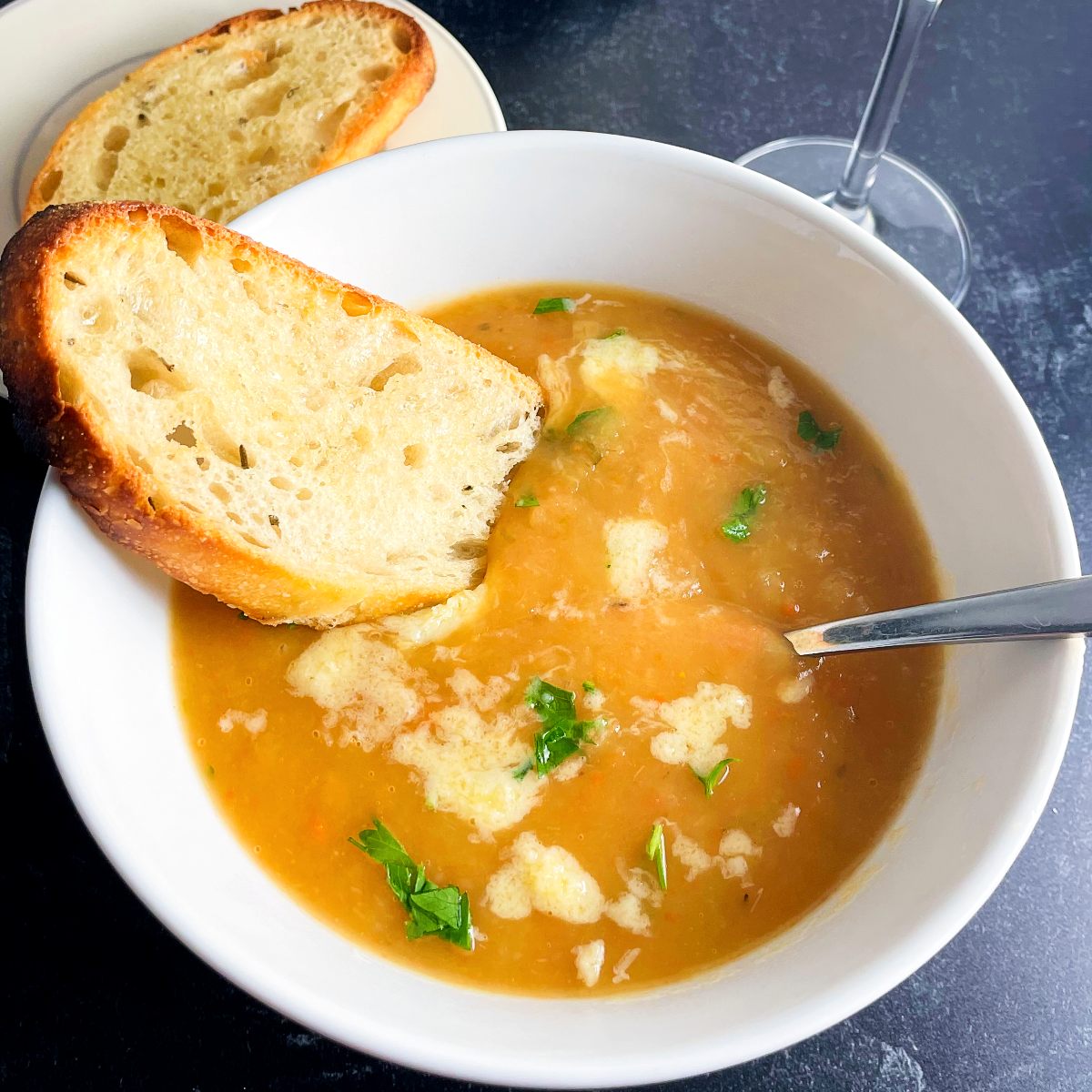 The Irish Stout Lamb Stew from Garlic and Zest has some similar ingredients to my lamb stew, but this stew gets braised in the oven. Still not fast, but a little quicker than my slow cooker version. Looks delicious, I'm going to have to try it!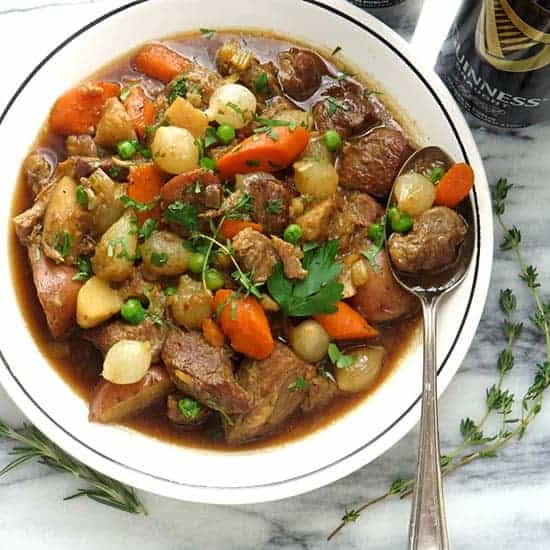 Those are a couple of great Irish lamb stew recipes, but maybe you'd rather a beef stew for St. Patrick's Day? Living Sweet Moments has you covered with this Guinness Beef Stew recipe.
For St. Patrick's Day 2018, we wanted to add this tasty Irish Parsnip Soup recipe from Curious Cuisiniere. I need to try making it soon!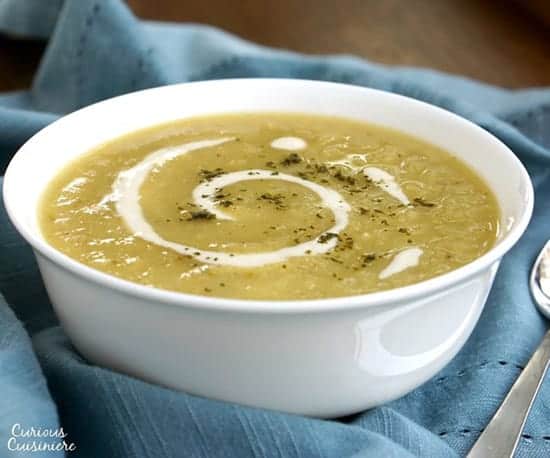 Potatoes naturally find their way into Irish soups, so let's feature some tasty Irish potato soup. First up, Joy Love Food brings us a delicious Irish Colcannon Soup recipe, inspired by the classic Irish potato dish.

Next, I cook potatoes along with cabbage in my Irish Potato Soup with Bacon and Cheddar.
Potato Dishes
Potatoes have played a huge role in Irish cuisine and history. The Irish potato famine, which began in 1845, decimated the potato crop over a six year period and led to a large influx of Irish immigrants to the United States and other countries. Potatoes still are central to Irish cooking, so our real Irish food article needs a section dedicated to potato dishes.
Let's lead off our Irish potato dishes section with a great looking version of Colcannon Irish Potatoes from Whole Food Bellies. The traditional Irish potato dish incorporates green cabbage or kale and plenty of butter for a simple and delicious preparation.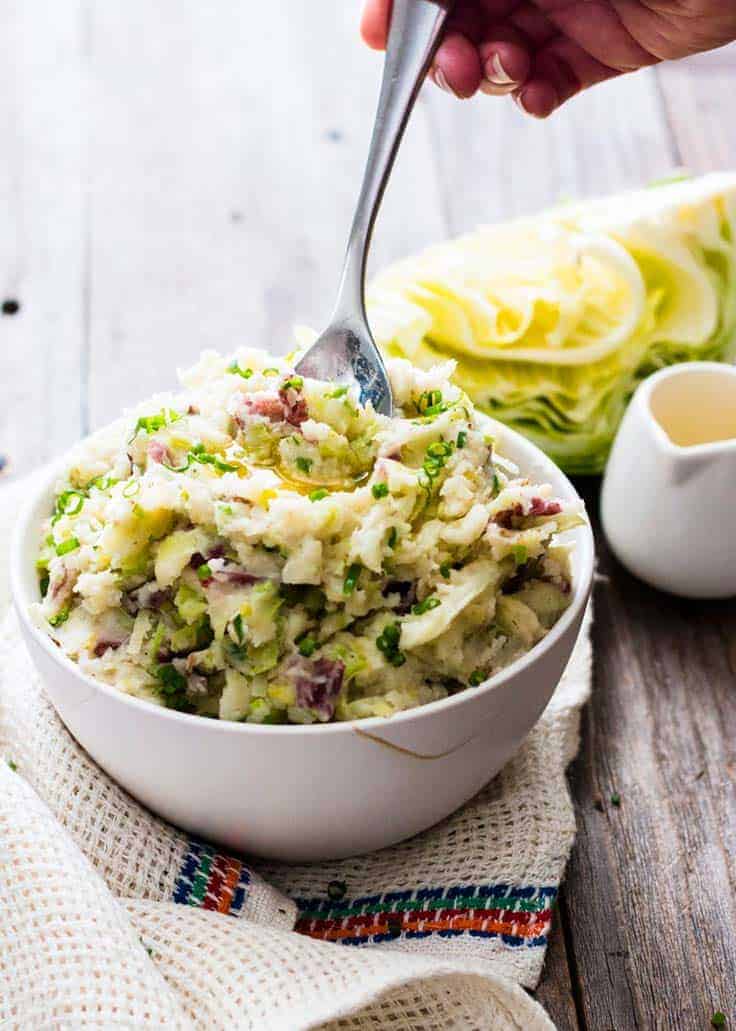 My Irish Cheddar Potatoes with Lamb and Parsley Pesto features some classic Irish ingredients–potatoes, lamb and good cheddar cheese–in a creative presentation. OK, the parsley pesto is definitely not traditional Irish food, but hey, it's green! And yes, that is the stem of a wine glass; Irish food can be served with wine instead of Guinness for a change of pace.
I hadn't heard of "Boxty" prior to calling for recipes for this real Irish food article, but potato pancakes definitely seems like they deserve a place in this roundup. Brian Jones, who blogs at Krumpli, says that his Boxty Irish Pancake Recipe make a great hangover cure; though I can't imagine anyone needing that around St. Patrick's Day.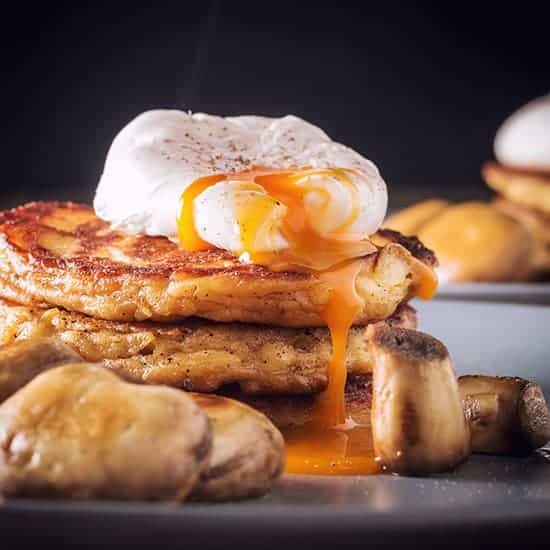 Irish Main Courses
Many of the hearty Irish soups and stews can certainly be featured as a main course, and the same it true for the recipes in our Irish potato section. But we also want to share some other ideas for traditional Irish main courses, along with some creative variations that make good use of ingredients that are abundant in Ireland.
I know I would love to dig into this Beef and Guinness Pie from Adore Foods!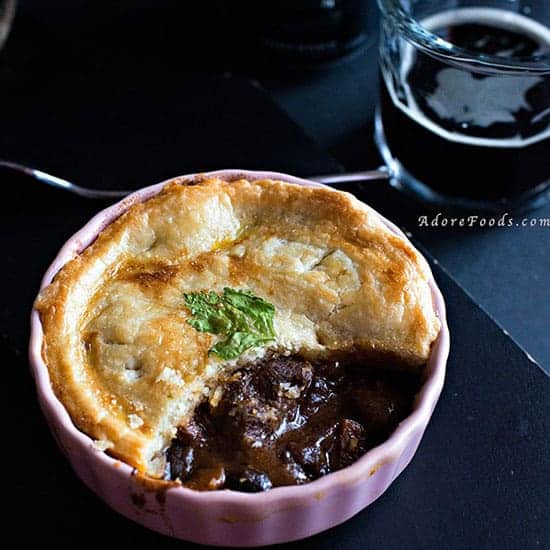 This traditional Cottage Pie has a savory ground beef filling with carrots, onion, and celery topped with cheesy potatoes and baked until golden brown. This recipe comes from Cooking with Curls.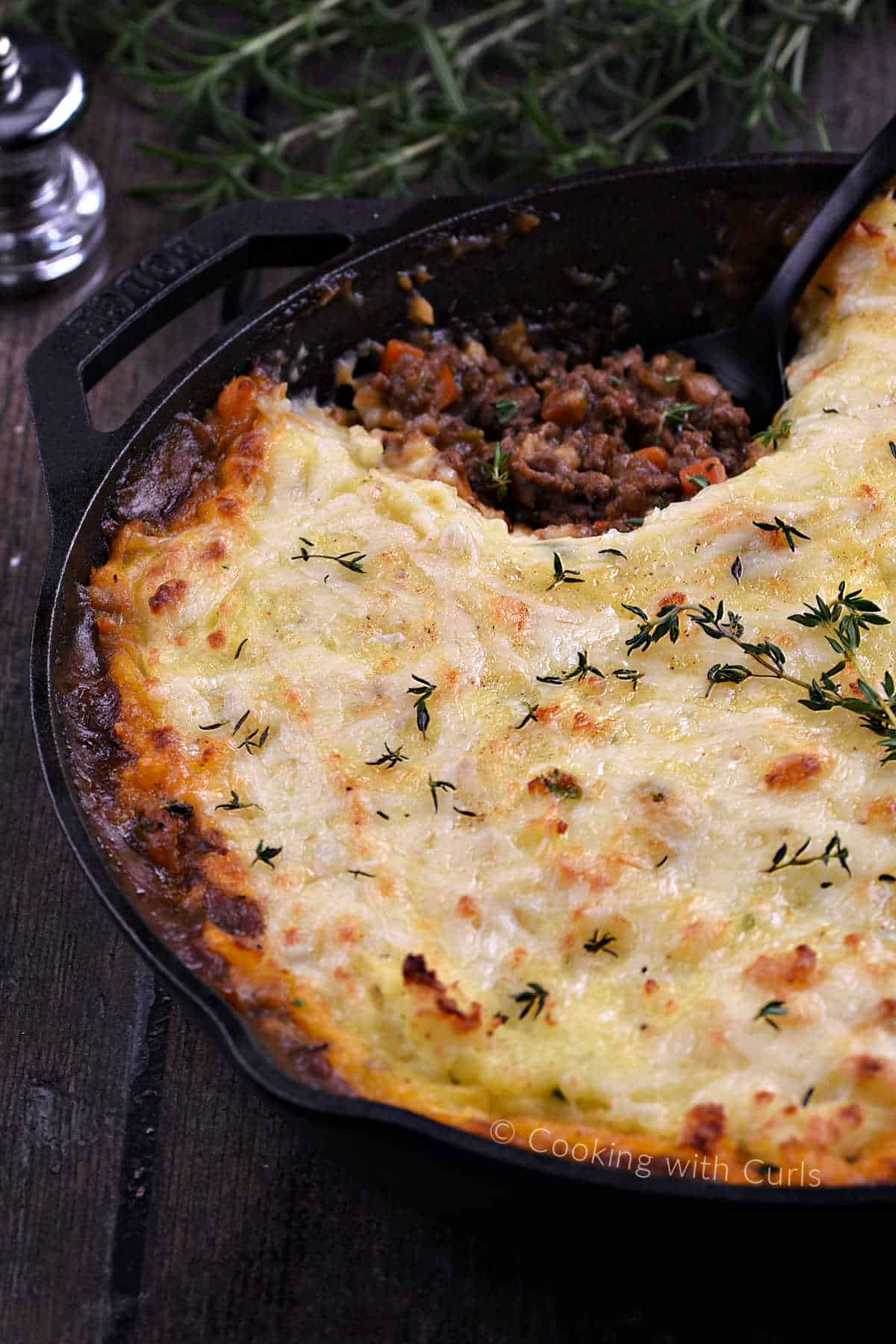 Bangers and Mash is definitely served up at a lot of Irish pubs here in the Boston area. My quick research suggests it may have originated in Britain as opposed to Ireland, but I think we can include it here. This Bangers and Mash with Onion-Mustard Gravy from the Suburban Soap Box looks hard to pass up!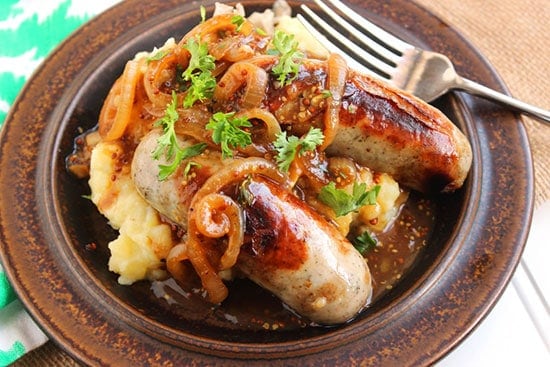 Ireland can't lay claim to inventing Shepherd's Pie, but it sure is a popular dish there. I enjoyed Shepherd's Pie with a pint for a pub lunch nearly every day the last time I was making my way around Ireland. I love the way they serve this potato laden dish with a side dish of potatoes, just to make sure you get enough. I will share my Beef Shepherd's Pie recipe for this category. Our roundup, what to serve with shepherd's pie, gives you 25+ ideas of how to round out this classic dish.
Ok, strictly speaking, Corned Beef and Cabbage shouldn't be in a "Real Irish Food" article, if we are talking about foods you would found eaten in Ireland. As explained in this Smithsonian post, Corned Beef and Cabbage is an Irish American invention. But it is so closely associated with St. Patrick's Day in the US, I felt obligated to include it in this post. So will link you to a Sid's Sea Palm Cooking version of corned beef and cabbage, which looks like a classic rendition of the dish, and here's another version from Food Marriage. You might also want to try Triple Whiskey Glazed Corned Beef from What a Girl Eats. And if you want wine with corned beef and cabbage, we've got you covered with our article wine with corned beef and cabbage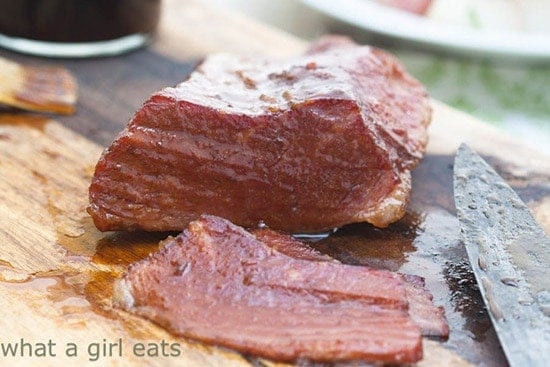 Another classic Irish recipe for St. Patrick's Day is the Dublin Coddle, a hearty one pot meal. We are featuring a recipe from Jenny at Not Entirely Average that I am eager to try!
Irish Fish Recipes
Seafood might not be the first thing you think of when it comes to St. Patrick's Day, but fish certainly plays an important role in Irish food. Think of all the gorgeous coastline Ireland boasts, and it's natural that you'd get some great fish there. There is also a "Salmon of Knowledge" that features prominently in an Irish folk tale about Fionn mac Cumhaill. So we've got include some Irish fish recipes!
I'll start the Irish fish recipes by sharing the Roast Cod with Herb Pesto I made recently, based on a recipe from Irish Country Cooking.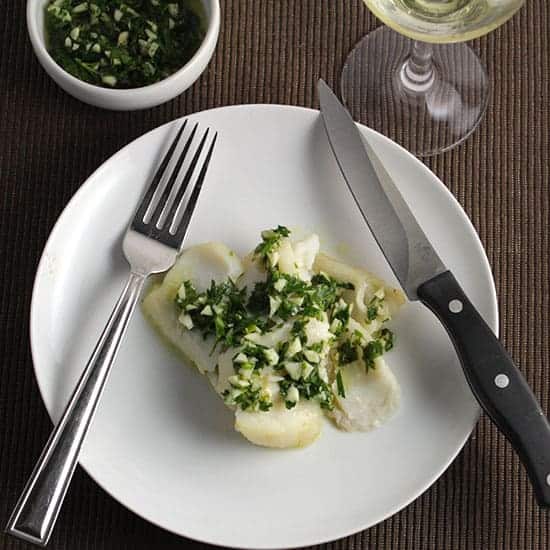 Adore Foods brings us an Irish Scallop Bisque recipe that looks like it could be a great start to a real Irish food feast.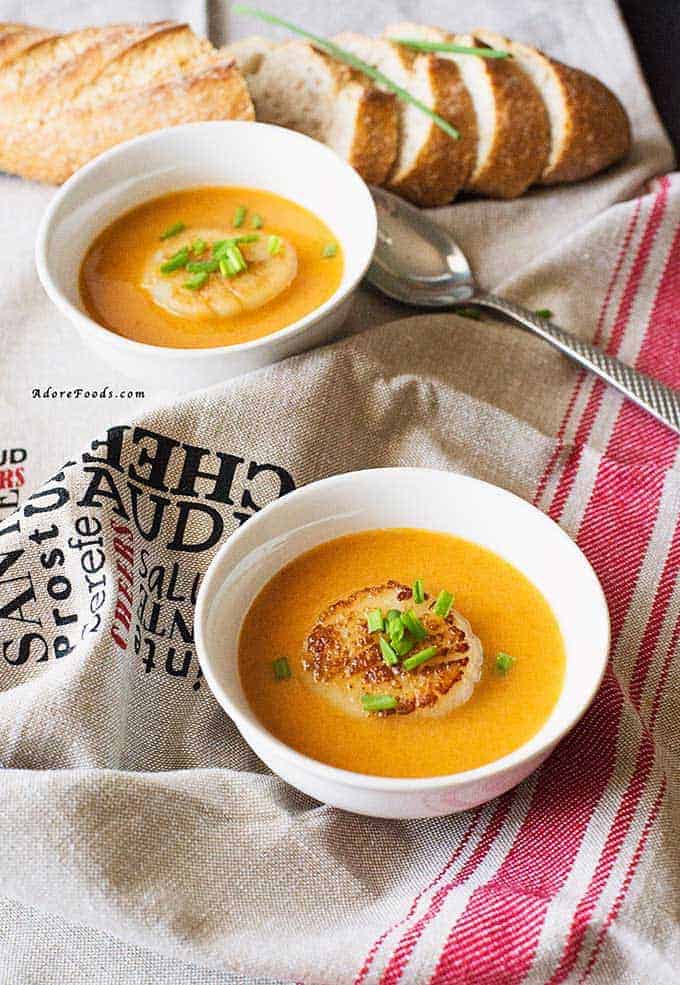 I enjoyed some great salmon and trout last time I was in Ireland. I have quite a few tasty salmon recipes here on Cooking Chat. I thought this Salmon with Mushrooms would be the most fitting to share in this real Irish food roundup. Fresh wild salmon gets pan seared, topped with a mushroom sauce and served with the mashed potatoes. Those potatoes are the clincher that this recipe belongs here!
Irish breakfast
An Irish breakfast, also called a "full Irish breakfast," is a traditional breakfast that is hearty and filling. There's a lot on the plate in the typical breakfast, including sausage ("bangers" in Ireland), eggs, toast or soda bread, bacon, and more.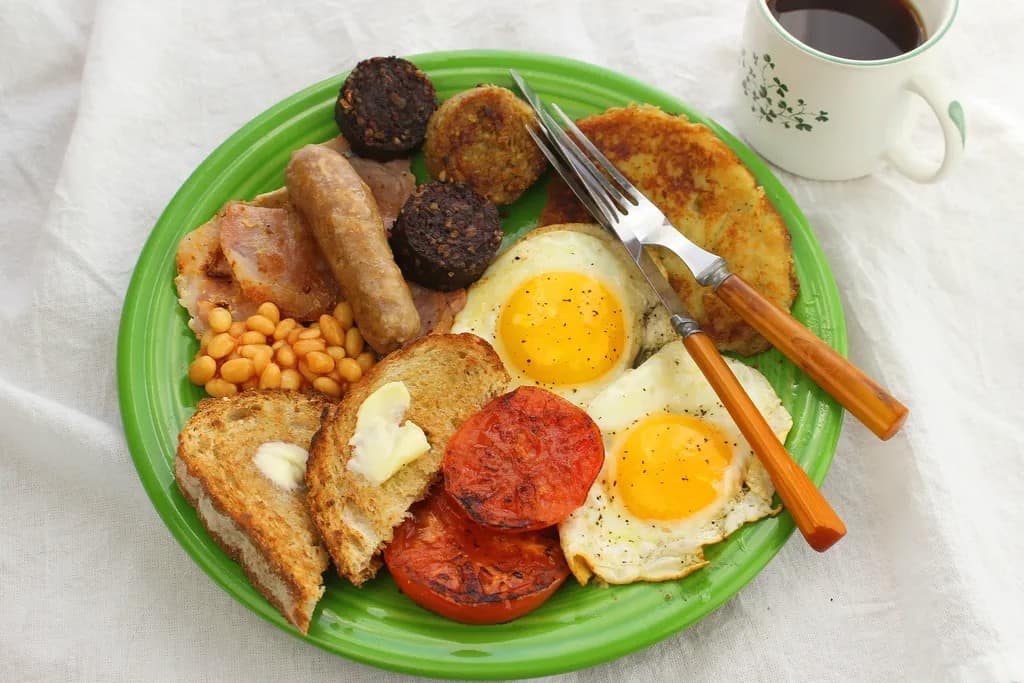 The Ulster Fry shown above, from Palable Pastime, gives you a good example of what you might find on the plate when being served a full Irish breakfast. Next, we share a few recipes of items that might be served as part of an Irish breakfast.
Potato farls, also known potato bread or cakes, is a classic Irish breakfast recipe. The version shown below is from Veggie Desserts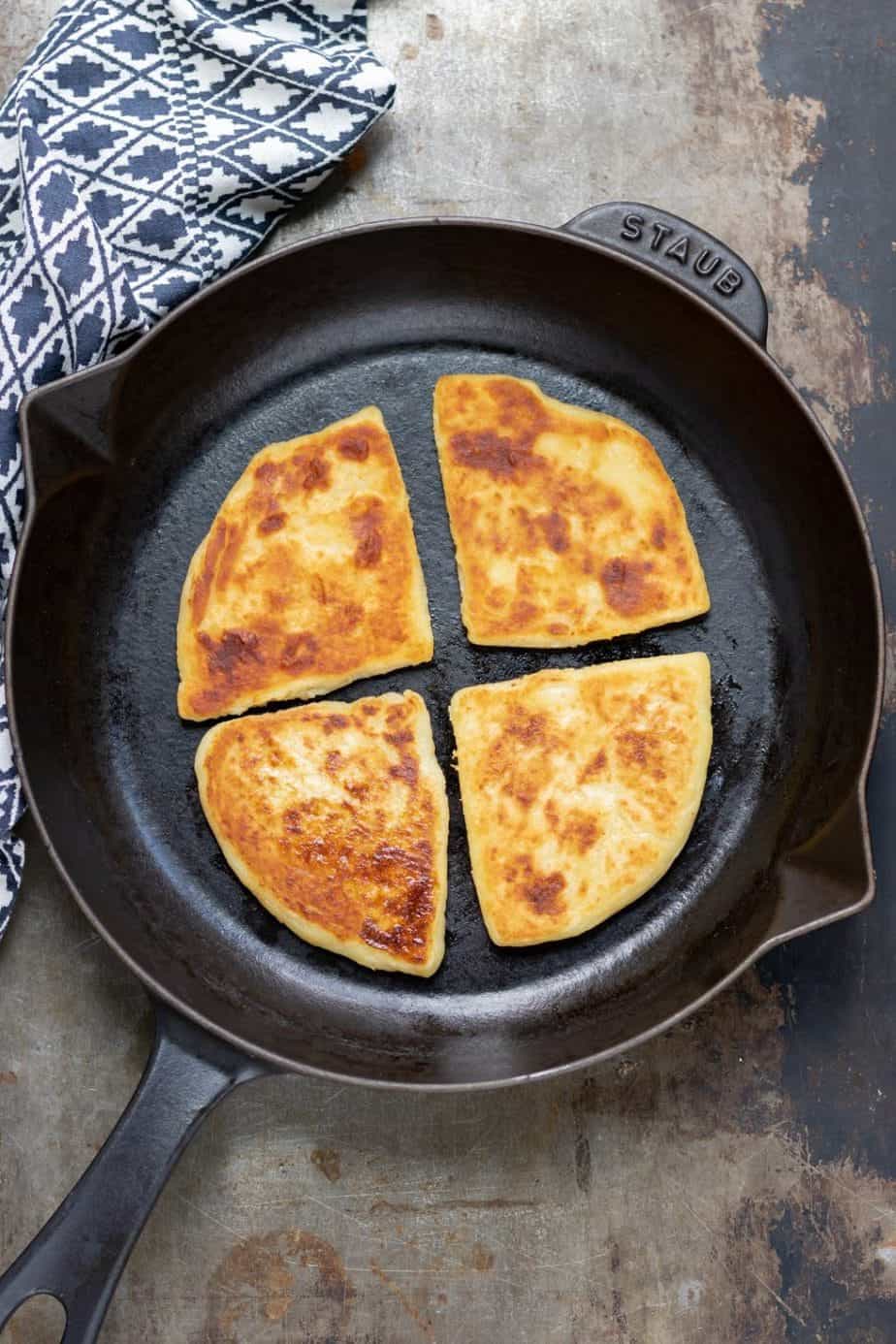 Poached eggs served on grated potato cakes is another Irish breakfast recipe to consider. This one comes to use from Irish American Mom.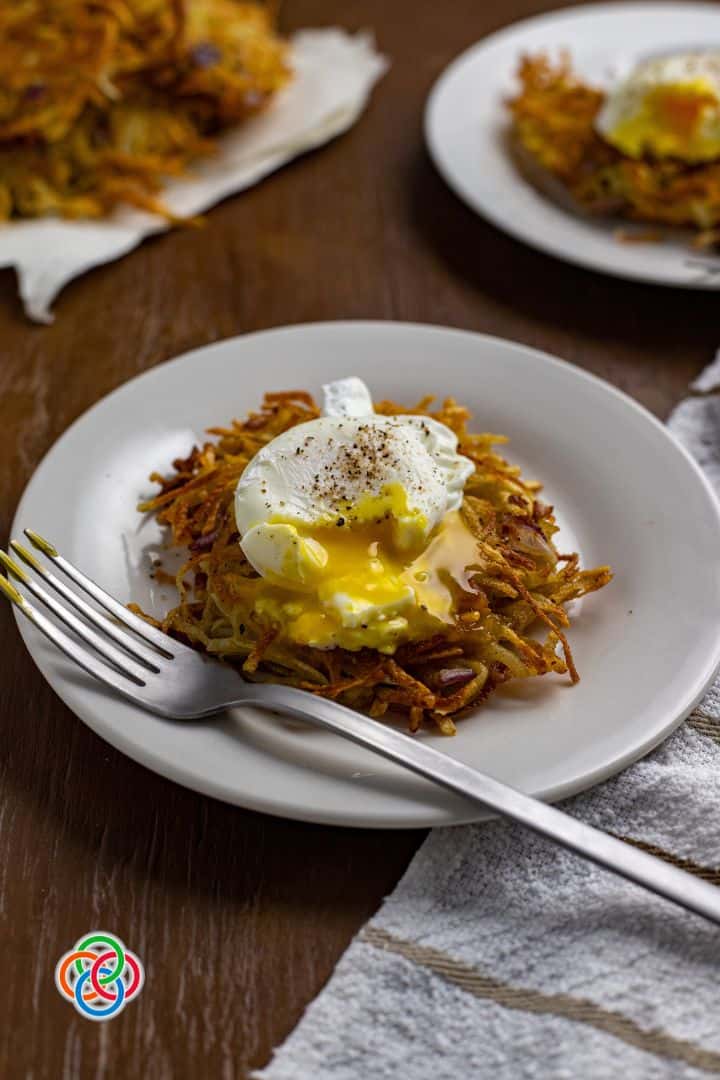 Another idea from Irish American Mom is the Smoked Salmon Scrambled Eggs shown below.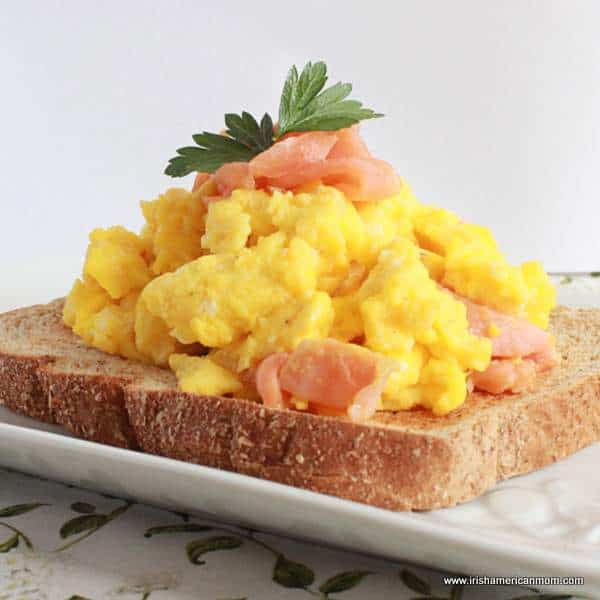 Irish bread
All that good soup and stew calls for some traditional Irish bread to go with it! Soda Bread is perhaps the one we most closely associate with Irish food here in the states, and it certainly is featured with a lot St. Patrick's Day meals. Here's a traditional version of Soda Bread from Joy Love Food, and Leelalicious brings us a version of soda bread using spelt flour. Check out The History of Soda Bread from ManyEats for more on this Irish classic.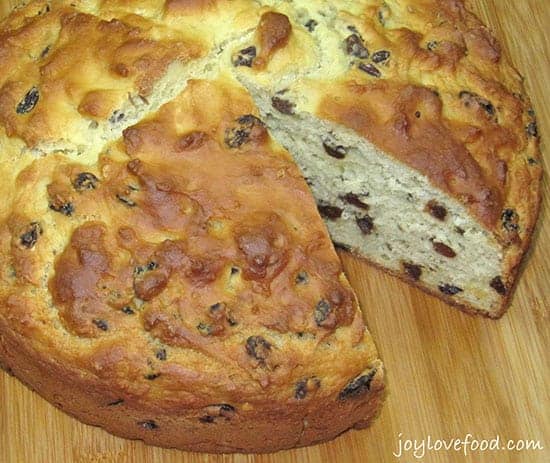 Anne from Inhabited Kitchen points out in her brown bread recipe post that you are more likely to get a slice of brown bread with your meal at a restaurant in Ireland than the white soda bread popular here in the states. The bread she made does look what I had a lot over in the Emerald Isle!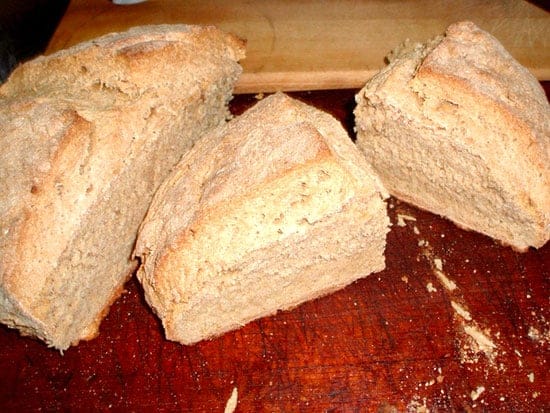 After my initial posting of this article, I came across another tasty brown bread recipe from Everyday Eileen. Thought I'd give you two brown bread recipes to choose from!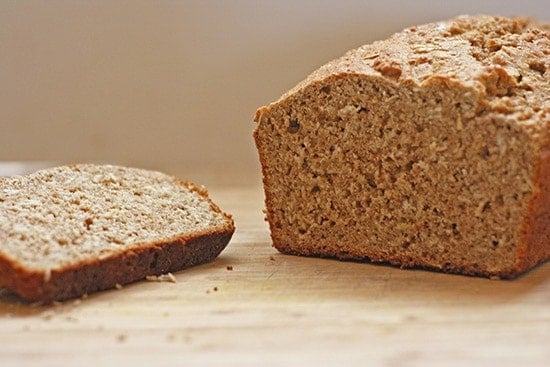 Beer, Whiskey and Other Irish Drinks
Of course, a pint of Guinness is the classic choice to drink with real Irish food for St. Patrick's Day. What is it about Guinness that makes it special, and so closely identified with Ireland? As I learned when I visited Guinness the last time I was in Ireland, Guinness is a stout beer that gets its color from dark roasted barley. And that barley is grown right in Ireland. Just the other day, I was sampling some new beers from Guinness at a local shop, I learned that some special yeast strains are also key to making Guinness, and they are carefully kept under lock and key. You can learn more about the art of making Guinness on the beer's official website, to give you something to contemplate the next time you raise pint.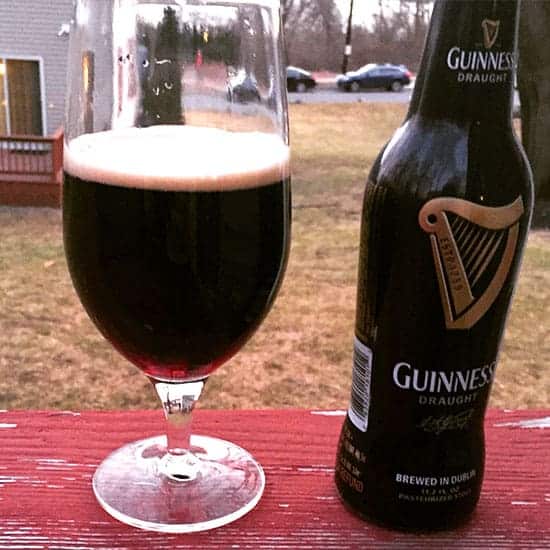 There are some other good Irish beers you can enjoy for St. Patrick's Day. I just recently tried the Guinness Blond American Lager, a much lighter style beer made here in the US. It does use that Guinness yeast. It's worth a try. Harp Lager is another tasty choice, also brewed by Guinness. Smithick's Irish Ale is another beer I enjoyed a lot in Ireland, and still get from time to time here. It's very flavorful but a lighter style than Guinness. For more ideas about authentic, Irish style beers brewed in the US, check out this post from Craft Beer.
Whiskey is right up there with Guinness when we think of quintessential Irish beverages. I only have an occasional bit of whiskey, so will link to some other sources for more information. Like many Americans, Jameson is the Irish whiskey I'm most familiar with, and it's a good solid choice. But this article from Outside Online gives you some encouragement to branch out and try other Irish whiskey.
Speaking of whiskey, you might also want to try this Irish Hot Whiskey from Irish American Mom. In addition to being an option for St. Patrick's Day, it comes recommended if you feel a cold coming on.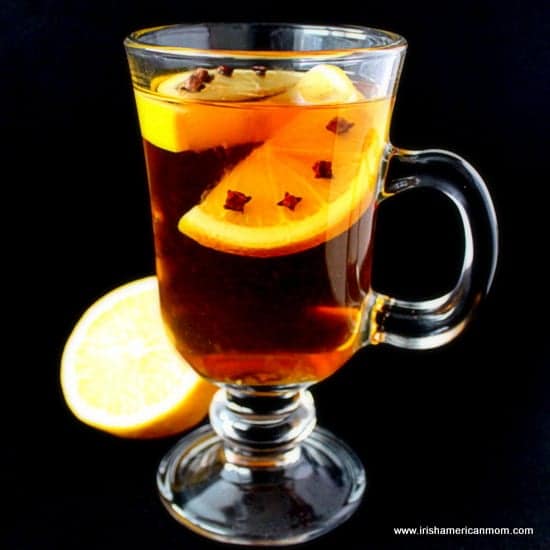 To get really authentic, perhaps you would like to make a batch of poitín – Irish moonshine. My uncle who was born and raised in Ireland has brought some to Christmas gatherings before, and that sure did liven up the festivities! Irish Buzz shares their recipe for Irish moonshine and some in depth background on poteen here.
Well, I certainly think of a Irish coffee served hot, such as in this Original Irish Coffee recipe, but this Iced Irish Coffee from The Dessert Spoon is made with ice cream, whiskey and a liqueur, sure sounds like a delicious treat!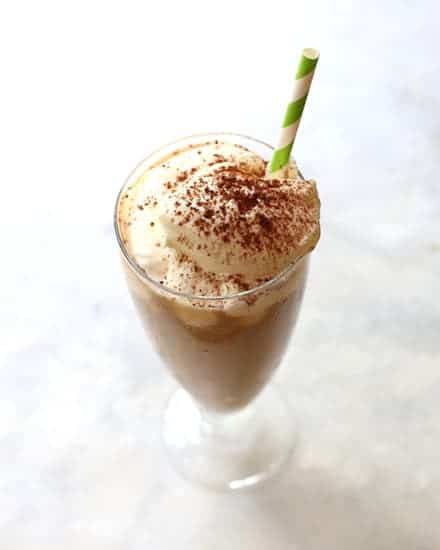 Many Irish drink recipes will use some cream. On The View From Great Island blog, we learn How to Make Your Own Irish Cream. This authentic Irish cream recipe sounds like a great addition to an after dinner coffee, and Sue also tells us this Irish cream is great served straight up in a cordial glass.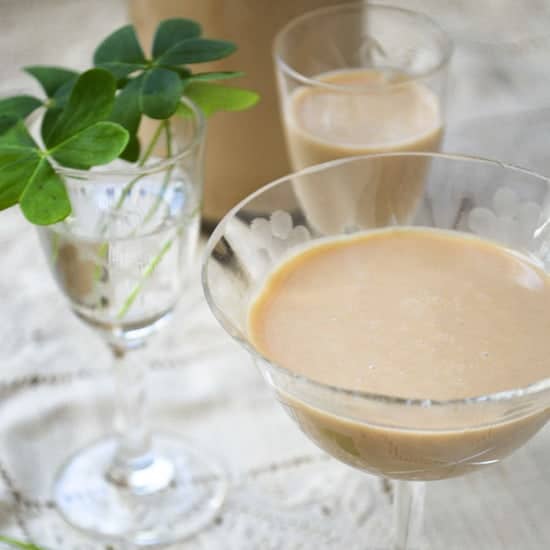 Desserts

Well, after a hearty Irish main course along with a Guinness, you might not have room for dessert. But hey, St. Patrick's Day is special, and you might want to add an Irish dessert to the menu. Here are a few ideas:
Baileys Pot de Creme Remember pudding cups? Baileys Pot de Creme are like a luxurious, grown-up version of pudding cups flavored with plenty of Irish Cream liquor. And I read that Baileys is only made with milk from Irish cows, so a dessert made with it seems to deserve a spot here! Recipe from Baking Sense.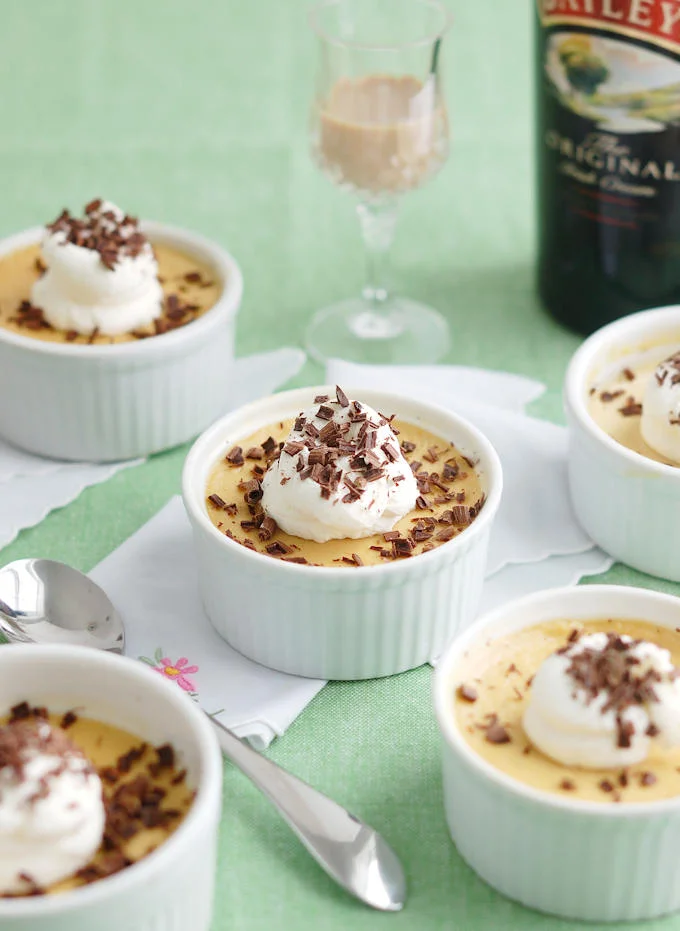 Irish Apple Cake comes to us from Irish Buzz. Apparently there is some debate in Ireland as to whether to call this Irish apple cake/tart/ or pie, but whatever you call it, a tasty choice!
This no bake Irish Fifteens traybake recipe is so easy to make! A popular sweet treat recipe from Northern Ireland made with fluffy marshmallows, crushed digestive biscuits (graham crackers), coconut and candied cherries. From Adore Foods.
Guinness Chocolate Chip Cookies from Upstate Ramblings. Chocolate cookies with white and dark chocolate chips flavored with Guinness Stout -make cookies with beer for some Irish Flavor for St. Patrick's Day.
Homemade Irish Potato Candy that's easy to make and delicious! This old fashioned candy looks just like little potatoes! From Brooklyn Farm Girl. Not sure if these would be found in Ireland, but a takeoff on the essential Irish food — potatoes!– earns it a spot in our roundup.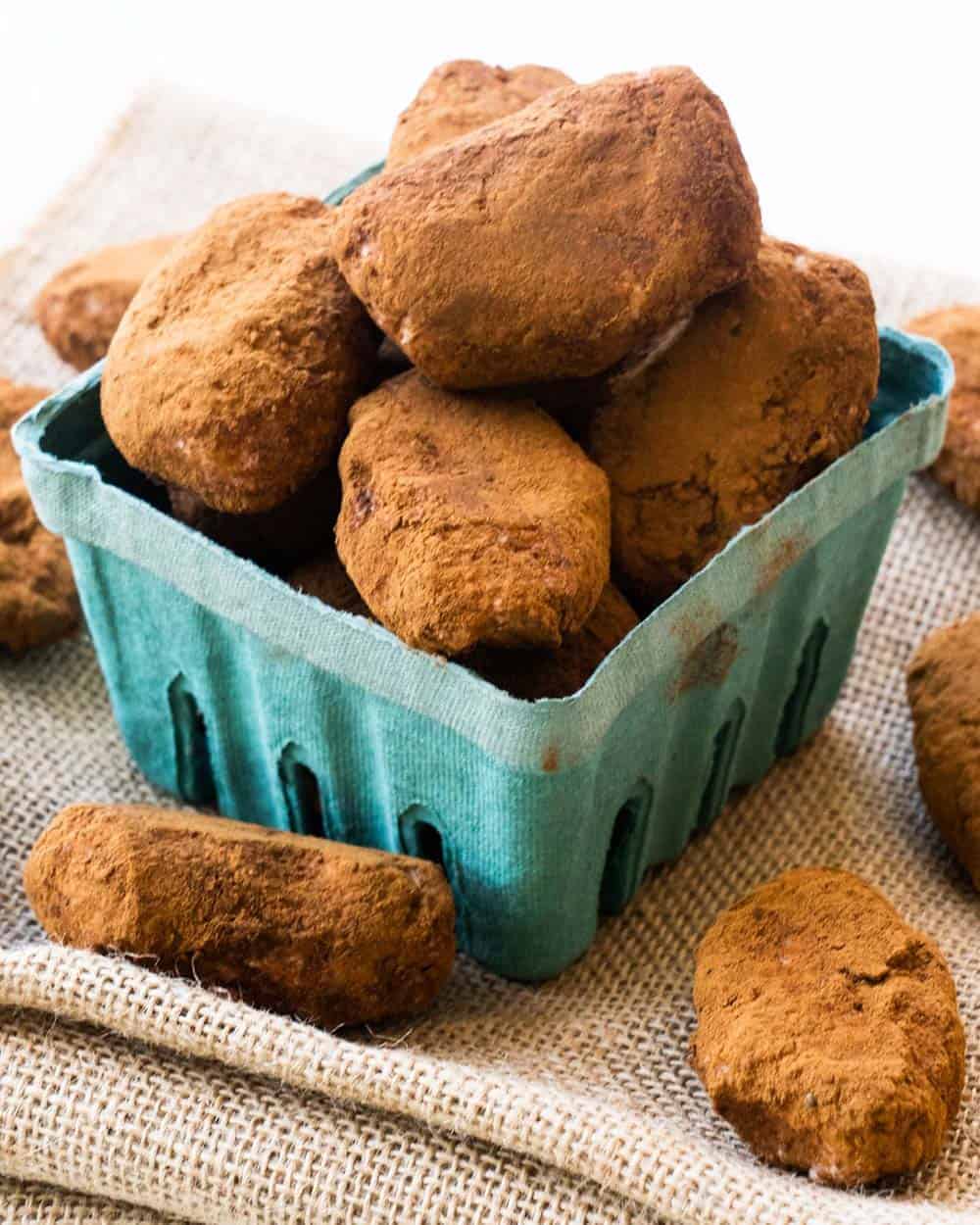 Guinness stout dark chocolate pudding cakes with salted caramel sauce. A rich, decadent, absolutely delicious dessert for St. Patrick's Day! From What A Girl Eats.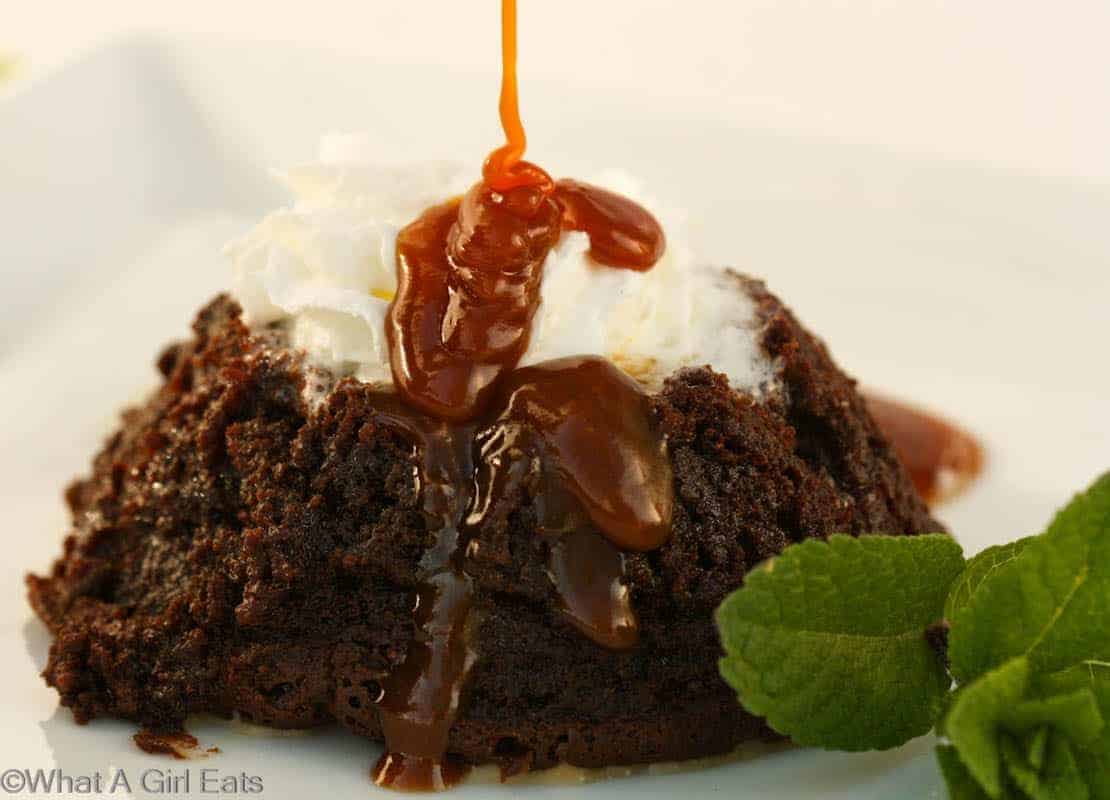 Sláinte! That's all we have for you now, but if you have other real Irish food recipes or other ideas for celebrating St. Patrick's Day, we'd love to hear from you. We want to make this article your ultimate guide for real Irish food, so will add to it from time to time.