Looking for a wine pairing for enchiladas? We have tested both with wine and red wine pairings options for a variety of enchiladas. Read on for the wine pairing ideas and some tasty recipe links! Be sure to scroll to the end where I have some links to some additional wine for enchilada pairing ideas from my Wine Pairing Weekend colleagues.
Pairing Tips
Here are some general tips for wine pairing with enchiladas that we have picked up over several rounds of sampling:
Spiciness of sauce: How spicy is the sauce you are having with the enchiladas? The more spicy it is, the more you need to factor the spice into your pairing plans.
Strategies for spicy pairings: You can go two ways with spicy enchiladas. I tend to lean toward a white wine that refreshes the palate – we have tested Chenin Blanc and Gruner Veltliner with good results. But you can also find a red that has a bit of a spice element to it. We tested a Mourvedre that brought that to the table. Try to stay away from high alcohol reds (e.g. over 14% ABV) with spicy foods. Sparkling wine can also work with spicy food. I haven't test it with enchiladas that I can recall, but we feature the combo in our Guacamole Wine Pairing Ideas article.
The filling factor: While pairing to the spice factor is key with enchiladas, what you use for filling needs to be factored in, too. Our last two batches of enchiladas used the same spicy chipotle sauce. When you start asking what wine goes with beef enchiladas, the hearty filling can tip the balance in favor of the red wine pairing for me. A white wine can be a good choice for a lighter filling like turkey, chicken, or vegetarian enchiladas.
Wine for Turkey Enchiladas
Our most recent experimenting with wine for enchiladas came when we cooked up a batch of Ground Turkey Enchiladas to test out with some Mexican wine pairings.
As we have done in some past experimenting, we tested the turkey enchiladas with both a white wine (Chenin Blanc) and a red wine (Nebbiolo) from Mexico. With a lighter filling compared to the beef we will cover next, the spice in the sauce was really at the forefront.
I felt the Chenin Blanc went a bit better with the spices and turkey filling. If you are really in the mood for red wine, go with something light to medium bodied and lower alcohol content.
Pairing for Beef Enchiladas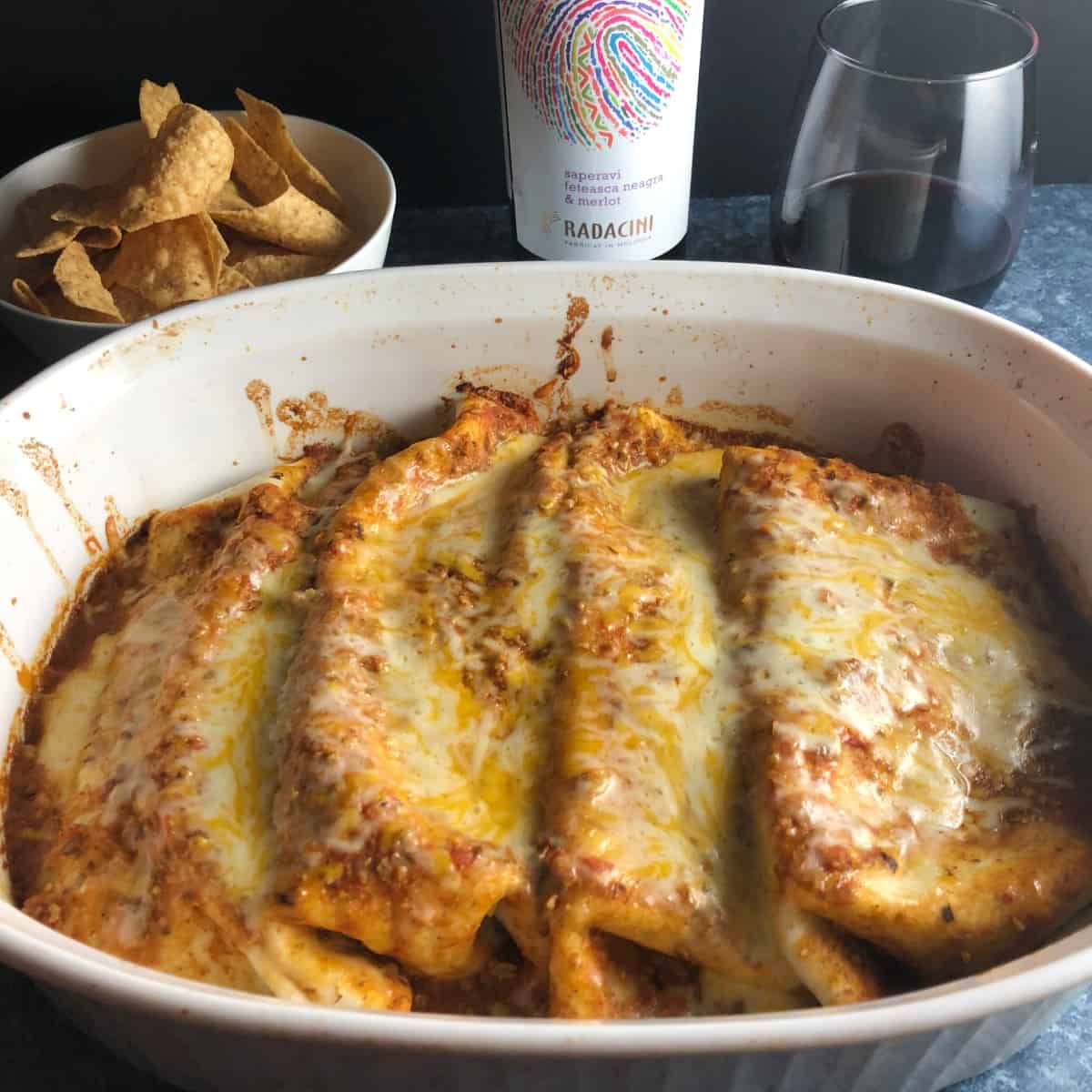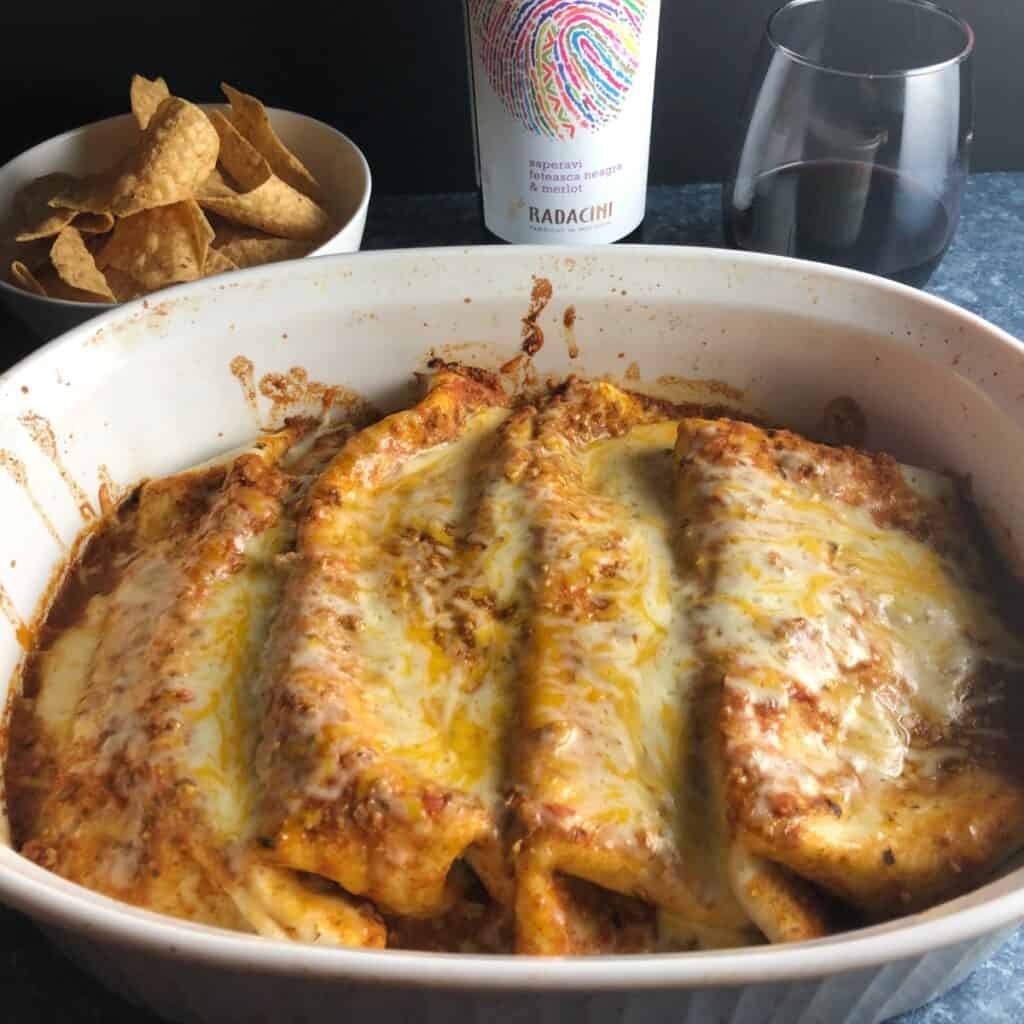 We hadn't made enchiladas in awhile, then got inspired to make some Beef and Black Bean Enchiladas this summer. We had a Saperavi based red wine blend from Moldova in mind to pair with the beef enchiladas. We were very pleased with the pairing!
If you can't get your hand on the Saperavi, I would suggest trying a Malbec or a Zinfandel. A key with the beef enchiladas is that you are pairing to the hearty meat as well as the sauce, which is fairly spicy.
Earlier Pairing Experiments
Cinco de Mayo might mean margaritas for most people, or maybe Mexican beer. But May 5 a few years ago found us sampling wine for enchiladas, trying to decide if we liked the white wine choice or red better as a pairing. This was our experiment for the wine for enchiladas themed Wine Pairing Weekend hosted by Lori at Draecana Wines.
Occasionally, even serious home cooks and food bloggers need a short cut, and that was the case for this #winePW event. As this event date approached, I realized I wasn't likely to have time to cook up a new enchilada recipe. So when Cinco de Mayo turned out to a be a busy day, I decided to grab some pre-made enchiladas from the Whole Foods prepared meals section.
The enchiladas I picked up were adobo flavored bean and cheese enchiladas. They were salty and moderately spicy, and the cheese and bean filling definitely meant that the wine we picked would need to have some substance. So wine did we pick for enchiladas? Let's find out.
Picking Wine for Enchiladas
I wanted to experiment with a white wine and a red wine choice for our enchiladas. We some Grüner on hand from the previous night, so decided to try that as our white wine option.
The 2014 Winzer Krems Sandgrube 13 Grüner Veltliner ( 12.5 % ABV) was crisp with green apple taste. The wine had a refreshing quality that cleansed the palate after a bite of the enchiladas. This is a medium bodied wine, but had a enough heft to stand up to the hearty enchiladas. The low alcohol content also helps make the wine food friendly. This Grüner Veltliner is definitely a good pairing for the enchiladas.
For our red wine choice, we went with the 2012 Amphora Mourvedre ($30, 14.5%). The Amphora Winery is a Sonoma, but the grapes for this Mourvedre are sourced from Clarksburg. I've enjoyed some other wines from Amphora before, big reds like their Zinfandel. The Mourvedre is a bit more subdued, which is good as some of their others might have overwhelmed the vegetarian enchiladas.
The Mourvedre is a very flavorful wine, with blackberry fruit and spice notes. The spice element worked well with the spicy enchiladas. The medium bodied red balance the heavy aspects of the cheese enchiladas. Another good pairing.
So which was the better wine for enchiladas? Both the red and white wines worked well for different reasons. The red wine had a flavor profile that matched well with the spices in the food, while the Grüner Veltliner was a refreshing contrast that made me ready for the next bite of enchiladas.
Forced to pick, I might give a slight nod to the Grüner for the refreshing quality; the palate cleansing aspect was good with the saltiness of the enchiladas as well as the spice. Though I certainly like the Amphora Mourvedre a lot, and will definitely grab another bottle soon.
Let's see what the other #winePW bloggers got up to with their enchiladas…
Wine Pairing for Enchiladas from the #winePW Crew
Take a look at all the great ideas generated by our Wine Pairing Weekend group below.
Camilla of Culinary Adventures with Camilla will post about Prickly Pear-Pulled Pork Enchiladas with Prosecco
Cindy of Grape Experiences will post Wine and Dine: Condes de Albarei 2014 and Goat Cheese Enchiladas
David of Cooking Chat will be debating Wine for Enchiladas — Red or White? You are here!
Jeff of FoodWineClick will be running a Taste Test: Wines for Spicy Food.
Jill of L'occasion will feature Cooking with Wine: Chipotle Pinot Noir Enchiladas.
Nancy from Pull That Cork (next month's host) is talking Mom's Enchiladas and Casillero del Diablo Wines for#winePW
Meaghan of Un Assaggio of Wine, Wine & Marriage will be making Green Chile Chicken Enchiladas #winePW
Michelle of RockinRedBlog will be Exploring Enchiladas and Wine Pairings with WinePW.
Sarah from Curious Cuisiniere will post Chicken and Cheese Entomatadas: Pairing Tomatoes with Wine
Wendy of A Day in the Life on a Farm will be talking about Elderberry Sangria.
Lori at Dracaena Wines will be Enchiladas and Trousseau Gris; Could It Be?