Lean, marinated steak strips get quickly stir-fried and served along with stir-friend veggies and topped with kimchi in this tasty and easy bibimbap. We skip the egg often used in this dish to make it friendly to those like us who have an egg allergy in their home.
Today we serve the recipe with some Cab Franc wine pairing ideas, for the "Cab Franc Around The World" #winePW event hosted by Wendy. Disclosure: Some of the wines discussed here were provided as complimentary samples.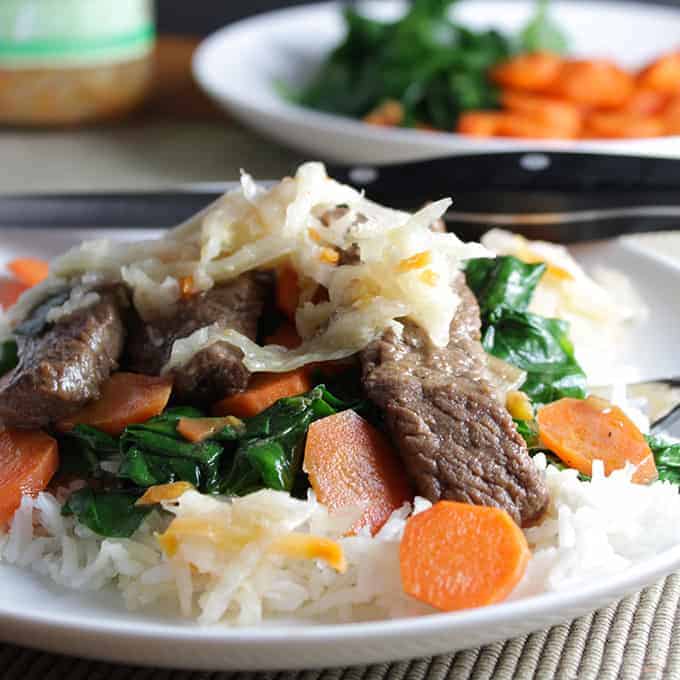 This recipe may have been inspired by a children's story, but it's not just kids stuff! After enjoying the book Bee Bim Bop while my son was in pre-school, we set out to make this Korean beef dish based on the recipe in the book. We really liked it, and have settled into our own Easy Bibimbap Recipe.
As a sign of this recipe's staying power, that pre-schooler is now a sophomore in high school as of our 2020 recipe update! We first published the recipe using the Bee Bim Bop spelling. It's been awhile since read the book, so we're boing with the more traditional bibimbap this time around.
What is bibimbap?
Bibimbap is a classic Korean dish. The term translates to "mixed rice with meat and assorted vegetables".
Peruse bibimbap recipes on the web and you will find a lot of variations, but some common themes include:
The components of the dish are cooked individually, and served in separate bowls. Each person assembles their own serving of bibimbap. Starting with a foundation of rice, then topped with meat and veggies.
Thinly sliced beef in a flavorful marinade is the typical protein. We all like beef here, but it would be easy to add a bowl of seitan or other vegetarian protein source as an option.
Bibimbap is typically served with a fried egg on top of the other ingredients. We skip that due to a food allergy. We also omit the sesame oil often used to make our version allergy friendly.
The original recipe I followed (from the children's book!) called for kimchi as a flavorful topping for the dish. We are big fans of the Korean fermented cabbage preparation, so we continue to serve our bibimbap with kimchi.
Looking at a range of bibimbap recipes, I see many don't actually use kimchi. The flavor typically comes from a sauce that gets its flavor from gochujang, a Korean red pepper paste. As you'll see in our recipe below, our simple bibimbap sauce comes from ingredients more likely to be found in an American kitchen.
But we have recently become big fans of the Weak Knees Gochujang Sriracha from Bushwick Kitchen. So when we made this recipe recently, we made it as we usually do, but then added some generous squirts of the gochujang to finish things off. Yum!
Making this recipe
This recipe is quite simple. Lean beef gets sliced thin, then briefly placed in a simple marinade.
I'm sure the tablespoon of sugar in the sauce called for in the kids book recipe was designed to entice young ones to eat their veggies! Well, our son has long outgrown children books, but we have left the sugar in the recipe. I'm sure you could cut back on the quantity if you like.
I typically use sirloin steak for this recipe, thinly sliced against the grain, prior to marinating it. You could substitute other lean cuts of steak if you like.
The steak, spinach and carrots are quickly stir-fried and offered separately at the table.
Diners get to put together their own tasty dish, topped with kimchi, a Korean fermented cabbage that I find quite tasty.
I've used prepared kimchi picked up at Whole Foods or an Asian market. I'm going to have to try making my own one of these days! If you are so inclined, blogger Kimchi Mom has a recipe and video on how to make it.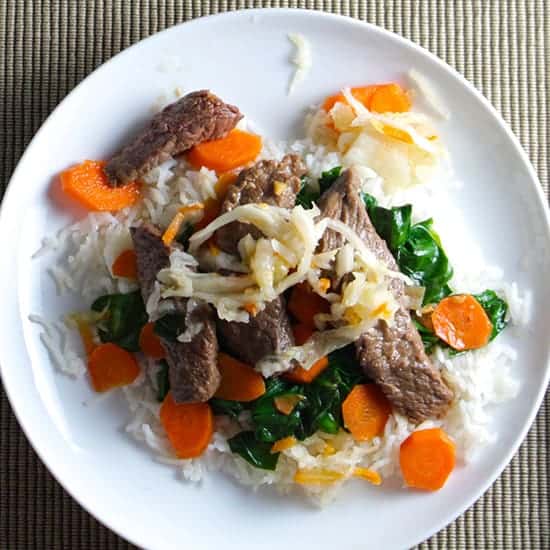 If you like this recipe featuring kimchi, you might also like our Kimchi Pork Tenderloin and Kimchi Chicken Burritos, served with sparkling wine.
Making the recipe allergy friendly
Bee Bim Bop typically gets served with egg on top. Our son is allergic to egg, so we skip that. We also skip the sesame oil called for in many versions for the same reason. We are happy to report our allergy friendly version, free of egg, nuts, dairy and sesame, is very tasty!
Cab Franc Pairing
You can get a recipe from the children's book, but alas, no wine pairing tips. I've got you covered!
Steak is generally not too hard to pair with wine. But when you marinate it in a a salty / sweet Asian sauce, and top it with fermented cabbage (kimchi), you've got to work a little harder for a good pairing.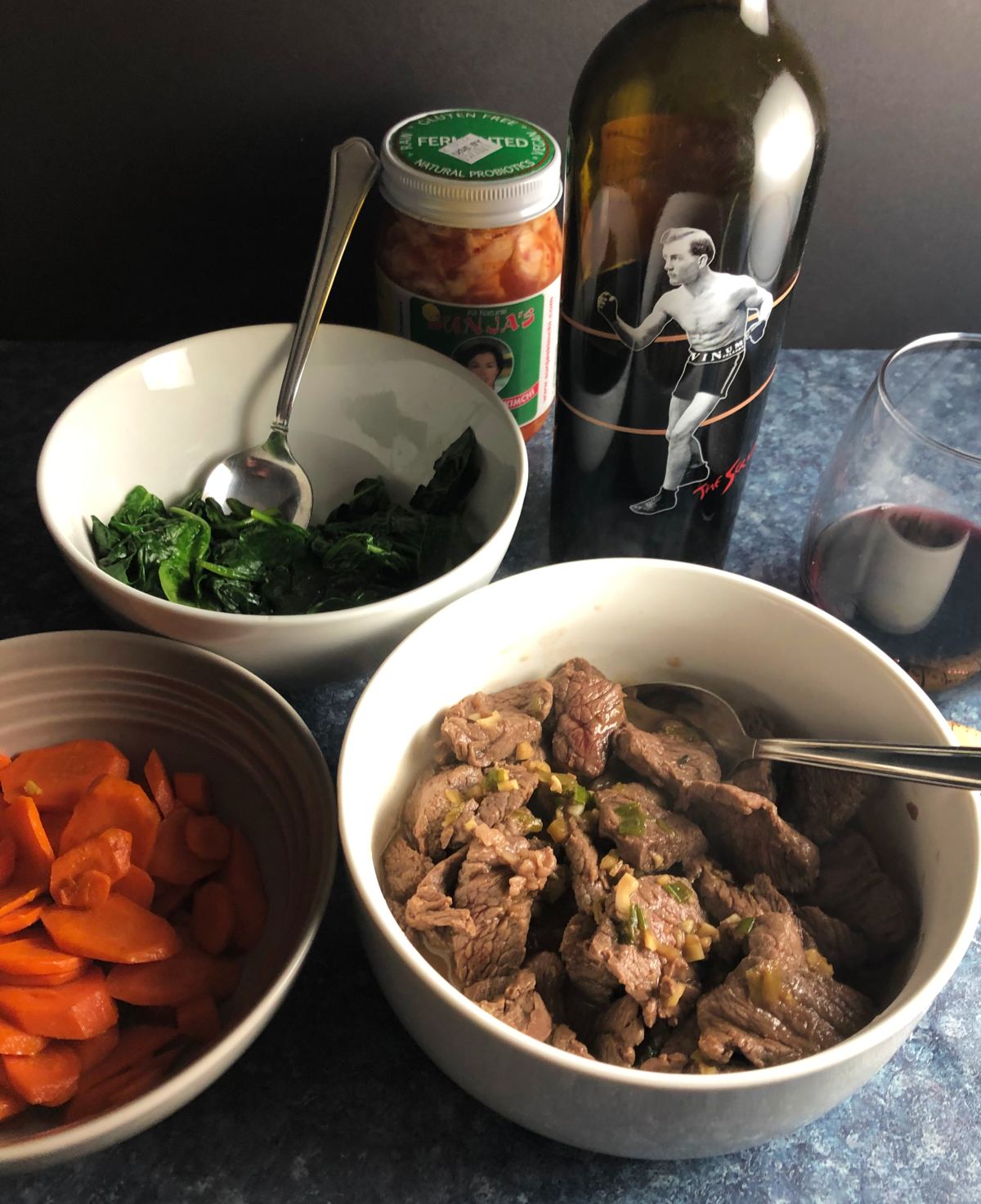 Fear not! There is versatile, food friendly Cabernet Franc which is up to the pairing challenge. As I covered in my Cabernet Food Pairing Tips article, Cab Franc has enough heft to stand up to beef, but can also pair nicely with some challenging foods.
We first tested Cab Franc paired with our bibimbap recipe with a bottle from Dracaena Wines. Mike & Lori Budd are passionate about Cab Franc! So much so that they founded the annual #CabFrancDay, which we have enjoyed for several years now.
It was awhile back that we had the Dracaena Wines Paso Robles Cabernet Franc with the bibimbap. I basically noted their fruit forward Cab Franc matched very well with the beef and kimchi topping. For a more recent pairing with Dracaena Wines, check out our Portuguese Kale Soup Recipe, which we recently enjoyed with their latest vintage.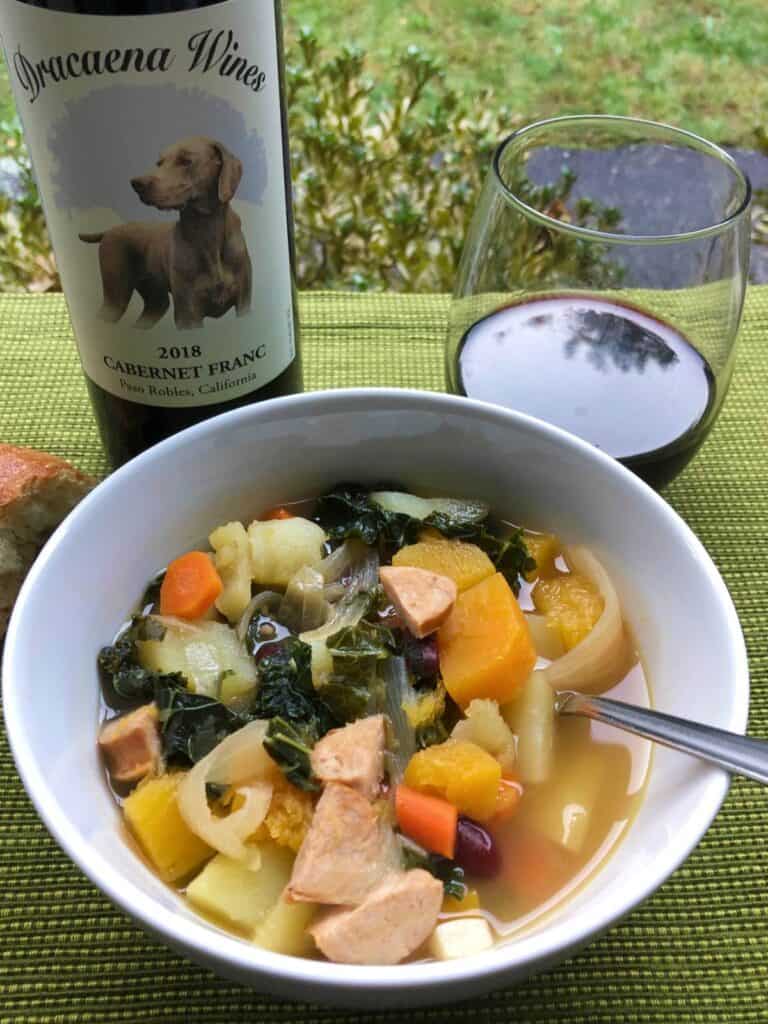 Speaking of #CabFrancDay, for the 2020 version of the wine day, we had a bottle of The Scrapper 2016 Cabernet Franc ($35, 14.9% ABV), from Vinum Wine Cellars, made with grapes from El Dorado, in the Sierra foothills. Planning our pairings for the day, we figured making our easy bibimbap recipe should be part of our plans!
I get violets and berries on the nose of The Scrapper. Blackberry fruit on the palate, with notes of oak, vanilla and a hint of pepper. A lush, full bodied wine. Sure enough, count this as another Cab Franc to try with bibimbap!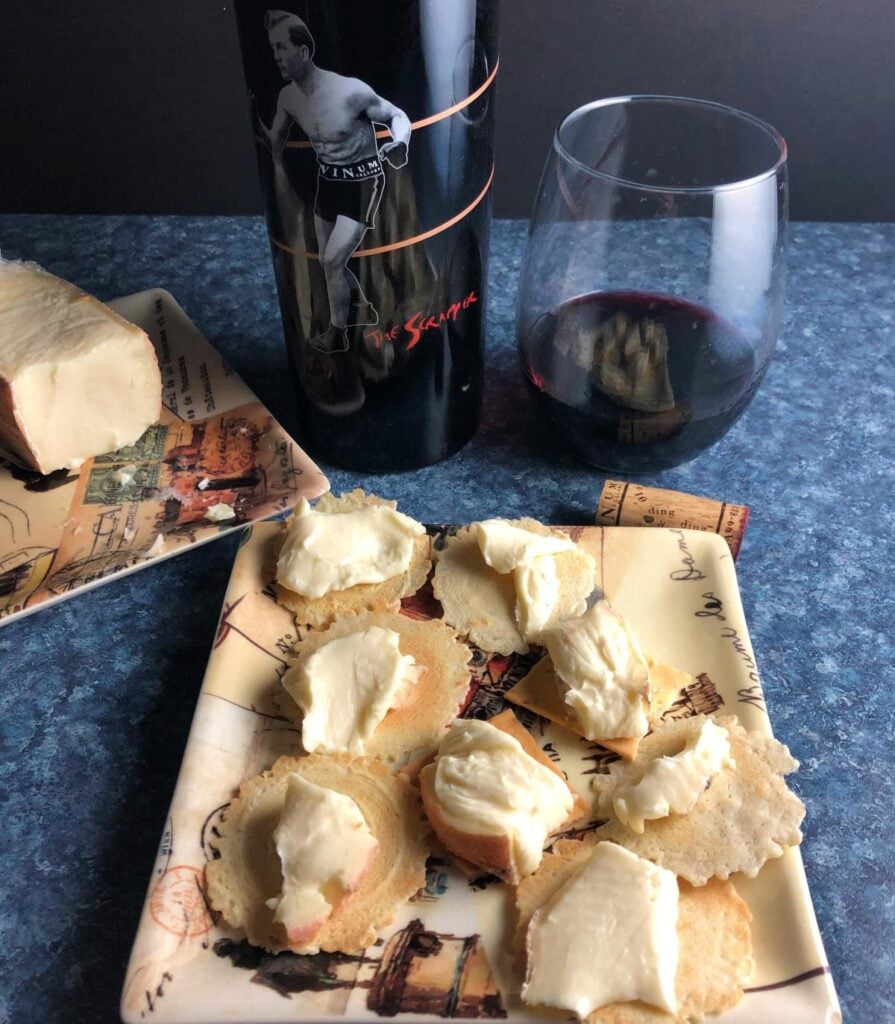 When we first opened The Scrapper, we enjoyed nibbling on it with some taleggio cheese on herbed crackers — the herbs really made the pairing sing.
We had two bottles of The Scrapper. The second time around, we served it with our Muhammara Spicy Red Pepper Dip. Although I usually serve this dip with Pinot, once again Cab Franc also rose to the occasion.
We have also found a great wine pairing for Bee Bim Bop that includes Cab Franc in the blend. The 2017 Domaine François Chidaine Touraine Rouge ($14, 12.5% ABV) is a fresh, lively and food friendly Loire blend comprised of 30% Côt (Malbec), 30% Cab Franc and 40% Pineau d'Aunis.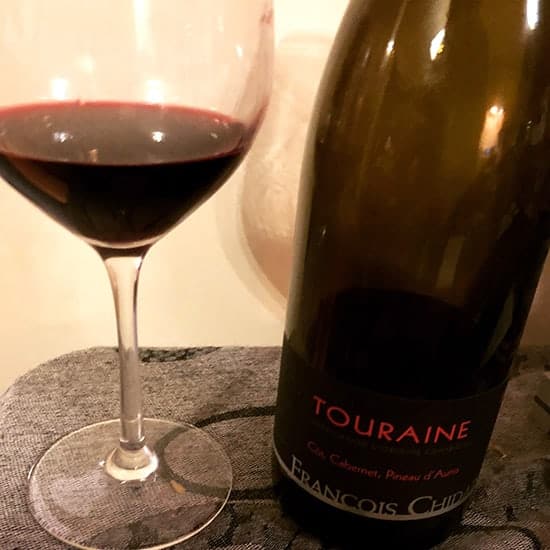 The fresh aspect of the Touraine Rouge really works well with the dish. Has me thinking a Gamay based Beaujolais might also be good to try.
Original pairing
This dish also pairs well with a nice Zinfandel – that was our go to pairing before we discovered how nicely it pairs with Cab Franc. For instance, we have enjoyed it paired with the 2009 Enkidu Diener Ranch Zinfandel. Enkidu winery is based in Sonoma, but the grapes for this Zin are sourced from nearby Lake County. This zin is tasty and refined, enhancing the dish rather than overwhelming it.
Print
Recipe card
Easy Bibimbap Recipe
Lean, marinated steak strips get quickly stir-fried and served along with stir-friend veggies and topped with kimchi. This is an allergy friendly version of the classic Korean recipe, omitting egg and sesame oil.
Author: Cooking Chat
Prep Time:

15 mins

Cook Time:

15 mins

Total Time:

30 mins

Yield:

4

servings

1

x
Category:

main

Method:

stir-fry

Cuisine:

Korean
1

lb sirloin steak, sliced very thin across the grain

2

cloves garlic, minced

2

scallions, chopped

5 tbsp

soy sauce

1 tbsp

sugar

2 tbsp

vegetable oil
dash black pepper

2

carrots, peeled & julienned

4 cups

spinach
kimchi (Korean fermented cabbage) to pass at table. I used a prepared version.

2

or more cups cooked rice for serving
Instructions
Make the rice: Begin cooking some rice for serving as you prepare the ingredients.
Make the marinade: combine the garlic, scallions, soy sauce, sugar and black pepper in a bowl. Add the steak slices and combine well. Set aside to briefly marinade for at least 10 minutes.
Stir-fry carrots: Heat 1 tablespoon of oil in a wok or a large skillet on high heat. When the oil is hot, add the carrots and stir-fry for about 2 minutes, stirring often. Remove the carrots to a serving bowl.
Wilt the spinach: Add a dash of the remaining oil if the wok looks dry after moving the carrots. Keeping on high heat, add the spinach and stir-fry until it just starts to wilt, which will take just a minute or two. Use a slotted spoon to move the spinach to another serving bowl.
Stir-fry the steak: Drain any excess liquid from cooking the spinach, and wipe the wok a bit with a paper towel. Add the remaining oil on high heat, and add the steak. Stir-fry for about 3 minutes, stirring frequently. The steak is done when the outside of the meat is brown, and the inside is cooked to your liking. We definitely recommend serving this dish with the meat medium rare.
Serve: Place the steak, veggies, rice and kimchi in bowls to serve, either at the table or buffet style on the counter. Start each plate with a serving of rice, then the veggies, followed by the steak. Top with kimchi for a tasty Korean meal!
Notes
Bibimbap is often served with a fried egg over the top. We skip that due to a food allergy concern, but you could add it if you like.
The dish is often served with gochujang, a Korean red pepper paste, instead of or in addition to the kimchi. Lately I've been adding Weak Knees Gochujang Sriracha to many things, so added some to our most recent bibimbap, along with the kimchi. Delish!
Keywords: bee bim bop, beebimbap, wine with kimchi
Recipe Card powered by
Like the dish? Get the book! A fun read for young children.
Cab Franc Around the World
Check out all of these blog posts from the Wine Pairing Weekend crew to appreciate how Cab Franc thrives around the world and makes for great pairings!