Our Carrot Ginger Soup is an easy vegan recipe with plenty of flavor. Finding wine to go with soup isn't easy, so we have done some testing to come up with some good wine pairing recommendations for the recipe. Read on for details, or click here to jump down to the recipe. If you'd like to get right to the wine pairing info, click here. Article originally published in January 2015 and updated in 2020.
Making this soup
I first made carrot ginger soup based on the recipe in the Williams-Sonoma Soup cookbook. The recipe I'm sharing here is adapted from the version in the cookbook.
My carrot soup recipe tweaks include using some silken tofu to thicken the soup a bit as well as adding some additional protein to this vegan recipe. My spice blend for the soup is a bit different than theirs, too. In addition, I topped the soup with toasted pumpkin seeds for a nice crunch and presentation benefits.
Below are a few tips for making this soup. For the full step by step instructions, click here to jump down to the recipe card.
Peel and chop your ginger and carrots while the onions sautés in the soup pan.
The potato adds a little extra substance to the soup. Stir that in after adding the carrots.
If you're not familiar with silken tofu–this kind of tofu has consistency similar to sour cream. That makes it a great ingredient for thickening soups like this, sauces, or toppings like in this Bean Tacos with Spicy Tofu Cream recipe.
An immersion blender is so handy for making pureed soups like this. Just stick it in the soup… In about a minute you have a nice creamy soup. Yes, you can pour the soup out of the pan into a food processor, but the immersion blender makes it so easy. I'm including the link here to some good immersion blender options on Amazon.

Stir in the remaining ingredients after pureeing the soup.
What to serve with Carrot Ginger Soup
Well, of course we are going to talk about what wine to serve with the soup. But you might want something in addition to the wine to round things out!
Last time we made this carrot ginger soup, I served it with some garlic bread toasts and that was tasty. The soup flavor profile blends Indian and Middle Eastern flavors. With that in mind, some naan bread or toasted pita could also be good side options.
Wine Pairing for Carrot Ginger Soup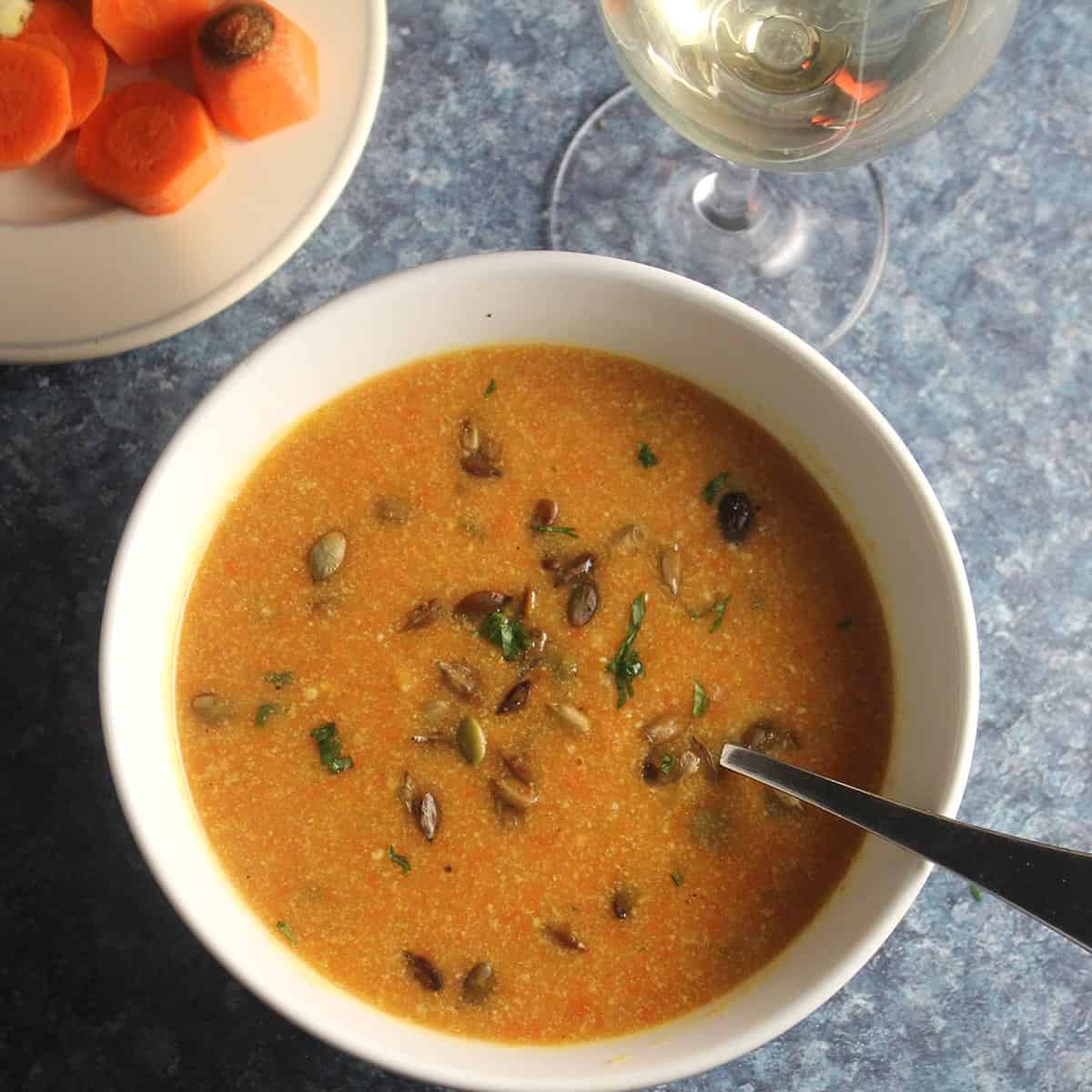 The quick story: we have enjoyed Gewürztraminer and Riesling white wine pairings with this soup recipe. Read on for the tasting details and some other ideas!
Last weekend I decided it was time to make this carrot ginger soup and test out another wine pairing! Seems like a good number of folks are finding this article looking for wine suggestions for carrot soup, so I should offer up a few ideas.
The Gewürztraminer pairing discussed below was my original pairing recommendation for the soup–still a great option. Given that a touch of sweetness in the wine balances the mild spices and ginger flavor in the soup, I thought I would try a Riesling.

Rieslings are generally very food friendly, and they come in a wide range of styles. I had recently tried the 2018 Ninety Plus Cellars Riesling ($9, 10% ABV) from Mosel, Germany. I liked the wine–and the great price–and thought it might work with the soup.
Sure enough, this pairing gets a definite thumbs up! The Mosel Riesling is light straw colored in the glass. Honeysuckle and jasmine on the nose. Peach and honey on the palate, with a touch of kiwi. The wine is medium bodied with a nice finish. Pleasant sipping on its own and a good pairing for the carrot ginger soup.
Riesling can be found in wine regions around the world, but Mosel is certainly the classic spot for producing high quality Riesling. Try another one from the region if you can't find the 90+ Riesling; go for one that has moderate sweetness a.k.a "residual sugar". In other words, don't go for a bone dry Riesling or one that is a late harvest dessert style.
Ninety Plus Cellars was founded in 2009 with an interesting business concept. They work with high quality wine producers that have made more wine in a given year than they can market using their own label. Ninety Plus acquires the wine and sells under their label. You don't know who the winemaker was, but you do know the region where the grapes were sourced. Overall, I've found the Ninety Plus wines to be of solid quality, and some such as the Riesling are very good values that I will return to regularly.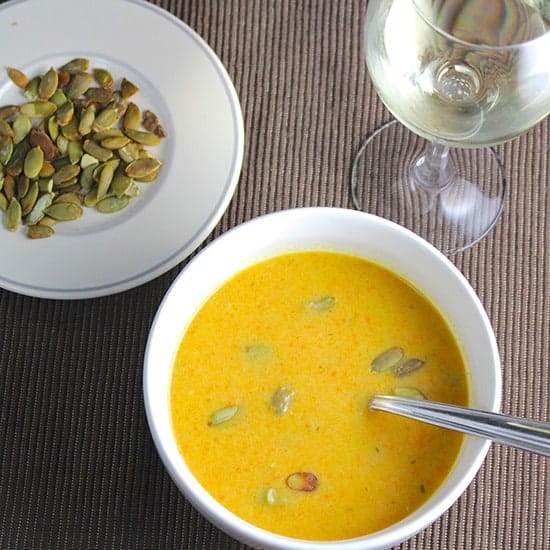 Original wine pairings for this recipe
Generally speaking, I find soups can be a bit tricky for wine pairing. Particularly a soup with a creamy consistency like this one, you are following the soup texture with more liquid, and that can be tough in terms of mouthfeel. When we we first made this soup recipe, I tried a fairly crisp white wine made with the Pedro Ximenez grape (also used for sherry), and it was OK but not great. There is a sweetness to the soup that had me thinking I should try a Gewürztraminer.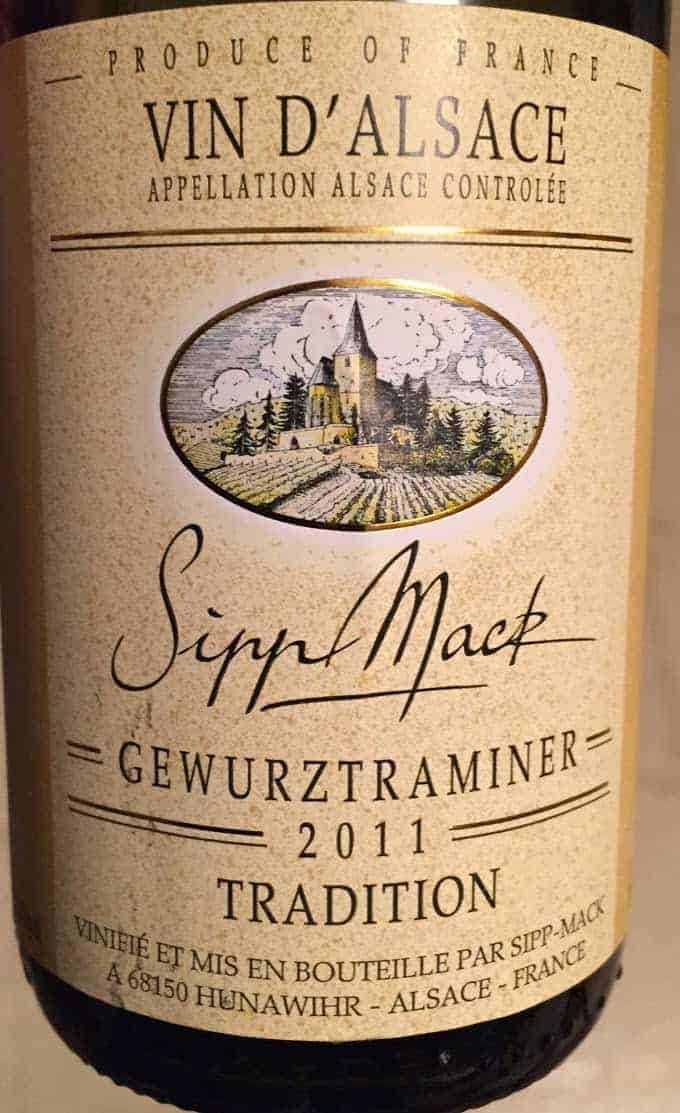 So this time I went with the 2011 Sipp Mack Gewürztraminer from the Alsace region of France. The wine has a bit of residual sugar, giving it some honey-like sweetness along with ripe pears and cinnamon spice. The supple mouthfeel of this Gewurz works very nicely with the soup, and that sweetness I mentioned is a good match for the soup's flavors. The pairing is quite good as it is, though one thing you could try if you are so inclined is to kick the spice up a touch in the soup (i.e. more cayenne and/or curry powder), to get more of spicy/sweet contrast thing going on. This wine works quite well with Indian food, based on that combination.
More pairing ideas
I asked members of the Wine Pairing Weekend Facebook group for about wine pairing ideas for this carrot ginger soup. Some suggestions we haven't had a chance to test yet include: Pinot Gris / Pinot Grigio, Pinot Bianco, and a demi-sec Vouvray. That last suggestion brings to mind the Vouvray pairing for our Spicy Lentil Soup recipe, which worked out quite well.
Part of the fun with wine pairing is to try out your own combinations, and see what works for you. So please do drop a comment if you try this soup with another wine pairing!

Print
Recipe card
Carrot Ginger Soup
Carrot Ginger Soup has just enough spice to provide a little extra warmth. An easy to make, vegan soup recipe.
Author: Cooking Chat
Prep Time:

10 mins

Cook Time:

45 mins

Total Time:

55 mins

Yield:

5

servings

1

x
Category:

Soup

Method:

stove top

Cuisine:

Fusion
2 tbsp

olive oil

1

onion, chopped

1

inch ginger root, peeled and finely diced

2

cloves garlic, minced

1 tbsp

scallions, minced (optional)

6

carrots, peeled and sliced

1

medium yellow potato, peeled and chopped

4 cups

vegetable stock

2 cups

water

¼ cup

orange juice

8

ozs silken tofu (

½

a typical container)

1 tsp

curry powder
generous pinch of cayenne

½ tsp

cumin

1 tbsp

cilantro

¼ cup

toasted pumpkin seeds (optional topping)
salt and pepper to taste
Instructions
Sauté onion: Heat the oil in a large soup pan. Add the onions and sauté until it softens, about 5 minutes.
Add garlic & ginger: Add the garlic, ginger and scallions (if using), cook for another minute.
Stir in carrots: Add the carrots and potato, stir to coat with the onions. Heat for a couple of minutes. Add a dash of salt.
Add liquid: Pour in the stock and water. Bring to a boil, then lower heat to medium in order to have the soup at a good simmer.
Simmer uncovered for 30 minutes until the carrots and potato are soft.
Add the tofu when the veggies are soft, toward the end of the 30 minutes of simmering.
Purée soup: When the veggies are soft and you've added the tofu, turn the heat off. Puree the soup with a handheld blender (highly recommended!) or by pouring it into a food processor.
Stir in remaining ingredients: Return the pureed soup to medium heat. Stir in the orange juice, cilantro and spices (cayenne, curry powder, cumin). Stir to combine well.
Simmer the pureed soup for a few more minutes to let the flavors combine.
Serve: Remove from heat and serve, sprinkling a few pumpkin seeds if using. Pair with a white wine, if you are so inclined. Based on our research, Gewürztraminer and Riesling are our top choices, but you might find other good options!
Notes
You can omit the orange juice if you like, but it does add a nice brightness to the soup.
We have made the soup without the scallion, and it doesn't impact the taste significantly. I wouldn't buy scallions just for this but it is a good way to use them if you have some extra on hand.
Keywords: wine pairing for carrot soup, carrot ginger soup, wine with carrot ginger soup, vegan soup recipes
Recipe Card powered by
Tool & Resources: This post contains Amazon affiliate links for products I recommend related to the article, which means I earn a commission if you choose to purchase using these links.