Spicy Lentil Soup with Spinach is a flavorful vegan soup recipe, packed with nutrition. Easy to put together with ingredients on hand, and the spices provide warmth to provide comfort on a chilly evening. Originally published in 2017, this recipe has been updated with new wine pairing information. The article starts with some details on the lentil soup and how to make it; if you want to get right to the wine pairing information, click here.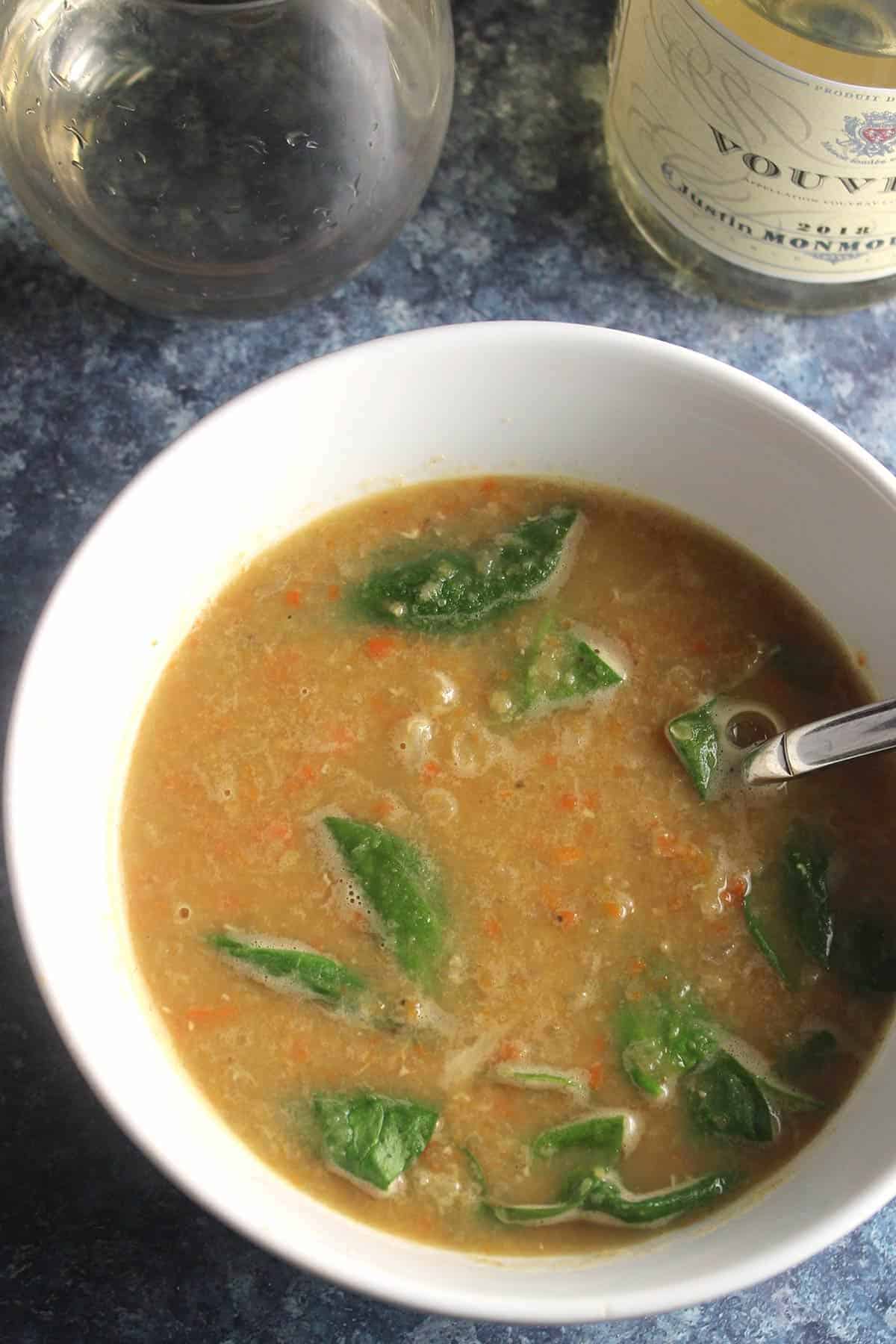 We had an old blog post from 2012 about needing a wine pairing for red lentil soup. I noticed this short article was getting some search traffic, suggesting there's a need for some pairing tips for lentil soup.
When I saw the French Winophiles would be covering Vouvray for December, I knew I'd want to participate — I've long enjoyed white wines from this Loire Valley appellation. After sampling a good Vouvray with a touch of sweetness, I thought I just might have a pairing to recommend for a spicy lentil soup. We will get to the wine shortly, but first some info on our soup.
Making this soup
The first time I made a good lentil soup, I followed this Egyptian Red Lentil Soup recipe from a Food & Wine article on Egyptian food. The recipe is definitely good as presented, but over the years I have tweaked the lentil soup recipe to develop our Spicy Lentil Soup with Spinach that I am sharing today.
This Spicy Lentil Soup is definitely substantial enough to serve as a light and healthy main course. The recipe is vegan, too, something to keep in mind if you are looking for a meatless meal. The flavor profile lies somewhere between Indian and Middle Eastern cuisine.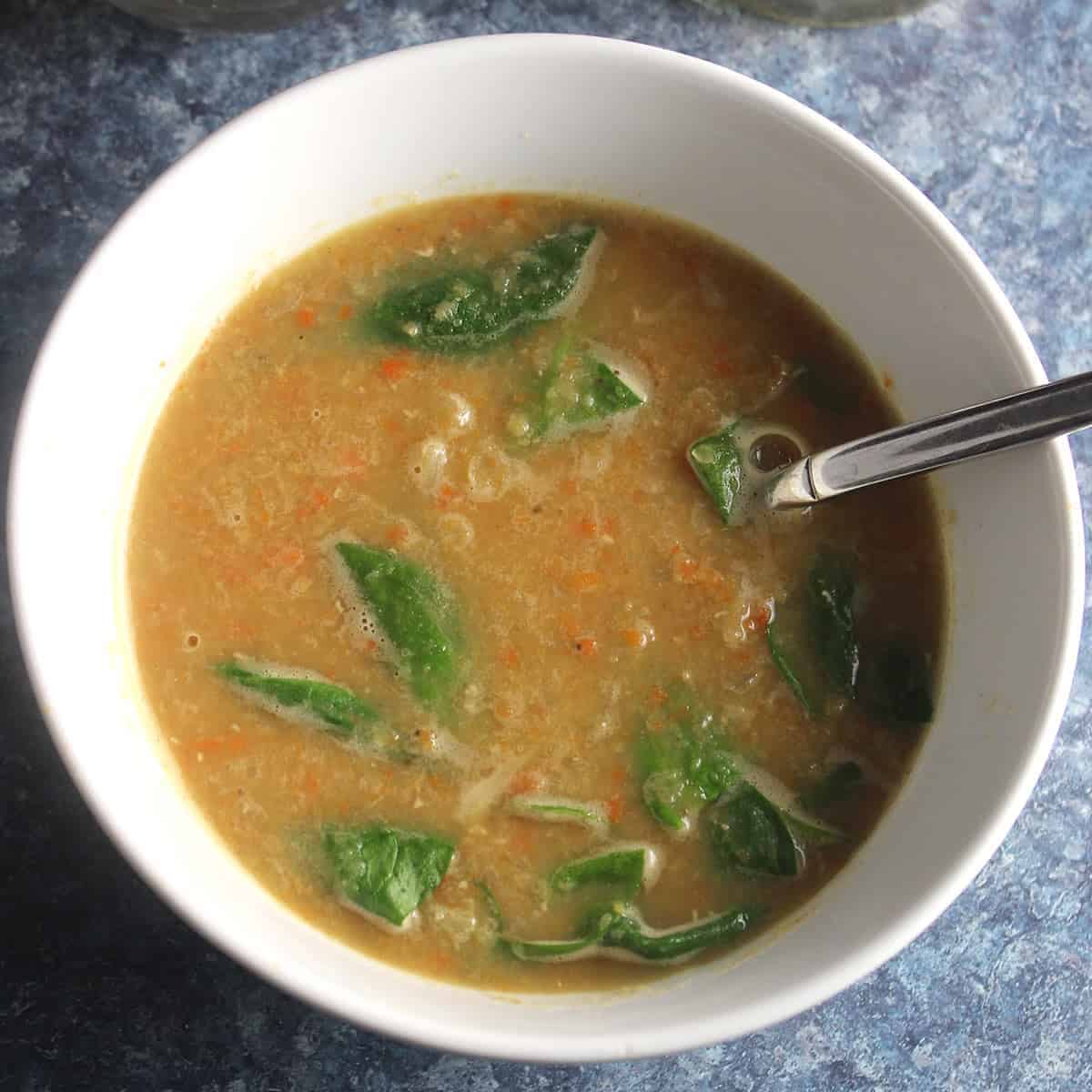 Some key points on making our spicy lentil soup:
I use red lentils for the soup — they cook quickly and absorb the flavors nicely. Carrots get sautéed with onion to start the soup, adding flavor and nutrition. And of course, plenty of garlic gets added.
The spice blend for this lentil soup includes cumin, coriander and cinnamon. Cayenne gives it some kick, and you can adjust how much cayenne to use based on the level of heat you like.
The lentil soup gets puréed, giving it a rich consistency, with some bits of lentils left for texture. Baby spinach gets added after puréeing the soup, and wilts within a couple of minutes. The green spinach add some color to the dish as well as more vitamins.
Soy sauce might not seem to go with the other spices used here, but it adds some umami to the soup.
What to serve with lentil soup
The last time we made this lentil soup recipe, we were also making our basil pesto crostini. Not a classic combination but it was tasty!
Warm pita bread or pita chips would make a good companion for the lentil soup, too.
We find the lentil soup is a meal on its own, but you could add a green salad on the side if you like.
Leftover soup
This lentil soup will keep in the refrigerator for 5 to 7 days. It makes a great lunch on a cold day!
You can stretch the leftovers by adding other things you have on hand to the leftover soup. The other day, Jodi cut up pieces of a leftover baked potato, and combined in a bowl with a bit of the soup. I added a few bits of chicken to my leftover soup yesterday.
What you need for lentil soup
Most of the short list of ingredients are probably on hand, and I'm guessing you already have a good soup pot. The one tool you might not have is an immersion blender, if you don't have on yet I encourage you to get to purée soups like this. I've included my Amazon link for convenience. You can make the soup by transferring it in batches to a blender or food processor, but that is definitely a pain!

Vouvray wine pairing
It's time to get more into the wine. We will start with a bit of background on Vouvray, then talk about the bottle we paired with our Lentil Soup.
Background on Vouvray
Vouvray is French wine region (appellation, or AOC for short) in the Loire Valley region. Vouvray is in the Touraine district, just east of the city of Tours.
Vouvray is a white wine made from Chenin Blanc grapes. It can be still or sparkling, although my experience with Vouvray has been almost exclusively within the still Vouvray category.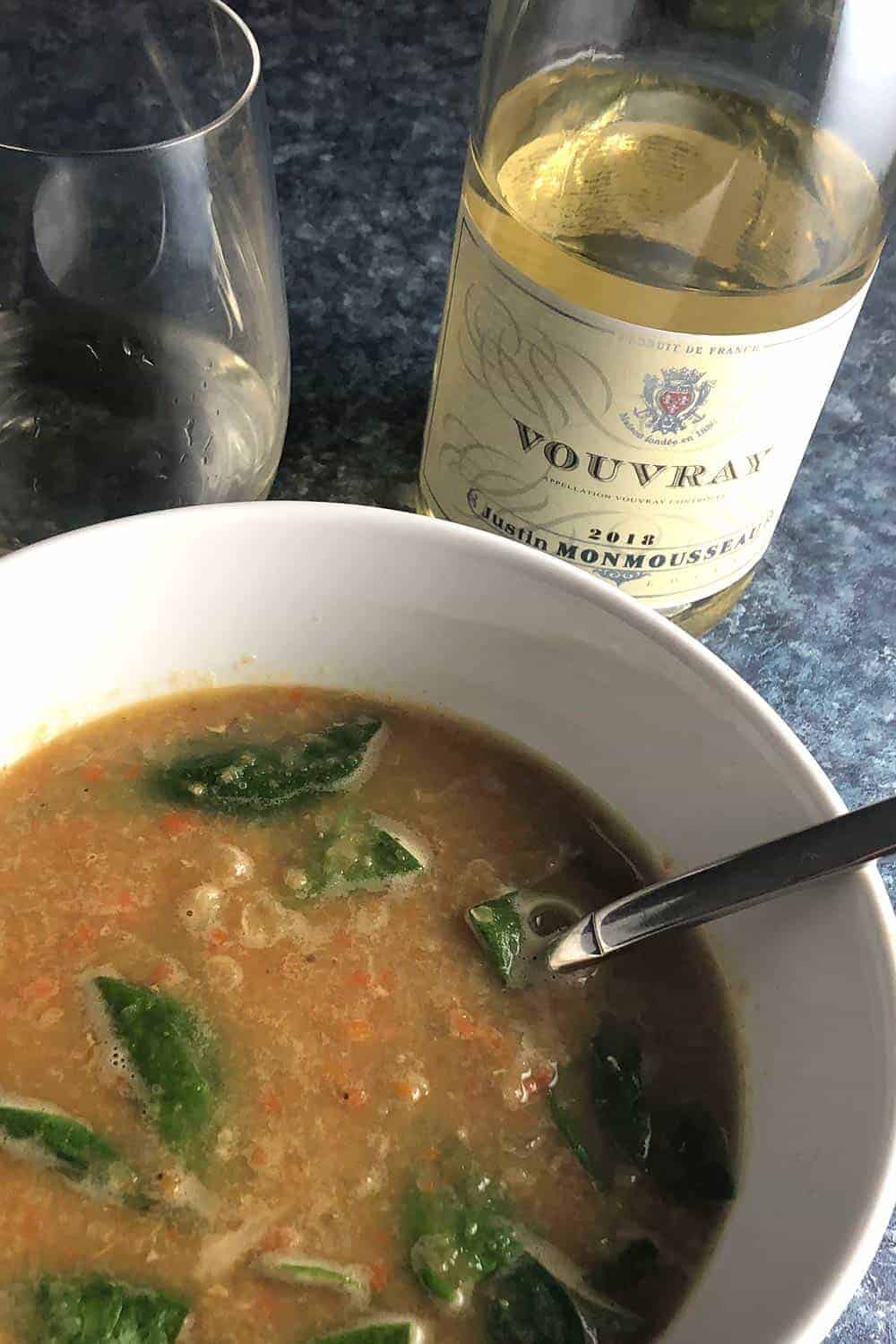 One trick about picking a Vouvray is that they come in a range of styles, not necessarily apparent on the bottle. Wine Folly has a good breakdown. As they explain, there is:
Sec: dry with minerality. This is the style I've had most frequently; I tend to be a big fan of whites with mineral notes so I like this category.
Tendre: a bit off dry with more floral characteristics. I would think the Vouvray we had with our lentil soup falls here.
Demi-sec:

sweet and fruity. The producer of the bottle we opened does also produce a Vouvray with Demi-Sec indicated on the label.

Moelleux:

very sweet dessert wine, which sounds like can involve some "noble rot" in its production.
Wine Pairing for Lentil Soup
We opened the 2018 Justin Monmousseau Vouvray ($16, 12% ABV), which shows lemon fruit on the palate with a touch of honey. That honey is a nice contrast with the spiciness of the soup.
This Vouvray is pretty full bodied for a white wine; this is another factor that makes the pairing work. I find matching up the body of the wine with soup is important. With the puréed lentils, this soup is fairly thick, so a lighter wine style would not work well here. I give this wine pairing for lentil soup a thumbs up for sure!
Monmousseau was founded in 1886, and it located in Montrichard, found in the heart of the Loire Valley region. They make a range of still Loire wines. In addition to Chenin Blanc, they produce wines with Cabernet Franc and Malbec.
I previously paired a version of this lentil soup with a Gewurztraminer from Alsace, and that worked pretty well, too. Gewurztraminer is a white wine grape that tends to produce a floral scented wine with spice notes. The French Alsace region is a good source for wines made with this grape.
For another great soup pairing, check out our Portuguese Kale Soup, which we have paired with Portuguese red wines as well as a Cab Franc.
Print
Recipe card
Spicy Lentil Soup with Spinach
Spicy Lentil Soup is a flavorful, healthy soup with enough substance to serve as a main course. The spice levels of this vegan recipe can be adjusted based on your preferences.
Author: Cooking Chat
Prep Time:

5 mins

Cook Time:

25 mins

Total Time:

30 mins

Yield:

6

servings

1

x
Category:

main

Method:

stove top

Cuisine:

Middle Eastern
2 tbsp

olive oil, divided

1

onion, coarsely chopped

2

carrots, chopped

1

celery stock, chopped (optional)

3

cloves garlic, minced

1 ½ cups

red lentils

4 cups

vegetable broth

2 cups

water

1 tsp

cumin

½ tsp

coriander
generous pinch cinnamon

⅛

to

¼

teaspoon cayenne pepper — adjust based on your preferences

1 tsp

soy sauce

2 cups

baby spinach
salt and pepper to taste
Instructions
Start the soup: Heat 1 tablespoon olive oil in a large pot on medium medium heat. Add the onion, cook for a few minutes until it begins to soften.
Add the carrots and celery, if using, followed by the garlic. Cook for another minute or two.
Stir in the lentils with the other tablespoon of olive oil. Add the dried spices at this time–cumin, coriander, cinnamon, and cayenne. Stir to combine.
Add liquids: Add the broth and water to the pot, bring to a boil. Reduce heat to simmer uncovered. Add the soy sauce. Simmer uncovered for at least 20 minutes, until the vegetables and lentils are soft.
Purée the soup: When the lentils and carrots are soft, purée the soup using a handheld blender. Alternatively, transfer the soup into a food processor to purée in batches. I like to leave a bit of the lentils and carrot pieces for consistency.
Add spinach: Stir the baby spinach  into the puréed soup. Add salt and pepper to taste. Heat the spicy lentil soup with Swiss chard for about 5 minutes to let the flavors meld.
Serve: Serve the spicy lentil soup in bowls while hot. Enjoy, perhaps with a glass of Vouvray!
Notes
Adjust the amount of cayenne pepper based on how much spice you like. If you like it really hot you could try more than the ¼ teaspoon we give as the higher end of range.
Soy sauce add umami to this dish.
You could add other greens instead of the spinach, but they make take longer to cook. We have used previously cooked Swiss chard with good results.
Keywords: lentil soup, red lentil recipes, vegan recipes, spicy lentil soup
Recipe Card powered by
More recipes with lentils
Lentils are a healthy and affordable protein source. Here are a few more delicious recipes with lentils from here on Cooking Chat.
And if you're interested in another good soup, check out our Roasted Root Vegetable Soup.
More Vouvray Articles and Pairings
Has your curiosity been piqued about Vouvray? Take a look at all the great investigations from our Winophiles group. If you see this in time, join our chat on twitter on Saturday Dec. 21 at 11am EST. Find us at the hashtag #winophiles