Today we are exploring organic wines from two wineries with a strong commitment to growing quality grapes without the use of chemicals. We are focusing on organic wine pairings for veggie burgers and other simple midweek meals. Disclosure: the wines featured here were provided as complimentary samples by the wineries.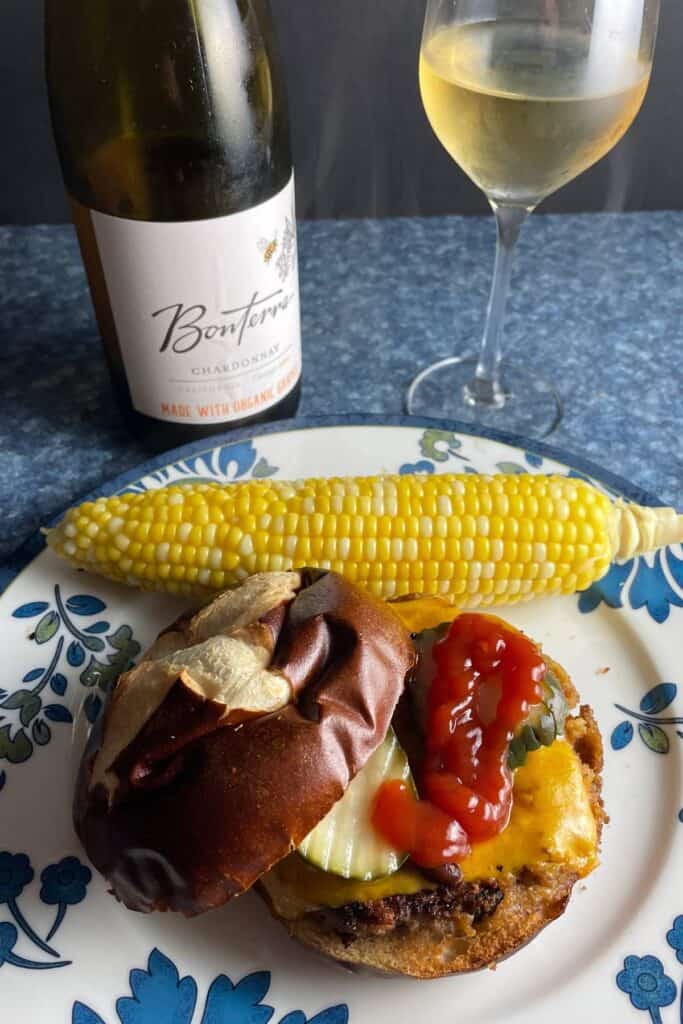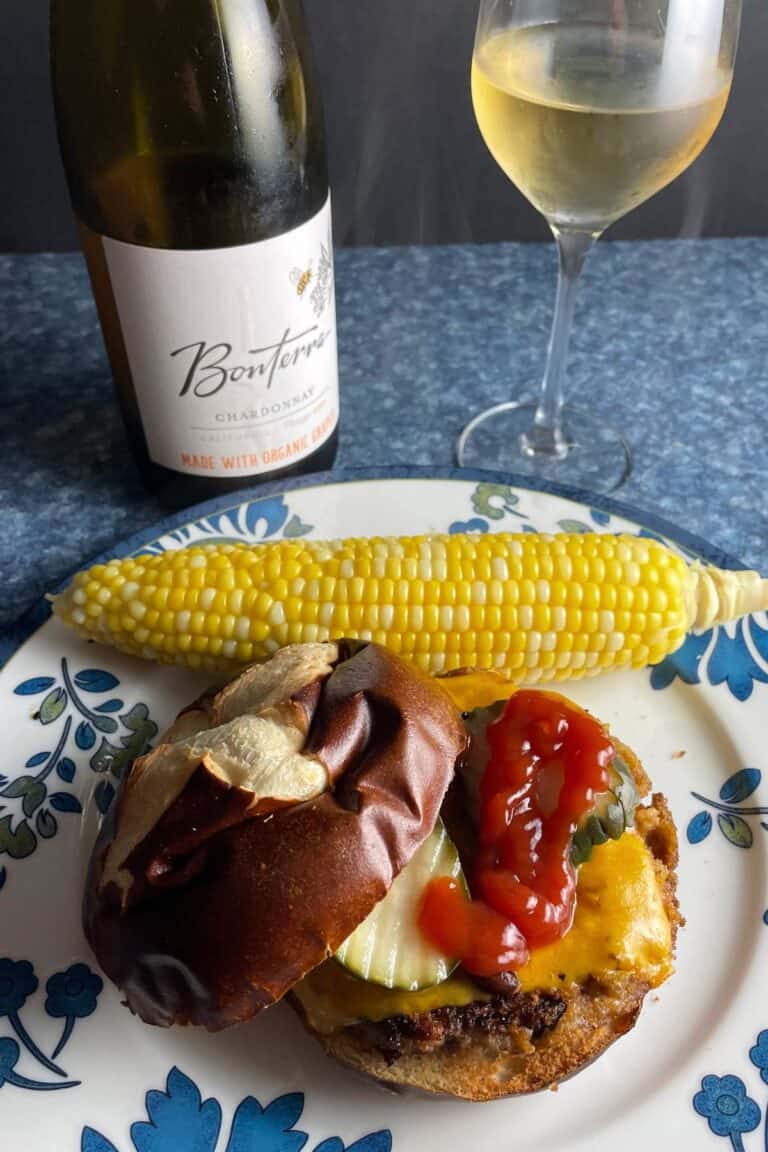 Today we are joining our Wine Pairing Weekend friends to explore organic wines and pairings that go with them. Thanks to Gwendolyn Abbey from Wine Predator for hosting this event!
We received samples for this event from Bonterra and Cono Sur winery. They landed on our porch earlier this week as we were still unpacking from vacation. So with just a little bit of time to try these wines, it was a perfect time to exploring some organic wine pairings for veggie burgers and other easy weekday meals. I will update this post soon with details on those other pairings!
Jump to:
What is organic wine?
Simply put, organic wine is made from organically grown grapes.
But like many things in the wine world, it does get a bit more complicated. In the US, to carry the "USDA Organic" symbol on the label, everything used in the winemaking process such as yeast and any other additives must also be organic. Added sulfites are also strictly limited.
"Made with organic wine grapes" is an option that allows US winemakers to produce wine with organic grapes while retaining a bit more flexibility in the winemaking process.
This Wine Enthusiast article has more information on organic wine and some related terms such as sustainable wines and natural wine.
To grow wine grapes organically, a different crop management system must be used compared to a vineyard which relies on pesticides and chemical-based fertilizers.
Wine pairing with veggie burgers
We do a burger night fairly regularly as part of our busy weekday meal planning.
I keep frozen veggie burgers on hand for a quick meal. My favorite of late has been the Hilary's Southwest Adzuki Bean Burger. In addition to having a nice little bit of spice, these veggie burgers are free from the top twelve most common food allergens.
Our teen son has four of those top twelve allergens covered. So I can cook up veggie burgers for Jodi and me in the same skillet I make B's grass fed beef burger. Still haven't gotten our young carnivore into veggie burgers yet!
With veggie burgers on our menu fairly often, we've had a chance to try some different pairings. Prior to this weeks wine pairing with veggie burger experiment, two of our better options have been:
Red blends with Syrah We've had success with the Farmhouse Red Blend from California, which has mostly Zinfandel and Syrah along with a small about of other red grapes. A Costieres de Nimes red blend, with Syrah as the dominant grape, also got a thumbs up.
Medium to full-bodied rosés have also been a good option for us. One I have notes on is the Buttonwood Finger Lakes Rosé, which I have as a B/B+ for the pairing. So good, but room for improvement…
So with room for improvement going into today's pairing, I did some quick check to see what others were recommending. I found a few sites that recommended either Chardonnay or Tempranillo to go with veggie burger. So let's try Chard, and make it organic!
Bonterra Chardonnay with Veggie Burgers
I decided to try the 2020 Bonterra Chardonnay ($14, 13.5% ABV) with our veggie burgers this week.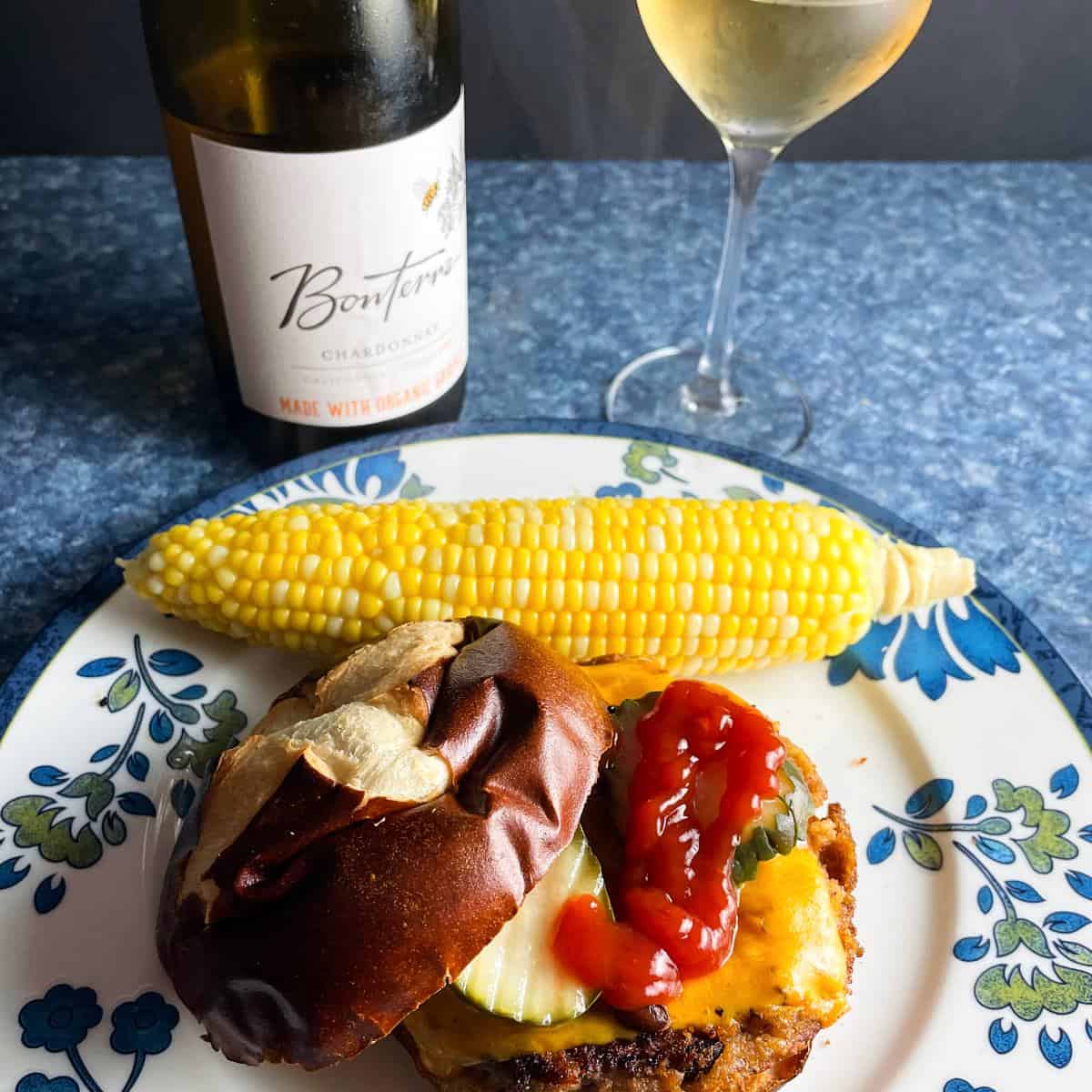 I get light citrus on the nose of the Bonterra Chardonnay. On the palate, bright lemon fruit with notes of honeysuckle. I would say it is made with a fairly light touch — more nuanced than other California Chardonnay at this price point.
70% of the grapes for this wine are aged in oak, with the balance done in stainless steel. It would seem to be this combination that gives it a good combination of complex flavor, but enough restraint. The winemaking here lets that quality organic fruit shine!
We both were very enthusiastic about the quality of this Chardonnay for the price point. It was pleasant to sip on its own, and paired nicely with our veggie burger. This would seem to support the Chardonnay with veggie burger suggestion that I read about in preparing for this article! Now I need to try a Tempranillo.
Now I can say the wine was very good, and share tasting notes…but the best indication of my assessment is that I saw another bottle in the shop yesterday and quickly grabbed it to purchase and bring home!
Homemade veggie burger recipes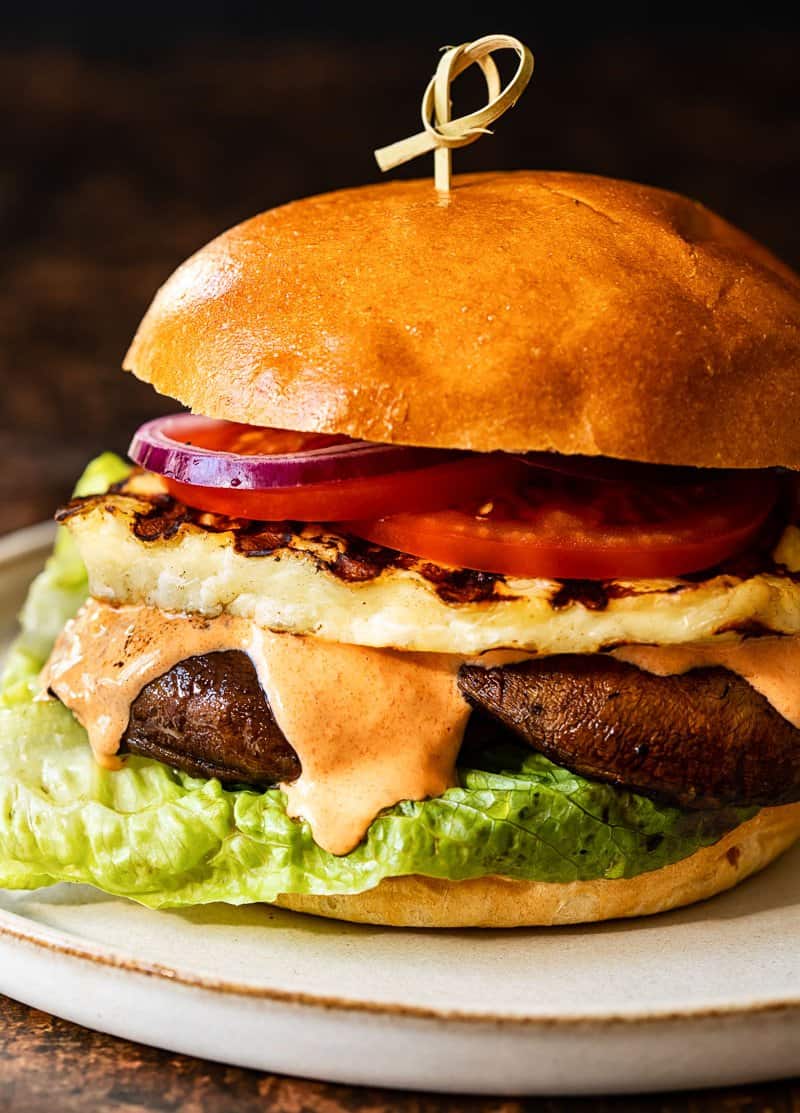 As I mentioned, I typically keep some store bought veggie burgers in the freezer. But if you are feeling a bit more ambitious, why note make your own veggie burger? Here are some tasty looking recipes from some blogging colleagues that I plan to try soon:
More organic wine pairings
We also had two organic wines to try from the Chilean winery, Cono Sur.
We started our organic wine month tasting by opening a bottle of the 2019 Cono Sur Bicicleta Reserva Pinot Noir ($8, 13.5% ABV). The nose reminded of a rose bush on a warm summer day. On the palate, I got blackberry and cherry fruit, with a touch of black pepper. This is a light bodied red wine, with some acidity that makes it good for food pairing.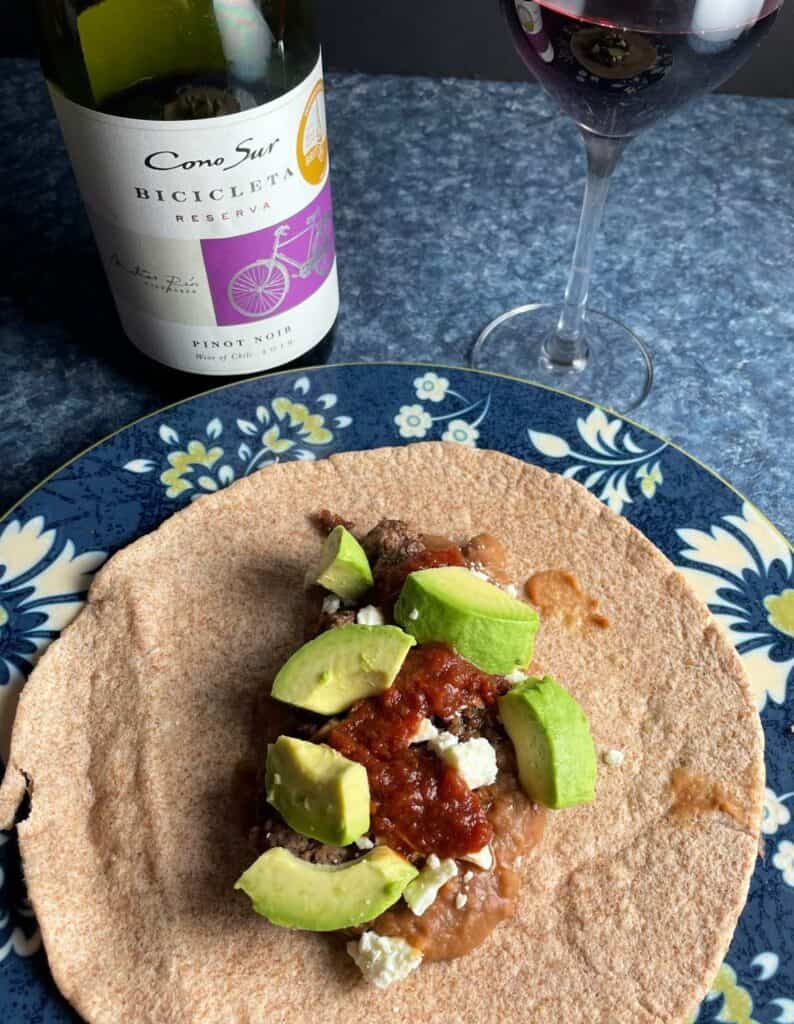 The Cono Sur Pinot turned out to be a good pairing for taco night. I had a bean taco with a bit of grass fed ground beef. The Pinot was able to do well with the flavors of the beans, beef and the chipotle salsa.
Taco night is typically putting some things together with out following a recipe. But two favorite vegetarian taco recipes you might want to check are our Easy Black Bean Tacos (which we enjoyed with a Riesling) and our Roasted Cauliflower Tacos with Avocado Cream, shown below.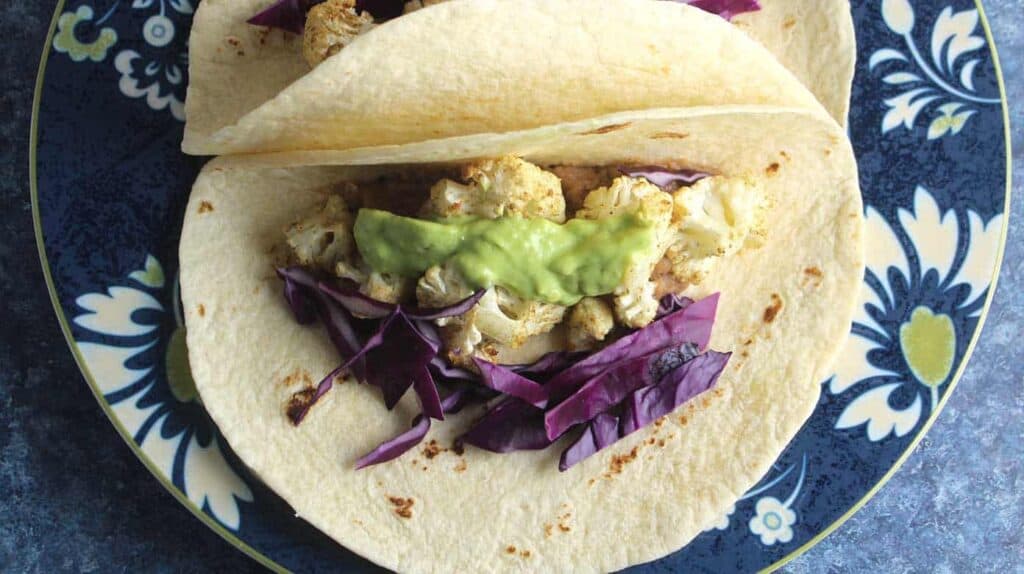 We wrapped up a busy back to school and work week with our Friday pizza night. Our veggie supreme pizza order seemed like a good time to open the 2020 Cono Sur Organic Chardonnay ($11, 13.5% ABV).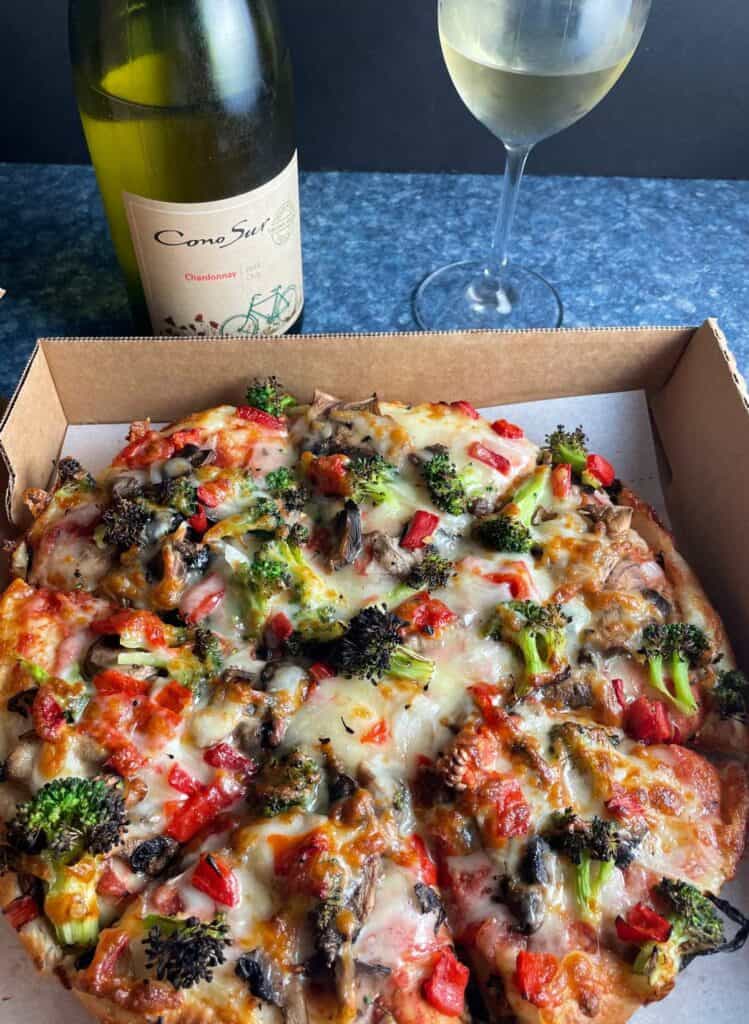 The Cono Sur Chardonnay has a freshness on the palate, with lemon fruit and underlying minerality. There was also a bit of acidity. That acidity along with the body of the Chardonnay helped it work quite well with the pizza.
Organic wine articles from #winePW
Be sure to check out all these great articles about organic wine and pairings to go with them! Visit all these Wine Pairing Weekend articles for details.