Our Spinach and Pear Salad recipe shows how you can elevate a basic salad with a few additional ingredients. Ripe pears add delicious flavor to a spinach salad. Then we add a touch of spice to the simple dressing for a salad that might steal the show at your dinner table!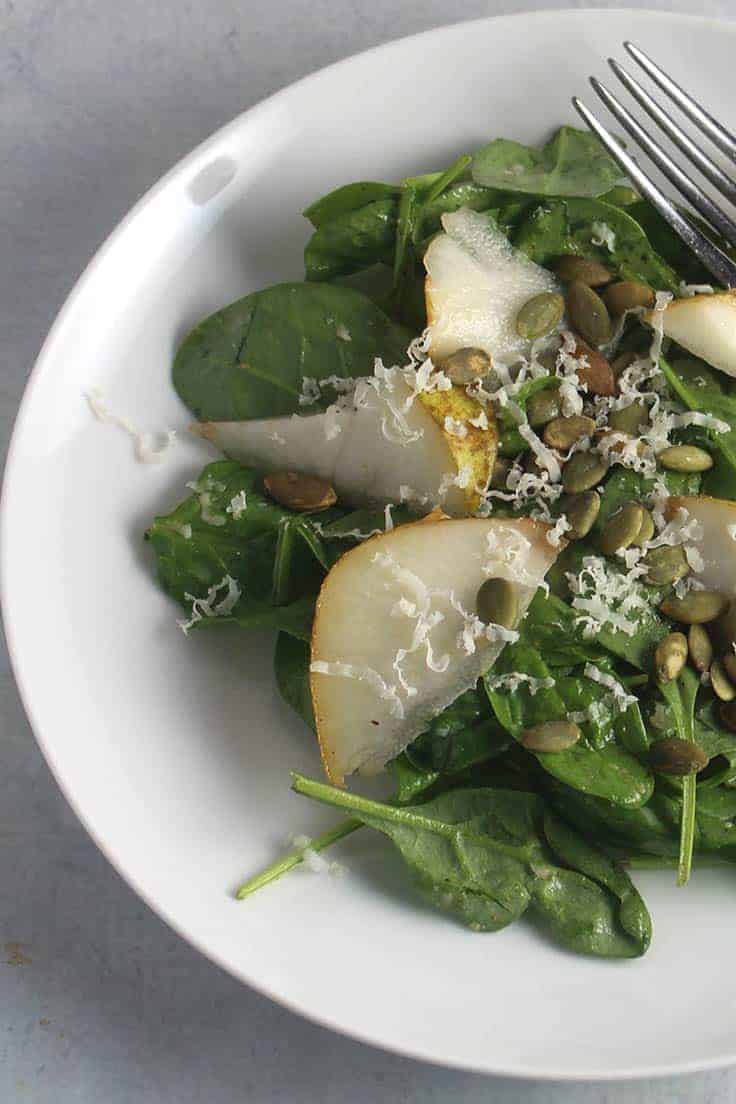 We eat a lot of salad here, but don't necessarily post a lot of salad recipes. We tend to focus on a few basic preparations, such as this Spinach Salad with Simple Vinaigrette recipe. But when I came up with the Spinach and Pear Salad recipe, I knew we'd have to share it!
This salad recipe was inspired by having a couple pears that quickly went from too hard to eat to being a bit overripe.
Our son loves pears. So much so, when he was a toddler, he once managed to eat an ENTIRE PEAR while I briefly turned my back. Yep, the whole thing, core and all. The whole pear was gone, and he just had a big grin on his face…and a good bit of pear juice!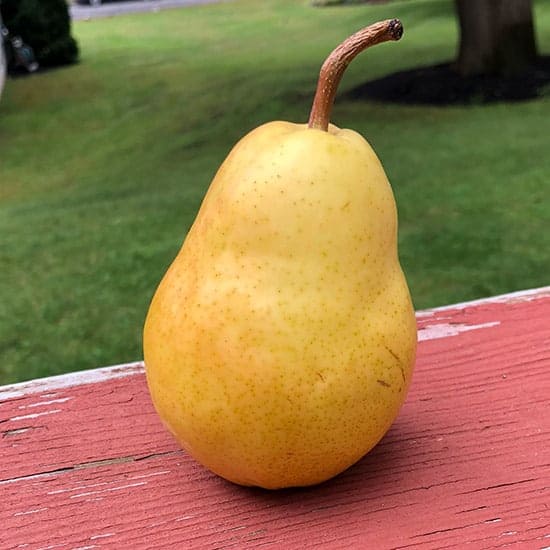 Fast forward nearly a dozen years, and when B comes grocery shopping with me, he is sure to put a few pears in the cart. Problem is, the pears sit in the fruit bowl too hard for a few days, then suddenly they can be too ripe for our son's taste.
When our son turned up his nose at a pear that had gotten too soft in his estimation, I was inspired to create this spinach and pear salad recipe.
Making Spinach and Pear Salad
I really should add fruit to salads more than I do. I almost always enjoy salads ordered out that have a bit of fruit in the mix. I guess that was in the back of my mind when I decided to repurpose the very ripe pear for this spinach salad.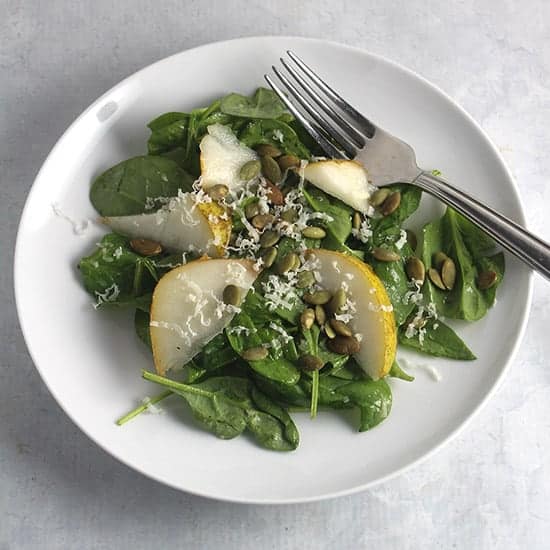 You want to slice up the pair thinly so that each bit of pear has a good bit of fruit and just a bit of skin. I don't recommend adding the core!
For the vinaigrette to top our spinach and pear salad, I added a bit of honey along with olive oil and vinegar to enhance the natural sweetness provided by the pear. But then inspiration hit, and I thought a bit of spice would give some nice contrasting flavor to make it more interesting.
The little bottle of garam masala caught my eye. I thought this Indian spice blend featuring curry and cinnamon might be a nice touch. Boy, what a great call! This little addition really added some great flavor.
I often add a bit of feta cheese to my salads, and that could work here. But I had some Gruyere cheese on hand, and shredded a bit of that to top the spinach.
So let's recap– you have spinach, ripe pear, Gruyere cheese and a vinaigrette with a touch of Indian spice. Yes, this spinach and pear salad just might be the star player on your dinner table! Don't forget a little sprinkle of pumpkin seed for a bit of crunch, and to put you in that fall food mode.
For another creative salad, try our Cucumber Radish Salad with Maple Vinaigrette.
Wine pairing
I typically serve my salads alongside the main course. This spinach and pear salad found its way to our table several times over the past two weeks. The one wine pairing that stands out is the night I served this salad with our Leftover Steak Pasta recipe.
I opened a big red Lagrein wine from Italy's Alto Adige – Südtirol region to go with the leftover steak pasta. You might think a big red wine would overwhelm the spinach and pear salad. But there's a spice element in the Lagrein and enough nuance overall that it worked quite well.
The Spinach and Pear Salad would make a nice starter course for a multi-course meal with wine pairings. If you are serving this salad on its own like that, my first instinct would be a sparkling wine. I just visited Westport River Vineyards in Southeastern Massachusetts, and they have a number of sparkling wine options that could work nicely.
If you aren't in the mood for bubbles, maybe try a good Gewürztraminer. Let me know what you pair with this pear salad!
Print
Recipe card
Spinach and Pear Salad
Ripe pears add great fruit flavor to a basic spinach salad. We add a touch of spice to the simple dressing for a salad that might steal the show at your dinner table!
Author: Cooking Chat
Prep Time:

5 mins

Total Time:

5 minutes

Yield:

3

servings

1

x
Category:

salad

Method:

salad

Cuisine:

American
For the vinaigrette
2 tbsp

extra virgin olive oil

1 tsp

honey

2 tsp

champagne vinegar

½ tsp

garam masala spice blend
Other salad ingredients
4 cups

baby spinach

1

ripe pear, thinly sliced into bite sized pieces

2

to

3

tablespoon shredded Gruyere cheese

2 tbsp

pumpkin seeds, lightly toasted
Instructions
Make the vinaigrette dressing: combine the olive oil, honey, vinegar and garam masala in a bowl. Set aside.
Place the spinach in a large salad bowl.
Spoon the vinaigrette over the spinach. Toss to coat the spinach thoroughly with the dressing.
Spread the pear slices over the top of the spinach. Sprinkle the pumpkin seeds and shredded Gruyere cheese over the top of the salad, and serve.
Notes
This is a good recipe to make if your pears have suddenly gotten a bit overripe. If you've got some brown spots on an overripe pear, just cut those brown spots out and use the good fruit.
Garam masala is an Indian spice blend. If you don't have it on hand, you could substitute a mix of curry powder and cinnamon, two of the main ingredients in garam masala. I would do a 2 parts curry to 1 cinnamon ratio.
Keywords: spinach salad, pear recipes, spinach and pear salad
Recipe Card powered by
Looking for more ways to use pears? Check out this roundup of pear recipes from Bon Appetit. Or if you're looking for another tasty salad idea, try our Arugula Salad with Maple Vinaigrette!