Skillet Pork and Black Beans is an easy and flavorful recipe drawing upon Cuban cuisine. We offer some wine pairing ideas and cocktail suggestions for this recipe. First published in 2015, recently updated with some new photos, pairings and other tips. Disclosure: This post contains affiliate links, and some of the wines suggested were provided as complimentary samples.
I'm a big fan of beans, enjoying them in many different ways–soups, pasta and along with rice. So there was no doubt I needed to participate in the Beantastic #SundaySupper event! But what to share?
At first, I thought I might share my basic black beans and rice recipe. It's a good reliable recipe, but I wanted to make it a bit more interesting. The result was this tasty Skillet Black Beans and Pork recipe.
Serving up pork, black beans and rice is loosely inspired by Cuban cuisine. I'm sure my Cuban friends would be quick to point out ways this differs from their traditional recipes, but hey, it's very tasty!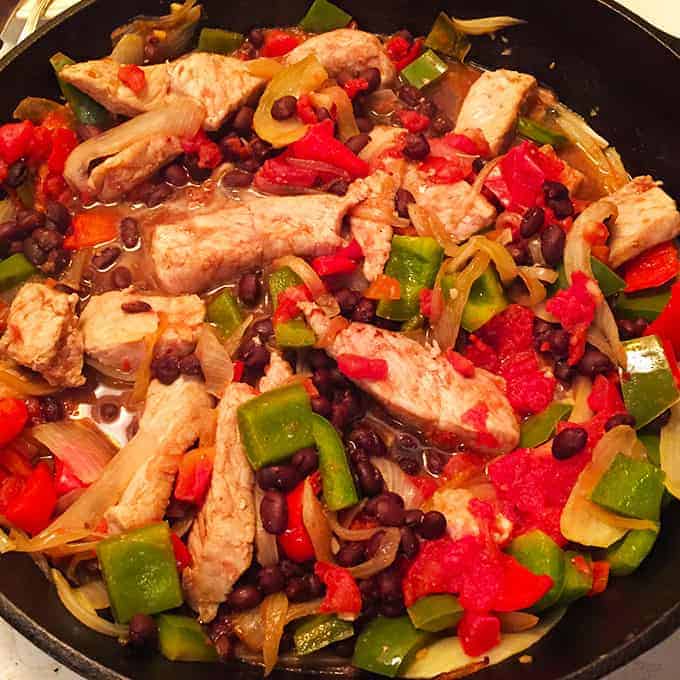 A great thing about combining meat with beans in a dish like this is that it cuts down on the amount of meat needed. Thus, you get plenty of protein, while curbing the fat and expense. This was also a handy way to dig into stash of canned beans we had for the spring 2020 quarantine!
Just two modest sized boneless pork chops are used here, rubbed with a garlic/cumin mixture, then sliced thin. Those two pork chops were plenty for 4 substantial servings thanks to the beans.
Tips for making the recipe
Head down to the recipe card for all the details; below are some key tips for making a delicious skillet pork and black beans meal:
Follow the cooking times carefully here. Unlike a fattier cut like pork shoulder that might typically feature in a Cuban dish, the lean pork chops cook quickly. A quick sear, then brief simmer with the tomatoes and beans leads to some very flavorful and tender pork.
During the recent re-make of the recipe, we added some frozen corn to the dish. Not a crucial addition but if you have some corn in the freezer it's a nice way to use some.
We also topped the dish with sliced avocados when making it recently. Another tasty addition, but the dish is fine without it– we left some of the old photos in to show the meal without the avocado.
Enjoy over some brown rice, and be sure to serve with some sour cream, as it adds a nice flavor.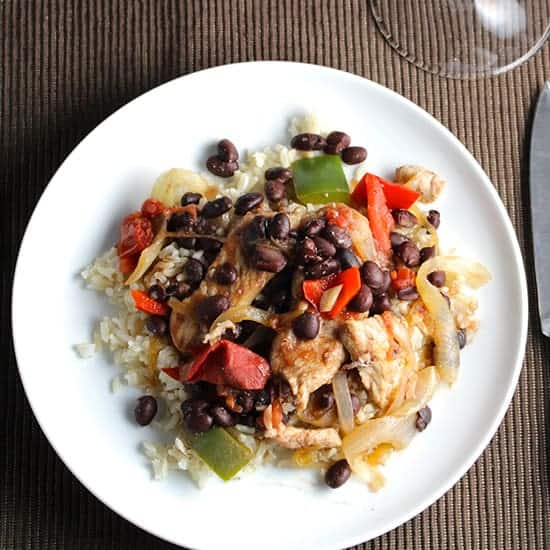 Cocktail Pairings with Drinkworks
A Mojito or perhaps a Margarita would be a great pairing here.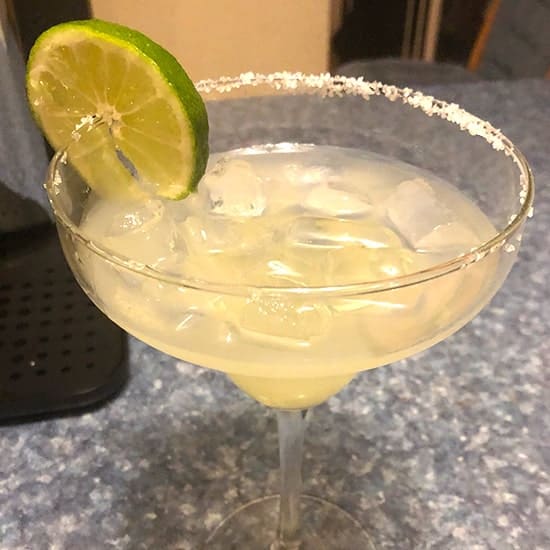 I recently tested the Drinkworks® Home Bar by Keurig®. This is a handy way to make cocktails at home. Read more about Drinkworks in my article about it here. Or if you are ready to get your Drinkworks Home Bar, use this link http://bit.ly/2VkoiZW, and you get $50 off the usual retail price!
Wine Pairings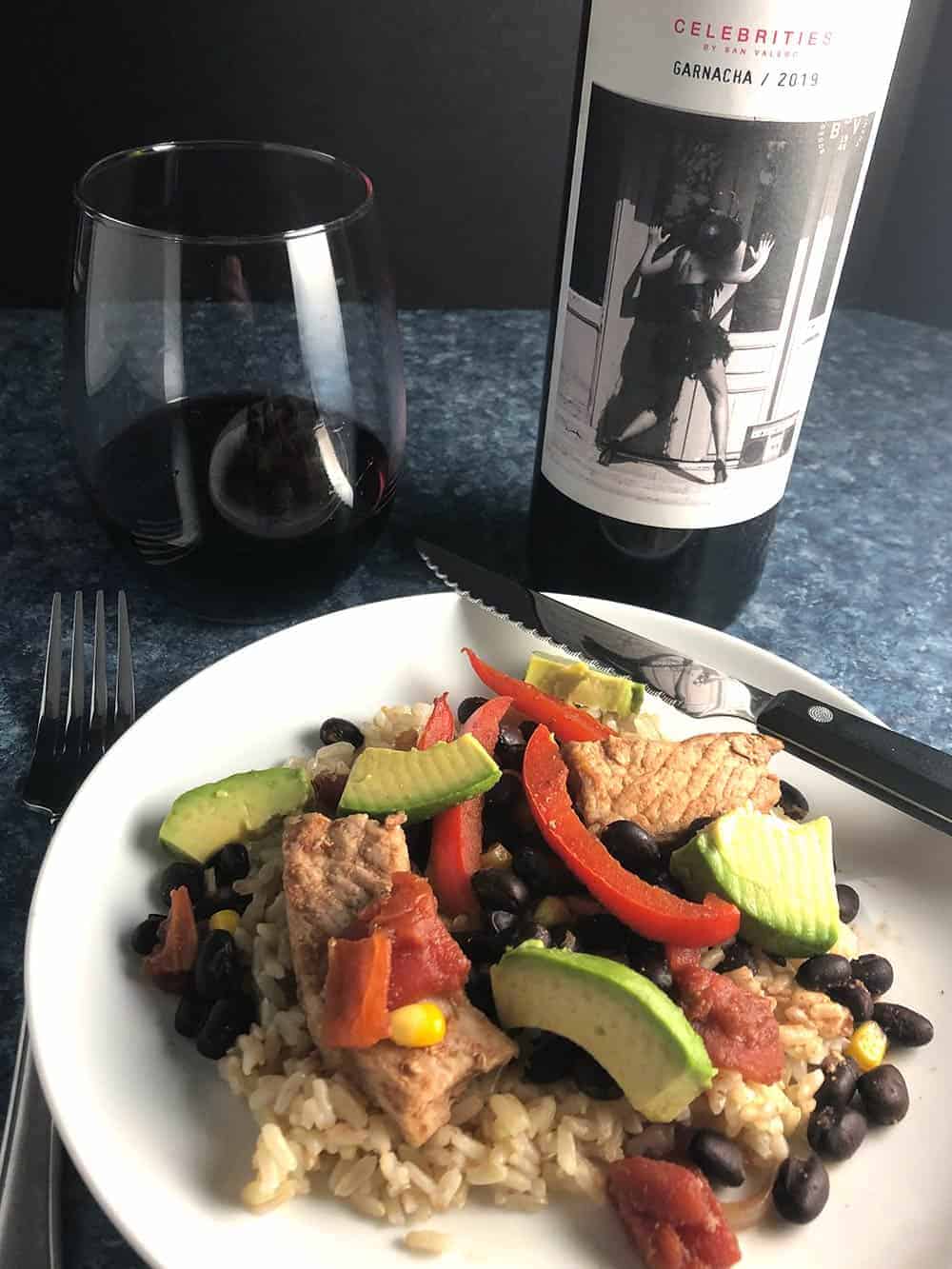 If you want to stick with wine, as I often do, this dish has Garnacha written all over it! You might be more familiar with this red wine grape as Grenache, but the flavors of this dish seem to marry particularly well with a Spanish version of it.
My remake of this skillet pork dish coincided with the April 2020 #WineStudio exploration of wines from Bodega San Valero, from the Cariñena region in Northeastern Spain.
I decided to open the 2019 Celebrities Garnacha ($15, 14.5% ABV) from San Valero to go with the pork and black beans recipe. This young Garnacha is bright cherry red in the glass, with a jammy nose. Boysenberry fruit, light and flavorful on the palate.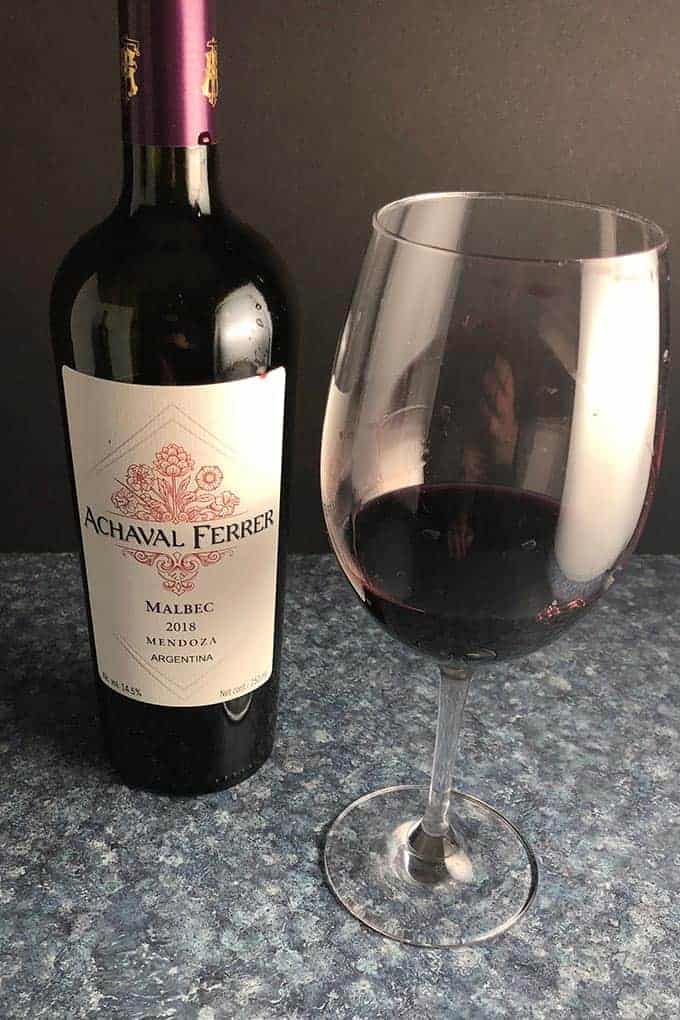 I would definitely recommend this wine with the dish, or try another Garnacha if you can't get your hands on this one.
This recipe made plenty for us to enjoy for two nights (and there's still enough for lunch today!). So on night two, we tried the dish with the 2018 Achaval Ferrer Malbec ($25, 14.5% ABV) from the Mendoza region of Argentina. I received this wine as a sample for Malbec Day.
The Achaval Ferrer Malbec has a musky nose, and bright purplish red in the glass. On the palate, blackberry fruit and a bit of spice. A good representation of Mendoza Malbec.
The Malbec worked pretty well with the pork dish, although I would give the nod to the Garnacha as my recommended pairing. However, if you have a Malbec on hand it can certainly be a good option, too.
Print
Recipe card
Skillet Pork and Black Beans
Pork gets cooked along with black beans, onions and peppers for a tasty, Cuban-inspired dish.
Author: Cooking Chat
Prep Time:

10 mins

Cook Time:

20 mins

Total Time:

30 mins

Yield:

5

servings

1

x
Category:

Main

Method:

stove top

Cuisine:

Cuban
2

boneless pork chops

1 tsp

garlic powder

1 tsp

cumin

½ tsp

salt

1 tbsp

olive oil

1

large sweet onion, chopped

1

red bell pepper, chopped (see notes)

2

cloves garlic, minced

1 cup

diced tomatoes

½ tsp

allspice

14.5 oz

can black beans, drained and rinsed

1 cup

frozen corn (optional)
low fat sour cream for serving
avocado slices for topping (optional)
cooked rice for serving
Instructions
Prep the pork: Make a quick rub for the pork by combining the garlic powder, cumin and salt in a small bowl. Rub it on the pork chops and set aside while you start the other prep.
Sauté vegetables: Heat the olive oil in a large skillet on medium heat, then add the onions. Sauté for a few minutes, then add the peppers. Sauté for about 5 minutes more, and the onions and peppers should start to soften. Add the garlic and cook for 1 more minute.
Add the pork: Slice the pork chops about ½ inch thick. Push the onions and peppers to the edge of the pan to make room for the pork. Add the pork to the center of the pan. Cook the pork slices for 3 minutes on one side so they start to brown, then turn the pieces to cook on the other side.
Add tomatoes:  After turning the pork over, cook for another minute or so. Next, add the diced tomatoes, allspice and corn, if using. Stir to combine the pork and tomatoes with the onion pepper mixture. Simmer covered for 5 minutes.
Add black beans: Remove the cover, stir in the black beans. Cook for about 3 more minutes. The pork should be cooked just right at this point–nice and moist, just cooked through. Cut open a piece to double check.
Serve the pork: When the pork is cooked, scoop some of the pork and beans, and serve over rice. Pass sour cream at the table; this adds some nice additional flavor.
Notes
When we originally made this recipe, we used ½ a green bell pepper and ½ of a red bell pepper. When remaking this recipe, fresh ingredients were hard to come by, so just cutting into one pepper made sense. Either way works fine.
You could also try adding a squirt of lime juice to the finished dish.
Keywords: pork chops, pork and beans, skillet pork recipes, pork and black beans and rice
Recipe Card powered by
More Skillet Recipes
I love the convenience of cooking up a skillet meal, quickly melding flavors together. Here are some more of my favorite skillet recipes:
And if it's another good pork recipe you are looking for, try our Boneless Baked Pork Ribs and grab some ideas about What to serve with pork ribs while you are at it!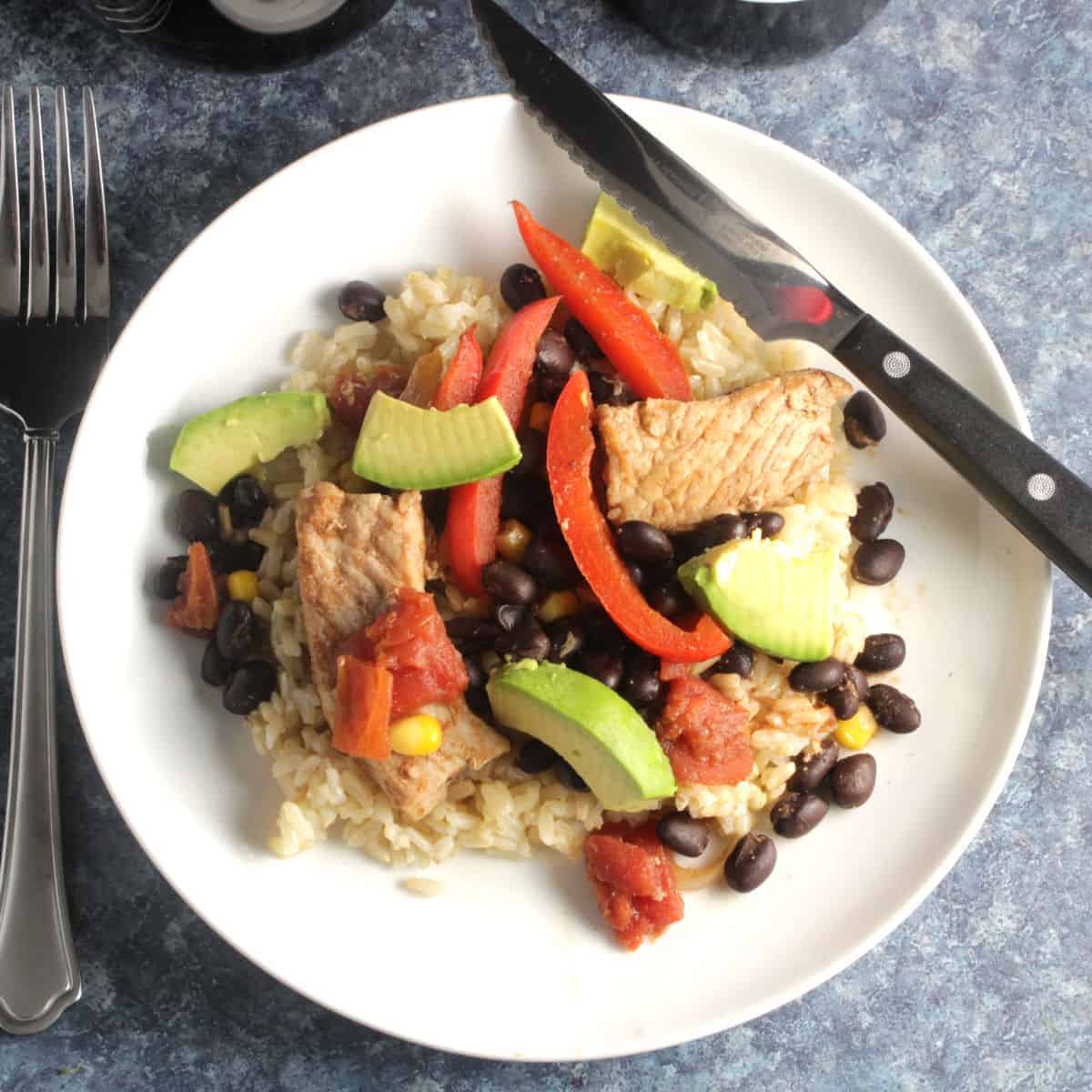 Thanks to Tammi from Momma's Meals for hosting! Be sure to check out all the beantastic dishes from the rest of the #SundaySupper crew!
Beantastic Beginners:
Bean-a-rific Soups and Stews:
Bean-a-licious Sides:
Incredi-bean Main Meals:
Amaze-beans Sweet Endings: