Canobie Lake Park is a fun destination on summer and fall weekends. Just in time for the popular Screeemfest event, we bring you this article on having fun at Canobie Lake with Food Allergies. While this article might provide you with some ideas for visiting Canobie, be sure to do your own research to verify that any restaurant or vendor you try can safely prepare your food and address any food allergy concerns.
If you are looking for other fun family destinations in New England, with some food allergy friendly tips, see our article about visiting Great Wolf Lodge in Fitchburg, Massachusetts.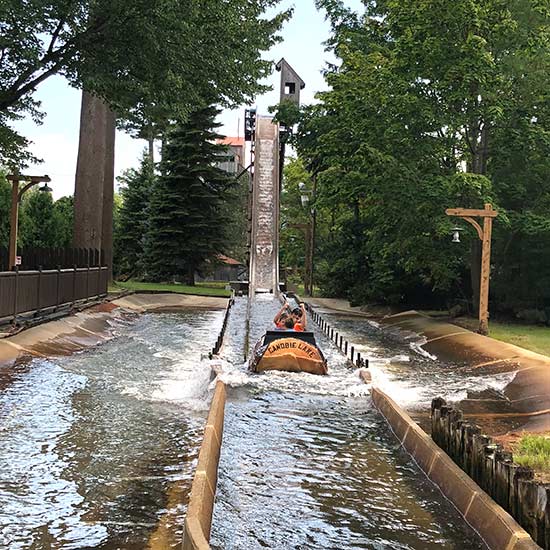 Canobie Lake Park in Salem, New Hampshire is one of our thirteen year old son's favorite places to go. Of course the wide array of fun rides is a big reason B loves to go there, but being able to enjoy a lot of food options that are safe for his food allergies is another reason he loves Canobie. Our son has egg, nut, sesame and dairy food allergies.
We have found Canobie Lake Park to be quite attentive to food allergy concerns. They have a food allergy guide, listing which spots in the park have food with and without various allergens. You can get the guide upon arrival at the park, or download the pdf file here on their website.
The food at Canobie is managed by Sodexo, USA. You can call the Sodexo office at (603) 893-6443 in advance if you wish to discus food allergy issues with them. They will also allow those with food allergies to bring in their own food. For general information on the park, including fall hours, visit the Canobie Lake website.
Following an incident where someone needed to use an epi-pen back in 2017, Canobie no longer uses nut oil in the fryolators. However, a spokesperson explains that "Due to the nature of peanut oil, we still mark and sign those particular food stands as potentially coming in contact with the oil as it may take a few years to be completely free of any trace oil."
Let's give you an idea of what we've found to eat at Canobie Lake Park, followed by some of our son's favorite activities. I also share about the food and beverages I've had while stewarding my son and friends at the park. As a reminder, our article might give you ideas of things that worked for B's food allergies, but always do your own research and ask questions when you visit.
Lunch at Dancing Bear Canteen
Our guy has made a routine of stopping at the Dancing Bear Canteen for lunch. This restaurant is close to the Haunted Mine and the Water Slides and he loves getting ribs there! Most of the items there are safe for his allergies, but a few items do contain egg so we are sure to let the servers know about his allergies.
We learned this year that he typically gets the the Kids Riblet Dinner, plenty of meat and fries for him. During our most recent visit, he simply ordered ribs, and received a huge rack of ribs that cost over $20!
In addition to the full rack of ribs being way more than he needed, B just recent got braces and isn't supposed to be eating meat off the bone. When we figured out the mistake, they did also give him the riblet meal without an additional charge. One of B's friends did his best to work on the ribs, in addition to his burgers. Ah, teenage boys…
I got the pulled chicken sandwich, which was tasty. On this hot summer day, I appreciated being able to wash down my sandwich with a Sam Summer!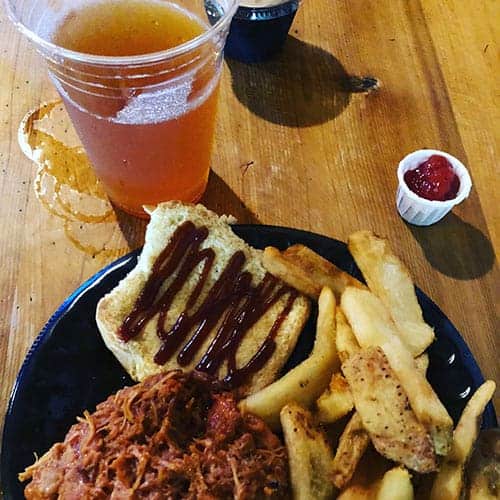 Note that only some of the eateries at Canobie have adult beverages, so you want to keep that in mind if that is of interest.
Other stops where you can order beer, wine and in some cases other beverages include Portofino and Sons of Liberty Tavern. You can also get beer or wine at a small bar in the entertainment tent, located across from the Yankee Cannonball roller coaster. That ride has a long wait, so if you are waiting for kids doing the coaster that bar can be a nice option!
Dinner at the Trellis
The Trellis has been our go to place for dinner…yes, we typically are at Canobie for two meals, getting there around the park's opening time and staying to enjoy the park in the dark!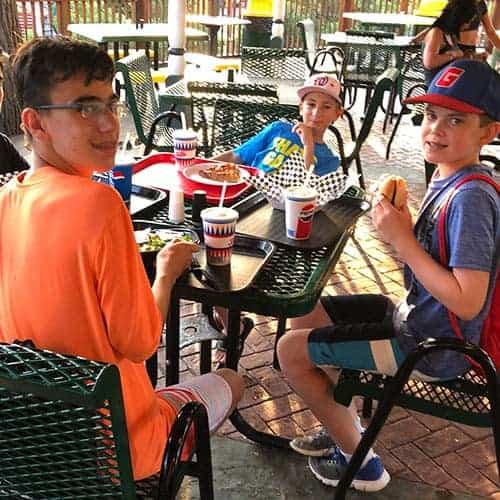 The Trellis menu provides basic burgers, pizza and salads. The burger basket with fries has worked well for B. He really likes the fries!
When ordering burgers, we always have to be careful that the buns don't have sesame seeds or eggs, and that they remember not to add cheese. They have been attentive to these points at Canobie.
Fries are another item we always have to be careful about ordering. At some restaurants, everything is going in the deep fryer, including items breaded with egg. We checked and this wasn't an issue at the Trellis; but always double check yourself when ordering as menus and processes can change. Of course, we make sure there isn't nut oil used in preparing fries.
The salads at Trellis are a good way to get some veggies in during a day filled with treats not high in their nutritional value!
No adult beverages at the Trellis. Good time to hydrate with some water!
Fried Dough and Other Treats
As much as B loves the allergy safe meals he gets at Canobie, he is probably most excited about their fried dough. It's his favorite place to get fried dough. Many places fried dough is not safe to order, as the aren't able to verify it is safe from cross-contamination.
B likes the way they take care of putting on the powdered sugar for you at Canobie. Other places when you are left to your own devices, you might find yourself wearing more powdered sugar than the fried dough!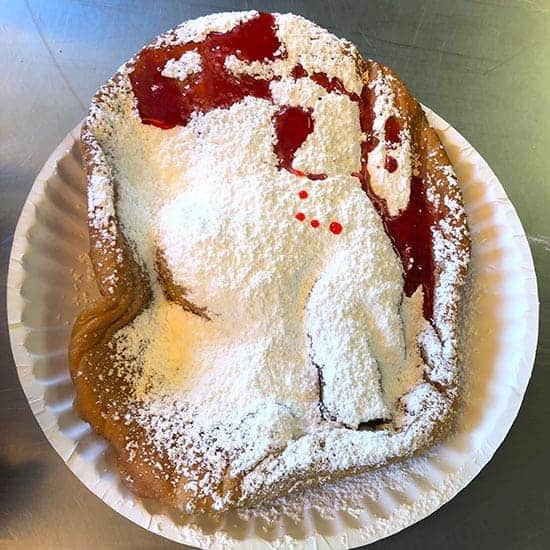 Our guy says the best place to get fried dough is behind the Trellis, at a stand with a big Fried Dough sign. Pretty easy to figure that out!
Sometimes B gets the fried dough with just the sugar, but he has also checked out and enjoyed it with strawberry topping.
Soft pretzels and Richie's Slush are also favorite snacks when taking a break between rides. Note that there are a few of the smaller refreshment stands and carts that do carry some nut products, but there is typically a sign to give notice of that.
Favorite Rides and Other Tips
This is an article about having fun at Canobie Lake with food allergies. So of course, we need to touch upon the primary draw at Canobie, the rides!
During his early elementary years, B wasn't to keen to try out many rides. But at some point a few years ago, it was like a switch was flipped and he was excited to go on a wide range of rides.
This is mostly about visiting with and managing food allergy concerns at Canobie, but in case you're wondering, our guy's top 3 rides are the Yankee Cannonball (a classic roller coaster), Boston Tea Party (a big waterslide), and the Psychodrome.
Let us share a few non-food related tips from our multiple visits. First, get there early if you can! We got there at park opening time during our most recent visit, and the boys were able to get on the Psychodrome three times before lunch time.
Another Canobie pro tip: if you get all wet on a water ride, head over to the Turkish twist where the rapid spinning will get you dry quickly. But hold off on the Turkish twist if you've just enjoyed some of the aforementioned fried dough!
If you've been to Canobie on a typical summer day, you should definitely try checking out Screeemfest during the fall. Screeemfest starts on September 22, and runs on weekends through Halloween. There are about five "haunted" attractions to get you in the Halloween spirit. Many of the regular rides, though not the water ones, are also available during Screeemfest.
Be forewarned: the lines for Screeemfest can be as scary as the attractions! It is well worth springing for the "fast pass" that allows you to go to the front of the lines.
Interested in traveling to other New England destinations with food allergies? Check out our Cape Cod Allergy Friendly Restaurants and Ogunquit Allergy Safe Dining.