Chicken Lentil Stew is a hearty recipe featuring braised chicken thighs, mushrooms and chicken sausage. Delicious with a red wine blend from the Rhone Valley. For another hearty and healthy chicken dish, try our Braised Boneless Chicken Thighs with Vegetables. Disclosure: the wines discussed here were provided as complimentary samples.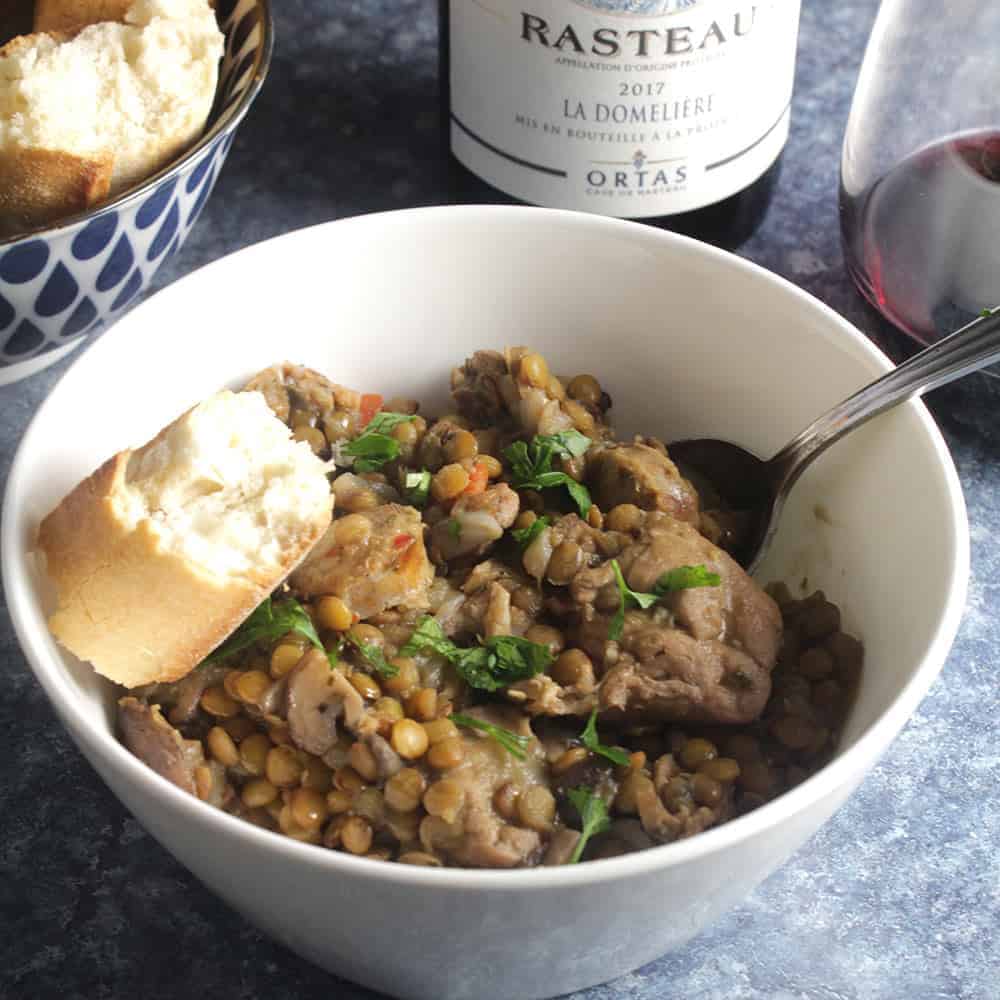 When we had the chance to sample wine from Rasteau, a Rhône Valley appellation (AOC) I hadn't heard of before, I eagerly raised my hand.
I tend to like the red blends from the Rhône, especially as the weather starts getting cold. In addition, I have been learning that there are some great quality wines from lesser known AOCs within the region.
With four Rasteau red wines to sample, the question of course became "What to pair with Rasteau red wine?".
Red Wine Pairings without Meat
Now, spend any amount of time here on Cooking Chat and you will see I am not opposed to eating red meat. In fact, our most recent post was a delicious Oven Roasted Steak recipe, paired with red wine from Texas.
That said, I do try to limit red meat here to about once a week. So when it becomes prime season for opening hearty red wines, I'm on the lookout for red wine pairings that don't involve red meat.
What makes the recipe work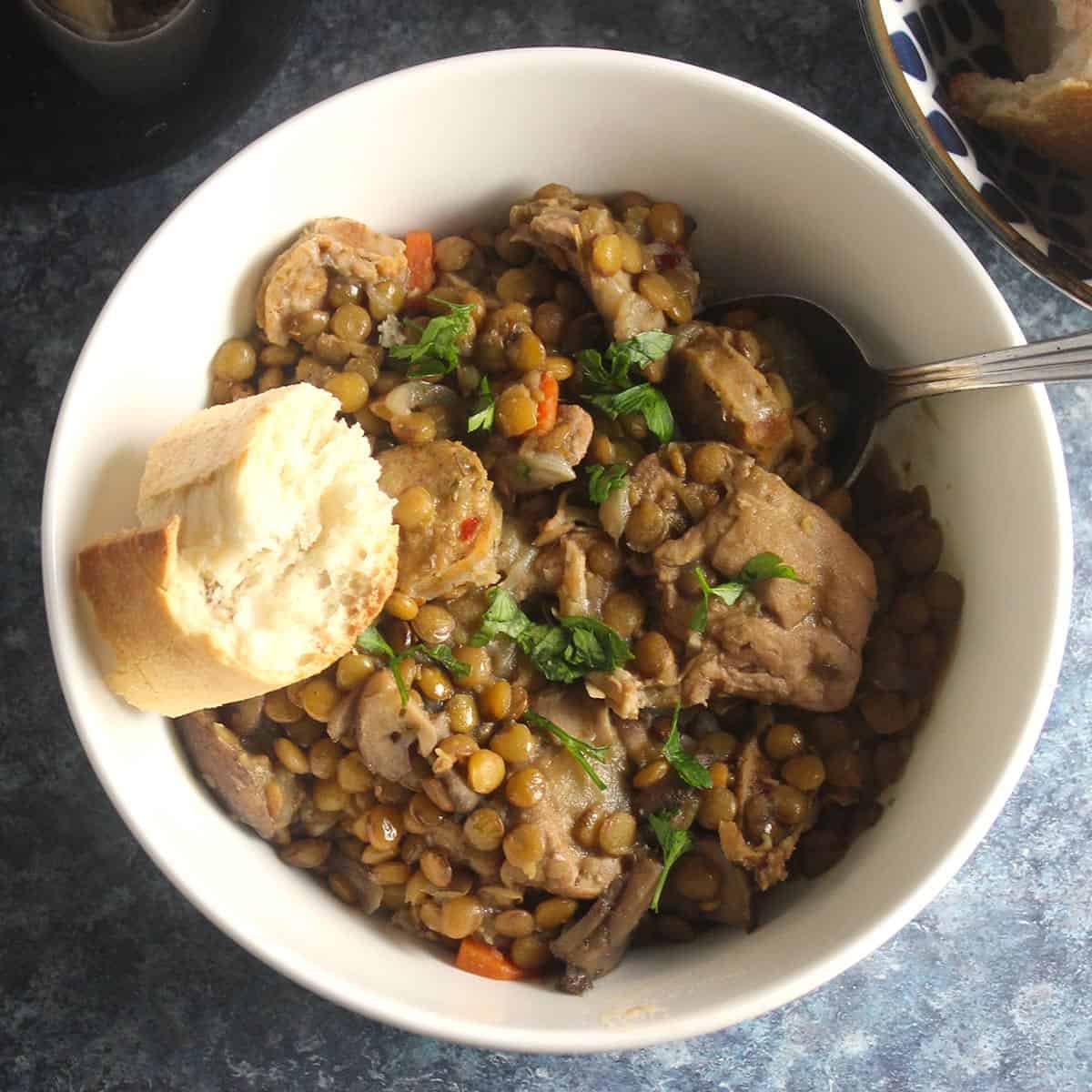 Today's featured recipe has a few things going for it that makes it red wine friendly, not to mention perfect for a cold weather meal:
I used chicken thighs, which with more fat that chicken breast, make then a good partner for red wines.
The green lentils used in the stew have a heartier texture than the red lentils that I might be more likely to feature in a spicier dish.
The stew uses herbs like sage, rosemary, thyme and parsley, which you might find growing in Southern France. The old what grows together goes together maxim once again.
We did add one chicken sausage to this stew. You could easily skip this, but even a chicken based sausage enhances pairings with red wine.
You can serve the stew with rice or without any starch. But I served it with farro, and the hearty grain deepened the flavors in the bowl, further setting up the red wine pairing.
Mushrooms love red wine! Initially I didn't envision mushrooms in the recipe, but I thought to seal the pairing deal we'd add a handful of mushrooms to the stew.
Cheese often finds its way into red wine pairing recipes I make, but we didn't even need any to make this pairing work!
Of course, today's featured lentil stew recipe only went with one of our four wines. Two of the other dishes we paired with the Rasteau wines didn't have any red meat involved, and use some of the pairing strategies I just mentioned. We cover those dishes after the notes for the featured wine pairing.
Another hearty stew you might like involving legumes is this Spanish White Bean Stew with Sausage.
Tips for making this stew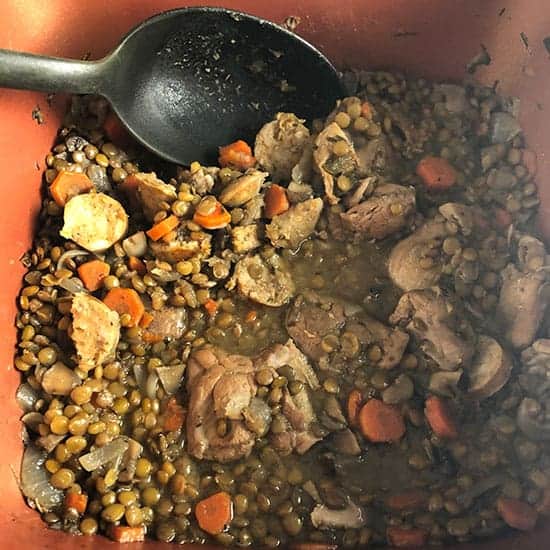 Here are a few tips for making the chicken lentil stew. Scroll down to the recipe card for the full details!
A Dutch oven can be used for this stew, but our Copper Chef Pan has become my go to pan for dishes like this, as it cooks things very evenly and is easy to clean (Amazon affiliate link included there in case you are interested in one).
Brown the chicken thighs in the pan to get things started. Note when we say "brown" chicken, that basically means the outside cooks a bit, it will be more white then brown (see photo above). After browning, set the chicken aside as you sauté the vegetables.
Once the vegetables have softened, the chicken thighs get added back in along with the lentils and cooking liquid to braise on the stove top.
Note braising basically means to cook something slowly in a covered pot, typically with a modest amount of liquid. We often braise things in the oven, especially if it is a cut of red meat. But chicken thighs can braise nicely on the stove top.
Fresh herbs are certainly nice to use if you have them available. When I want to use a blend of several herbs, I'll often try to get one fresh and plan an additional use for it that week. Of course, you have an herb garden you can just snip what you need.
OK, enough basic tips, check out the recipe for the full detail. But first we need to talk more about the wine!
Rasteau AOC
Rasteau is located in Haut-Vaucluse, 21 miles from Avignon. The small medieval village faces south, with views of the Dentelles de Montmirail mountain range.
There was a long tradition of making wine in Rasteau, by in 1870 phylloxera decimated the vines. In 1925 vignerons came together and replanted vines, and also formed the first wine cooperative. After falling under villages designations, cru status was awarded to Rasteau in 1910.
Red wines comprise 96% of the Rasteau wine production, using Grenache, Syrah and Mourvedre grapes.
Rasteau Red Wine Pairing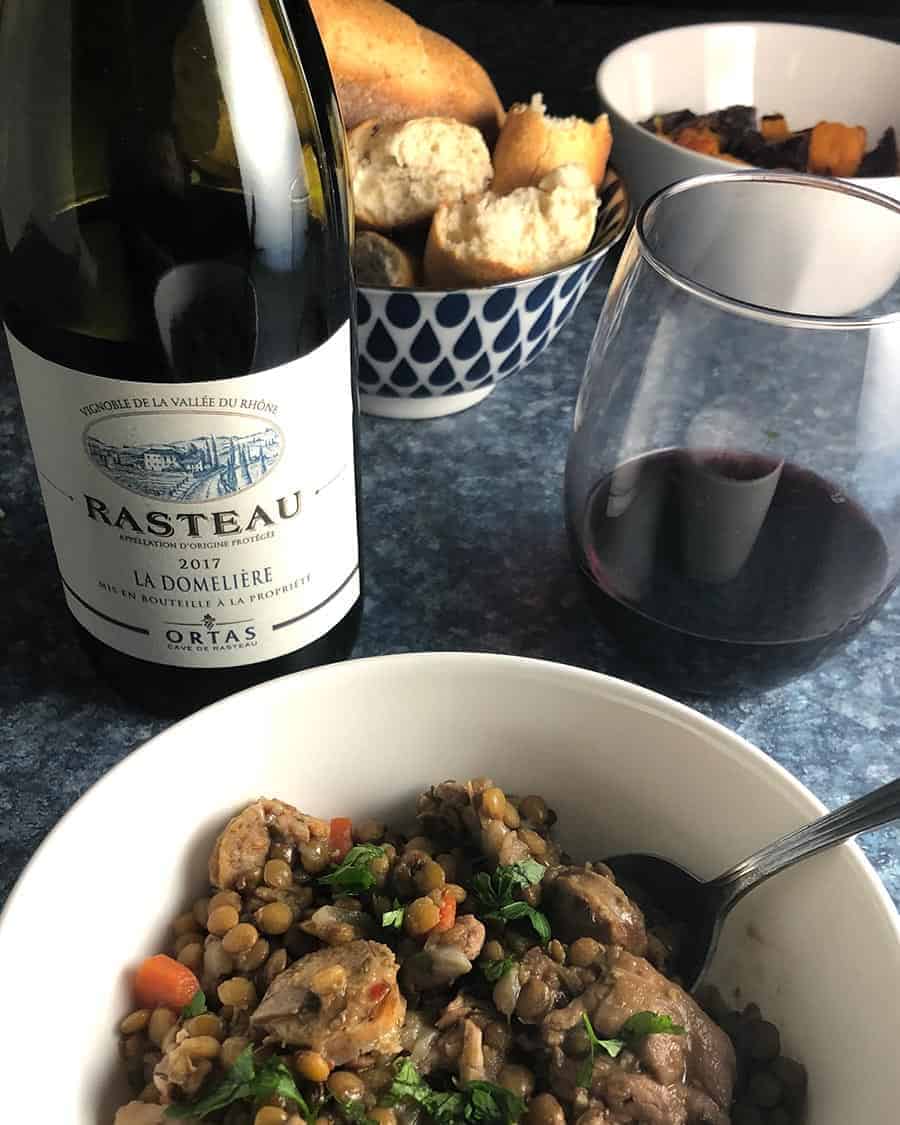 We had one Rasteau wine left to pair with our chicken stew. So we opened the 2017 Cave de Rasteau La Domelière ($15, 14% ABV) to go with the dish, and here are our notes:
Eye: Deep dark red in the glass.
Nose: Musky nose with notes of black tea.
Body: A full-bodied red wine, but well-balanced.
Palate: Cherry fruit with notes of prune, black pepper and cinnamon.
Winemaker notes: The Grenache (70%), Syrah (20%) and Mourvedre (10%) are handpicked, and fermented together. The wine is aged in vats prior to bottling.
Pairing: The flavor profile and rustic aspects of the wine pair very well with the chicken lentil stew. Using chicken thighs and adding a bit of mushrooms gives the poultry and lentil based dish enough heft for the red wine. A very good pairing!
Cave de Rasteau, founded in 1925, is one of the oldest cooperatives in the Southern Rhône Valley. There are 180 member growers, with most of the vineyards on hillsides with quartzite soils.
More Rasteau Wine Pairings
Before we got around to making this lentil stew, we had already tested out some other very good pairings for the Rasteau wine samples we had on hand. Here's a summary:
Leftover Turkey Pasta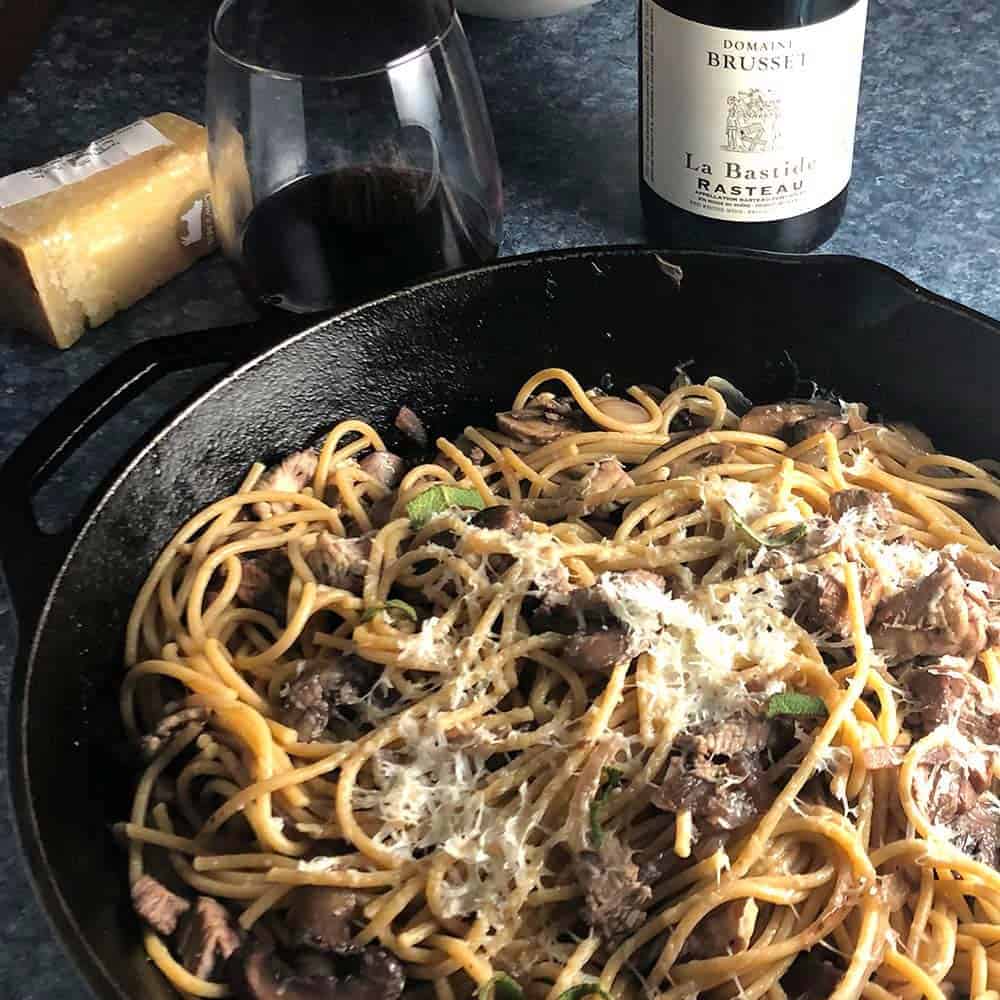 The 2017 Domaine Brussett La Bastide ($21, 13.5% ABV) from the Rasteau AOC has rustic qualities that made it a nice match for the Leftover Turkey Pasta with Mushrooms. Definitely keep this recipe in mind for the day after Thanksgiving — especially if you are lucky enough to have a leftover bottle of Rasteau red as well as turkey! And I almost forgot until I was updating the recipe — we also test La Bastide with our Herb Roasted Turkey Breast, which is the dish we cooked that generated the leftovers for the pasta recipe.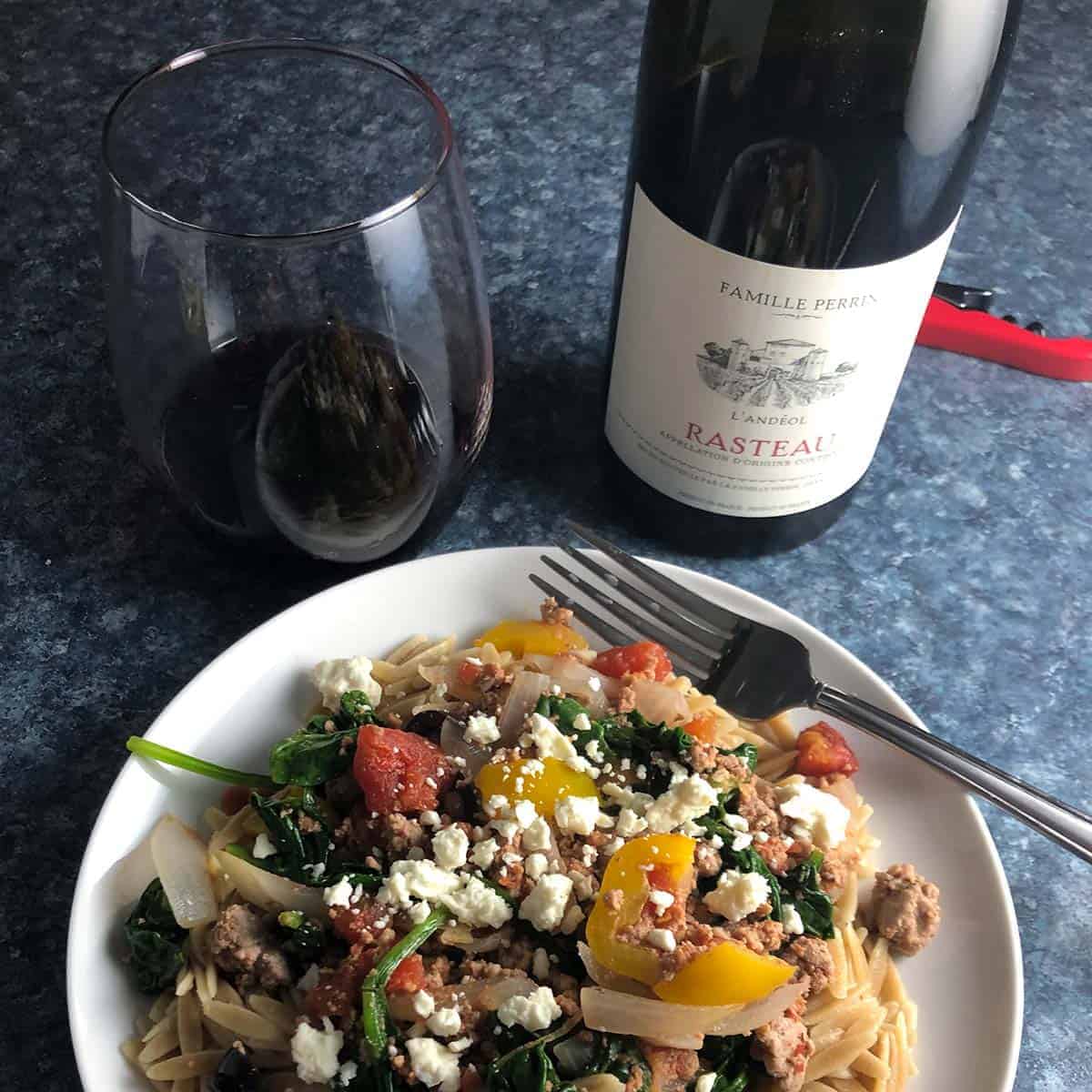 The the first bottle we opened from Rasteau was the 2016 Famille Perrin L'Andéol Rasteau AOC ($24, 13.5% ABV). With a light scent of a forest floor on the nose, I tasted bright cherry fruit and a bit of oak with charcoal undertones. We paired it with the Greek Ground Turkey Skillet recipe, and was pleased with the pairing. Overall the flavors melded well together, and there was just enough acidity in the wine to go well with the tomatoes in the dish.
Hoppin' John Risotto
This final Rasteau pairing we did is kind of secret! I recently made Hoppin' John Risotto as part of a brand partnership with RiceSelect. But they didn't want any wine shots along with the dish, so you will have to trust my report that we paired the Domaine de Verquière Rasteau ($16, 13.5% ABV) with it!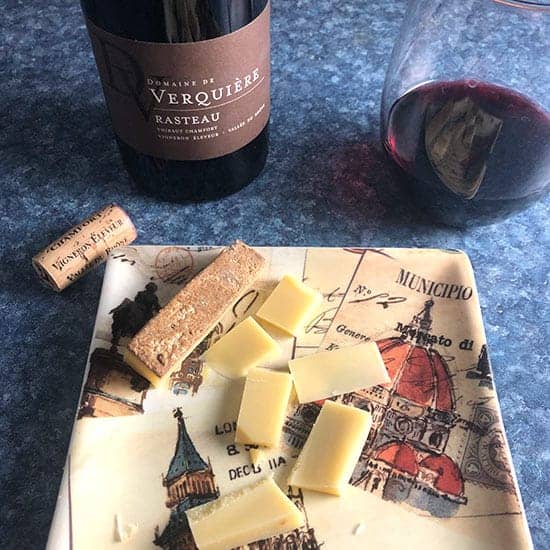 So our picture of this Rasteau shows the Gruyere cheese we nibbled on as the risotto was cooking. The Gruyere pairing was very good, as was the match with the Hoppin' John Risotto!
Print
Recipe card
Chicken Lentil Stew
A hearty lentil stew with braised chicken thighs, mushrooms and chicken sausage. Delicious with a red wine blend from the Rhone Valley.
Author: Cooking Chat
Prep Time:

10 mins

Cook Time:

50 mins

Total Time:

1 hour

Yield:

5

servings

1

x
Category:

main

Method:

stove top

Cuisine:

French
1

chicken sausage

1

lb boneless chicken thighs (about

5

small / medium thighs)
pinch salt

1 tbsp

olive oil

1

onion, chopped

2

medium carrots, peeled and chopped

5

crimini or button mushrooms, chopped

½ tsp

garlic powder or

1

clove garlic, minced

1 tsp

dried thyme

½ tsp

dried rosemary

1

sage leaf or

½ tsp

dried sage

¼ cup

red wine

1 cup

green lentils — rinsed

2 ½ cups

low sodium chicken broth

1 tbsp

minced parsley
cooked brown rice or farro grain for serving (optional)
Instructions
Brown the chicken: Coat a Dutch oven or similar style pan with oil spray. Heat on medium, and add the sausage. Turn occasionally to brown the sausage, which will take about 5 minutes. Remove to a platter, and add the chicken thighs. Sprinkle the chicken with a pinch of salt, and brown on one side for 2 to 3 minutes. Turn over and brown on the other side for 2 minutes. Move to a platter.
Sauté the vegetables: Add the olive oil to the same pan used for browning the chicken. Heat on medium low, and add the onions. Cook for about 3 minutes, then add the carrots. Sauté for another 3 minutes, stirring occasionally. Add the mushroom, garlic, thyme, rosemary and sage. Cook for a minute or two then add the wine. Simmer for about 3 minutes.
Braise the chicken and lentils: Add the chicken back into the pan with the vegetables along with the lentils and broth. Bring to a simmer, then cover. Simmer for 15 minutes. Slice the browned sausage, and stir it into the pan. Cover, and simmer for another 15 minutes.
Finish the stew and serve: After 30 minutes of total simmer time, remove the cover and stir the stew. If you want the dish to be a bit thicker, simmer uncovered for an additional 5 minutes. Ladle the stew into bowls along with the rice or farro, if using, and sprinkle a bit of fresh parsley over the stew. Enjoy with some crusty French bread and Rhone red wine. Bon appétit!
Notes
The sausage isn't essential for the dish — you could omit if you want. We were trying to add a bit of extra flavor and stretch out the stew for our desired number of servings. It does add some nice additional flavor though!
Fresh herbs are certainly nice to use if you have them available. When I want to use a blend of several herbs, I'll often try to get one fresh and plan an additional use for it that week. Of course, you have an herb garden you can just snip what you need!
I mention using a Dutch oven or similar pan. I like to use our Copper Chef Pan for dishes like this, as it cooks things very evenly and is easy to clean (Amazon affiliate link included there in case you are interested in one).
Keywords: lentil stew, chicken lentil stew, chicken stew, French style stew
Recipe Card powered by
More Cooking Chat recipes with lentils
Be sure to check out these tasty and healthy recipes!
Learn more about Rasteau with the French Winophiles
If you see this post soon enough, you can join in the fun with our conversation on Twitter on Saturday, Nov. 16 at 11 am-noon ST. Just search for the #winophiles hashtag on Twitter! You can learn more about this Rhône region from all these articles: