Today we serve an easy air fry salmon recipe with a honey soy marinade. This delicious salmon recipe with an Asian accented flavor can be on the table in 20 minutes. We initially served this air fryer salmon with a Chardonnay from Sicily, and have since enjoyed it with a number of other wines, too.
New Cooking Chat articles typically take a few weeks or more to materialize. But this one came together quickly!
We finally jumped on the air fryer bandwagon by getting one in December. I'm typically not a big new gadget guy, but the air fryer has already been getting a good amount of use. While I do most of the cooking here, my wife and teenage son have been using it regularly, too.
In 2023, the #ItalianFWT will be making its way around the Italian wine regions, from south to north. I figured I would at least follow the journey by grabbing a bottle from each region, and at least doing a social media share if I didn't get a chance to do an article.
When visiting Beacon Hill Wine in Melrose the other day, the Sicilian wine I first noticed was a Chardonnay. I've enjoyed a good number of wines from Sicily, but don't recall ever seeing a Chardonnay.
Then it occurred to me a Chardonnay could go well with the air fryer salmon that night. I picked up the bottle, and we were ready to roll!
Jump to:
Equipment
Needless to say, you are going to need an air fryer to make this recipe! If you don't have one available, our Simple Pan Seared Salmon recipe delivers a similar tasting salmon.
We got the Ninja Foodie 2 Basket Air Fryer (8 quart), and it has been working well for us. (Amazon affiliate link included)
The 2 basket air fryer has potential to cook 2 different items at once, one on each side. But the side of each basket is a limiting factor in terms of what you put in there. When we've made family meals like the air fryer salmon, we've divided the protein into the two basket.
Like any cooking appliance, your cooking times might be slightly different in your air fryer. You don't want to overcook salmon, so I would suggest checking a minute or two before the 8 minutes that worked for us.
Parchment paper can come in handy to make clean up easier. Put a piece of parchment paper (affiliate link) in the air fryer to line the top of the basket, then place the salmon on top of the air fryer, skin side down.
Ingredients
A few notes on our air fryer salmon ingredients:
Salmon: I prefer wild salmon for the richer taste. We've typically been using this frozen wild sockeye salmon from Whole Foods, which comes in two convenient six ounce portions. I usually thaw it in some warm water in advance of cooking, typically takes under an hour. This kind of salmon comes with the skin on.
You can use whatever kind of salmon your prefer in this recipe. If you have a smaller or larger portion of salmon than the 12 total ounces we use, adjust the cooking times accordingly.
Vinegar: I typically use rice wine vinegar in a salmon marinade, but didn't have any on hand. So I used apple cider vinegar, and it worked well. I have also used sherry vinegar as well as butternut squash seed oil in place of the vinegar. The squash seed oil from Stony Brook Wholhearted Foods is very good; we interviewed the company founders for our podcast in 2022.
Bottom line, you can be flexible about the vinegar you use in this salmon recipe. I would stay away from balsamic vinegar as the flavor is strong and wouldn't go well with the soy sauce, in my estimation.
Honey: I encourage you to use the honey if you have it. But you can substitute basic table sugar in a pinch, but cut the quantity down to a half teaspoon.
Recipe tips
I will be sure to make this salmon again soon and get some more tips and photos to share. I was pleasantly surprised how well it came out on the first try! So didn't take the process photos to share with you.
Marinating the salmon: You just want to marinate the salmon for about 5 minutes, to prevent the fish from getting too salty.
After turning the salmon over in the bowl with the marinade, let it sit skin side down to marinate. Gently shake off the excess marinade before transferring the salmon into the air fryer.
Airfrying the salmon: If you are using parchment paper, place a piece in the air fryer basket and then place the salmon skin side down on top of the paper. Or directly on top of the basket if you aren't using the paper.
What is the air fryer basket? OK, if you are an air fryer newbie like me, you might think the "basket" refers to the whole part of the air fryer that slides in and out of the drawer. But I learned that the basket actually refers to the grill like portion that goes inside the drawer, upon which you put your food being cooked.
How to make the salmon in a 2 basket air fryer: We put one salmon fillet in each of the 2 air fryer baskets. Then both sides get set the same way, (e.g. 8 minutes at 400 degrees). If you aren't cooking anything else in the air fryer, this is what I recommend doing.
If you are trying to make something else in the other air fryer basket, just be sure to place the salmon fillets in the basket so both are in contact with the grill portion of the basket, as opposed to one on top of the other.
Similarly, if you have a one basket air fryer, just be sure both salmon portions are in contact with the basket. Or you may place one larger 12 ounce fillet in a single basket air fryer.
Removing salmon from the air fryer: The air fryer gets very hot! Be careful removing the salmon not to touch the sides with your hands. Use tongs or a spatula to carefully remove the salmon.
What to serve with air fryer salmon?
This air fryer salmon was delicious with the Pasta with Red Lentils and Ginger! I definitely recommend trying that combo at some point; and both dishes work well with the Sicilian wine.
Looking for more ideas? We've got a collection of over 50 side dishes to serve with salmon!
Wine pairing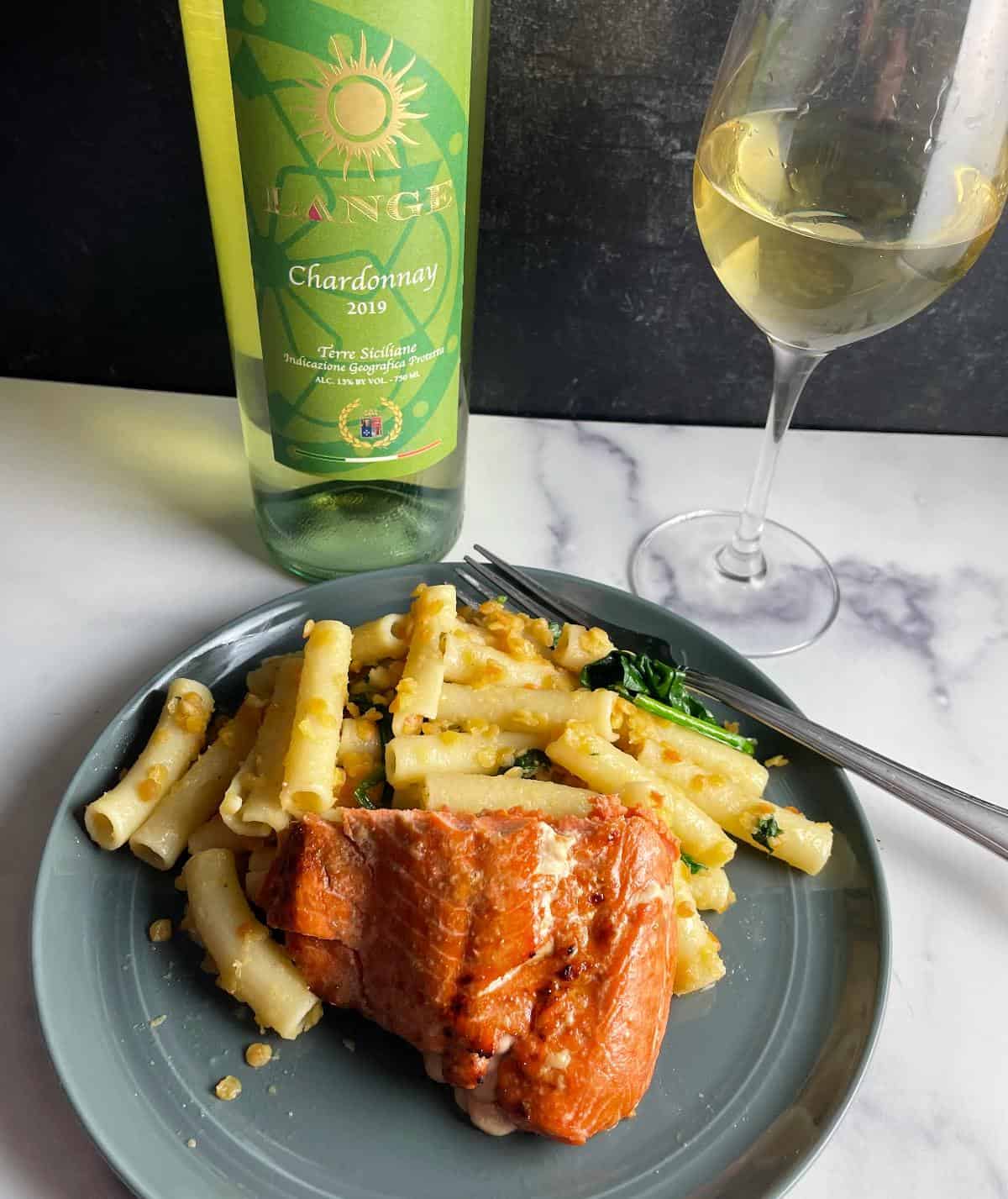 As I mentioned, my eyes gravitated toward a Sicilian Chardonnay during a recent visit to Beacon Hill Wine. Inspecting the bottle of 2019 Langhe Chardonnay Terre Siciliane ($11, 13% ABV), I noted on the back of the label that that the wine "mainly pairs with fish dishes."
This pairing directive struck my as quite the Italian contrast to an American wine label that is likely to suggest all manner of foods that will go with the bottle of wine. Pretty much saying, have this with fish or don't have it at all!
It so happened I had this air fryer salmon on the menu for dinner the night I was at the shop, so this pairing note nudged me to purchase the wine.
The Langhe Chardonnay has notes of lemon curd on the nose, with peach blossoms on the palate. Silky mouthfeel. I would say the wine has a softness to it that was notably different than a typical California Chardonnay.
How did pairing work? Yes, this Sicilian Chardonnay worked nicely with our salmon! This is a fairly full bodied wine, which works well with salmon. And the flavor profile worked well with our Asian accented honey soy marinade.
This Chardonnay also is a good pairing for our Pasta with Red Lentils and Ginger. Not a classic Italian pasta dish, by any means, with the ginger punching up the flavor. But a good match for the Langhe Chard, despite the label's admonition to stick to fish with it!
I would actually hesitate to pair this full bodied Chardonnay with a lighter white fish, such as haddock.
About Cantina Paolini
The Langhe Chardonnay is produce by Cantina Sociale Paolini, a 1,000 member cooperatitve. The Paolini vineyards cover 3,000 hecatres on the southern slopes in the municipalities of Marsala, Trapani, Salemi and Mazara del Vallo.
Langhe produces a combination of native Sicilian grapes and other international varieties, such as Viogner and Merlot along with the Chardonnay. I will have to circle back and try a Grillo from the winery!
Print
Recipe card
Easy Air Fryer Salmon with Honey Soy Marinade
We've adapted our go to honey soy marinade to flavor this Easy Air Fryer Salmon recipe. After the salmon came out perfectly in our new air fryer, this will be our go to way to cook salmon!
Author: Cooking Chat
Prep Time:

5 mins

Cook Time:

8 mins

Total Time:

13 mins

Yield:

2

servings

1

x
Category:

Main

Method:

air fryer

Cuisine:

Asian
For the marinade:
3 tablespoons

soy sauce, preferably low sodium

1 tablespoon

canola oil, or similar cooking oil.

1 teaspoon

apple cider vinegar (see notes)

1 teaspoon

honey

½ teaspoon

garlic powder
generous pinch dried ginger
For the salmon:
2

six ounce salmon fillets (see notes)
cooking oil spray.
Instructions
Make the marinade: combine the 3 tablespoons soy sauce, 1 tablespoon oil, and 1 teaspoon vinegar in a large bowl. Stir in the teaspoon of honey, then add the ½ teaspoon of garlic powder and pinch of dried ginger.
Briefly marinate the salmon: Pat dry the salmon fillets. Place one salmon fillet in the bowl, turning it over so that both sides of the salmon are coated with marinade. Repeat the process with the other fillet, and marinate for about 5 minutes, with the salmon skin side down, if. your fillets have skin on.
Air fry the salmon: Place a piece of parchment paper on top of the air fryer basket (optional). Spray lightly with cooking oil. Then remove the salmon from the marinade, shaking gently to remove excess marinade. Place the salmon in the air fryer basket. Close the the air fryer. Set the air fryer to "bake" at 400 degrees. Ours came out perfectly at 8 minutes – it was just cooked through but still nice and moist. Check after 6 or 7 minutes to avoid over cooking, especially if your air fryer tends to cook things quickly. Cook for an additional 2 minutes or so if the salmon isn't done when you check it.
Notes
Salmon: We prefer wild salmon, but you can use the kind of salmon you prefer. We typically get frozen salmon that comes in 2 separate six ounce fillets. You could get a 12 ounce piece of salmon and cut it into two pieces if you like.
Vinegar: You could try other vinegars here based on what you have on hand. I have used rice wine vinegar and sherry vinegar in similar salmon recipes. I have also used butternut seed oil from
Keywords: easy air fryer salmon, honey soy salmon air fryer, air fryer salmon with skin, air fryer salmon
Recipe Card powered by
More wines from Sicily
Check out these articles from my fellow #ItalianFWT bloggers to learn about more wines from Sicily…and get a sense of wines that are more typical to Sicily than the Chardonnay we tried!