Today we try a new Greek wine with tzatziki dip, part of the Wine Pairing Weekend event, "New Year, New to You Grape!" theme hosted by Culinary Camilla. We love trying new wines, and enjoy tzatziki dip regularly, so this was a fun project!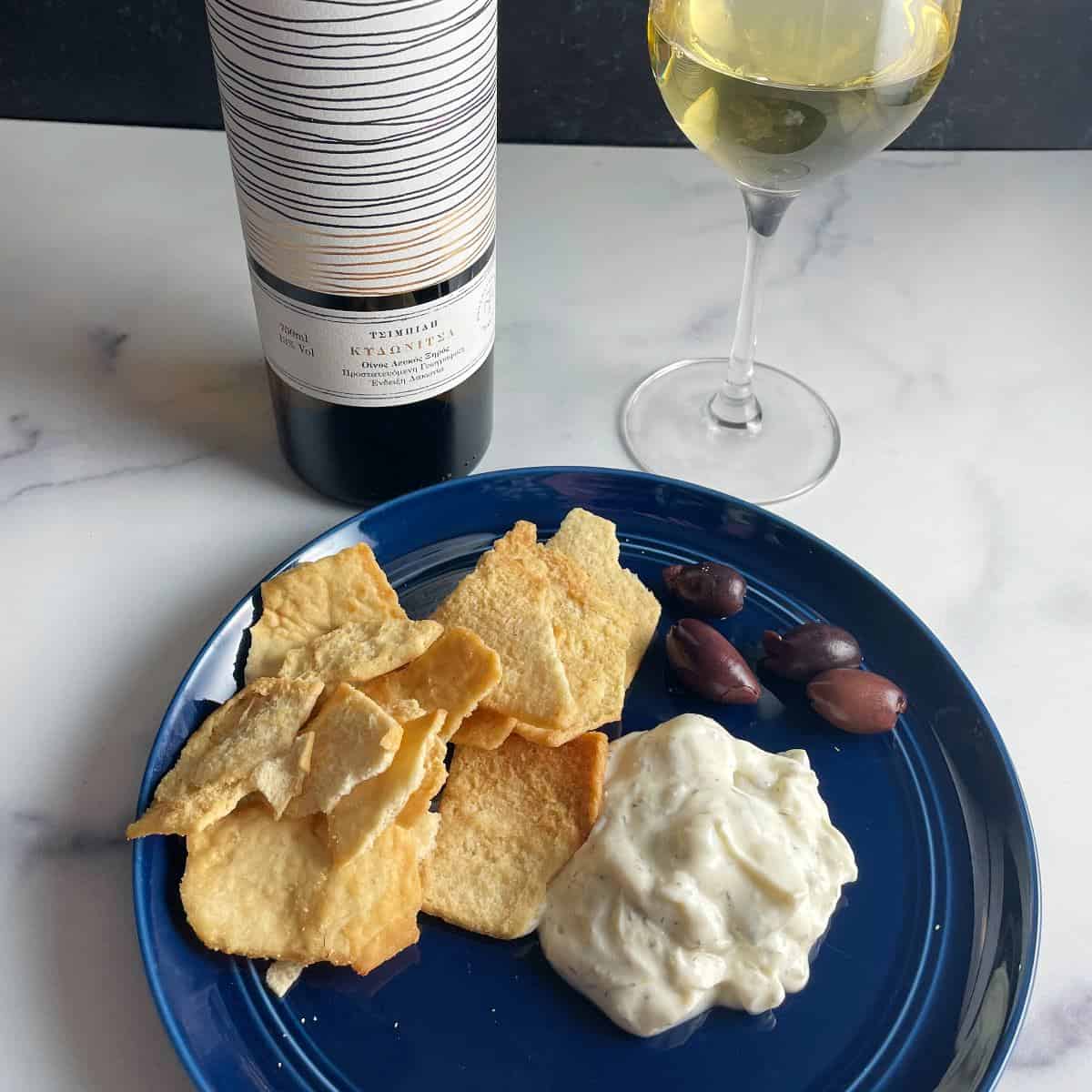 Jump to:
Finding a new wine to try
For many years, I was a loyal customer of a local wine shop called Pairings Wine & Food. They had a challenge inviting people to track the various wine grape varietals we tried via the store, with incentives for reaching a "century club, documenting the trying of 100 varietals.
I like a goal, especially involving wine! I quickly hit 100, then doubled that figure within another year or two. Getting from 200 to 300 definitely was slower going. When thinking about a new wine I could try for today's event, I thought Greece would be a good source for finding a new to me grape.
Greek wine tends to come from native varietals. You don't see a lot of Greek wine at shops here in the Boston area, so I only have tried a limited range of what the longstanding wine producing country offers.
Berman's Fine Wines is a local shop that carries a number of Greek wines. I hopped onto the Greek section of their website, and cross-checked the varietals in the wines they had available against my sheet that tracks the wines I've tried. Out of the selection available, I found exactly one wine that would quality as new to me–a white wine made from the Kydonitsa grape.
Now, what to pair with this Greek wine?
Greek inspired recipes
Now, I wouldn't claim to be a maker of traditional Greek recipes, but I do often cook dishes flavored by ingredients popular in Greek cooking, such as feta cheese, olives and tomatoes. Combine that with a Greek approach featuring simple, fresh ingredients, and we cook up some tasty Greek inspired recipes here!
Some examples of our Greek flavored cooking include:
Having now tasted the Kydonitsa wine, I am think it could work well paired with the Greek Spaghetti or the grilled tilapia. Those are easy recipes, but we had something even simpler in mind.
Tzatziki dip
While it is fairly easy to make, tzatziki dip is something I regularly grab at the store to snack on before cooking dinner.
What is tzatziki dip?
Tzatziki dip, also referred to as a sauce, is a staple Greek food. The main ingredients are Greek yogurt, garlic, and cucumbers. I love the tangy, garlicky flavor!
We typically serve tzatziki dip along with pita chips. But it is used in many ways in Greek cuisine. You'll find it in gyros, served with meatballs, and much more.
I did make tzatziki dip once in a cooking class, and it is pretty easy. I need to do it at home soon. If you are wanting to make your own, Riri's Greek Eats has a recipe for tzatziki dip along with some good tips for making it delicious!
Wine pairing
Ok, time to talk more about today's wine and how it paired with the tzatziki dip!
We picked up a bottle of 2020 Monemvasia Kydonitsa ($15, 13% ABV) from Berman's (Lexington, MA). This white wine is a pale straw color in the glass, with a light floral nose.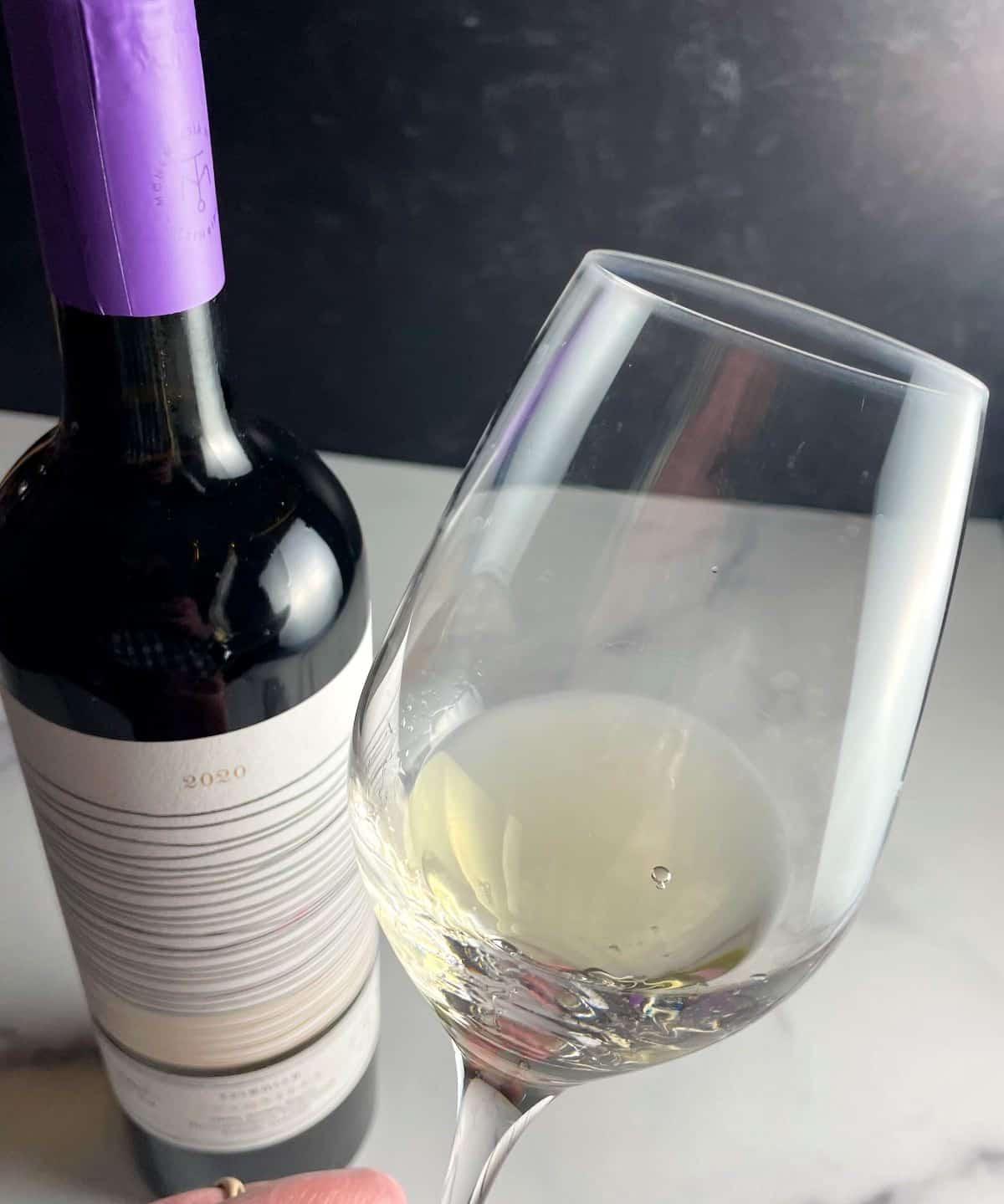 On the palate, the Kidonitsa has peach fruit, notes of almond, and some acidity. The body is on the light side of medium. A pleasing mouthfeel, and medium finish.
As anticipated, the Kydonitsa is very good paired with the tzatziki dip! The wine's acidity and floral notes enhanced the fresh qualities of the dip, and cleansed the palate after those garlicky bites.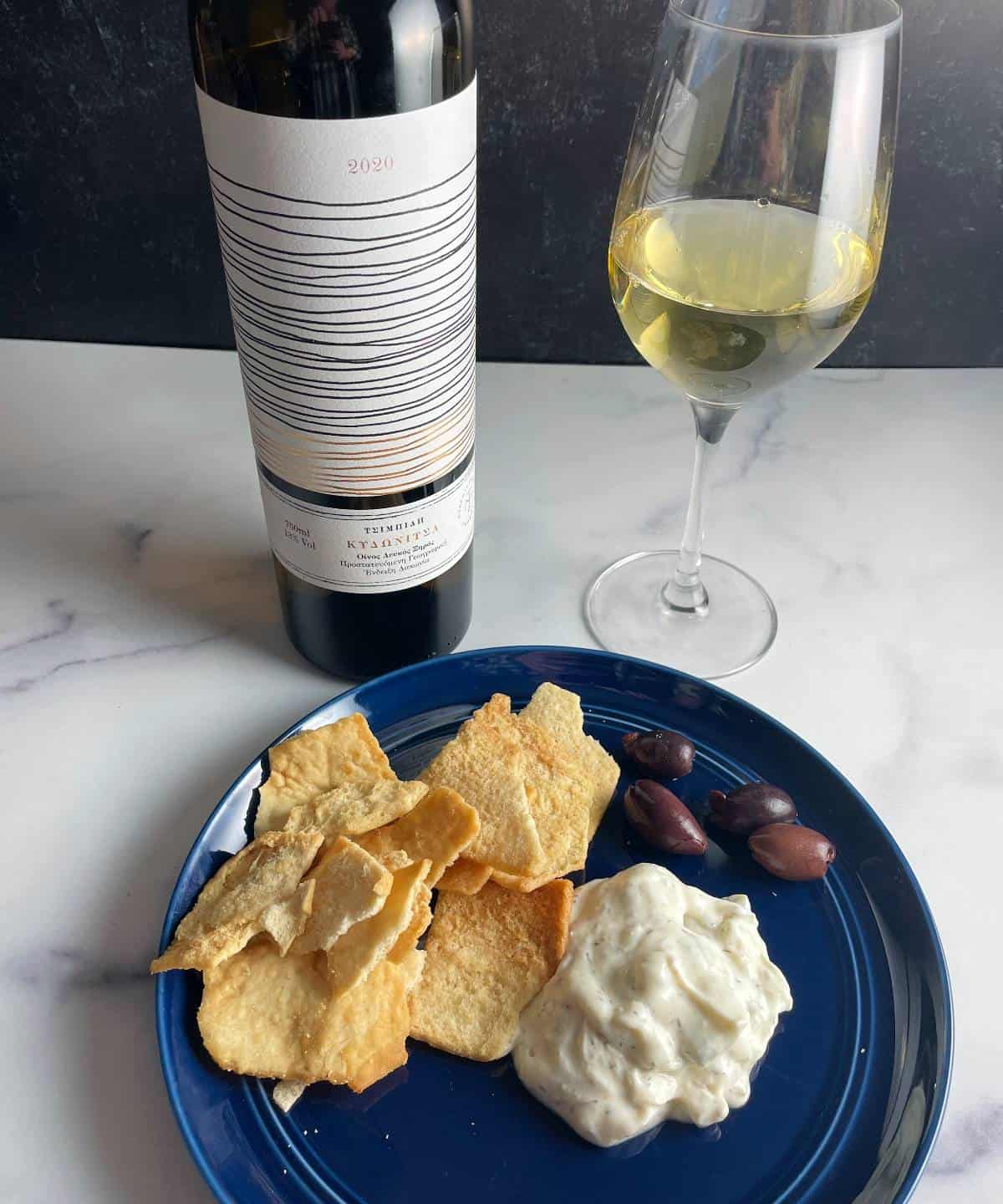 Oh yes, and we did put a few kalamata olives on the plate along with the tzatziki dip. That was a good call! Perusing maps of the Greek wine regions, I noted the town kalamata is pretty close to the winery we are featuring.
Roditis and Moschofilero are two other Greek white wines you might try paired with the tzatziki dip if you can't find Kydonitsa. I haven't test the pairing – yet! – but from my tasting notes of those wines, they seem promising.
More about the wine
Kydonitsa (also spelled Kidonitsa) is consistently described as an old, rare grape variety found in Greece. "Kidoni" means quince in Greek, and the varietal is described as having quince notes. Have to confess I didn't pick that up, but that's not a tasting term I throw out very often.
The Monemvasia winery takes its name from the Southern Peloponnese wine region in which it is located. Monemvasia is a small town in Laconia, a rocky outcrop connected to the mainland by a small bridge. The soil is mostly rocky and dry clay.
Kydonitsa may be somewhat obscure, but the region does have a more well known grape associated with it. The full name of the area gives it away — Monemvasia Malvasia. This Greek area is said to be the birthplace of the white wine, Malvasia. I've typically had dry Malvasia from Italy; but historically in this part of Greece it's produced as a sweet white wine.
So today we have tried a new wine grape, and definitely learned a new fact or two about Greek wine!
More interesting grapes
Check out these articles from my Wine Pairing Weekend colleagues for more interesting, off the beaten path grapes that they tried for this event.