Pan seared salmon with pesto served alongside mashed potatoes for a healthy green Irish meal with a bit of Italian flavor, too. Our recipe calls for kale pesto, but you can also use classic basil pesto too.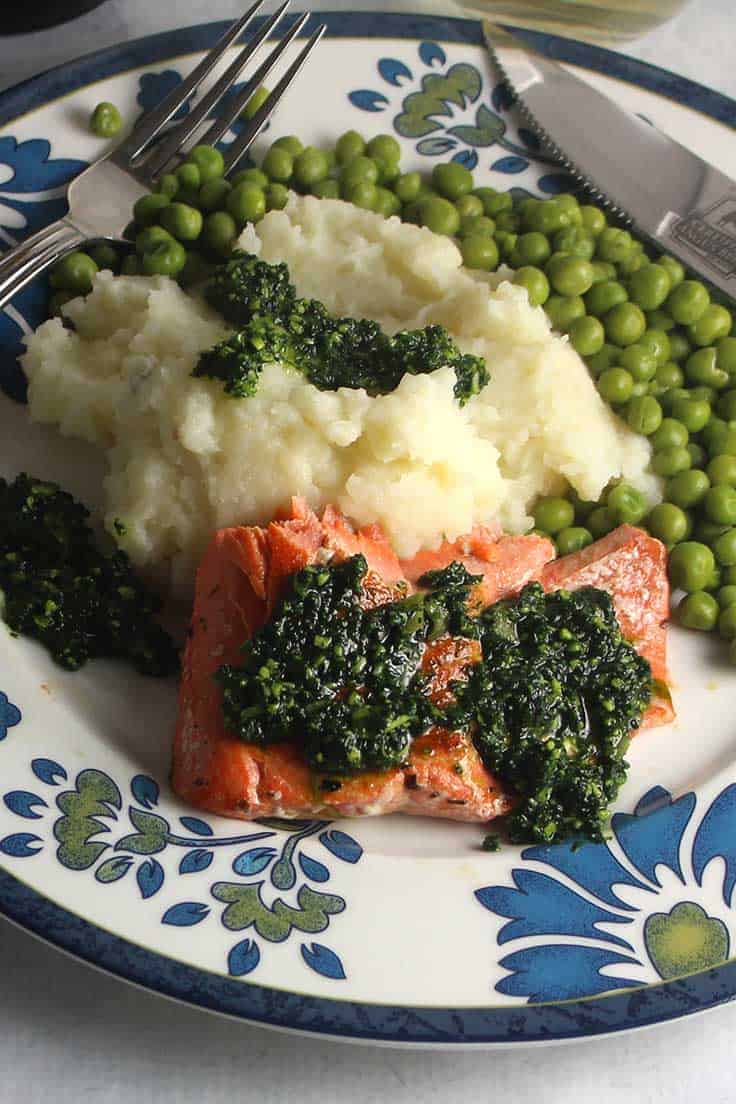 Here in the US, we might not think of salmon when it comes to Irish food. But I recall having some great, fresh seafood when traveling in Ireland, including salmon. Salmon is also associated with wisdom in Celtic mythology, with all kinds of interesting stories involving salmon.
So when asked to come up with healthy green recipes for today's Sunday Supper event, I thought salmon would be a good place to start. We top our salmon with pesto for the green color, and serve it with some potatoes…because you just gotta have potatoes on the plate to make any claim that it's an Irish meal!
How to Make Salmon with Pesto and Potatoes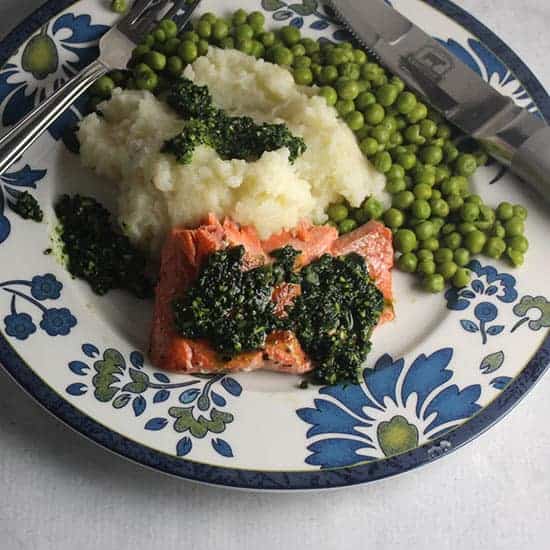 First, you can cook salmon with the pesto–this baked salmon pesto recipe is one example of that approach. But I like to start by making the pesto, then cooking the salmon separately. Then the pan seared salmon gets topped with the pesto at the end. This approach to salmon with pesto gives a nice fresh flavor, and bright green color perfect for St. Patrick's Day.
Now, about that pesto. When it's not the season for good fresh basil, I favor making kale pesto. Kale pesto is packed with nutrients, and good kale is readily available year round. Topping salmon with kale pesto enhances the nutritional benefits. You can certainly go with a classic basil pesto recipe if you like.
I made basic mashed potatoes to serve alongside the salmon with pesto. But if you really want to double down on the green theme with St. Patrick's Day coming up, you could make this tasty Swiss Chard and Potatoes recipe.
The basic plan for making this salmon with pesto and potatoes is to start by working on the mashed potatoes. Then make a batch of pesto as the potatoes cook. Once the mashed potatoes are done, keep them warm while you quickly pan sear the salmon.
If you like this combination of flavors, try our Salmon Pesto Pasta, too. For more salmon recipe ideas, visit our post 15+ Healthy Salmon Recipes.
Pairings for Salmon with Pesto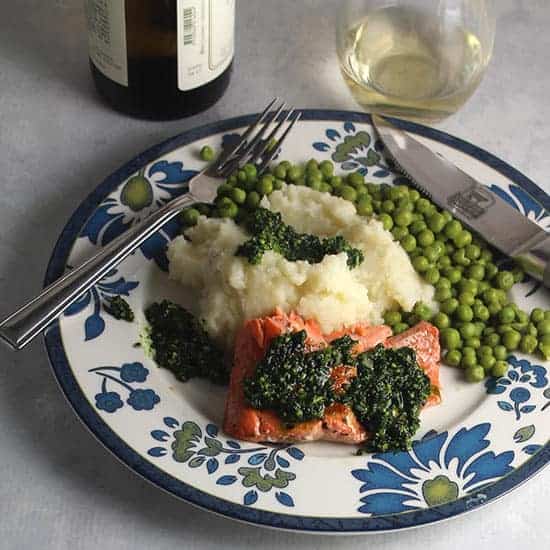 We served a modestly priced white Burgundy with the Salmon with Pesto and Potatoes. This Chardonnay based wine worked well, as it has the body to match the salmon and potatoes and also pairs reasonably well with the pesto.
Pick a Chardonnay that isn't over the top with the buttery or oaky qualities to match the pesto. A white Rhone or a medium to full bodied Italian white wine such as a Soave could work here too.
Of course, beer is more commonly associated with St. Patrick's Day than wine. If you want to go in that direction for the salmon with pesto, I'd stay away from the stouts as that would be heavy for the fish. A lager or an IPA would probably be better. Sláinte!
Print
Recipe card
Salmon with Pesto and Potatoes
Pan seared salmon topped with pesto and served alongside mashed potatoes for a healthy green Irish meal with a bit of Italian flavor, too. Our recipe calls for kale pesto, but you can also use classic basil pesto too.
Author: Cooking Chat
Prep Time:

15 mins

Cook Time:

30 mins

Total Time:

45 mins

Yield:

3

servings

1

x
Category:

main

Method:

pan sear

Cuisine:

Irish
For the Pesto
4 cups

tightly packed kale leaves, stems removed

3

garlic cloves

2 tbsp

pumpkin seeds, lightly toasted
generous pinch red pepper flakes
salt and pepper to taste

½ cup

grated parmesan cheese

⅔ cup

extra virgin olive oil
For the salmon
12

ozs wild salmon fillet

2 tbsp

extra virgin olive oil

½ tsp

fresh rosemary, minced

2 tsp

champagne vinegar (other light vinegar is OK)
pinch of salt

1 tbsp

canola oil
Plus mashed potatoes for serving.
Instructions
Start cooking your potatoes, based on the recipe you are following, then begin making the pesto.
Add the kale and garlic to a food processor, coarsely chopping to create enough room for the other ingredients.
Add the pumpkin seeds, red pepper flakes, salt and pepper, cheese, and olive oil, and puree until it comes to a nice smooth consistency. Set the pesto aside.
Finish making your mashed potatoes. Keep covered on low heat with a bit of extra milk and butter on top while you cook the salmon.
Heat the canola oil on medium high in a nonstick skillet. When the pan is hot, add the salmon skin side down. Cook for 4 to 5 minutes without moving the salmon. After this initial cooking time, carefully turn the salmon over with a spatula.
Sear the salmon for 2 more minutes, flesh side down. Turn the salmon back over to the skin side. Depending on the salmon thickness and how you like it, the salmon may be ready now or need 2 more minutes cooking skin side down.
When the salmon is done, remove it to a platter. Break the salmon into serving portions.
Plate a serving of mashed potatoes, and serve a portion of salmon alongside the potatoes. Top the salmon and potatoes with a generous serving of the pesto. Enjoy with an Irish beer or a glass of wine. Sláinte!
Notes
We make kale pesto more than basil pesto, especially in the winter. But you could certainly use classic basil pesto here if you like.
You could serve with your favorite basic mashed potatoes, or you could put more green on your plate with this Swiss Chard and Potatoes recipe.
Recipe Card powered by