Pan seared Salmon with Mushrooms is one of our favorite seafood recipes! As a bonus, it can be on the table in just over half an hour. Especially good paired with a Pinot Noir or Merlot red wine, to match the earthiness of the mushrooms. Disclosure: The Merlot discussed here was provided as a complimentary sample.
This recipe was originally shared as part of a "Lighter New Year" Sunday Supper theme, and we updated it as part of our 2021 #MerlotMe month pairings.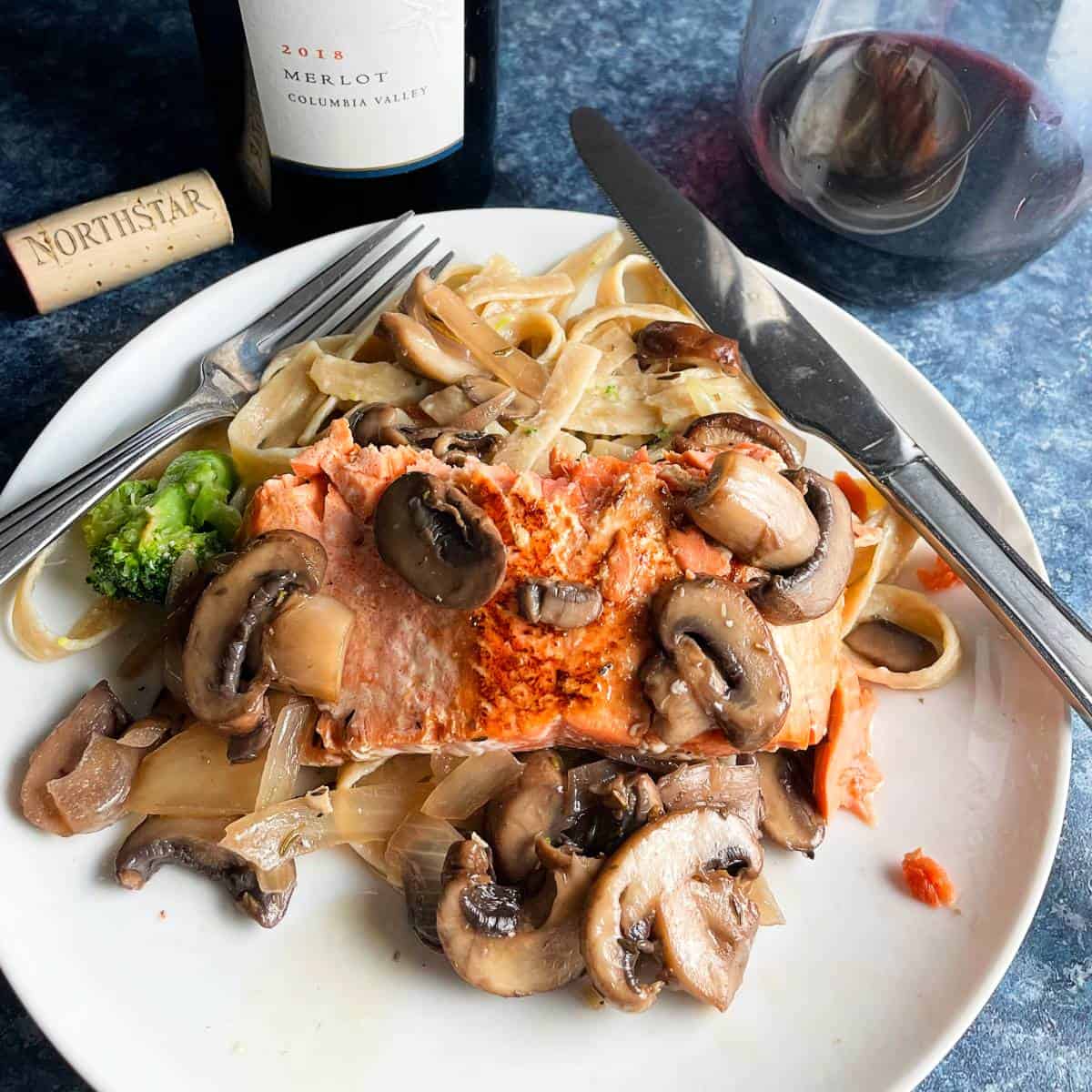 We feature wild salmon regularly in our home as part of our healthy eating plans. We often just make this simple Pan Seared Salmon recipe.
But some years ago, I had a salmon with mushrooms dish at a restaurant, and quickly set to re-create it at home. Mushrooms aren't something I first think of to serve with seafood, but here they add a nice depth of flavor to the fish.
Jump to:
Recipe tips
The salmon gets quickly pan seared in this recipe. Here are some tips for making it delicious every time!
Get the mushroom sauce ready first, then keep it warm as the salmon cooks.
Mixing some wild mushrooms in with basic button mushrooms is a cost effective way to add extra flavor.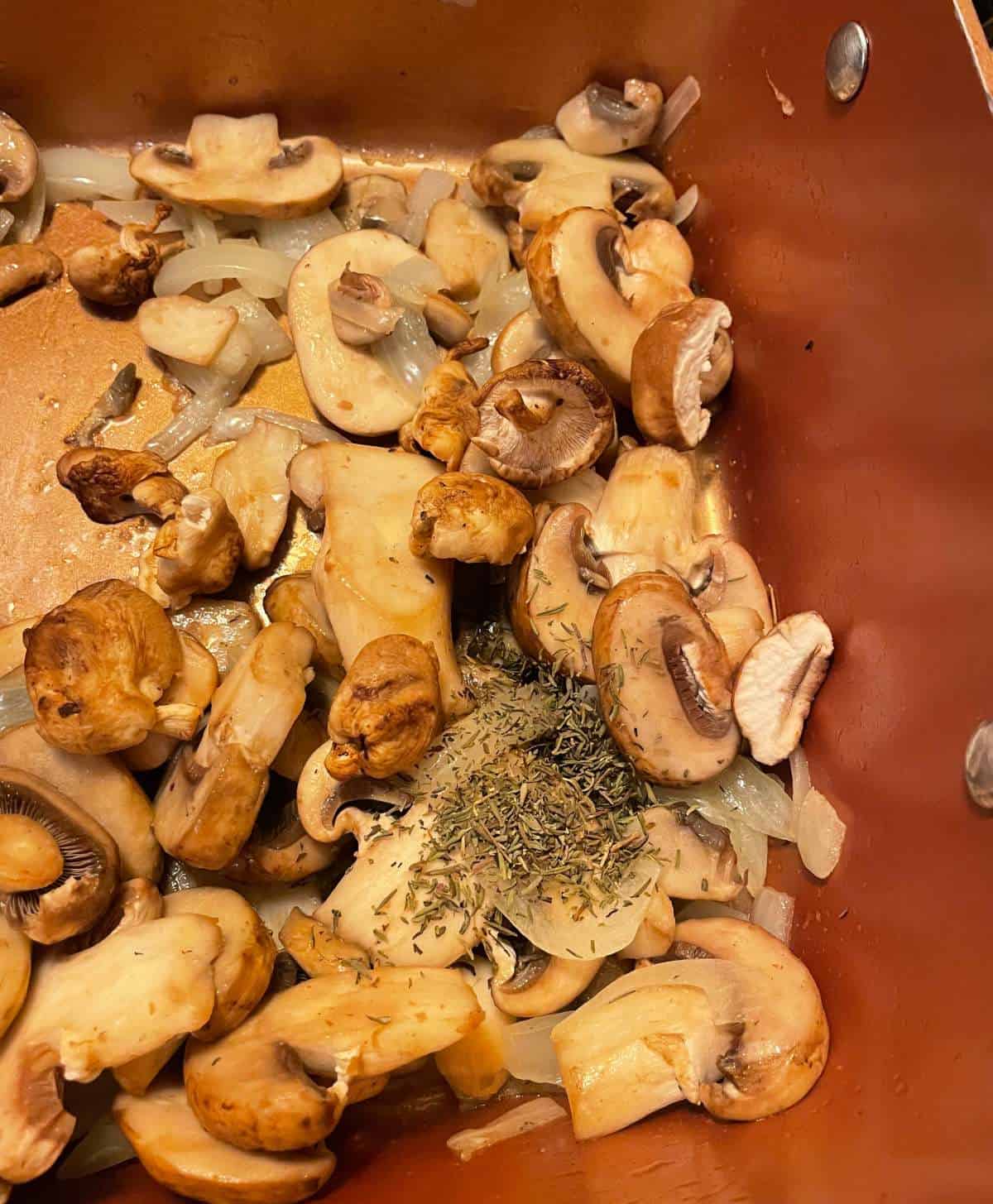 Wild salmon, in my opinion, is much more flavorful. I always go for wild salmon when I make this.
I typically get a fairly thin fillet from the tail section–avoiding the thicker cut that has the pin bones. If you do have a thicker piece of salmon, you can bump the cooking times slightly by flipping it back to cook an extra couple of minutes on the skin side at the end. But don't overcook your salmon!
Frozen salmon and other fish can be a good option. Fish that is flash frozen right after being caught keeps it nice and fresh. I typically keep some frozen wild salmon from Whole Foods in the freezer to be reach for a quick and healthy meal.
Salmon with Mushrooms FAQ
Do mushrooms go with salmon?
In my opinion, yes, mushrooms do with salmon. They add a nice earthiness to the fish, which can also set up a good pairing with red wine if you are interested. I do recommend preparing the salmon and mushrooms with herbs such as thyme as opposed to a more Asian style salmon preparation, like this pan seared salmon.
How to cook salmon with mushrooms?
We prepare the mushrooms for salmon by sautéing them on the stove top. This recipe has you pan searing the salmon. You can also try our Grilled Salmon with Mushrooms recipe. When grilling, you get the mushroom sauce ready on the stove top, then keep it warm while you go out and grill the salmon.
Does red wine go with salmon?
Yes! An earthy, light to medium bodied red wine can go well with salmon. We cover pairing ideas in more detail here in this article. One note — red wine with salmon works especially well with a preparation like this salmon with mushrooms. I like a full bodied white with more Asian style preparations.
What to serve with this salmon
I often serve salmon with couscous, and you can do that with this recipe to stay with the light theme. For a full list of ideas, check out this What to Serve with Salmon article, which has over 50 side dish recipe ideas.
When I originally cooked up this salmon with mushrooms recipe, I had it along with some mashed potatoes, putting a bit of the mushroom sauce over the potatoes. Some sautéed spinach rounded things out nicely. Our Sautéed Arugula recipe also would be a nice side for this salmon.
I was making fettuccine primavera to go with the salmon last time I made this.
That pasta was a main for the non-fish eater in our house, but worked as a side, too.
Red wine pairing options
If you haven't enjoyed red wine with seafood yet, this salmon recipe is a good place to start!
We've enjoyed Pinot Noir with this salmon and mushrooms dish several times. Pinot has earthiness that works nicely with the mushrooms, and salmon is plenty substantial to stand up to a red wine.
But Merlot is also a good match for mushrooms, and salmon can pair with a medium bodied Merlot. So we decided to open the 2018 Northstar Columbia Valley Merlot ($41, 14.5% ABV)as part of our MerlotMe month observances.
The Northstar Merlot has a woodsy nose with a touch of camphor notes. Some tart cranberry fruit and along with cherry on the palate, a bit of charcoal on the finish. The wine benefited from breathing for a bit, showing more complexity and nuance after it opened up. Suggests that the wine could benefit from a bit of aging or decanting, although it is drinking nicely now, too.
I would place the Northstar Merlot further along the big/bold continuum compared to some other Merlots we sampled recently. Yet it still made for a very good pairing for the salmon and mushrooms, showing that Merlot can be in the mix for some fish pairings.
Northstar Winery was established in the early 1990s with a focus on showing the potential of Merlot based wines in Washington state. Their website points out that Washington lies at the same latitude as Bordeaux, but enjoys a longer growing season and cooler nighttime temperatures.
For a more adventurous red wine and seafood pairing, try this grilled tuna and Syrah combination. And if you like the way mushrooms work with Merlot, try our Bottom Round Roast with Mushrooms recipe, which we paired with Merlot from L'Ecole.
Print
Recipe card
Salmon with Mushrooms
Pan seared salmon topped with a simple mushroom sauce adds depth to the healthy fish. Pairs well with a Merlot or Pinot Noir.
Author: Cooking Chat
Prep Time:

10 mins

Cook Time:

25 mins

Total Time:

35 mins

Yield:

3

servings

1

x
Category:

Main

Method:

stove top

Cuisine:

seafood
2 tbsp

butter

1

medium shallot, finely chopped

1 tbsp

olive oil

1

clove garlic, minced

10 oz

button mushrooms, sliced

6

crimini mushrooms, sliced (or other wild mushroom)

¼ cup

red wine

½ teaspoon

dried thyme or herbes de provence
salt and pepper to taste

12 ounces

or more wild salmon fillet

1 ½ tbsp

canola oil
Instructions
Start making the mushroom sauce. Heat 1 tablespoon butter plus 1 tablespoon olive oil in a sauce pan or skillet over medium heat. When melted, add the shallot, cook until it begins to soften, about 3-4 minutes. Add the garlic and cook for a another minute.
Stir in the mushrooms, along with salt and pepper to taste. Cook for about 5 minutes, until the mushrooms begin to soften.
Add the red wine and the thyme, cook for about 5 more minutes, until the wine has been reduced by about ½ and the mushrooms are fully cooked.
Finish the sauce by melting in another tablespoon of butter, and stirring to incorporate it into the sauce. Turn the heat down to very low and cover to keep warm as you cook the salmon.
Start cooking the salmon by heating the canola oil in a skillet on medium-high. When the pan is good and hot, add the salmon, skin side down. Sprinkle a little extra oil on top along w a touch of salt. Don't touch the fish for about 4 minutes.
Cook other side of salmon: After searing the salmon on the skin side for 4 minutes, flip the fish with a spatula. Cook on the flesh side for another 2 to 3 minutes. Remove salmon from heat and let it rest for a few minutes covered loosely with foil. The fish should still be very moist and have a dark orange color inside.
Serve: Cut a portion of salmon for each person, and served topped with some mushroom sauce.
Notes
You can use a small onion instead of a shallot if you like.
Vary the type of mushrooms used based on what you have available.
This makes extra mushroom sauce that can be used with your side dish or another meal.
Keywords: salmon with mushrooms, pan seared salmon, easy salmon recipes, salmon and mushrooms
Recipe Card powered by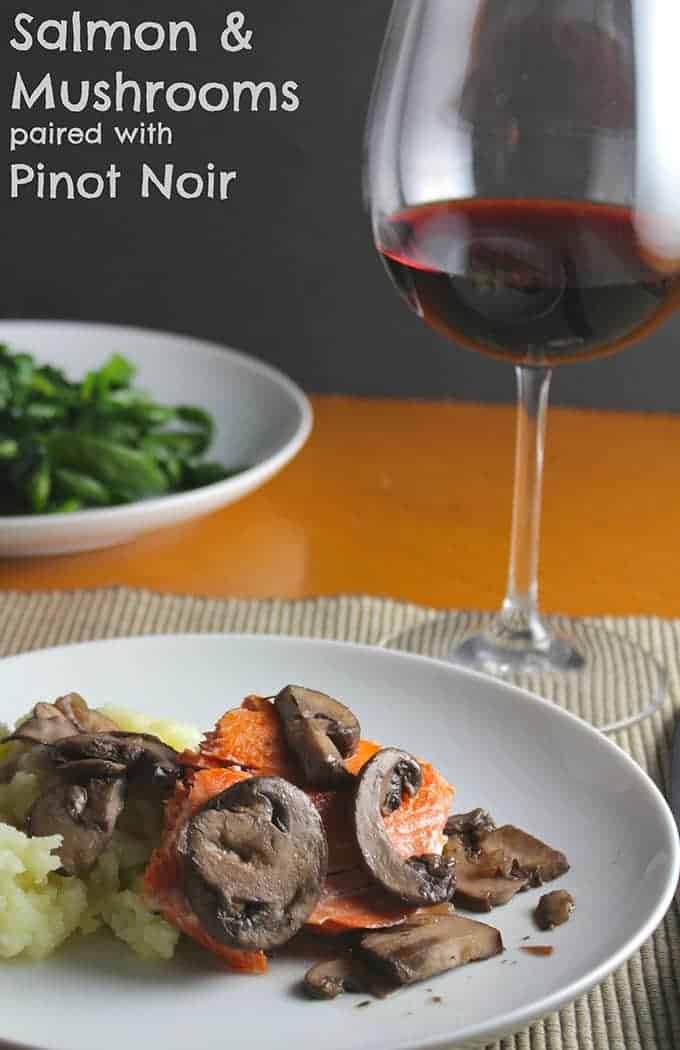 Related recipes
Looking for other salmon recipes? Check out our roundup of the Best Healthy Salmon Recipes! And if you like this combo, portobello mushrooms and salmon may be up your alley! Here are a few more related recipes you might like if you enjoy this one.
Healthy recipes from Sunday Supper
But wait, there's more…way more healthy recipes to check out from the #SundaySupper Crew!

Bright Beverages
Blissful Breakfast Items
Appetizing Starters
Broccoli Pesto from Curried Cantaloupe
Fava Bean and Avocado Guacamole from Pancake Warriors
Homemade Snickerdoodle Peanut Butter from Wallflour Girl
Norwegian Egg Benedict from Brunch with Joy
Roasted Pumpkin and Chevre Bruschetta from Jane's Adventures in Dinner
Spicy Curried Lentil Spread with Winter Veggies from Lifestyle Food Artistry
Savory Soups and Sides
Marvelous Mains
Delightful Desserts