Today the Italian Food, Wine and Travel group is exploring Italian sparkling wine. Of course, the first Italian sparkling wine that pops to mind is Prosecco. As much as I like Prosecco, I've found a variety other interesting Italian sparkling wines that are enjoyable sipping and good values. I will focus on some of those Italian sparkling wines beyond Prosecco in this post.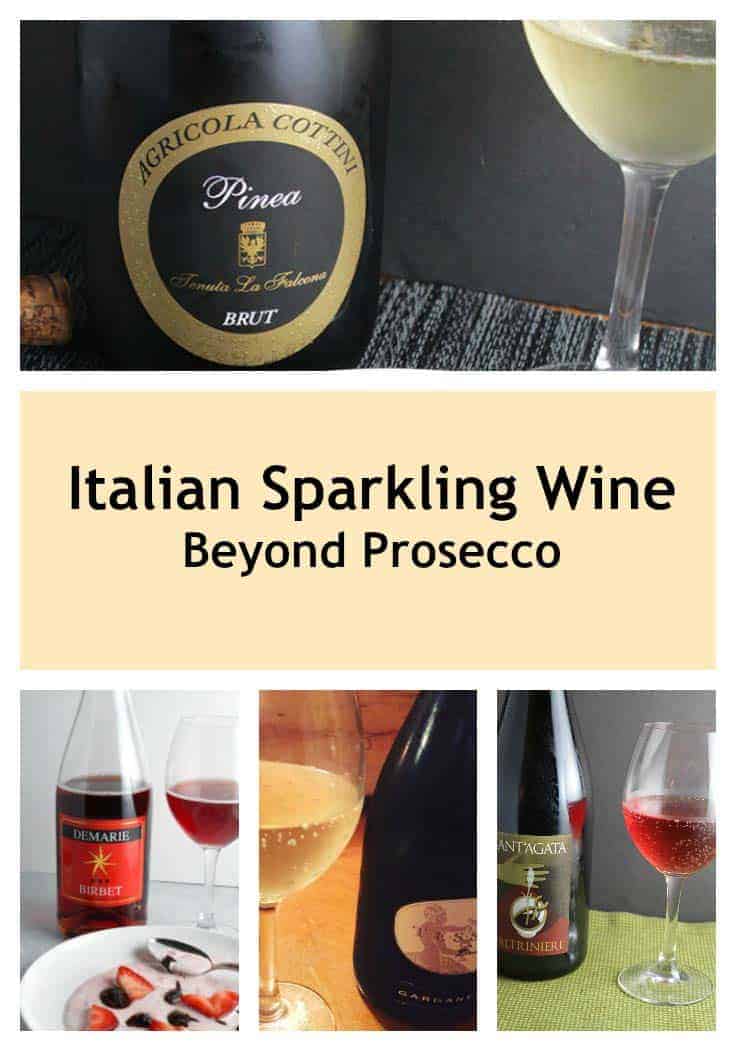 What is Prosecco?
Before we get into other Italian sparkling wine, let's briefly touch upon Prosecco. Prosecco is produced in the Veneto region of Italy, through a different method than Champagne. This method for producing the sparkling Prosecco is called the Charmat method, or tank method. Through this process, the second fermentation that provides the bubbles happens in a large steel tank, making for a more affordable process than making Champagne. Prosecco used to be the name for the grape in this kind of Italian sparkling wine, but the grape got renamed to Glera when they were defining the standards for Prosecco. Now the Prosecco term refers to the region and process to produce the wine. Wine Folly has more on Prosecco if you are interested.
There's More Italian Sparkling Wine Out There
When I heard the Italian sparkling wine theme for #ItalianFWT, I started perusing my old blog posts to see what I might discuss. I realized that as someone interested in trying a wide variety of wine, over the years I had enjoyed quite a few different kinds of Italian sparkling wine. So I'm going to highlight some of those sparkling wines here, to give you an idea of what is available, and perhaps encourage you to branch out beyond Prosecco.
Sparkling Garganega
I'm going to start off with the most recent Italian sparkling wine that I sampled, the Tessari Garganega ($20 , 12%), a brut sparkling white wine. The Garganega wine grape varietal isn't exactly a household name, but you may well have had Garganega as it is used to make Soave white wine.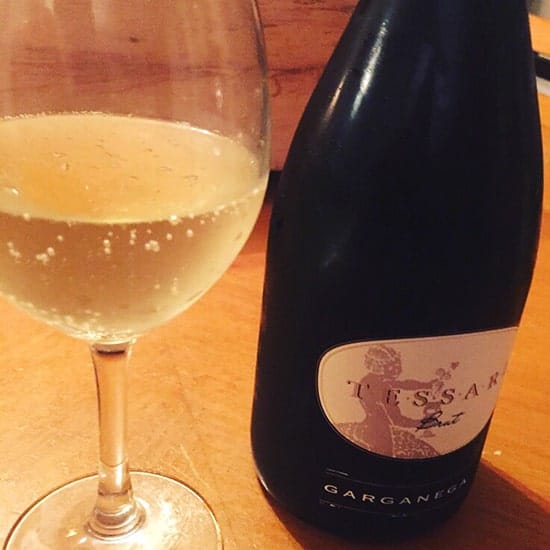 The Tessari winery in the heart of the Soave region, in the village of Brognoligo. They produce Soave still white wines as well as the sparkling wine we had recently. I will have to try one of those!
The Tessari Garganega has a fresh nose, and a clean, lively flavor with pear fruit. Pleasant sipping on it's own, I also enjoyed it paired with Ziti with Salmon and Kale Pesto. I first sampled this sparkling wine at tasting that also included an entry level Champagne that was at least $15 more, but I preferred this Italian sparkling wine.
Birbet and Brachetto
Birbet is a sweet sparkling wine made from Brachetto grapes. To be called a "Brachetto" on the label, the wine must be produced in designated areas of the Piedmont region. Some producers outside those designated regions that produce sweet wine from Brachetto took to calling the wine Birbet, which means "little rogue". These wines are generally low alcohol and in the "frizzante" style, which means gently sparkling.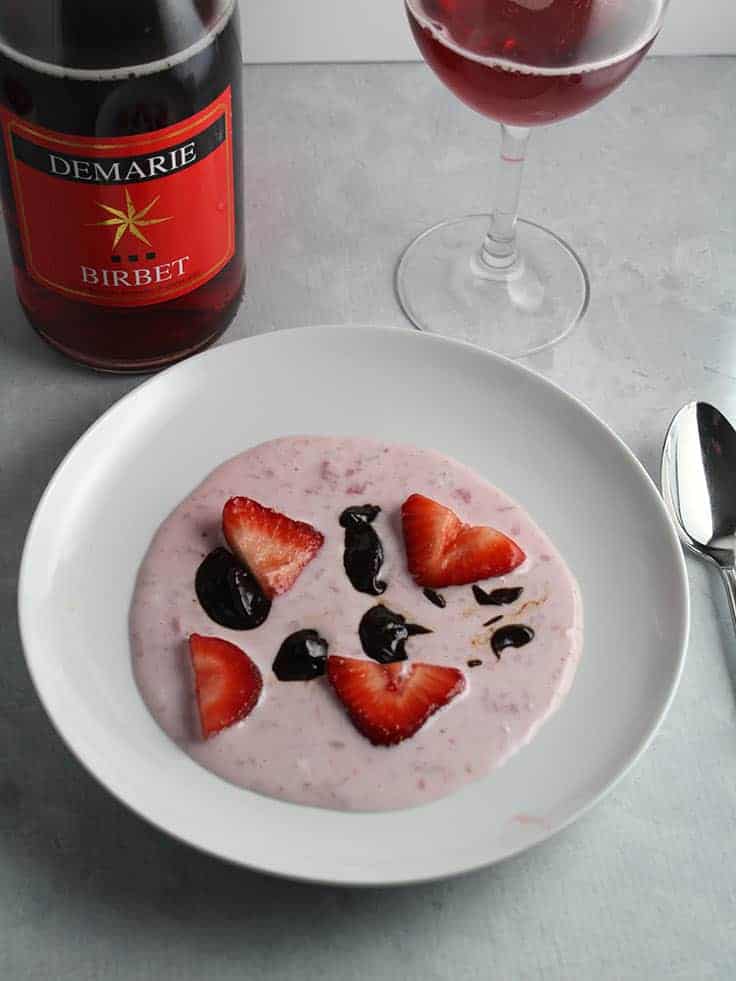 I tried a bottle of Demarie Birbet (non-vintage, 6.5% ABV, appx. $20) last year around Valentine's Day, and paired it with the Sweet Strawberry Cream and Chocolate shown above. Light red in the glass, I got the sweet smell of an early spring day on the nose of the wine. Taste of honey, with the bubbles creating a pleasant, sweet effervescence on the tongue. This Birbet has a subdued sweetness, which is more to my liking than a rich syrupy sweet you can get in some dessert wines. Full disclosure: this wine was sent to me as a complimentary sample from the winery.
Lambrusco
Lambrusco is the name of a wine grape as well as the term for wine made from that grape. Lambrusco is most typically from Emilia-Romagna, plus one region in Lombardy. Similar to the Birbet and Brachetto, Lambrusco typically has a light frizzante. This wine is typically made with the tank method used for Prosecco.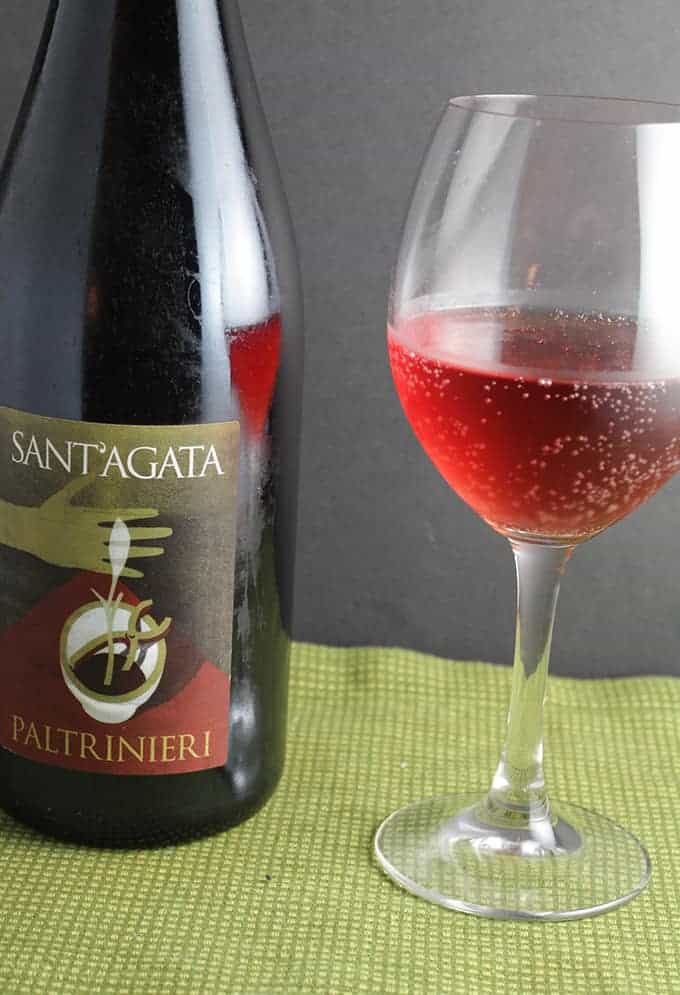 I tried the Sant' Agata Paltrinieri Lambrusco with chicken tikka masala. This is a dry red gently sparkling wine, with taste of honeydew melon and a bit of tartness on the finish. The dryness and bubbles cleanse the palate nicely, refreshing after a bit of the chicken tikka masala spice. Consider a Lambrusco the next time you are going for Indian food or other cuisine with some spice! I would note that our chicken tikka masala was moderately spicy; if you have very spicy food with high heat levels, Lambrusco would probably not be the best pairing.
Pinea Brut Sparkling Wine
The final Italian sparkling wine I will mention is not a category of wine, but rather a bottle I really like that doesn't fit into a category as best I can discern. The Agricola Cottini Tenuta La Falcona Pinea Brut Sparkling Wine ($16, 12% ABV) is a wonderful sparkling wine from Italy's Valpolicella region, made from 50% Pinot Bianco and 50% Chardonnay. It is also made using the tank method, but with the Chardonnay used it does taste a bit like a Champagne, at a fraction of the cost. This Italian sparkling wine has a subtle nose of soapstone and lemon fruit. The soft refined bubbles and a clean finish makes it a pleasure to sip on its own and it pairs well with many foods. We particularly liked it paired with our kale pesto crostini. This is definitely a bottle to grab if you come across it!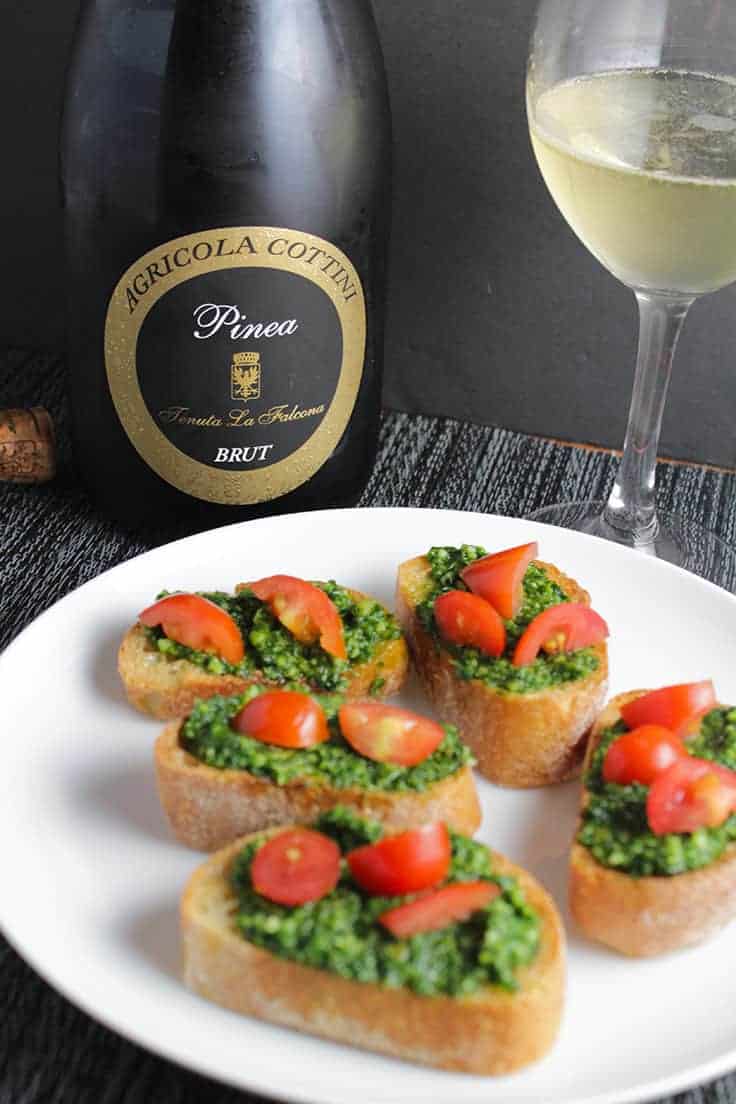 More on Italian Sparkling Wine
Check out the rest of the #ItalianFWT for more on Italian sparkling wine!
Lauren Walsh the Swirling Dervish will teach "Why You Should Learn to Love Lambrusco"
"Pink Bubbles, Paté, and Pecorino" is the topic from Camilla Mann of Culinary Adventures with Camilla
Mike Madaio of Undiscovered Italy offers up "One Great Bottle: Fiamberti Oltrepò Pavese 2012"
Jennifer Martin of Vino Travels says "There is Prosecco and then there is Valdobbiadene Prosecco"
Our host Gwendolyn at Wine Predator has "Three Trento Sparklers with Seafood Risotto for #ItalianFWT"