Kale Pesto Grilled Cheese is easy to put together and full of flavor! Serve it with a rosé wine for a relaxing weekend brunch. Check out the recipe and wine pairing details along with other ideas from the Wine Pairing Weekend bloggers! See this post for more on how to make kale pesto.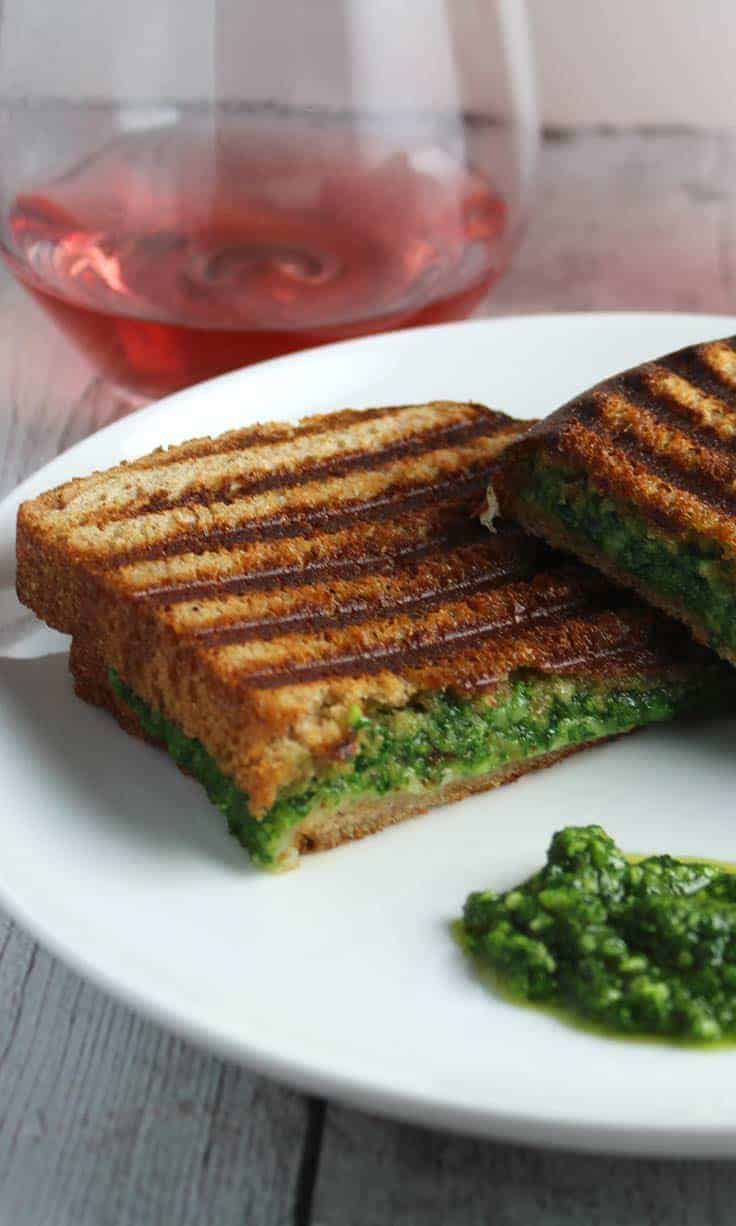 Brunch is a combination of breakfast and lunch, right? Well, I definitely lean more to the brunch side of things with this Kale Pesto Grilled Cheese!
I'm an early riser, and usually have my breakfast by 6 a.m. or so even on a weekend. Perhaps 7 if I was up later than usual. Usually I'm up solo for a bit, so breakfast is just simple cereal and coffee. By the time we are ready for a meal together here, others have usually done their own food thing when they awake, and we are getting closer lunch time and food.
If it's a special occasion like Mother's Day, some wine with our first meal together adds to the relaxing feel of the day. I like to break out our sandwich press on such occasions, and make something like this Kale Pesto Grilled Cheese. And of course, pair it with a good wine!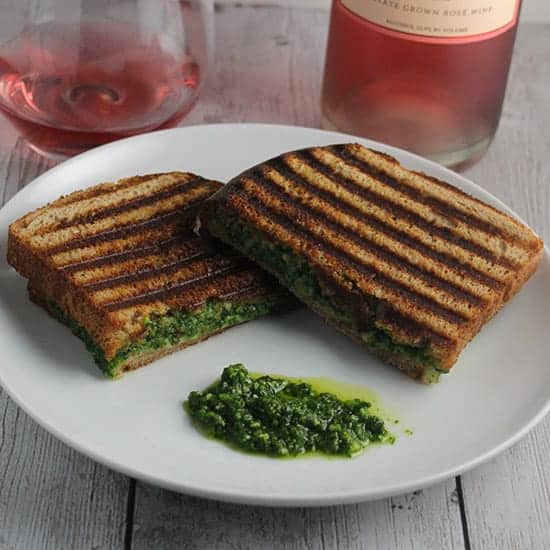 If you like this recipe, you might also like our Turkey Pesto Panini recipe.
Making this recipe
This kale pesto grilled cheese is great to to make when you leftover kale pesto on hand, which is often the case in my house! I'm often making a big batch to toss with pasta, and typically have a bit extra. You can grab my recipe for making kale pesto here.  You could certainly substitute traditional basil pesto in this recipe if you like.
I like to use the Cuisinart Griddler Panini and Sandwich Press when making grilled cheese and panini. It makes nice griddle marks on the bread and gets the cheese to melt evenly. You can make this in a skillet if that is your preferred method for making grilled cheese. Note: The sandwich press link is served up through the Amazon affiliate program. If you choose to make a purchase through those links, I would receive a commission. I only link to products that I use and recommend!
If you like this recipe, you should also check out our Turkey Pesto Panini and our Moroccan Turkey Panini.
A Rosé pairing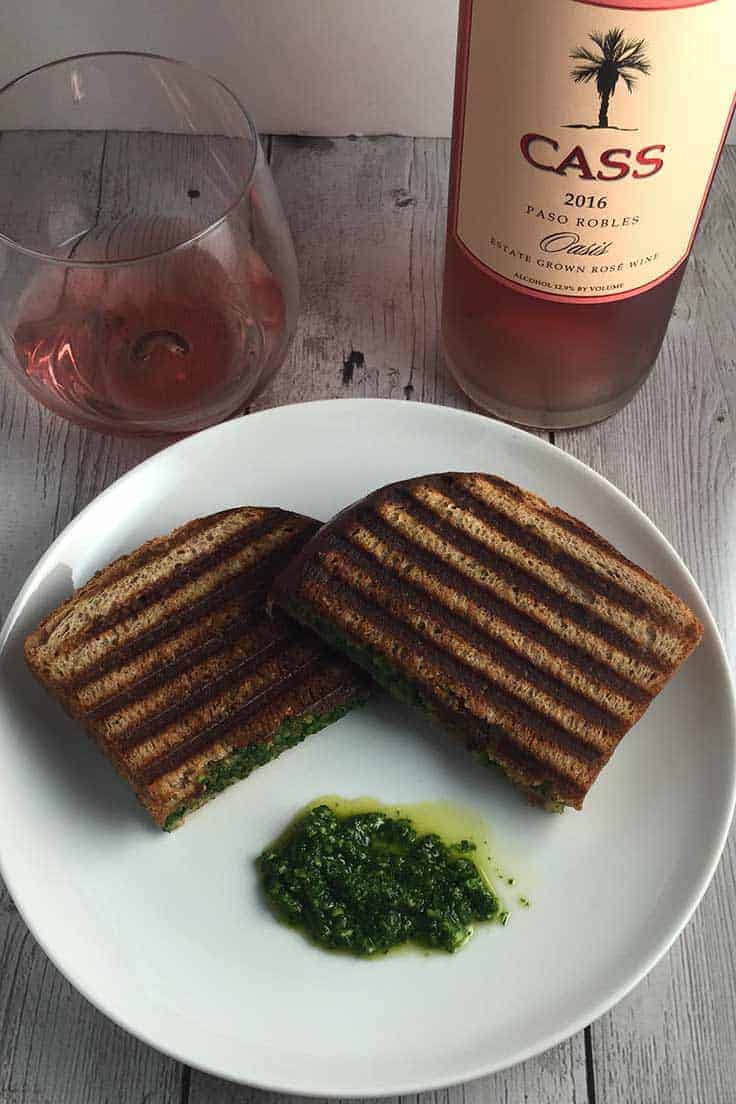 I tend think of a rosé as a good day time wine for some reason. Perhaps it is because that pink rosé looks good on our glass patio table, or by a pool on a hot day.
With the gooey cheese and flavorful pesto, I was definitely looking for something more substantial than a light poolside sipping rosé to go with this grilled cheese. So I picked a 2016 Cass Oasis Rosé ($20, 12.9% ABV) from Paso Robles. This rosé is a Grenache / Syrah / Mourvedre blend.
I tasted watermelon and jam in this medium bodied wine with good mouthfeel. I'd say this Cass Rosé is a good match for our kale pesto grilled cheese. I would also anticipate a good Chardonnay could work well here. Whatever is in your glass, a special cheers to all celebrating Mother's Day this weekend. A good excuse to open some wine a bit earlier then usual!
Print
Recipe card
Kale Pesto Grilled Cheese
Recipe Card powered by

Let's Do Brunch! #winePW Pairings
No brunch blog post? No worries!  Catch our live Twitter Chat on Saturday, May 13 PST by searching for the #winePW hashtag on Twitter at 11 a.m. ET / 8 a.m. PST. This week is actually "Brunch Week" so you'll find lots of brunch ideas on social media!
Next month is "Wine Pairings for Grilled Meat" on June 10 hosted by Camilla at Culinary Adventures with Camilla. (#winePW 37).  You can get a list of all the past and upcoming #winePW events by visiting the Wine Pairing Weekend page.