Today we share a delicious recipe for Mushroom Truffle Risotto! Savory mushroom risotto gets even more depth of flavor with the addition of truffle butter. We paired this with a Cahors Malbec as part of our exploration of the region with the French Winophiles. Disclosure: The wines shared here were provided as complimentary samples. This post contains affiliate links.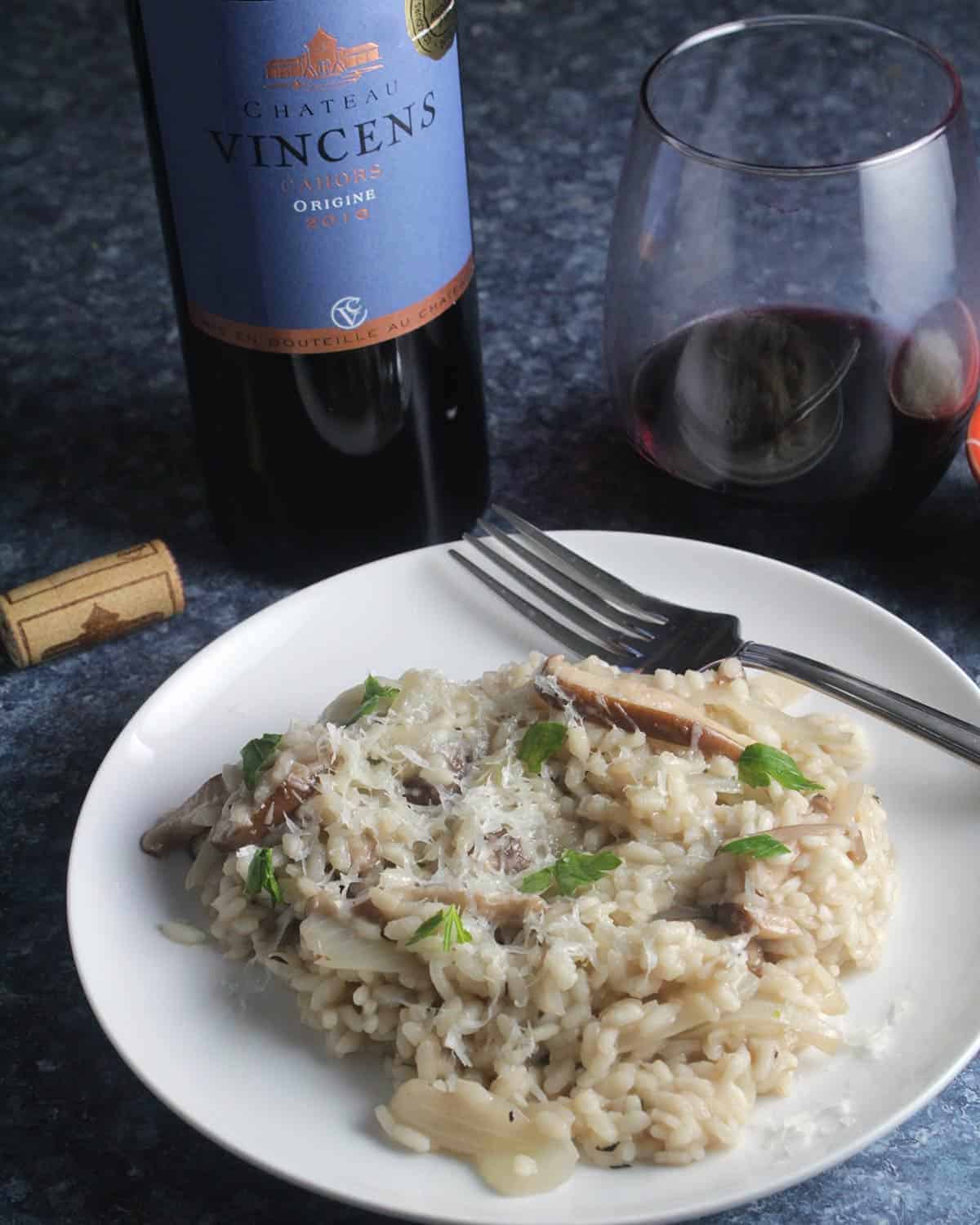 Risotto paired with French wine? Not a typical combo for sure!
But researching about food that might be fitting to serve with Cahors Malbec, I came across quite a few references to truffles and wild mushrooms. And yes, in his piece about a visit to Cahors, David Lebovitz does mention having some truffled risotto piled on his plate alongside some lamb.
It doesn't take much convincing to get me making a batch of risotto! I quickly cooked up the idea of making Mushroom Truffle Risotto as one of our Cahors Malbec pairing. I was certainly pleased with the savory rich layers of flavor that comes from combining mushroom, truffle butter and plenty of cheese with the arborio rice!
Making Mushroom Truffle Risotto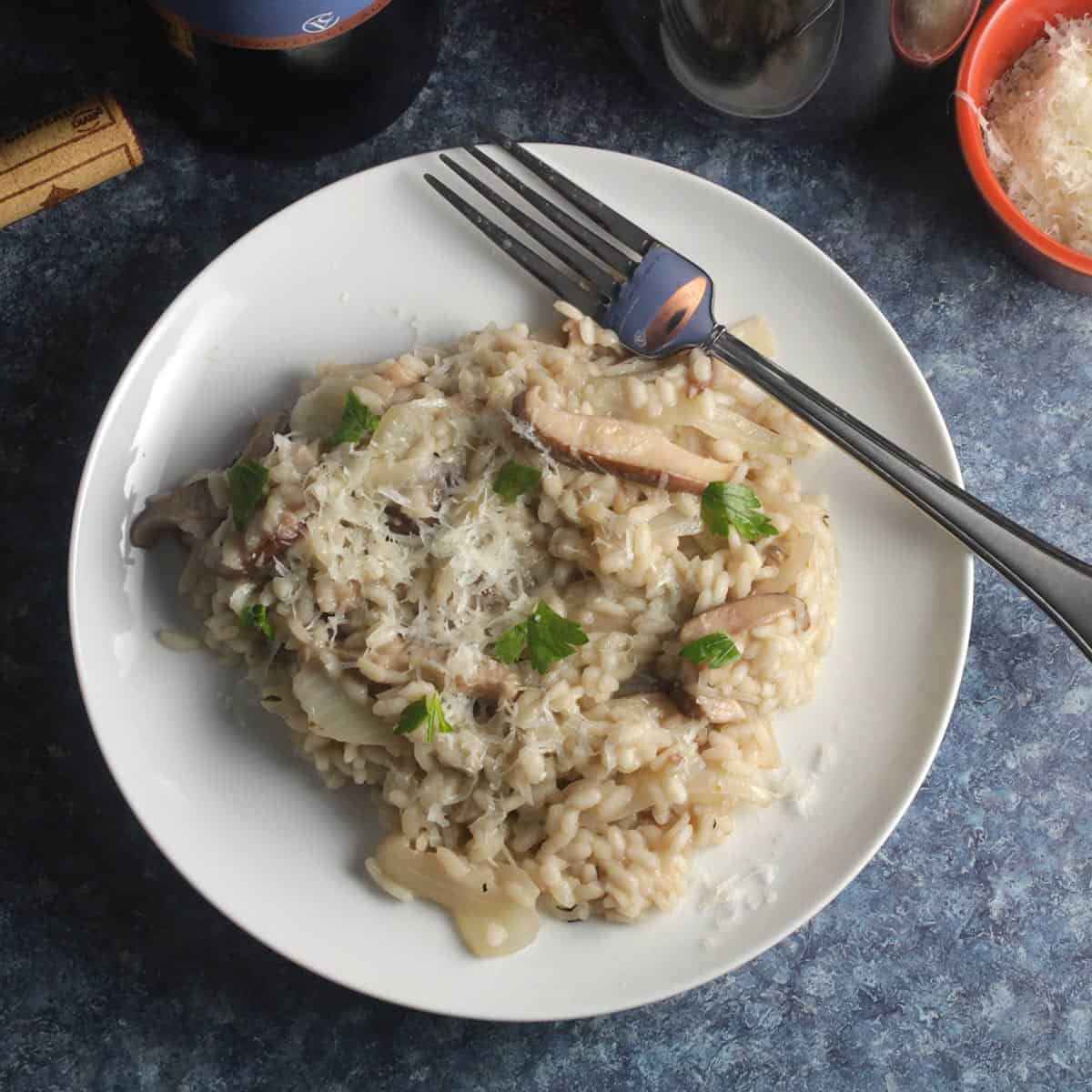 As suggested in the last paragraph, we were not lucky enough this time to have fresh truffles to add to the risotto. I would probably need to visit Cahors or somewhere else in France to do that for a reasonable price. Truffle butter imparted that special musky rich flavor, and we finished it with a bit of truffle salt for good measure.
Here are a few tips for making our mushroom truffle risotto:
Making risotto starts with getting some stock warmed in a large pan. I used chicken broth, but you can use vegetable broth to make this a vegetarian dish.
I used shiitake mushrooms here, but but you could use other wild mushrooms with a lot of flavor, such as porcini. The mushrooms get added to the pot after the onion gets softened.
After the mushroom softens, you stir in the arborio rice. Once it gets coated with the mushrooms and onions, it is time to start ladling in the broth. You add a scoop or two, stir, and when most of the liquid has been absorbed, add some more. This process continues until all of the broth has been used.
I see references to short cuts for making risotto, but I'm not a believe in short cuts for this dish! Make risotto on a chilly evening when you are in the mood for hovering over a warm pot of savory rice and broth!
Although it does take frequent stirring, you don't actually have to stir risotto constantly. You do need to keep a pretty close eye on it, and stir every few minutes. Stay nearby, sip some wine, make a salad to serve with the risotto as it gradually cooks.
I wouldn't go out buying truffle salt just for this dish, but if you already have some, a dash added at the end accentuates the truffle flavor. Truffle butter (the kind we used shown above) packs some good flavor into a small package! You can find white or black truffle butter at Whole Foods or Amazon, we went with the black.
Want to try a very different looking risotto? Try our red cabbage risotto recipe!
Cahors Malbec with Mushroom Truffle Risotto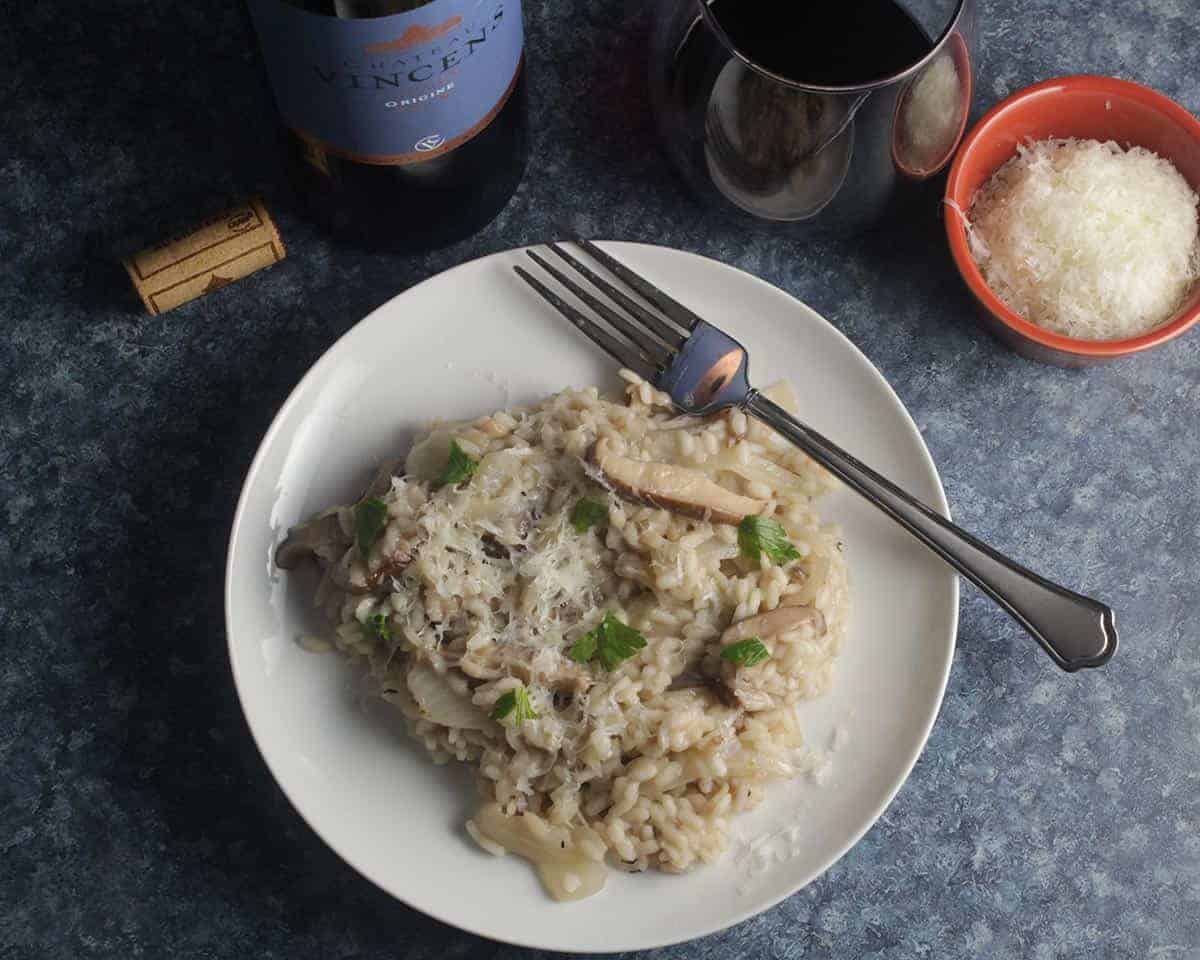 This month we have been focusing on Cahors, the Southwestern France wine region famous for its Malbec. We got to try two bottles of Cahors Malbec with our risotto.
First, we opened the 2016 Chateau Vincens Cahors Malbec, made from 95% Malbec with 5% Merlot blended. Here are my notes on it:
Eye: Deep inky purple in the glass, typical for a Cahors Malbec.
Nose: Summer forest on a warm summer day.
Body: Medium body with firm tannins providing structure.
Palate: Blackberry fruit and leather.
Winemaker notes: Stainless steel fermentation, 10 to 15 months aging in oak barrels.
Pairing: An excellent pairing! The fruit and tannins were a good partner for this savory dish.
There was plenty of risotto left for another meal, so we also got to try the 2008 Sanguis Christi (appx. $45, 14.5% ABV) with the risotto. I didn't know what to expect from a Cahors with 10+ years of age on it, as I am used to seeing mostly younger Malbecs available.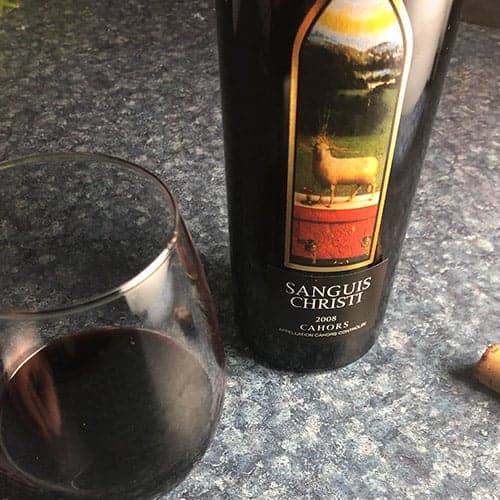 I was pleasantly surprised at how well the 2008 Sanguis Christi is drinking now! Cedar chest and a bit of violet on the nose. Nice plum fruit still showing. Tannins have softened. Notes of cedar and light spice on the palate too. Long silky finish. Grab a bottle now, I'd guess this wine is at its peak right now but might not keep too much longer.
The Sanguis Christi is made from 100% Malbec grapes, with vines averaging 40 years. The vineyards used have been designated "future Grand Cru" status. And as best my limited French, the name of the wine is a reference to "the blood of Christ". I believe this is a reference to wine having been made in the Cahors region since the times of Jesus and the Roman empire.
Cahors Wine Region
You might associate the Malbec grape with Argentina, but the Cahors region in Southwestern France has been producing quality wines from Malbec for some 2,000 years! Jill has some interesting historical tidbits about the history of the wine region in her article.
Cahors is situated roughly equal distance from the Atlantic and the Mediterranean, and its climate gets influenced by both bodies of water. Sounds like the best of both worlds to me!
I was a bit surprised to read that Cahors red wines just need to have 70% Malbec. Most of the ones we sampled were between 90% and 100% Malbec.
Be sure to check out the other articles from the French Winophiles for more details on this region! (links below the recipe)
Print
Recipe card
Mushroom Truffle Risotto
Savory mushroom risotto gets even more depth of flavor with the addition of truffle butter. Dig in for a hearty cool weather meal! Very good paired with a Cahors Malbec.
Author: Cooking Chat
Prep Time:

5 mins

Cook Time:

40 mins

Total Time:

45 mins

Yield:

6

servings

1

x
Category:

main

Method:

stove top

Cuisine:

Italian
7 cups

chicken or vegetable stock

1 tbsp

olive oil

1

onion, chopped

½

lb shiitake mushrooms, stems removed, caps sliced

⅓ tsp

salt

1 tsp

dried thyme

2 cups

arborio rice

¼ cup

red wine

2 ½ tbsp

truffle butter

½ cup

Parmesan cheese, plus extra for passing at the table
optional pinch truffle salt
couple grinds of black pepper

2 tbsp

chopped fresh parsley, for serving (optional)
Instructions
Heat the stock: Bring the stock to a simmer, and keep warm on low heat.
Sauté the onions: Heat the olive oil on medium low heat in a large nonstick pan. Stir in the onion, and sauté until it begins to soften, about 5 minutes.
Add mushrooms to the pan with the onions, and stir to combine. Add the thyme and salt. After the mushrooms begin to soften, after 3 to 4 minutes, stir in the arborio rice, followed by the cooking wine.
Start adding broth to the rice: When cooking wine has been mostly absorbed, ladle about ½ cup of the broth into the rice. Stir the risotto mixture and cook until the broth is absorbed. Add another ladle of broth and repeat process. Stir frequently throughout the risotto cooking.
Check the risotto: Once all or most of the liquid has been absorbed the rice is tender to the bite, the risotto is almost ready. It takes about 30 minutes of gradually ladling in the cooking liquid and stirring regularly.
 Finish the Risotto: Stir in the truffle butter, Parmesan cheese and truffle salt, if using. Add a few grinds of black pepper. Plate, topped with a few bits of fresh parsley if using, and pass extra cheese at the table. Enjoy!
Notes
We used low sodium chicken broth, but you can use vegetable broth to make this dish vegetarian.
Other wild mushrooms could be substituted in place of the shiitake.
The risotto doesn't need constant stirring, but does need to be stirred frequently.
Keywords: mushroom risotto, truffles, mushroom and truffle risotto, Italian recipes
Recipe Card powered by
More Cahors Malbec Pairings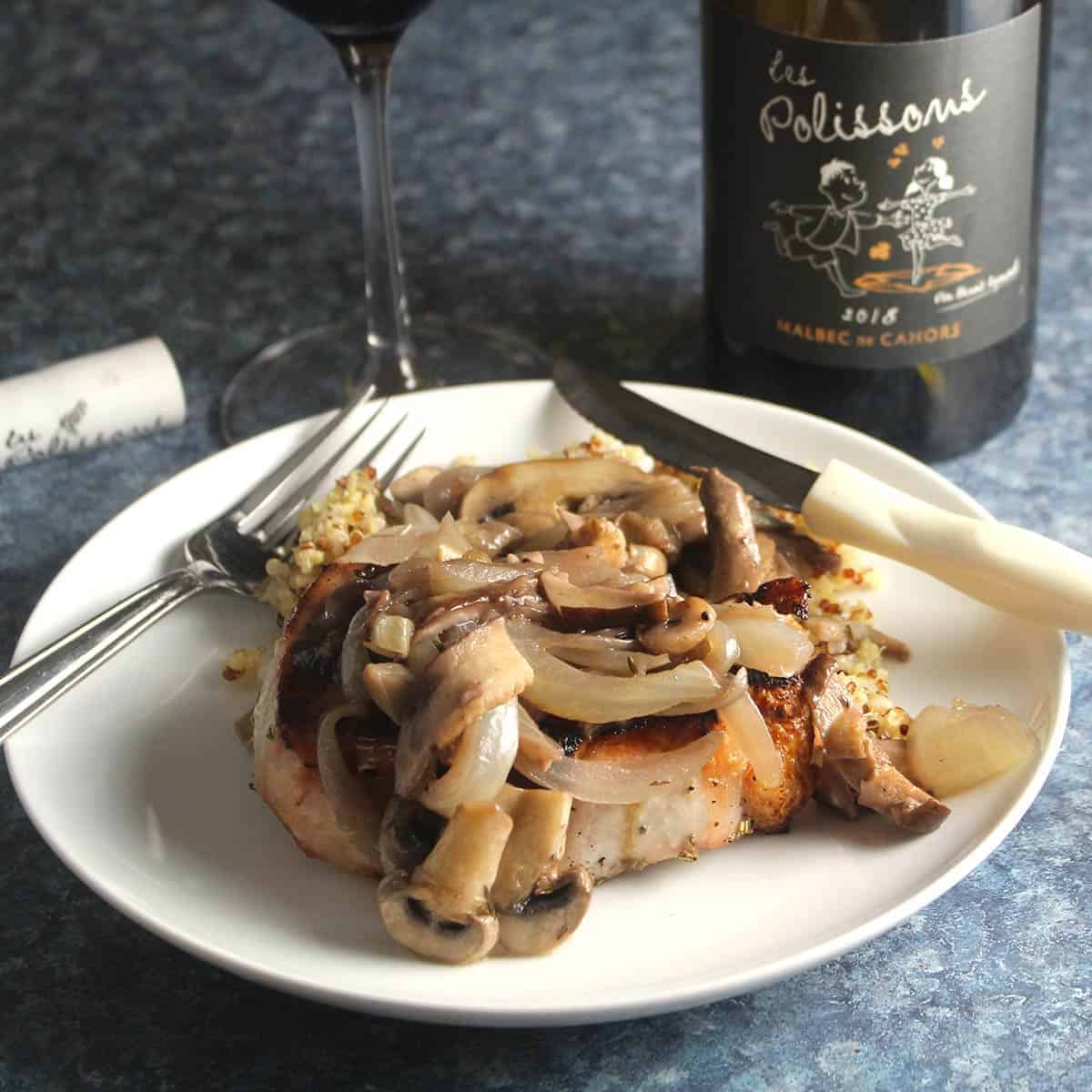 Earlier this month, we had a chance to share another delicious pairing for Cahors Malbec, serving the he 2018 Clos d'Audhuy Les Polissons (under $20, 13.5% ABV) with our Garlic Mushroom Pork Chops. Once again, mushrooms contributed to a great pairing with Cahors Malbec! Pork and Cahors are also good partners.
Working my way backwards here to the first Cahors Malbec we tasted for this event, the 2018 Chateau de Cèdre Extra Libre, a blend of 90% Malbec and 10% Merlot was definitely one of my favorites. Violet and jasmine on the nose. Jammy raspberry fruit on the palate, and bright acidity. I correctly thought this young wine would benefit from a bit of decanting, and it opened up nicely with about 20 minutes decanting before our meal. We paired this with Chimichurri Steak. This was a good pairing, but I'd probably say our risotto and pork dishes were my favorite matches for the Malbec from Cahors.
A Deep Dive Into Cahors Malbec with the French Winophiles
Be sure to check out all the great articles about Cahors Malbec! And join our live Twitter chat about Cahors Malbec Saturday, October 18, at 11 a.m. Eastern via the #winophiles tag on Twitter.