This Red Cabbage Risotto recipe combines healthy cabbage with hearty arborio rice and savory cheese for a comforting winter meal. We have served this risotto with some interested wine pairings that really help the dish shine.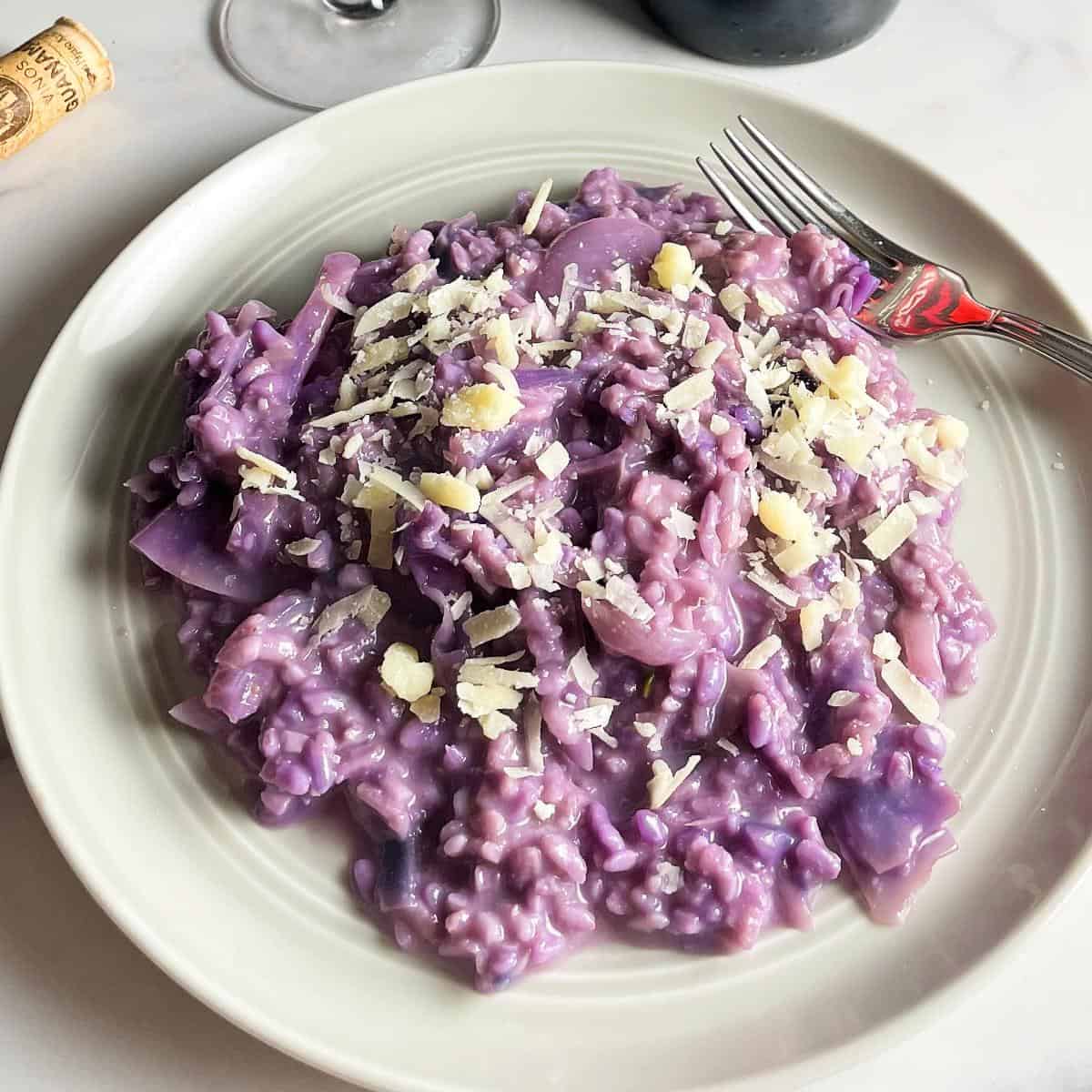 Risotto is definitely great comfort food. Substantial and cheesy, it definitely warms your insides. Yet although we have had plenty of cold weather over the past few months, I hadn't made risotto yet this season. Until Sunday.
I couldn't have picked a more perfect time for my first risotto making of the season! As the snow piled up outside and the winds howled, I was stirring a pot of red cabbage risotto. The steam from the slowly cooking rice was so warming I had to change to a lighter shirt!
Red cabbage can add nice flavor and color to a dish. Raw red cabbage can add a nice crunch to a salad. Featured in this red cabbage risotto, the cabbage adds brilliant color along with some good vegetal flavor, nicely balanced by the Pecorino Romano cheese. The cheese, rice and cabbage come together for a tasty and satisfying winter main course.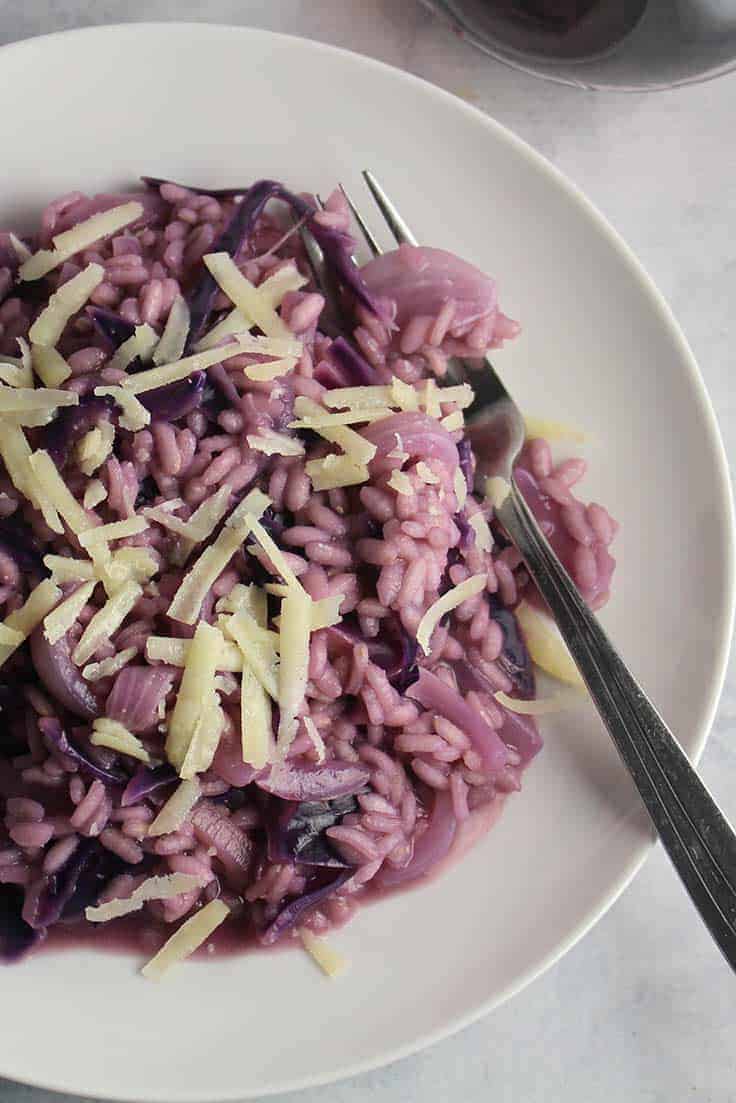 For another tasty dish likes this, try our red cabbage pasta recipe!
Making Red Cabbage Risotto
Getting some broth warming on the stove is a first step to making red cabbage risotto. I used some leftover beef we had to make a beef broth, but you could certainly use vegetable broth to make this a vegetarian dish.
Sauté the onion in the risotto pan for a few minutes before adding the red cabbage. The cabbage cooks until it gets soft, followed by the garlic. Then it's time to add the arborio rice used for making risotto. Give it a good stir to get the rice coated with the onion and cabbage.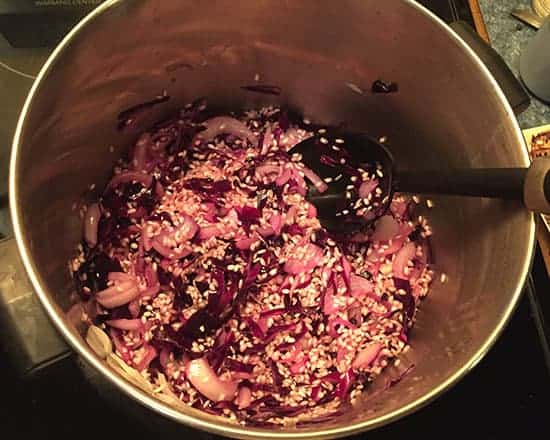 Wine is the first liquid that gets added to the red cabbage risotto. After the wine cooks down, you start the process of gradually adding broth to the risotto. While the process does require frequent stirring, it doesn't have to be constant. You can step away from the risotto pot for a few minutes to attend to other things in the kitchen. Just don't go too far! It will be time for more broth soon.
When most of the broth has been used and absorbed, the rice should be starting to get tender. Finish up the dish by stirring in some good cheese, and you are ready to sit and enjoy a delicious and brilliantly purple dish, red cabbage risotto!
Red Cabbage Risotto Frequently Asked Questions
Do you have to stir risotto constantly?
No, you don't have to stir risotto constantly. But risotto does take frequent stirring, so don't go too far from the kitchen while making it!
How do you cook red cabbage without losing its color?
The red cabbage in this risotto cooks slowly, with liquid gradually added. This keep a vibrant, purplish red color in the finished dish.
What to do with leftover risotto?
This red cabbage risotto is very good when reheated. Store the leftover risotto in a sealed container in the refrigerator. Scoop out a serving portion of risotto onto a microwave safe plate, and add a teaspoon of olive oil. Heat in the microwave for one minute, then stir, and heat for another 1 ½ to 2 minutes, until the risotto is hot.
Can I make this recipe with green cabbage?
I don't recommend making this recipe with green cabbage. You will lose the brilliant purple color that gives the dish appeal. If you are looking to use some green cabbage, we have several good recipes here for you to try, such as this Ground Turkey Cabbage Stir-Fry.
Red Cabbage Risotto Wine Pairings
We have gotten creative when pairing wine with this red cabbage risotto recipe! Most recently, I opened a very good Merlot from Mexico to serve with some leftover risotto. It was a great pairing!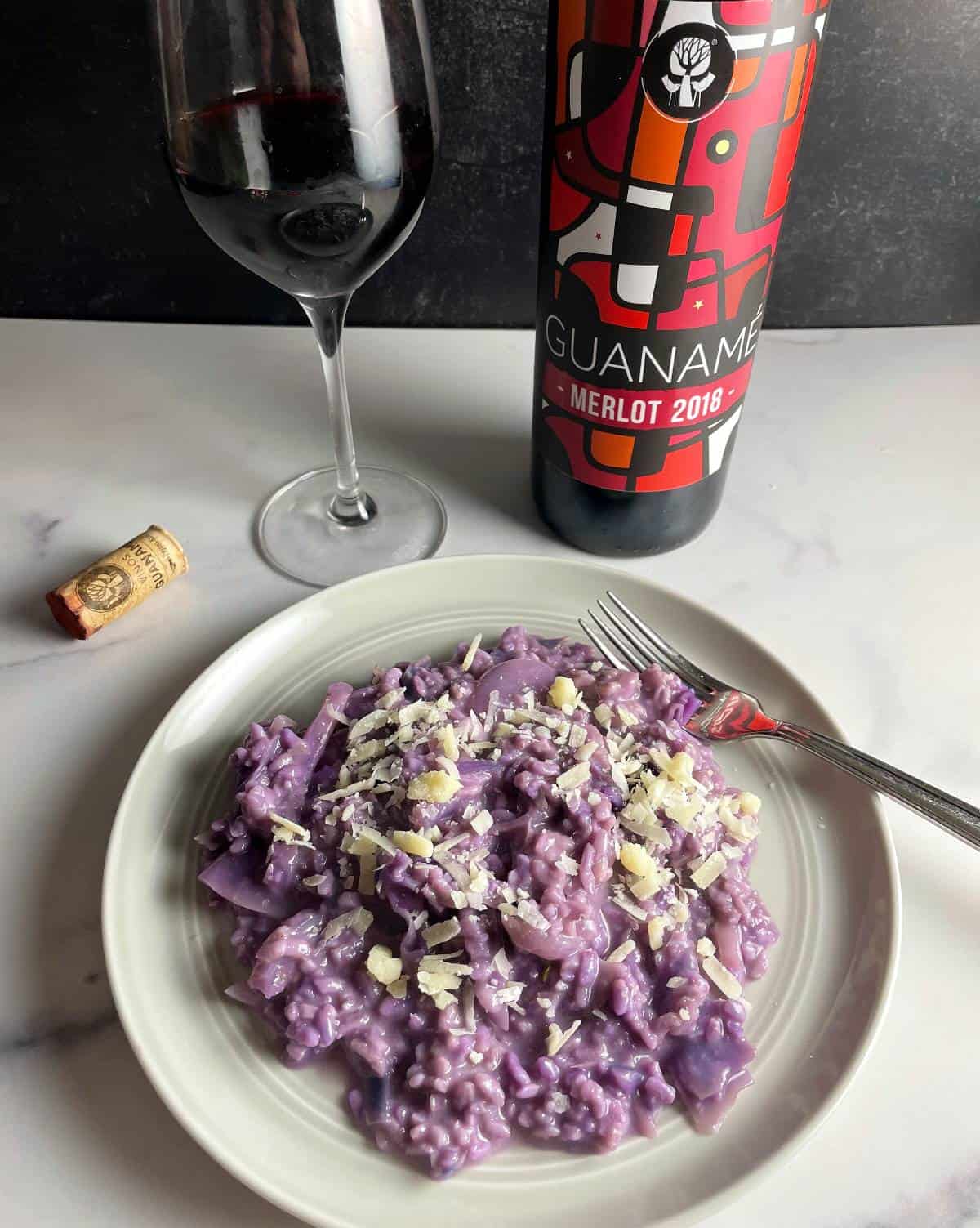 The 2018 Guanamé Merlot (appx. $20, 13.8% ABV) is from Vinos Guanamé, located in San Felipe, Guanajuato, six hours north of Mexico City. They also make a great rosé! More about this winery from our friends at Tozi Imports, which specializes in Mexican wine.
While Merlot and red cabbage might not seem like a natural combination, I have learned through research on Merlot food pairing ideas that this is a versatile red wine grape! The Guanamé Merlot has plush berry fruit, with notes of chocolate and oak. It is fruit forward without being a "fruit bomb", and pairs very well with the risotto! We also enjoyed this Merlot with our Roasted Beet Pesto.
We did also serve this most recent batch of red cabbage risotto with a good Chianti. This is a more typical choice for this Italian rice dish, and also worked well.
Original pairing
I went off the beaten path for a red cabbage risotto wine pairing when we first made this recipe. We opened a bottle of 2014 Velenosi Lacrima Di Morro D'Alba ($18, 12.5 % ABV). This wine is from Italy's Piedmont region, better known for growing Nebbiolo grapes for Barolo.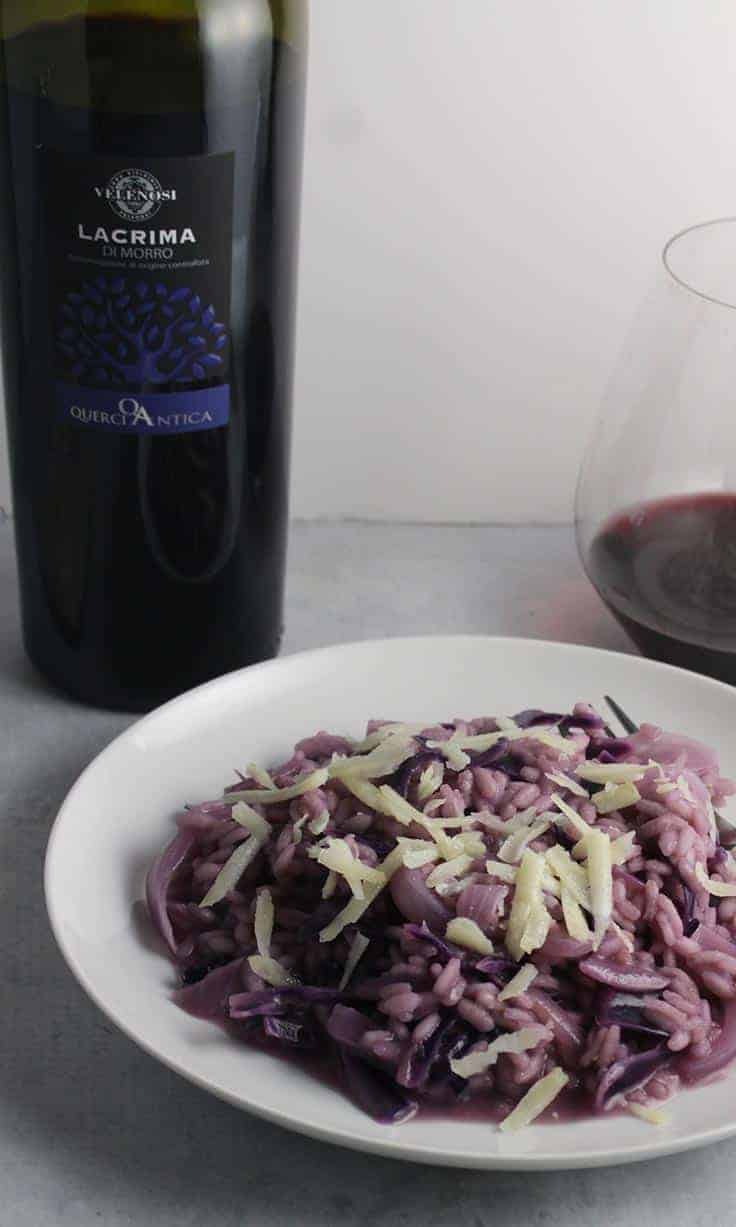 As stated in Wikipedia, "Lacrima is an ancient and local grape that is rarely found outside of the town of Morro D'Alba". This wine is made from 100% Lacrima grapes.
This Lacrima is an elegant wine, cherry taste a bit of tartness and a nice long finish. The subtlety of the wine complemented the rich risotto dish, and let the food stay in the forefront. Definitely a winning pairing!
Print
Recipe card
Red Cabbage Risotto
Sautéed red cabbage serves as the healthy base of this risotto, along with onions and garlic. Finished with Pecorino Romano cheese for a satisfying meal.
Author: Cooking Chat
Prep Time:

5 mins

Cook Time:

45 mins

Total Time:

50 mins

Yield:

5

servings

1

x
Category:

Main

Method:

stove top

Cuisine:

Italian

Diet:

Vegetarian
2 cups

red cabbage, chopped into thin slices

1

onion, chopped

2

garlic, minced

2 cup

s arborio rice

2 tbsp

olive oil

½ cup

red wine

7 cups

beef or vegetable broth (vegetable to make the dish vegetarian)

½ cup

Pecorino Romano cheese

1 tsp

high quality balsamic vinegar (optional)
salt and pepper to taste
Instructions
Bring the broth to a gentle simmer and keep warm.
Heat 1 tablespoon of olive oil over medium heat. Add the onions sauté until the onions start to get soft, about 5 minutes.
Add the cabbage sauté for another 5 to 7 minutes, until it starts to get soft. Add the garlic and sauté for another minute.
Add the rice, stir to get it evenly coated with onion and cabbage mixture, about 2 minutes. Add the wine, cook until it is absorbed.
Add a ladle or two of broth to the rice, stir in and cook on medium low until the broth is absorbed. Add another ladle of broth and repeat process. You need to be stirring quite frequently throughout the process, thought you can attend to other things in the kitchen, too. Once all or most of the liquid has been absorbed and the rice is tender to the bite, the risotto is ready to finish. This takes about 30 minutes.
Stir in the cheese, salt and pepper to taste. If you would like, add 1 teaspoon of high quality balsamic vinegar. Plate the risotto, and enjoy along with a salad and good Italian red wine!
Notes
You don't need to stir constant, but frequent stirring is needed when making risotto. Don't go too far from the kitchen!
Keywords: red cabbage, risotto recipes, red cabbage risotto, Italian food
Recipe Card powered by