Last Updated on
Stir-frying is a good, quick-cooking method suited for weekdays. But sometimes I start putting so many different veggies into the dish, the chopping can get to be more of a chore than I want midweek. This Pork and Bok Choy Stir-Fry keeps things simple. Simplicity is certainly key for a good #WeekdaySupper.
The bok choy here is almost like two different veggies in terms of texture, as you get the leafy greens, and a nice crunch from the stems. Not much more is needed, just a little peppers and onion for color and flavor. I originally made this in the summer, thus the optional summer squash. You could easily skip or substitute in a vegetable more readily available this time of year.
This dish packs a lot of flavor. You don't have to tell your family how easy it is! That can be our little secret…
Be sure to get everything cut up in advance of starting to stir-fry. The cooking process is fast and requires frequent stirring. As you start chopping, start cooking some rice or couscous to serve with the dish.
Print
Check out the Weekday Supper lineup!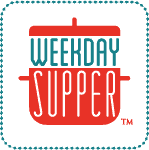 Monday – Duck Breasts with Pomegranate Sauce by Confessions of a Culinary Diva
Tuesday – Bacon and Potato Hash by Cindy's Recipes and Writings
Wednesday – Pork and Bok Choy Stir Fry by Cooking Chat
Thursday – Tuna Rice Bowl by kimchi MOM
Friday – Gluten Free Chicken and Rice Soup by Gluten Free Crumbley