This pork and bok choy stir-fry is a quick and flavorful meal perfect for a busy weeknight dinner. If you're tired of cooking pork chops the same basic ways, this is a nice change of pace! And it is a great way to use fresh local bok choy.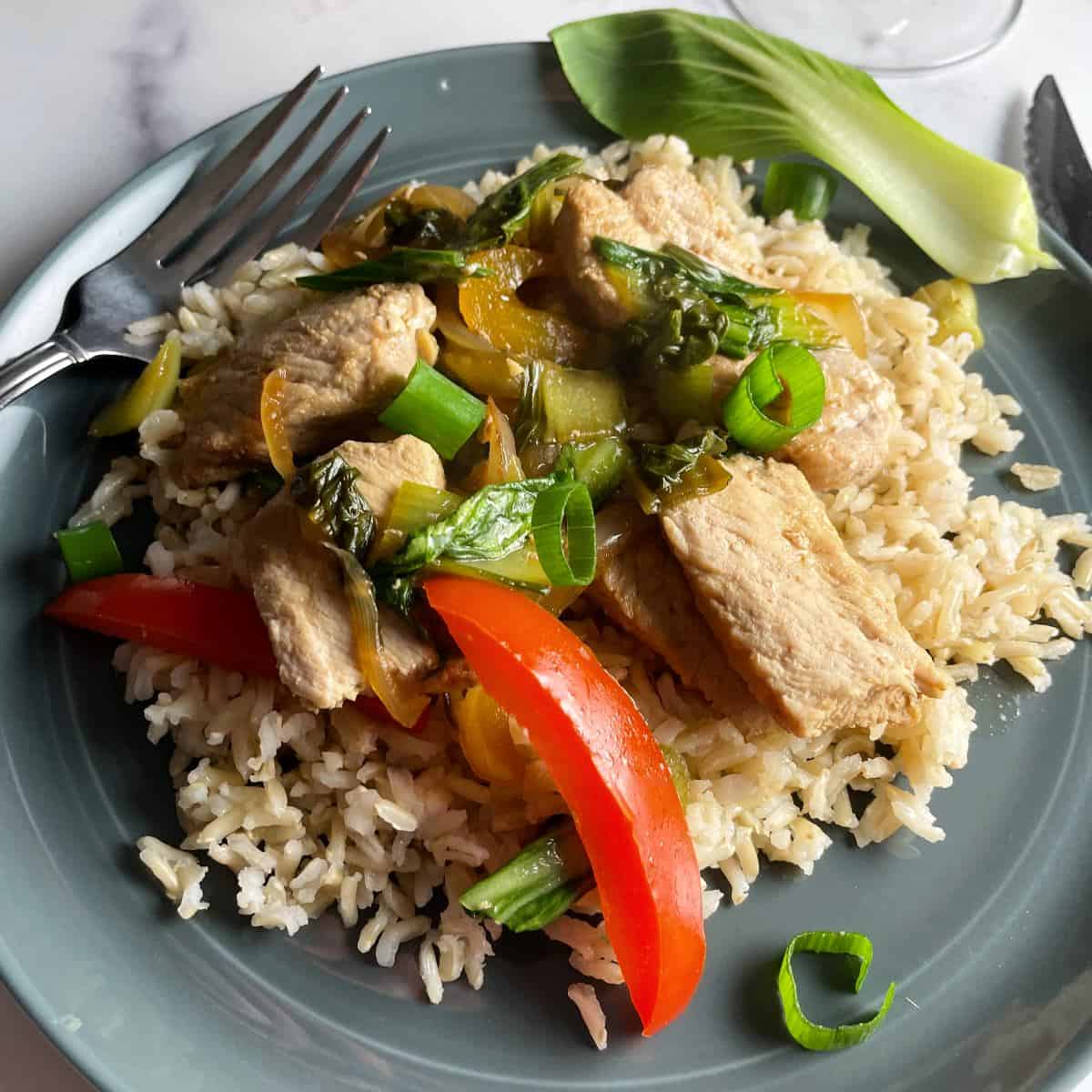 Stir-frying is a good, quick-cooking method suited for weekdays. But sometimes I start putting so many different veggies into the dish, the chopping can get to be more of a chore than I want midweek. This Pork and Bok Choy Stir-Fry keeps things simple. Simplicity is certainly key for a good weekday supper.
I originally created this recipe with 1 large bok choy. I recently came back and updated this recipe with bok choy from our local CSA farm share. This was one of the items in our first CSA pickup of 2022, which we covered in one of our first Cook Local Eat Local podcast episodes.
Keeping with the local theme, we used pork chops from our Walden Local Meat share.
This dish packs a lot of flavor. You don't have to tell your family how easy it is! That can be our little secret…
Be sure to get everything cut up in advance of starting to stir-fry. The cooking process is fast and requires frequent stirring. As you start chopping, start cooking some rice or couscous to serve with the dish.
Jump to:
Main ingredients
Here's an overview of the main ingredients in our pork and bok choy stir-fry recipe. The recipe card has the full list of ingredients.
Bok Choy is a leafy green vegetable also known as Chinese cabbage. When you use bok choy, it is almost like two different veggies in terms of texture, as you get the leafy greens, and a nice crunch from the stems.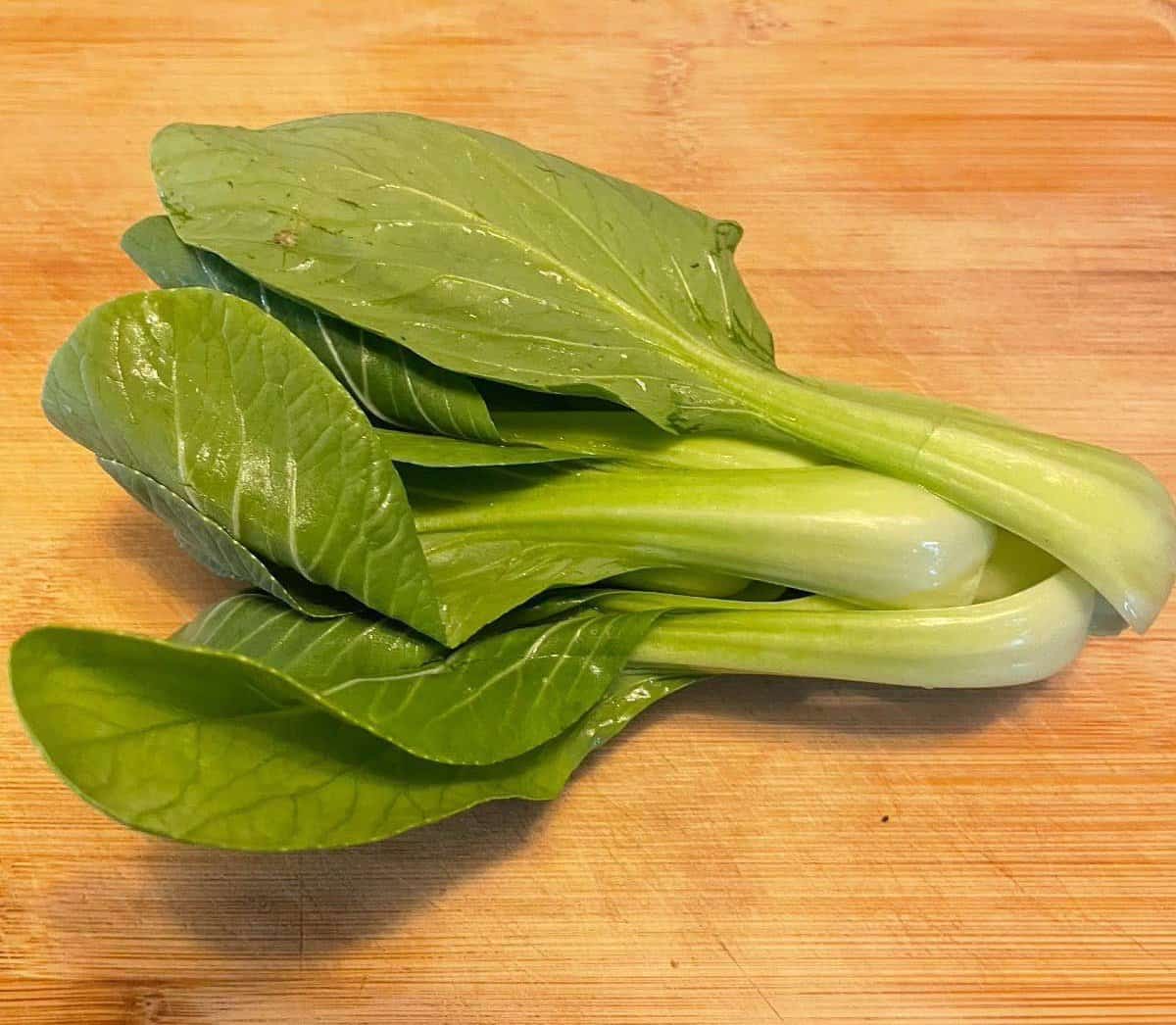 I originally made this dish with one large bok choy plant. More recently, we had a bunch of baby bok choy that we used. Both options work well. Use whichever you have available or prefer.
Pork chops: This recipe calls for two pork chops. Boneless pork chops are easier for cutting the meat you need for the recipe. Keep in mind that pork chops are a lean cut, and cook quickly. Avoid overcooking them.
You could try pork tenderloin, note that it would cook even faster. I've made stir-fries with ground pork, such as this ground pork stir-fry with collard greens. You could combine elements of the two dishes if you wanted to use ground pork with bok choy. e.g. you wouldn't start by cooking the pork if you had ground meat.
Colored bell peppers: I like to use a combination of two peppers for more color. We used red and orange peppers most recently.
Summer squash we originally used a summer squash as we had one on hand we were trying to use. I wouldn't get one just for this recipe, but go ahead and add one if you have it on hand.
Soy sauce drives the flavor of the sauce, along with fresh chopped scallions. With the other ingredients added, it tastes a bit like a teriyaki sauce.
Recipe steps overview
Here's a visible overview of how to make this bok choy stir-fry with pork chops. Head to the recipe card for the full information.
Chop the vegetables before you start cooking when making stir-fry! We start by chopping the bok choy. In this case, we were using baby bok choy. You can use the whole bok choy plant. Start by cutting off the very bottom of the stock — about ¼ inch. Then cut the white stem portion into small, thin slices.
Then coarsely chop the leaves.
Chop the colored bell beppers and onions.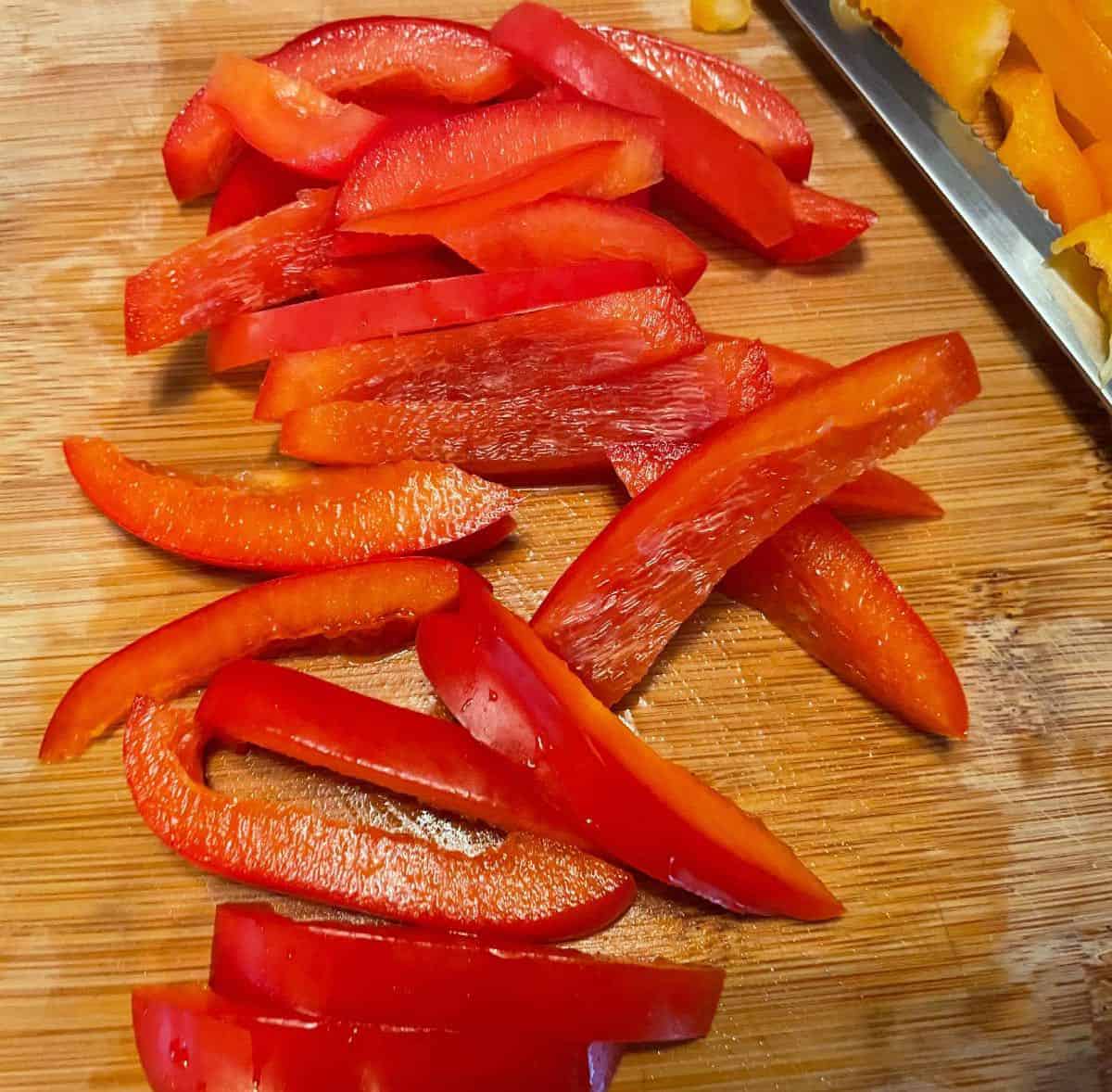 Set the vegetables aside.
Make the sauce by combining the sauce ingredients (soy sauce, sugar, vinegar, garlic, chopped scallions and optional ginger) in a small bowl. Set the sauce aside.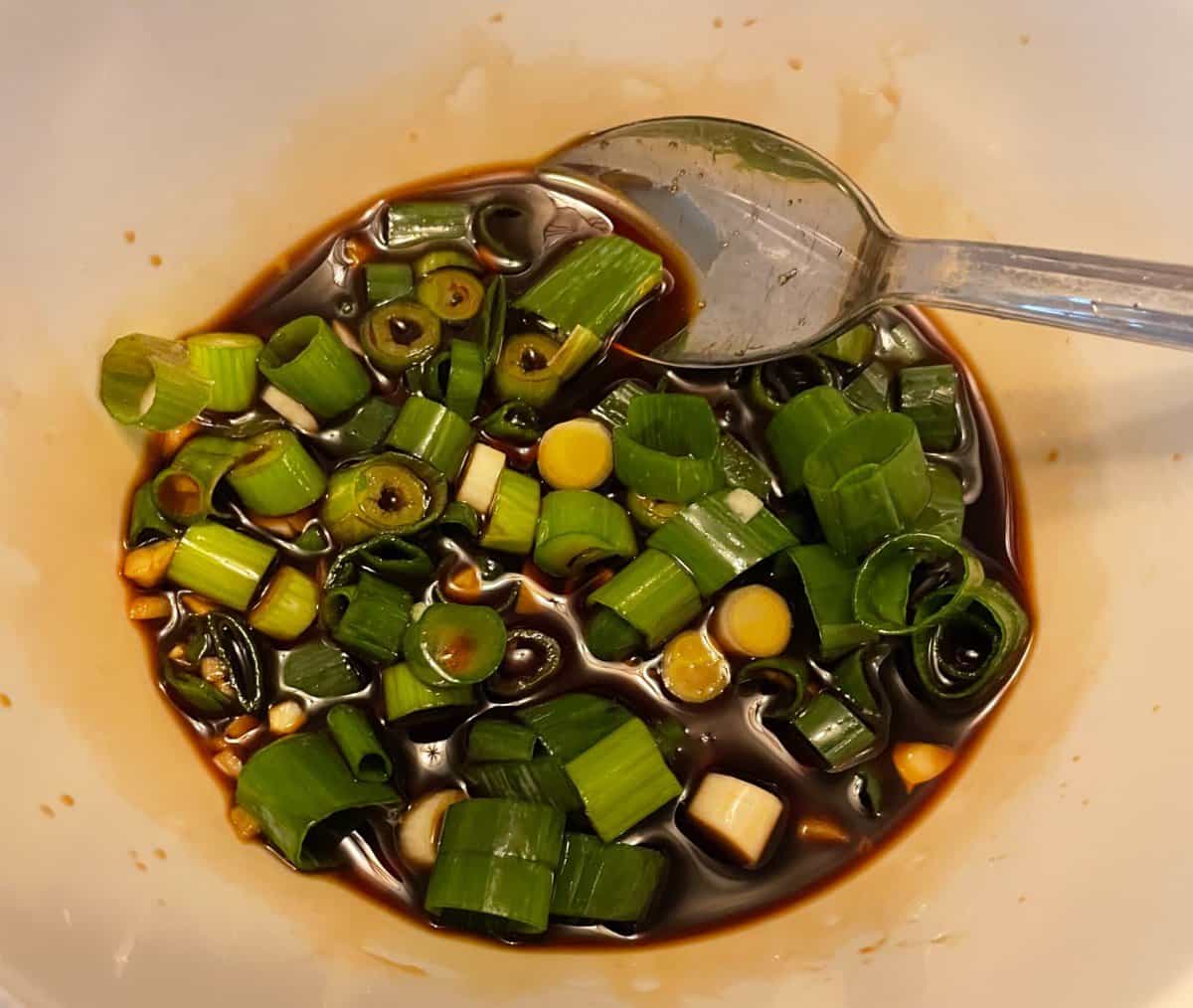 Prepare the pork chops. Start by placing the pork chops on a cutting board, with a sharp knife ready at hand.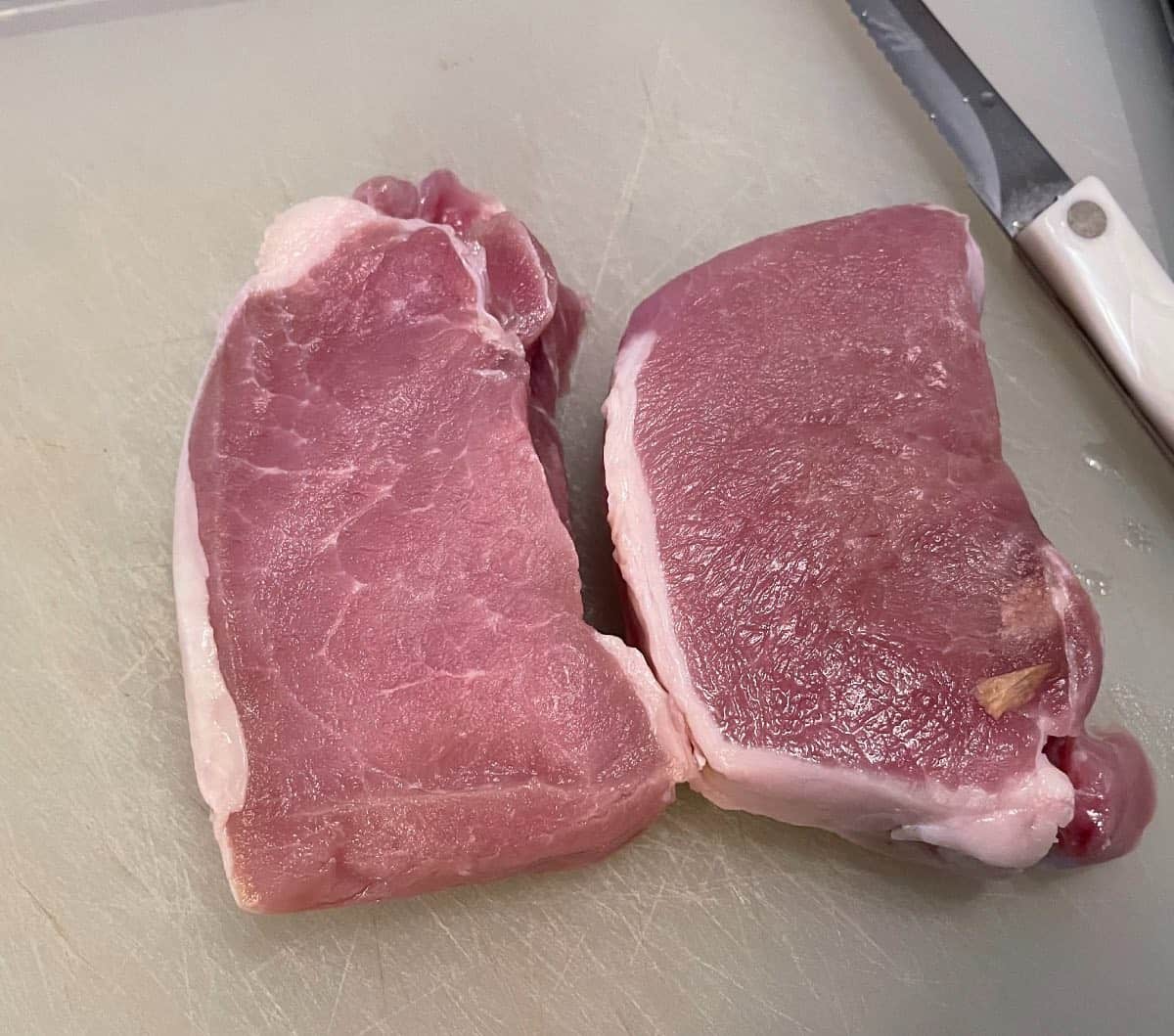 Safety tip: after cutting the vegetables, use a different cutting board and knife for the raw meat.
Slice the pork with a sharp knife. First trim and discard any excess fat. Then cut the lean pork into strips about ½ inch thick.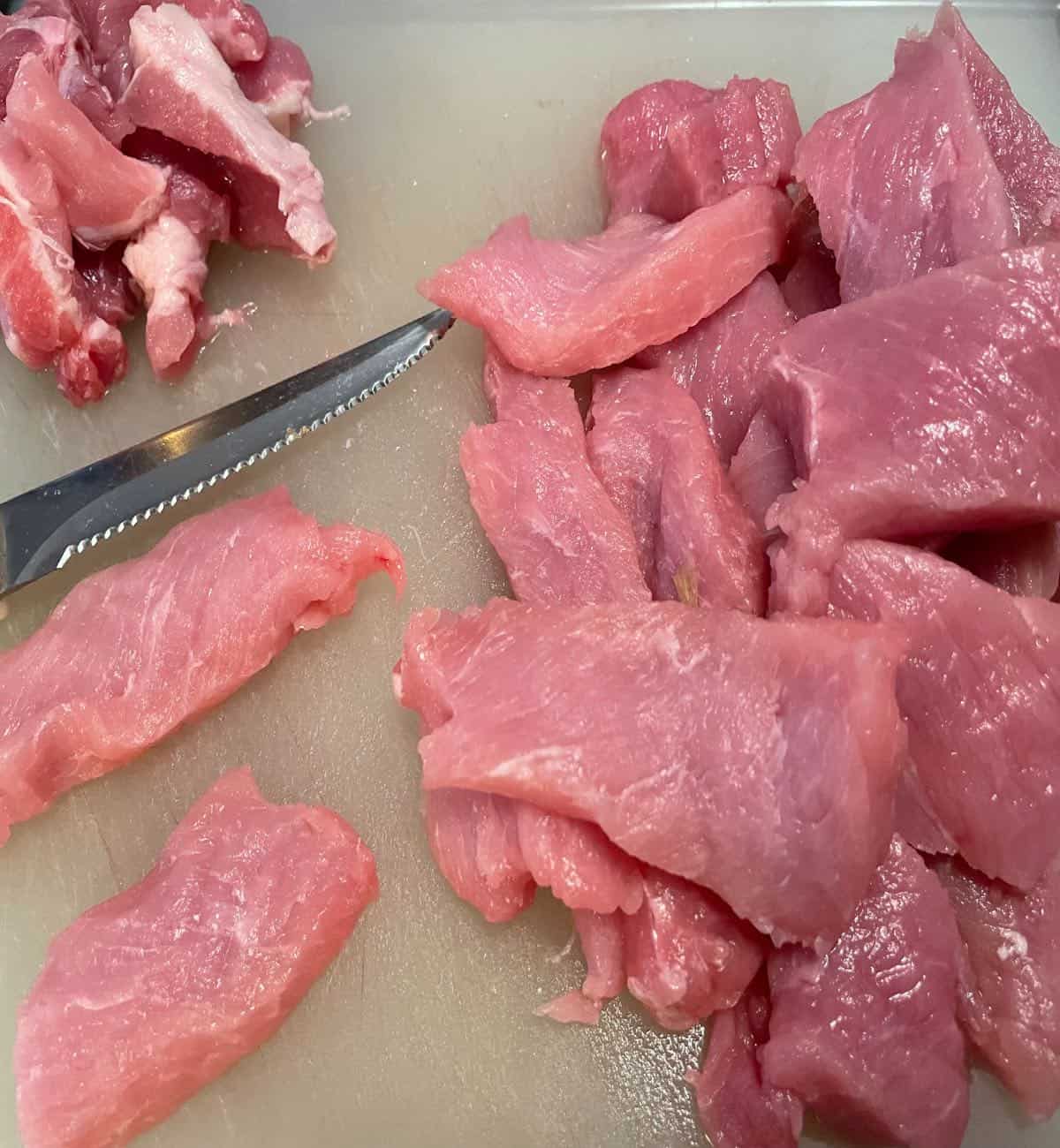 Heat a wok or skillet on medium high with the cooking oil. When it is hot, add the pork slices.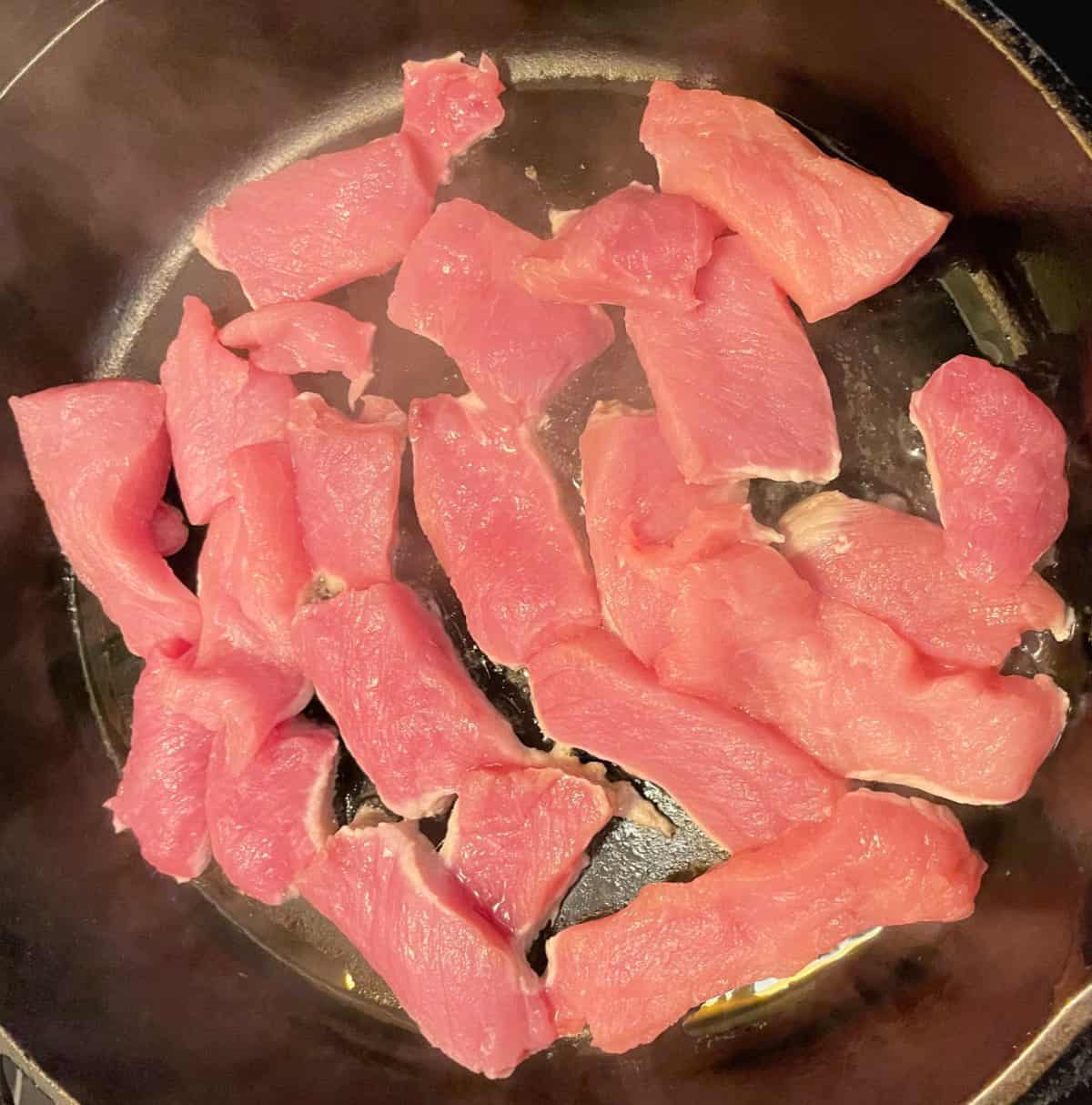 Stir occasionally, and cook the pork for about two minutes until it has started turning white on the outsides.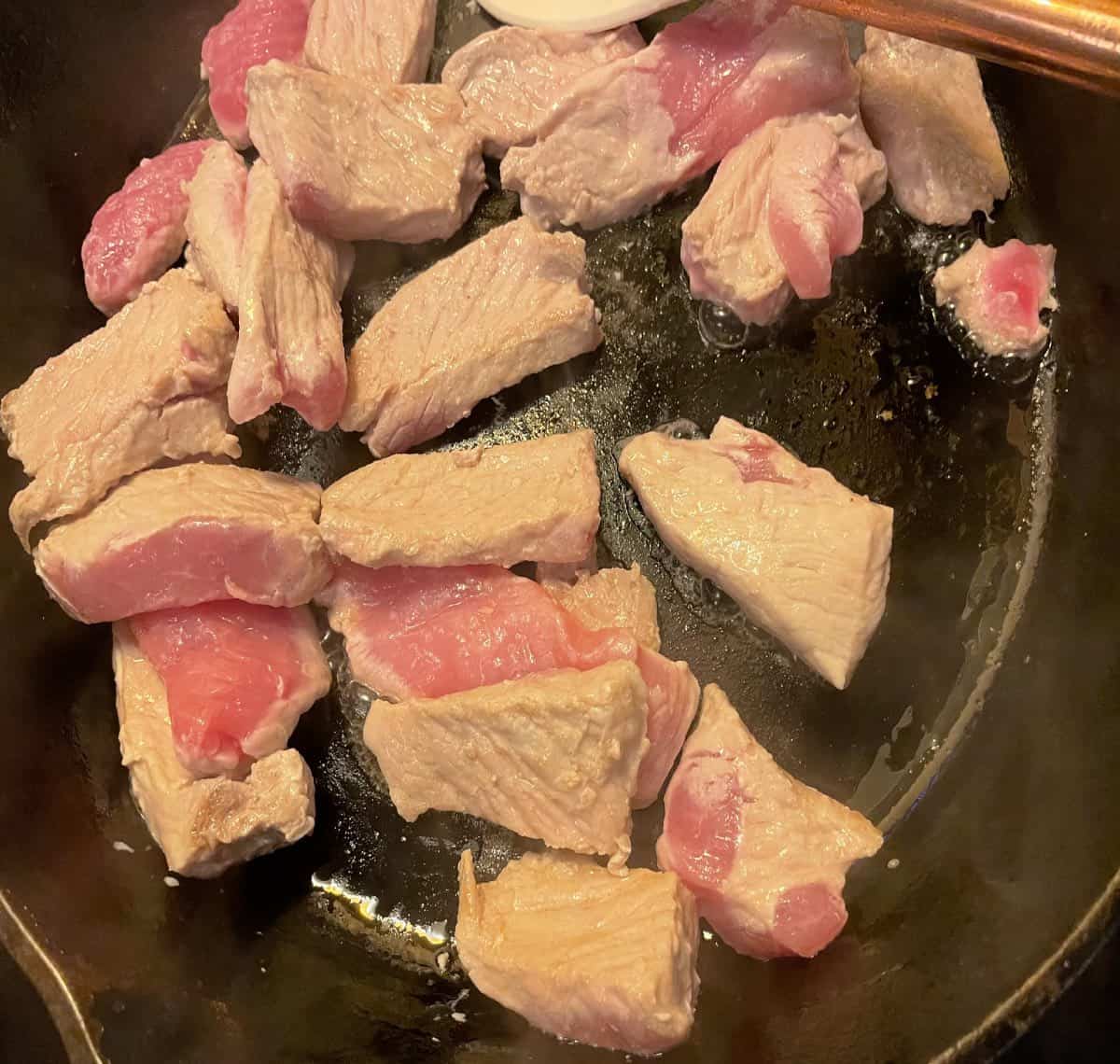 After the pork is mostly white on the outsides, remove to a plate with a slotted spoon and set aside.
Return the pan to high heat and add the onions, adding a bit more oil if necessary. Cook for a minute or two while stirring, then add the peppers.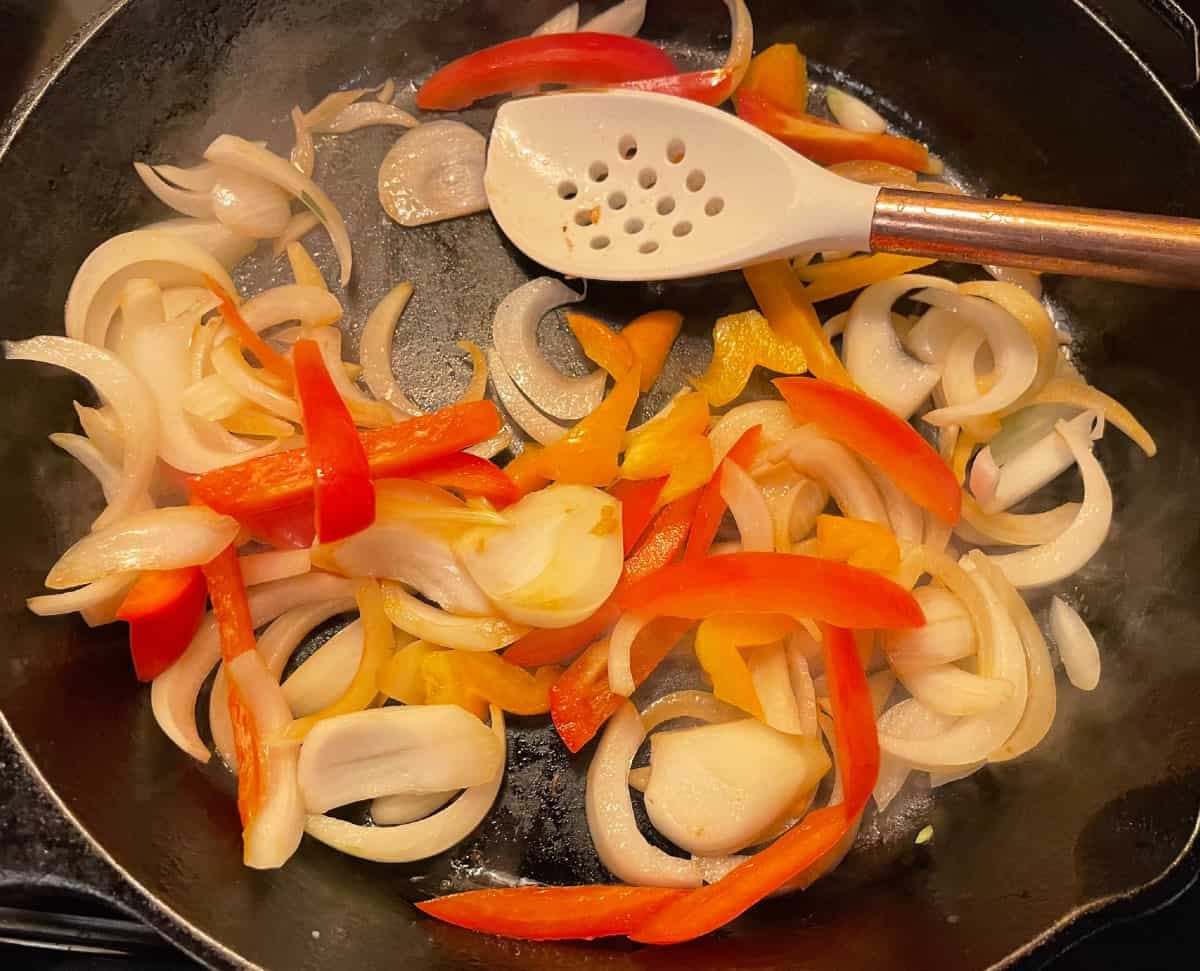 Cook for another minute or two.
Add the bok choy gradually in batches to the pan so it will start cooking down and fit. Stir frequently.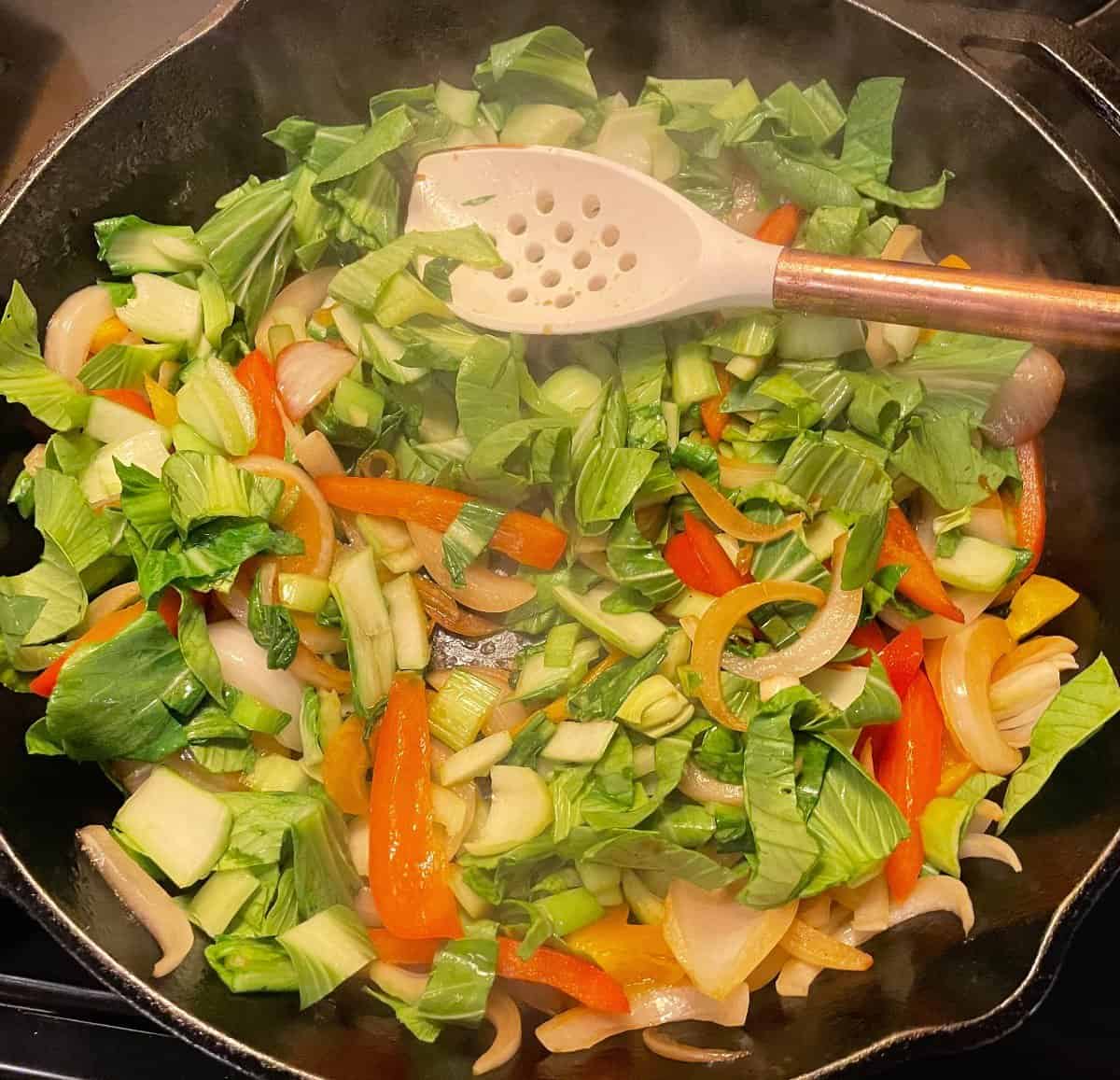 Cook until the greens start to wilt, which will take a minute or two.
Stir the pork back into the skillet, then stir in the sauce.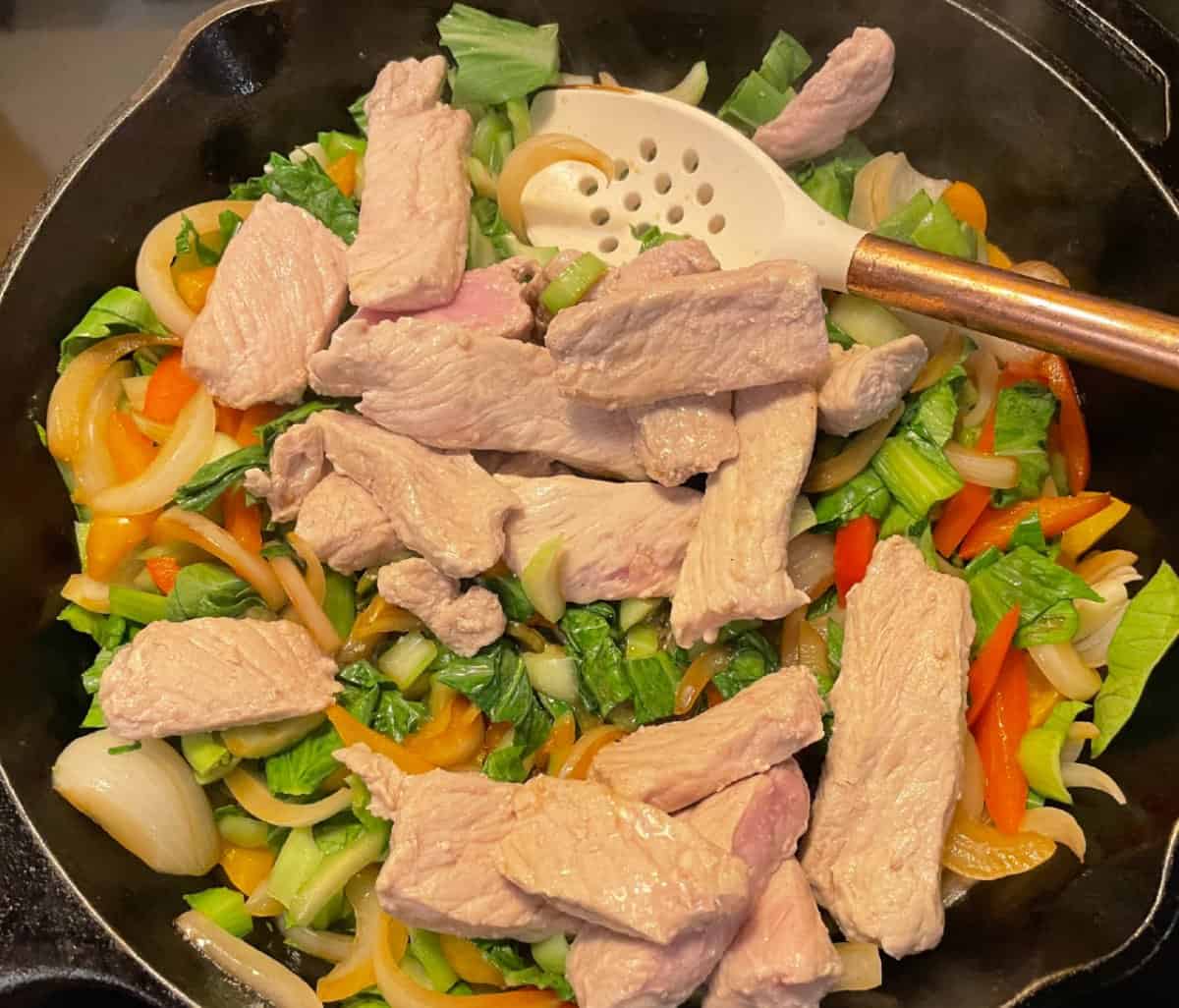 Reduce heat to medium, then cover the pan. Cook the pork and bok choy stir-fry for about 3 minutes until the pork is just cooked through.
Remove the cover then stir the dish. If the pork is cooked through (mostly white), the bok choy and pork stir-fry is ready to serve!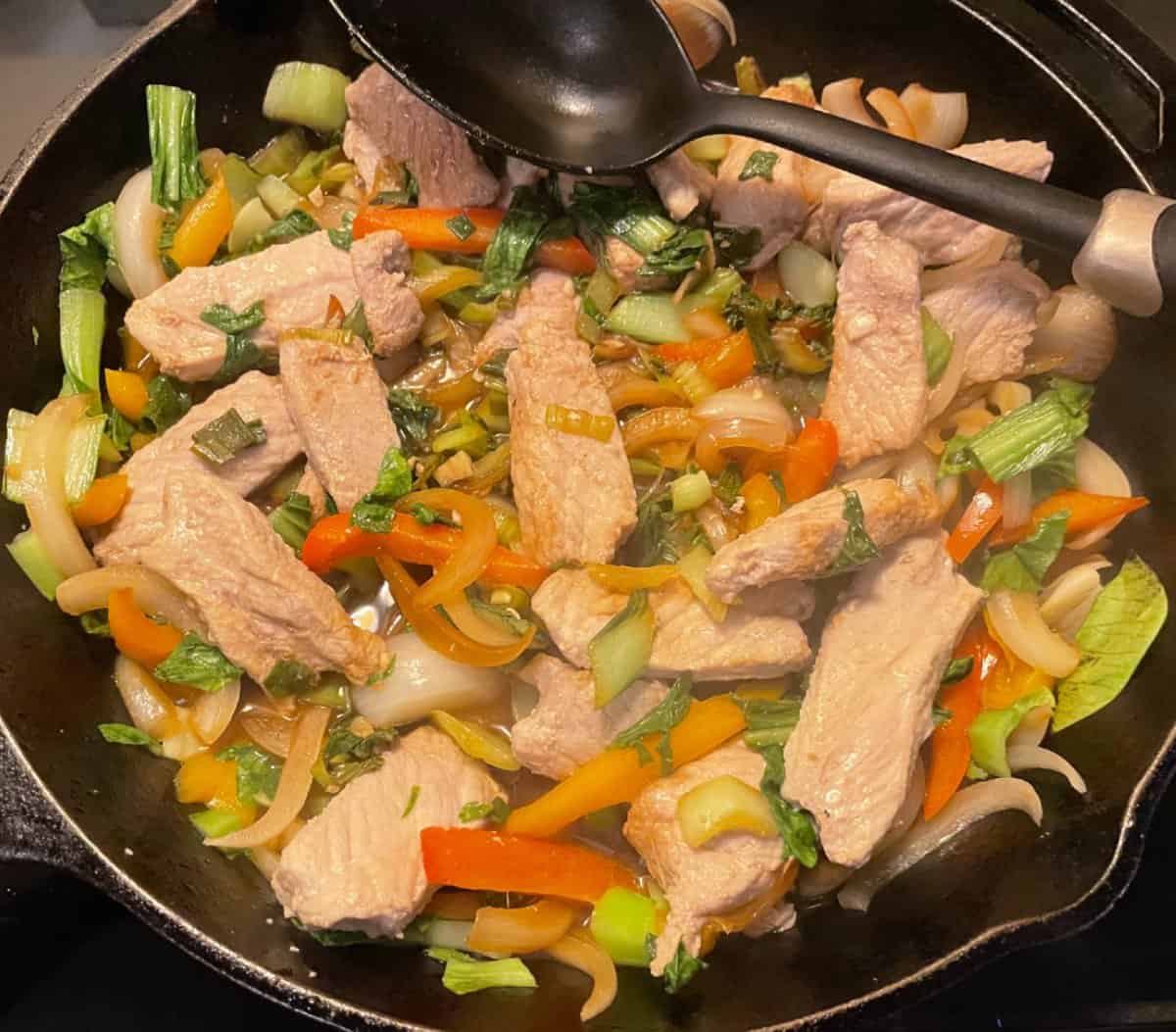 Wine pairing
I didn't note what wine I served with this pork and bok choy stir-fry originally. But I see what wine in the photos, and I'd guess Riesling. That's a go-to white wine option for Asian style dishes, and it goes well with pork.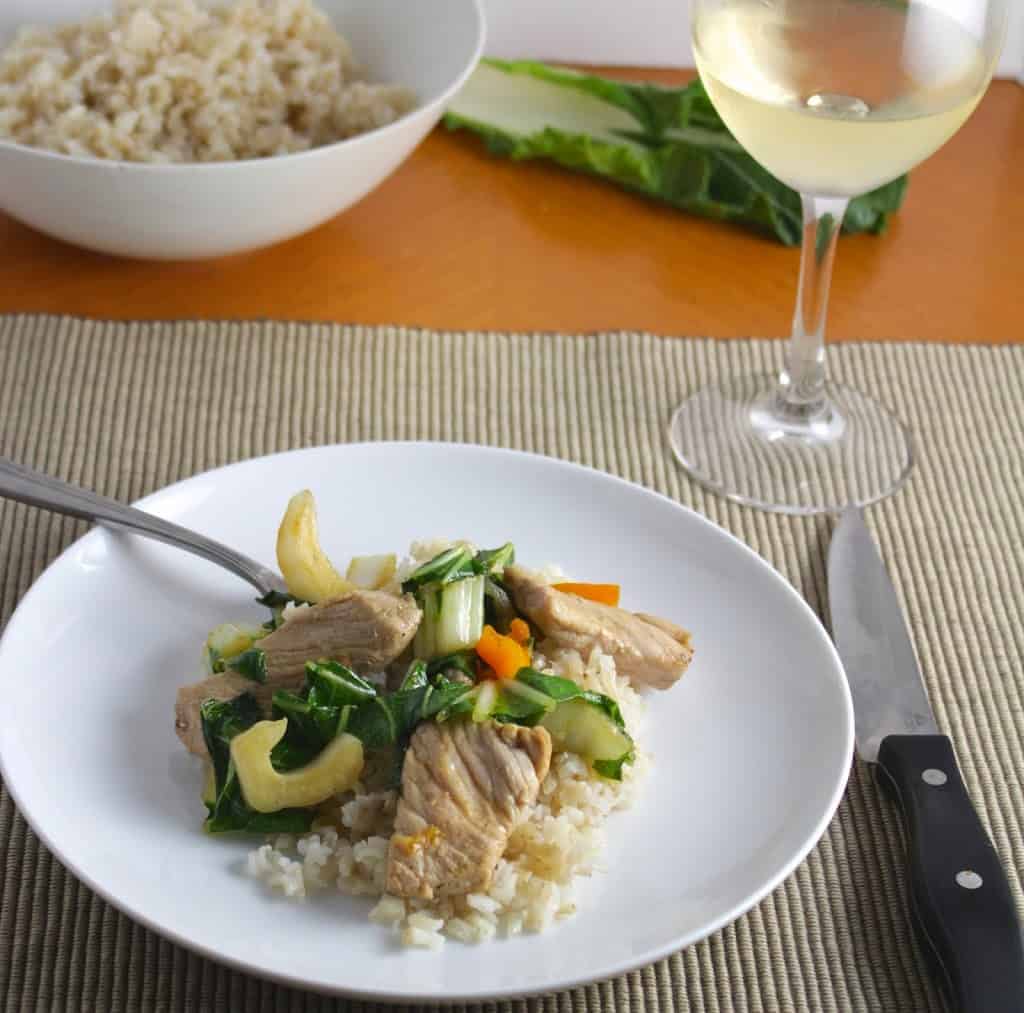 More recently, I got more creative and opened a bottle of the 2021 Two Shepherds Skin Fermented Pinot Gris ($32, 12.1% ABV). "Skin fermented" means the white wine grape Pinot Gris is made more like a red wine, with skin contact during the wine making process, giving it the color.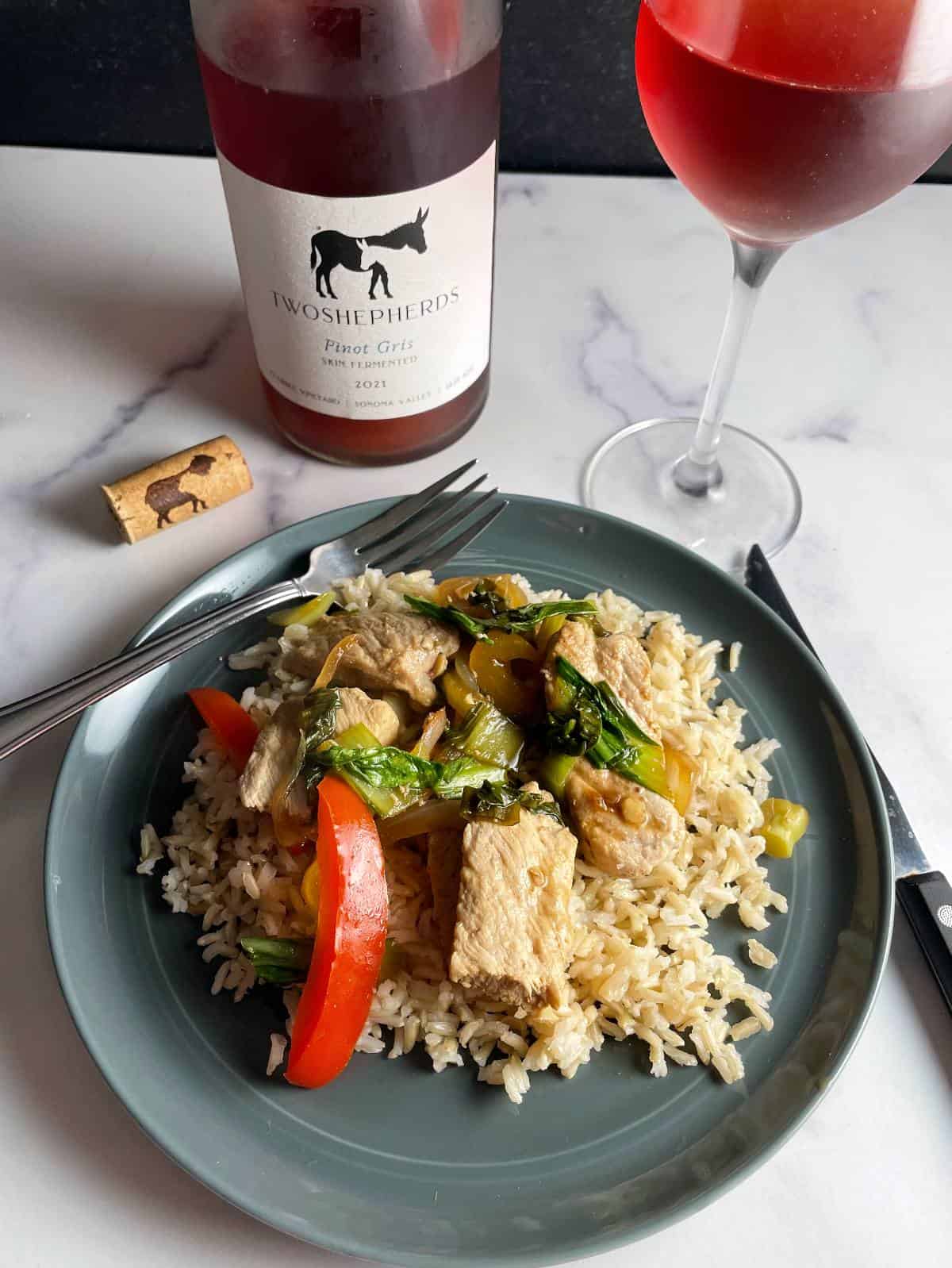 Such wines are often called "orange wines" but as you can see, the wine looks more like a rosé than "orange".
I didn't get notes down on this interesting Pinot Gris, but the winery description of it being somewhat between a rosé and a more typical "orange wine" (which can tend to be somewhat funky) is accurate.
I do recall that I enjoyed the wine and the pairing! Give it a try if you get a chance.
Fellow wine blogging friends had been extolling the virtues of the Sonoma based Two Shepherds Winery for quite awhile before I got around to trying their wines recently. I'm glad I did! This small, Sonoma based winery focuses on Rhone varietals and other interesting grapes, and make all their wines with native yeast. Definitely worth checking out!
Print
Recipe card
Pork and Bok Choy Stir-Fry
This pork and bok choy stir fry makes a great weeknight dinner. Bok choy adds a nice crunch to this pork stir-fry, with a simple sauce providing a lively flavor to the dish.
Author: Cooking Chat
Prep Time:

15 mins

Cook Time:

15 mins

Total Time:

30 mins

Yield:

5

servings

1

x
Category:

Entree

Method:

stir-fry

Cuisine:

Asian
For the sauce
¼ cup

soy sauce

1 tsp

sugar

2 tsp

balsamic or apple cider vinegar

1

scallion, chopped

1

clove garlic, minced

1 tbsp

minced ginger (optional)
Other bok choy stir-fry ingredients
1.5

lbs boneless pork chops, cut crosswise into

½

inch slices

1

large sweet onion, sliced thin

1

yellow bell pepper, chopped

5 cups

chopped bok choy – 1 large bunch bok choy or about 6 baby bok choy (see notes)

1

summer squash (optional), sliced thin then cut into half circles

1 tbsp

canola or other vegetable oil
Instructions
Prepare the vegetables: Chop the bok choy, onions and peppers before you start cooking!
Make the sauce: In a small mixing bowl, make the sauce by combining the soy sauce, sugar, vinegar, scallion and garlic. Set aside.
Start the pork: Put a wok or large skillet on high heat. Add oil, when good and hot, add the pork and stir until the outside of the meat is white, about 2 minutes. Scoop the pork with a slotted spoon into a bowl, and set aside.
Stir-fry onions and peppers: Return the pan to the heat, still on high, then stir in the onions. Cook for a minute or two, then add the peppers, followed by the optional squash. Stir-fry for another 2 minutes.
Add the bok choy: Gradually stir in the bok choy. Cook until the greens start to wilt, a minute or two.
Return pork to skillet: After the bok choy has started to cook, add the pork back in. Lower heat to medium, stir in the sauce. Cover and simmer for about 3 minutes, until the pork is done–you want to get it off the heat when the meat is close to being white throughout, but not quite…don't overcook it!
Finish the dish: When the dish is cooked, give the pork and bok choy a good final stir and serve over some brown rice or couscous.
Notes
Bok choy: we have made this dish with both the large, fully grown bok choy and another time, with baby bok choy. If using the large bok choy, one bunch of it should do. About 6 of the small baby bok choy should get you a good quantity for the recipe. In both cases, you want to cut the stem from the bottom, then chop both the white and green portions of the bok choy leaves.
Keywords: pork and bok choy, bok choy pork stir-fry, bok choy stir-fry recipe, bok choy and pork chops
Recipe Card powered by
More weekday recipe ideas
We originally shared this recipe as part of a collection of suggested weekday supper recipes from a group of bloggers. Here's the list:
You might also like this Beef and Vegetable Stir-Fry recipe any day of the week!