Today we serve up a hearty Ground Beef and Kale recipe along with an excellent Merlot from L'Ecole No. 41. Kale simmers along with ground beef for a delicious skillet meal that gets even better with a good wine pairing! Disclosure: The wines discussed in this article were sent as complimentary samples for #MerlotMe Month.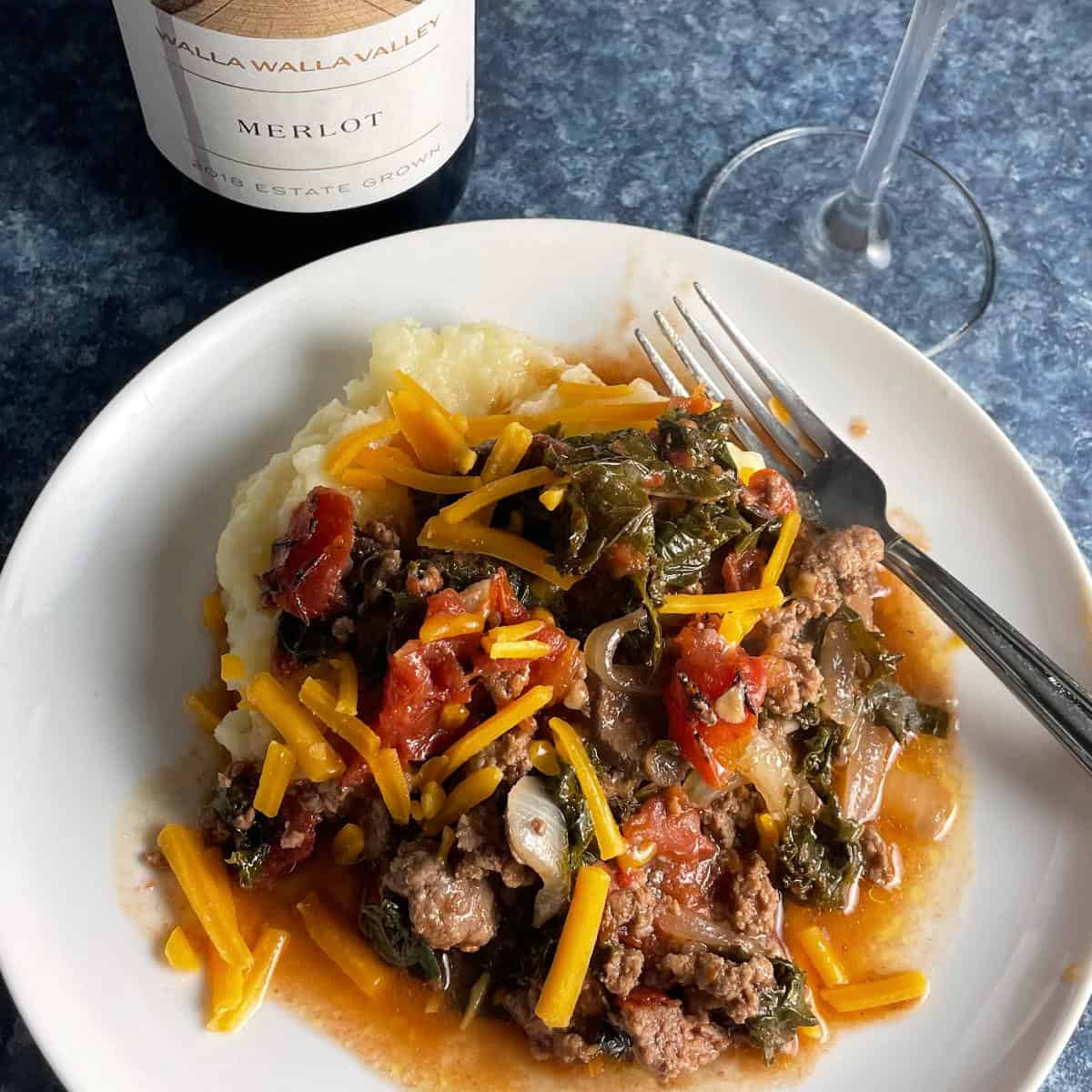 I've had the idea of cooking up a ground beef and kale recipe for a little while. As #MerlotMe month rolled in, it seemed like the perfect time for this skillet meal.
We have joined with our Wine Pairing Weekend friends to observe October as #MerlotMe month for many years now. This is a chance to showcase the versatile red wine which had its reputation dinged by a certain movie that came out in 2004. It also has given us a chance to dive deep into Merlot food pairing ideas, showing the versatility of the grape.
But before we get further into Merlot, let's talk more about today's featured recipe. You can also use the navigation menu below to hop directly to the topic of interest.
Jump to:
What makes this recipe work
We make a lot of recipes with kale, from our popular Portuguese Kale Soup to all kinds of ways to use kale pesto. But this ground beef and kale recipe is a bit different than our past preparations of the green.
In today's recipe, healthy kale greens simmer with ground beef and tomatoes for a hearty one pan skillet meal. Don't forget to top it off cheddar cheese and serve the beef and kale with a good Merlot for the win!
We served this ground beef skillet recipe along with mashed potatoes, and that was a great way to lean into comfort food season. You could also serve it over some penne pasta, or perhaps with some rice. If you are going for the low carb thing, there's certainly enough substance provided by the beef, kale and cheese to serve this on its own.
Ingredients and tools
This kale and ground beef recipe gets bold flavors from just a few ingredients. So let's cover a few tips on your options.
Kale: You could certainly use basic green kale for this recipe. But we had some purple kale from our local CSA farm share, and decided to use that.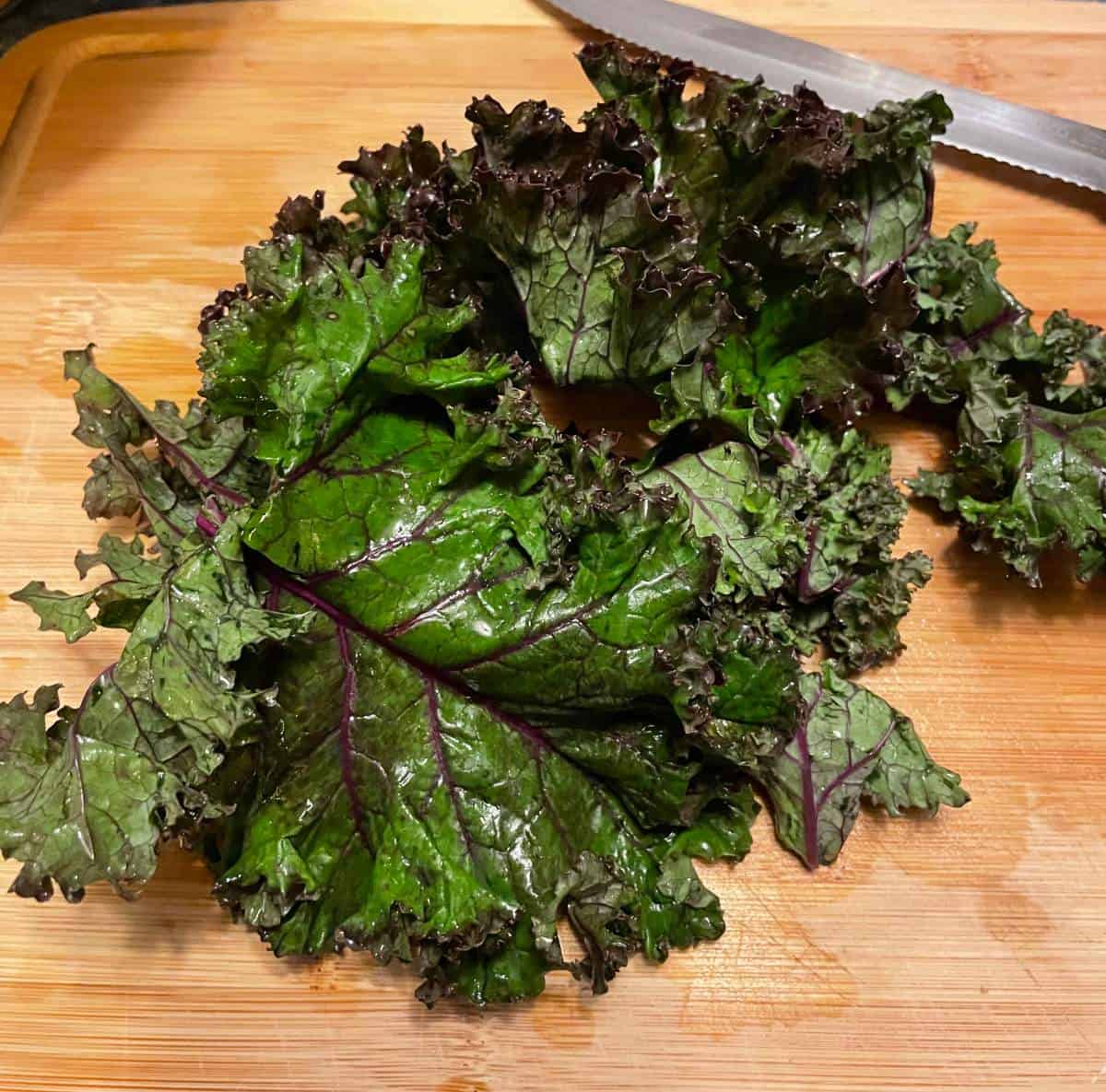 In addition to being aesthetically pleasing, I read that purple kale is a bit cabbage like in its flavor, and cooks up nicely. So if you see some purple kale, why not grab it and try this recipe!
Ground beef: We get a couple of pounds of grass fed ground beef every month from our Walden Local Meat share, and featured some in this recipe. In addition to supporting local farmers opting for grass fed beef has some health benefits, including lower saturated fat.
That said, you could certainly go with traditional ground beef in this recipe. I would also anticipate that ground turkey could work here; of course the flavor would be a bit different. I will have to try it and report back!
Cheddar: I tend to shred the cheese I need from a block of it, and that can be a good way to go here. Plus, cheddar cheese goes well with Merlot! But for this recipe, I bought some pre-shredded sharp cheddar cheese and that cut out the step of shredding the cheese.
Tomatoes: I used a can of diced fire roasted tomatoes and that added some extra richness of flavor. Regular diced tomatoes could be used if that's what you have.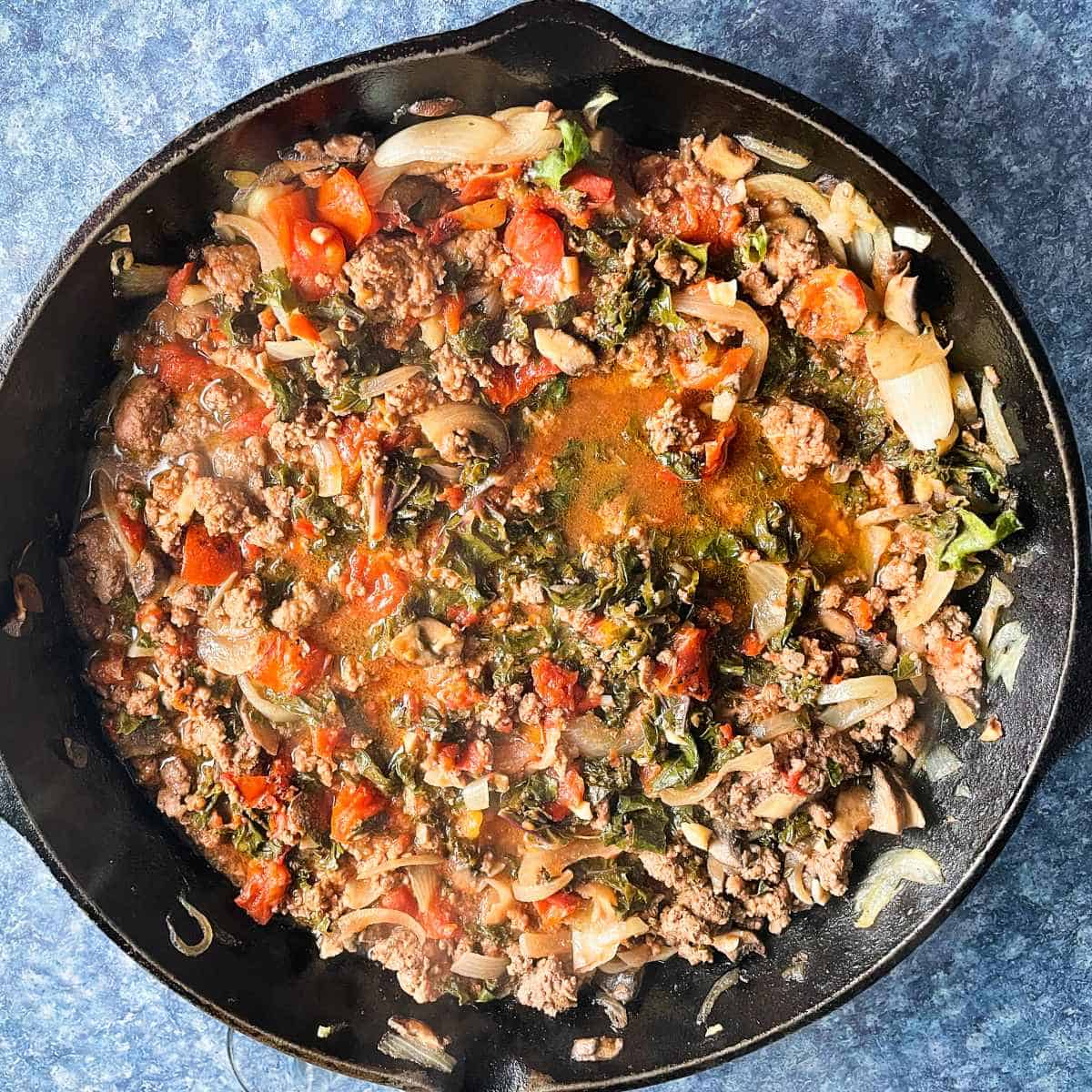 A large skillet is the main equipment you need to make this recipe. I put my Lodge cast iron skillet to work once again for this beef and kale recipe.
L'Ecole Merlot Pairing
Beef, of course, is a natural partner for red wine. This recipe has several other Merlot friendly ingredients — tomatoes, mushrooms, and cheddar cheese.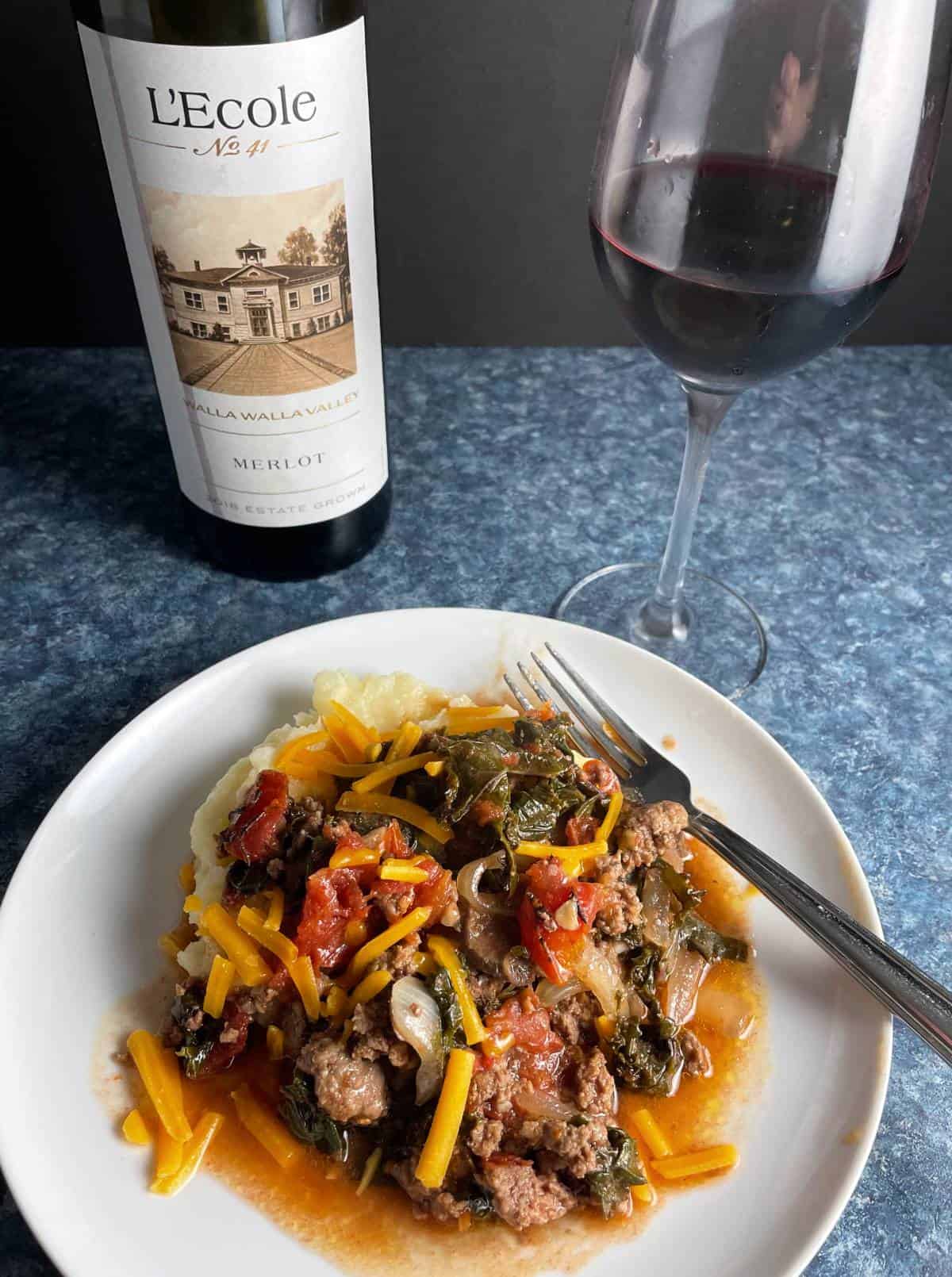 So it seemed like a great time to open a bottle of 2018 L'Ecole Walla Walla Valley Merlot ($36, 14.5% ABV). I get a deep earthiness on the nose of this Merlot. Light strawberry fruit and blackberry notes on the palate. This wine has a lighter body than some Merlots, giving it a refined elegance.
As suspected, the L'Ecole Merlot was excellent with the ground beef and kale recipes! The subtlety of the wine meant that it didn't overpower the dish, but it definitely had enough heft and flavor to be a good match.
More about the wine and L'Ecole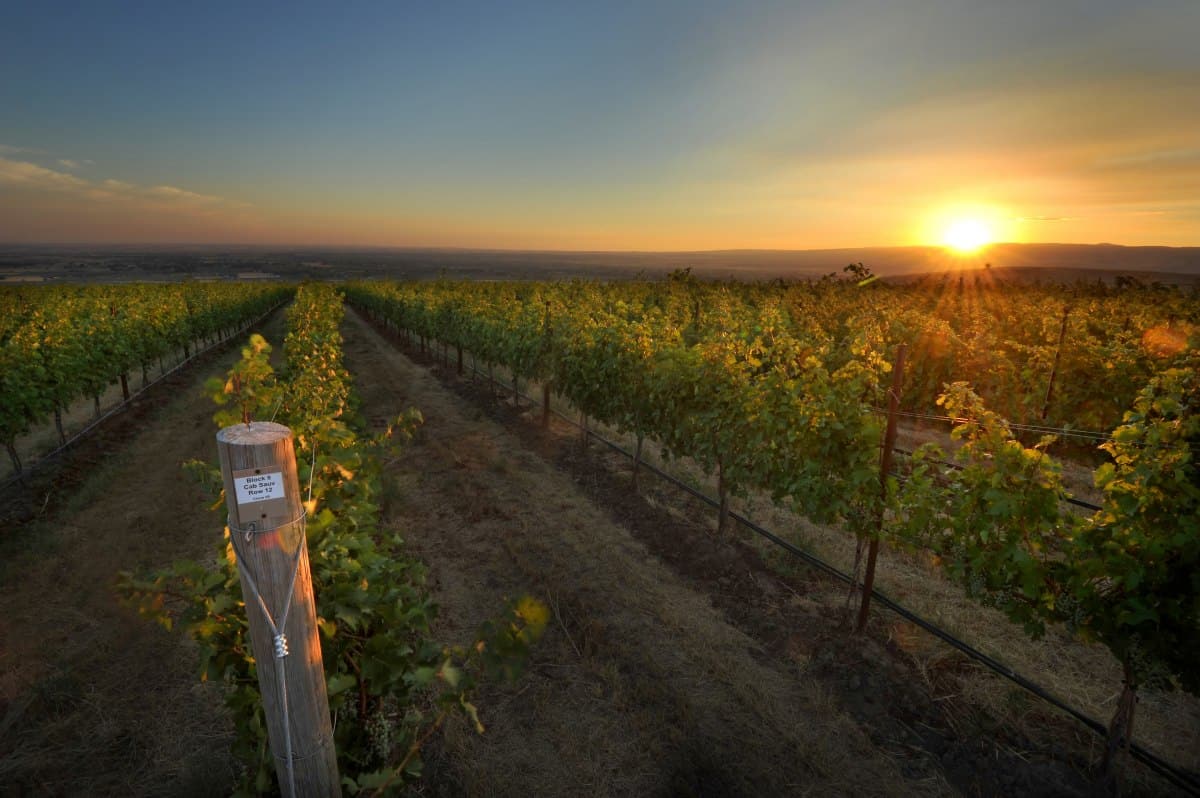 The 2018 L'Ecole Walla Walla Merlot showcases some of their top estate grown fruit. It is comprised of 50% grapes from the Ferguson Vineyard, with fractured basalt soil. The other 50% is from Seven Hills Vineyard, with wind-blown loess, which is a layer of fine, mineral rich material.
Both vineyards are certified sustainable and certified salmon safe.
The grapes for this Merlot were hand-harvested and fermented in stainless steel. It aged for 18 months in small French oak barrels, 35% new.
Throughout 2021, I have joined a group of wine bloggers learning more about L'Ecole through monthly samples and live Zoom discussions with the L'Ecole team, including winemaker Marcus Rafanelli.
The L'Ecole wines consistently outperform what you might expect for the price point, and this estate Merlot is no exception. I would say this Walla Walla Merlot is definitely one of my favorites. For me it's right up their with the Semillon, which you can read about more along with our recipe for Ground Pork Stir-Fry.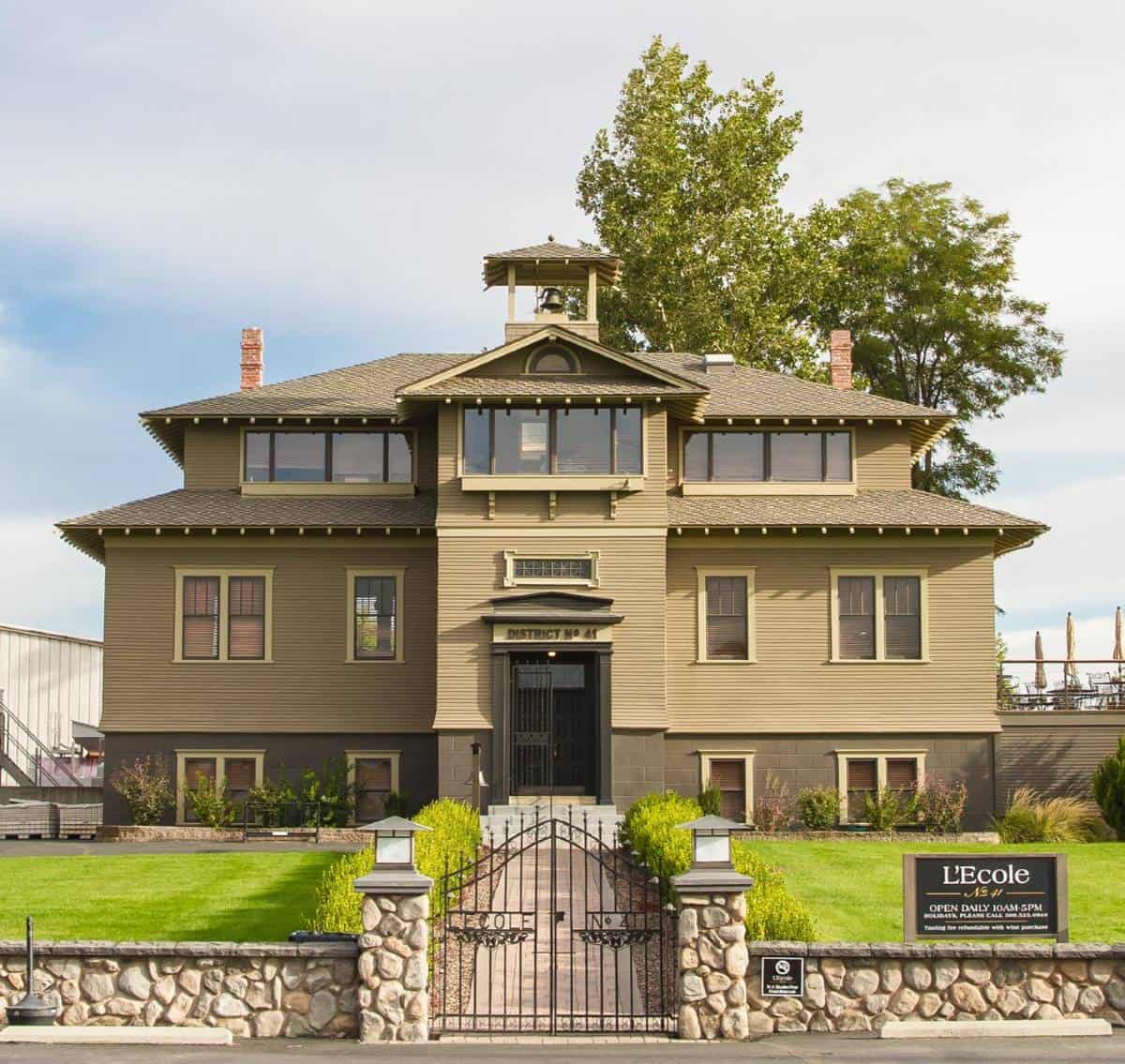 L'Ecole No. 41 is a third-generation family owned winery founded in 1983. The winery is located in the historic Frenchtown School building that you see on the wine labels. They have earned their reputation as one of the top producers of quality wines in Washington state.
They manage to produce very high quality wines at reasonable price points, while being involved in growing and making 100% of their wines. L'Ecole has a great lineup of wines that range from entry level wines up to very small production, special releases. I'm always excited for our monthly L'Ecole programs as the quality is impressive up and down the lineup of their distinctive wines.
More #MerlotMe pairings
#MerlotMe month always entails lots of great Merlot to enjoy along with some food pairings. Below are some of the other Merlots we have sampled this fall along with a variety of food. Stay tuned for updates, and check out our Merlot Food Pairing article for some of our all time favorite pairings!
Peju Merlot with Pork Tenderloin and Mushrooms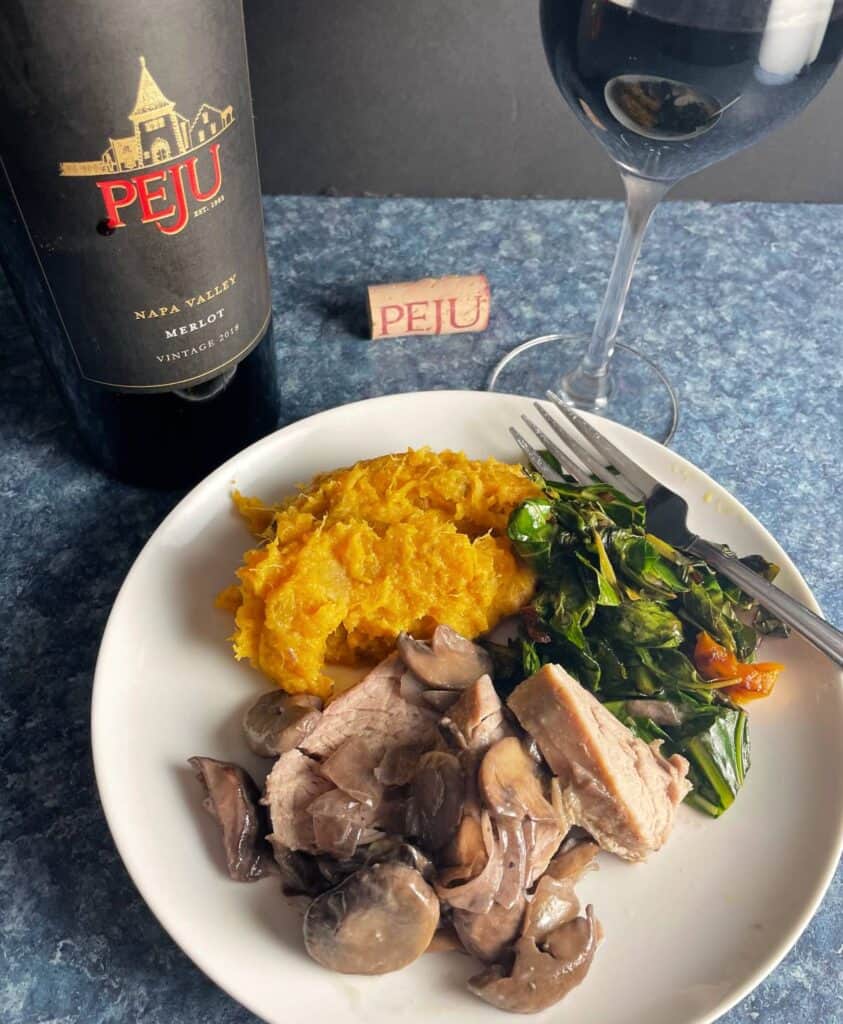 We once again had a chance to try a bottle of Peju Napa Valley Merlot ($51, 14.5% ABV) this month. Having previously tried it with a pork dish, we opened the Peju Merlot to go with our Pork Tenderloin with Mushrooms recipe. With black cherry, raspberry and notes of vanilla on the palate, it was a very good pairing.
Duckhorn Merlot with Chicken Mushroom Risotto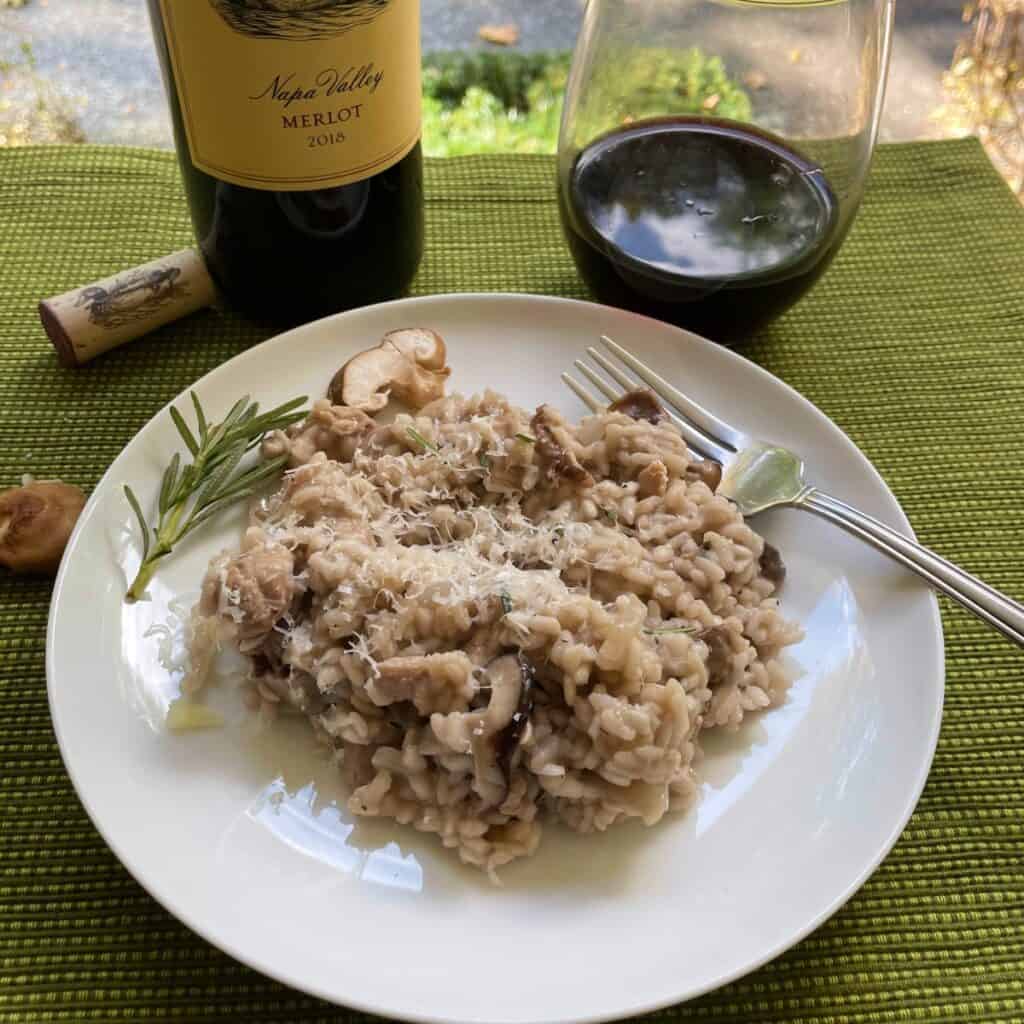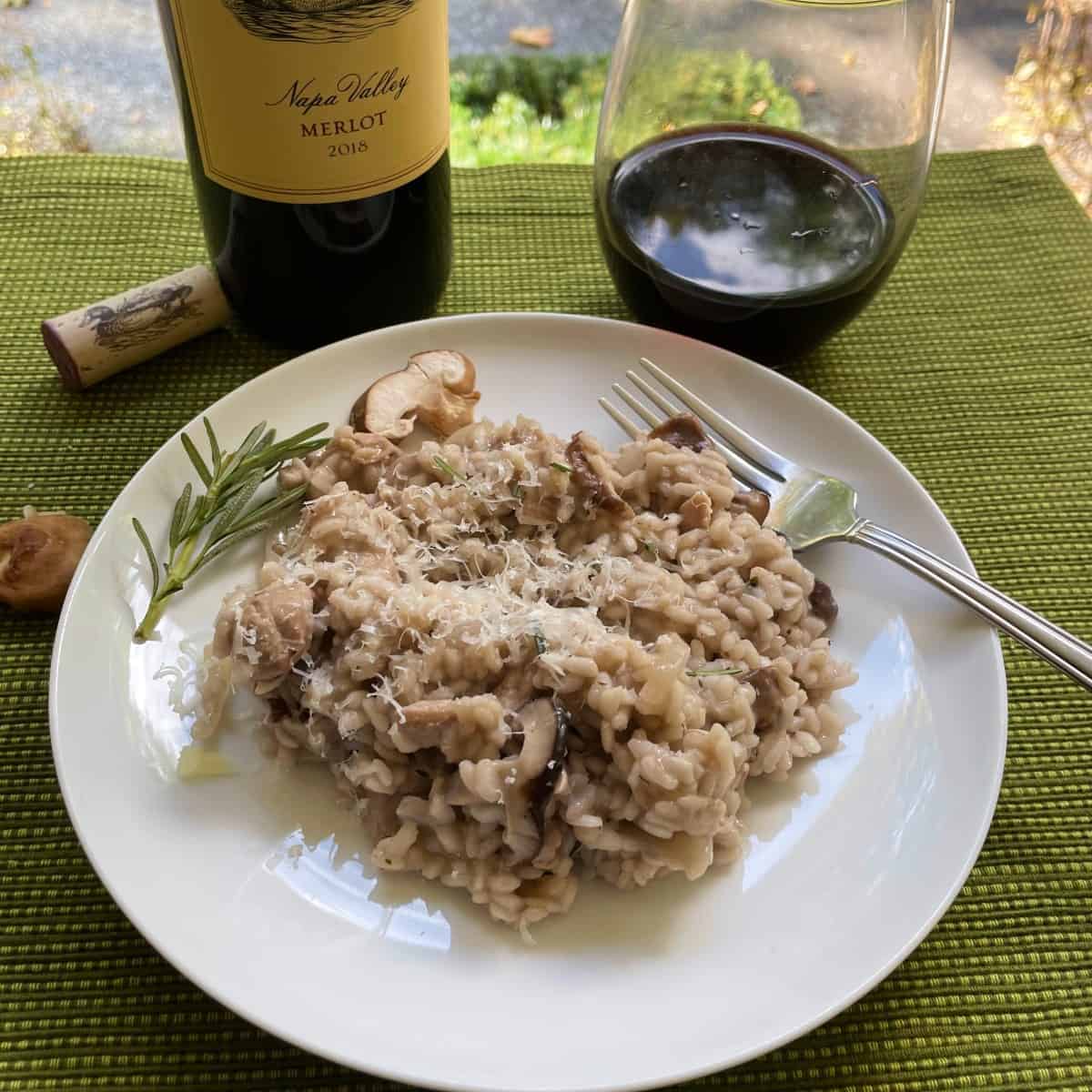 A late October day found us making a batch of our Classic Chicken and Mushroom Risotto, which is delicious paired with the Duckhorn Napa Valley Merlot! While my first instinct is to pair an Italian red wine with a risotto dish like this, a good Merlot is an excellent choice.
Northstar Merlot with Salmon and Mushrooms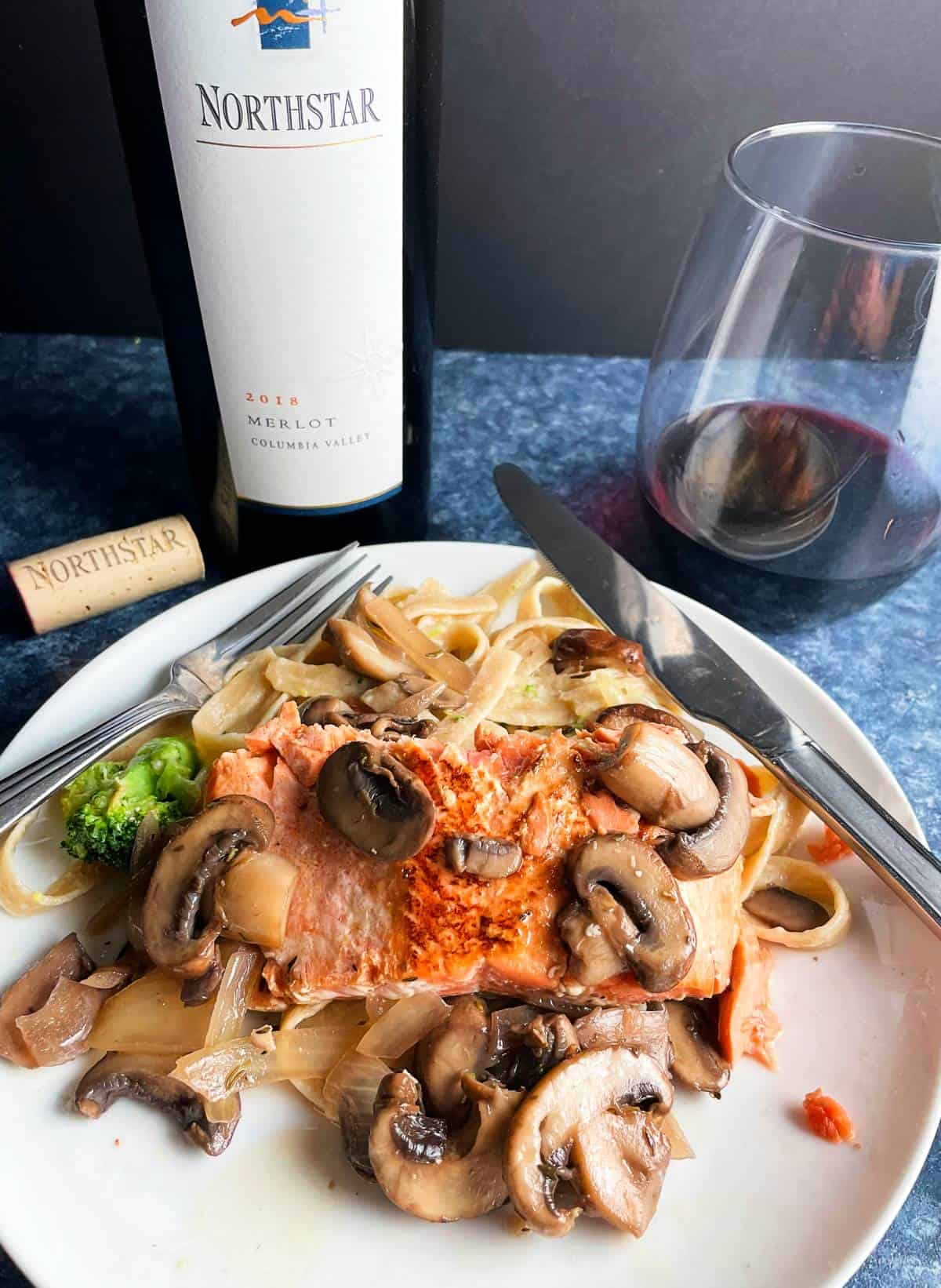 Are you noticing a mushroom theme here? Mushrooms can help make Merlot and other red wines work well with a dish – including this Salmon with Mushrooms recipe! We've updated that article with notes on the Merlot pairing and some new reicpe tips. The quick take is that as we anticipated, the pairing with the 2018 Northstar Columbia Valley Merlot ($41, 14.5% ABV) showed that Merlot can work with heartier seafood dishes featuring salmon as well as tuna.
Decoy Merlot and Pasta with Sausage and Mustard Greens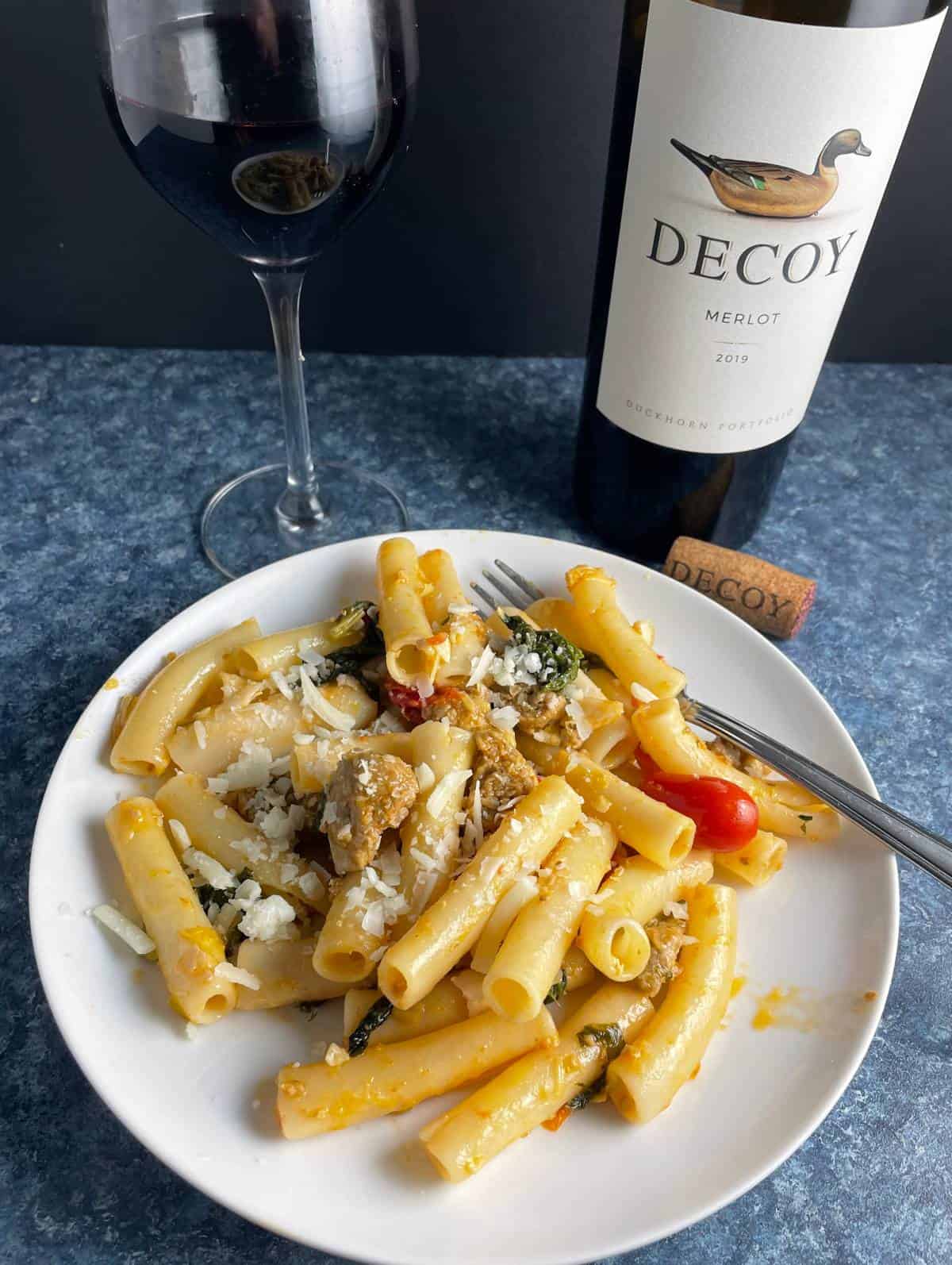 Duckhorn Vineyards is definitely known for being one of the top producers of Merlot. Some of their bottles can run a bit pricey (a worthwhile splurge), but the good news for bargain seekers is their entry level line of wines with the Decoy label are also very good.
We recently made this Food & Wine recipe for Pasta with Sausage and Mustard Greens, substituting Beyond Spicy Italian Sausage for the traditional sausage called for in the recipe. It's a very tasty recipe, with a lot going on — spicy sausage, bitter greens and finished with crème fraîche.
We paired it with the 2019 Decoy California Merlot (13.9% ABV). Intentionally picked one of the Merlots on hand that was a bit lighter in alcohol than the others. As anticipated, the Decoy Merlot worked quite well with this flavorful pasta dish. I definitely recommend trying the recipe and pairing!
Casillero del Diablo Merlot with Meatless Meat Sauce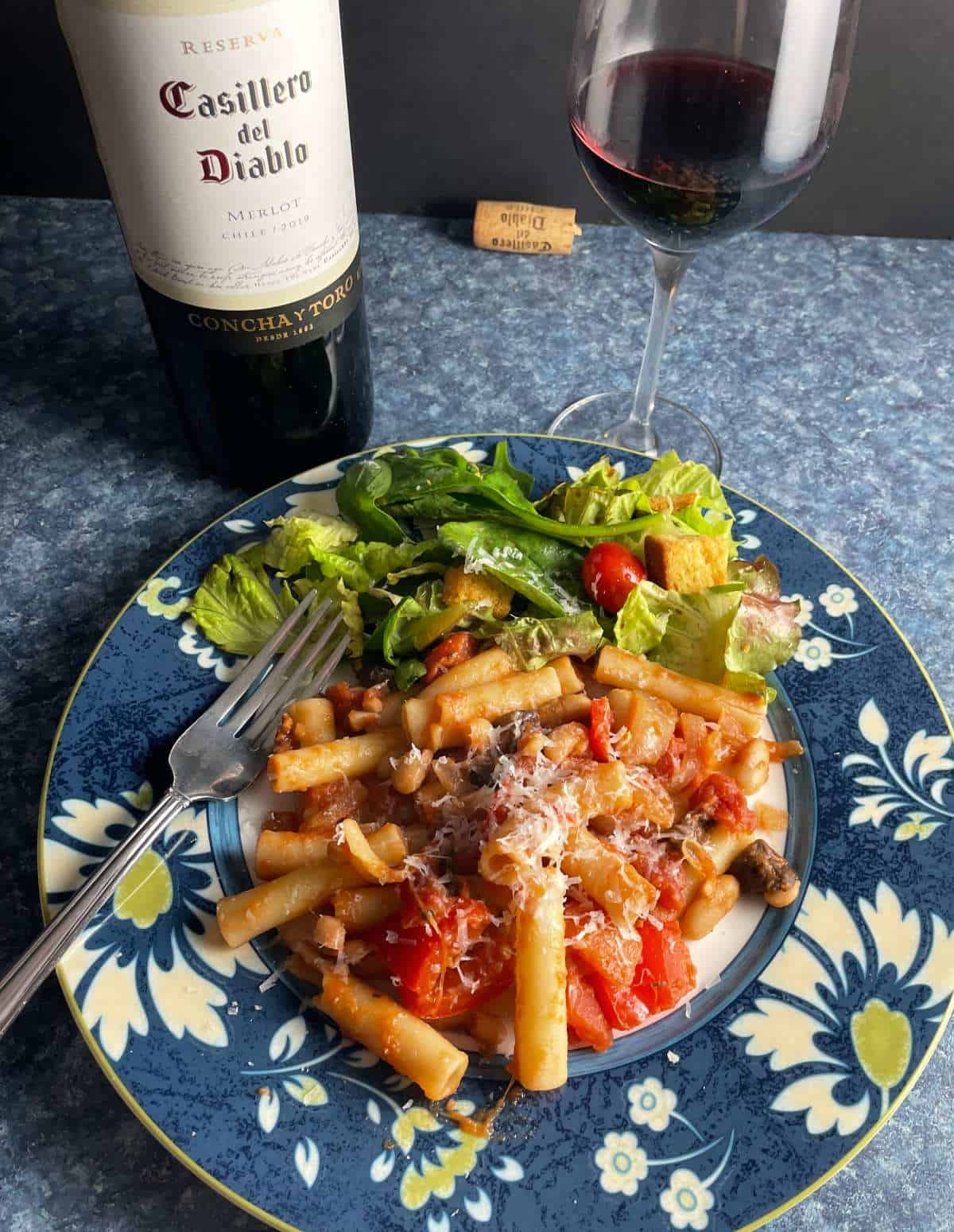 Sticking with the pasta theme that has worked well so far this #MerlotMe month, I planed to make this Meatless Meat Sauce the other night. Typically, tempeh is the meatless protein source that cooks along with the tomato in that recipe.
But the tempeh we had seemed to have been sitting in the fridge for too long so we needed to pivot. I wound up adding some cannellini beans, and a bit of leftover bacon to add some of the umami flavor that the tempeh would have brought. So it turned out to be mostly meatless pasta sauce, technically.
I had the 2019 Cassillero del Diablo Reserva Merlot ($12, 13.5% ABV) from Chile's Valle Central in mind for a tomato based sauce. With the lowest alcohol content among the Merlots we had for sampling this month, I figured the Cassillero Diablo Merlot would go well with a tomato based sauce.
I get cinnamon spice on the nose of this Merlot. On the palate, blackberry fruit along with some spice notes. Good acidity, which as expected, set up a nice pairing with the tomato based sauce. Another #MerlotMe month pairing winner! And at $12 per bottle, this makes for a great, everyday Merlot!
There's a fun story behind the wine's name, which translates to "The Devil's Cellar". Over 100 years ago, Don Melchor de Concha y Toro reserved some of his best wines for himself. He spread rumors that the devil himself hung out in the cellar to keep thieves away. That led to the name for this wine, but don't let it scare you from picking up a bottle or two!
Print
Recipe card
Ground Beef and Kale
Healthy kale greens simmer with ground beef and tomatoes for a hearty one pan meal. Topped off with cheddar cheese and served with a Merlot for the win!
Author: Cooking Chat
Prep Time:

10 mins

Cook Time:

35 mins

Total Time:

45 mins

Yield:

6

servings

1

x
Category:

main

Method:

stove top

Cuisine:

American
1 tablespoon

olive oil

1

onion, chopped

3

cloves garlic, minced

5

mushrooms, sliced

⅓ cup

of dry red wine

1

lb ground beef

1

bunch kale — 4 to 6 cups kale leaves

14 ½ oz

can fire roasted tomatoes

½ cup

shredded cheddar cheese
pinch red pepper flakes (optional)
Instructions
Prepare the kale: get the kale ready before you start cooking the dish. Rinse the kale, then cut away and discard the thick stems. Chop the leaves into small, bite sized pieces. Set aside.
Sauté the onions: Heat the olive on medium heat in a large skillet. Add the onion, and sauté for about 5 minutes, until it begins to soften.
Stir the mushrooms in with the onions. Cook for a few minutes until the mushrooms begin to sweat, then stir in the red wine. Cook for about 2 more minutes.
Add the ground beef along with the garlic, stirring to combine well with the other ingredients. Cook for about 5 minutes until the ground beef begins to brown.
Simmer with kale: gradually stir the kale into the skillet. You will probably need to add the kale in 2 or 3 batches, to give the greens a chance to cook down and make room for more. After adding the kale, stir in the tomatoes along with a pinch of salt and the red pepper flakes, if using. Cover the skillet, and simmer on medium low heat for 20 to 25 minutes, stirring once or twice during this time.
Finish the dish: Remove the cover from the skillet, and stir in the cheddar cheese. The dish is ready to serve with some mashed potatoes, penne pasta or on its own if you are looking for a low carb option.
Notes
What type of kale? Basic green kale is fine for this recipe. But we had purple kale from our local CSA farm share on hand, and used that. It has a more cabbage like flavor, and worked great in the recipe.
Keywords: ground beef and kale recipe, ground beef skillet recipes, kale recipes with beef, merlot pairings
Recipe Card powered by
#MerlotMe articles from Wine Pairing Weekend
Be sure to check out all of these great articles celebrating #MerlotMe month along with delicious food pairings!