Roasted Lamb Chops with Blackberry Sauce recipe features succulent meat and touch of sweetness from the sauce. An easy yet elegant gourmet meal! We served the lamb with a special bottle of Merlot. Disclosure: the wine was provided as a complimentary media sample by the winery.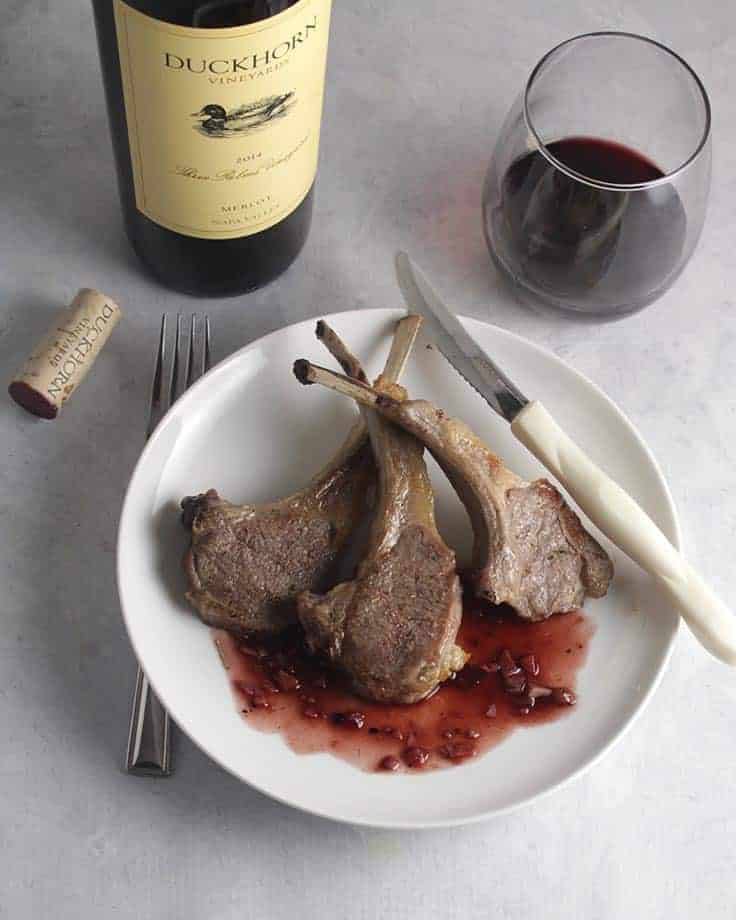 We received two bottles of 2014 Duckhorn Three Palms Vineyard Napa Valley Merlot ($98, 14.5% ABV) for our #MerlotMe month observances. After enjoying the first bottle paired with Ribeye with Mushrooms, my first instinct was to let the second special bottle of Duckhorn Merlot age for a year or two and see how it evolves.
Then I heard the news that Wine Spectator had given the Three Palms Vineyard Merlot its top 2017 Wine of the Year honors. Hmm, I thought this could have Open That Bottle Night (OTBN) potential.
OTBN, held the fourth Saturday of February each year, was established by Dorothy Gaiter and John Brecher, to give us a reason to open a special bottle of wine that has been waiting too long to open. Visit this post for more background on Open That Bottle Night.
OK, our second bottle of Duckhorn Three Palms Vineyard Merlot had only been in our cellar for a few months rather than years. But opening the 2017 Wine of the Year rather than saving it seemed to be in the spirit of OTBN. So we had our wine picked out for OTBN 2018. Now, what to pair with this special bottle of Duckhorn Merlot?
Roasted Lamb Chops with Blackberry Sauce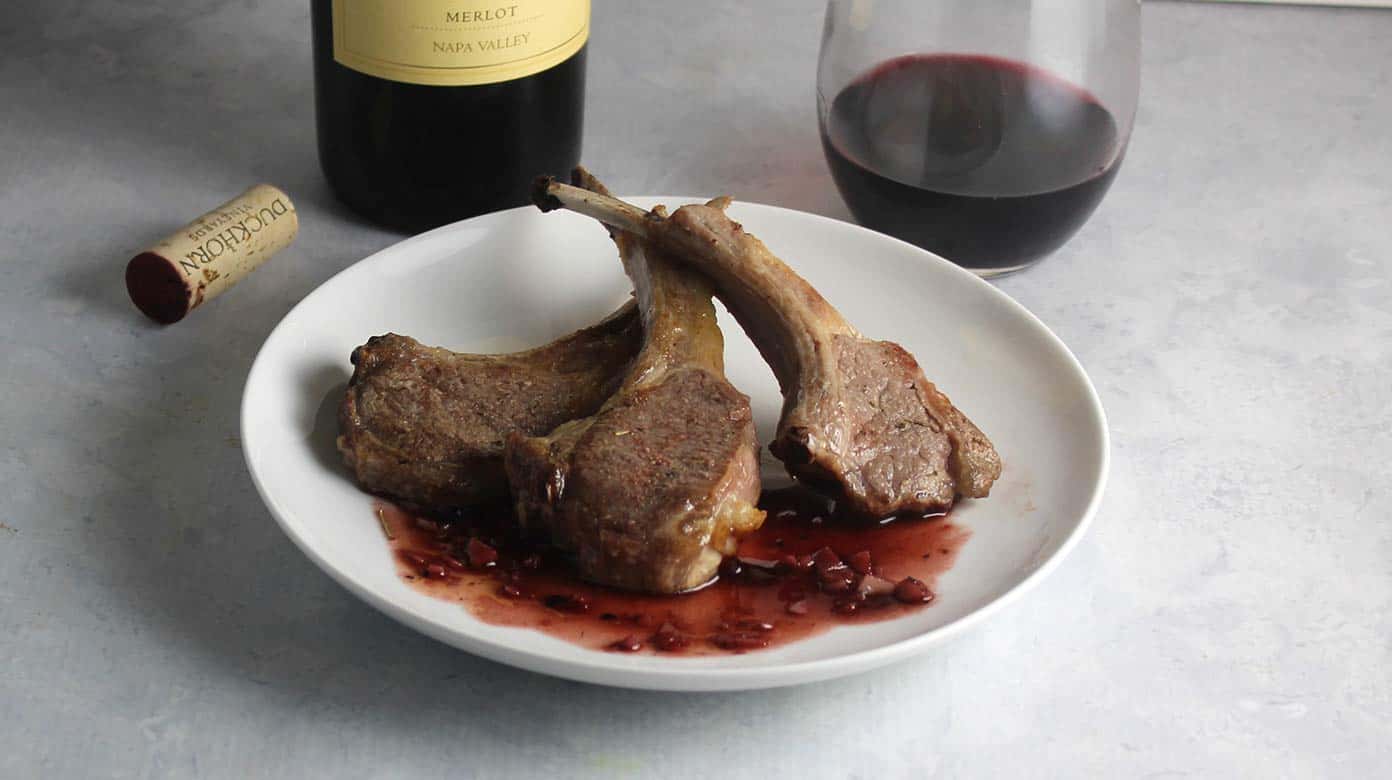 Though I very much enjoyed the Three Palms Vineyard Merlot with our ribeye recipe, I thought I'd like to make something with more complexity to serve as an even better match for the special Merlot.
I hadn't made lamb in awhile, and the Three Palms Merlot certainly seemed to call for a meaty main dish. Lamb seemed to be a good starting point. A low roasted leg of lamb, or perhaps a lamb stew, could be a good pairing for this Merlot. But I didn't have a lot of cooking time on the OTBN evening, so headed in the direction of quick cooking roasted lamb chops. These lamb chops take just seven minutes or so to roast in the oven after a quick pan sear on the stovetop.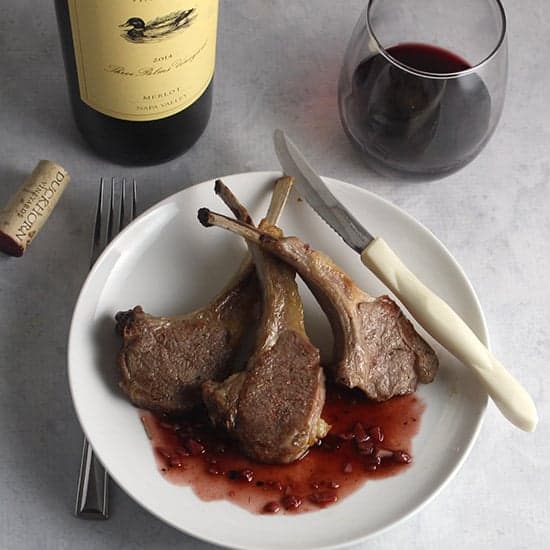 I perused the Merlot section of The Wine Lover's Cookbook for ideas about ingredients to use with the roasted lamb for a good pairing (Amazon affiliate link provided for the cookbook, a great resource!). Blackberry caught my eye, and I thought of a blackberry sauce for the roasted lamb chops.
For more pairing ideas, visit our Merlot Food Pairing: Tips and Tricks.
Pairings for 2014 Three Palms Vineyard Napa Valley Merlot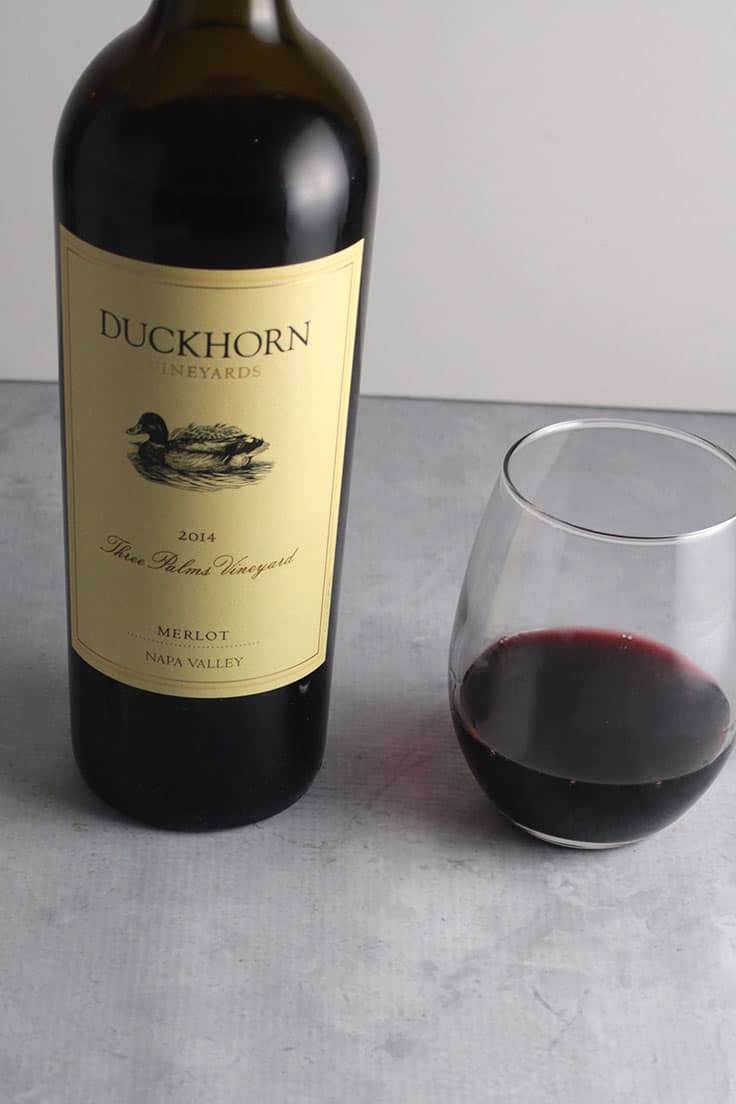 So first let's taste the 2014 Duckhorn Three Palms Vineyard Napa Valley Merlot. I got rhododendron on the nose. Lush layers of flavor on the taste–raspberry fruit and cinnamon stick were the first flavors I noted. The winery tasting notes mention cedar and graphite, and those terms definitely resonate with other elements I was getting. This is a big, bold wine, with firm yet moderate tannins, and lots of complexity.
This Merlot and the lamb itself worked pretty well together, but the sauce made with blackberry jam wound up having a sweet element that distracted a bit for the wine. I also made a side dish of orzo with roasted beets and fennel, and that actually made the whole pairing work better. Beets and fennel are both good veggies with Merlot, especially roasted.
You know what I liked best with this special bottle of Merlot? Sipping the final bit of the wine with some good quality cheddar cheese after dinner! Lesson: as much as I'm about cooking up the perfect recipe to pair with a good bottle of wine, sometimes a great wine can shine best on its own our eating something very simple that keeps the wine front and center.
The Three Palms Vineyard Merlot is comprised of 86% Merlot, 8% Cabernet Sauvignon, 4% Malbec, 2% Petit Verdot; Aging & Oak: 18 months in oak, 100% French Oak, 75% New Oak, 25% Neutral.
This Roasted Lamb Chops with Blackberry Sauce recipe is definitely tasty and easy, but next time I will look for a simple fruit forward wine to work with the sweet element in the sauce. Maybe a rosé or sparkling wine? Let me know your ideas in the comments!
Print
Recipe card
Roasted Lamb Chops with Blackberry Sauce for #OTBN #winePW
Roasted Lamb Chops with Blackberry Sauce recipe features succulent meat and touch of sweetness from the sauce. An easy yet elegant gourmet meal!
Author: Cooking Chat
Prep Time:

10 mins

Cook Time:

15 mins

Total Time:

25 mins

Yield:

4

servings

1

x
Category:

main

Method:

roasting

Cuisine:

American
For the Blackberry Sauce
1 tbsp

butter

2

small garlic cloves, minced

⅓ cup

red wine

3 tbsp

blackberry jam or preserve
pinch dried rosemary
salt and pepper to taste
pinch minced fennel frond (optional)
For the lamb chops
2 tsp

salt

1 ½ tsp

garlic powder

½ tsp

dried thyme
pinch dried rosemary

8

lamb chops, about 1 ½ inches thick
Instructions
Preheat oven: Preheat oven to 400 degrees.
Make the rub: Combine the rub ingredients in a small bowl-salt, garlic powder, thyme and rosemary.
Pat dry the lamb chops, then lay out on a work surface. Sprinkle each of the lamb chops with enough rub to just coat the lamb, then gently work the rub into the meat. Turn the lamb chops over to repeat the rub process on the other side. Let the lamb chops sit at room temperature to absorb the rub as you make sauce.
Make the blackberry sauce: Melt the butter in a small sauce pan on medium heat. Add the garlic and sauté for about 1 minute, until the garlic becomes fragrant.
Add the wine and blackberry jam to the saucepan, whisking to combine. Bring the sauce to a boil, then reduce to a simmer. Add the rosemary, salt and pepper. Simmer for about 10 minutes to reduce the sauce. Keep warm as you cook the lamb.
Brown the lamb chops: Coat an oven proof skillet with oil spray. Heat the skillet on medium high on the stovetop. Add the lamb chops to the pan. Cook for about 1 minute so the chops start to brown. Turn the chops over, cook for another minute.
Roast the lamb: After browning the lamb chops for a total of 2 minutes, move the lamb chops to the oven. Roast for about 7 minutes for medium rare chops. Remove the skillet from the oven, and place the chops on a platter to rest briefly.
Serve & enjoy! Plate the lamb chops, and serve with the blackberry sauce. Enjoy with a good glass of wine!
Notes
Roasted lamb chops take just about 7 minutes in the oven to get to medium rare. 145 degrees with a meat thermometer is a good target for medium rare lamb chops. Your actual cooking time will vary based on your oven and thickness of your lamb chops.
Recipe Card powered by
More Open That Bottle Night Pairings
Be sure to check out all the special wine and food that was paired with it by checking out these Wine Pairing Weekend #OTBN blog posts!
Martin from ENOFYLZ Wine Blog will post "A Journey To Iberia And Beyond for Open That Bottle Night #WinePW"
Lori from Dracaena Wines shares "Emotion, Not Money or Age for this #OTBN #WinePW"
Wendy at A Day in the Life on the Farm posted "Instant Pot Irish Stew with a White Cheddar Crust #EattheWorld #winePW #OTBN"
Jane from Always Ravenous served "Chicken Breasts in a Tart Cherry Pinot Noir Sauce #winePW #OTBN"
Camilla at Culinary Adventures with Camilla paired "Brisket over Butter-Braised Leeks + Hundred Suns' Ciel du Cheval 2015"
Nicole from Somm's Table will share "The Big 10, Champagne, Burgundy, and #OTBN."
Gwendolyn at Wine Predator will blog about "OTBN: Ranchita Canyon Vertical Paired with Lasagna for #WinePW"
Here on Cooking Chat I will post "Roasted Lamb Chops with Blackberry Sauce for #OTBN #winePW"
Don't have a blog post about #OTBN to share? No problem! Join the conversation about #OTBN and special wine and food pairings by joining our live Twitter chat. Tune into the #winePW hashtag on Saturday, March 10, 11 am ET / 8 am PT to join the conversation.
You can also check out past and future #winePW topics on the Wine Pairing Weekend page. Get ready for the April #winePW which will be on "Exploring the Wines of Navarra Spain", hosted by Gwendolyn at Wine Predator.
For background on #OTBN, visit our Open That Bottle Night Invite post.