This Sautéed Fiddlehead Ferns recipe is an easy way to enjoy this spring seasonal vegetable. They make a nice change of pace side dish, and are best served with white wine. Disclosure: One of the wines recommended as a pairing was provided as a complimentary sample.
The appearance of fiddlehead ferns at the grocery store is a sign of spring for me. Sometimes this foraged vegetable seems to be in the store for just a few weeks, but sometimes they linger long enough for me to serve up here in early June. So if you find some of these curious shaped vegetables and aren't sure what to do with them, I serve up the simple recipe for Sautéed Fiddlehead Ferns.
Jump to:
About Fiddlehead Ferns
Fiddlehead ferns are commonly found in the northeastern part of the United States, so it qualifies as a local vegetable for us. They are loaded with nutrients, providing a good source of antioxidants, omega-3 and omega-6 essential fatty acids–see this source for more nutritional information.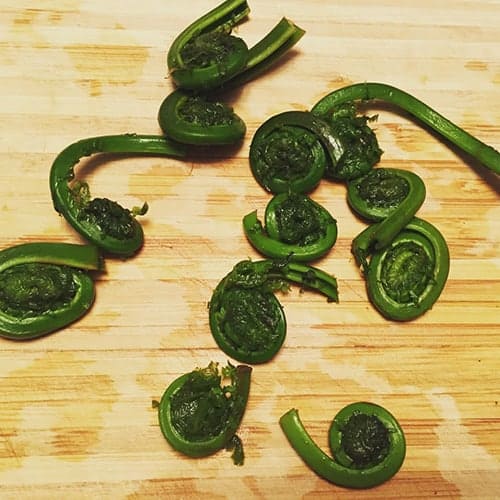 I've consistently read that the ferns should be boiled first, so that's what we do here in our recipe. After boiling for 10 minutes, the fiddlehead ferns get sautéed with a bit of garlic and soy sauce for a simple, tasty side dish.
Another favorite side dish this time of year is our Sautéed Arugula with Red Bell Peppers.
Step by step
Below is a visual overview the steps for making the sautéed fiddlehead ferns; click here for the full recipe details.
Prep the fiddleheads. Rinse the fiddlehead ferns, then lay them out on a cutting board.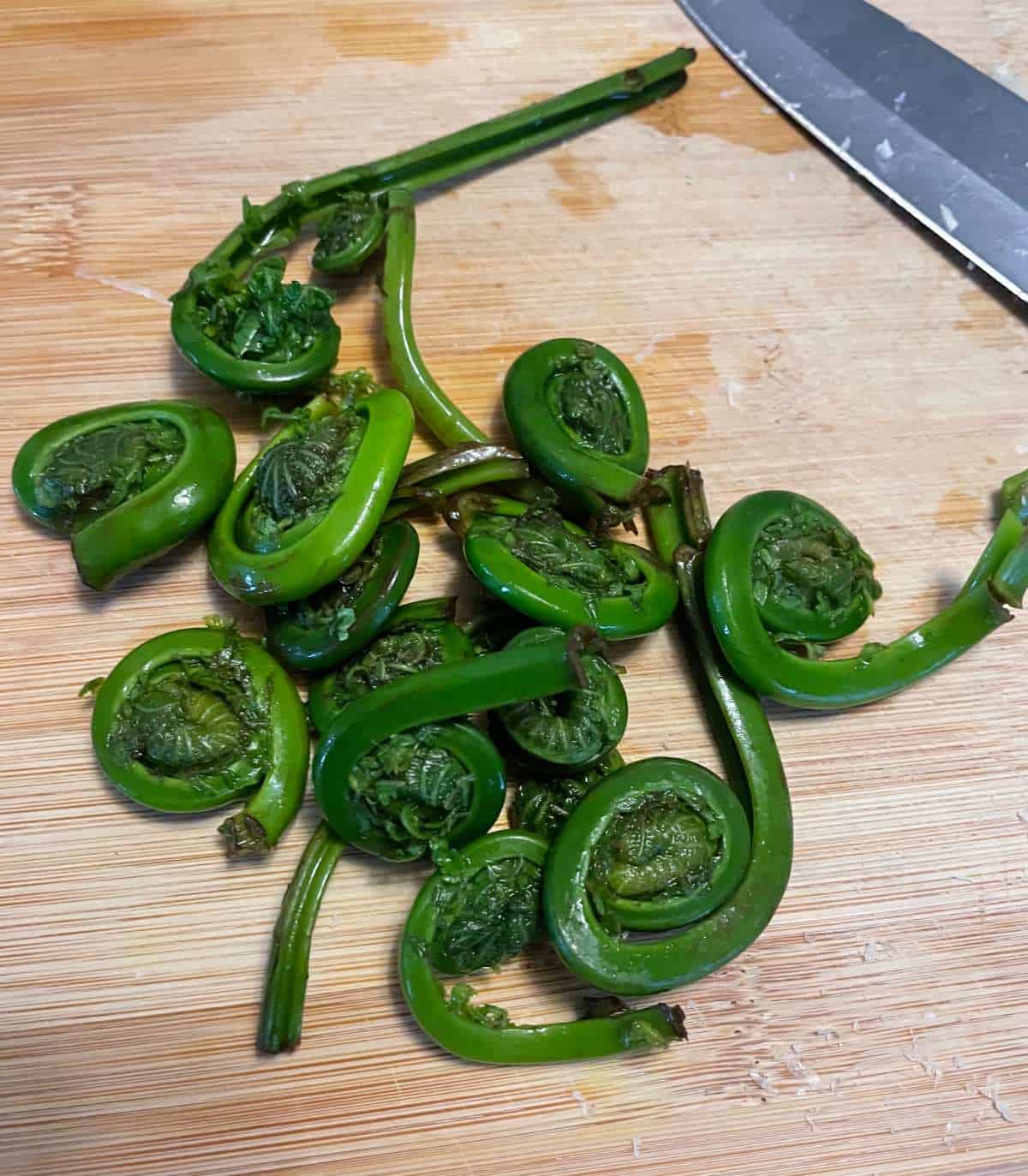 Trim the brown ends off the fiddleheads (see circle below for an example).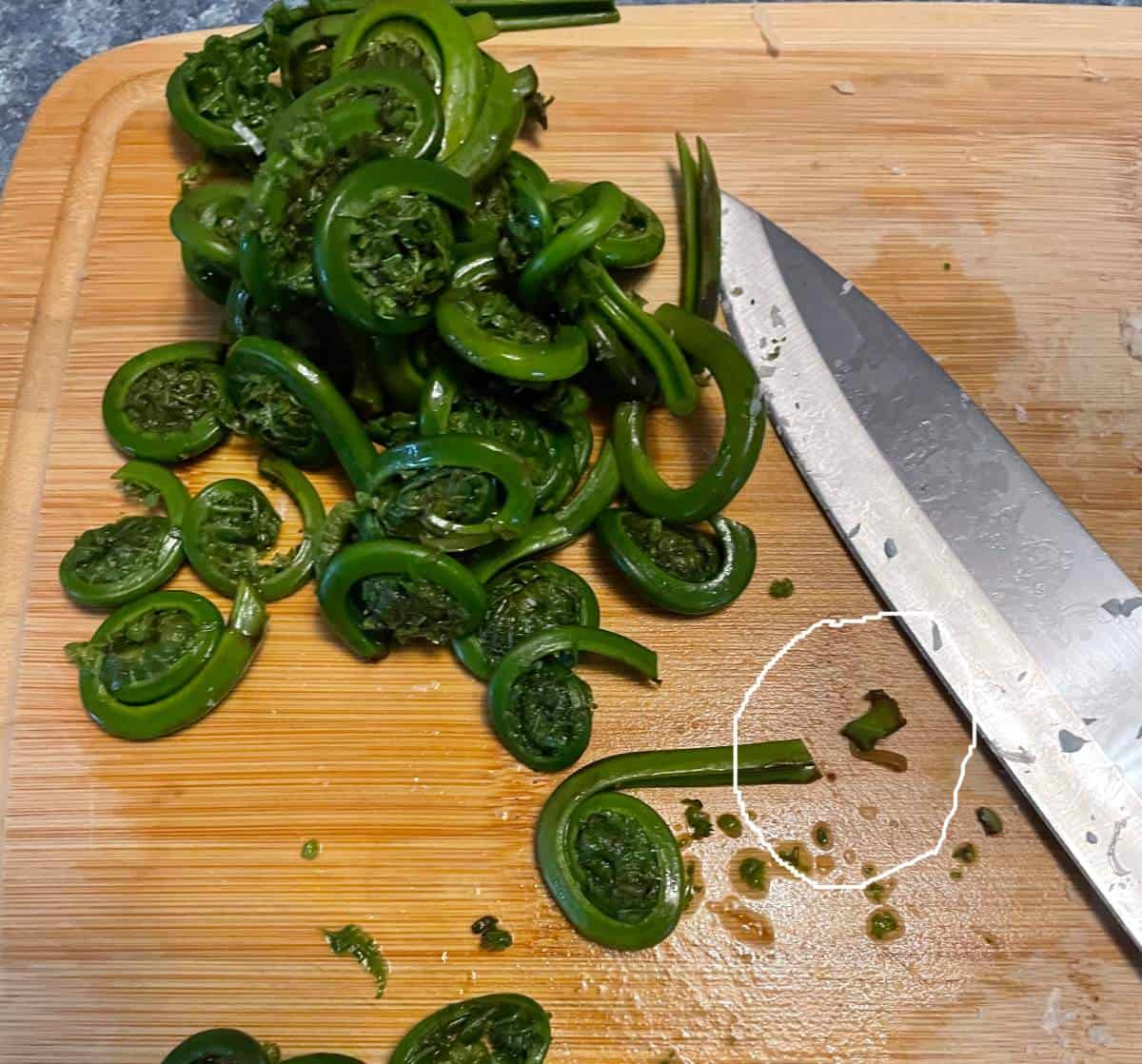 Boil the fiddlehead ferns for 10 minutes. Drain and set aside.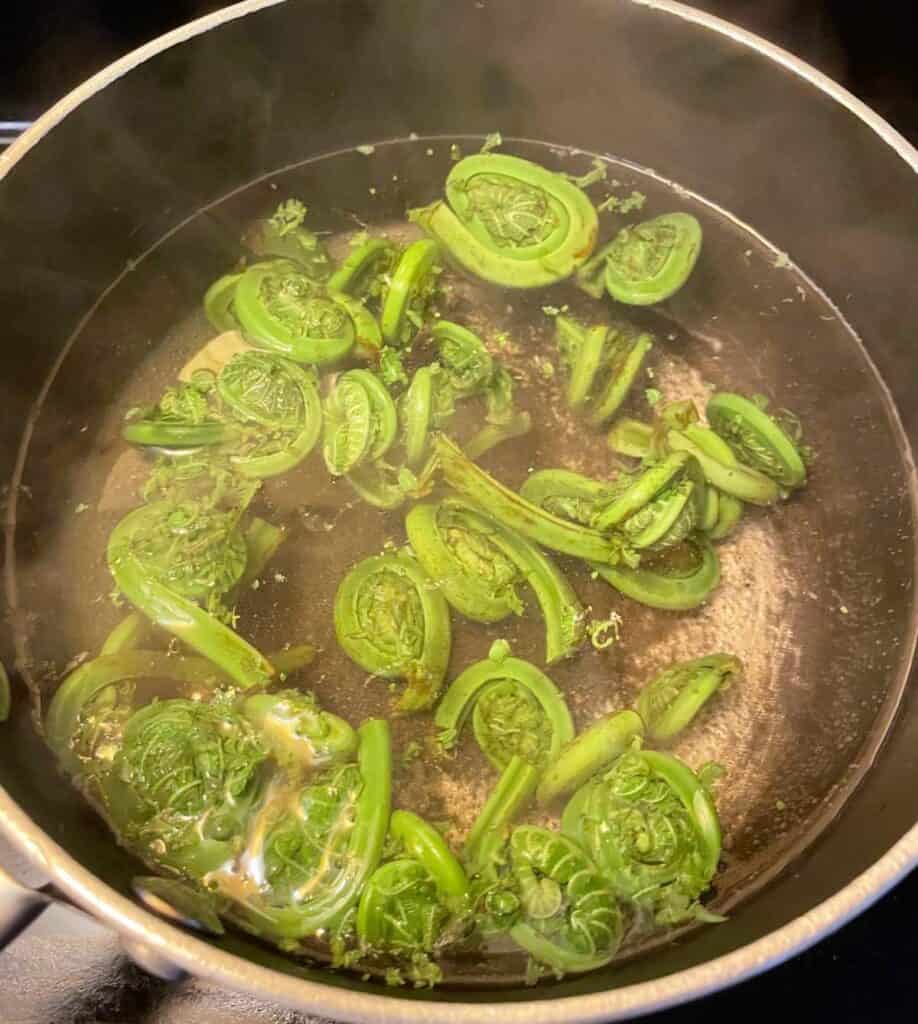 Sauté the garlic with the extra virgin olive oil for about 1 minute. Add the fiddleheads, sauté for 5 minutes. Add the soy sauce toward the end of the 5 minutes.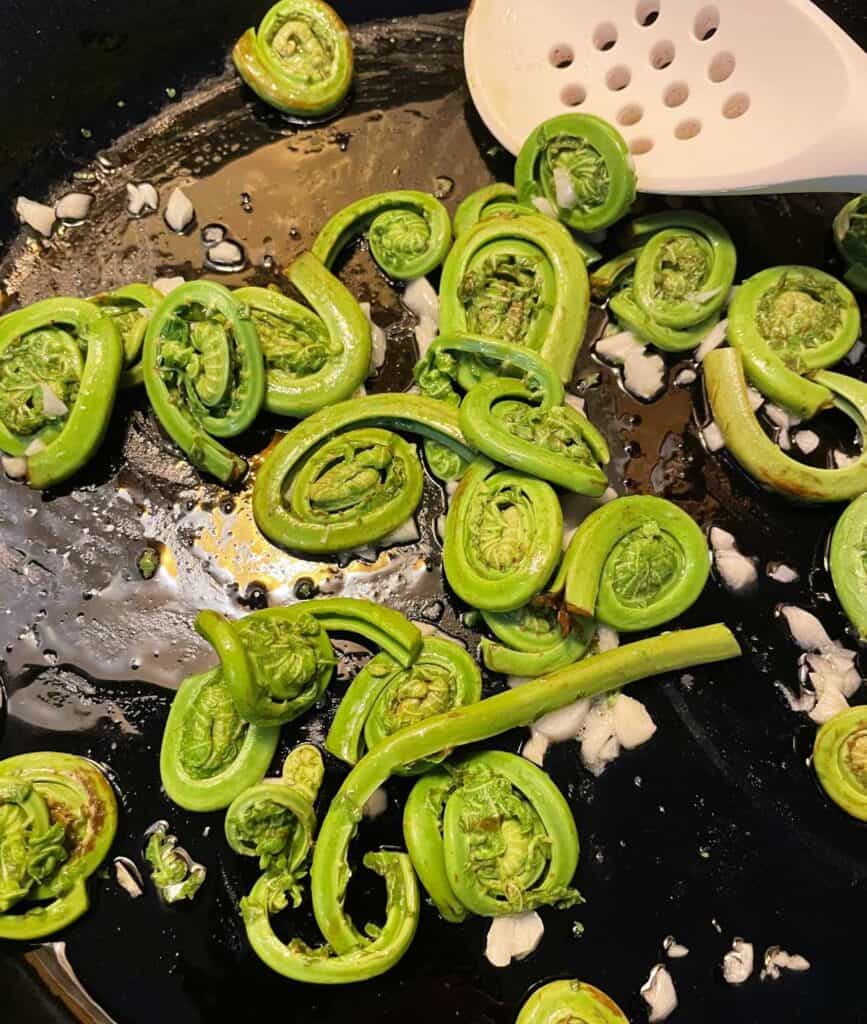 Enjoy!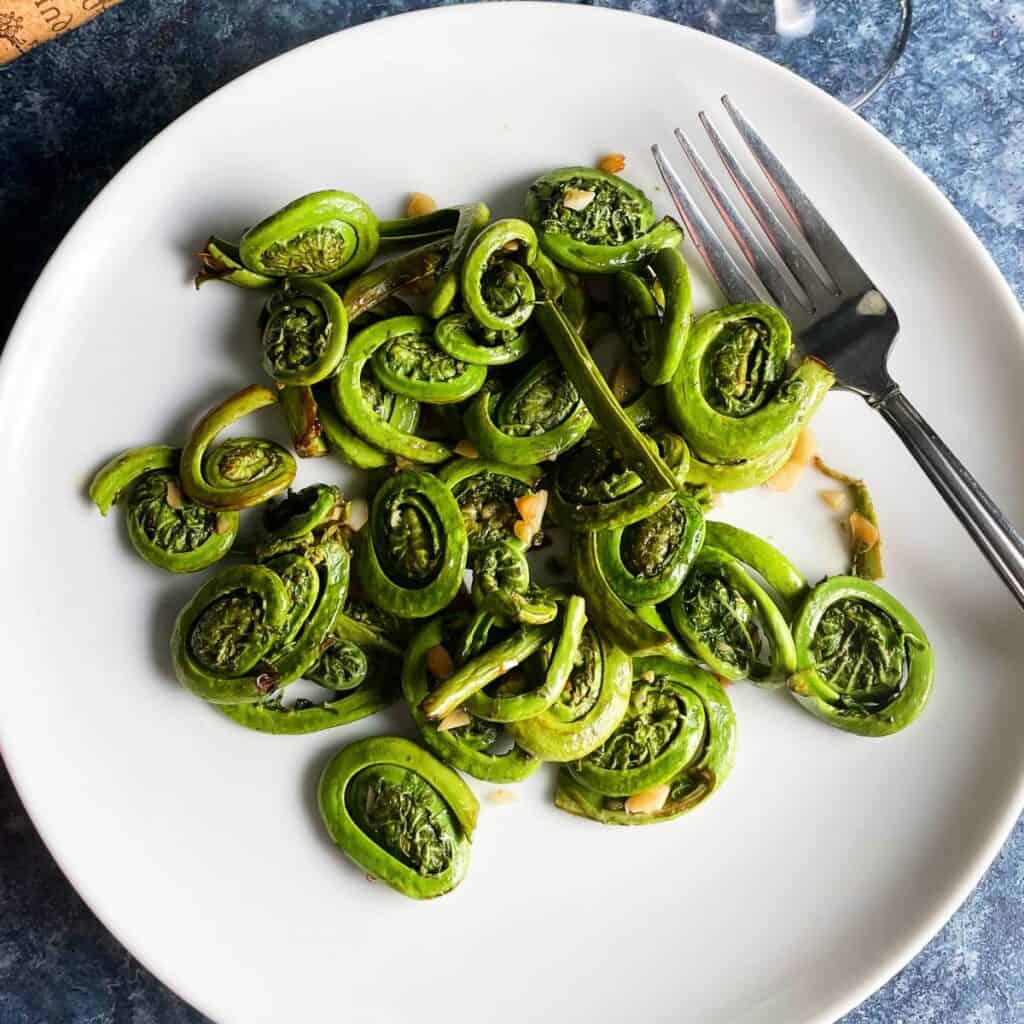 Frequently Asked Questions (FAQ)
What are fiddleheads?
The edible fiddleheads are ostrich ferns in their furled up state prior to growing into a mature plant. They are generally a plant that is foraged in wooded areas of the northeastern US and Canada.
Do you need to boil fiddlehead ferns?
It is generally recommended to boil fiddlehead ferns both for flavor and to avoid any potential issues with toxins found in the raw plant.
What do fiddlehead ferns taste like?
Fiddleheads taste a bit like asparagus, although with more of a wild / woodsy flavor.
When are fiddleheads available?
Fiddleheads typically arrive at farmer's markets and some grocery stores in the spring. Late April to May are the times we see fiddleheads typically, although we have gotten them in early June.
How else can I serve sautéed fiddlehead ferns?
We recently made another batch of this sautéed fiddleheads and added it to a pasta dish with ricotta cheese and roasted asparagus with mushrooms. It was very good!
Wine pairing
I mentioned fiddleheads taste a bit like asparagus. Though not quite as challenging to pair with wine, the similarity to asparagus means fiddlehead ferns are better served along with a white wine.
For the most recent remake of this sautéed fiddleheads recipe, I turned to a bottle from the excellent wine wine specialists, Acquiesce Winery. I went with their 2019 Clairette Blanche ($28, 13.5% ABV) , a white wine grape with roots in Southern France. The wine was sent as a complimentary sample from the winery.
The Acquiesce Clairette Blanche has honeysuckle on the nose. Cantaloupe fruit and anise notes on the palate. Delicate mouthfeel. Good acidity.
We served the sautéed fiddlehead ferns with baked haddock and a side of pasta with kale pesto. The nuanced flavor profile and acidity of the Clairette Blanche made it a very good pairing for the fiddleheads as well as the kale pesto. The light, flavorful style of the white wine makes it a nice match for white fish, too.
I realized only after putting this meal and pairing together that I'd openened another Acquiesce wine, their Bourboulenc Blanc, to serve with the haddock and kale pesto pasta recipe. Clearly Acquiesce wines are a winning match for that meal!
About Acquiesce Winery
Acquiesce Winery is located in the Lodi, California wine region. The grapes for the Clairette Blanche are estate grown from the Mokelumne River sub-appellation. They specialize in white wine grapes, in a region more known for its reds. The focus on whites from Lodi, and the single Rhone grape varietals they produce with such precision, make it a winery to seek out for sure.
I covered a bit more about Acquiesce Winery in another post when I paired their Acquiesce Viognier with our Easy Korean Chicken Wraps.
Acquiesce follows Lodi Rules for sustainable wine growing.
Other pairings
We previously enjoyed this sautéed fiddlehead ferns recipe along with this grilled swordfish pasta dish.
We served that with a white wine from Campania. The subtle 2012 Vadiaperti Greco di Tufo worked nicely with the fiddlehead ferns as well as our swordfish. That said, most light to medium bodied white wines should work pretty well with the fiddlehead ferns. So enjoy your ferns along with a glass of white wine!
Print
Recipe card
Sautéed Fiddlehead Ferns
Fiddlehead ferns are a sign spring has arrived. This simple sautéed fiddlehead fern recipe is an easy way to enjoy the foraged vegetable.
Author: Cooking Chat
Prep Time:

5 mins

Cook Time:

16 mins

Total Time:

21 mins

Yield:

3

servings

1

x
Category:

Side dish

Method:

sauté

Cuisine:

American

Diet:

Vegan
½

lb fiddlehead ferns, rinsed

2

cloves garlic, minced

1 tbsp

extra virgin olive oil

1 ½ tsp

soy sauce
Instructions
Prep the fiddleheads: After rinsing, trim any brown ends from the fiddlehead ferns.
Boil the fiddlehead ferns for 10 minutes. Drain thoroughly and set aside for a couple minutes.
Heat the olive oil in a skillet. Add the garlic, and sauté for about 1 minute.
Sauté: Add the fiddlehead ferns to the skillet. Sauté for about 5 minutes, stirring in the soy sauce close to the end of the 5 minutes. The fiddlehead ferns are ready to serve with the rest of your meal.
Notes
Trim the brown ends off the fiddlehead ferns before cooking.
Fiddleheads should be boiled before sautéeing. 
Keywords: fiddlehead ferns, sautéed fiddleheads
Recipe Card powered by