Grilled Swordfish Pasta Margherita: Grilled swordfish served with pasta featuring fresh tomatoes, mozzarella and basil, inspired by the flavors of Campania, Italy.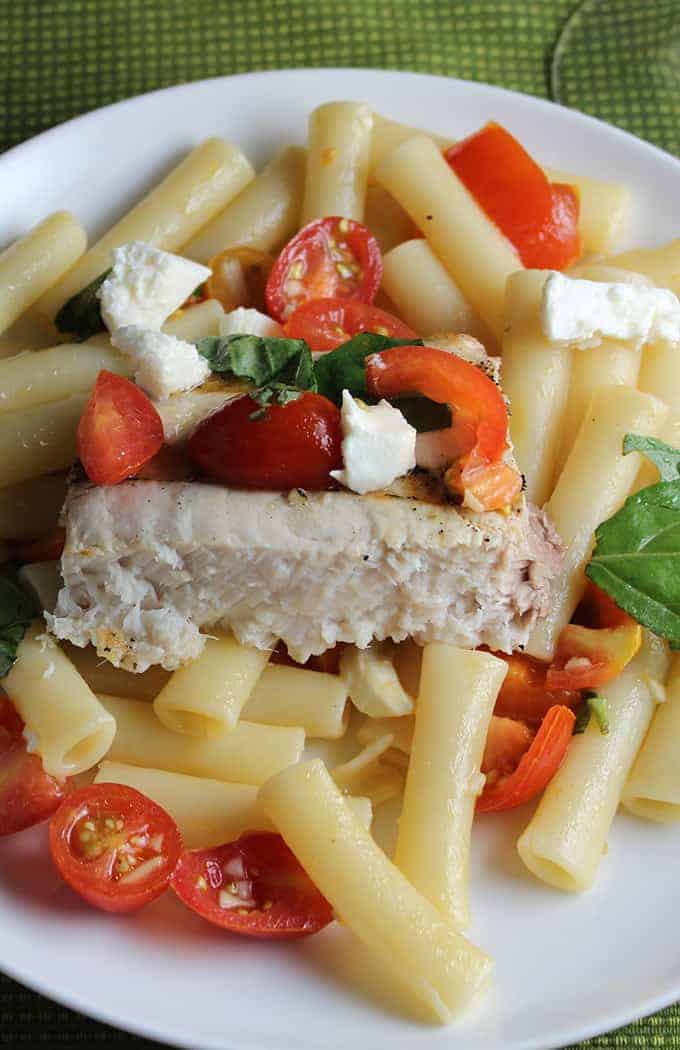 Navigating across the buzzing streets of Naples, just missing getting picked off by a moped several times, was no honeymoon even though that was what brought us there.
After the several flights it took us to get from Kentucky to Italy, we finally made it into to simple little restaurant near our hotel. We were ready to enjoy some Italian food!
Alas, our Italian language and culinary knowledge were definitely lacking (this was long before I participated in #ItalianFWT and other foodie fun). We tried to order a basic cheese pizza by saying, "formaggio pizza". Our server said back, "Margherita?". Our reply, "No margarita, formaggio pizza."
We finally figured out that he was trying to tell us that what we were looking for was a margherita pizza, and decided to get with the program. We sure were glad we did, as we loved the perfect crust and simple topping of great tomato sauce, fresh mozzarella and basil.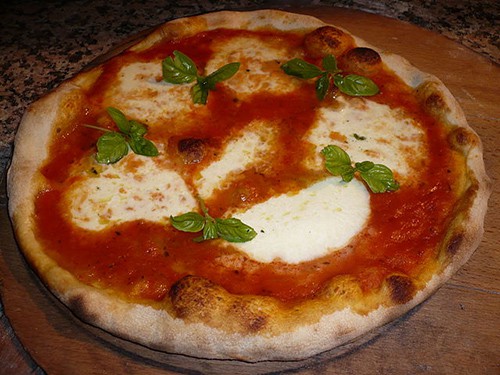 Now, you have to cut us some slack here. We just recently celebrated our 20th anniversary, and margherita pizzas were not the ubiquitous presence on American menus like they are now. We sure did seek out this pizza later when we came home!
For today's #ItalianFWT trip to Campania, which includes Naples as well as Sorrento (another stop on our honeymoon), I decided to feature the flavors from that pizza in a pasta dish. Like many Italian regions, Campania is also known for its fresh seafood.
So I decided to top the pasta margherita with grilled swordfish. We were very pleased with the Grilled Swordfish Pasta Margherita I cooked up, with the fresh basil and tomatoes giving great flavor to the pasta and swordfish.
I found a very good local mozzarella cheese from Narragansett Creamery to use in the dish. A fresh, local cheese is probably even more in keeping with the Italian way then having an imported cheese from Italy.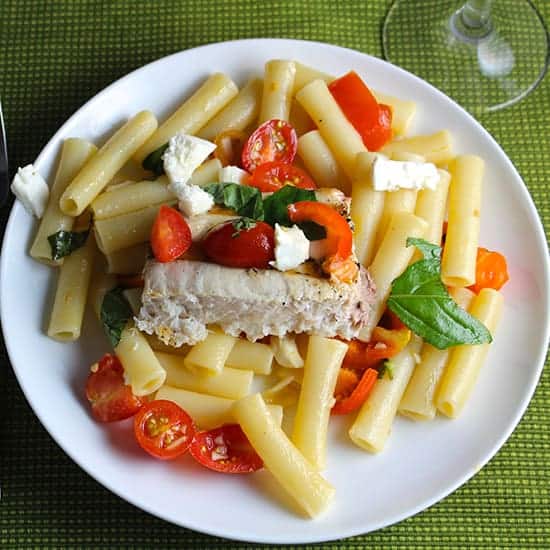 Recipe Tips
A couple of notes on the recipe (details in the card below): you want to use the freshest tomatoes possible. We are still at least a month away from great local tomatoes here in New England.
There is an heirloom cherry tomato medley at Whole Foods that is an option I like when I want fresh tomato flavor outside of peak tomato season, and that's what I featured in this grilled swordfish pasta recipe.
The other note is about the timing. The pasta and swordfish will take similar amounts of time to cook, so you want to get them going more or less simultaneously, but give the pasta a few minutes head start as it's best to have that done cooking first.
Wine Pairing
Time to talk about the wine! We had Peroni beer with that pizza on our first night in Naples, so can't draw upon that experience. I went with a bottle of 2012 Vadiaperti Greco di Tufo (13 % alcohol, appx. $20). Greco is an Italian grape varietal; our bottle was of the Greco Bianco version. Greco di Tufo is a DOCG in Campania.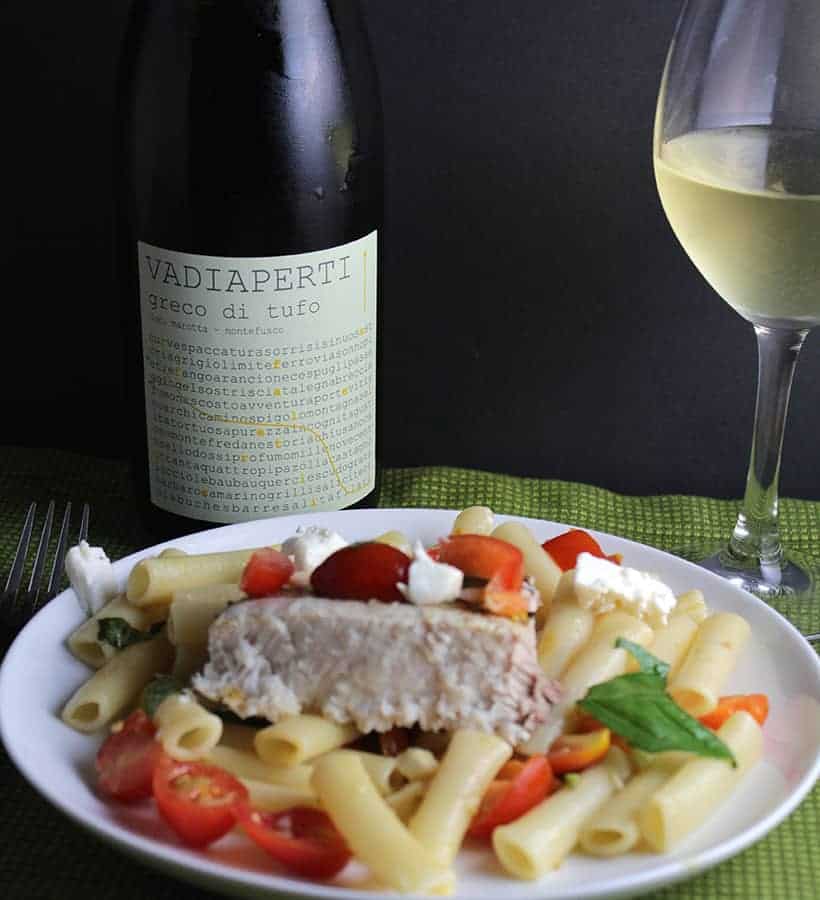 I got lemon on the nose. Taste had a touch of green apple and good minerality. The wine is quite dry. I'd describe it as a subtle wine, with refined elegance. It was a subtle partner for the food–definitely a wine that was more in the background, supporting cast for the meal. An enjoyable if not great bottle is how I'd put it.
Related Recipes & Articles
Here are some ideas related to this article that you might like:
Print
Recipe card
Grilled Swordfish Pasta Margherita
Grilled swordfish served with pasta featuring fresh tomatoes, mozzarella and basil, inspired by the flavors of Campania.
Author: Cooking Chat
Prep Time:

15 mins

Cook Time:

15 mins

Total Time:

30 mins

Yield:

4

1

x
Category:

Main

Method:

grilling & stove top

Cuisine:

Italian
2 cups

fresh tomatoes, chopped

2

cloves garlic, minced

2 tbsp

extra virgin olive oil

¼ cup

fresh basil, julienned

4

ozs mozzarella, cut into

½

inch cubes

16

ozs swordfish

12

ozs ziti or other short pasta shape
salt and pepper to taste
Instructions
Combine the tomatoes, basil, olive oil, and garlic in a bowl. Add salt and pepper to taste, and set aside.
Preheat the grill to medium high.
Start boiling water for pasta and cook according to package instructions as you get the swordfish grilling. It's best to get the pasta done a bit before the swordfish.
When the pasta is cooked, drain. Add most of the tomato to the cooked pasta, setting aside about ½ cup to top the swordfish.
After stirring in the tomato mixture, stir in the mozzarella. Keep the pasta covered to keep warm as you finish grilling the swordfish.
Start grilling the swordfish as the pasta cooks. Grill the swordfish with the grill covered for 6 minutes. Flip the fish to the other side, and brush the side now facing up with the orange juice. Grill another 6 minutes, and check for doneness. You want the fish to be just cooked through (all white) but still moist. This typically takes 12 to 15 minutes of total grilling time depending on the thickness of the fish. When the swordfish is done remove it to a platter.
To serve, plate a scoop or two of the pasta. Place a portion of the swordfish on top of the pasta, then add a bit of the extra tomato mixture over the swordfish. Repeat for the other servings, and enjoy with a glass of Italian wine, preferably from Campania!
Notes
Use the freshest tomatoes possible for this recipe!
Start the pasta a few minutes before you start grilling the swordfish, so that the pasta is ready first.
Keywords: swordfish with pasta, grilled swordfish, fish and pasta recipes
Recipe Card powered by
The first Saturday of each month, the #ItalianFWT bloggers visit a region of Italy. Check out the other posts about Campania:
foodwineclick — Neopolitan Pork Chops and Autochthnous Grapes of Campania
Vino Travels — Campania Food and Wine Pairing: Mussels with Feudi di San Gregorio Falanghina
Rockin Red Blog — Exploring Campania with #ItalianFWT
Cooking Chat — Grilled Swordfish with Pasta Margherita
ENOFYLZ Wine Blog — A Taste of Campania with #ItalianFWT
Curious Appetite — Strange Foods and Fringe Wines of Campania
We'd love to have you join our Twitter Chat Saturday, June 6, at 11 a.m Eastern time/ 5 p.m. Italian time. Some of our bloggers had last minute computer troubles so we may be a bit quieter than usual! Blogs that were posted as of Saturday 6/6, 7 a.m. ET have live links to their posts in the list above; check back as the others will be sharing their posts soon!