This Steak Picado Recipe features top loin steak simmering with onion, peppers, tomatoes and more for a full-flavored Mexican beef recipe. We serve with a red wine from Spain's Ribera del Duero region, as we join the World Wine Travel group for another stop in our tour around Spanish wine regions.
Today we share a steak picado recipe along with a red wine from Spain's Ribera de Duero region. This is the 3rd stop in the World Wine Travel group's virtual tour around Spain this year.
For our first two Spanish wine regions, we adapted recipes based on food from Spain. The Mushroom Fricassee and Spanish White Bean Stew were both delicious with Spanish wine! Our Pan Seared Sea Bass recipe is also inspired by Spanish cuisine.
Today we decided to try a Mexican recipe along with Spanish wine. Until recently, I didn't realize Mexican wines were something to try, so often would go for a Spanish wine with the cuisine. Steak picado was on my list of recipes to make, so I decided to try it paired with Ribera del Duero.
I'm going to start by covering some information about the dish, then get into the wine. Use the navigation below if you want to jump right to the wine or the recipe instructions!
Jump to:
What makes this dish work?
Steak picado features the beef simmering with peppers, onions, tomatoes and more for plenty of flavor. So if you are looking for some steak flavor along with some spice, steak picado is a good recipe try!
The classic version of the dish is a relatively long simmering preparation. I figure that is because it was developed to use inexpensive cuts of beef. Based on some past recent experiments, I wanted to adapt the recipe to avoid overcooking the quicker cooking meats typically available in a U.S. supermarket.
So the good news is our steak picado recipe brings the same flavors of the classic dish, but is on your plate quicker!
Ingredients
Here are some tips about the ingredients you need:
What steak to use? I used top round steak, which is the cut typically used in London broil. This is a lean cut of steak, which had me on guard for overcooking it. Flank steak would probably be the most similar substitute. Picado recipes also sometimes call for sirloin steak. I haven't tested any of these options yet, let me know if you do!
Bell peppers are a crucial ingredient for the picado recipe's flavor. Green bell peppers are most commonly used. I used half of a green bell pepper plus half of a red pepper. I like the colorful presentation and taste of this combination of peppers.
Jalapaño peppers bring some heat to the dish. I call for one jalapaño pepper, seeded. You could certainly try two jalapeños or maybe a serrano if you wanted to increase the heat. I tend to go for moderate heat, keeping mind our teen's palate, not to mention the wine pairing. There is also chili powder in the ingredient list.
Tomatoes provide an important base for the picado steak sauce. Many recipes call for more tomatoes — a full can as opposed to one cup. I don't use tomatoes a lot with steak so I wanted to go easy on them, but you can certainly increase that if you like.
What to serve with steak picado
We served our steak picado with black beans and a side of rice, following this Instant Pot Black Beans recipe from Well Plated. We added some allspice to lean into the Cuban flavors of the dish. I'd been way overdue for making beans in the Instant Pot; this recipe worked out well and I'll definitely be making it again soon!
Warm tortillas are also a common option to serve with steak picado. You could also serve pinto peans instead of black beans if you like.
What to do with leftovers
You could simply save any steak leftover to make some tacos.But I wound up with a little amount of steak and a good amount of beans & rice leftover. No problem!
I mixed it altogether for a rice and beans combo with just a bit of meat. Have enjoyed it heated and plated like that, and also as a delicious burrito filling. Topped with a little Haitian pikliz for some more cultural fusion!
Related recipes
If you like this recipe, be sure to check out these other flavorful dishes from Cooking Chat!
Wine pairing
We pairing our steak picado with the 2015 Quintana de Cue Crianza ($25, 14.5 % ABV) from the Ribera del Duero. I believe it is 100% Tempranillo, although in some places on the web it is referenced as a Tempranillo blend.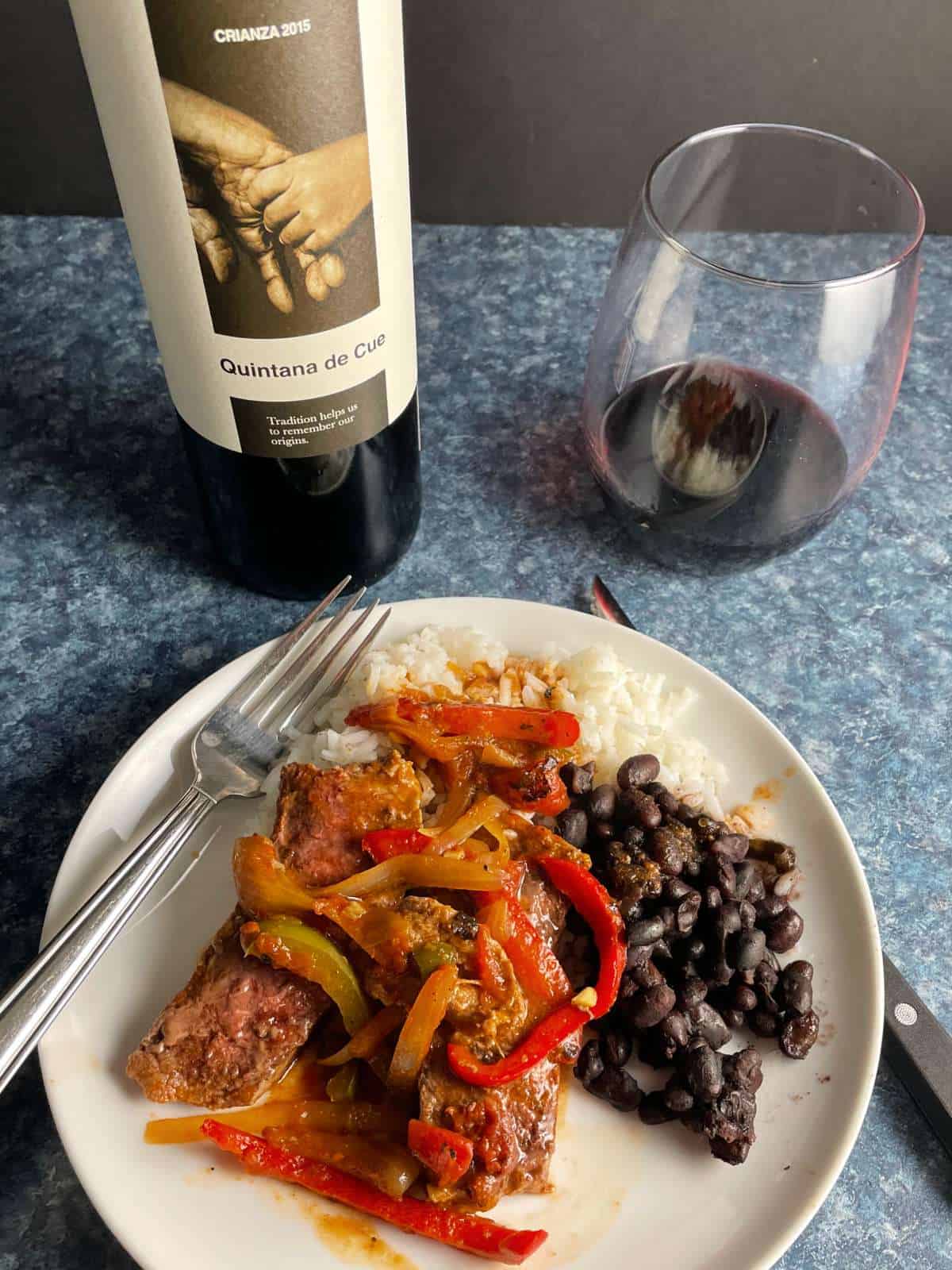 The wine has big herbal notes on the nose. Red berry fruit and good acidity on the palate. A powerful wine, and a good pairing for the steak. I would say this is a solid pairing.
The wine comes from Bodega Valdrinal, which is located in the village of Aldehorno, in the province of Segovia. This is one of the few Ribera del Duero wineries located in this province. Bodega Valdrinal was founded in the year 2000.
The Bodega Valdrinal vineyards are among the highest in the Ribera del Duero.
About Ribera del Duero
Ribera del Duero is a well known Spanish wine region located in Castilla y Leon. The region is in Northern Spain, on a high plateau that is about 2,800 feet above sea level.
Tempranillo is the dominant grape in the region, accounting for 88% of the wine grapes, planted, according to this Wine Searcher article. Tempranillo must account for at least 75% of Ribera del Duero red wines.
The region has hot and dry summers with harsh winters. There is a large fluctuation between hot daytime temperatures and cooler nights during the wine growing season, always a good formula for good wine grapes!
Print
Recipe card
Steak Picado
Top round steak simmers with onions, peppers and spices for a flavorful steak dish. Adaptation of a popular Mexican recipe, very good served with Spanish red wine.
Author: Cooking Chat
Prep Time:

20 mins

Cook Time:

25 mins

Total Time:

45 mins

Yield:

6

servings

1

x
Category:

main

Method:

stove top

Cuisine:

Mexican
For the rub
1 ½

lb top round steak

1 tsp

salt

½ tsp

garlic powder

½ tsp

cumin

¼ tsp

oregano
Other steak picado ingredients
oil spray

1 tbsp

olive oil

1

onion, chopped

1 cup

chicken or beef broth, divided

1

red or green bell pepper – or a mix of both

3

cloves garlic, minced

1

jalapeno pepper, chopped (after removing seeds)

1 cup

diced tomatoes

2 tsp

chili powder (or more to taste)
Instructions
Prepare the rub: combine the garlic powder, cumin and salt in a bowl. Pat dry the steak, then place on a plate. Rub half of spice rub mixture on one side of the steak, then turn the steak over and rub the other half into the meat. Let the steak sit with the rub for about 20 minutes at room temperature.
Sear the steak: coat a skillet with the oil spray. Heat on medium high. Add the steak when hot, sear for 90 seconds on one side, then turn the steak and sear for another 90 seconds. Remove the steak to a platter, and cover with aluminum foil. Set aside as you start cooking the vegetables.
Sauté the onions: Add 1 tablespoon olive oil into the same skillet you used to sear the steak. Heat on medium, and add the onions along with about half of the broth. Stir the onions, and scrape up any of the spices and bits of meat that stuck to the skillet during the steak searing. Stir to incorporate into the liquid.
Add the bell peppers to the skillet, and cook for about 3 more minutes until they begin to soften a bit. Add the garlic and jalapeno, stirring to combine.
Stir in the tomatoes along with the chili powder. Simmer for about 5 minutes to let the flavors meld.
Add the steak back into the skillet and cover the skillet. Simmer on medium low for 10 minutes, then check the steak for doneness. This is best served medium rare, which is about 130 degrees. A thick steak such as the one we had (about 1 ½ inches thick) will likely need about 5 more minutes of simmering time to be cooked to the desired doneness.
Remove the steak when just cooked to your liking. Thinly slice the steak, then scoop the sauce over the steak to serve it.
Notes
Using ½ of a green bell pepper and ½ of a red bell pepper adds nice color variety.
Keywords: steak picado recipe, mexican beef recipes, steak with peppers
Recipe Card powered by
More Castilla y Leon articles
Be sure to check out the articles my colleagues have written about the Castilla y Leon region of Spain. If you catch this on time, join us for a twitter chat Saturday March 27 at 11 am EDT.