Today we serve up Berbere Lentil Chili with Black Girl Magic Rosé from the McBride Sisters. This our pairing for the February Wine Pairing Weekend (#winePW) theme "Supporting BIPOC Owned Wineries and Winemakers."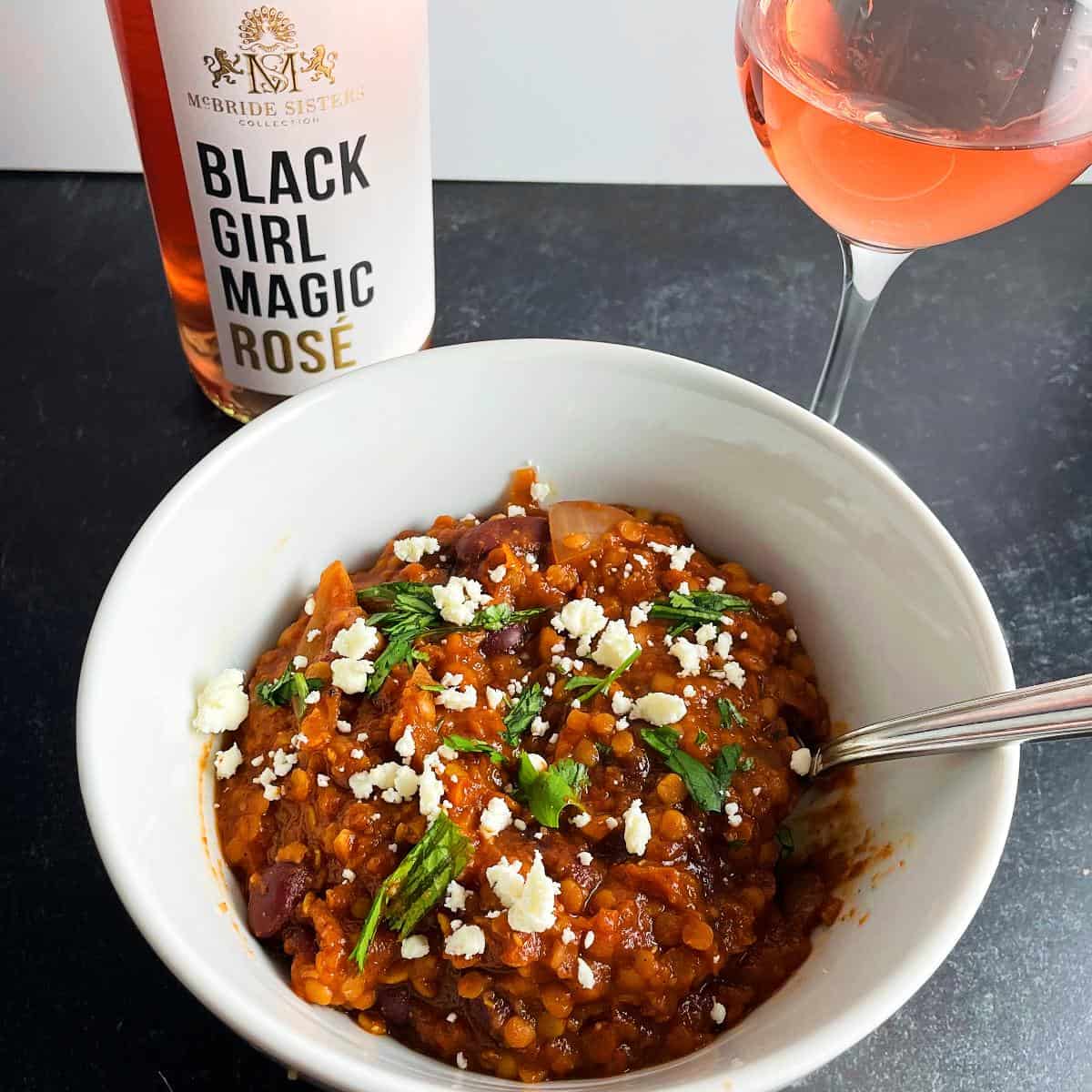 I'm pleased to be hosting the February #winePW event supporting BIPOC Owned Wineries and Winemakers. This is the second year we've focused on this topic, tying into the observance of Black History Month and promotion of greater diversity, equity and inclusion in all aspects of American society.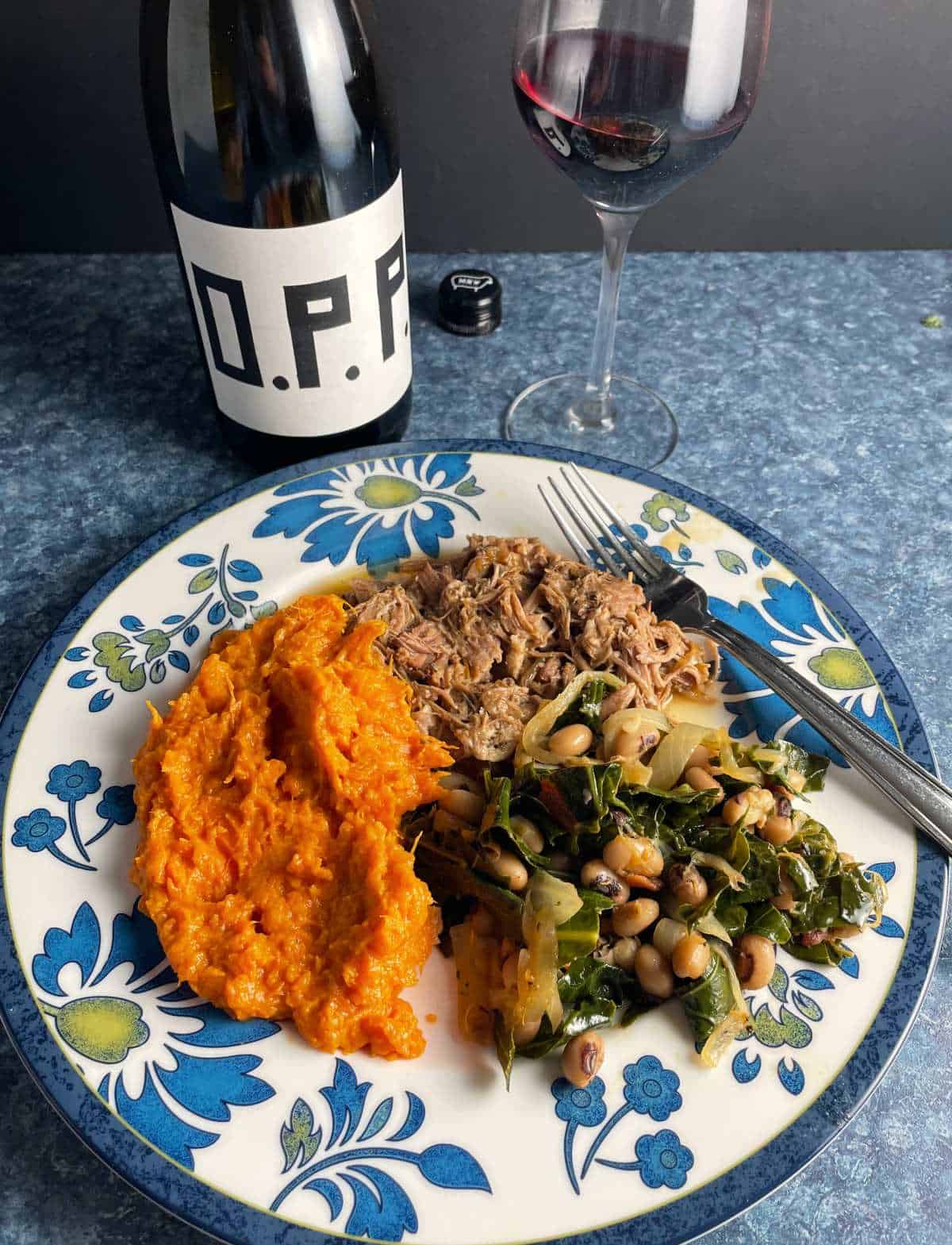 For this theme last year, I paired Black-eyed Peas with Collard Greens and Maison Noir OPP (Other People's Pinot). I had a chance to interview winery owner and top sommelier André Hueston Mack — in this video clip he talks about his motivation to get into the wine business.
Now let's turn to how we came up with this year's pairing…
Jump to:
A seed planted for today's pairing
Last year, our nonprofit organization Social Capital Inc. hosted a series of Black History Month virtual film screenings. For the finale, we partnered with local chef Nathalie Lecorps, who makes delicious Haitian food. She offered a takeout deal for folks watching the film.
Chef Nathalie served up chicken with pikliz, a very spicy Haitian pickled relish, along with some beans and rice.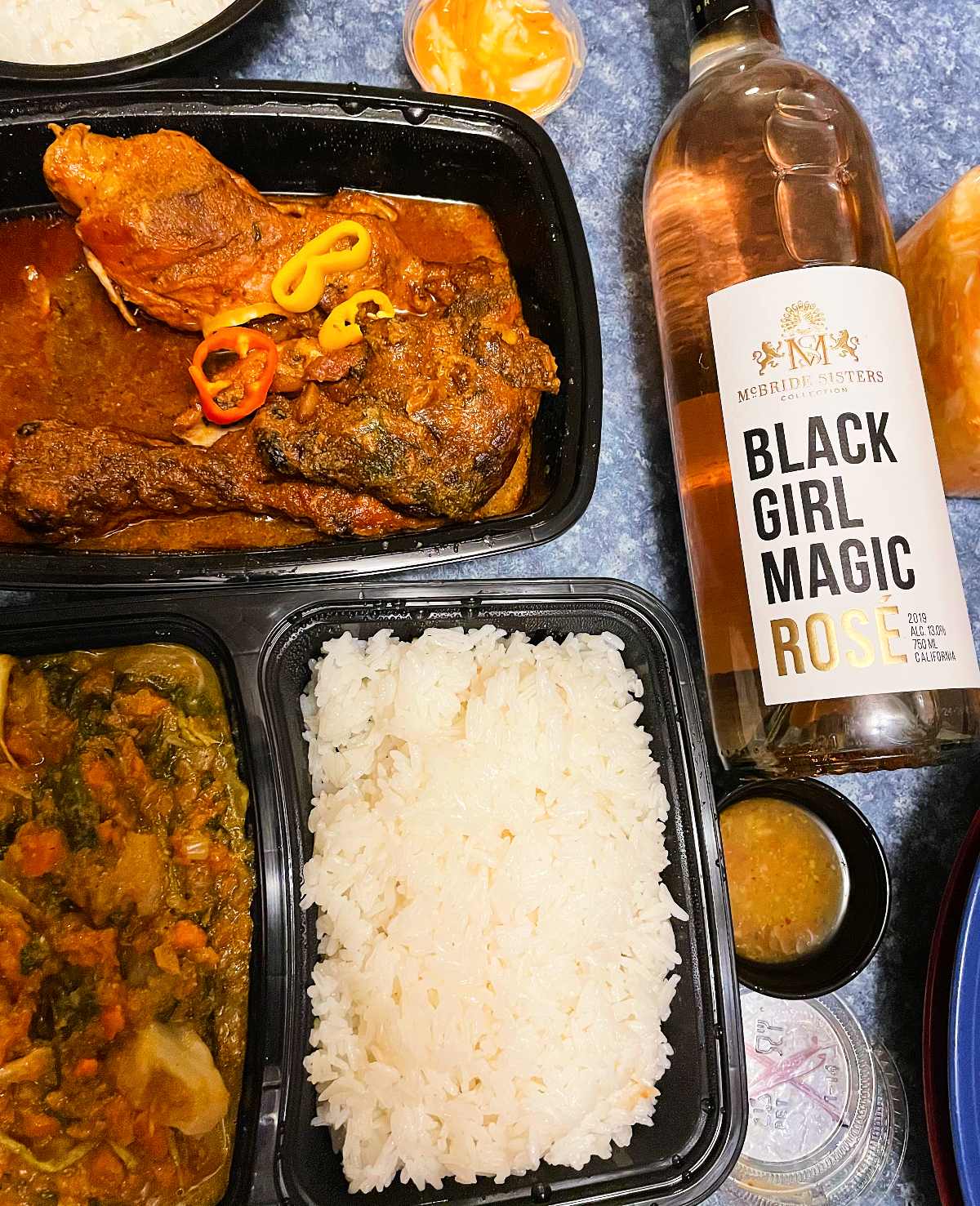 I continued with the February #winePW theme and opened the Black Girl Magic Rosé with the Haitian meal, and the pairing was excellent. Keeping in mind that this rosé does well with spicy food, I had it in the back of my mind as a pairing for the 2022 February #winePW event.
Eat the Culture
So I had an idea for the wine I'd feature today, now on to finding a spicy dish to pair with it.
At first, I thought I might make something from Chef Marcus Samuelsson's book, The Rise: Black Cooks and the Soul of American Food. This is a great resource on the vast and diverse contributions of Black Americans to our food culture.
Then I heard Meiko Temple, founder of Eat The Culture, interviewed on the Food Blogger Pro Podcast. (BTW, I happened to be on the following edition of the FBP podcast, check it out here if interested)
Eat the Culture is a network of bloggers that seeks to empower the content creators, storytellers, and tastemakers that champion black foodways. They do a major collection of recipes for Black History Month and Juneteenth. You can also follow these creators using #BHMVP2022 on Instagram.
The recipe for Spicy Berbere Lentil Chili from Takera Gholson at Flights and Food caught my eye right away while perusing the Eat the Culture recipe roundup. In my experimenting on the Wine with Chili topic, I'd had some success with rosé as a chili pairing. So I had a pairing plan in the making!
Spicy Berbere Lentil Chili
Takera's recipe for Spicy Berbere Lentil Chili is a delicious melding of food traditions. Chili is a popular food in the US as the weather gets cold, and is also a popular choice for a certain big football game happening tomorrow.
The Flights and Food recipe for chili takes on an Ethopian flavor from some Berbere spice blend. I already had a good amount of Berbere spice I picked up at Whole Foods for a recipe from The Rise; but I included an Amazon affiliate link there if you need to order som.
As Takera explains in her blog post, she is incorporating plant based meals into her family's meal rotation, so swapping lentils into the chili recipe in place of meat is a great way to bring some healthy protein and substance to the chili.
How was the chili?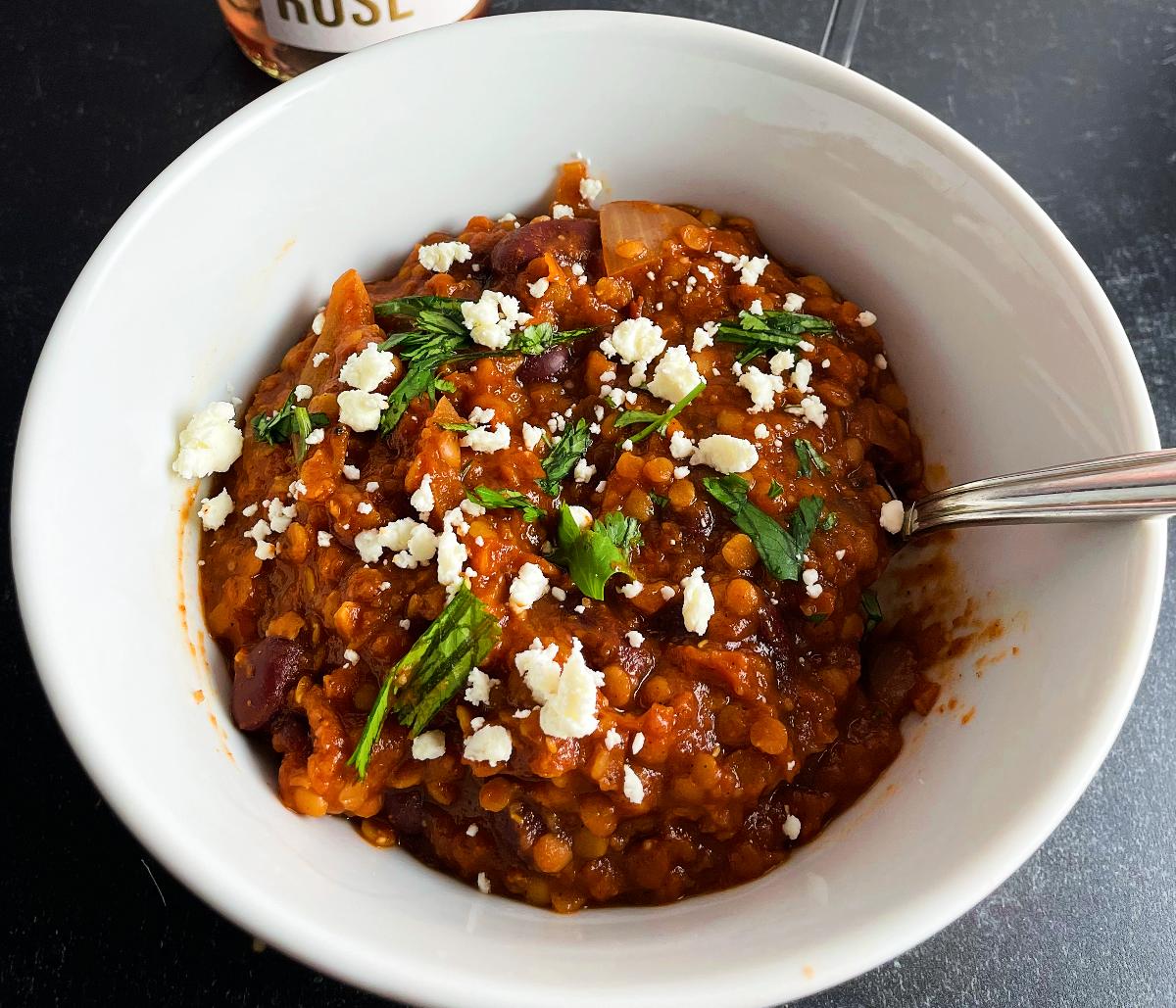 The lentil chili was delicious! It is very flavorful, and the spicy heat gradually builds as you eat it. So while you don't say "wow, this is so spicy!" on the first bite, the chili definitely earns the "spicy" in the recipe title.
I often use a recipe as a starting point, and tweak things enough that it makes sense to share my own take on the recipe. However, I followed Takera's recipe quite closely, with good results! So I'm just going to point you to her recipe instructions for the details.
I did swap some honey for the brown sugar, when I realized we didn't have any on hand. Takera also tops her chili with peanuts, and we are nut free here due to an allergy. So I topped ours off with a bit of feta cheese and cilantro.
Leaning into our theme, I also added about 2 tablespoons of fonio to thicken the chili a bit. Fonio is a traditional African grain that resembles couscous a bit, and is very healthy.
Rosé wine pairing with spicy chili
OK, time to talk about the wine pairing!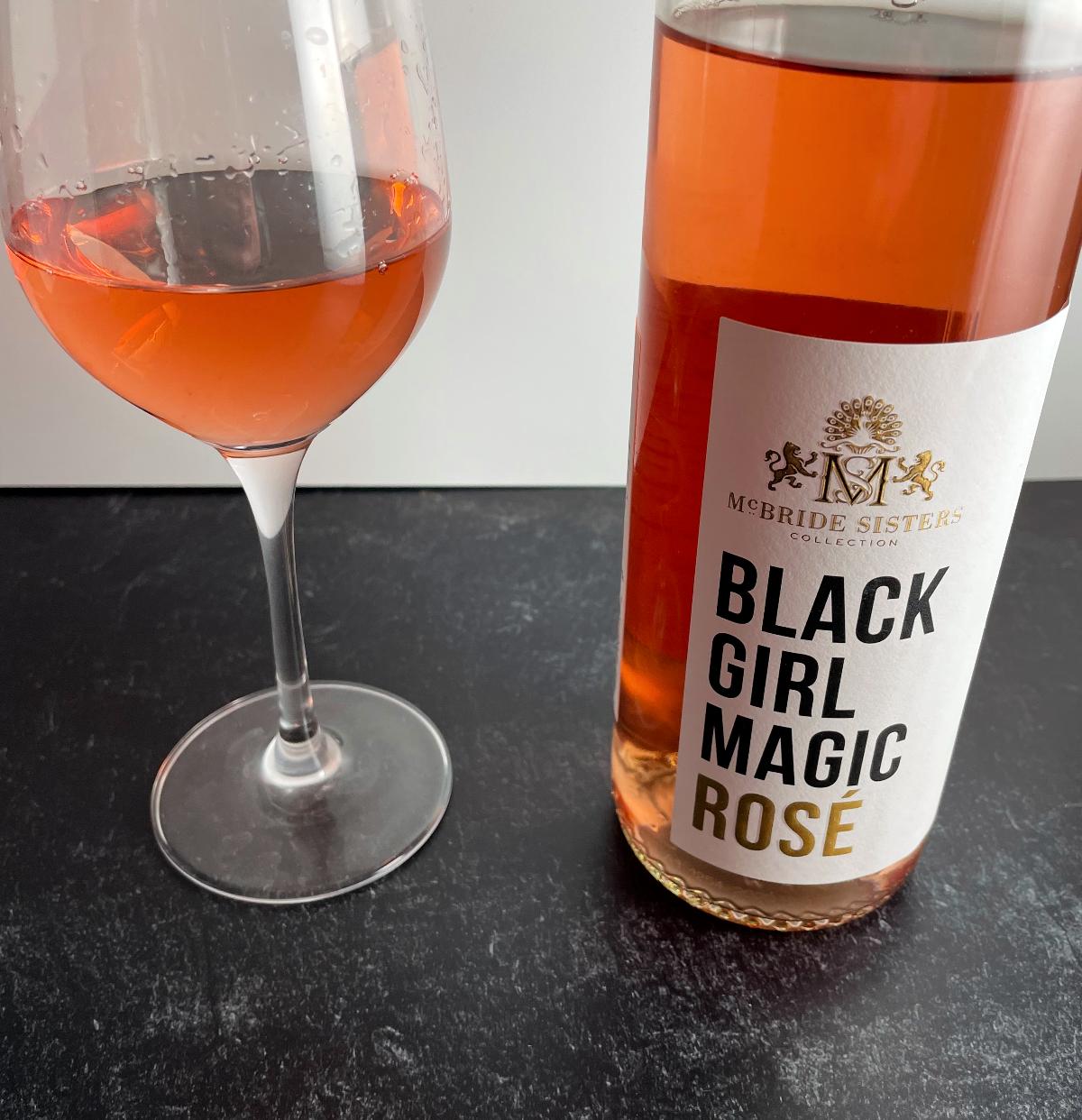 As I mentioned, I had the 2020 Black Girl Magic California Rosé ($20) to pair with the chili. This rosé definitely has a summery aspect to the taste profile, a welcome antidote to a wintry night in New England. I get watermelon, white peach and a touch of honey on the palate.
As you might suspect, the vibrant fruit flavors and bit of honey sweetness work very well with a spicy chili. I am definitely giving two thumbs up to this wine and chili pairing!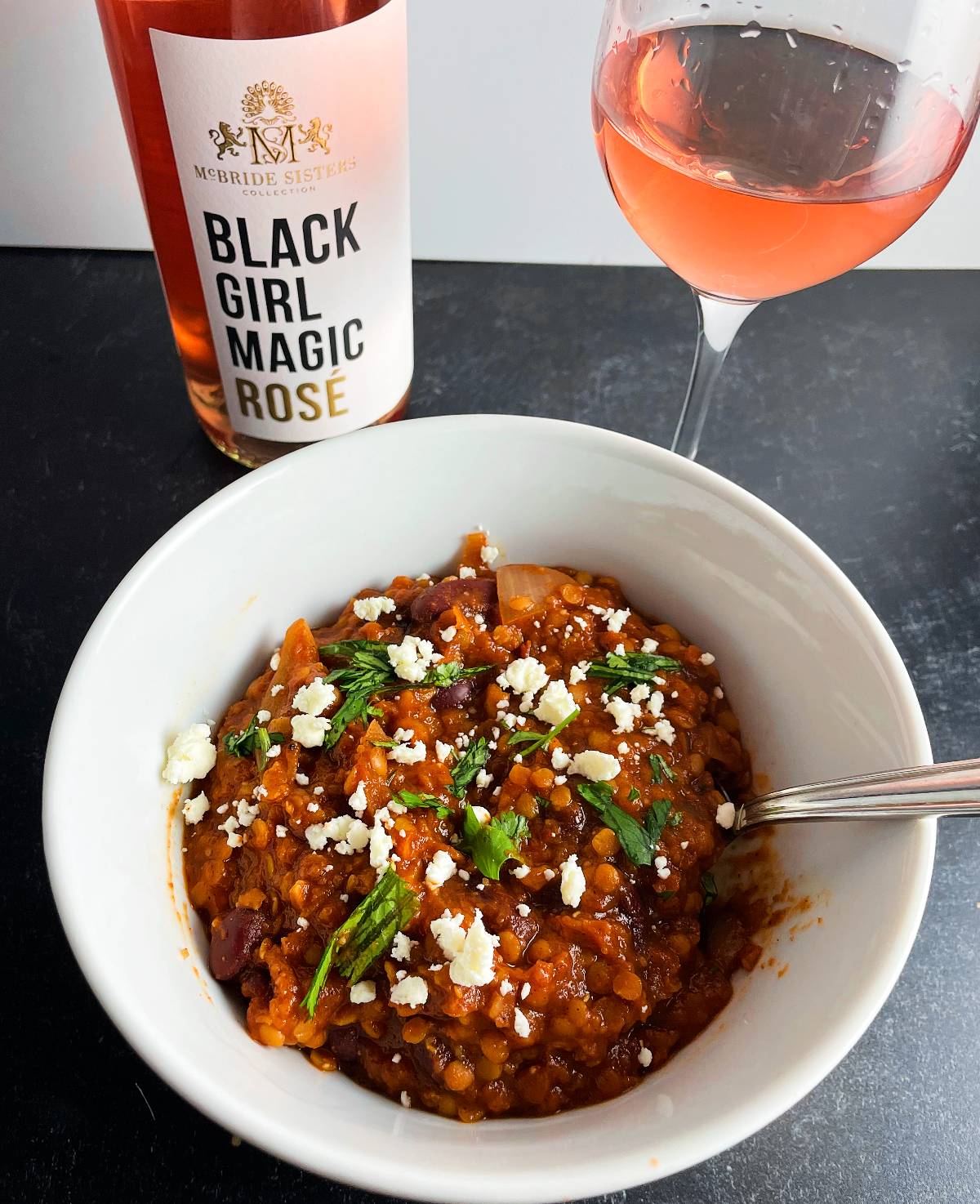 BTW, we've got more wine and chili pairings for you if interested.
It's a bit of a mystery as to what grapes are in this rosé – they are from three Central Coast AVAs. Vivino has it as 100% Malbec, but other sites seem to indicate it is a blend. Pinot Noir, Cabernet Sauvignon, Zinfandel, Malbec and Merlot are mentioned elsewhere. Oh well, this is a wine to just enjoy rather than analyze I suppose!
About the McBride Sisters
Robin and Andréa McBride grew up thousands of miles apart, in the wine regions of New Zealand and Central California. The quick version of the story is that when the sisters were united as adults, they found a shared passion for winemaking, developed from growing up in major wine producing areas.
They founded the winery in 2005, and have grown to become the largest Black owned winery in the United States. You can find more on their story, including a profile on CBS, on their website.
Most of the McBride Sisters Collection wines are made with California grapes, but they do produce a New Zealand Sauvignon Blanc wine.
They have a wide range of wines, including red, white, rosé and sparkling. They aim to keep the wines affordable and accessible. I've just had a chance to try a few. So far, the Black Girl Magic Rosé is my favorite. A friend mentioned the red blend is good, so I will have to try that next.
More #BIPOC Winery Articles
Be sure to check out all of these articles on our theme today!